OH! RPG!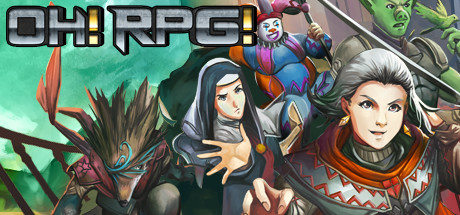 Store | Hub | SteamDB | Site
Developer: RosePortal Games Publisher: Aldorlea Games
Genre: Adventure, Casual, Indie, RPG, Strategy
Languages: English
Tags: RPGMaker (37), RPG (36), Indie (30), Adventure (28), Strategy (27), Casual (27), JRPG (11), Anime (9)
Category: Single-player, Steam Achievements, Full controller support, Steam Trading Cards
Release date: Dec 11, 2015
Price: $2.99
Score rank: 22% Userscore: 65% Old userscore: 79%
Owners: 33,474 ± 5,399
Players in the last 2 weeks: 621 ± 1,217 (1.86%)
Players total: 21,405 ± 4,317 (63.95%)
Followers: 2,754
Peak concurrent players yesterday: 4
Playtime in the last 2 weeks: 05:18 (average) 05:18 (median)
Playtime total: 02:49 (average) 01:24 (median)

Steam Spy is still in beta, so expect major bugs.
Peak daily concurrent players:
CCU data courtesy of SteamDB. Used with permission.
Hourly concurrent players:
YouTube:
The views data is based on top 50 videos uploaded last week. Actual number of views might be more than the number shown.

The displayed number of videos uploaded yesterday is limited to 50, so if there were more videos uploaded, the number will still show 50.

If the game has commonly used word as its name (like "FEAR" or "Volume") its number of Youtube views might be wrong.
Games similar to this one:
#
Game
Release date

Price

Score rank
(Userscore / Metascore)

Owners

Players

Playtime (Median)

1
NEKOPARA Vol. 2
Feb 19, 2016
$9.99
99% (98%)
250,486 ±14,765
159,855 ±11,796
04:46 (02:25)
2
Rabi-Ribi
Jan 28, 2016
$17.99
99% (98%)
93,591 ±9,027
85,848 ±8,645
15:26 (08:17)
3
NEKO-NIN exHeart
Apr 21, 2017
$9.99
99% (98%)
7,742 ±2,596
5,010 ±2,088
02:07 (00:46)
4
Crawl
Apr 11, 2017
$14.99
97% (97%)
182,627 ±12,608
110,214 ±9,796
06:13 (02:12)
5
Danganronpa: Trigger Happy Havoc
Feb 18, 2016
$29.99
97% (97%/83%)
115,223 ±10,016
98,600 ±9,265
21:41 (15:07)
6
ACE Academy
Aug 22, 2016
$19.99
95% (96%)
11,613 ±3,180
8,653 ±2,745
12:56 (12:18)
7
The Binding of Isaac
Sep 28, 2011
$4.99
95% (96%/84%)
2,975,085 ±50,709
2,663,572 ±48,000
31:28 (06:09)
8
Tales of Berseria
Jan 26, 2017
$49.99
92% (95%/80%)
83,571 ±8,530
76,740 ±8,174
35:33 (24:39)
9
Everlasting Summer
Nov 19, 2014
Free
92% (95%)
1,217,815 ±32,516
770,129 ±25,873
10:16 (02:27)
10
Hyperdimension Neptunia Re;Birth1 / Re;Birth1
Jan 29, 2015
$29.99
92% (95%/72%)
362,521 ±17,760
286,009 ±15,777
18:23 (04:50)
11
Transistor
May 20, 2014
$19.99
92% (95%/83%)
1,173,866 ±31,926
870,096 ±27,497
05:07 (02:44)
12
Refunct
Oct 16, 2015
$2.99
92% (95%)
110,441 ±9,806
59,661 ±7,207
01:41 (00:33)
13
Hatoful Boyfriend
Sep 4, 2014
$9.99
92% (95%/68%)
266,881 ±15,240
189,686 ±12,850
05:12 (01:45)
14
POSTAL 2
Nov 2, 2012
$9.99
92% (95%/59%)
1,559,842 ±36,784
1,232,617 ±32,713
06:54 (02:41)
15
STAR WARS Republic Commando
Jul 8, 2009
$9.99
89% (94%/78%)
1,279,754 ±33,330
644,886 ±23,679
04:28 (01:17)
16
STAR WARS Jedi Knight - Jedi Academy
Sep 16, 2009
$9.99
89% (94%/81%)
1,603,563 ±37,294
843,225 ±27,070
09:58 (02:30)
17
RefleX
Mar 27, 2014
$7.99
86% (93%)
57,156 ±7,054
25,959 ±4,754
02:37 (01:14)
18
RPG Maker VX Ace
Dec 10, 2012
$69.99
86% (93%)
544,920 ±21,770
423,548 ±19,196
37:20 (02:43)
19
LEGO Star Wars - The Complete Saga
Nov 12, 2009
$19.99
83% (92%/77%)
469,774 ±20,215
339,977 ±17,200
15:26 (02:56)
20
Octodad: Dadliest Catch
Jan 30, 2014
$14.99
83% (92%/69%)
650,352 ±23,779
444,953 ±19,674
06:34 (02:30)
21
Valkyria Chronicles
Nov 11, 2014
$19.99
83% (92%)
928,163 ±28,398
628,946 ±23,385
14:03 (05:16)
22
Clickteam Fusion 2.5
Dec 5, 2013
$99.99
79% (91%)
111,808 ±9,866
45,998 ±6,329
30:54 (01:26)
23
Rivals of Aether
Mar 28, 2017
$14.99
79% (91%)
114,085 ±9,966
111,352 ±9,846
20:29 (04:59)
24
Chip's Challenge 1
May 28, 2015
$1.99
79% (91%)
34,385 ±5,472
28,920 ±5,018
05:33 (01:16)
25
FINAL FANTASY X/X-2 HD Remaster
May 12, 2016
$29.99
79% (91%)
414,212 ±18,983
334,284 ±17,055
28:44 (13:44)
26
Spelunky
Aug 8, 2013
$14.99
79% (91%/90%)
787,208 ±26,157
636,916 ±23,533
15:36 (02:17)
27
FINAL FANTASY VIII
Dec 5, 2013
$11.99
75% (90%)
636,461 ±23,524
442,221 ±19,614
30:07 (07:15)
28
Teleglitch: Die More Edition
Jul 24, 2013
$12.99
75% (90%/78%)
778,327 ±26,010
413,757 ±18,973
02:26 (00:55)
29
NARUTO SHIPPUDEN: Ultimate Ninja STORM 3 Full Burst
Oct 24, 2013
$29.99
75% (90%/80%)
623,937 ±23,292
524,653 ±21,361
16:38 (09:10)
30
Fatty Bear's Birthday Surprise
Oct 23, 2014
$6.99
N/A (N/A)
20,722 ±4,248
6,604 ±2,398
05:33 (00:40)
31
Ultra Street Fighter IV
Aug 7, 2014
$29.99
72% (89%)
758,060 ±25,670
649,668 ±23,767
41:39 (05:17)
32
Intralism
Nov 4, 2016
$2.99
72% (89%)
22,316 ±4,408
15,485 ±3,672
04:51 (02:47)
33
3DMark
$29.99
69% (88%)
404,420 ±18,758
357,967 ±17,648
08:44 (02:26)
34
DRAGON BALL XENOVERSE
Feb 26, 2015
$39.99
69% (88%)
658,322 ±23,924
629,630 ±23,398
33:27 (17:29)
35
Mortal Kombat Komplete Edition
Jul 3, 2013
$19.99
69% (88%)
1,075,949 ±30,569
965,963 ±28,969
12:28 (04:37)
36
Dungeonmans
Dec 9, 2014
$14.99
69% (88%)
18,217 ±3,983
15,485 ±3,672
22:20 (08:34)
37
RPG Maker MV
Oct 23, 2015
$79.99
69% (88%)
94,046 ±9,049
85,621 ±8,634
82:06 (09:50)
38
Mirror's Edge
Jan 14, 2009
$19.99
69% (88%/81%)
2,825,022 ±49,423
1,889,344 ±40,466
04:42 (02:10)
39
Negligee
Oct 19, 2016
$12.99
66% (87%)
26,870 ±4,837
21,633 ±4,340
03:01 (02:18)
40
DARIUSBURST Chronicle Saviours
Dec 3, 2015
$49.99
63% (86%/80%)
21,633 ±4,340
19,811 ±4,153
17:51 (03:12)
41
LEGO Star Wars III - The Clone Wars
Mar 22, 2011
$19.99
63% (86%/76%)
149,608 ±11,412
104,521 ±9,539
28:35 (07:55)
42
Radiator 2
Jun 16, 2016
Free
60% (85%)
189,458 ±12,842
125,243 ±10,442
00:22 (00:12)
43
LEGO Harry Potter: Years 5-7
Jan 5, 2012
$19.99
58% (84%/80%)
283,049 ±15,695
104,976 ±9,560
17:38 (04:24)
44
Twilight Struggle
Apr 13, 2016
$14.99
58% (84%)
45,087 ±6,266
40,761 ±5,957
17:31 (03:46)
45
Attack on Titan / A.O.T. Wings of Freedom
Aug 26, 2016
$59.99
55% (83%)
68,997 ±7,751
65,126 ±7,530
13:05 (08:52)
46
LEGO Jurassic World
Jun 11, 2015
$19.99
55% (83%/72%)
269,386 ±15,312
219,972 ±13,837
25:49 (10:07)
47
Sproggiwood
Oct 24, 2014
$14.99
52% (82%)
122,738 ±10,337
31,197 ±5,212
04:06 (02:11)
48
Gnomoria
Feb 23, 2016
$14.99
50% (81%)
280,544 ±15,625
234,318 ±14,281
25:53 (02:14)
49
Lifeless Planet Premier Edition
Jun 6, 2014
$19.99
46% (79%/59%)
113,857 ±9,956
72,185 ±7,928
04:12 (02:39)
50
NARUTO SHIPPUDEN: Ultimate Ninja STORM Revolution
Sep 15, 2014
$29.99
46% (79%/61%)
310,602 ±16,440
269,841 ±15,324
14:01 (06:24)
51
Tales of Symphonia
Feb 1, 2016
$19.99
43% (78%)
202,210 ±13,267
100,877 ±9,372
12:04 (02:50)
52
Who's Your Daddy
May 13, 2016
$4.99
41% (77%)
787,663 ±26,165
749,180 ±25,519
03:23 (01:23)
53
Labyronia RPG 2
Aug 28, 2015
$1.99
37% (75%)
315,840 ±16,578
168,964 ±12,128
05:08 (03:31)
54
Magicka 2
May 26, 2015
$14.99
35% (74%/69%)
605,720 ±22,950
439,944 ±19,563
05:22 (03:31)
55
Legend of Dungeon
Sep 13, 2013
$9.99
34% (73%/62%)
220,427 ±13,851
168,964 ±12,128
03:21 (01:04)
56
Criminal Girls: Invite Only
Jan 11, 2017
$19.99
32% (72%)
7,970 ±2,634
5,921 ±2,270
10:24 (04:23)
57
The Chosen RPG
Feb 4, 2016
$0.49
30% (71%)
194,468 ±13,011
118,411 ±10,153
04:42 (03:25)
58
Space Hulk
Aug 15, 2013
$24.99
29% (70%/58%)
266,881 ±15,240
198,567 ±13,147
05:51 (01:44)
59
VoidExpanse
Apr 2, 2015
$14.99
22% (65%/59%)
33,019 ±5,362
29,831 ±5,096
12:41 (08:28)
60
Return NULL - Episode 1
Apr 2, 2015
$1.99
N/A (N/A)
20,039 ±4,177
8,198 ±2,672
04:20 (03:34)
61
Gulman 4: Still alive
Dec 20, 2016
$8.99
22% (65%)
1,822 ±1,259
1,594 ±1,178
02:25 (02:17)
62
Monopoly
Nov 30, 2012
$9.99
18% (61%)
39,850 ±5,890
36,890 ±5,667
13:34 (03:43)
63
Hack, Slash, Loot
Apr 5, 2012
$6.99
12% (55%)
173,290 ±12,282
117,045 ±10,095
03:17 (01:19)
64
Probably Archery
Feb 6, 2014
$4.99
8% (48%)
57,839 ±7,097
35,523 ±5,562
01:47 (00:41)
65
One Dark Night
Dec 14, 2016
Free
5% (41%)
8,425 ±2,708
3,871 ±1,836
00:04 (00:05)