App

Etaria | Survival Adventure
Etaria | Survival Adventure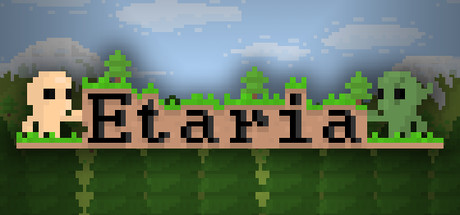 Store | Hub | SteamDB | Site
Developer: BUG-Studio Publisher: BUG-Studio
Genre: Action, Adventure, Indie, RPG
Languages: English, Russian
Tags: Adventure (29), Indie (29), Action (27), RPG (26), Survival (16), Pixel Graphics (7), 2D (6)
Category: Single-player, Steam Trading Cards
Release date: Feb 4, 2016
Price: $0.99
Score rank: 11% Userscore: 56% Old userscore: 57%
Owners: 100,000..200,000
Followers: 599
Peak concurrent players yesterday: 1
YouTube stats: 282,527 views and 5,042 comments for videos uploaded last week, 5 new videos uploaded yesterday.

Steam Spy is still in beta, so expect major bugs.
Owners data:
Audience in 2 weeks:
Total audience:
Peak daily concurrent players:
CCU data courtesy of SteamDB. Used with permission.
Hourly concurrent players:
YouTube:
The views data is based on top 50 videos uploaded last week. Actual number of views might be more than the number shown.

The displayed number of videos uploaded yesterday is limited to 50, so if there were more videos uploaded, the number will still show 50.

If the game has commonly used word as its name (like "FEAR" or "Volume") its number of Youtube views might be wrong.
Games similar to this one:
#
Game
Release date

Price

Score rank
(Userscore / Metascore)

1
Life Goes On: Done to Death
Apr 17, 2014
$12.99
N/A (N/A)
2
JumpJet Rex
Apr 21, 2015
$9.99
N/A (N/A/76%)
3
DEADBOLT
Mar 14, 2016
$9.99
N/A (N/A/76%)
4
Kero Blaster
Nov 11, 2015
$9.99
N/A (N/A/82%)
5
Papers, Please
Aug 8, 2013
$9.99
94% (96%/85%)
6
Vanishing Realms
Apr 5, 2016
$19.99
N/A (N/A)
7
Trickster VR: Co-op Dungeon Crawler
Aug 12, 2016
$12.99
N/A (N/A)
8
Hero of the Kingdom
Nov 14, 2013
$5.99
N/A (N/A)
9
LIMBO
Aug 2, 2011
$9.99
83% (93%/88%)
10
Rodina
Jul 28, 2014
$14.99
83% (93%)
11
BallisticNG
May 31, 2016
$4.99
N/A (N/A)
12
Distance
Dec 9, 2014
$19.99
N/A (N/A)
13
Tiny and Big: Grandpa's Leftovers
Jun 19, 2012
$9.99
78% (92%/75%)
14
Fortix 2
May 6, 2011
$1.99
N/A (N/A/74%)
15
Spooky's Jump Scare Mansion: HD Renovation
Mar 1, 2017
$9.99
73% (91%)
16
Onward
Aug 29, 2016
$24.99
69% (90%)
17
Nihilumbra
Oct 25, 2013
$7.99
66% (89%/75%)
18
Super Win the Game
Oct 1, 2014
$7.99
N/A (N/A)
19
Raw Data
Oct 5, 2017
$39.99
N/A (N/A/87%)
20
NOT A HERO
May 14, 2015
$12.99
60% (87%/75%)
21
Sword With Sauce
Mar 20, 2018
$5.99
60% (87%)
22
Dead Effect 2 VR
Oct 3, 2017
$24.99
N/A (N/A)
23
VRChat
Feb 1, 2017
Free
60% (87%)
24
McPixel
Sep 25, 2012
$4.99
N/A (N/A/76%)
25
Ropes And Dragons VR
Apr 21, 2017
$0.99
N/A (N/A)
26
No Time To Explain Remastered
Jul 17, 2015
$14.99
50% (84%)
27
Of Guards And Thieves
Jul 16, 2014
Free
48% (83%)
28
HAWKEN
Feb 14, 2014
Free
48% (83%/73%)
29
Airscape - The Fall of Gravity
Aug 11, 2015
$4.99
48% (83%)
30
Holodrive
Mar 24, 2016
Free
45% (82%)
31
Road Redemption
Oct 4, 2017
$19.99
N/A (N/A)
32
Never Alone (Kisima Ingitchuna)
Nov 18, 2014
$14.99
45% (82%)
33
Rocketbirds: Hardboiled Chicken
Oct 15, 2012
$4.99
43% (81%/74%)
34
NeuroVoider
Aug 31, 2016
$13.99
N/A (N/A)
35
VCB: Why City
Nov 29, 2016
$2.99
N/A (N/A)
36
Dungeon Escape
May 27, 2016
$3.99
37% (78%)
37
Xbird
May 1, 2017
$0.99
N/A (N/A)
38
Spaceport Hope
Apr 15, 2016
$1.99
37% (78%)
39
Moon Hunters
Mar 10, 2016
$14.99
37% (78%/62%)
40
Atonement 2: Ruptured by Despair
Oct 18, 2016
$5.99
N/A (N/A)
41
Dungeon of Zolthan
May 11, 2016
$0.99
35% (77%)
42
Schein
Oct 9, 2014
$8.99
N/A (N/A)
43
Shardbound
Apr 6, 2017
Free
34% (76%)
44
Super Mustache
Jan 27, 2016
$0.99
32% (75%)
45
Pixel Privateers
Feb 21, 2017
$14.99
30% (74%)
46
We Happy Few
Jul 26, 2016
N/A
N/A (N/A)
47
Terra Incognita ~ Chapter One: The Descendant
Feb 3, 2015
$0.99
N/A (N/A)
48
Sometimes: Success Requires Sacrifice
Feb 27, 2015
$0.99
N/A (N/A)
49
Brawl of Ages
Sep 12, 2017
Free
N/A (N/A)
50
The Culling Of The Cows
May 9, 2014
$6.99
N/A (N/A)
51
Woodle Tree Adventures
Mar 2, 2016
$2.99
N/A (N/A)
52
Grimoire: Manastorm
Oct 26, 2017
Free
N/A (N/A)
53
Gang Beasts
Dec 12, 2017
$19.99
N/A (N/A)
54
BIGFOOT
Jan 31, 2017
$15.99
23% (69%)
55
Loot Hero DX
Jul 3, 2015
$2.99
N/A (N/A)
56
Langoth
Feb 27, 2017
$2.99
N/A (N/A)
57
Super Duper Flying Genocide 2017
Dec 29, 2016
$0.99
N/A (N/A)
58
Wreckfest (March 2018)
Jan 14, 2014
$39.99
22% (68%)
59
Yury
Dec 9, 2014
$1.99
N/A (N/A)
60
RADical ROACH Remastered
May 16, 2014
$2.99
N/A (N/A)
61
BATTLECREW Space Pirates
Jul 10, 2017
Free
N/A (N/A)
62
Castle Story
Aug 17, 2017
$24.99
N/A (N/A)
63
Calcu-Late
Mar 18, 2016
$0.99
N/A (N/A)
64
Fire With Fire Tower Attack and Defense
Mar 29, 2016
Free
N/A (N/A)
65
Kivi, Toilet and Shotgun
Jan 15, 2016
$0.99
N/A (N/A)
66
Red Lake
Mar 25, 2015
$0.99
5% (44%)
67
Armored Gear
Feb 27, 2017
$2.99
N/A (N/A)
68
New kind of adventure
Jun 4, 2015
$0.99
N/A (N/A)
69
Despair
May 12, 2015
$0.99
N/A (N/A)
70
iTownGamePlay UNIVERSE
Jul 19, 2017
Free
N/A (N/A)
71
My Bones
Aug 3, 2015
$1.99
N/A (N/A)
72
The District
Mar 14, 2018
$0.99
0% (20%)