App

Etaria | Survival Adventure
Etaria | Survival Adventure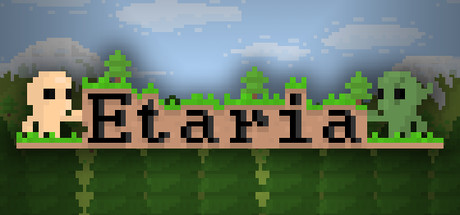 Store | Hub | SteamDB | Site
Developer: BUG-Studio Publisher: BUG-Studio
Genre: Action, Adventure, Indie, RPG
Languages: English, Russian
Tags: Adventure (29), Indie (29), Action (27), RPG (26), Survival (16), Pixel Graphics (7), 2D (6)
Category: Single-player, Steam Trading Cards
Release date: Feb 4, 2016
Price: $0.99
Score rank: 13% Userscore: 56% Old userscore: 57%
Followers: 605
Peak concurrent players yesterday: 6
YouTube stats: 1,616 views and 74 comments for videos uploaded last week, 11 new videos uploaded yesterday.

Steam Spy is still in beta, so expect major bugs.
Peak daily concurrent players:
CCU data courtesy of SteamDB. Used with permission.
Hourly concurrent players:
YouTube:
The views data is based on top 50 videos uploaded last week. Actual number of views might be more than the number shown.

The displayed number of videos uploaded yesterday is limited to 50, so if there were more videos uploaded, the number will still show 50.

If the game has commonly used word as its name (like "FEAR" or "Volume") its number of Youtube views might be wrong.
Games similar to this one:
#
Game
Release date

Price

Score rank
(Userscore / Metascore)

Owners

Players

Playtime (Median)

1
Papers, Please
Aug 8, 2013
$9.99
95% (96%/85%)
2,039,636 ±44,282
1,796,444 ±41,568
06:17 (03:16)
2
Life Goes On: Done to Death
Apr 17, 2014
$12.99
95% (96%)
104,946 ±10,063
67,105 ±8,047
02:53 (01:08)
3
JumpJet Rex
Apr 21, 2015
$9.99
95% (96%/76%)
184,665 ±13,348
37,841 ±6,043
01:25 (00:18)
4
DEADBOLT
Mar 14, 2016
$9.99
95% (96%/76%)
126,894 ±11,066
83,250 ±8,963
06:29 (03:43)
5
Kero Blaster
Nov 11, 2015
$5.99
92% (95%/82%)
160,699 ±12,452
39,859 ±6,202
05:55 (03:22)
6
Vanishing Realms
Apr 5, 2016
$19.99
92% (95%)
95,864 ±9,618
85,521 ±9,085
03:23 (02:00)
7
Distance
Dec 9, 2014
$19.99
89% (94%)
131,939 ±11,283
120,587 ±10,787
07:30 (02:01)
8
Trickster VR: Co-op Dungeon Crawler
Aug 12, 2016
$12.99
89% (94%)
18,416 ±4,216
16,650 ±4,008
01:20 (00:54)
9
Hero of the Kingdom
Nov 14, 2013
$0.95
86% (93%)
156,410 ±12,285
100,910 ±9,868
04:16 (03:19)
10
LIMBO
Aug 2, 2011
$9.99
86% (93%/88%)
4,317,419 ±64,281
2,749,283 ±51,375
03:08 (01:52)
11
Rodina
Jul 28, 2014
$14.99
86% (93%)
39,355 ±6,163
36,075 ±5,900
05:38 (03:12)
12
BallisticNG
May 31, 2016
$4.99
82% (92%)
178,610 ±13,128
103,180 ±9,978
00:43 (00:08)
13
Fortix 2
May 6, 2011
$1.99
82% (92%/74%)
97,630 ±9,706
62,312 ±7,755
04:35 (02:48)
14
Tiny and Big: Grandpa's Leftovers
Jun 19, 2012
$9.99
82% (92%/75%)
626,144 ±24,569
321,902 ±17,621
02:25 (01:33)
15
Sword With Sauce: Alpha
Jan 27, 2017
$5.99
78% (91%)
162,969 ±12,540
156,662 ±12,295
03:56 (01:30)
16
Spooky's Jump Scare Mansion: HD Renovation
Mar 1, 2017
$9.99
78% (91%)
9,586 ±3,041
7,820 ±2,747
02:24 (02:03)
17
Onward
Aug 29, 2016
$24.99
74% (90%)
102,928 ±9,966
96,369 ±9,643
07:30 (02:40)
18
Nihilumbra
Oct 25, 2013
$7.99
74% (90%/75%)
217,713 ±14,493
128,660 ±11,142
03:09 (02:19)
19
Super Win the Game
Oct 1, 2014
$7.99
71% (89%)
52,978 ±7,150
29,012 ±5,291
03:52 (02:25)
20
Raw Data
Oct 5, 2017
$39.99
68% (88%/87%)
97,630 ±9,706
91,071 ±9,375
15:33 (02:27)
21
Dead Effect 2 VR
Oct 3, 2017
$24.99
65% (87%)
23,714 ±4,784
19,930 ±4,386
02:54 (01:21)
22
VRChat
Feb 1, 2017
Free
65% (87%)
3,480,122 ±57,760
2,905,946 ±52,811
04:44 (00:51)
23
NOT A HERO
May 14, 2015
$12.99
65% (87%/75%)
176,087 ±13,035
120,335 ±10,776
03:14 (01:42)
24
McPixel
Sep 25, 2012
$4.99
62% (86%/76%)
470,744 ±21,306
337,543 ±18,044
02:52 (01:32)
25
Ropes And Dragons VR
Apr 21, 2017
$0.99
N/A (N/A)
77,448 ±8,645
72,907 ±8,388
03:45 (03:31)
26
No Time To Explain Remastered
Jul 17, 2015
$14.99
56% (84%)
1,121,863 ±32,871
321,650 ±17,615
02:20 (01:02)
27
Road Redemption
Oct 4, 2017
$19.99
54% (83%)
162,717 ±12,530
146,319 ±11,882
05:03 (02:09)
28
Holodrive
Mar 24, 2016
Free
54% (83%)
208,126 ±14,171
137,489 ±11,518
02:20 (01:12)
29
Of Guards And Thieves
Jul 16, 2014
Free
54% (83%)
416,252 ±20,036
346,877 ±18,292
02:22 (00:40)
30
HAWKEN
Feb 14, 2014
Free
54% (83%/73%)
3,758,380 ±60,008
2,205,633 ±46,041
05:11 (00:54)
31
Airscape - The Fall of Gravity
Aug 11, 2015
$0.49
54% (83%)
362,518 ±18,699
249,247 ±15,507
02:52 (01:56)
32
Never Alone (Kisima Ingitchuna)
Nov 18, 2014
$14.99
51% (82%)
531,794 ±22,645
302,729 ±17,089
03:29 (02:13)
33
Rocketbirds: Hardboiled Chicken
Oct 15, 2012
$4.99
49% (81%/74%)
579,726 ±23,642
241,174 ±15,254
02:13 (01:05)
34
NeuroVoider
Aug 31, 2016
$13.99
47% (80%)
17,407 ±4,099
14,127 ±3,692
05:45 (02:43)
35
Regalia: Of Men and Monarchs
May 18, 2017
$19.99
45% (79%/73%)
11,352 ±3,310
9,334 ±3,001
11:39 (06:21)
36
Moon Hunters
Mar 10, 2016
$14.99
43% (78%/62%)
132,696 ±11,316
93,594 ±9,504
05:14 (03:10)
37
VCB: Why City
Nov 29, 2016
$2.99
43% (78%)
67,357 ±8,062
46,923 ±6,729
04:53 (03:32)
38
Dungeon Escape
May 27, 2016
$3.99
43% (78%)
35,823 ±5,880
23,714 ±4,784
02:58 (02:20)
39
Spaceport Hope
Apr 15, 2016
$1.99
43% (78%)
144,301 ±11,800
90,819 ±9,362
03:19 (03:10)
40
Xbird
May 1, 2017
$0.62
43% (78%)
36,580 ±5,942
26,489 ±5,056
02:52 (02:07)
41
Atonement 2: Ruptured by Despair
Oct 18, 2016
$5.99
N/A (N/A)
247,229 ±15,444
204,342 ±14,041
03:49 (03:34)
42
Dungeon of Zolthan
May 11, 2016
$0.99
41% (77%)
296,927 ±16,924
254,545 ±15,671
03:41 (03:33)
43
Schein
Oct 9, 2014
$8.99
39% (76%)
120,082 ±10,765
60,294 ±7,628
17:35 (03:12)
44
Shardbound
Apr 6, 2017
Free
39% (76%)
222,758 ±14,660
147,076 ±11,913
06:24 (00:36)
45
Super Mustache
Jan 27, 2016
$0.99
39% (76%)
480,078 ±21,516
332,245 ±17,902
03:28 (03:30)
46
Pixel Privateers
Feb 21, 2017
$14.99
37% (75%)
40,868 ±6,280
37,084 ±5,982
08:13 (04:35)
47
We Happy Few
Jul 26, 2016
N/A
32% (72%)
121,596 ±10,832
115,037 ±10,536
08:08 (03:46)
48
Terra Incognita ~ Chapter One: The Descendant
Feb 3, 2015
$0.99
32% (72%)
611,765 ±24,286
414,234 ±19,988
03:54 (03:30)
49
The Culling Of The Cows
May 9, 2014
$6.99
30% (71%)
698,043 ±25,940
376,393 ±19,054
02:58 (02:12)
50
Brawl of Ages
Sep 12, 2017
Free
30% (71%)
306,765 ±17,202
215,190 ±14,409
01:54 (00:28)
51
Sometimes: Success Requires Sacrifice
Feb 27, 2015
$0.99
30% (71%)
184,412 ±13,339
135,976 ±11,455
03:10 (03:24)
52
BIGFOOT
Jan 31, 2017
$15.99
28% (70%)
62,312 ±7,755
58,528 ±7,515
05:08 (03:24)
53
Woodle Tree Adventures
Mar 2, 2016
$2.99
28% (70%)
844,866 ±28,533
608,233 ±24,216
02:55 (02:53)
54
Loot Hero DX
Jul 3, 2015
$2.99
27% (69%)
221,497 ±14,619
165,996 ±12,656
04:09 (04:15)
55
Super Duper Flying Genocide 2017
Dec 29, 2016
$0.99
27% (69%)
176,592 ±13,053
164,230 ±12,588
04:05 (03:30)
56
Yury
Dec 9, 2014
$1.99
N/A (N/A)
108,730 ±10,243
75,935 ±8,560
03:39 (03:59)
57
Grimoire: Manastorm
Oct 26, 2017
Free
27% (69%)
290,368 ±16,737
166,249 ±12,665
01:47 (00:44)
58
Gang Beasts
Dec 12, 2017
$19.99
27% (69%)
1,090,329 ±32,407
1,042,397 ±31,688
06:49 (02:28)
59
Langoth
Feb 27, 2017
$2.99
N/A (N/A)
78,710 ±8,715
69,375 ±8,182
04:03 (04:06)
60
Wreckfest (January 2018)
Jan 14, 2014
$39.99
22% (65%)
331,488 ±17,882
317,613 ±17,504
08:26 (02:30)
61
RADical ROACH Remastered
May 16, 2014
$1.01
N/A (N/A)
393,295 ±19,476
236,885 ±15,118
04:05 (03:35)
62
Castle Story
Aug 17, 2017
$24.99
11% (53%)
221,749 ±14,627
215,947 ±14,434
12:18 (04:22)
63
BATTLECREW Space Pirates
Jul 10, 2017
Free
11% (53%)
113,776 ±10,478
56,762 ±7,401
00:48 (00:13)
64
Fire With Fire Tower Attack and Defense
Mar 29, 2016
Free
9% (50%)
91,071 ±9,375
52,221 ±7,099
00:23 (00:10)
65
Calcu-Late
Mar 18, 2016
$0.99
9% (50%)
386,989 ±19,320
304,495 ±17,139
03:36 (03:31)
66
Kivi, Toilet and Shotgun
Jan 15, 2016
$0.99
8% (48%)
479,321 ±21,499
361,257 ±18,667
03:31 (03:30)
67
Red Lake
Mar 25, 2015
$0.99
6% (45%)
313,072 ±17,378
263,122 ±15,932
03:40 (03:34)
68
Armored Gear
Feb 27, 2017
$2.99
N/A (N/A)
92,837 ±9,465
87,287 ±9,178
03:39 (03:30)
69
New kind of adventure
Jun 4, 2015
$0.99
5% (41%)
411,711 ±19,927
324,677 ±17,697
03:34 (03:31)
70
Garbage Day
Jan 18, 2016
$14.99
4% (39%)
11,857 ±3,383
11,605 ±3,346
02:38 (02:04)
71
Despair
May 12, 2015
$0.99
3% (35%)
391,277 ±19,426
320,640 ±17,587
03:14 (03:30)
72
iTownGamePlay UNIVERSE
Jul 19, 2017
Free
N/A (N/A)
23,461 ±4,758
9,839 ±3,081
102:41 (00:12)
73
My Bones
Aug 3, 2015
$1.99
1% (25%)
170,285 ±12,818
162,465 ±12,521
04:18 (04:02)
74
The District
Mar 31, 2015
$0.99
1% (21%)
314,081 ±17,406
284,061 ±16,554
03:46 (03:30)