MetaHuman Inc.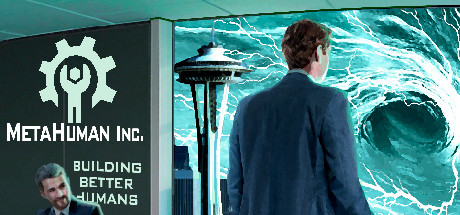 Store | Hub | SteamDB | Site
Developer: Choice of Games Publisher: Choice of Games
Genre: Indie, RPG
Languages: English
Tags: Indie (24), RPG (21), Text-Based (16), Choose Your Own Adventure (8)
Category: Single-player, Steam Achievements, Captions available, Steam Cloud
Release date: Dec 18, 2015
Price: $6.99
Score rank: 75% Userscore: 90% Old userscore: 89%
Owners: 9,289 ± 2,947
Players total: 8,067 ± 2,746 (86.84%)
Followers: 1,318
Peak concurrent players yesterday: 3
YouTube stats: 4 views and 2 comments for videos uploaded last week, 0 new videos uploaded yesterday.
Playtime total: 08:22 (average) 03:38 (median)

Steam Spy is still in beta, so expect major bugs.
Peak daily concurrent players:
CCU data courtesy of SteamDB. Used with permission.
Hourly concurrent players:
YouTube:
The views data is based on top 50 videos uploaded last week. Actual number of views might be more than the number shown.

The displayed number of videos uploaded yesterday is limited to 50, so if there were more videos uploaded, the number will still show 50.

If the game has commonly used word as its name (like "FEAR" or "Volume") its number of Youtube views might be wrong.
Games similar to this one:
#
Game
Release date

Price

Score rank
(Userscore / Metascore)

Owners

Players

Playtime (Median)

1
Pixel Cup Soccer 17
Aug 4, 2016
$9.99
97% (97%)
6,844 ±2,529
5,622 ±2,292
03:10 (02:52)
2
A Study in Steampunk: Choice by Gaslight
Nov 20, 2015
$3.99
97% (97%)
4,156 ±1,971
3,178 ±1,723
04:38 (06:51)
3
Chicken Invaders 4
Jun 6, 2014
$4.99
95% (96%)
11,000 ±3,207
8,800 ±2,868
17:53 (03:48)
4
Hatoful Boyfriend: Holiday Star
Dec 15, 2015
$2.49
95% (96%/54%)
48,155 ±6,710
18,578 ±4,168
04:22 (03:38)
5
Rusty Lake Hotel
Jan 29, 2016
$1.99
92% (95%/65%)
29,822 ±5,280
22,978 ±4,635
03:26 (02:26)
6
Smash Party VR
Dec 18, 2016
Free
N/A (N/A)
6,600 ±2,484
4,400 ±2,028
01:40 (00:52)
7
Lowglow
Dec 3, 2015
$7.99
N/A (N/A)
113,421 ±10,297
85,799 ±8,956
04:03 (03:36)
8
Gryphon Knight Epic
Aug 20, 2015
$2.49
N/A (N/A/55%)
17,844 ±4,085
8,067 ±2,746
04:46 (03:57)
9
The Dweller
May 19, 2016
$4.99
92% (95%)
59,888 ±7,483
32,266 ±5,493
03:25 (02:53)
10
Mimpi Dreams
Mar 22, 2016
$7.99
89% (94%)
6,356 ±2,437
4,889 ±2,138
04:13 (04:35)
11
The Adventures of Fei Duanmu
Mar 9, 2017
$2.79
89% (94%)
12,222 ±3,380
9,778 ±3,023
04:02 (02:47)
12
Straimium Immortaly
Oct 10, 2016
$8.99
89% (94%)
4,400 ±2,028
1,956 ±1,352
02:31 (01:58)
13
Void Invaders
Aug 14, 2015
$2.99
85% (93%)
31,778 ±5,451
18,578 ±4,168
02:17 (02:26)
14
Aviary Attorney
Dec 21, 2015
$14.99
85% (93%/77%)
21,511 ±4,485
17,111 ±4,000
05:43 (04:08)
15
Reflection of Mine
Feb 24, 2017
$7.99
N/A (N/A)
6,600 ±2,484
3,911 ±1,912
04:16 (05:56)
16
Heroes Rise: HeroFall
Jul 11, 2014
$3.99
85% (93%)
13,444 ±3,545
7,089 ±2,574
03:43 (03:36)
17
Boson X
Sep 15, 2014
$2.99
85% (93%)
89,466 ±9,146
71,866 ±8,197
03:54 (02:39)
18
Mad Dagger
Apr 1, 2017
$0.99
N/A (N/A)
32,511 ±5,513
30,555 ±5,345
04:24 (04:31)
19
Pixel Star
May 22, 2015
$2.99
N/A (N/A)
22,244 ±4,560
15,155 ±3,764
26:00 (02:33)
20
Sky Rogue
Jul 30, 2015
$9.99
85% (93%)
22,000 ±4,535
19,555 ±4,276
06:19 (02:56)
21
Glorkian Warrior: The Trials Of Glork
Mar 24, 2015
$3.99
82% (92%)
40,577 ±6,159
27,133 ±5,037
02:32 (02:15)
22
Stardust Galaxy Warriors: Stellar Climax
Nov 10, 2015
$9.99
79% (91%)
3,911 ±1,912
2,444 ±1,511
01:38 (01:16)
23
Pix the Cat
Jan 29, 2015
$9.99
79% (91%/77%)
84,577 ±8,892
36,177 ±5,816
03:05 (02:45)
24
The Cat Machine
Aug 12, 2015
$9.99
79% (91%)
4,400 ±2,028
3,667 ±1,851
02:28 (02:44)
25
An Octave Higher
Mar 27, 2015
$11.99
79% (91%)
12,222 ±3,380
5,622 ±2,292
03:50 (03:34)
26
Cosmochoria
Apr 27, 2015
$9.99
79% (91%)
31,533 ±5,430
24,444 ±4,781
05:14 (03:44)
27
stratO
Jun 1, 2015
$9.99
N/A (N/A)
8,311 ±2,787
4,644 ±2,084
03:38 (03:50)
28
Flobe
Feb 22, 2016
$0.99
N/A (N/A)
8,067 ±2,746
5,622 ±2,292
04:22 (04:33)
29
The Bug Butcher
Jan 19, 2016
$7.99
75% (90%/81%)
51,577 ±6,944
34,222 ±5,657
03:35 (02:09)
30
Luna Sky
Oct 2, 2015
$12.99
N/A (N/A)
28,111 ±5,127
11,733 ±3,312
03:06 (03:26)
31
XenoRaptor
Jun 16, 2014
$14.99
75% (90%)
9,044 ±2,908
7,089 ±2,574
04:09 (01:28)
32
Mecha Ace
Dec 5, 2014
$5.99
75% (90%)
8,067 ±2,746
5,867 ±2,342
08:32 (05:41)
33
Dragon's Wake
Dec 10, 2015
$3.99
75% (90%)
17,600 ±4,056
12,467 ±3,414
03:31 (03:36)
34
Nihilumbra
Oct 25, 2013
$7.99
75% (90%/75%)
189,443 ±13,307
104,866 ±9,901
03:26 (02:10)
35
Bermuda
Mar 17, 2015
$2.99
N/A (N/A)
77,488 ±8,511
29,822 ±5,280
02:22 (02:25)
36
Uncraft World
Sep 25, 2015
$9.99
72% (89%)
8,800 ±2,868
7,822 ±2,704
03:03 (02:32)
37
Ultimate General: Civil War
Nov 16, 2016
$29.99
72% (89%)
39,600 ±6,085
39,600 ±6,085
52:51 (16:38)
38
Club Life
Apr 13, 2016
$12.99
N/A (N/A)
13,689 ±3,577
9,778 ±3,023
03:30 (03:44)
39
Axes and Acres
Apr 7, 2016
$5.99
N/A (N/A)
10,022 ±3,061
5,133 ±2,191
04:36 (03:19)
40
HardCube
Jun 30, 2016
$1.99
N/A (N/A)
55,244 ±7,187
46,444 ±6,590
03:22 (03:30)
41
Gigachess
Dec 15, 2015
$3.99
N/A (N/A)
5,133 ±2,191
2,200 ±1,434
01:59 (02:37)
42
Shoot 1UP
Sep 23, 2015
$3.99
N/A (N/A)
6,111 ±2,390
4,156 ±1,971
02:38 (03:20)
43
RETSNOM
Jul 23, 2015
$4.99
N/A (N/A)
9,778 ±3,023
5,133 ±2,191
04:48 (04:42)
44
Champion of the Gods
Jul 17, 2015
$6.99
68% (88%)
10,511 ±3,135
9,778 ±3,023
06:07 (04:15)
45
Porcunipine
May 21, 2015
$9.99
N/A (N/A)
22,733 ±4,610
10,755 ±3,171
02:22 (02:31)
46
Kromaia
Oct 23, 2014
$19.99
N/A (N/A/68%)
21,755 ±4,510
8,800 ±2,868
02:20 (02:38)
47
Ephemerid: A Musical Adventure
Feb 3, 2015
$1.99
68% (88%)
8,800 ±2,868
4,644 ±2,084
02:20 (02:29)
48
Gal-X-E
May 14, 2016
$1.99
N/A (N/A)
12,222 ±3,380
8,800 ±2,868
02:41 (01:55)
49
OPUS: The Day We Found Earth
Apr 22, 2016
$8.99
65% (87%)
9,289 ±2,947
6,844 ±2,529
02:57 (02:21)
50
Horizon Shift
May 29, 2015
$4.99
N/A (N/A)
130,777 ±11,057
76,022 ±8,431
03:24 (03:04)
51
Phoenix Force
Nov 13, 2014
$4.99
65% (87%)
65,266 ±7,812
43,022 ±6,342
03:45 (02:43)
52
Forget Me Not: My Organic Garden
Aug 21, 2015
$9.99
65% (87%)
8,800 ±2,868
6,844 ±2,529
07:57 (03:50)
53
Cosmophony
Jul 9, 2015
$4.99
65% (87%)
9,778 ±3,023
6,111 ±2,390
02:05 (02:28)
54
Ballad of Solar
May 22, 2014
$6.99
62% (86%)
10,511 ±3,135
7,578 ±2,662
03:55 (04:10)
55
Spellsworn
Nov 2, 2015
$9.99
62% (86%)
14,178 ±3,641
8,067 ±2,746
05:03 (02:33)
56
Space Distant
Dec 20, 2016
$2.99
62% (86%)
45,955 ±6,555
38,866 ±6,028
05:53 (06:32)
57
Sparkle 2
Jun 1, 2015
$7.99
N/A (N/A)
14,422 ±3,672
6,844 ±2,529
05:57 (04:27)
58
Domino Sky
Apr 5, 2016
$3.99
60% (85%)
11,000 ±3,207
5,867 ±2,342
01:53 (01:31)
59
Clandestinity of Elsie
Jul 8, 2015
$4.99
N/A (N/A)
20,778 ±4,407
11,733 ±3,312
03:19 (03:13)
60
Frederic: Evil Strikes Back
May 23, 2014
$0.89
60% (85%)
126,621 ±10,880
73,088 ±8,266
02:37 (02:46)
61
CHKN
Apr 1, 2016
$9.74
60% (85%)
20,289 ±4,355
19,067 ±4,222
05:49 (02:56)
62
Four Sided Fantasy
Aug 30, 2016
$1.99
N/A (N/A)
3,911 ±1,912
2,689 ±1,585
02:07 (03:21)
63
The Promised Land
Apr 25, 2014
$6.99
55% (83%)
25,422 ±4,875
21,267 ±4,459
08:58 (07:21)
64
Octave
Oct 18, 2016
$2.99
N/A (N/A)
30,066 ±5,302
20,044 ±4,329
03:32 (03:26)
65
The Spatials: Galactology
Jul 7, 2016
$12.99
55% (83%)
25,422 ±4,875
7,822 ±2,704
05:13 (04:42)
66
Labyrinthine Dreams
May 26, 2015
$1.99
55% (83%)
89,955 ±9,171
30,800 ±5,366
03:05 (02:53)
67
Air Missions: HIND
Mar 21, 2016
$16.99
55% (83%)
7,578 ±2,662
6,844 ±2,529
03:56 (02:29)
68
Gimbal
Nov 19, 2013
$14.99
55% (83%)
32,266 ±5,493
13,689 ±3,577
09:16 (02:31)
69
Echo of the Wilds
Jun 10, 2014
$8.99
55% (83%)
28,355 ±5,149
18,333 ±4,140
03:50 (02:05)
70
Bloody Streets
Mar 12, 2015
$4.99
N/A (N/A)
15,644 ±3,824
6,111 ±2,390
02:43 (02:23)
71
Polygon Attack
Dec 27, 2016
$0.99
N/A (N/A)
12,467 ±3,414
7,822 ±2,704
02:38 (02:57)
72
Master Spy
Sep 8, 2015
$9.99
50% (81%/68%)
13,933 ±3,609
6,111 ±2,390
04:13 (02:33)
73
Life of Pixel
Oct 22, 2014
$6.99
50% (81%)
33,489 ±5,596
22,489 ±4,585
03:30 (03:00)
74
Shmadow
Nov 3, 2015
$1.99
50% (81%)
30,311 ±5,323
22,244 ±4,560
02:49 (03:07)
75
Amphora
Nov 12, 2014
$13.99
50% (81%)
3,911 ±1,912
2,689 ±1,585
03:22 (04:54)
76
iZBOT
Sep 1, 2015
$9.99
50% (81%)
7,822 ±2,704
5,622 ±2,292
02:52 (03:06)
77
Beyond Sol
Oct 13, 2015
$10.99
47% (80%/83%)
8,555 ±2,828
6,600 ±2,484
08:33 (05:59)
78
ChargeShot
Sep 18, 2015
$9.99
N/A (N/A)
21,022 ±4,433
8,555 ±2,828
03:38 (03:40)
79
NEO AQUARIUM - The King of Crustaceans -
Jun 8, 2015
$8.99
47% (80%)
31,533 ±5,430
11,978 ±3,346
02:08 (02:00)
80
Mega Coin Squad
Aug 15, 2014
$14.99
N/A (N/A/56%)
6,844 ±2,529
5,133 ±2,191
02:26 (01:32)
81
Imagine Earth
May 20, 2014
$19.99
47% (80%)
17,355 ±4,028
16,133 ±3,884
06:13 (02:28)
82
Mysterious Space
May 15, 2015
$10
N/A (N/A)
11,489 ±3,277
4,644 ±2,084
04:55 (03:08)
83
Miner Warfare
Jun 11, 2015
$0.74
47% (80%)
13,689 ±3,577
9,289 ±2,947
02:17 (02:22)
84
The Guest
Mar 10, 2016
$9.99
47% (80%/68%)
17,600 ±4,056
10,755 ±3,171
03:02 (02:48)
85
Solar Flux
Oct 24, 2013
$9.99
47% (80%)
126,377 ±10,869
75,777 ±8,417
03:09 (02:38)
86
Journal
Feb 17, 2014
$9.99
45% (79%/59%)
16,867 ±3,971
10,511 ±3,135
03:06 (02:32)
87
The Howler
Jul 3, 2014
Free
45% (79%)
436,819 ±20,200
281,598 ±16,222
05:26 (02:55)
88
BATTLECREW Space Pirates
Jan 31, 2017
$9.99
N/A (N/A)
3,911 ±1,912
1,711 ±1,265
02:13 (02:41)
89
Tavern Tycoon - Dragon's Hangover
Jan 31, 2017
$10.99
45% (79%)
10,755 ±3,171
10,022 ±3,061
02:29 (01:58)
90
TurnOn
Jun 1, 2016
$14.99
45% (79%/67%)
10,511 ±3,135
6,356 ±2,437
02:41 (03:03)
91
Morphine
Oct 28, 2015
$2.99
45% (79%)
20,778 ±4,407
11,000 ±3,207
02:30 (02:22)
92
Blaite
Jan 2, 2017
$0.99
44% (78%)
15,644 ±3,824
11,978 ±3,346
02:22 (02:48)
93
Home is Where One Starts...
May 12, 2015
$2.99
44% (78%)
19,555 ±4,276
13,689 ±3,577
02:49 (02:47)
94
ROOT
Nov 16, 2015
$9.99
N/A (N/A)
5,622 ±2,292
3,667 ±1,851
01:34 (01:21)
95
iO
Dec 5, 2014
$7.99
41% (77%)
26,400 ±4,968
13,933 ±3,609
03:46 (02:34)
96
Unfortunate Spacemen
May 6, 2016
$19.99
41% (77%)
3,422 ±1,788
2,200 ±1,434
01:47 (02:45)
97
Pixel Puzzles: UndeadZ
Jun 6, 2014
$6.99
39% (76%)
185,287 ±13,160
110,244 ±10,152
04:37 (04:27)
98
Dead In Bermuda
Aug 27, 2015
$5.99
39% (76%)
36,911 ±5,875
26,155 ±4,945
09:27 (04:46)
99
BRAWL
Aug 13, 2015
$14.99
N/A (N/A)
13,444 ±3,545
8,067 ±2,746
03:40 (04:31)
100
A Druid's Duel
Feb 25, 2015
$7.99
39% (76%/70%)
20,044 ±4,329
10,267 ±3,098
04:18 (02:51)
101
Broken Bots
Jun 8, 2016
$6.99
N/A (N/A)
9,533 ±2,985
5,378 ±2,242
04:24 (03:52)
102
Child Phobia: Nightcoming Fears
Dec 20, 2016
$1.99
N/A (N/A)
6,111 ±2,390
4,400 ±2,028
03:30 (03:45)
103
Cavern Kings
Sep 30, 2014
$9.99
37% (75%)
10,022 ±3,061
9,533 ±2,985
09:22 (03:20)
104
Robot Legions Reborn
Jul 19, 2016
$1.99
N/A (N/A)
5,622 ±2,292
3,422 ±1,788
02:29 (03:11)
105
Max, an Autistic Journey
Aug 19, 2016
$5.99
N/A (N/A)
2,689 ±1,585
1,711 ±1,265
02:09 (01:54)
106
Macabre
Jul 6, 2015
$0.99
N/A (N/A)
16,867 ±3,971
11,978 ±3,346
05:13 (06:04)
107
You Deserve
Aug 19, 2016
$0.99
37% (75%)
9,778 ±3,023
4,400 ±2,028
03:27 (03:11)
108
Albino Lullaby: Episode 1
Sep 14, 2015
$9.99
37% (75%)
19,067 ±4,222
11,978 ±3,346
03:40 (03:02)
109
RONIN
Jun 30, 2015
$3.24
35% (74%/70%)
126,377 ±10,869
54,022 ±7,107
04:50 (03:01)
110
Royal Heroes
Mar 16, 2016
$4.99
35% (74%)
11,244 ±3,242
8,800 ±2,868
16:37 (07:32)
111
Devilry
Jun 30, 2015
$4.99
N/A (N/A)
3,178 ±1,723
2,689 ±1,585
03:24 (03:29)
112
Flame of Memory
Feb 1, 2017
$1.99
N/A (N/A)
3,911 ±1,912
3,178 ±1,723
03:22 (03:29)
113
The Dark Legions
Jul 9, 2016
$1.99
N/A (N/A)
6,356 ±2,437
2,689 ±1,585
08:19 (08:36)
114
Yatagarasu Attack on Cataclysm
Jul 7, 2015
$14.99
34% (73%)
15,889 ±3,854
14,178 ±3,641
04:41 (02:20)
115
Qora
Oct 2, 2014
$9.99
34% (73%/63%)
33,733 ±5,616
16,378 ±3,913
02:56 (03:11)
116
Survive in Space
May 20, 2016
$4.99
32% (72%)
67,222 ±7,928
40,089 ±6,122
02:53 (03:14)
117
Hypersensitive Bob
Mar 29, 2016
$4.99
N/A (N/A)
4,156 ±1,971
2,933 ±1,656
03:10 (04:27)
118
Scraps: Modular Vehicle Combat
Jul 7, 2015
$14.99
32% (72%)
7,089 ±2,574
5,133 ±2,191
02:32 (01:52)
119
Concursion
Jun 6, 2014
$4.99
N/A (N/A/66%)
22,489 ±4,585
9,778 ±3,023
01:51 (01:39)
120
The Adventures of Mr. Bobley
Jul 1, 2015
$3.99
32% (72%)
60,622 ±7,528
44,000 ±6,414
03:45 (03:35)
121
Ninja Stealth
Sep 29, 2016
$1.99
30% (71%)
37,155 ±5,894
23,711 ±4,708
04:18 (04:24)
122
Tulpa
Jan 29, 2015
$9.99
N/A (N/A)
42,044 ±6,270
18,578 ±4,168
02:55 (03:03)
123
BlastZone 2
Feb 19, 2015
$2.99
N/A (N/A)
18,578 ±4,168
11,489 ±3,277
04:49 (05:07)
124
Big Action Mega Fight!
Jan 12, 2016
$4.99
N/A (N/A)
12,955 ±3,480
8,800 ±2,868
06:36 (05:27)
125
MetaTron
Dec 19, 2016
$9.99
N/A (N/A)
6,600 ±2,484
4,644 ±2,084
03:10 (03:31)
126
Vision of Aurora Borealis
Aug 22, 2016
$3.99
N/A (N/A)
2,200 ±1,434
978 ±956
05:29 (03:41)
127
Shard Games
Jul 29, 2016
$7.99
N/A (N/A)
27,133 ±5,037
22,244 ±4,560
04:15 (04:30)
128
Anoxemia
Jan 16, 2015
$3.99
N/A (N/A)
146,421 ±11,699
88,977 ±9,121
04:41 (04:24)
129
Dwelvers
Sep 11, 2014
$19.99
26% (68%)
13,200 ±3,513
10,022 ±3,061
06:56 (03:29)
130
Cosmic Leap
Mar 17, 2016
$0.99
26% (68%)
12,955 ±3,480
7,578 ±2,662
02:04 (02:25)
131
Three Dead Zed
Jul 7, 2014
$5.99
N/A (N/A)
74,066 ±8,321
21,511 ±4,485
02:51 (02:21)
132
Elements II: Hearts of Light
Apr 1, 2016
$0.99
N/A (N/A)
112,688 ±10,264
65,999 ±7,855
03:40 (03:30)
133
Taimumari
Dec 16, 2015
$4.99
N/A (N/A)
16,378 ±3,913
11,000 ±3,207
03:09 (03:26)
134
Sky Mercenaries
Dec 16, 2014
$9.99
N/A (N/A)
27,622 ±5,082
14,422 ±3,672
02:41 (02:30)
135
Yury
Dec 9, 2014
$1.99
N/A (N/A)
94,844 ±9,416
62,822 ±7,664
03:29 (03:37)
136
Amigdala
Mar 28, 2016
$5.99
N/A (N/A)
25,422 ±4,875
18,333 ±4,140
03:10 (03:27)
137
Hare In The Hat
Apr 1, 2015
$1.99
23% (66%)
40,333 ±6,141
30,311 ±5,323
04:05 (04:04)
138
POP: Methodology Experiment One
Dec 10, 2014
$3.99
22% (65%)
6,356 ±2,437
3,667 ±1,851
02:00 (02:10)
139
Emerge: Cities of the Apocalypse
Apr 27, 2016
$7.99
22% (65%)
3,667 ±1,851
3,178 ±1,723
07:50 (06:32)
140
The Race for the White House
Jan 2, 2015
$14.99
N/A (N/A)
6,356 ±2,437
2,444 ±1,511
14:20 (10:48)
141
Predestination
Feb 4, 2015
$29.99
N/A (N/A)
4,889 ±2,138
4,156 ±1,971
17:59 (05:42)
142
Star Command Galaxies
Sep 17, 2015
$14.99
22% (65%)
8,800 ±2,868
6,600 ±2,484
04:10 (02:32)
143
The Masterplan
Jun 4, 2015
$19.99
22% (65%/68%)
94,844 ±9,416
48,400 ±6,727
07:18 (02:20)
144
Farlight Explorers
Mar 11, 2015
$14.99
22% (65%)
6,356 ±2,437
5,622 ±2,292
40:39 (02:54)
145
Samphi
Mar 18, 2016
$4.99
N/A (N/A)
3,178 ±1,723
2,200 ±1,434
02:15 (03:30)
146
A City Sleeps
Oct 16, 2014
$9.99
N/A (N/A)
19,555 ±4,276
5,622 ±2,292
02:42 (03:24)
147
Herolike
Sep 28, 2016
$7.99
N/A (N/A)
3,178 ±1,723
1,711 ±1,265
02:50 (04:25)
148
Snooker Nation Championship
Apr 27, 2016
$4.99
20% (63%)
8,800 ±2,868
5,133 ±2,191
04:26 (03:14)
149
Sky Nations
Jul 17, 2014
$13.99
19% (62%)
4,889 ±2,138
3,911 ±1,912
07:39 (03:16)
150
Neon Space ULTRA
Jun 1, 2016
$2.99
N/A (N/A)
58,666 ±7,406
42,289 ±6,288
03:19 (03:30)
151
Amulet of Dreams
Jun 3, 2016
$6.99
19% (62%)
4,400 ±2,028
2,444 ±1,511
03:35 (04:39)
152
Curses 'N Chaos
Aug 18, 2015
$9.99
N/A (N/A)
40,333 ±6,141
11,244 ±3,242
02:25 (01:48)
153
Sign Motion
Oct 24, 2014
$9.99
17% (61%)
2,200 ±1,434
1,222 ±1,069
02:54 (02:40)
154
Mouse in Lab
Feb 1, 2017
$0.99
N/A (N/A)
92,155 ±9,282
50,111 ±6,845
02:50 (03:24)
155
The Deer God
Feb 27, 2015
$14.99
16% (60%/59%)
49,622 ±6,811
35,689 ±5,776
05:01 (05:23)
156
Arson and Plunder: Unleashed
Sep 25, 2015
$1.74
N/A (N/A)
17,844 ±4,085
9,289 ±2,947
02:37 (03:09)
157
Deserter Simulator
Jul 30, 2015
$9.99
15% (59%)
2,933 ±1,656
1,956 ±1,352
03:19 (04:14)
158
Crystal Picnic
Nov 2, 2015
$1.99
N/A (N/A)
4,400 ±2,028
1,956 ±1,352
02:02 (02:41)
159
Bunker - The Underground Game
May 21, 2015
$1.99
N/A (N/A)
19,555 ±4,276
6,600 ±2,484
04:50 (05:31)
160
Super Trench Attack 2
Nov 6, 2015
$6.99
15% (58%)
13,933 ±3,609
7,089 ±2,574
03:22 (03:15)
161
Starship Annihilator
Sep 2, 2016
$0.99
N/A (N/A)
6,600 ±2,484
5,867 ±2,342
03:37 (04:04)
162
Sumo Revise
Jun 25, 2015
$4.99
N/A (N/A)
57,200 ±7,313
43,022 ±6,342
04:56 (04:07)
163
ZRoll
Apr 17, 2017
$0.99
N/A (N/A)
80,422 ±8,671
76,999 ±8,485
03:23 (03:30)
164
TRISTOY
Jan 15, 2015
$2.37
N/A (N/A/49%)
27,866 ±5,104
13,933 ±3,609
04:38 (04:24)
165
SparkDimension
Oct 4, 2016
$9.99
N/A (N/A)
5,867 ±2,342
4,156 ±1,971
06:19 (07:28)
166
Bibou
Apr 29, 2016
$0.99
N/A (N/A)
49,622 ±6,811
41,555 ±6,233
03:26 (03:30)
167
Timber and Stone
Oct 20, 2015
$12.99
9% (50%)
25,422 ±4,875
22,244 ±4,560
19:35 (08:33)
168
Vernon's Legacy
Sep 23, 2016
$11.99
N/A (N/A)
8,311 ±2,787
3,422 ±1,788
02:39 (02:43)
169
TownCraft
Feb 25, 2015
$9.99
N/A (N/A)
19,800 ±4,303
12,222 ±3,380
04:15 (02:53)
170
Blaster Shooter GunGuy!
Aug 10, 2015
$1.49
7% (46%)
109,510 ±10,118
84,577 ±8,892
03:49 (03:27)
171
Vitrum
Apr 22, 2014
$4.99
N/A (N/A)
24,200 ±4,757
15,889 ±3,854
02:24 (02:17)
172
It Comes Around - A Kinetic Novel
Sep 29, 2016
$2.99
N/A (N/A)
7,822 ±2,704
4,156 ±1,971
02:58 (03:34)
173
Scribble Space
Jun 1, 2015
$1.99
6% (45%)
15,400 ±3,794
10,022 ±3,061
02:22 (02:24)
174
Ninja Stealth 2
Jan 30, 2017
$0.99
N/A (N/A)
14,667 ±3,703
11,000 ±3,207
04:27 (03:06)
175
Sunken
May 26, 2016
$9.99
N/A (N/A)
1,956 ±1,352
1,467 ±1,171
06:16 (06:30)
176
The Gleam: VR Escape the Room
Oct 14, 2016
$3.99
N/A (N/A)
6,600 ±2,484
4,644 ±2,084
02:03 (02:23)
177
A-Men
Jan 24, 2014
$9.99
N/A (N/A)
14,178 ±3,641
9,289 ±2,947
03:26 (03:36)
178
Call Of The Mighty Warriors
Jun 2, 2016
$1.99
N/A (N/A)
13,444 ±3,545
10,511 ±3,135
05:27 (05:54)
179
Doodle Kingdom
Jun 9, 2016
$4.99
N/A (N/A)
8,800 ±2,868
5,622 ±2,292
02:38 (02:30)
180
Cube Land Arena
Mar 29, 2016
$0.49
N/A (N/A)
14,667 ±3,703
10,267 ±3,098
05:09 (05:58)
181
Altar Guardian
Oct 24, 2016
$1.99
N/A (N/A)
40,577 ±6,159
35,689 ±5,776
03:18 (03:28)
182
AdvertCity
Jun 5, 2015
$4.99
N/A (N/A)
10,755 ±3,171
5,622 ±2,292
03:17 (03:49)
183
Monument
Jun 5, 2015
$3.99
3% (36%)
8,067 ±2,746
5,378 ±2,242
02:28 (02:50)
184
Days Under Custody
Nov 23, 2015
$4.99
N/A (N/A)
18,822 ±4,195
10,267 ±3,098
04:47 (03:26)
185
Centauri Sector
Jun 23, 2015
$4.99
N/A (N/A)
15,155 ±3,764
6,600 ±2,484
04:37 (03:48)
186
Wake
$4.99
2% (33%)
47,422 ±6,659
29,578 ±5,259
03:20 (02:26)
187
Moonstone Tavern - A Fantasy Tavern Sim!
May 13, 2016
$7.99
2% (31%)
15,400 ±3,794
10,511 ±3,135
05:16 (02:49)
188
Locked-in syndrome
Jan 7, 2016
$2.99
N/A (N/A)
122,221 ±10,689
70,888 ±8,141
02:55 (03:29)
189
Night Forest
Nov 8, 2016
$1.99
N/A (N/A)
71,133 ±8,155
65,022 ±7,797
03:34 (03:30)
190
Time Of Silence
Dec 6, 2016
$0.99
N/A (N/A)
37,155 ±5,894
31,778 ±5,451
03:13 (03:30)
191
Sleight
Nov 9, 2016
$0.99
N/A (N/A)
40,822 ±6,178
35,933 ±5,796
03:18 (03:30)
192
A.I. Invasion
Sep 30, 2015
$9.99
N/A (N/A)
9,289 ±2,947
6,111 ±2,390
03:26 (03:48)
193
AoF Chess Club 2.0
Nov 4, 2015
$3.99
N/A (N/A)
11,978 ±3,346
7,822 ±2,704
03:30 (03:28)
194
Race To Mars
Mar 7, 2014
$19.99
0% (12%)
7,089 ±2,574
6,600 ±2,484
03:07 (02:06)