MetaHuman Inc.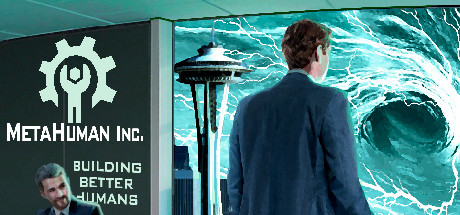 Store | Hub | SteamDB | Site
Developer: Choice of Games Publisher: Choice of Games
Genre: Indie, RPG
Languages: English
Tags: Indie (24), RPG (21), Text-Based (16), Choose Your Own Adventure (8), Visual Novel (5)
Category: Single-player, Steam Achievements, Captions available, Steam Cloud
Release date: Dec 18, 2015
Price: $4.89 30%
Score rank: 70% Userscore: 89% Old userscore: 89%
Owners: 7,768 ± 2,431
Players in the last 2 weeks: 604 ± 836 (7.78%)
Players total: 6,374 ± 2,202 (82.05%)
Followers: 1,315
Peak concurrent players yesterday: 3
Playtime in the last 2 weeks: 01:11 (average) 01:11 (median)
Playtime total: 07:18 (average) 05:22 (median)

Steam Spy is still in beta, so expect major bugs.
Peak daily concurrent players:
CCU data courtesy of SteamDB. Used with permission.
Hourly concurrent players:
YouTube:
The views data is based on top 50 videos uploaded last week. Actual number of views might be more than the number shown.

The displayed number of videos uploaded yesterday is limited to 50, so if there were more videos uploaded, the number will still show 50.

If the game has commonly used word as its name (like "FEAR" or "Volume") its number of Youtube views might be wrong.
Games similar to this one:
#
Game
Release date

Price

Score rank
(Userscore / Metascore)

Owners

Players

Playtime (Median)

1
Racket: Nx
Jan 31, 2017
$19.99
100% (99%)
4,382 ±1,826
4,183 ±1,784
03:28 (01:36)
2
Marvin's Mittens
Dec 17, 2014
$2.39
99% (98%)
6,772 ±2,270
4,780 ±1,907
02:58 (03:17)
3
Sally Face
Dec 14, 2016
$2
97% (97%)
8,764 ±2,582
5,975 ±2,132
02:05 (02:03)
4
Guns of Infinity
Mar 29, 2016
$3.99
N/A (N/A)
3,585 ±1,652
2,788 ±1,457
06:57 (06:51)
5
Choice of Alexandria
Jun 10, 2016
$1.97
N/A (N/A)
4,979 ±1,947
3,784 ±1,697
02:49 (02:41)
6
Escape Goat
Oct 9, 2013
$2.49
97% (97%)
42,823 ±5,709
34,059 ±5,091
03:46 (01:59)
7
A Study in Steampunk: Choice by Gaslight
Nov 20, 2015
$2.99
97% (97%)
6,174 ±2,168
4,979 ±1,947
08:02 (03:20)
8
Open Sorcery
Feb 22, 2017
$2.67
N/A (N/A)
5,975 ±2,132
3,984 ±1,741
03:06 (02:37)
9
Abode
Dec 1, 2016
$7.99
95% (96%)
8,166 ±2,493
1,793 ±1,168
03:13 (02:28)
10
Escape Goat 2
Mar 24, 2014
$4.99
95% (96%/76%)
49,794 ±6,156
21,113 ±4,009
04:30 (03:09)
11
Oh...Sir! The Hollywood Roast
May 31, 2017
$3.39
95% (96%)
5,577 ±2,060
5,179 ±1,985
03:25 (02:23)
12
Pixel Cup Soccer 17
Aug 4, 2016
$9.99
95% (96%)
8,963 ±2,612
6,772 ±2,270
02:50 (02:58)
13
Lowglow
Dec 3, 2015
$1.59
N/A (N/A)
106,360 ±8,997
74,293 ±7,519
03:51 (03:31)
14
Angry Arrows
Aug 12, 2015
$2.49
92% (95%)
11,353 ±2,939
1,992 ±1,231
02:13 (02:10)
15
Anyland
Oct 6, 2016
Free
92% (95%)
9,361 ±2,669
4,979 ±1,947
05:26 (01:19)
16
Gravity Ghost
Jan 26, 2015
$10.04
92% (95%/75%)
17,727 ±3,673
7,370 ±2,368
02:45 (02:44)
17
Critter Crunch
Sep 11, 2012
$1.39
92% (95%)
49,794 ±6,156
24,100 ±4,283
03:06 (01:08)
18
Constant C
Mar 11, 2014
$9.99
N/A (N/A/60%)
9,162 ±2,641
6,772 ±2,270
02:01 (01:47)
19
Planet Diver
Nov 30, 2015
$0.99
N/A (N/A)
9,162 ±2,641
6,374 ±2,202
03:22 (02:45)
20
Tales From Space: Mutant Blobs Attack
Aug 15, 2012
$3.19
92% (95%/83%)
173,084 ±11,476
73,894 ±7,499
03:41 (02:05)
21
Intake
Nov 6, 2013
$9.99
92% (95%)
50,989 ±6,230
27,486 ±4,574
02:57 (01:58)
22
Gryphon Knight Epic
Aug 20, 2015
$1.99
N/A (N/A/55%)
24,499 ±4,318
14,341 ±3,304
03:29 (03:33)
23
On A Roll 3D
Feb 12, 2015
$1.99
92% (95%)
46,408 ±5,943
34,458 ±5,121
03:22 (03:22)
24
Super Puzzle Platformer Deluxe
May 24, 2013
$1.59
92% (95%)
61,944 ±6,866
31,271 ±4,879
05:09 (01:45)
25
Transcripted
$4.79
N/A (N/A/78%)
28,681 ±4,672
14,739 ±3,349
04:00 (02:23)
26
Lucius Demake
Aug 8, 2016
$1.24
89% (94%)
24,100 ±4,283
12,349 ±3,066
02:29 (02:27)
27
Space Beast Terror Fright
Apr 6, 2015
$9.74
89% (94%)
10,955 ±2,887
10,357 ±2,808
07:52 (03:59)
28
Niche - a genetics survival game
Sep 15, 2016
$18.99
89% (94%)
35,852 ±5,224
35,453 ±5,195
14:18 (05:30)
29
Glorkian Warrior: The Trials Of Glork
Mar 24, 2015
$1.35
86% (93%)
39,636 ±5,492
29,080 ±4,705
03:11 (03:08)
30
Boson X
Sep 15, 2014
$0.74
86% (93%)
95,206 ±8,512
75,886 ±7,600
03:04 (02:32)
31
Aviary Attorney
Dec 21, 2015
$7.49
86% (93%/77%)
22,507 ±4,139
17,926 ±3,694
05:21 (04:38)
32
PuppyStory
Mar 23, 2017
$0.99
N/A (N/A)
107,157 ±9,031
87,239 ±8,148
04:10 (04:31)
33
TormentorPunisher
Jun 2, 2017
$7.99
N/A (N/A)
996 ±870
797 ±778
05:13 (03:40)
34
The Inner Darkness
Feb 24, 2017
$2.49
N/A (N/A)
5,975 ±2,132
2,788 ±1,457
02:14 (02:27)
35
Pixel Star
May 22, 2015
$1.49
N/A (N/A)
25,893 ±4,439
17,528 ±3,652
03:26 (03:33)
36
Heroes Rise: HeroFall
Jul 11, 2014
$2.99
86% (93%)
14,938 ±3,372
7,967 ±2,462
04:45 (04:06)
37
Unmechanical
Aug 8, 2012
$2.49
86% (93%/74%)
86,044 ±8,092
32,665 ±4,986
02:31 (02:11)
38
Reflection of Mine
Feb 24, 2017
$5.59
N/A (N/A)
10,556 ±2,834
6,971 ±2,303
04:21 (04:15)
39
Press X to Not Die
Oct 9, 2015
$1.49
86% (93%)
39,039 ±5,451
29,080 ±4,705
02:01 (01:08)
40
Void Invaders
Aug 14, 2015
$0.5
82% (92%)
39,636 ±5,492
23,503 ±4,229
02:50 (02:30)
41
Candle
Nov 11, 2016
$7.49
82% (92%/80%)
22,507 ±4,139
10,158 ±2,780
07:20 (03:07)
42
Titan Attacks!
Feb 3, 2012
$4.29
82% (92%)
141,415 ±10,374
88,634 ±8,213
02:57 (01:28)
43
6180 the moon
Sep 19, 2014
$1.99
82% (92%)
16,532 ±3,547
13,743 ±3,234
02:41 (01:53)
44
Inside My Radio
May 11, 2015
$2.99
78% (91%/68%)
25,893 ±4,439
12,946 ±3,139
02:57 (02:20)
45
Impossiball
Sep 28, 2016
$0.89
N/A (N/A)
14,739 ±3,349
11,951 ±3,016
02:27 (02:47)
46
Ultratron
Mar 18, 2013
$4.29
78% (91%)
86,243 ±8,102
57,562 ±6,619
02:14 (01:30)
47
Pix the Cat
Jan 29, 2015
$1.99
78% (91%/77%)
94,410 ±8,476
44,416 ±5,814
02:52 (02:27)
48
XenoRaptor
Jun 16, 2014
$3.74
78% (91%)
8,565 ±2,553
6,573 ±2,236
02:05 (01:38)
49
Pizza Express
Jun 25, 2015
$0.69
78% (91%)
26,690 ±4,507
16,532 ±3,547
04:05 (03:39)
50
T.E.C. 3001
Apr 11, 2014
$3.99
78% (91%)
43,221 ±5,735
34,258 ±5,106
02:18 (01:40)
51
Dashy Square
Apr 25, 2016
$0.99
74% (90%)
18,723 ±3,775
14,938 ±3,372
04:49 (04:46)
52
Leos Fortune - HD Edition
Sep 8, 2015
$6.99
74% (90%)
10,158 ±2,780
6,772 ±2,270
02:03 (01:18)
53
We Know the Devil
Feb 15, 2016
$3.99
74% (90%)
8,365 ±2,523
5,577 ±2,060
02:09 (02:00)
54
Pivvot
Jul 14, 2014
$4.99
74% (90%)
18,125 ±3,714
13,942 ±3,257
03:13 (02:36)
55
Mad Dagger
Apr 1, 2017
$0.62
N/A (N/A)
75,886 ±7,600
67,919 ±7,190
04:27 (04:31)
56
The Cat Machine
Aug 12, 2015
$3.99
74% (90%)
4,382 ±1,826
3,784 ±1,697
03:57 (03:27)
57
That Dragon, Cancer
Jan 11, 2016
$6.99
74% (90%/78%)
33,262 ±5,032
22,507 ±4,139
01:34 (01:34)
58
Mecha Ace
Dec 5, 2014
$3.95
74% (90%)
9,760 ±2,725
8,764 ±2,582
06:55 (05:09)
59
Luna Sky
Oct 2, 2015
$1.29
N/A (N/A)
48,400 ±6,069
22,507 ±4,139
03:33 (03:48)
60
An Octave Higher
Mar 27, 2015
$2.99
74% (90%)
15,735 ±3,461
7,569 ±2,400
05:48 (06:05)
61
stratO
Jun 1, 2015
$2.49
N/A (N/A)
9,162 ±2,641
5,179 ±1,985
03:53 (04:20)
62
Procyon
Feb 26, 2014
$1.99
74% (90%)
23,304 ±4,211
13,942 ±3,257
03:15 (02:29)
63
Cannonfire Concerto
Dec 8, 2016
$2.99
N/A (N/A)
1,593 ±1,101
1,394 ±1,030
04:31 (08:32)
64
Reign of Bullets
Aug 19, 2015
$4.99
N/A (N/A)
16,133 ±3,504
7,967 ±2,462
03:32 (02:57)
65
Dragon's Wake
Dec 10, 2015
$1.99
70% (89%)
19,718 ±3,874
12,946 ±3,139
04:09 (03:32)
66
Kromaia
Oct 23, 2014
$4.99
N/A (N/A/68%)
28,482 ±4,656
11,951 ±3,016
02:34 (02:40)
67
Shoot 1UP
Sep 23, 2015
$3.99
N/A (N/A)
11,154 ±2,913
6,573 ±2,236
03:19 (03:12)
68
Axes and Acres
Apr 7, 2016
$5.99
N/A (N/A)
11,353 ±2,939
8,365 ±2,523
03:09 (02:56)
69
Great Permutator
Sep 15, 2014
$1.04
N/A (N/A)
37,445 ±5,339
20,117 ±3,913
03:06 (01:37)
70
Intensive Exposure
Sep 6, 2016
$0.99
70% (89%)
10,556 ±2,834
8,166 ±2,493
01:57 (01:35)
71
Iron Fisticle
Sep 16, 2014
$8.99
70% (89%)
14,341 ±3,304
11,353 ±2,939
02:45 (01:35)
72
Of Carrots And Blood
Mar 25, 2016
$0.59
N/A (N/A)
18,125 ±3,714
2,988 ±1,508
01:07 (01:55)
73
Creeper World 2: Anniversary Edition
Nov 16, 2016
$2.49
N/A (N/A)
5,577 ±2,060
3,585 ±1,652
16:08 (10:36)
74
Jones On Fire
Mar 27, 2015
$1.49
N/A (N/A)
124,485 ±9,733
27,088 ±4,541
02:02 (01:03)
75
A Normal Lost Phone
Jan 26, 2017
$2
67% (88%/71%)
10,955 ±2,887
7,569 ±2,400
01:12 (01:20)
76
Gal-X-E
May 14, 2016
$0.49
N/A (N/A)
14,341 ±3,304
10,756 ±2,861
03:20 (02:48)
77
Porcunipine
May 21, 2015
$1.99
N/A (N/A)
24,100 ±4,283
12,946 ±3,139
03:58 (03:59)
78
Binaries
Apr 4, 2016
$2.49
N/A (N/A)
5,975 ±2,132
3,386 ±1,605
01:48 (01:45)
79
Blade Ballet
Aug 9, 2016
$3.74
N/A (N/A)
5,378 ±2,023
3,585 ±1,652
01:39 (01:25)
80
Cosmophony
Jul 9, 2015
$1.74
67% (88%)
10,556 ±2,834
8,365 ±2,523
02:27 (02:08)
81
Lumini
Sep 3, 2015
$3.24
N/A (N/A/69%)
10,756 ±2,861
5,776 ±2,096
01:52 (01:59)
82
Phoenix Force
Nov 13, 2014
$0.49
64% (87%)
72,699 ±7,438
54,574 ±6,445
03:44 (02:23)
83
Champion of the Gods
Jul 17, 2015
$4.89
64% (87%)
11,552 ±2,965
10,357 ±2,808
06:21 (03:52)
84
Ninja Pizza Girl
Sep 30, 2015
$3.49
64% (87%/82%)
121,697 ±9,624
26,092 ±4,456
01:59 (01:18)
85
Cube Destroyer
Feb 15, 2016
$0.5
64% (87%)
176,470 ±11,588
130,859 ±9,979
03:25 (03:24)
86
Pinstripe
Apr 24, 2017
$9.99
64% (87%)
7,170 ±2,336
4,780 ±1,907
03:40 (03:17)
87
Ballad of Solar
May 22, 2014
$0.69
62% (86%)
13,544 ±3,211
9,560 ±2,697
04:25 (04:00)
88
Knytt Underground
Oct 25, 2013
$3.49
62% (86%)
69,313 ±7,263
36,848 ±5,296
03:12 (01:09)
89
Clandestinity of Elsie
Jul 8, 2015
$0.49
N/A (N/A)
23,702 ±4,247
15,735 ±3,461
03:32 (03:11)
90
RETSNOM
Jul 23, 2015
$1.24
N/A (N/A)
10,756 ±2,861
6,971 ±2,303
03:42 (04:16)
91
WARTILE
Mar 17, 2017
$16.99
62% (86%)
5,179 ±1,985
4,780 ±1,907
02:42 (01:07)
92
Chariot
Nov 12, 2014
$14.99
62% (86%/76%)
47,603 ±6,019
23,702 ±4,247
06:05 (02:10)
93
Spellsworn
Nov 2, 2015
$9.99
62% (86%)
15,735 ±3,461
9,162 ±2,641
02:55 (02:52)
94
Pof
Nov 8, 2013
$6.99
N/A (N/A)
43,819 ±5,775
29,080 ±4,705
02:46 (01:29)
95
State of Anarchy
Apr 27, 2016
$0.49
59% (85%)
163,325 ±11,148
105,165 ±8,946
02:55 (03:05)
96
Sparkle 2
Jun 1, 2015
$2.39
N/A (N/A)
16,133 ±3,504
10,158 ±2,780
05:38 (05:39)
97
Zolg
Dec 2, 2016
$0.49
59% (85%)
19,718 ±3,874
13,942 ±3,257
03:39 (03:10)
98
OPUS: The Day We Found Earth
Apr 22, 2016
$3.59
59% (85%)
9,560 ±2,697
7,768 ±2,431
02:44 (02:16)
99
Tomb of Tyrants
Jun 25, 2015
$3.19
59% (85%)
24,300 ±4,300
19,718 ±3,874
03:52 (02:38)
100
Frederic: Resurrection of Music
May 16, 2014
$0.5
59% (85%)
143,805 ±10,461
90,227 ±8,287
03:41 (02:56)
101
Mu Complex
Oct 23, 2015
$4.49
56% (84%)
7,768 ±2,431
6,174 ±2,168
03:16 (03:10)
102
Four Sided Fantasy
Aug 30, 2016
$1.99
56% (84%)
6,573 ±2,236
2,988 ±1,508
01:18 (01:22)
103
Mini Thief
Jun 13, 2016
$1.99
54% (83%)
16,731 ±3,568
12,349 ±3,066
01:26 (01:12)
104
Road Not Taken
Aug 5, 2014
$4.49
54% (83%/75%)
52,981 ±6,350
33,462 ±5,047
04:17 (01:26)
105
Instant Dungeon!
Nov 25, 2014
$1.33
54% (83%)
13,743 ±3,234
11,552 ±2,965
02:56 (01:27)
106
A Walk in the Dark
Nov 7, 2013
$3.49
54% (83%/67%)
22,507 ±4,139
14,739 ±3,349
01:46 (01:00)
107
The Promised Land
Apr 25, 2014
$0.69
54% (83%)
26,490 ±4,490
21,113 ±4,009
09:12 (04:51)
108
DashBored
Jun 13, 2016
$0.99
N/A (N/A)
10,158 ±2,780
7,569 ±2,400
05:15 (05:23)
109
Echo of the Wilds
Jun 10, 2014
$4.49
54% (83%)
26,291 ±4,473
18,125 ±3,714
03:12 (02:17)
110
Empire of the Gods
Jan 27, 2016
$0.49
N/A (N/A)
18,523 ±3,755
10,955 ±2,887
03:34 (02:58)
111
Octave
Oct 18, 2016
$2.39
N/A (N/A)
34,657 ±5,136
23,901 ±4,265
03:43 (03:27)
112
Super Galaxy Squadron EX Turbo
Jan 23, 2015
$5.99
54% (83%)
91,820 ±8,359
22,308 ±4,120
02:12 (02:11)
113
Fuego!
Nov 16, 2015
$0.49
N/A (N/A)
1,771 ±1,414
886 ±1,000
04:21 (02:43)
114
Labyrinthine Dreams
May 26, 2015
$0.49
54% (83%)
98,991 ±8,680
35,055 ±5,165
02:11 (02:07)
115
Caromble!
Aug 27, 2015
$9.09
N/A (N/A)
7,768 ±2,431
996 ±870
01:21 (01:10)
116
The Kindred
Feb 24, 2016
$7.49
N/A (N/A)
3,784 ±1,697
2,988 ±1,508
07:36 (04:02)
117
The Novelist
Dec 10, 2013
$2.99
51% (82%/66%)
150,577 ±10,704
60,350 ±6,777
02:56 (01:28)
118
Bloody Streets
Mar 12, 2015
$0.74
N/A (N/A)
17,926 ±3,694
9,959 ±2,753
02:19 (02:09)
119
Millie
Apr 18, 2014
$0.51
51% (82%)
148,984 ±10,648
90,426 ±8,296
02:58 (02:53)
120
Full Bore
May 6, 2014
$3.74
N/A (N/A/72%)
57,363 ±6,607
26,291 ±4,473
03:23 (02:20)
121
Actual Sunlight
Apr 3, 2014
$0.49
51% (82%/77%)
11,154 ±2,913
7,170 ±2,336
01:21 (01:15)
122
Diabolical
Nov 6, 2015
$3.95
51% (82%)
6,174 ±2,168
5,378 ±2,023
05:07 (07:57)
123
12 orbits
Oct 24, 2016
$1.49
51% (82%)
15,735 ±3,461
9,361 ±2,669
02:00 (01:32)
124
OTTTD
Aug 6, 2014
$2.63
51% (82%)
52,383 ±6,314
31,669 ±4,910
05:10 (02:20)
125
Tobari and the Night of the Curious Moon
May 26, 2015
$4.99
N/A (N/A)
3,984 ±1,741
2,788 ±1,457
07:15 (03:11)
126
Introvert Quest
Mar 15, 2017
$2.49
N/A (N/A)
45,811 ±5,905
40,433 ±5,547
03:35 (03:30)
127
Shipwreck
Feb 13, 2015
$1.01
49% (81%)
9,162 ±2,641
6,374 ±2,202
02:40 (01:38)
128
Beyond Sol
Oct 13, 2015
$2.74
49% (81%/83%)
6,374 ±2,202
5,378 ±2,023
12:45 (06:46)
129
Life of Pixel
Oct 22, 2014
$1.74
49% (81%)
32,067 ±4,940
21,710 ±4,065
03:57 (02:22)
130
Treeker: The Lost Glasses
May 13, 2015
$3.99
N/A (N/A)
18,723 ±3,775
12,747 ±3,115
03:38 (02:47)
131
Three Fourths Home: Extended Edition
Mar 20, 2015
$1.69
N/A (N/A/77%)
28,482 ±4,656
17,129 ±3,611
02:28 (02:11)
132
Shmadow
Nov 3, 2015
$0.67
49% (81%)
31,669 ±4,910
21,909 ±4,084
03:01 (02:43)
133
Frederic: Resurrection of Music Director's Cut
Apr 21, 2016
$0.59
49% (81%)
72,102 ±7,408
40,234 ±5,534
03:15 (03:11)
134
Mysterious Space
May 15, 2015
$4
N/A (N/A)
13,345 ±3,187
7,170 ±2,336
04:00 (04:25)
135
Space Moth DX
Jan 22, 2016
$0.49
N/A (N/A)
23,104 ±4,193
12,150 ±3,041
02:47 (02:34)
136
ChargeShot
Sep 18, 2015
$3.39
N/A (N/A)
20,515 ±3,951
14,938 ±3,372
03:19 (03:48)
137
Glitchspace
May 5, 2016
$3.24
46% (80%)
14,739 ±3,349
9,560 ±2,697
02:13 (00:48)
138
Heavenly Battle
Jun 15, 2016
$0.99
N/A (N/A)
93,215 ±8,423
79,471 ±7,777
03:41 (03:30)
139
Solar Flux
Oct 24, 2013
$2.99
46% (80%)
128,469 ±9,888
76,683 ±7,639
02:38 (02:08)
140
Cherry Tree High I! My! Girls!
Nov 20, 2014
$1.99
46% (80%)
68,716 ±7,232
25,694 ±4,422
02:17 (01:33)
141
Life Beetle
Apr 18, 2017
$0.49
46% (80%)
12,548 ±3,090
9,560 ±2,697
02:56 (03:14)
142
XLarn
May 25, 2015
$3.49
N/A (N/A)
3,984 ±1,741
2,589 ±1,404
02:42 (02:21)
143
The Guest
Mar 10, 2016
$1.49
46% (80%/68%)
19,121 ±3,815
11,951 ±3,016
03:33 (03:06)
144
Tiny Brains
Dec 11, 2013
$1.99
44% (79%)
58,359 ±6,665
33,661 ±5,062
01:57 (01:23)
145
Sugar Cube: Bittersweet Factory
Nov 7, 2012
$1.74
44% (79%)
56,168 ±6,538
33,262 ±5,032
02:24 (01:26)
146
BATTLECREW Space Pirates
Jan 31, 2017
$9.99
N/A (N/A)
3,984 ±1,741
2,788 ±1,457
03:11 (03:35)
147
Journal
Feb 17, 2014
$1.49
44% (79%/59%)
21,909 ±4,084
14,142 ±3,281
02:32 (01:51)
148
Polyball
Jun 4, 2015
$7.49
N/A (N/A)
14,540 ±3,327
9,560 ±2,697
03:43 (03:02)
149
Morphine
Oct 28, 2015
$0.92
44% (79%)
30,872 ±4,847
18,922 ±3,795
02:48 (02:33)
150
Space Distant
Dec 20, 2016
$0.5
44% (79%)
43,620 ±5,762
36,648 ±5,281
05:41 (06:31)
151
ReignMaker
Apr 16, 2014
$14.99
N/A (N/A)
58,558 ±6,676
30,872 ±4,847
03:47 (01:46)
152
Miner Warfare
Jun 11, 2015
$0.74
42% (78%)
16,332 ±3,526
12,349 ±3,066
02:43 (02:05)
153
Finders
Apr 9, 2015
$0.59
42% (78%)
9,760 ±2,725
7,170 ±2,336
08:28 (04:45)
154
Chronicles of a Dark Lord: Episode 1 Tides of Fate Complete
Dec 19, 2014
$0.99
N/A (N/A)
62,741 ±6,910
42,225 ±5,669
04:36 (03:30)
155
SUPER IMPOSSIBLE ROAD
May 11, 2016
$9.74
N/A (N/A)
2,589 ±1,404
2,390 ±1,348
01:22 (01:01)
156
Unfortunate Spacemen
May 6, 2016
$9.99
40% (77%)
1,793 ±1,168
1,394 ±1,030
02:22 (03:24)
157
Dwarf Tower
Dec 23, 2014
$0.99
38% (76%)
24,300 ±4,300
17,727 ±3,673
02:33 (01:38)
158
Child Phobia: Nightcoming Fears
Dec 20, 2016
$1.99
N/A (N/A)
6,573 ±2,236
5,577 ±2,060
03:20 (03:52)
159
A Druid's Duel
Feb 25, 2015
$2.63
38% (76%/70%)
23,503 ±4,229
12,349 ±3,066
03:47 (01:38)
160
MOAI: Build Your Dream
Feb 26, 2015
$0.69
38% (76%)
15,536 ±3,439
13,345 ±3,187
06:07 (02:54)
161
BRAWL
Aug 13, 2015
$5.09
N/A (N/A)
13,544 ±3,211
9,361 ±2,669
05:21 (05:02)
162
Tokyo 42
May 31, 2017
$19.99
38% (76%/72%)
7,370 ±2,368
6,971 ±2,303
03:32 (01:43)
163
Broken Bots
Jun 8, 2016
$3.49
N/A (N/A)
10,556 ±2,834
7,768 ±2,431
03:27 (03:45)
164
iO
Dec 5, 2014
$1.99
38% (76%)
29,080 ±4,705
18,723 ±3,775
02:59 (01:23)
165
Share
May 3, 2016
$2.49
36% (75%)
7,967 ±2,462
5,179 ±1,985
02:37 (02:24)
166
Traverser
Jul 9, 2015
$2.99
N/A (N/A/61%)
6,971 ±2,303
2,988 ±1,508
01:55 (02:07)
167
Cubemen 2
Apr 8, 2013
$1.99
36% (75%/68%)
100,385 ±8,741
53,180 ±6,362
03:35 (01:48)
168
Nephise Begins
Apr 24, 2017
$1.49
N/A (N/A)
2,657 ±1,732
1,181 ±1,155
01:14 (02:17)
169
Flame of Memory
Feb 1, 2017
$1.99
N/A (N/A)
4,979 ±1,947
3,386 ±1,605
03:03 (03:17)
170
The Dark Legions
Jul 9, 2016
$0.99
N/A (N/A)
9,560 ±2,697
3,585 ±1,652
05:47 (03:40)
171
Ninja Stealth
Sep 29, 2016
$0.49
35% (74%)
37,844 ±5,367
26,490 ±4,490
05:00 (04:33)
172
Shift
Aug 16, 2016
$0.49
33% (73%)
27,088 ±4,541
17,129 ±3,611
02:41 (02:12)
173
Awareness Rooms
Jun 16, 2016
$2.49
33% (73%)
3,187 ±1,557
2,390 ±1,348
02:24 (03:04)
174
You Deserve
Aug 19, 2016
$0.49
33% (73%)
12,747 ±3,115
6,374 ±2,202
03:29 (02:35)
175
The Adventures of Mr. Bobley
Jul 1, 2015
$8.99
33% (73%)
59,155 ±6,710
42,624 ±5,696
03:50 (03:36)
176
The Purge Day
Nov 25, 2016
$1.49
N/A (N/A)
5,179 ±1,985
2,988 ±1,508
01:43 (02:25)
177
Concursion
Jun 6, 2014
$1.74
N/A (N/A/66%)
21,312 ±4,027
10,955 ±2,887
01:40 (01:27)
178
Filthy Lucre
Dec 11, 2016
$4.41
N/A (N/A)
1,793 ±1,168
797 ±778
09:21 (10:54)
179
Disorder
Jan 12, 2015
$1.99
31% (72%/61%)
12,349 ±3,066
6,573 ±2,236
03:56 (02:41)
180
Power-Up
Aug 29, 2014
$2.09
N/A (N/A)
100,584 ±8,749
60,550 ±6,789
04:55 (04:48)
181
Space Warp
Nov 4, 2014
$4.99
N/A (N/A)
17,129 ±3,611
2,390 ±1,348
00:30 (00:26)
182
Warring States
Oct 6, 2014
$19.99
N/A (N/A)
9,959 ±2,753
4,581 ±1,867
02:12 (02:10)
183
Untamed: Life Of A Cougar
Aug 27, 2015
$1.49
28% (70%)
7,569 ±2,400
2,191 ±1,291
09:33 (03:23)
184
BlastZone 2
Feb 19, 2015
$1.01
N/A (N/A)
21,710 ±4,065
14,142 ±3,281
05:12 (05:19)
185
MetaTron
Dec 19, 2016
$7.99
N/A (N/A)
8,166 ±2,493
5,975 ±2,132
02:54 (02:57)
186
Macabre
Jul 6, 2015
$0.49
N/A (N/A)
32,067 ±4,940
24,499 ±4,318
06:16 (06:15)
187
Cosmic Leap
Mar 17, 2016
$0.49
27% (69%)
14,341 ±3,304
10,357 ±2,808
02:25 (02:33)
188
Volt
Apr 14, 2014
$0.49
27% (69%)
68,118 ±7,200
46,806 ±5,969
02:14 (01:31)
189
Bohemian Killing
Jul 21, 2016
$6.49
27% (69%/55%)
8,963 ±2,612
4,780 ±1,907
01:55 (01:47)
190
Rhythm Destruction
Jun 16, 2014
$1.24
N/A (N/A)
52,782 ±6,338
34,856 ±5,151
02:20 (01:51)
191
Anoxemia
Jan 16, 2015
$1.99
N/A (N/A)
140,818 ±10,352
89,032 ±8,232
04:44 (04:23)
192
MirrorMoon EP
Sep 4, 2013
$1.29
25% (68%/73%)
114,128 ±9,320
54,774 ±6,457
01:54 (00:58)
193
Tulpa
Jan 29, 2015
$2.49
25% (68%)
45,611 ±5,892
21,113 ±4,009
02:48 (03:18)
194
Detective Hunt - Crownston City PD
May 22, 2016
$2.49
N/A (N/A)
1,476 ±1,291
1,181 ±1,155
03:14 (02:58)
195
Gentlemen!
Nov 5, 2013
$1.24
N/A (N/A)
48,201 ±6,057
29,876 ±4,769
03:30 (01:08)
196
Sky Mercenaries
Dec 16, 2014
$1.49
N/A (N/A)
44,018 ±5,788
32,267 ±4,956
02:49 (03:04)
197
Showdown Adventure
Sep 23, 2016
$0.89
N/A (N/A)
12,349 ±3,066
10,357 ±2,808
02:37 (02:44)
198
FaeVerse Alchemy
Apr 2, 2014
Free
24% (67%)
112,336 ±9,246
58,757 ±6,687
07:50 (07:31)
199
Omegalodon
Sep 20, 2013
$9.99
24% (67%)
31,470 ±4,894
17,727 ±3,673
03:40 (01:16)
200
Rush Bros.
May 24, 2013
$0.99
24% (67%)
161,930 ±11,100
109,746 ±9,139
02:07 (01:22)
201
Pulstar
Jun 11, 2014
$0.99
N/A (N/A)
28,084 ±4,623
16,133 ±3,504
01:52 (01:15)
202
The Masterplan
Jun 4, 2015
$3.99
22% (65%/68%)
101,182 ±8,775
49,595 ±6,144
04:23 (02:37)
203
The Race for the White House
Jan 2, 2015
$7.49
N/A (N/A)
6,573 ±2,236
2,788 ±1,457
02:33 (02:56)
204
Pro Wrestling X
Nov 18, 2014
$7.99
22% (65%)
2,191 ±1,291
1,793 ±1,168
00:36 (01:03)
205
Predestination
Feb 4, 2015
$22.49
N/A (N/A)
3,784 ±1,697
2,390 ±1,348
07:23 (07:53)
206
Three Dead Zed
Jul 7, 2014
$1.49
N/A (N/A)
79,073 ±7,758
25,495 ±4,405
02:50 (02:11)
207
Orbit HD
Mar 18, 2015
$0.99
22% (65%)
23,104 ±4,193
16,731 ±3,568
03:08 (01:27)
208
CrazyCars3D
Jun 14, 2016
$1.49
22% (65%)
32,067 ±4,940
28,681 ±4,672
03:19 (03:30)
209
Montague's Mount
Nov 19, 2013
$0.99
21% (64%/39%)
75,687 ±7,590
37,246 ±5,324
02:39 (01:42)
210
Action Alien
Jun 26, 2015
$0.99
N/A (N/A)
58,956 ±6,699
41,030 ±5,588
02:40 (02:56)
211
A City Sleeps
Oct 16, 2014
$9.99
N/A (N/A)
22,706 ±4,157
10,357 ±2,808
03:02 (02:56)
212
Curses 'N Chaos
Aug 18, 2015
$3.39
N/A (N/A)
48,201 ±6,057
9,959 ±2,753
03:03 (02:13)
213
Star Command Galaxies
Sep 17, 2015
$14.99
21% (64%)
8,565 ±2,553
6,772 ±2,270
03:38 (02:18)
214
Dwelvers
Sep 11, 2014
$9.99
21% (64%)
8,365 ±2,523
5,776 ±2,096
20:00 (05:56)
215
Starship Corporation
Apr 29, 2016
$13.39
18% (62%)
7,569 ±2,400
7,170 ±2,336
14:12 (07:01)
216
Party of Sin
Dec 13, 2012
$5.99
N/A (N/A)
82,857 ±7,941
44,018 ±5,788
02:25 (01:37)
217
Samphi
Mar 18, 2016
$4.99
N/A (N/A)
4,382 ±1,826
3,585 ±1,652
02:43 (02:56)
218
Supreme: Pizza Empire
Jan 9, 2015
$2.49
18% (62%)
6,772 ±2,270
5,577 ±2,060
02:23 (02:19)
219
Might & Magic Showdown
Jan 19, 2017
$19.99
18% (62%)
5,378 ±2,023
2,390 ±1,348
02:48 (02:57)
220
Oscura: Lost Light
Feb 24, 2015
$1.74
N/A (N/A/66%)
36,848 ±5,296
15,934 ±3,482
03:09 (02:11)
221
Sky Nations
Jul 17, 2014
$13.99
18% (62%)
4,183 ±1,784
3,984 ±1,741
11:15 (11:10)
222
Snooker Nation Championship
Apr 27, 2016
$2.49
17% (61%)
11,353 ±2,939
7,170 ±2,336
03:18 (01:57)
223
Autocraft
Oct 15, 2014
$2.49
17% (61%)
24,499 ±4,318
22,109 ±4,102
06:24 (01:53)
224
Sign Motion
Oct 24, 2014
$9.99
17% (61%)
2,390 ±1,348
2,191 ±1,291
02:23 (03:07)
225
The Next Door
Mar 22, 2016
$0.79
N/A (N/A)
202,961 ±12,427
146,395 ±10,555
03:54 (03:30)
226
Unalive
Jan 5, 2017
$0.5
N/A (N/A)
57,164 ±6,596
49,197 ±6,119
05:56 (06:31)
227
Nanobots
Mar 15, 2016
$1.19
N/A (N/A)
6,374 ±2,202
4,979 ±1,947
02:27 (02:36)
228
Arson and Plunder: Unleashed
Sep 25, 2015
$1.39
N/A (N/A)
20,117 ±3,913
13,942 ±3,257
03:14 (03:17)
229
Deserter Simulator
Jul 30, 2015
$9.99
15% (59%)
4,183 ±1,784
2,988 ±1,508
03:46 (04:00)
230
Disillusions Manga Horror
Jan 16, 2015
$0.49
15% (59%)
35,453 ±5,195
25,495 ±4,405
03:03 (02:09)
231
Visibility
May 25, 2015
Free
15% (59%)
33,860 ±5,077
4,780 ±1,907
00:40 (00:47)
232
Mouse in Lab
Feb 1, 2017
$0.99
N/A (N/A)
108,950 ±9,106
57,164 ±6,596
02:59 (03:30)
233
Rising Islands
Aug 2, 2016
$2.49
N/A (N/A)
9,361 ±2,669
6,174 ±2,168
02:13 (02:21)
234
Super Trench Attack 2
Nov 6, 2015
$0.69
14% (57%)
15,735 ±3,461
10,357 ±2,808
03:31 (03:24)
235
Starship Traveller
Mar 11, 2015
$1.99
N/A (N/A)
14,540 ±3,327
8,764 ±2,582
02:48 (02:56)
236
Bunker - The Underground Game
May 21, 2015
$1.49
N/A (N/A)
21,113 ±4,009
10,158 ±2,780
05:41 (05:50)
237
Absoloot
Mar 15, 2017
$0.59
N/A (N/A)
65,330 ±7,051
60,151 ±6,766
03:12 (03:21)
238
Heldric - The legend of the shoemaker
Apr 17, 2014
$1.79
N/A (N/A)
2,589 ±1,404
2,191 ±1,291
03:39 (04:41)
239
Sumo Revise
Jun 25, 2015
$4.99
N/A (N/A)
58,558 ±6,676
43,819 ±5,775
03:53 (03:54)
240
Jumpdrive
May 12, 2014
$14.99
12% (55%)
4,183 ±1,784
3,784 ±1,697
02:58 (03:14)
241
Deathwave
Jun 9, 2016
$4.99
N/A (N/A)
7,967 ±2,462
5,577 ±2,060
02:00 (02:10)
242
Other Worlds India
Jan 20, 2017
$0.49
N/A (N/A)
3,585 ±1,652
2,988 ±1,508
02:42 (02:54)
243
TRISTOY
Jan 15, 2015
$2.09
N/A (N/A/49%)
25,096 ±4,370
12,946 ±3,139
04:20 (05:08)
244
SparkDimension
Oct 4, 2016
$9.99
N/A (N/A)
7,370 ±2,368
4,382 ±1,826
05:30 (06:48)
245
Team Indie
Oct 8, 2014
$1.29
N/A (N/A)
86,044 ±8,092
14,142 ±3,281
02:30 (02:35)
246
VoxreD
Sep 30, 2016
$0.49
N/A (N/A)
46,607 ±5,956
37,047 ±5,310
05:52 (06:31)
247
Social Justice Warriors
Feb 27, 2015
$1.99
10% (51%)
3,984 ±1,741
3,386 ±1,605
01:53 (01:58)
248
Nightfall: Escape
Jun 28, 2016
$9.99
N/A (N/A)
17,926 ±3,694
8,565 ±2,553
03:50 (03:53)
249
Timber and Stone
Oct 20, 2015
$12.99
8% (49%)
24,698 ±4,336
21,113 ±4,009
15:45 (03:21)
250
The Falling Sun
Apr 7, 2015
$4.99
8% (49%)
88,434 ±8,204
66,724 ±7,126
05:06 (03:29)
251
Final Rush
Nov 21, 2014
$4.99
8% (48%)
13,345 ±3,187
8,963 ±2,612
03:59 (02:58)
252
Vernon's Legacy
Sep 23, 2016
$2.39
N/A (N/A)
12,349 ±3,066
6,174 ±2,168
02:22 (02:17)
253
Shard Games
Jul 29, 2016
$0.79
N/A (N/A)
45,811 ±5,905
39,835 ±5,506
06:19 (04:31)
254
Star Horizon
May 28, 2015
$1.49
7% (47%)
8,365 ±2,523
6,374 ±2,202
03:14 (03:00)
255
Ninja Stealth 2
Jan 30, 2017
$0.49
N/A (N/A)
18,523 ±3,755
12,349 ±3,066
03:15 (03:07)
256
Arcade Tale
Mar 31, 2017
$0.49
N/A (N/A)
17,528 ±3,652
14,341 ±3,304
03:05 (03:15)
257
Vitrum
Apr 22, 2014
$4.99
N/A (N/A)
25,096 ±4,370
15,137 ±3,394
02:19 (01:49)
258
PERFECT ANGLE: The puzzle game based on optical illusions
Dec 22, 2015
$4.99
N/A (N/A)
74,890 ±7,550
58,558 ±6,676
04:16 (04:01)
259
It Comes Around - A Kinetic Novel
Sep 29, 2016
$2.09
N/A (N/A)
7,170 ±2,336
4,979 ±1,947
02:48 (03:03)
260
TownCraft
Feb 25, 2015
$5.99
6% (45%)
21,710 ±4,065
15,536 ±3,439
05:45 (02:25)
261
Darkness Assault
Feb 6, 2015
$0.49
6% (45%)
48,997 ±6,107
35,653 ±5,209
03:46 (03:04)
262
Scribble Space
Jun 1, 2015
$0.99
6% (44%)
18,922 ±3,795
13,146 ±3,163
03:06 (03:14)
263
Cube Land Arena
Mar 29, 2016
$0.49
N/A (N/A)
17,727 ±3,673
14,938 ±3,372
05:54 (06:34)
264
Agenda
Sep 21, 2016
$7.49
N/A (N/A)
1,593 ±1,101
1,195 ±953
02:18 (03:20)
265
The Undying Plague
Apr 10, 2015
$0.99
5% (41%)
20,117 ±3,913
12,946 ±3,139
03:50 (04:08)
266
The Gleam: VR Escape the Room
Oct 14, 2016
$1.99
N/A (N/A)
9,560 ±2,697
6,374 ±2,202
03:55 (02:02)
267
Altar Guardian
Oct 24, 2016
$0.49
N/A (N/A)
77,081 ±7,659
68,716 ±7,232
05:10 (03:29)
268
AdvertCity
Jun 5, 2015
$4.99
N/A (N/A)
12,548 ±3,090
9,560 ±2,697
03:49 (04:38)
269
Monument
Jun 5, 2015
$0.71
4% (38%)
9,560 ±2,697
8,166 ±2,493
04:59 (03:08)
270
Conclusion
Aug 5, 2016
$0.49
3% (37%)
136,038 ±10,175
128,668 ±9,895
03:25 (03:30)
271
Phantom Soldier
Mar 29, 2017
$0.49
3% (36%)
8,565 ±2,553
5,975 ±2,132
02:49 (02:20)
272
Centauri Sector
Jun 23, 2015
$0.99
N/A (N/A)
18,723 ±3,775
11,951 ±3,016
04:04 (03:52)
273
Days Under Custody
Nov 23, 2015
$0.49
N/A (N/A)
17,129 ±3,611
11,353 ±2,939
03:41 (03:54)
274
Voxelized
Apr 5, 2017
$0.51
3% (35%)
342,384 ±16,138
192,604 ±12,106
02:46 (02:35)
275
STARUSHKO LUB
Oct 24, 2016
$0.49
N/A (N/A)
121,697 ±9,624
95,206 ±8,512
05:54 (05:30)
276
Imagine Me
Dec 9, 2014
$2.99
N/A (N/A)
58,956 ±6,699
34,856 ±5,151
02:09 (01:26)
277
Wake
$4.99
2% (33%)
51,188 ±6,242
32,267 ±4,956
03:00 (02:28)
278
Bad Hotel
Oct 16, 2013
$4.99
N/A (N/A)
103,970 ±8,895
45,611 ±5,892
02:34 (01:24)
279
Moonstone Tavern - A Fantasy Tavern Sim!
May 13, 2016
$2.39
2% (30%)
24,300 ±4,300
18,523 ±3,755
03:54 (03:22)
280
Hero Quest: Tower Conflict
Apr 13, 2016
$0.49
2% (29%)
101,580 ±8,792
72,500 ±7,428
03:35 (03:25)
281
A.I. Invasion
Sep 30, 2015
$6.99
N/A (N/A)
12,747 ±3,115
8,963 ±2,612
03:46 (04:06)
282
One Late Night: Deadline
Dec 22, 2014
$1.99
1% (27%)
7,967 ±2,462
3,187 ±1,557
00:59 (00:41)
283
Moonbase 332
Sep 18, 2015
$0.99
N/A (N/A)
20,117 ±3,913
15,536 ±3,439
04:08 (04:13)
284
AoF Chess Club 2.0
Nov 4, 2015
$0.91
N/A (N/A)
13,942 ±3,257
11,552 ±2,965
03:34 (03:32)
285
The face of hope: Underground
Oct 28, 2016
$0.49
N/A (N/A)
129,465 ±9,926
121,697 ±9,624
03:34 (03:30)
286
Dream Factory
Nov 2, 2015
$0.99
N/A (N/A)
12,150 ±3,041
8,764 ±2,582
02:48 (02:53)
287
Kitchen Simulator 2015
Sep 2, 2015
$0.49
0% (17%)
6,573 ±2,236
5,179 ±1,985
03:08 (02:34)
288
Countless Rooms of Death
Jan 9, 2015
$0.49
N/A (N/A)
4,581 ±1,867
3,984 ±1,741
02:15 (02:21)
289
Nicolay's Adventure
Jan 16, 2017
$0.49
N/A (N/A)
159,939 ±11,032
148,984 ±10,648
03:32 (03:30)