MetaHuman Inc.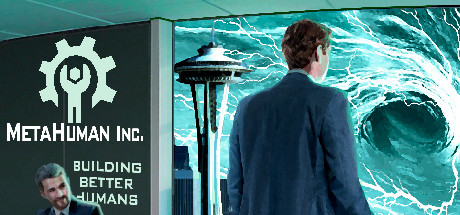 Store | Hub | SteamDB | Site
Developer: Choice of Games Publisher: Choice of Games
Genre: Indie, RPG
Languages: English
Tags: Indie (24), RPG (21), Text-Based (16), Choose Your Own Adventure (8)
Category: Single-player, Steam Achievements, Captions available, Steam Cloud
Release date: Dec 18, 2015
Price: $5.99
Score rank: 74% Userscore: 90% Old userscore: 89%
Owners: 7,162 ± 2,401
Players total: 6,109 ± 2,217 (85.29%)
Followers: 1,328
Peak concurrent players yesterday: 1
Playtime total: 05:04 (average) 03:27 (median)

Steam Spy is still in beta, so expect major bugs.
Peak daily concurrent players:
CCU data courtesy of SteamDB. Used with permission.
Hourly concurrent players:
YouTube:
The views data is based on top 50 videos uploaded last week. Actual number of views might be more than the number shown.

The displayed number of videos uploaded yesterday is limited to 50, so if there were more videos uploaded, the number will still show 50.

If the game has commonly used word as its name (like "FEAR" or "Volume") its number of Youtube views might be wrong.
Games similar to this one:
#
Game
Release date

Price

Score rank
(Userscore / Metascore)

Owners

Players

Playtime (Median)

1
Escape Goat
Oct 9, 2013
$4.99
99% (98%)
40,653 ±5,721
30,332 ±4,942
03:09 (02:07)
2
XenoRaptor
Jun 16, 2014
$14.99
94% (96%)
6,530 ±2,293
5,055 ±2,017
01:34 (01:39)
3
Bombernauts
Jul 31, 2015
$9.99
94% (96%)
5,266 ±2,059
4,423 ±1,887
02:51 (02:51)
4
Gravity Ghost
Jan 26, 2015
$14.99
94% (96%/75%)
21,064 ±4,118
8,847 ±2,669
02:41 (02:32)
5
Critter Crunch
Sep 11, 2012
$6.99
91% (95%)
48,236 ±6,232
24,645 ±4,454
03:21 (01:15)
6
Season of 12 Colors
Mar 14, 2016
$2.99
91% (95%)
17,483 ±3,752
13,481 ±3,294
02:19 (01:42)
7
Sora
Jan 5, 2016
$8.99
91% (95%/74%)
7,794 ±2,505
3,792 ±1,747
03:02 (01:34)
8
Fortix
Apr 14, 2010
$0.99
88% (94%)
119,011 ±9,788
73,934 ±7,715
02:35 (01:28)
9
Super Island God VR
Nov 14, 2016
$19.99
N/A (N/A)
2,738 ±1,485
2,317 ±1,366
01:11 (01:27)
10
Reign of Bullets
Aug 19, 2015
$9.99
N/A (N/A)
9,689 ±2,793
4,423 ±1,887
04:17 (02:03)
11
Pix the Cat
Jan 29, 2015
$9.99
85% (93%/77%)
73,724 ±7,704
32,438 ±5,110
02:56 (02:20)
12
RunGunJumpGun
Aug 31, 2016
$7.99
85% (93%/82%)
6,319 ±2,255
4,213 ±1,841
01:42 (01:24)
13
Unmechanical
Aug 8, 2012
$9.99
85% (93%/74%)
81,939 ±8,122
32,017 ±5,077
02:24 (01:39)
14
IMSCARED
Feb 3, 2016
$3.99
81% (92%)
13,060 ±3,243
10,111 ±2,853
02:06 (01:28)
15
NEON STRUCT
May 20, 2015
$17.99
81% (92%/62%)
42,549 ±5,853
12,217 ±3,136
02:45 (02:15)
16
10 Second Ninja
Mar 5, 2014
$9.99
81% (92%/72%)
78,147 ±7,932
46,551 ±6,122
02:17 (01:00)
17
Leo's Fortune - HD Edition
Sep 8, 2015
$6.99
81% (92%)
10,743 ±2,941
7,162 ±2,401
03:47 (01:38)
18
Cats are Liquid
Jul 25, 2016
$0.99
81% (92%)
11,164 ±2,998
8,847 ±2,669
01:49 (00:56)
19
Pivvot
Jul 14, 2014
$4.99
81% (92%)
17,904 ±3,797
12,217 ±3,136
02:51 (02:00)
20
STARWHAL
Sep 29, 2014
$11.99
81% (92%)
83,413 ±8,195
62,139 ±7,073
03:21 (01:25)
21
Inside My Radio
May 11, 2015
$3.74
81% (92%/68%)
18,536 ±3,863
9,057 ±2,700
03:07 (02:40)
22
LUFTRAUSERS
Mar 18, 2014
$9.99
81% (92%/80%)
371,989 ±17,300
259,297 ±14,445
03:43 (02:03)
23
T.E.C. 3001
Apr 11, 2014
$3.99
81% (92%)
38,968 ±5,601
28,015 ±4,749
02:31 (01:44)
24
GunGirl 2
Sep 1, 2016
Free
N/A (N/A)
18,747 ±3,885
2,528 ±1,426
00:47 (01:44)
25
Ultratron
Mar 18, 2013
$9.99
78% (91%)
90,575 ±8,539
61,928 ±7,061
03:02 (01:36)
26
The Cat Machine
Aug 12, 2015
$9.99
78% (91%)
2,949 ±1,541
2,738 ±1,485
06:09 (08:14)
27
Hearthlands
Dec 12, 2014
$19.99
78% (91%)
18,958 ±3,907
13,692 ±3,320
11:29 (04:30)
28
Expand
Sep 30, 2015
$5.99
78% (91%)
48,658 ±6,259
7,372 ±2,436
00:45 (00:17)
29
FOTONICA
Nov 6, 2014
$9.99
74% (90%/71%)
86,994 ±8,369
49,079 ±6,286
03:05 (01:14)
30
Intensive Exposure
Sep 6, 2016
$4.99
74% (90%)
9,268 ±2,732
5,687 ±2,140
02:27 (02:31)
31
Project Nimbus
Nov 5, 2014
$14.99
74% (90%)
27,594 ±4,713
24,224 ±4,416
04:21 (00:58)
32
Another Perspective
Aug 8, 2014
$5.99
74% (90%)
60,453 ±6,977
13,692 ±3,320
01:02 (00:42)
33
Procyon
Feb 26, 2014
$3.99
74% (90%)
22,117 ±4,220
14,745 ±3,445
02:15 (01:47)
34
Metro Warp
Aug 5, 2015
$9.99
N/A (N/A)
2,949 ±1,541
1,474 ±1,089
00:22 (00:16)
35
Ephemerid: A Musical Adventure
Feb 3, 2015
$1.99
74% (90%)
8,847 ±2,669
5,266 ±2,059
02:21 (01:38)
36
We Know the Devil
Feb 15, 2016
$7.99
74% (90%)
7,794 ±2,505
4,845 ±1,975
02:08 (01:53)
37
Osmos
Aug 18, 2009
$9.99
74% (90%/80%)
571,886 ±21,445
346,712 ±16,702
02:13 (00:45)
38
Bunker Punks
Mar 30, 2016
$14.99
70% (89%)
6,951 ±2,366
5,477 ±2,100
02:34 (03:03)
39
Great Permutator
Sep 15, 2014
$6.99
N/A (N/A)
34,966 ±5,306
15,798 ±3,566
02:36 (01:40)
40
Boogeyman 2
Feb 7, 2017
$7.99
N/A (N/A)
2,317 ±1,366
1,896 ±1,235
01:11 (01:28)
41
Trapper's Delight
Jul 19, 2016
$9.99
N/A (N/A)
843 ±823
843 ±823
01:27 (01:36)
42
Porcunipine
May 21, 2015
$9.99
N/A (N/A)
18,747 ±3,885
9,689 ±2,793
02:58 (03:25)
43
It came from space, and ate our brains
Mar 19, 2015
$9.99
64% (87%)
79,832 ±8,017
36,862 ±5,448
03:59 (03:29)
44
Munin
Jun 10, 2014
$0.99
61% (86%/68%)
61,085 ±7,013
27,594 ±4,713
03:34 (02:38)
45
Phoenix Force
Nov 13, 2014
$4.99
61% (86%)
59,822 ±6,940
41,496 ±5,780
03:00 (02:29)
46
Poöf
Nov 8, 2013
$6.99
61% (86%)
43,813 ±5,939
25,909 ±4,567
02:00 (01:09)
47
Ms. Splosion Man
Apr 3, 2013
$9.99
61% (86%)
56,451 ±6,742
17,483 ±3,752
02:47 (01:03)
48
New Retro Arcade: Neon
Aug 1, 2016
$19.99
61% (86%)
13,270 ±3,269
12,217 ±3,136
04:30 (01:03)
49
Pineapple Smash Crew
Feb 2, 2012
$9.99
61% (86%/62%)
21,275 ±4,139
11,164 ±2,998
02:23 (01:26)
50
Full Bore
May 6, 2014
$14.99
N/A (N/A/72%)
53,081 ±6,537
22,538 ±4,260
03:30 (01:39)
51
Element4l
May 24, 2013
$8.99
58% (85%/77%)
101,107 ±9,022
63,824 ±7,168
02:33 (01:17)
52
Fovos VR
Jan 3, 2017
Free
N/A (N/A)
6,951 ±2,366
3,581 ±1,698
00:31 (00:24)
53
Knytt Underground
Oct 25, 2013
$6.99
58% (85%)
70,564 ±7,537
37,915 ±5,525
04:03 (01:24)
54
Ballpoint Universe - Infinite
Dec 17, 2013
$3.99
58% (85%)
121,960 ±9,909
70,354 ±7,526
03:04 (02:01)
55
Zolg
Dec 2, 2016
$0.99
55% (84%)
12,849 ±3,216
7,583 ±2,471
03:28 (03:42)
56
Glitchspace
May 5, 2016
$12.99
55% (84%)
12,849 ±3,216
7,372 ±2,436
02:30 (01:13)
57
Labyrinthine Dreams
May 26, 2015
$1.99
55% (84%)
93,524 ±8,677
28,647 ±4,803
02:24 (01:46)
58
Kiai Resonance
Apr 23, 2015
$4.99
53% (83%)
9,268 ±2,732
6,319 ±2,255
01:18 (00:58)
59
BIT.TRIP BEAT
Nov 2, 2010
$9.99
53% (83%)
315,748 ±15,939
229,808 ±13,600
01:45 (00:48)
60
NaissanceE
Feb 13, 2014
$14.99
53% (83%/66%)
65,298 ±7,251
26,541 ±4,623
02:56 (00:53)
61
DubWars
Jul 19, 2016
$9.99
53% (83%)
14,955 ±3,470
8,004 ±2,538
03:00 (00:45)
62
Madballs in Babo:Invasion
Sep 17, 2009
$4.99
53% (83%/79%)
97,737 ±8,870
68,247 ±7,413
05:17 (01:53)
63
Bloody Streets
Mar 12, 2015
$4.99
N/A (N/A)
12,638 ±3,190
7,162 ±2,401
04:02 (02:26)
64
Instant Dungeon!
Nov 25, 2014
$1.99
53% (83%)
15,377 ±3,518
12,849 ±3,216
01:43 (00:45)
65
SMASH+GRAB
Sep 27, 2016
Free
53% (83%)
9,900 ±2,823
9,057 ±2,700
29:50 (03:11)
66
Don't Shoot Yourself!
Apr 10, 2015
$4.99
N/A (N/A)
1,474 ±1,089
1,264 ±1,008
00:41 (00:55)
67
Actual Sunlight
Apr 3, 2014
$4.99
50% (82%/77%)
13,902 ±3,346
10,743 ±2,941
01:21 (01:17)
68
The Novelist
Dec 10, 2013
$14.99
50% (82%/66%)
145,973 ±10,840
61,085 ±7,013
01:50 (01:20)
69
NEO AQUARIUM - The King of Crustaceans -
Jun 8, 2015
$8.99
50% (82%)
31,175 ±5,010
12,849 ±3,216
02:28 (01:23)
70
Life of Pixel
Oct 22, 2014
$6.99
50% (82%)
26,541 ±4,623
16,219 ±3,614
04:09 (02:05)
71
Tavern Tycoon - Dragon's Hangover
Jan 31, 2017
$10.99
50% (82%)
10,111 ±2,853
9,900 ±2,823
04:44 (01:18)
72
Electronic Super Joy: Groove City
Jun 6, 2014
$4.99
48% (81%)
92,049 ±8,608
40,653 ±5,721
00:54 (00:29)
73
The Maw
Mar 9, 2009
$9.99
48% (81%/75%)
58,347 ±6,854
31,807 ±5,060
02:46 (01:17)
74
Chicku
May 5, 2016
$4.99
N/A (N/A)
3,581 ±1,698
2,949 ±1,541
02:50 (04:04)
75
Sugar Cube: Bittersweet Factory
Nov 7, 2012
$6.99
46% (80%)
49,079 ±6,286
29,490 ±4,873
01:57 (01:27)
76
Cherry Tree High I! My! Girls!
Nov 20, 2014
$3.99
46% (80%)
66,351 ±7,309
29,279 ±4,855
02:08 (01:24)
77
Can't Drive This
Sep 25, 2016
$9.99
46% (80%)
10,111 ±2,853
8,426 ±2,604
01:25 (00:57)
78
Mega Coin Squad
Aug 15, 2014
$14.99
N/A (N/A/56%)
6,740 ±2,329
4,423 ±1,887
01:57 (01:30)
79
Polyball
Jun 4, 2015
$14.99
N/A (N/A)
11,164 ±2,998
5,898 ±2,179
02:47 (03:16)
80
Tiny Brains
Dec 11, 2013
$9.99
44% (79%)
56,873 ±6,767
34,334 ±5,258
02:38 (01:35)
81
Bermuda
Mar 17, 2015
$2.99
N/A (N/A)
79,622 ±8,006
27,172 ±4,677
02:15 (01:54)
82
Journal
Feb 17, 2014
$1.99
44% (79%/59%)
23,170 ±4,319
14,745 ±3,445
02:15 (02:01)
83
Pay2Win: The Tricks Exposed
Dec 15, 2015
$4.99
N/A (N/A)
7,372 ±2,436
843 ±823
00:21 (00:15)
84
Yatagarasu Attack on Cataclysm
Jul 7, 2015
$14.99
41% (78%)
16,851 ±3,683
14,745 ±3,445
07:35 (02:44)
85
Giana Sisters 2D
Oct 23, 2015
$7.99
41% (78%)
1,685 ±1,164
843 ±823
00:30 (00:14)
86
Disorder
Jan 12, 2015
$3.99
41% (78%/61%)
11,375 ±3,026
6,530 ±2,293
02:46 (02:03)
87
Potato Thriller
Jun 22, 2016
$2.99
41% (78%)
4,423 ±1,887
1,685 ±1,164
03:30 (02:10)
88
One More Line
Aug 28, 2015
$2.99
41% (78%)
13,060 ±3,243
10,111 ±2,853
16:19 (02:02)
89
Eets Munchies
Mar 11, 2014
$6.99
39% (77%)
529,337 ±20,633
208,533 ±12,955
01:55 (00:48)
90
The Path
Mar 18, 2009
$9.99
39% (77%/79%)
115,430 ±9,640
74,145 ±7,726
02:32 (01:26)
91
BIT.TRIP VOID
Dec 19, 2012
$9.99
39% (77%)
43,602 ±5,925
24,013 ±4,397
01:38 (00:46)
92
A Druid's Duel
Feb 25, 2015
$7.99
N/A (N/A/70%)
21,485 ±4,159
10,743 ±2,941
10:43 (02:43)
93
XenoShyft
Mar 29, 2016
$9.99
N/A (N/A)
1,474 ±1,089
1,264 ±1,008
02:14 (03:38)
94
ReignMaker
Apr 16, 2014
$14.99
N/A (N/A)
55,819 ±6,704
26,330 ±4,604
03:52 (01:38)
95
The Wonderful End of the World
Jul 17, 2008
$9.99
35% (75%)
128,490 ±10,170
78,147 ±7,932
02:17 (01:03)
96
Puddle
Nov 9, 2012
$7.99
35% (75%)
105,320 ±9,208
77,305 ±7,889
02:05 (00:55)
97
Legend of Numbers
Jun 2, 2016
Free
35% (75%)
43,392 ±5,911
7,794 ±2,505
02:55 (00:15)
98
Dangerous High School Girls in Trouble!™
Feb 23, 2009
$19.99
35% (75%/81%)
119,011 ±9,788
24,013 ±4,397
02:47 (01:08)
99
Colour Bind
Sep 24, 2012
$9.99
N/A (N/A)
11,585 ±3,054
6,319 ±2,255
02:55 (01:43)
100
Dwelvers
Sep 11, 2014
$19.99
34% (74%)
11,585 ±3,054
8,847 ±2,669
03:42 (01:28)
101
Bob Came in Pieces
Jan 22, 2010
$6.99
32% (73%/73%)
73,513 ±7,693
45,498 ±6,052
01:35 (00:34)
102
Shadows of Kurgansk
Dec 15, 2016
$5.99
30% (72%)
7,372 ±2,436
6,951 ±2,366
03:27 (01:59)
103
Cubemen 2
Apr 8, 2013
$7.99
30% (72%/68%)
84,256 ±8,236
43,181 ±5,896
03:01 (01:48)
104
Home
Aug 31, 2012
$2.99
29% (71%/69%)
303,953 ±15,639
154,820 ±11,164
01:25 (00:57)
105
Karmaflow: The Rock Opera Videogame - Act I & Act II
May 6, 2015
$4.99
29% (71%/47%)
21,064 ±4,118
3,370 ±1,647
02:23 (02:02)
106
Oscura: Lost Light
Feb 24, 2015
$6.99
N/A (N/A/66%)
32,438 ±5,110
14,113 ±3,371
06:32 (01:39)
107
A Fistful of Gun
Sep 23, 2015
$12.99
27% (70%/60%)
128,490 ±10,170
58,558 ±6,866
02:28 (00:46)
108
Curses 'N Chaos
Aug 18, 2015
$9.99
N/A (N/A)
44,656 ±5,996
7,794 ±2,505
03:10 (02:49)
109
The Masterplan
Jun 4, 2015
$19.99
26% (69%/68%)
89,100 ±8,469
44,234 ±5,968
04:13 (02:10)
110
Survivor Squad
Jan 21, 2015
$2.99
25% (68%)
148,501 ±10,933
96,894 ±8,832
03:23 (01:20)
111
Volt
Apr 14, 2014
$1.99
25% (68%)
59,822 ±6,940
36,230 ±5,401
02:34 (01:28)
112
Omegalodon
Sep 20, 2013
$9.99
25% (68%)
22,538 ±4,260
12,428 ±3,163
04:04 (01:06)
113
A City Sleeps™
Oct 16, 2014
$9.99
N/A (N/A)
22,538 ±4,260
9,268 ±2,732
02:36 (02:03)
114
Orbit HD
Mar 18, 2015
$0.99
24% (67%)
23,170 ±4,319
16,009 ±3,590
04:21 (01:51)
115
Astray
Feb 3, 2015
$6.99
24% (67%)
15,798 ±3,566
5,687 ±2,140
01:59 (01:12)
116
Rush Bros.
May 24, 2013
$9.99
22% (66%)
158,822 ±11,307
107,847 ±9,318
02:25 (01:21)
117
Star Command Galaxies
Sep 17, 2015
$14.99
22% (66%)
7,794 ±2,505
6,530 ±2,293
03:03 (01:50)
118
Rabbit Hole 3D: Steam Edition
Apr 25, 2014
$0.74
21% (65%)
74,356 ±7,737
45,498 ±6,052
01:39 (01:04)
119
Rhythm Destruction
Jun 16, 2014
$4.99
N/A (N/A)
50,132 ±6,353
28,015 ±4,749
02:14 (01:33)
120
Montague's Mount
Nov 19, 2013
$9.99
21% (65%/39%)
72,249 ±7,627
30,964 ±4,993
03:10 (01:27)
121
Pulstar
Jun 11, 2014
$1.99
21% (65%)
25,909 ±4,567
12,217 ±3,136
02:11 (01:24)
122
Zack Zero
Apr 29, 2013
$9.99
20% (64%)
81,307 ±8,091
43,602 ±5,925
02:17 (00:57)
123
Sign Motion
Oct 24, 2014
$9.99
20% (64%)
2,738 ±1,485
2,106 ±1,302
03:36 (02:45)
124
Herolike
Sep 28, 2016
$7.99
N/A (N/A)
2,738 ±1,485
632 ±713
02:27 (01:10)
125
World of Diving
Aug 26, 2014
$19.99
19% (63%)
21,064 ±4,118
19,800 ±3,993
02:56 (01:24)
126
Dream
Jul 31, 2015
$8.99
19% (63%/59%)
94,788 ±8,736
72,039 ±7,616
02:20 (01:02)
127
The Race for the White House
Jan 2, 2015
$14.99
N/A (N/A)
5,477 ±2,100
2,106 ±1,302
03:02 (04:02)
128
Supreme: Pizza Empire
Jan 9, 2015
$9.99
18% (62%)
5,266 ±2,059
3,792 ±1,747
02:23 (02:38)
129
Crystal Picnic
Nov 2, 2015
$1.99
N/A (N/A)
2,738 ±1,485
1,474 ±1,089
03:52 (02:30)
130
Grass Simulator
Apr 1, 2015
$4.99
18% (62%)
22,117 ±4,220
17,062 ±3,706
01:24 (00:31)
131
Evertown
Jan 11, 2016
$2.99
N/A (N/A)
10,953 ±2,970
1,474 ±1,089
00:17 (00:19)
132
Ukrainian Ninja
Dec 23, 2014
$1.99
N/A (N/A)
9,268 ±2,732
6,530 ±2,293
02:28 (02:44)
133
Disillusions Manga Horror
Jan 16, 2015
$0.99
15% (59%)
32,017 ±5,077
20,011 ±4,014
02:52 (01:41)
134
Gentlemen!
Nov 5, 2013
$4.99
N/A (N/A)
45,709 ±6,066
26,541 ±4,623
02:15 (01:13)
135
Dinosaur Forest
Nov 3, 2016
$0.99
14% (58%)
12,428 ±3,163
6,319 ±2,255
03:18 (01:22)
136
Party of Sin
Dec 13, 2012
$9.99
N/A (N/A)
79,622 ±8,006
41,707 ±5,795
02:32 (01:32)
137
BIT.TRIP CORE
Oct 2, 2012
$9.99
13% (57%)
51,396 ±6,433
30,121 ±4,925
01:18 (00:19)
138
Social Justice Warriors
Feb 27, 2015
$7.99
11% (54%)
5,055 ±2,017
3,792 ±1,747
01:45 (01:39)
139
SOL: Exodus
Jan 25, 2012
$7.99
N/A (N/A/57%)
64,877 ±7,227
25,066 ±4,492
01:12 (00:48)
140
Kitten Rampage
Feb 3, 2016
$9.99
N/A (N/A)
4,002 ±1,795
3,370 ±1,647
02:30 (00:54)
141
Space Ribbon
Aug 5, 2016
$9.99
N/A (N/A)
1,544 ±1,350
926 ±1,046
00:12 (00:17)
142
Final Rush
Nov 21, 2014
$4.99
8% (49%)
12,428 ±3,163
8,636 ±2,637
04:00 (02:45)
143
AdvertCity
Jun 5, 2015
$19.99
N/A (N/A)
10,953 ±2,970
7,794 ±2,505
03:37 (04:18)
144
//N.P.P.D. RUSH//- The milk of Ultraviolet
Feb 13, 2014
$3.99
4% (40%)
94,998 ±8,745
56,873 ±6,767
02:12 (01:24)
145
AMOK
Mar 22, 2016
$0.99
4% (39%)
12,849 ±3,216
1,896 ±1,235
00:14 (00:16)
146
Dead Sky
Nov 22, 2013
$1.99
3% (37%)
29,911 ±4,907
12,006 ±3,109
00:57 (00:47)
147
Bad Hotel
Oct 16, 2013
$4.99
2% (33%)
102,371 ±9,078
45,498 ±6,052
03:07 (01:25)
148
Stranded
May 20, 2014
$4.99
2% (30%)
20,643 ±4,077
12,638 ±3,190
01:59 (01:13)
149
Uriel's Chasm
Sep 12, 2014
$4.99
1% (27%)
207,901 ±12,936
109,954 ±9,408
02:19 (01:25)
150
Imagine Me
Dec 9, 2014
$2.99
N/A (N/A)
49,079 ±6,286
26,330 ±4,604
01:59 (01:27)
151
Godus Wars
Feb 3, 2016
$14.99
0% (19%)
294,053 ±15,383
26,751 ±4,641
04:01 (00:31)
152
Final Slam 2
Jun 12, 2014
$3.99
N/A (N/A)
38,547 ±5,571
26,119 ±4,586
02:23 (01:25)