MetaHuman Inc.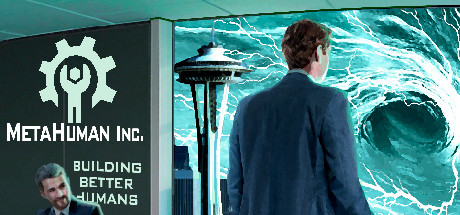 Store | Hub | SteamDB | Site
Developer: Choice of Games Publisher: Choice of Games
Genre: Indie, RPG
Languages: English
Tags: Indie (24), RPG (21), Text-Based (16), Choose Your Own Adventure (9)
Category: Single-player, Steam Achievements, Captions available, Steam Cloud
Release date: Dec 18, 2015
Price: $9.99
Score rank: 70% Userscore: 89% Old userscore: 89%
Owners: 9,173 ± 2,949
Players in the last 2 weeks: 752 ± 1,472 (8.19%)
Players total: 7,190 ± 2,611 (78.38%)
Followers: 1,320
Peak concurrent players yesterday: 1
Playtime in the last 2 weeks: 01:00 (average) 01:00 (median)
Playtime total: 04:53 (average) 04:10 (median)

Steam Spy is still in beta, so expect major bugs.
Peak daily concurrent players:
CCU data courtesy of SteamDB. Used with permission.
Hourly concurrent players:
YouTube:
The views data is based on top 50 videos uploaded last week. Actual number of views might be more than the number shown.

The displayed number of videos uploaded yesterday is limited to 50, so if there were more videos uploaded, the number will still show 50.

If the game has commonly used word as its name (like "FEAR" or "Volume") its number of Youtube views might be wrong.
Games similar to this one:
#
Game
Release date

Price

Score rank
(Userscore / Metascore)

Owners

Players

Playtime (Median)

1
Clone Drone in the Danger Zone
Mar 16, 2017
$14.99
95% (96%)
48,345 ±6,771
47,354 ±6,701
14:57 (06:46)
2
Gravity Ghost
Jan 26, 2015
$14.99
95% (96%/75%)
23,801 ±4,751
11,652 ±3,324
03:22 (02:51)
3
Soul Searching
Feb 15, 2017
$9.99
92% (95%)
2,727 ±1,608
2,479 ±1,533
01:39 (02:36)
4
Gryphon Knight Epic
Aug 20, 2015
$6.99
N/A (N/A/55%)
31,239 ±5,443
16,115 ±3,909
05:35 (03:42)
5
Mimpi Dreams
Mar 22, 2016
$7.99
92% (95%)
11,900 ±3,359
6,446 ±2,472
15:10 (03:17)
6
On A Roll 3D
Feb 12, 2015
$3.99
89% (94%)
48,098 ±6,754
34,710 ±5,737
04:10 (03:29)
7
Flobe
Feb 22, 2016
$0.99
N/A (N/A)
5,950 ±2,375
4,215 ±1,999
08:08 (04:09)
8
Heroes Rise: HeroFall
Jul 11, 2014
$3.99
85% (93%)
15,619 ±3,849
8,429 ±2,827
05:10 (03:49)
9
The Dweller
May 19, 2016
$4.99
85% (93%)
61,486 ±7,636
36,693 ±5,899
03:40 (03:05)
10
Pixel Star
May 22, 2015
$2.99
N/A (N/A)
22,065 ±4,574
13,636 ±3,596
04:35 (03:45)
11
Boson X
Sep 15, 2014
$2.99
85% (93%)
87,518 ±9,110
70,411 ±8,171
04:27 (02:35)
12
Star Vikings Forever
Oct 6, 2016
$9.99
N/A (N/A)
4,215 ±1,999
992 ±969
01:02 (00:47)
13
The Cursed Forest
Sep 11, 2015
$10.99
77% (91%)
8,925 ±2,909
4,959 ±2,168
03:31 (03:21)
14
Porcunipine
May 21, 2015
$9.99
N/A (N/A)
22,809 ±4,651
12,892 ±3,497
02:50 (03:18)
15
Gigachess
Dec 15, 2015
$3.99
N/A (N/A)
4,711 ±2,113
2,975 ±1,679
02:04 (02:59)
16
Candle
Nov 11, 2016
$14.99
77% (91%/80%)
39,172 ±6,095
15,371 ±3,818
04:11 (02:20)
17
Pizza Express
Jun 25, 2015
$6.99
77% (91%)
26,032 ±4,969
14,876 ±3,756
04:09 (03:53)
18
Luna Sky
Oct 2, 2015
$1.29
N/A (N/A)
91,980 ±9,339
41,404 ±6,266
03:14 (03:39)
19
Kromaia
Oct 23, 2014
$19.99
N/A (N/A/68%)
25,536 ±4,921
11,157 ±3,253
02:21 (02:10)
20
stratO
Jun 1, 2015
$9.99
N/A (N/A)
8,182 ±2,785
5,454 ±2,274
04:09 (04:36)
21
Pix the Cat
Jan 29, 2015
$9.99
73% (90%/77%)
77,849 ±8,592
36,197 ±5,859
05:04 (03:08)
22
Binaries
Apr 4, 2016
$9.99
N/A (N/A)
4,463 ±2,057
2,479 ±1,533
04:09 (09:33)
23
An Octave Higher
Mar 27, 2015
$11.99
70% (89%)
16,115 ±3,909
8,429 ±2,827
06:18 (05:55)
24
Transcendence
Jul 24, 2015
$8.99
N/A (N/A)
4,215 ±1,999
2,975 ±1,679
32:52 (44:33)
25
XenoRaptor
Jun 16, 2014
$9.99
67% (88%)
9,421 ±2,989
7,686 ±2,700
06:29 (01:52)
26
Bunker Punks
Mar 30, 2016
$14.99
67% (88%)
7,934 ±2,743
5,950 ±2,375
03:20 (01:28)
27
Cosmophony
Jul 9, 2015
$4.99
67% (88%)
11,157 ±3,253
8,182 ±2,785
03:31 (03:43)
28
Forget Me Not: My Organic Garden
Aug 21, 2015
$9.99
64% (87%)
9,173 ±2,949
8,182 ±2,785
07:16 (06:37)
29
Empire of the Gods
Jan 27, 2016
$1.99
N/A (N/A)
21,817 ±4,549
16,115 ±3,909
04:42 (03:34)
30
Captain Forever Remix
Jun 3, 2016
$14.99
61% (86%)
22,809 ±4,651
19,834 ±4,337
11:17 (02:49)
31
Ballad of Solar
May 22, 2014
$6.99
61% (86%)
15,619 ±3,849
12,644 ±3,463
07:15 (04:17)
32
Intensive Exposure
Sep 6, 2016
$4.99
61% (86%)
11,900 ±3,359
7,934 ±2,743
02:11 (02:05)
33
Shoot 1UP
Sep 23, 2015
$3.99
N/A (N/A)
12,396 ±3,429
7,934 ±2,743
02:53 (02:24)
34
Pixel Gladiator
Sep 8, 2017
$4.99
61% (86%)
14,628 ±3,724
9,917 ±3,067
02:46 (03:04)
35
Frederic: Resurrection of Music
May 16, 2014
$2.99
58% (85%)
133,136 ±11,236
78,097 ±8,606
04:09 (03:47)
36
Heroes Never Lose: Professor Puzzler's Perplexing Ploy
Nov 23, 2015
$8.99
N/A (N/A)
4,215 ±1,999
3,719 ±1,878
05:50 (05:22)
37
Chicku
May 5, 2016
$4.99
N/A (N/A)
4,215 ±1,999
3,223 ±1,748
01:11 (01:28)
38
Reign of Bullets
Aug 19, 2015
$9.99
N/A (N/A)
13,884 ±3,629
5,454 ±2,274
02:51 (02:42)
39
The Promised Land
Apr 25, 2014
$6.99
53% (83%)
29,255 ±5,267
22,561 ±4,626
08:35 (05:08)
40
Bloody Streets
Mar 12, 2015
$4.99
N/A (N/A)
19,338 ±4,282
10,661 ±3,180
02:21 (02:23)
41
Millie
Apr 18, 2014
$3.99
50% (82%)
146,028 ±11,767
91,485 ±9,314
03:44 (03:01)
42
Sumeru
Sep 21, 2016
$6.99
50% (82%)
3,330 ±2,172
1,850 ±1,619
03:18 (03:22)
43
Big Action Mega Fight!
Jan 12, 2016
$1.99
48% (81%)
22,561 ±4,626
17,603 ±4,086
03:56 (04:24)
44
Beyond Sol
Oct 13, 2015
$9.99
48% (81%/83%)
9,917 ±3,067
6,694 ±2,519
08:54 (04:44)
45
Life of Pixel
Oct 22, 2014
$6.99
48% (81%)
28,264 ±5,177
18,842 ±4,227
07:24 (02:08)
46
Vektor Wars
Jun 4, 2015
$6.99
N/A (N/A)
15,619 ±3,849
2,727 ±1,608
00:31 (00:19)
47
Production Line
May 18, 2017
$17.99
46% (80%)
21,817 ±4,549
21,074 ±4,470
10:31 (04:41)
48
Oriental Empires
Sep 14, 2017
$29.99
46% (80%/73%)
44,379 ±6,487
40,164 ±6,172
14:41 (05:12)
49
Mysterious Space
May 15, 2015
$10
N/A (N/A)
12,148 ±3,394
5,454 ±2,274
05:07 (04:51)
50
Sparkle 2
Jun 1, 2015
$7.99
N/A (N/A)
17,355 ±4,057
9,917 ±3,067
06:36 (05:17)
51
Warriors & Castles
Jun 30, 2015
$2.99
N/A (N/A)
8,182 ±2,785
2,231 ±1,454
02:06 (04:33)
52
iO
Dec 5, 2014
$7.99
40% (77%)
31,239 ±5,443
21,570 ±4,523
02:37 (01:32)
53
MOAI: Build Your Dream
Feb 26, 2015
$6.99
40% (77%)
12,892 ±3,497
9,917 ±3,067
07:16 (05:22)
54
Medieval Kingdom Wars
Jun 9, 2017
$18.99
40% (77%)
24,545 ±4,825
21,074 ±4,470
06:31 (01:46)
55
Finders
Apr 9, 2015
$5.99
38% (76%)
11,157 ±3,253
9,421 ±2,989
15:12 (06:07)
56
Warbands: Bushido
Sep 15, 2017
$7.99
38% (76%)
15,867 ±3,879
14,628 ±3,724
24:40 (03:34)
57
Chronicles of a Dark Lord: Episode 1 Tides of Fate Complete
Dec 19, 2014
$1.99
N/A (N/A)
83,055 ±8,875
55,039 ±7,225
04:02 (03:30)
58
Pixel Puzzles: UndeadZ
Jun 6, 2014
$6.99
36% (75%)
275,445 ±16,159
172,804 ±12,800
04:44 (04:36)
59
Traverser
Jul 9, 2015
$14.99
N/A (N/A/61%)
9,917 ±3,067
6,198 ±2,424
02:49 (02:38)
60
BRAWL
Aug 13, 2015
$14.99
N/A (N/A)
14,628 ±3,724
8,429 ±2,827
04:38 (04:38)
61
The Adventures of Mr. Bobley
Jul 1, 2015
$8.99
34% (74%)
51,569 ±6,993
39,668 ±6,133
03:44 (03:32)
62
Qora
Oct 2, 2014
$9.99
33% (73%/63%)
36,693 ±5,899
16,611 ±3,969
04:14 (03:00)
63
StarsOne
Apr 8, 2016
$9.99
31% (72%)
7,686 ±2,700
6,942 ±2,566
11:32 (10:52)
64
BlastZone 2
Feb 19, 2015
$2.99
29% (71%)
18,594 ±4,199
11,405 ±3,289
10:13 (04:26)
65
Taimumari
Dec 16, 2015
$4.99
N/A (N/A)
27,520 ±5,109
20,330 ±4,391
04:37 (04:14)
66
Drop Hunt - Adventure Puzzle
Feb 23, 2017
$0.49
N/A (N/A)
145,780 ±11,757
134,376 ±11,288
03:33 (03:30)
67
The Franz Kafka Videogame
Apr 6, 2017
$9.99
28% (70%/65%)
6,694 ±2,519
5,206 ±2,222
02:07 (01:57)
68
Sky Mercenaries
Dec 16, 2014
$0.99
N/A (N/A)
44,379 ±6,487
29,999 ±5,334
02:49 (03:12)
69
Broken Bots
Jun 8, 2016
$6.99
N/A (N/A)
8,925 ±2,909
5,206 ±2,222
02:36 (03:45)
70
Treeker: The Lost Glasses
May 13, 2015
$3.99
N/A (N/A)
14,380 ±3,693
7,438 ±2,656
03:03 (02:57)
71
Bohemian Killing
Jul 21, 2016
$12.99
26% (69%/55%)
14,628 ±3,724
6,942 ±2,566
01:37 (01:25)
72
Anoxemia
Jan 16, 2015
$3.99
N/A (N/A)
141,565 ±11,586
95,451 ±9,514
04:32 (04:25)
73
Emerge: Cities of the Apocalypse
Apr 27, 2016
$2.79
25% (68%)
3,223 ±1,748
3,223 ±1,748
13:44 (12:57)
74
Tulpa
Jan 29, 2015
$9.99
25% (68%)
41,404 ±6,266
17,355 ±4,057
03:13 (03:13)
75
Amazing Princess Sarah
Aug 18, 2014
$4.99
23% (66%)
10,909 ±3,216
8,429 ±2,827
03:01 (01:58)
76
Beater Spirit
Jun 1, 2016
$5.99
23% (66%)
126,690 ±10,961
87,270 ±9,097
03:07 (03:27)
77
A City Sleeps
Oct 16, 2014
$9.99
N/A (N/A)
22,561 ±4,626
8,429 ±2,827
04:14 (02:12)
78
Hare In The Hat
Apr 1, 2015
$1.99
22% (65%)
44,379 ±6,487
33,966 ±5,676
04:35 (04:02)
79
Mindless Running
Feb 18, 2016
$0.49
22% (65%)
70,163 ±8,157
58,510 ±7,449
04:37 (03:25)
80
Bunker - The Underground Game
May 21, 2015
$3.99
N/A (N/A)
23,057 ±4,676
7,934 ±2,743
10:07 (06:22)
81
Edengrad
Apr 4, 2017
$12.99
17% (61%)
7,934 ±2,743
6,446 ±2,472
03:45 (03:43)
82
Train Fever
Sep 4, 2014
$19.99
17% (61%/67%)
186,192 ±13,287
173,796 ±12,837
55:03 (11:37)
83
Wrath of Anna
Sep 20, 2016
$9.99
N/A (N/A)
42,395 ±6,341
32,230 ±5,529
02:42 (03:01)
84
Curses 'N Chaos
Aug 18, 2015
$9.99
N/A (N/A)
49,585 ±6,857
12,644 ±3,463
03:43 (01:39)
85
Starship Corporation
Apr 29, 2016
$19.99
15% (59%)
8,429 ±2,827
8,182 ±2,785
14:09 (05:27)
86
Oscura: Lost Light
Feb 24, 2015
$6.99
N/A (N/A/66%)
33,222 ±5,613
14,380 ±3,693
04:56 (02:34)
87
Autocraft
Sep 20, 2017
$9.99
14% (58%)
27,520 ±5,109
24,545 ±4,825
05:07 (01:35)
88
The Deer God
Feb 27, 2015
$14.99
14% (58%/59%)
49,585 ±6,857
36,197 ±5,859
04:26 (04:32)
89
Deathwave
Jun 9, 2016
$4.99
N/A (N/A)
6,446 ±2,472
3,719 ±1,878
02:37 (02:54)
90
The Waste Land
Sep 16, 2014
$9.99
11% (54%)
6,446 ±2,472
4,959 ±2,168
08:06 (16:54)
91
Redemption: Eternal Quest
Aug 28, 2015
$1.99
N/A (N/A)
172,308 ±12,782
162,639 ±12,418
03:33 (03:30)
92
The Falling Sun
Apr 7, 2015
$4.99
8% (49%)
74,626 ±8,412
56,279 ±7,306
03:34 (03:23)
93
Blaster Shooter GunGuy!
Aug 10, 2015
$1.99
8% (49%)
111,566 ±10,286
84,791 ±8,967
03:32 (03:22)
94
Final Rush
Nov 21, 2014
$4.99
8% (48%)
9,421 ±2,989
6,694 ±2,519
02:17 (02:22)
95
Sparkle ZERO
Mar 14, 2016
$4.99
7% (47%)
68,675 ±8,070
38,181 ±6,017
03:38 (03:18)
96
TownCraft
Feb 25, 2015
$9.99
N/A (N/A)
20,330 ±4,391
12,892 ±3,497
04:51 (02:47)
97
Scribble Space
Jun 1, 2015
$1.99
7% (46%)
14,628 ±3,724
10,661 ±3,180
03:51 (05:36)
98
Vitrum
Apr 22, 2014
$1.99
N/A (N/A)
26,280 ±4,992
14,380 ±3,693
02:22 (02:32)
99
Nightfall: Escape
Jun 28, 2016
$9.99
N/A (N/A)
15,619 ±3,849
8,182 ±2,785
03:18 (03:17)
100
The Undying Plague
Apr 10, 2015
$0.99
5% (41%)
13,140 ±3,530
7,686 ±2,700
06:23 (03:59)
101
Star Drifter
Jun 1, 2016
$0.99
4% (40%)
323,791 ±17,519
268,503 ±15,954
03:39 (03:30)
102
The Lost Valley
Apr 20, 2015
$2.49
4% (40%)
281,395 ±16,333
262,801 ±15,784
03:26 (03:30)
103
Monument
Jun 5, 2015
$3.99
4% (38%)
41,404 ±6,266
37,189 ±5,939
04:21 (04:06)
104
Karma
Jul 14, 2015
$0.99
N/A (N/A)
2,975 ±1,679
248 ±484
00:39 (00:13)
105
Centauri Sector
Jun 23, 2015
$4.99
N/A (N/A)
21,074 ±4,470
12,644 ±3,463
06:01 (04:33)
106
AdvertCity
Jun 5, 2015
$19.99
N/A (N/A)
11,157 ±3,253
6,694 ±2,519
06:29 (04:58)
107
Voxelized
Apr 5, 2017
$3.99
3% (34%)
330,485 ±17,699
181,977 ±13,136
03:13 (02:39)