MetaHuman Inc.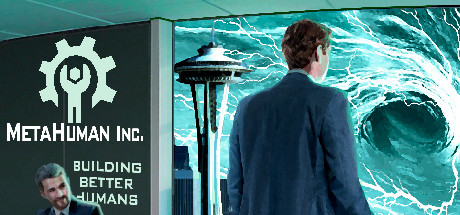 Store | Hub | SteamDB | Site
Developer: Choice of Games Publisher: Choice of Games
Genre: Indie, RPG
Languages: English
Tags: Indie (24), RPG (21), Text-Based (16), Choose Your Own Adventure (9)
Category: Single-player, Steam Achievements, Captions available, Steam Cloud
Release date: Dec 18, 2015
Price: $9.99
Score rank: 71% Userscore: 89% Old userscore: 89%
Owners: 9,011 ± 2,822
Players total: 6,932 ± 2,475 (76.92%)
Followers: 1,320
Peak concurrent players yesterday: 3
Playtime total: 12:43 (average) 03:40 (median)

Steam Spy is still in beta, so expect major bugs.
Peak daily concurrent players:
CCU data courtesy of SteamDB. Used with permission.
Hourly concurrent players:
YouTube:
The views data is based on top 50 videos uploaded last week. Actual number of views might be more than the number shown.

The displayed number of videos uploaded yesterday is limited to 50, so if there were more videos uploaded, the number will still show 50.

If the game has commonly used word as its name (like "FEAR" or "Volume") its number of Youtube views might be wrong.
Games similar to this one:
#
Game
Release date

Price

Score rank
(Userscore / Metascore)

Owners

Players

Playtime (Median)

1
Clone Drone in the Danger Zone
Mar 16, 2017
$14.99
95% (96%)
44,826 ±6,293
43,902 ±6,228
21:26 (07:32)
2
Gryphon Knight Epic
Aug 20, 2015
$6.99
N/A (N/A/55%)
34,428 ±5,515
17,330 ±3,913
04:08 (03:46)
3
Gravity Ghost
Jan 26, 2015
$14.99
92% (95%/75%)
21,489 ±4,357
9,474 ±2,893
02:03 (02:25)
4
Soul Searching
Feb 15, 2017
$9.99
92% (95%)
4,621 ±2,020
3,004 ±1,629
03:24 (01:38)
5
Mimpi Dreams
Mar 22, 2016
$7.99
89% (94%)
9,474 ±2,893
6,008 ±2,304
03:44 (02:11)
6
On A Roll 3D
Feb 12, 2015
$3.99
89% (94%)
53,144 ±6,852
41,360 ±6,045
04:16 (03:30)
7
Flobe
Feb 22, 2016
$0.99
N/A (N/A)
8,087 ±2,673
4,390 ±1,969
03:51 (04:32)
8
Pixel Star
May 22, 2015
$2.99
N/A (N/A)
21,720 ±4,381
15,019 ±3,643
03:26 (03:24)
9
Boson X
Sep 15, 2014
$2.99
85% (93%)
101,667 ±9,478
83,875 ±8,609
21:24 (02:32)
10
Candle
Nov 11, 2016
$14.99
85% (93%/80%)
27,034 ±4,887
11,784 ±3,227
05:01 (03:37)
11
Heroes Rise: HeroFall
Jul 11, 2014
$3.99
85% (93%)
16,405 ±3,807
9,474 ±2,893
07:54 (04:59)
12
The Dweller
May 19, 2016
$0.49
85% (93%)
60,769 ±7,328
36,277 ±5,662
03:14 (03:01)
13
Star Vikings Forever
Oct 6, 2016
$9.99
N/A (N/A)
1,848 ±1,278
1,155 ±1,010
06:00 (09:47)
14
Gigachess
Dec 15, 2015
$3.99
N/A (N/A)
6,239 ±2,348
5,083 ±2,119
03:36 (03:14)
15
Pizza Express
Jun 25, 2015
$6.99
77% (91%)
26,110 ±4,803
14,326 ±3,558
02:54 (02:50)
16
The Cursed Forest
Sep 11, 2015
$10.99
77% (91%)
7,856 ±2,634
5,777 ±2,259
02:06 (02:21)
17
Luna Sky
Oct 2, 2015
$12.99
N/A (N/A)
85,262 ±8,679
31,193 ±5,250
03:23 (03:49)
18
An Octave Higher
Mar 27, 2015
$2.99
74% (90%)
12,939 ±3,381
7,163 ±2,516
06:32 (04:37)
19
stratO
Jun 1, 2015
$9.99
N/A (N/A)
11,784 ±3,227
7,394 ±2,556
03:46 (03:51)
20
Pix the Cat
Jan 29, 2015
$9.99
74% (90%/77%)
87,572 ±8,796
39,743 ±5,926
03:55 (03:04)
21
XenoRaptor
Jun 16, 2014
$9.99
71% (89%)
9,705 ±2,928
6,470 ±2,391
02:08 (01:54)
22
Bunker Punks
Mar 30, 2016
$14.99
71% (89%)
10,860 ±3,098
9,474 ±2,893
03:26 (01:53)
23
Kromaia
Oct 23, 2014
$19.99
N/A (N/A/68%)
26,110 ±4,803
10,860 ±3,098
03:07 (02:49)
24
Intensive Exposure
Sep 6, 2016
$4.99
71% (89%)
12,708 ±3,351
9,936 ±2,963
02:02 (00:56)
25
Transcendence
Jul 24, 2015
$8.99
N/A (N/A)
3,697 ±1,807
3,235 ±1,690
01:12 (00:49)
26
Binaries
Apr 4, 2016
$9.99
N/A (N/A)
6,701 ±2,433
4,159 ±1,917
02:19 (03:22)
27
Porcunipine
May 21, 2015
$9.99
N/A (N/A)
28,883 ±5,052
12,708 ±3,351
04:26 (03:27)
28
Cosmophony
Jul 9, 2015
$4.99
68% (88%)
11,091 ±3,130
8,549 ±2,748
02:52 (03:20)
29
Pixel Gladiator
Sep 8, 2017
$4.99
N/A (N/A)
14,095 ±3,529
8,318 ±2,711
03:17 (02:44)
30
Forget Me Not: My Organic Garden
Aug 21, 2015
$9.99
65% (87%)
13,402 ±3,441
11,553 ±3,195
06:50 (03:19)
31
Captain Forever Remix
Jun 3, 2016
$14.99
62% (86%)
21,027 ±4,310
19,409 ±4,141
07:23 (01:43)
32
Sparkle 2
Jun 1, 2015
$7.99
N/A (N/A)
14,788 ±3,615
8,549 ±2,748
16:09 (05:01)
33
Ballad of Solar
May 22, 2014
$6.99
62% (86%)
12,477 ±3,320
9,705 ±2,928
06:20 (04:49)
34
Shoot 1UP
Sep 23, 2015
$3.99
N/A (N/A)
12,246 ±3,289
7,625 ±2,595
02:22 (02:28)
35
Reign of Bullets
Aug 19, 2015
$9.99
N/A (N/A)
16,405 ±3,807
6,470 ±2,391
04:16 (02:55)
36
Bloody Streets
Mar 12, 2015
$4.99
N/A (N/A)
18,947 ±4,092
12,708 ±3,351
02:08 (01:53)
37
Frederic: Resurrection of Music
May 16, 2014
$0.5
59% (85%)
134,940 ±10,919
83,644 ±8,597
03:45 (03:11)
38
Heroes Never Lose: Professor Puzzler's Perplexing Ploy
Nov 23, 2015
$8.99
N/A (N/A)
2,773 ±1,565
2,080 ±1,355
06:03 (07:36)
39
Chicku
May 5, 2016
$4.99
N/A (N/A)
5,083 ±2,119
4,159 ±1,917
02:42 (02:30)
40
Sumeru
Sep 21, 2016
$6.99
54% (83%)
4,390 ±1,969
3,235 ±1,690
04:29 (05:58)
41
The Promised Land
Apr 25, 2014
$6.99
54% (83%)
29,345 ±5,092
23,568 ±4,563
08:58 (06:48)
42
Millie
Apr 18, 2014
$3.99
49% (81%)
146,262 ±11,367
94,042 ±9,115
03:20 (02:49)
43
Beyond Sol
Oct 13, 2015
$9.99
49% (81%/83%)
9,474 ±2,893
7,394 ±2,556
10:04 (03:57)
44
Empire of the Gods
Jan 27, 2016
$1.99
N/A (N/A)
23,106 ±4,518
15,481 ±3,698
07:25 (03:32)
45
Mysterious Space
May 15, 2015
$10
N/A (N/A)
13,633 ±3,471
7,856 ±2,634
03:43 (04:37)
46
Life of Pixel
Oct 22, 2014
$6.99
47% (80%)
37,894 ±5,786
26,110 ±4,803
02:53 (01:55)
47
Vektor Wars
Jun 4, 2015
$6.99
N/A (N/A)
17,099 ±3,887
2,542 ±1,498
04:35 (02:07)
48
Oriental Empires
Sep 14, 2017
$29.99
47% (80%/70%)
37,894 ±5,786
35,121 ±5,571
11:02 (04:47)
49
Big Action Mega Fight!
Jan 12, 2016
$1.99
45% (79%)
28,652 ±5,031
21,951 ±4,404
04:35 (04:31)
50
Warriors & Castles
Jun 30, 2015
$2.99
N/A (N/A)
11,553 ±3,195
2,080 ±1,355
00:23 (00:17)
51
Production Line
May 18, 2017
$17.99
43% (78%)
24,261 ±4,630
23,568 ±4,563
09:12 (03:57)
52
Finders
Apr 9, 2015
$5.99
41% (77%)
7,856 ±2,634
6,470 ±2,391
06:35 (06:20)
53
iO
Dec 5, 2014
$7.99
41% (77%)
31,655 ±5,289
20,564 ±4,263
02:39 (00:58)
54
MOAI: Build Your Dream
Feb 26, 2015
$6.99
41% (77%)
14,095 ±3,529
11,091 ±3,130
18:44 (04:41)
55
Pixel Puzzles: UndeadZ
Jun 6, 2014
$6.99
39% (76%)
237,762 ±14,492
146,724 ±11,385
08:19 (04:36)
56
Chronicles of a Dark Lord: Episode 1 Tides of Fate Complete
Dec 19, 2014
$1.99
N/A (N/A)
81,102 ±8,465
54,993 ±6,971
04:13 (03:29)
57
Medieval Kingdom Wars
Jun 9, 2017
$14.24
37% (75%)
17,330 ±3,913
15,481 ±3,698
15:13 (02:49)
58
Traverser
Jul 9, 2015
$14.99
N/A (N/A/61%)
12,246 ±3,289
5,545 ±2,213
03:53 (02:43)
59
Warbands: Bushido
Sep 15, 2017
$7.99
37% (75%)
14,788 ±3,615
12,477 ±3,320
14:10 (02:20)
60
BlastZone 2
Feb 19, 2015
$2.99
N/A (N/A)
24,492 ±4,652
16,174 ±3,780
05:12 (05:06)
61
BRAWL
Aug 13, 2015
$14.99
N/A (N/A)
16,405 ±3,807
10,167 ±2,997
04:01 (04:50)
62
The Adventures of Mr. Bobley
Jul 1, 2015
$8.99
35% (74%)
57,534 ±7,130
42,284 ±6,112
04:05 (03:26)
63
The Franz Kafka Videogame
Apr 6, 2017
$9.99
33% (73%/65%)
3,697 ±1,807
2,542 ±1,498
02:03 (02:38)
64
Qora
Oct 2, 2014
$9.99
31% (72%/63%)
43,208 ±6,179
20,102 ±4,214
02:38 (02:24)
65
StarsOne
Apr 8, 2016
$9.99
30% (71%)
9,242 ±2,858
7,163 ±2,516
17:49 (10:05)
66
Taimumari
Dec 16, 2015
$4.99
N/A (N/A)
23,337 ±4,541
15,250 ±3,671
04:56 (03:35)
67
Bohemian Killing
Jul 21, 2016
$12.99
28% (70%/55%)
8,780 ±2,785
5,777 ±2,259
02:29 (02:13)
68
Emerge: Cities of the Apocalypse
Apr 27, 2016
$7.99
28% (70%)
2,773 ±1,565
2,773 ±1,565
25:41 (23:05)
69
Treeker: The Lost Glasses
May 13, 2015
$3.99
N/A (N/A)
17,561 ±3,939
10,398 ±3,031
03:21 (02:44)
70
Broken Bots
Jun 8, 2016
$6.99
N/A (N/A)
11,784 ±3,227
7,163 ±2,516
03:02 (03:41)
71
Beater Spirit
Jun 1, 2016
$0.59
27% (69%)
123,156 ±10,431
79,947 ±8,405
03:26 (03:22)
72
Tulpa
Jan 29, 2015
$9.99
25% (68%)
42,284 ±6,112
19,640 ±4,166
03:11 (03:32)
73
Amazing Princess Sarah
Aug 18, 2014
$4.99
23% (66%)
8,318 ±2,711
5,777 ±2,259
03:42 (02:19)
74
Anoxemia
Jan 16, 2015
$3.99
N/A (N/A)
140,716 ±11,150
92,424 ±9,037
04:41 (04:26)
75
Sky Mercenaries
Dec 16, 2014
$9.99
N/A (N/A)
47,830 ±6,501
30,269 ±5,172
03:12 (03:24)
76
A City Sleeps
Oct 16, 2014
$9.99
N/A (N/A)
22,644 ±4,473
10,398 ±3,031
04:42 (03:13)
77
Hare In The Hat
Apr 1, 2015
$0.49
21% (64%)
43,902 ±6,228
31,886 ±5,308
05:01 (04:03)
78
Drop Hunt - Adventure Puzzle
Feb 23, 2017
$1.99
N/A (N/A)
113,913 ±10,032
102,129 ±9,499
03:34 (03:30)
79
Mindless Running
Feb 18, 2016
$1.99
20% (63%)
83,413 ±8,585
73,015 ±8,032
03:20 (03:30)
80
Curses 'N Chaos
Aug 18, 2015
$9.99
N/A (N/A)
47,830 ±6,501
12,939 ±3,381
03:23 (02:10)
81
Bunker - The Underground Game
May 21, 2015
$4.99
N/A (N/A)
23,106 ±4,518
10,860 ±3,098
05:45 (05:55)
82
Train Fever
Sep 4, 2014
$19.99
17% (61%/67%)
193,860 ±13,086
178,148 ±12,545
50:54 (09:18)
83
Wrath of Anna
Sep 20, 2016
$9.99
N/A (N/A)
42,053 ±6,096
29,576 ±5,112
03:36 (03:12)
84
Starship Corporation
Apr 29, 2016
$19.99
17% (61%)
9,705 ±2,928
9,011 ±2,822
06:32 (03:40)
85
Edengrad
Apr 4, 2017
$12.99
15% (59%)
6,470 ±2,391
5,777 ±2,259
04:37 (03:22)
86
The Deer God
Feb 27, 2015
$14.99
15% (59%/59%)
54,530 ±6,941
39,743 ±5,926
04:28 (05:05)
87
Oscura: Lost Light
Feb 24, 2015
$6.99
N/A (N/A/66%)
33,042 ±5,403
11,322 ±3,163
02:04 (01:50)
88
Autocraft
Sep 20, 2017
$9.99
14% (58%)
25,417 ±4,739
21,951 ±4,404
05:24 (02:16)
89
Deathwave
Jun 9, 2016
$4.99
N/A (N/A)
7,163 ±2,516
5,314 ±2,167
02:39 (02:22)
90
The Waste Land
Sep 16, 2014
$9.99
12% (54%)
10,167 ±2,997
7,625 ±2,595
03:06 (03:47)
91
Redemption: Eternal Quest
Aug 28, 2015
$1.99
N/A (N/A)
160,819 ±11,919
145,338 ±11,331
03:42 (03:30)
92
Blaster Shooter GunGuy!
Aug 10, 2015
$1.99
8% (49%)
111,372 ±9,920
85,955 ±8,715
03:39 (03:22)
93
Sparkle ZERO
Mar 14, 2016
$0.49
8% (49%)
72,553 ±8,007
44,826 ±6,293
03:15 (03:14)
94
The Falling Sun
Apr 7, 2015
$4.99
8% (48%)
86,417 ±8,738
68,625 ±7,787
03:44 (03:26)
95
Nightfall: Escape
Jun 28, 2016
$9.99
N/A (N/A)
16,405 ±3,807
9,011 ±2,822
04:24 (04:21)
96
Vitrum
Apr 22, 2014
$1.99
N/A (N/A)
28,652 ±5,031
15,943 ±3,753
03:16 (02:54)
97
Scribble Space
Jun 1, 2015
$1.99
6% (45%)
16,174 ±3,780
10,629 ±3,064
05:20 (02:39)
98
Final Rush
Nov 21, 2014
$4.99
6% (45%)
12,939 ±3,381
9,474 ±2,893
02:45 (02:08)
99
TownCraft
Feb 25, 2015
$9.99
N/A (N/A)
22,182 ±4,427
14,788 ±3,615
04:11 (02:57)
100
The Lost Valley
Apr 20, 2015
$4.99
5% (41%)
255,785 ±15,031
235,220 ±14,414
03:30 (03:30)
101
Star Drifter
Jun 1, 2016
$0.99
4% (40%)
280,739 ±15,747
227,364 ±14,172
04:05 (03:30)
102
The Undying Plague
Apr 10, 2015
$0.99
4% (40%)
17,792 ±3,965
10,167 ±2,997
04:23 (03:43)
103
Monument
Jun 5, 2015
$3.99
4% (38%)
9,936 ±2,963
7,856 ±2,634
03:23 (03:36)
104
Karma
Jul 14, 2015
$0.99
N/A (N/A)
3,004 ±1,629
462 ±639
01:32 (01:01)
105
Centauri Sector
Jun 23, 2015
$4.99
N/A (N/A)
17,792 ±3,965
8,780 ±2,785
03:52 (04:23)
106
AdvertCity
Jun 5, 2015
$19.99
N/A (N/A)
13,402 ±3,441
9,474 ±2,893
04:18 (04:54)
107
Voxelized
Apr 5, 2017
$3.99
3% (34%)
350,520 ±17,594
192,474 ±13,039
02:56 (02:36)