No Seat?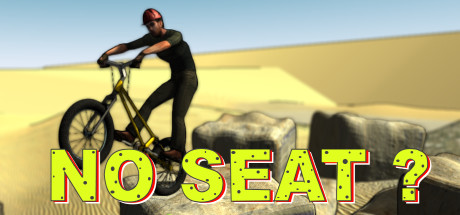 Store | Hub | SteamDB
Developer: khos85 Publisher: khos85
Genre: Indie, Simulation, Sports
Languages: English
Tags: Indie (21), Sports (21), Simulation (21)
Category: Single-player, Multi-player, Local Multi-Player, Steam Achievements, Partial Controller Support, Includes level editor
Release date: Dec 19, 2016
Price: $2.99
Followers: 48

Steam Spy is still in beta, so expect major bugs.
Peak daily concurrent players:
CCU data courtesy of SteamDB. Used with permission.
Hourly concurrent players:
YouTube:
The views data is based on top 50 videos uploaded last week. Actual number of views might be more than the number shown.

The displayed number of videos uploaded yesterday is limited to 50, so if there were more videos uploaded, the number will still show 50.

If the game has commonly used word as its name (like "FEAR" or "Volume") its number of Youtube views might be wrong.
Games similar to this one:
#
Game
Release date

Price

Score rank
(Userscore / Metascore)

Owners

Players

Playtime (Median)

1
Cakewalk Loop Manager
Jun 17, 2014
Free
N/A (N/A)
425,960 ±19,851
55,423 ±7,163
00:31 (00:01)
2
Rytmik Ultimate
Dec 10, 2015
$8.99
62% (86%)
23,234 ±4,638
18,152 ±4,099
11:00 (02:20)
3
CopperCube 5 Game Engine
May 1, 2015
$41.24
N/A (N/A)
1,452 ±1,159
484 ±669
01:10 (00:25)
4
World VR Competition
Dec 6, 2016
$11.99
N/A (N/A)
968 ±946
726 ±819
03:05 (02:37)
5
iPi Recorder 2
Free
N/A (N/A)
75,511 ±8,360
4,114 ±1,951
00:39 (00:30)
6
Influent
Mar 20, 2014
$5.09
35% (74%)
133,839 ±11,130
99,471 ±9,596
01:53 (00:32)
7
PaintLab
Apr 29, 2016
Free
N/A (N/A)
64,378 ±7,720
25,654 ±4,873
00:21 (00:06)
8
Silo 2
Dec 19, 2012
$99.99
33% (73%)
5,082 ±2,169
4,598 ±2,063
18:30 (03:14)
9
Aartform Curvy 3D 3.0
Nov 12, 2013
$99.99
N/A (N/A)
4,356 ±2,008
3,146 ±1,706
05:00 (05:56)
10
Rytmik Lite Chiptune Synthesizer
Jan 26, 2016
$5.99
23% (66%)
5,082 ±2,169
4,598 ±2,063
04:49 (02:05)
11
MorphVOX Pro - Voice Changer
Feb 13, 2014
$39.99
14% (58%)
14,763 ±3,697
14,037 ±3,605
27:43 (07:26)
12
Restricted-RPS - Hope Annihilation Arc
Jun 24, 2016
Free
N/A (N/A)
2,662 ±1,570
0 ±0
00:00 (00:00)
13
Virtual DJ - Broadcaster Edition
Mar 7, 2013
N/A
7% (47%)
9,923 ±3,031
9,681 ±2,993
13:21 (00:38)
14
ACDSee 15
Dec 11, 2012
$49.99
N/A (N/A)
715 ±989
715 ±989
00:49 (00:48)
15
RaySupreme 3D
Dec 16, 2013
$39.99
N/A (N/A)
5,809 ±2,319
2,904 ±1,639
00:39 (00:25)
16
VR Boxing Workout
Jul 10, 2016
$4.99
N/A (N/A)
2,178 ±1,420
1,936 ±1,338
00:41 (00:13)