App

Tap Tap Legions - Epic battles within 5 seconds!
Tap Tap Legions - Epic battles within 5 seconds!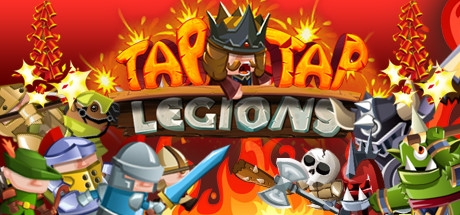 Store | Hub | SteamDB
Developer: YFC games Publisher: YFC games
Genre: Action, Casual, Free to Play, Indie, Strategy
Languages: English, Traditional Chinese, Simplified Chinese
Tags: Free to Play (64), Action (33), Casual (29), Indie (29), Strategy (29), Clicker (20), Multiplayer (6)
Category: Single-player, Steam Achievements, Steam Leaderboards
Release date: Feb 8, 2016
Free
Score rank: 10% Userscore: 51% Old userscore: 51%
Owners: 141,906 ± 10,599
Players in the last 2 weeks: 1,243 ± 992 (0.88%)
Players total: 89,494 ± 8,417 (63.07%)
Followers: 1,247
Peak concurrent players yesterday: 5
Playtime in the last 2 weeks: 01:40 (average) 01:43 (median)
Playtime total: 01:14 (average) 00:14 (median)

Steam Spy is still in beta, so expect major bugs.
Peak daily concurrent players:
CCU data courtesy of SteamDB. Used with permission.
Hourly concurrent players:
YouTube:
The views data is based on top 50 videos uploaded last week. Actual number of views might be more than the number shown.

The displayed number of videos uploaded yesterday is limited to 50, so if there were more videos uploaded, the number will still show 50.

If the game has commonly used word as its name (like "FEAR" or "Volume") its number of Youtube views might be wrong.
Games similar to this one:
#
Game
Release date

Price

Score rank
(Userscore / Metascore)

Owners

Players

Playtime (Median)

1
Beyond Reality
Jan 8, 2016
$4.99
N/A (N/A)
6,836 ±2,326
2,486 ±1,403
01:29 (02:15)
2
Organ Quarter Pre-Alpha Demo
Oct 28, 2016
Free
92% (95%)
30,039 ±4,877
13,258 ±3,240
00:26 (00:19)
3
Marmoset Hexels 2
Feb 15, 2016
$38
N/A (N/A)
32,939 ±5,107
12,015 ±3,084
06:40 (01:00)
4
SanctuaryRPG: Black Edition
Feb 13, 2015
$7.99
86% (93%)
145,014 ±10,714
81,001 ±8,008
05:32 (03:05)
5
The Desolate Hope
May 5, 2014
Free
86% (93%)
194,318 ±12,402
45,783 ±6,021
01:21 (00:20)
6
Black Ink
Feb 8, 2016
$59.99
79% (91%)
25,481 ±4,492
25,067 ±4,455
18:13 (03:34)
7
Spooky Night
Dec 31, 2016
Free
N/A (N/A)
8,287 ±2,561
4,143 ±1,811
00:16 (00:07)
8
Dota 2
Jul 9, 2013
Free
72% (89%/90%)
99,435,122 ±242,394
99,435,122 ±242,394
198:52 (04:44)
9
RPG Maker 2003
Apr 24, 2015
$19.99
69% (88%)
25,067 ±4,455
16,987 ±3,667
14:23 (01:38)
10
FORCED SHOWDOWN
Mar 29, 2016
$19.99
69% (88%)
27,345 ±4,653
23,409 ±4,305
11:13 (04:47)
11
The Cubicle.
Apr 5, 2016
Free
69% (88%)
141,078 ±10,568
79,550 ±7,936
00:29 (00:05)
12
Dead Age
Nov 4, 2016
$14.99
63% (86%)
24,238 ±4,381
21,752 ±4,150
08:41 (03:23)
13
Waste Walkers
Jun 1, 2015
$9.99
60% (85%)
23,617 ±4,324
15,744 ±3,531
02:48 (02:54)
14
Doorways: Old Prototype
Oct 5, 2016
Free
57% (84%)
86,387 ±8,270
54,691 ±6,580
00:40 (00:17)
15
Fork Parker's Holiday Profit Hike
Dec 18, 2014
Free
52% (82%)
298,521 ±15,370
117,254 ±9,635
00:27 (00:09)
16
Boid
Jul 8, 2016
Free
50% (81%)
218,142 ±13,140
127,819 ±10,059
01:46 (00:25)
17
Medusa's Labyrinth
Feb 15, 2016
Free
50% (81%)
250,252 ±14,073
120,776 ±9,778
00:28 (00:15)
18
DC Universe™ Online
Nov 2, 2011
Free
50% (81%/72%)
2,451,562 ±43,925
2,451,562 ±43,925
25:40 (05:56)
19
VR Gallery
Aug 11, 2016
Free
N/A (N/A)
26,724 ±4,600
1,450 ±1,071
00:05 (00:08)
20
The Storm Guard: Darkness is Coming
Aug 25, 2016
$19.99
45% (79%)
3,522 ±1,670
3,107 ±1,568
09:57 (08:22)
21
Krita Gemini
Jun 10, 2014
$9.99
43% (78%)
4,350 ±1,856
4,143 ±1,811
12:43 (08:21)
22
StarBreak
May 10, 2016
Free
41% (77%)
215,449 ±13,059
156,408 ±11,127
03:18 (00:17)
23
Continent of the Ninth Seal
Sep 13, 2012
Free
37% (75%)
633,917 ±22,388
183,960 ±12,067
04:21 (00:12)
24
Of Orcs And Men
Oct 11, 2012
$14.99
35% (74%/69%)
194,940 ±12,422
106,067 ±9,164
04:40 (00:58)
25
Karos Returns
Jul 30, 2015
Free
35% (74%)
148,328 ±10,836
45,369 ±5,993
04:07 (00:19)
26
Pox Nora
Oct 15, 2014
Free
34% (73%)
435,870 ±18,569
90,530 ±8,466
05:26 (00:17)
27
Mausoleum of the Medusa
Oct 27, 2016
Free
N/A (N/A)
14,501 ±3,388
3,315 ±1,620
00:10 (00:09)
28
Combat Monsters
Jan 20, 2015
Free
32% (72%)
142,114 ±10,607
37,911 ±5,479
05:08 (00:19)
29
Labyronia RPG
Aug 14, 2015
$1.99
32% (72%)
364,192 ±16,975
219,799 ±13,190
04:04 (03:19)
30
Dead Realm
Jul 30, 2015
$14.99
32% (72%)
246,731 ±13,974
227,050 ±13,405
03:05 (01:39)
31
The Lost Mythologies
Jan 28, 2016
Free
29% (70%)
265,997 ±14,509
148,121 ±10,828
00:16 (00:07)
32
Game Character Hub
May 23, 2014
$14.99
29% (70%)
182,096 ±12,006
95,088 ±8,677
07:02 (00:21)
33
Gladiator Trainer
Nov 25, 2016
$1.99
29% (70%)
28,174 ±4,723
16,573 ±3,622
02:56 (02:51)
34
Tiles & Tales
Jan 23, 2017
Free
N/A (N/A)
6,422 ±2,255
4,558 ±1,899
05:20 (03:17)
35
MapleStory
Aug 9, 2012
Free
27% (69%)
812,492 ±25,340
529,093 ±20,456
36:57 (01:11)
36
Minds Eyes
Aug 31, 2016
Free
27% (69%)
178,574 ±11,889
127,612 ±10,051
00:49 (00:19)
37
Soccer Manager 2015
Jul 16, 2015
Free
27% (69%)
337,675 ±16,346
204,469 ±12,722
05:41 (00:20)
38
Virtual Battlemap
Jul 20, 2016
$29.99
N/A (N/A)
2,693 ±1,460
2,279 ±1,343
04:22 (03:03)
39
NEOTOKYO
Jul 4, 2014
Free
26% (68%)
1,145,195 ±30,072
421,369 ±18,258
01:36 (00:13)
40
Astroflux
Sep 27, 2016
Free
25% (67%)
35,632 ±5,312
17,194 ±3,690
06:53 (00:43)
41
Running Shadow
Feb 20, 2015
Free
25% (67%)
411,010 ±18,032
178,988 ±11,903
01:49 (00:16)
42
Axis Game Factory's AGFPRO v3
Nov 19, 2013
$9.99
25% (67%)
134,863 ±10,333
56,763 ±6,704
02:31 (00:25)
43
Zombies Monsters Robots (ZMR)
Sep 19, 2014
Free
23% (66%)
791,361 ±25,009
438,977 ±18,635
10:29 (01:02)
44
The fall of gods
Dec 18, 2015
$1.99
N/A (N/A)
8,494 ±2,593
4,972 ±1,984
03:34 (03:06)
45
Uncharted Waters Online: Age of Revolution
Oct 3, 2014
Free
23% (66%)
274,490 ±14,739
108,553 ±9,270
36:49 (00:30)
46
PD Howler 9.6 Digital Painter and Visual FX box
Mar 11, 2015
$29.99
N/A (N/A)
1,864 ±1,215
1,450 ±1,071
14:04 (30:49)
47
Dogs of War Online
Feb 4, 2014
Free
22% (65%)
217,935 ±13,134
79,343 ±7,926
03:37 (00:36)
48
Only If
Jul 25, 2014
Free
21% (64%/39%)
1,203,822 ±30,829
585,027 ±21,509
00:58 (00:22)
49
Crush Online
Oct 10, 2016
Free
N/A (N/A)
123,469 ±9,887
85,558 ±8,230
06:04 (00:30)
50
Frontline Tactics
Oct 26, 2012
Free
19% (62%)
472,331 ±19,329
110,418 ±9,350
04:13 (00:25)
51
Elminage Gothic
Sep 18, 2014
$9.99
19% (62%)
9,944 ±2,806
8,287 ±2,561
09:00 (01:53)
52
Battleline: Steel Warfare
Aug 25, 2016
Free
19% (62%)
82,036 ±8,059
35,632 ±5,312
04:08 (00:16)
53
Machine Learning: Episode I
Sep 10, 2016
Free
N/A (N/A)
25,274 ±4,473
6,008 ±2,181
00:40 (00:19)
54
CABAL Online
Feb 17, 2016
Free
16% (60%)
227,672 ±13,424
122,847 ±9,862
14:21 (00:17)
55
Velvet Sundown
Jul 22, 2014
Free
16% (60%)
656,705 ±22,786
250,252 ±14,073
01:13 (00:16)
56
City of Steam: Arkadia
Mar 6, 2014
Free
16% (60%)
339,539 ±16,391
130,098 ±10,149
05:21 (00:33)
57
Deepworld
Apr 22, 2015
Free
16% (60%)
230,365 ±13,503
128,234 ±10,076
02:02 (00:28)
58
Tales Runner
Feb 17, 2015
Free
N/A (N/A)
309,915 ±15,660
125,955 ±9,986
02:29 (00:21)
59
Krater
Jun 12, 2012
$14.99
16% (59%/52%)
187,689 ±12,189
137,349 ±10,427
04:23 (02:16)
60
8BitMMO
Jan 26, 2015
Free
15% (58%)
879,405 ±26,361
533,236 ±20,536
01:15 (00:15)
61
Metal Assault
Mar 18, 2016
Free
14% (57%)
87,630 ±8,329
67,535 ±7,312
05:16 (00:17)
62
Villagers and Heroes
Apr 17, 2014
Free
13% (56%)
690,887 ±23,371
385,530 ±17,465
04:42 (00:27)
63
Fiesta Online NA
May 20, 2014
Free
12% (54%)
395,266 ±17,684
62,356 ±7,026
15:21 (00:46)
64
The Sun Will Rise
Oct 3, 2016
Free
N/A (N/A)
20,095 ±3,989
3,522 ±1,670
00:51 (00:33)
65
Path of War
Sep 12, 2016
Free
10% (51%)
102,960 ±9,028
52,412 ±6,442
02:27 (00:17)
66
King's Bounty: Legions
Dec 10, 2013
Free
10% (51%)
230,779 ±13,515
91,566 ±8,514
16:19 (00:40)
67
DRAKERZ-Confrontation
May 19, 2014
Free
9% (50%)
125,955 ±9,986
33,353 ±5,139
01:30 (00:18)
68
Khan: Absolute Power
Mar 18, 2016
Free
8% (49%)
77,272 ±7,822
25,688 ±4,510
48:27 (00:20)
69
Battle Islands: Commanders
Feb 14, 2017
Free
8% (48%)
195,976 ±12,455
136,106 ±10,380
02:16 (00:18)
70
Navy Field 2 : Conqueror of the Ocean
Mar 5, 2015
Free
7% (46%)
568,040 ±21,195
274,490 ±14,739
05:58 (00:22)
71
ePic Character Generator
Nov 5, 2015
Free
7% (46%)
75,200 ±7,716
19,888 ±3,968
00:45 (00:10)
72
BloodRealm: Battlegrounds
Feb 12, 2015
Free
6% (45%)
212,342 ±12,964
66,914 ±7,279
01:43 (00:15)
73
Piercing Blow
Nov 10, 2015
Free
6% (45%)
601,186 ±21,803
390,709 ±17,582
12:00 (00:34)
74
HIS (Heroes In the Sky)
Mar 3, 2015
Free
4% (40%)
240,309 ±13,791
96,952 ±8,761
01:46 (00:12)
75
TDP4:Team Battle
Mar 12, 2015
Free
4% (39%)
228,500 ±13,448
106,482 ±9,182
01:03 (00:13)
76
Imperia Online
Apr 15, 2016
Free
4% (38%)
81,415 ±8,029
30,660 ±4,927
03:51 (00:10)
77
Brick-Force
Dec 11, 2014
Free
3% (37%)
1,479,555 ±34,166
915,037 ±26,888
01:52 (00:20)
78
Bloodwood Reload
Nov 2, 2015
Free
3% (34%)
137,349 ±10,427
65,049 ±7,177
00:44 (00:09)
79
Magic Barrage - Bitferno
Jan 2015
Free
3% (34%)
305,772 ±15,555
159,929 ±11,252
01:49 (00:10)
80
Genesis Online
Nov 10, 2015
Free
2% (30%)
276,355 ±14,789
197,219 ±12,494
00:54 (00:14)
81
Cannons Lasers Rockets
Aug 25, 2014
Free
1% (23%)
238,237 ±13,731
90,737 ±8,476
00:22 (00:07)