App

Tap Tap Legions - Epic battles within 5 seconds!
Tap Tap Legions - Epic battles within 5 seconds!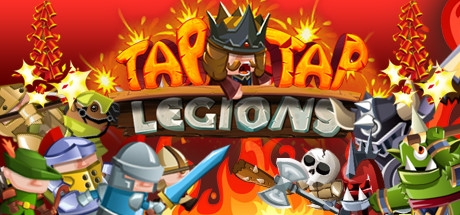 Store | Hub | SteamDB
Developer: YFC games Publisher: YFC games
Genre: Action, Casual, Free to Play, Indie, Strategy
Languages: English, Traditional Chinese, Simplified Chinese
Tags: Free to Play (64), Action (33), Indie (29), Strategy (29), Casual (29), Clicker (20), Multiplayer (6)
Category: Single-player, Steam Achievements, Steam Leaderboards
Release date: Feb 8, 2016
Free
Score rank: 10% Userscore: 52% Old userscore: 52%
Owners: 143,122 ± 11,407
Players in the last 2 weeks: 743 ± 1,027 (0.52%)
Players total: 92,483 ± 9,170 (64.62%)
Followers: 1,260
Peak concurrent players yesterday: 5
Playtime in the last 2 weeks: 00:33 (average) 00:33 (median)
Playtime total: 01:03 (average) 00:13 (median)

Steam Spy is still in beta, so expect major bugs.
Peak daily concurrent players:
CCU data courtesy of SteamDB. Used with permission.
Hourly concurrent players:
YouTube:
The views data is based on top 50 videos uploaded last week. Actual number of views might be more than the number shown.

The displayed number of videos uploaded yesterday is limited to 50, so if there were more videos uploaded, the number will still show 50.

If the game has commonly used word as its name (like "FEAR" or "Volume") its number of Youtube views might be wrong.
Games similar to this one:
#
Game
Release date

Price

Score rank
(Userscore / Metascore)

Owners

Players

Playtime (Median)

1
Organ Quarter Pre-Alpha Demo
Oct 28, 2016
Free
92% (95%)
32,333 ±5,422
13,789 ±3,541
00:50 (00:14)
2
Beyond Reality
Jan 8, 2016
$4.99
N/A (N/A)
6,181 ±2,371
3,566 ±1,800
02:57 (02:59)
3
Khimera: Destroy All Monster Girls
May 8, 2016
Free
89% (94%)
70,135 ±7,985
21,635 ±4,435
01:13 (00:17)
4
Marmoset Hexels 2
Feb 15, 2016
$38
N/A (N/A)
37,088 ±5,807
13,314 ±3,479
06:41 (01:05)
5
Belko VR: An Escape Room Experiment
Mar 2, 2017
Free
82% (92%)
26,627 ±4,920
18,544 ±4,106
01:19 (00:30)
6
Spooky Night
Dec 31, 2016
Free
N/A (N/A)
9,510 ±2,940
6,181 ±2,371
00:17 (00:07)
7
Black Ink
Feb 8, 2016
$59.99
75% (90%)
26,627 ±4,920
25,439 ±4,809
34:33 (04:14)
8
Dota 2
Jul 9, 2013
Free
71% (89%/90%)
102,525,688 ±263,850
102,525,688 ±263,850
196:18 (04:34)
9
Nimble Writer
Apr 21, 2015
$9.99
68% (88%)
8,559 ±2,789
7,608 ±2,630
32:01 (15:24)
10
RPG Maker 2003
Apr 24, 2015
$19.99
68% (88%)
25,914 ±4,854
16,404 ±3,862
20:33 (03:01)
11
The Cubicle.
Apr 5, 2016
Free
65% (87%)
139,318 ±11,254
84,162 ±8,747
00:14 (00:05)
12
Wasteland 1 - The Original Classic
Nov 13, 2013
$5.99
62% (86%)
595,075 ±23,246
127,431 ±10,763
01:28 (00:05)
13
Waste Walkers
Jun 1, 2015
$9.99
62% (86%)
20,922 ±4,361
14,740 ±3,661
03:33 (03:01)
14
VR Gallery
Aug 11, 2016
Free
N/A (N/A)
24,963 ±4,764
1,902 ±1,315
00:07 (00:03)
15
DC Universe Online
Nov 2, 2011
Free
49% (81%/72%)
2,484,669 ±47,390
2,484,669 ±47,390
23:57 (05:41)
16
Medusa's Labyrinth
Feb 15, 2016
Free
49% (81%)
253,673 ±15,184
123,865 ±10,612
00:24 (00:12)
17
Let the Cat in
Aug 27, 2015
Free
45% (79%)
193,286 ±13,255
112,929 ±10,132
00:50 (00:09)
18
Mausoleum of the Medusa
Oct 27, 2016
Free
N/A (N/A)
16,404 ±3,862
4,755 ±2,079
00:10 (00:10)
19
Chasing Styx
Mar 31, 2017
Free
N/A (N/A)
4,279 ±1,972
1,902 ±1,315
02:06 (02:53)
20
Of Orcs And Men
Oct 11, 2012
$14.99
35% (74%/69%)
182,112 ±12,866
97,475 ±9,414
04:19 (01:18)
21
Karos Returns
Jul 30, 2015
Free
35% (74%)
145,024 ±11,482
48,262 ±6,624
06:05 (00:17)
22
Tiles & Tales
Jan 23, 2017
Free
33% (73%)
7,370 ±2,588
5,230 ±2,181
03:04 (01:47)
23
Combat Monsters
Jan 20, 2015
Free
32% (72%)
136,703 ±11,148
42,319 ±6,203
05:22 (00:27)
24
Vanguards
Oct 28, 2016
Free
29% (70%)
28,292 ±5,072
11,649 ±3,254
00:20 (00:06)
25
The Lost Mythologies
Jan 28, 2016
Free
27% (69%)
250,107 ±15,077
153,821 ±11,825
00:13 (00:07)
26
Girlfriend Rescue
Jul 10, 2015
$4.99
N/A (N/A)
7,132 ±2,546
4,517 ±2,026
04:02 (04:18)
27
Soccer Manager 2015
Jul 16, 2015
Free
27% (69%)
340,212 ±17,582
213,495 ±13,930
03:38 (00:20)
28
Astroflux
Sep 27, 2016
Free
26% (68%)
40,654 ±6,080
20,922 ±4,361
11:02 (00:28)
29
Running Shadow
Feb 20, 2015
Free
25% (67%)
408,445 ±19,263
180,924 ±12,824
01:21 (00:17)
30
Gunscape
Mar 1, 2016
Free
25% (67%)
350,911 ±17,856
219,201 ±14,115
01:07 (00:15)
31
Axis Game Factory's AGFPRO v3
Nov 19, 2013
$19.99
23% (66%)
123,865 ±10,612
51,591 ±6,849
03:17 (00:23)
32
The fall of gods
Dec 18, 2015
$1.99
N/A (N/A)
8,083 ±2,711
4,755 ±2,079
03:48 (04:48)
33
Dogs of War Online
Feb 4, 2014
Free
22% (65%)
210,879 ±13,845
75,841 ±8,304
03:06 (00:31)
34
Only If
Jul 25, 2014
Free
21% (64%/39%)
1,196,568 ±32,939
581,761 ±22,985
00:54 (00:22)
35
Machine Learning: Episode I
Sep 10, 2016
Free
N/A (N/A)
26,152 ±4,876
4,755 ±2,079
00:15 (00:15)
36
Frontline Tactics
Oct 26, 2012
Free
18% (62%)
454,568 ±20,321
104,845 ±9,763
04:56 (00:29)
37
Battleline: Steel Warfare
Aug 25, 2016
Free
18% (62%)
90,343 ±9,063
43,032 ±6,255
01:19 (00:14)
38
Crush Online
Oct 10, 2016
Free
N/A (N/A)
120,537 ±10,468
81,071 ±8,585
02:01 (00:29)
39
Elminage Gothic
Sep 18, 2014
$9.99
18% (62%)
9,510 ±2,940
6,895 ±2,504
06:28 (03:37)
40
Clown2Beat
Oct 26, 2016
Free
N/A (N/A)
18,782 ±4,132
4,042 ±1,917
00:05 (00:09)
41
Velvet Sundown
Jul 22, 2014
Free
16% (60%)
646,665 ±24,231
260,806 ±15,396
00:58 (00:16)
42
City of Steam: Arkadia
Mar 6, 2014
Free
16% (60%)
359,232 ±18,067
146,213 ±11,529
15:27 (00:37)
43
Games of Glory
Apr 25, 2017
Free
16% (60%)
211,117 ±13,853
77,029 ±8,369
01:07 (00:18)
44
AutoTileGen
Jul 9, 2014
$9.99
N/A (N/A)
4,993 ±2,130
1,902 ±1,315
02:14 (02:44)
45
Platfinity
May 25, 2016
$9.99
N/A (N/A)
2,853 ±1,610
1,902 ±1,315
05:05 (06:16)
46
Krater
Jun 12, 2012
$14.99
15% (59%/52%)
205,649 ±13,672
150,730 ±11,706
04:40 (02:20)
47
Dragomon Hunter
Dec 2, 2015
Free
14% (57%)
478,104 ±20,840
323,808 ±17,154
04:37 (00:41)
48
Back to Dinosaur Island
Nov 18, 2015
Free
12% (55%)
480,720 ±20,896
250,345 ±15,084
00:09 (00:04)
49
The Sun Will Rise
Oct 3, 2016
Free
N/A (N/A)
21,397 ±4,411
4,279 ±1,972
00:42 (00:50)
50
UFO Online: Invasion
Jun 8, 2016
Free
11% (53%)
160,478 ±12,078
84,399 ±8,760
02:43 (00:22)
51
Path of War
Sep 12, 2016
Free
10% (51%)
103,894 ±9,719
54,919 ±7,066
03:25 (00:27)
52
Khan: Absolute Power
Mar 18, 2016
Free
9% (50%)
80,120 ±8,535
30,194 ±5,240
11:26 (00:07)
53
DRAKERZ-Confrontation
May 19, 2014
Free
9% (50%)
121,725 ±10,520
39,228 ±5,972
01:07 (00:17)
54
Maui
Apr 26, 2016
Free
7% (46%)
126,718 ±10,733
73,463 ±8,173
01:30 (00:05)
55
ePic Character Generator
Nov 5, 2015
Free
7% (46%)
71,561 ±8,066
19,733 ±4,236
01:37 (00:11)
56
Navy Field 2 : Conqueror of the Ocean
Mar 5, 2015
Free
7% (46%)
560,126 ±22,554
267,700 ±15,598
03:50 (00:20)
57
BloodRealm: Battlegrounds
Feb 12, 2015
Free
6% (45%)
203,747 ±13,609
63,953 ±7,625
02:17 (00:13)
58
All Is Dust
Jun 26, 2015
Free
6% (43%)
353,288 ±17,917
164,282 ±12,220
00:20 (00:07)
59
Dragon Blood
Jan 31, 2017
Free
6% (43%)
11,412 ±3,221
8,321 ±2,750
00:32 (00:07)
60
Darkwind: War on Wheels
Aug 22, 2014
Free
5% (42%)
227,997 ±14,395
110,551 ±10,025
13:30 (00:06)
61
Daylight's End VR Edition
Aug 26, 2016
Free
N/A (N/A)
29,005 ±5,135
5,944 ±2,324
00:18 (00:07)
62
HIS (Heroes In the Sky)
Mar 3, 2015
Free
5% (40%)
245,828 ±14,947
108,887 ±9,950
02:04 (00:11)
63
Imperia Online
Apr 15, 2016
Free
4% (39%)
75,841 ±8,304
29,718 ±5,198
22:54 (00:19)
64
TDP4:Team Battle
Mar 12, 2015
Free
4% (39%)
211,117 ±13,853
105,083 ±9,774
01:31 (00:14)
65
KUBOOM
Oct 7, 2016
Free
4% (38%)
244,639 ±14,911
187,818 ±13,066
01:31 (00:14)
66
Bloodwood Reload
Nov 2, 2015
Free
3% (34%)
121,250 ±10,499
50,402 ±6,770
00:26 (00:09)
67
Magic Barrage - Bitferno
Jan 2015
Free
3% (34%)
289,573 ±16,222
152,632 ±11,779
01:20 (00:09)
68
Cannons Lasers Rockets
Aug 25, 2014
Free
1% (24%)
237,031 ±14,678
99,139 ±9,494
00:17 (00:07)