App

Tap Tap Legions - Epic battles within 5 seconds!
Tap Tap Legions - Epic battles within 5 seconds!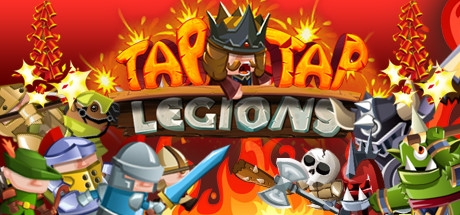 Store | Hub | SteamDB
Developer: YFC games Publisher: YFC games
Genre: Action, Casual, Free to Play, Indie, Strategy
Languages: English, Traditional Chinese, Simplified Chinese
Tags: Free to Play (65), Action (34), Strategy (30), Indie (29), Casual (29), Clicker (21), Multiplayer (6)
Category: Single-player, Steam Achievements, Steam Leaderboards
Release date: Feb 8, 2016
Free
Score rank: 10% Userscore: 52% Old userscore: 52%
Owners: 146,666 ± 10,391
Players in the last 2 weeks: 771 ± 753 (0.53%)
Players total: 98,291 ± 8,507 (67.02%)
Followers: 1,310
Peak concurrent players yesterday: 3
Playtime in the last 2 weeks: 00:24 (average) 00:36 (median)
Playtime total: 01:06 (average) 00:13 (median)

Steam Spy is still in beta, so expect major bugs.
Peak daily concurrent players:
CCU data courtesy of SteamDB. Used with permission.
Hourly concurrent players:
YouTube:
The views data is based on top 50 videos uploaded last week. Actual number of views might be more than the number shown.

The displayed number of videos uploaded yesterday is limited to 50, so if there were more videos uploaded, the number will still show 50.

If the game has commonly used word as its name (like "FEAR" or "Volume") its number of Youtube views might be wrong.
Games similar to this one:
#
Game
Release date

Price

Score rank
(Userscore / Metascore)

Owners

Players

Playtime (Median)

1
VR Battle Grid
Nov 8, 2016
Free
N/A (N/A)
31,993 ±4,854
6,745 ±2,228
00:14 (00:08)
2
Organ Quarter Pre-Alpha Demo
Oct 28, 2016
Free
95% (96%)
31,993 ±4,854
13,298 ±3,129
00:22 (00:13)
3
Khimera: Destroy All Monster Girls
May 8, 2016
Free
92% (95%)
63,986 ±6,864
23,898 ±4,195
02:04 (00:21)
4
Marmoset Hexels 2
Feb 15, 2016
$38
89% (94%)
33,727 ±4,983
13,876 ±3,196
07:31 (00:46)
5
Brief Karate Foolish
Nov 18, 2016
Free
89% (94%)
97,520 ±8,474
70,731 ±7,217
00:11 (00:04)
6
Controller Companion
May 4, 2015
$2.99
85% (93%)
101,567 ±8,648
92,509 ±8,253
23:47 (00:02)
7
Godot Engine
Feb 23, 2016
Free
85% (93%)
152,833 ±10,607
99,447 ±8,557
01:15 (00:01)
8
The Plan
Feb 14, 2014
Free
81% (92%)
660,670 ±22,041
397,597 ±17,104
00:14 (00:07)
9
forma.8
Feb 23, 2017
$14.99
N/A (N/A)
964 ±842
385 ±532
00:56 (00:30)
10
Fractured Soul
Feb 5, 2015
$9.99
N/A (N/A)
2,891 ±1,459
771 ±753
00:31 (00:36)
11
Spooky Night
Dec 31, 2016
Free
N/A (N/A)
9,636 ±2,664
6,938 ±2,260
00:12 (00:04)
12
Bleeding Blocks
Sep 15, 2015
$1.99
N/A (N/A)
3,469 ±1,598
0 ±0
00:00 (00:00)
13
Covert Syndrome
Apr 21, 2017
Free
67% (88%)
25,633 ±4,344
14,455 ±3,262
00:25 (00:07)
14
Word Rescue
May 5, 2014
$4.99
N/A (N/A)
60,131 ±6,654
2,313 ±1,305
00:56 (01:28)
15
The Cubicle.
Apr 5, 2016
Free
64% (87%)
146,858 ±10,398
89,618 ±8,123
00:09 (00:05)
16
Wasteland 1 - The Original Classic
Nov 13, 2013
$5.99
58% (85%)
623,667 ±21,416
125,851 ±9,626
00:54 (00:04)
17
Happy Empire
Aug 19, 2016
$2.99
N/A (N/A)
5,975 ±2,097
578 ±652
00:35 (00:30)
18
Happy Maze
Dec 21, 2016
$1.99
N/A (N/A)
1,542 ±1,065
771 ±753
00:27 (00:28)
19
Dungeons & Darkness
Sep 29, 2016
$9.99
N/A (N/A)
1,542 ±1,065
964 ±842
01:12 (00:45)
20
Deputy Dangle
Jul 29, 2016
$9.99
N/A (N/A)
1,156 ±922
385 ±532
04:32 (01:33)
21
Let the Cat in
Aug 27, 2015
Free
44% (79%)
197,353 ±12,053
113,517 ±9,142
00:33 (00:10)
22
DED
Mar 3, 2017
Free
42% (78%)
35,269 ±5,096
30,066 ±4,705
00:14 (00:07)
23
Surgeon Simulator VR: Meet The Medic
Apr 5, 2016
Free
42% (78%)
269,433 ±14,082
161,506 ±10,904
00:19 (00:01)
24
Chroma Blast
Jul 7, 2017
Free
40% (77%)
25,440 ±4,328
19,658 ±3,805
00:17 (00:05)
25
Amazing World
Aug 7, 2014
Free
40% (77%)
595,336 ±20,925
235,320 ±13,161
02:45 (00:30)
26
Graveyard Shift
Oct 20, 2016
$2.99
N/A (N/A)
8,865 ±2,555
385 ±532
01:30 (00:59)
27
SourVR Video Player
Nov 21, 2016
Free
N/A (N/A)
20,622 ±3,897
13,684 ±3,174
01:09 (00:04)
28
Shiperoids
Aug 9, 2016
$0.99
N/A (N/A)
1,349 ±996
385 ±532
00:11 (00:07)
29
Mausoleum of the Medusa
Oct 27, 2016
Free
35% (74%)
16,960 ±3,534
5,782 ±2,063
00:09 (00:08)
30
Karos Returns
Jul 30, 2015
Free
35% (74%)
145,895 ±10,364
48,760 ±5,992
03:32 (00:16)
31
Pox Nora
Oct 15, 2014
Free
33% (73%)
446,935 ±18,133
99,640 ±8,565
06:48 (00:14)
32
Strike.is: The Game
Jul 14, 2016
Free
30% (71%)
460,041 ±18,397
383,914 ±16,807
01:18 (00:14)
33
Embers of Magic
Apr 6, 2017
Free
N/A (N/A)
4,433 ±1,806
1,542 ±1,065
00:29 (00:49)
34
Deathlike: Awakening
Apr 28, 2017
$9.99
N/A (N/A)
578 ±652
578 ±652
00:19 (00:19)
35
CGWallpapers
Nov 30, 2016
$4.99
N/A (N/A)
2,074 ±1,533
1,481 ±1,296
04:08 (09:52)
36
The Lost Mythologies
Jan 28, 2016
Free
27% (69%)
250,546 ±13,580
151,869 ±10,574
00:14 (00:06)
37
16 Bit Arena
Mar 24, 2015
Free
27% (69%)
121,611 ±9,462
37,775 ±5,274
00:01 (00:01)
38
Vanguards
Oct 28, 2016
Free
25% (68%)
26,211 ±4,393
13,105 ±3,106
00:15 (00:04)
39
Running Shadow
Feb 20, 2015
Free
24% (67%)
415,714 ±17,489
191,764 ±11,881
01:13 (00:20)
40
Back in 1995
Apr 28, 2016
$11.99
24% (67%/52%)
1,735 ±1,130
1,156 ±922
01:04 (00:59)
41
Axis Game Factory's AGFPRO v3
Nov 19, 2013
$19.99
22% (65%)
134,138 ±9,938
52,422 ±6,213
01:52 (00:20)
42
Dogs of War Online
Feb 4, 2014
Free
22% (65%)
208,917 ±12,401
72,466 ±7,305
03:53 (00:33)
43
Only If
Jul 25, 2014
Free
21% (64%/39%)
1,186,046 ±29,513
572,208 ±20,515
01:03 (00:22)
44
Battle Of Europe
Sep 18, 2014
$9.99
N/A (N/A/54%)
2,698 ±1,409
578 ±652
02:35 (02:34)
45
Crush Online
Oct 10, 2016
Free
N/A (N/A)
118,913 ±9,357
83,644 ±7,848
06:05 (00:31)
46
Momento Temporis: Light from the Deep
Oct 27, 2016
$4.99
N/A (N/A)
4,240 ±1,767
771 ±753
00:12 (00:11)
47
Velvet Sundown
Jul 22, 2014
Free
16% (60%)
655,274 ±21,951
254,786 ±13,694
01:03 (00:17)
48
Tales Runner
Feb 17, 2015
Free
N/A (N/A)
294,681 ±14,727
121,804 ±9,470
06:08 (00:19)
49
Primal Reign
May 29, 2017
Free
N/A (N/A)
39,895 ±5,420
13,876 ±3,196
00:05 (00:03)
50
AutoTileGen
Jul 9, 2014
$9.99
N/A (N/A)
4,433 ±1,806
1,156 ±922
00:58 (01:13)
51
CRIMSON METAL
May 4, 2017
$3.49
N/A (N/A)
964 ±842
578 ±652
00:09 (00:08)
52
Holy Avatar vs. Maidens of the Dead
Feb 20, 2014
$9.99
13% (56%)
74,200 ±7,392
8,865 ±2,555
01:42 (00:20)
53
Clown2Beat
Oct 26, 2016
Free
N/A (N/A)
19,080 ±3,748
5,204 ±1,957
00:18 (00:03)
54
LuckCatchers
Nov 15, 2016
Free
11% (53%)
155,724 ±10,707
91,353 ±8,201
16:52 (00:12)
55
Esenthel Engine
Apr 2015
Free
N/A (N/A)
106,771 ±8,866
36,618 ±5,193
00:10 (00:01)
56
Path of War
Sep 12, 2016
Free
10% (51%)
102,146 ±8,672
50,880 ±6,121
03:28 (00:19)
57
The Sun Will Rise
Oct 3, 2016
Free
9% (50%)
18,116 ±3,652
3,855 ±1,684
00:36 (00:37)
58
Pirate Hell
Nov 7, 2014
$5.99
N/A (N/A)
3,084 ±1,507
193 ±376
01:57 (00:39)
59
Kalonline
Jul 13, 2016
Free
9% (50%)
133,946 ±9,930
70,924 ±7,226
30:21 (00:17)
60
DRAKERZ-Confrontation
May 19, 2014
Free
9% (50%)
128,935 ±9,743
39,316 ±5,381
01:32 (00:19)
61
Khan: Absolute Power
Mar 18, 2016
Free
8% (49%)
79,597 ±7,656
31,029 ±4,780
93:45 (00:14)
62
ePic Character Generator
Nov 5, 2015
Free
6% (45%)
72,273 ±7,295
19,658 ±3,805
00:37 (00:07)
63
BloodRealm: Battlegrounds
Feb 12, 2015
Free
6% (45%)
196,775 ±12,035
64,564 ±6,895
01:46 (00:14)
64
Maui
Apr 26, 2016
Free
6% (45%)
119,491 ±9,380
74,393 ±7,401
00:10 (00:05)
65
Might & Mayhem
Jun 5, 2017
Free
6% (45%)
43,364 ±5,651
25,247 ±4,312
00:34 (00:06)
66
Dragon Blood
Jan 31, 2017
Free
6% (43%)
18,116 ±3,652
10,985 ±2,844
04:20 (00:18)
67
All Is Dust
Jun 26, 2015
Free
6% (43%)
348,066 ±16,004
156,302 ±10,727
00:17 (00:07)
68
Daylight's End VR Edition
Aug 26, 2016
Free
N/A (N/A)
26,404 ±4,409
6,360 ±2,164
00:11 (00:05)
69
TDP4:Team Battle
Mar 12, 2015
Free
4% (40%)
225,106 ±12,872
111,397 ±9,056
01:14 (00:12)
70
Heroes of SoulCraft - Arcade MOBA
Jul 20, 2015
Free
4% (39%)
212,386 ±12,504
112,360 ±9,095
00:29 (00:05)
71
HIS (Heroes In the Sky)
Mar 3, 2015
Free
4% (39%)
242,837 ±13,369
100,218 ±8,590
02:14 (00:12)
72
The Settlers Online
Aug 19, 2015
Free
3% (36%)
345,946 ±15,955
219,324 ±12,706
11:53 (00:13)
73
Bloodwood Reload
Nov 2, 2015
Free
3% (35%)
120,648 ±9,425
49,338 ±6,027
00:21 (00:08)
74
Magic Barrage - Bitferno
Jan 2015
Free
3% (34%)
299,884 ±14,856
164,204 ±10,995
02:50 (00:10)
75
Cannons Lasers Rockets
Aug 25, 2014
Free
1% (24%)
229,731 ±13,004
89,233 ±8,106
00:24 (00:07)
76
Monster Challenge Circus
May 15, 2014
$4.99
N/A (N/A)
5,975 ±2,097
0 ±0
00:00 (00:00)