App

Tap Tap Legions - Epic battles within 5 seconds!
Tap Tap Legions - Epic battles within 5 seconds!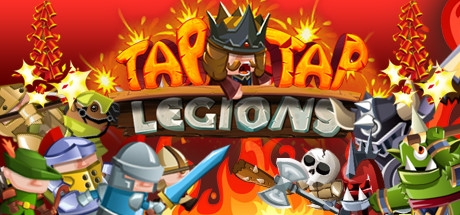 Store | Hub | SteamDB
Developer: YFC games Publisher: YFC games
Genre: Action, Casual, Free to Play, Indie, Strategy
Languages: English, Traditional Chinese, Simplified Chinese
Tags: Free to Play (66), Action (34), Strategy (30), Casual (29), Indie (29), Clicker (22), Multiplayer (6)
Category: Single-player, Steam Achievements, Steam Leaderboards
Release date: Feb 8, 2016
Free
Score rank: 11% Userscore: 53% Old userscore: 53%
Owners: 139,965 ± 11,903
Players total: 93,398 ± 9,724 (66.73%)
Followers: 1,366
Peak concurrent players yesterday: 3
Playtime total: 01:46 (average) 00:16 (median)

Steam Spy is still in beta, so expect major bugs.
Peak daily concurrent players:
CCU data courtesy of SteamDB. Used with permission.
Hourly concurrent players:
YouTube:
The views data is based on top 50 videos uploaded last week. Actual number of views might be more than the number shown.

The displayed number of videos uploaded yesterday is limited to 50, so if there were more videos uploaded, the number will still show 50.

If the game has commonly used word as its name (like "FEAR" or "Volume") its number of Youtube views might be wrong.
Games similar to this one:
#
Game
Release date

Price

Score rank
(Userscore / Metascore)

Owners

Players

Playtime (Median)

1
Beyond Reality
Jan 8, 2016
$4.99
N/A (N/A)
8,202 ±2,881
4,763 ±2,196
02:22 (02:42)
2
Tilt Brush
Apr 5, 2016
$19.99
97% (97%)
208,228 ±14,517
171,980 ±13,194
08:06 (01:43)
3
Organ Quarter Pre-Alpha Demo
Oct 28, 2016
Free
92% (95%)
39,952 ±6,360
19,844 ±4,482
02:30 (00:12)
4
SanctuaryRPG: Black Edition
Feb 13, 2015
$7.99
89% (94%)
158,751 ±12,676
89,959 ±9,543
07:10 (03:45)
5
The Desolate Hope
May 5, 2014
Free
82% (92%)
348,194 ±18,770
53,446 ±7,356
01:12 (00:21)
6
GIPHY Museum of GIF Art
Mar 8, 2017
Free
N/A (N/A)
3,969 ±2,004
1,058 ±1,035
00:03 (00:03)
7
You Have to Win the Game
May 6, 2014
Free
82% (92%)
689,508 ±26,405
421,748 ±20,656
01:20 (00:20)
8
VR Battle Grid
Nov 8, 2016
Free
N/A (N/A)
36,777 ±6,102
6,350 ±2,535
00:36 (03:30)
9
Dota 2
Jul 9, 2013
Free
65% (87%/90%)
121,382,237 ±305,773
121,382,237 ±305,773
196:43 (04:17)
10
Waste Walkers
Jun 1, 2015
$9.99
62% (86%)
25,665 ±5,097
17,198 ±4,172
03:29 (02:36)
11
The Cubicle.
Apr 5, 2016
Free
62% (86%)
167,747 ±13,030
106,628 ±10,389
00:48 (00:05)
12
openCanvas 6
Sep 2014
$49.99
62% (86%)
15,611 ±3,975
14,023 ±3,768
48:26 (12:18)
13
FORCED SHOWDOWN
Mar 29, 2016
$19.99
59% (85%)
35,454 ±5,991
27,781 ±5,303
07:10 (05:28)
14
Doorways: Old Prototype
Oct 5, 2016
Free
56% (84%)
108,744 ±10,492
71,967 ±8,535
00:37 (00:22)
15
Fork Parker's Holiday Profit Hike
Dec 18, 2014
Free
49% (81%)
309,564 ±17,699
123,297 ±11,172
00:27 (00:09)
16
Disgraced
Nov 18, 2016
$9.99
N/A (N/A)
9,525 ±3,105
7,408 ±2,738
09:04 (03:31)
17
Medusa's Labyrinth
Feb 15, 2016
Free
45% (79%)
276,491 ±16,727
132,822 ±11,595
00:27 (00:12)
18
Eldevin
Nov 5, 2014
Free
43% (78%)
368,302 ±19,304
209,287 ±14,554
06:14 (00:29)
19
Embers of Magic
Apr 6, 2017
Free
N/A (N/A)
9,525 ±3,105
2,646 ±1,636
01:56 (00:05)
20
The fall of gods
Dec 18, 2015
$1.99
N/A (N/A)
10,054 ±3,190
6,615 ±2,588
03:22 (04:08)
21
Karos Returns
Jul 30, 2015
Free
32% (72%)
177,007 ±13,385
64,030 ±8,051
21:22 (00:22)
22
Girlfriend Rescue
Jul 10, 2015
$4.99
32% (72%)
10,054 ±3,190
4,763 ±2,196
04:00 (02:53)
23
Combat Monsters
Jan 20, 2015
Free
29% (70%)
140,230 ±11,914
43,127 ±6,608
03:27 (00:30)
24
Soccer Manager 2015
Jul 16, 2015
Free
27% (69%)
393,702 ±19,958
248,710 ±15,865
05:16 (00:22)
25
Heroes of Dire
Mar 15, 2017
Free
27% (69%)
41,011 ±6,443
24,077 ±4,937
02:06 (00:22)
26
Game Character Hub
May 23, 2014
$14.99
26% (68%)
183,093 ±13,613
92,869 ±9,696
06:45 (00:30)
27
Running Shadow
Feb 20, 2015
Free
24% (67%)
435,507 ±20,990
192,353 ±13,953
01:17 (00:19)
28
Zombies Monsters Robots (ZMR)
Sep 19, 2014
Free
22% (65%)
812,011 ±28,651
459,848 ±21,568
09:55 (01:00)
29
Dogs of War Online
Feb 4, 2014
Free
21% (64%)
215,637 ±14,773
68,527 ±8,329
02:45 (00:37)
30
Machine Learning: Episode I
Sep 10, 2016
Free
N/A (N/A)
23,813 ±4,910
7,144 ±2,689
00:41 (00:11)
31
Crush Online
Oct 10, 2016
N/A
N/A (N/A)
120,121 ±11,027
83,873 ±9,214
05:07 (00:27)
32
Axis Game Factory's AGFPRO v3
Nov 19, 2013
$19.99
20% (63%)
135,203 ±11,699
57,415 ±7,624
01:33 (00:17)
33
Mosaico
Nov 26, 2013
$19.99
N/A (N/A)
2,717 ±2,010
1,553 ±1,519
49:56 (89:01)
34
Tales Runner
Feb 17, 2015
N/A
N/A (N/A)
304,537 ±17,555
129,382 ±11,444
03:04 (00:19)
35
Florensia
Nov 29, 2016
Free
16% (60%)
134,409 ±11,664
87,048 ±9,387
10:26 (00:17)
36
Battleline: Steel Warfare
Aug 25, 2016
N/A
16% (60%)
87,048 ±9,387
41,804 ±6,505
13:25 (00:15)
37
Velvet Sundown
Jul 22, 2014
Free
16% (60%)
687,656 ±26,369
256,647 ±16,116
01:20 (00:14)
38
City of Steam: Arkadia
Mar 6, 2014
Free
16% (60%)
338,933 ±18,519
132,822 ±11,595
04:28 (00:27)
39
8BitMMO
Jan 26, 2015
Free
14% (58%)
885,565 ±29,919
541,340 ±23,400
01:11 (00:16)
40
Holy Avatar vs. Maidens of the Dead
Feb 20, 2014
$9.99
13% (56%)
66,411 ±8,199
7,144 ±2,689
00:46 (00:14)
41
AutoTileGen
Jul 9, 2014
$9.99
N/A (N/A)
8,467 ±2,927
2,910 ±1,716
02:21 (04:04)
42
Fiesta Online NA
May 20, 2014
Free
12% (55%)
416,192 ±20,520
67,734 ±8,281
08:14 (00:54)
43
UFO Online: Invasion
Jun 8, 2016
Free
11% (53%)
162,455 ±12,823
84,932 ±9,272
25:31 (00:20)
44
The Sun Will Rise
Oct 3, 2016
Free
10% (52%)
16,669 ±4,108
2,910 ±1,716
02:05 (01:01)
45
Khan: Absolute Power
Mar 18, 2016
Free
9% (51%)
86,784 ±9,373
33,602 ±5,832
30:15 (00:10)
46
DRAKERZ-Confrontation
May 19, 2014
Free
9% (50%)
129,382 ±11,444
40,746 ±6,423
01:52 (00:22)
47
ROKH
May 16, 2017
$24.99
8% (49%)
6,879 ±2,639
5,556 ±2,371
09:00 (04:05)
48
Imperia Online
Apr 15, 2016
Free
7% (46%)
79,111 ±8,949
35,984 ±6,036
18:33 (00:10)
49
ePic Character Generator
Nov 5, 2015
Free
6% (45%)
77,259 ±8,844
21,961 ±4,715
01:04 (00:10)
50
Navy Field 2 : Conqueror of the Ocean
Mar 5, 2015
Free
6% (45%)
584,468 ±24,313
282,841 ±16,918
03:36 (00:19)
51
BloodRealm: Battlegrounds
Feb 12, 2015
Free
6% (45%)
207,699 ±14,499
65,352 ±8,134
01:44 (00:19)
52
Daylight's End VR Edition
Aug 26, 2016
Free
N/A (N/A)
27,517 ±5,278
7,938 ±2,835
00:10 (00:06)
53
All Is Dust
Jun 26, 2015
Free
5% (43%)
397,671 ±20,058
180,447 ±13,514
00:20 (00:08)
54
Darkwind: War on Wheels
Aug 22, 2014
Free
5% (42%)
242,095 ±15,653
118,005 ±10,929
00:17 (00:05)
55
HIS (Heroes In the Sky)
Mar 3, 2015
Free
4% (39%)
252,149 ±15,974
105,305 ±10,325
05:19 (00:12)
56
Heroes of SoulCraft - Arcade MOBA
Jul 20, 2015
Free
4% (39%)
250,562 ±15,924
131,499 ±11,537
01:25 (00:05)
57
Bloodwood Reload
Nov 2, 2015
Free
3% (36%)
142,876 ±12,026
66,940 ±8,232
00:21 (00:09)
58
Magic Barrage - Bitferno
Jan 2015
Free
2% (33%)
296,864 ±17,332
155,576 ±12,549
02:44 (00:11)
59
Genesis Online
Nov 10, 2015
Free
2% (31%)
350,310 ±18,827
260,087 ±16,224
00:55 (00:14)
60
Son Korsan
Jun 27, 2017
Free
1% (26%)
27,517 ±5,278
13,758 ±3,732
00:31 (00:16)
61
Cannons Lasers Rockets
Aug 25, 2014
Free
1% (24%)
236,010 ±15,455
92,340 ±9,668
00:46 (00:07)
Geography of active players over time, share:
Geography of active players over time, total numbers: