App

Tap Tap Legions - Epic battles within 5 seconds!
Tap Tap Legions - Epic battles within 5 seconds!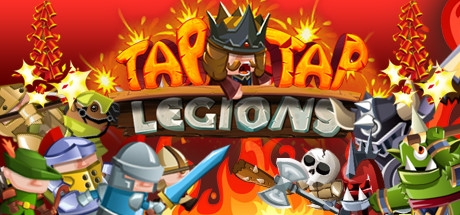 Store | Hub | SteamDB
Developer: YFC games Publisher: YFC games
Genre: Action, Casual, Free to Play, Indie, Strategy
Languages: English, Traditional Chinese, Simplified Chinese
Tags: Free to Play (66), Action (34), Strategy (30), Indie (29), Casual (29), Clicker (22), Multiplayer (6)
Category: Single-player, Steam Achievements, Steam Leaderboards
Release date: Feb 8, 2016
Free
Score rank: 11% Userscore: 53% Old userscore: 53%
Owners: 146,673 ± 12,069
Players total: 93,196 ± 9,621 (63.54%)
Followers: 1,358
Peak concurrent players yesterday: 4
Playtime total: 00:56 (average) 00:14 (median)

Steam Spy is still in beta, so expect major bugs.
Peak daily concurrent players:
CCU data courtesy of SteamDB. Used with permission.
Hourly concurrent players:
YouTube:
The views data is based on top 50 videos uploaded last week. Actual number of views might be more than the number shown.

The displayed number of videos uploaded yesterday is limited to 50, so if there were more videos uploaded, the number will still show 50.

If the game has commonly used word as its name (like "FEAR" or "Volume") its number of Youtube views might be wrong.
Games similar to this one:
#
Game
Release date

Price

Score rank
(Userscore / Metascore)

Owners

Players

Playtime (Median)

1
Tilt Brush
Apr 5, 2016
$19.99
99% (98%)
207,159 ±14,342
170,296 ±13,004
07:35 (01:21)
2
Beyond Reality
Jan 8, 2016
$0.49
N/A (N/A)
10,124 ±3,171
6,490 ±2,539
02:47 (03:32)
3
Organ Quarter Pre-Alpha Demo
Oct 28, 2016
Free
92% (95%)
36,344 ±6,008
18,691 ±4,309
00:36 (00:15)
4
SanctuaryRPG: Black Edition
Feb 13, 2015
$7.99
89% (94%)
161,470 ±12,663
85,148 ±9,196
07:08 (03:01)
5
You Have to Win the Game
May 6, 2014
Free
82% (92%)
719,865 ±26,722
433,009 ±20,731
01:57 (00:22)
6
The Desolate Hope
May 5, 2014
Free
82% (92%)
264,011 ±16,190
57,890 ±7,583
06:10 (00:22)
7
GIPHY Museum of GIF Art
Mar 8, 2017
Free
N/A (N/A)
2,596 ±1,605
1,038 ±1,015
00:06 (00:06)
8
VR Battle Grid
Nov 8, 2016
Free
N/A (N/A)
40,757 ±6,362
9,605 ±3,088
00:29 (00:14)
9
Dota 2
Jul 9, 2013
Free
64% (87%/90%)
120,463,744 ±301,009
120,463,744 ±301,009
193:22 (04:16)
10
Waste Walkers
Jun 1, 2015
$9.99
61% (86%)
28,556 ±5,326
19,989 ±4,456
03:48 (02:50)
11
The Cubicle.
Apr 5, 2016
Free
61% (86%)
158,874 ±12,561
91,119 ±9,513
00:09 (00:06)
12
openCanvas 6
Sep 2014
$49.99
61% (86%)
14,278 ±3,766
14,018 ±3,731
42:04 (07:32)
13
FORCED SHOWDOWN
Mar 29, 2016
$19.99
61% (86%)
32,190 ±5,654
28,037 ±5,277
07:44 (04:36)
14
Doorways: Old Prototype
Oct 5, 2016
Free
56% (84%)
115,781 ±10,723
76,322 ±8,706
00:30 (00:17)
15
Fork Parker's Holiday Profit Hike
Dec 18, 2014
Free
49% (81%)
323,978 ±17,934
130,318 ±11,376
00:38 (00:10)
16
Disgraced
Nov 18, 2016
$9.99
N/A (N/A)
12,461 ±3,518
10,124 ±3,171
03:26 (02:47)
17
Medusa's Labyrinth
Feb 15, 2016
Free
44% (79%)
270,501 ±16,388
127,722 ±11,262
00:25 (00:14)
18
Eldevin
Nov 5, 2014
Free
42% (78%)
391,473 ±19,712
224,033 ±14,915
06:34 (00:28)
19
Embers of Magic
Apr 6, 2017
Free
N/A (N/A)
9,865 ±3,130
3,634 ±1,900
00:19 (00:39)
20
The fall of gods
Dec 18, 2015
$1.99
N/A (N/A)
11,941 ±3,444
8,048 ±2,827
05:58 (03:47)
21
Girlfriend Rescue
Jul 10, 2015
$4.99
35% (74%)
8,048 ±2,827
5,452 ±2,327
03:49 (03:35)
22
Karos Returns
Jul 30, 2015
Free
31% (72%)
173,411 ±13,122
54,256 ±7,341
02:23 (00:19)
23
Heroes of Dire
Mar 15, 2017
Free
28% (70%)
47,247 ±6,850
24,921 ±4,975
02:06 (00:18)
24
Combat Monsters
Jan 20, 2015
Free
28% (70%)
154,201 ±12,374
45,170 ±6,698
05:56 (00:45)
25
Game Character Hub
May 23, 2014
$14.99
27% (69%)
173,411 ±13,122
90,859 ±9,499
10:10 (00:22)
26
Soccer Manager 2015
Jul 16, 2015
Free
27% (69%)
404,194 ±20,030
259,857 ±16,062
04:56 (00:17)
27
Running Shadow
Feb 20, 2015
Free
24% (67%)
429,634 ±20,650
186,132 ±13,595
01:32 (00:16)
28
Zombies Monsters Robots (ZMR)
Sep 19, 2014
Free
22% (65%)
843,433 ±28,921
473,247 ±21,672
06:56 (01:03)
29
Dogs of War Online
Feb 4, 2014
Free
21% (64%)
227,667 ±15,035
71,649 ±8,436
03:48 (00:30)
30
Axis Game Factory's AGFPRO v3
Nov 19, 2013
$19.99
21% (64%)
125,645 ±11,170
52,698 ±7,235
01:58 (00:20)
31
Mosaico
Nov 26, 2013
$19.99
N/A (N/A)
1,298 ±1,135
519 ±718
02:24 (01:35)
32
Crush Online
Oct 10, 2016
N/A
N/A (N/A)
129,799 ±11,353
85,148 ±9,196
03:57 (00:25)
33
Machine Learning: Episode I
Sep 10, 2016
Free
N/A (N/A)
30,113 ±5,469
6,750 ±2,589
00:17 (00:12)
34
Battleline: Steel Warfare
Aug 25, 2016
Free
17% (61%)
83,331 ±9,097
35,565 ±5,943
05:26 (00:22)
35
Velvet Sundown
Jul 22, 2014
Free
16% (60%)
701,693 ±26,383
259,598 ±16,054
01:08 (00:14)
36
City of Steam: Arkadia
Mar 6, 2014
Free
16% (60%)
350,197 ±18,645
138,625 ±11,733
06:48 (00:34)
37
Tales Runner
Feb 17, 2015
N/A
N/A (N/A)
307,104 ±17,461
116,300 ±10,747
03:47 (00:21)
38
Florensia
Nov 29, 2016
Free
15% (59%)
128,241 ±11,285
78,658 ±8,839
07:19 (00:17)
39
8BitMMO
Jan 26, 2015
Free
14% (58%)
917,678 ±30,165
545,415 ±23,264
02:00 (00:14)
40
Holy Avatar vs. Maidens of the Dead
Feb 20, 2014
$9.99
13% (57%)
77,101 ±8,751
10,644 ±3,251
01:22 (00:15)
41
AutoTileGen
Jul 9, 2014
$9.99
N/A (N/A)
4,673 ±2,154
1,558 ±1,243
00:08 (00:14)
42
Fiesta Online NA
May 20, 2014
Free
12% (55%)
423,144 ±20,494
63,601 ±7,948
06:37 (00:46)
43
UFO Online: Invasion
Jun 8, 2016
Free
11% (54%)
175,748 ±13,211
87,484 ±9,321
03:04 (00:23)
44
The Sun Will Rise
Oct 3, 2016
Free
11% (53%)
19,729 ±4,427
2,856 ±1,684
00:37 (00:56)
45
Khan: Absolute Power
Mar 18, 2016
Free
9% (51%)
93,455 ±9,634
36,084 ±5,987
74:39 (00:07)
46
DRAKERZ-Confrontation
May 19, 2014
Free
9% (50%)
133,693 ±11,522
37,122 ±6,072
01:18 (00:23)
47
ROKH
May 16, 2017
$24.99
9% (50%)
5,452 ±2,327
4,932 ±2,213
14:31 (16:59)
48
Navy Field 2 : Conqueror of the Ocean
Mar 5, 2015
Free
7% (46%)
607,459 ±24,550
288,673 ±16,929
04:17 (00:21)
49
ePic Character Generator
Nov 5, 2015
Free
7% (46%)
83,590 ±9,111
23,104 ±4,790
02:33 (00:10)
50
BloodRealm: Battlegrounds
Feb 12, 2015
Free
6% (45%)
205,861 ±14,297
56,333 ±7,480
02:07 (00:14)
51
Imperia Online
Apr 15, 2016
Free
6% (45%)
95,272 ±9,727
42,574 ±6,503
07:17 (00:13)
52
Daylight's End VR Edition
Aug 26, 2016
Free
N/A (N/A)
28,296 ±5,301
4,932 ±2,213
01:42 (00:08)
53
All Is Dust
Jun 26, 2015
Free
5% (43%)
397,444 ±19,862
176,786 ±13,249
00:21 (00:08)
54
Darkwind: War on Wheels
Aug 22, 2014
Free
5% (42%)
254,146 ±15,885
127,982 ±11,274
00:38 (00:05)
55
Heroes of SoulCraft - Arcade MOBA
Jul 20, 2015
Free
4% (40%)
256,483 ±15,958
135,250 ±11,589
00:35 (00:05)
56
HIS (Heroes In the Sky)
Mar 3, 2015
Free
4% (39%)
257,781 ±15,998
107,733 ±10,344
01:24 (00:11)
57
Bloodwood Reload
Nov 2, 2015
Free
3% (36%)
151,345 ±12,259
70,351 ±8,359
00:24 (00:08)
58
Magic Barrage - Bitferno
Jan 2015
Free
3% (34%)
302,951 ±17,342
154,201 ±12,374
01:04 (00:10)
59
Genesis Online
Nov 10, 2015
Free
2% (31%)
319,305 ±17,804
231,042 ±15,146
00:56 (00:15)
60
Son Korsan
Jun 27, 2017
Free
1% (26%)
23,364 ±4,817
11,941 ±3,444
76:45 (00:12)
61
Cannons Lasers Rockets
Aug 25, 2014
Free
1% (24%)
239,090 ±15,407
90,600 ±9,486
00:20 (00:08)
Geography of active players over time, share:
Geography of active players over time, total numbers: