App

CosmoLands | Space-Adventure
CosmoLands | Space-Adventure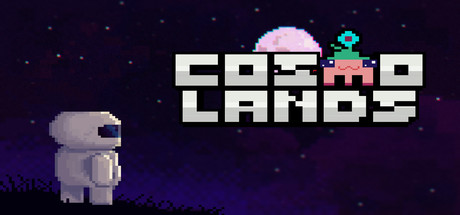 Store | Hub | SteamDB | Site
Developer: BUG-Studio Publisher: BUG-Studio
Genre: Action, Adventure, Indie, Simulation
Languages: English
Tags: Adventure (23), Action (22), Indie (22), Simulation (21)
Category: Single-player, Steam Trading Cards
Release date: Feb 18, 2016
Price: $0.99
Followers: 115
Peak concurrent players yesterday: 2
YouTube stats: 5,357 views and 57 comments for videos uploaded last week, 16 new videos uploaded yesterday.

Steam Spy is still in beta, so expect major bugs.
Peak daily concurrent players:
CCU data courtesy of SteamDB. Used with permission.
Hourly concurrent players:
YouTube:
The views data is based on top 50 videos uploaded last week. Actual number of views might be more than the number shown.

The displayed number of videos uploaded yesterday is limited to 50, so if there were more videos uploaded, the number will still show 50.

If the game has commonly used word as its name (like "FEAR" or "Volume") its number of Youtube views might be wrong.
Games similar to this one:
#
Game
Release date

Price

Score rank
(Userscore / Metascore)

Owners

Players

Playtime (Median)

1
TY the Tasmanian Tiger
Dec 12, 2016
$14.99
99% (98%)
53,737 ±7,306
45,949 ±6,755
07:22 (04:33)
2
One Finger Death Punch
Mar 3, 2014
$4.99
99% (98%)
713,894 ±26,611
557,616 ±23,522
06:45 (03:08)
3
Day of the Tentacle Remastered
Mar 21, 2016
$14.99
99% (98%/86%)
478,958 ±21,802
199,371 ±14,070
03:56 (02:47)
4
SteamWorld Heist
Jun 7, 2016
$14.99
97% (97%/81%)
428,077 ±20,613
210,793 ±14,467
07:40 (03:59)
5
Supreme Commander: Forged Alliance
Sep 28, 2011
$14.99
97% (97%/81%)
988,029 ±31,298
480,515 ±21,837
32:49 (08:42)
6
Civilization IV: Beyond the Sword
Jul 24, 2007
$9.99
95% (96%/86%)
1,356,139 ±36,654
445,210 ±21,021
91:37 (08:58)
7
Dust: An Elysian Tail
May 24, 2013
$14.99
95% (96%)
1,176,757 ±34,150
805,272 ±28,260
07:35 (03:28)
8
Civilization IV: Beyond the Sword
Jul 24, 2007
$9.99
95% (96%/86%)
1,356,139 ±36,654
72,687 ±8,497
62:39 (06:42)
9
Epistory - Typing Chronicles
Mar 30, 2016
$14.99
95% (96%/74%)
272,837 ±16,458
126,943 ±11,228
03:49 (01:57)
10
Mini Metro
Nov 6, 2015
$9.99
95% (96%/77%)
496,870 ±22,206
372,263 ±19,223
08:21 (04:03)
11
Batman: Arkham Asylum Game of the Year Edition
Mar 26, 2010
$19.99
95% (96%/91%)
3,024,833 ±54,650
1,920,764 ±43,597
10:39 (06:35)
12
Creeper World 3: Arc Eternal
Mar 27, 2014
$14.99
95% (96%)
161,729 ±12,673
132,914 ±11,489
35:58 (12:41)
13
Counter-Strike
Nov 1, 2000
$9.99
95% (96%/88%)
14,155,087 ±116,879
9,863,417 ±97,998
188:52 (06:15)
14
Duck Game
Jun 4, 2015
$12.99
95% (96%/82%)
650,552 ±25,405
570,855 ±23,800
15:57 (05:09)
15
Stronghold Crusader HD
Oct 21, 2013
$9.99
95% (96%/78%)
1,137,557 ±33,578
721,163 ±26,746
14:11 (02:34)
16
Death Road to Canada
Jul 21, 2016
$14.99
92% (95%)
168,479 ±12,935
137,846 ±11,700
09:54 (03:46)
17
Night in the Woods
Feb 21, 2017
$19.99
92% (95%/88%)
175,488 ±13,201
146,413 ±12,058
11:40 (08:09)
18
Lords of the Realm II
Dec 3, 2015
$2.99
92% (95%/77%)
48,804 ±6,962
36,084 ±5,987
30:56 (04:58)
19
The Count Lucanor
Mar 3, 2016
$9.99
92% (95%/78%)
58,669 ±7,633
26,479 ±5,128
03:35 (02:38)
20
Warhammer 40,000: Dawn of War - Game of the Year Edition
Aug 7, 2007
$12.99
92% (95%/86%)
1,684,011 ±40,832
924,687 ±30,280
06:01 (01:44)
21
Warhammer 40,000: Dawn of War - Dark Crusade
Aug 7, 2007
$12.99
92% (95%/87%)
1,126,395 ±33,413
582,278 ±24,036
21:10 (04:51)
22
Medieval II: Total War
Nov 27, 2007
$19.99
92% (95%/88%)
2,060,687 ±45,151
1,485,418 ±38,356
63:22 (11:08)
23
Tomb Raider
Mar 4, 2013
$19.99
92% (95%/86%)
5,175,081 ±71,326
4,241,049 ±64,630
15:23 (10:29)
24
Brothers - A Tale of Two Sons
Sep 3, 2013
$2.99
92% (95%/90%)
1,461,535 ±38,048
831,492 ±28,716
02:38 (01:47)
25
The Secret of Monkey Island: Special Edition
Jul 15, 2009
$9.99
92% (95%/86%)
599,671 ±24,392
431,971 ±20,706
05:22 (03:27)
26
Counter-Strike: Source
Nov 1, 2004
$19.99
92% (95%/88%)
15,758,363 ±123,115
11,486,422 ±105,577
134:26 (10:25)
27
Odallus: The Dark Call
Jul 15, 2015
$9.99
92% (95%/80%)
120,973 ±10,961
63,861 ±7,964
03:20 (02:21)
28
EARTH DEFENSE FORCE 4.1 The Shadow of New Despair
Jul 18, 2016
$49.99
92% (95%/79%)
154,201 ±12,374
148,750 ±12,154
39:50 (18:25)
29
Batman: Arkham City - Game of the Year Edition
Sep 7, 2012
$19.99
92% (95%/91%)
3,642,676 ±59,934
2,112,347 ±45,711
17:01 (08:11)
30
DISTRAINT: Deluxe Edition
Oct 21, 2015
$4.99
92% (95%/76%)
228,965 ±15,078
128,501 ±11,297
02:48 (02:23)
31
Starward Rogue
Jan 22, 2016
$11.99
92% (95%)
90,340 ±9,472
36,863 ±6,051
03:43 (01:22)
32
Command & Conquer 3: Kane's Wrath
Nov 13, 2009
$19.99
89% (94%/77%)
339,813 ±18,367
187,170 ±13,633
26:56 (06:21)
33
Infested Planet
Mar 6, 2014
$14.99
89% (94%/75%)
297,499 ±17,186
161,729 ±12,673
07:02 (03:36)
34
Lara Croft GO
Dec 4, 2016
$9.99
89% (94%)
47,766 ±6,888
24,143 ±4,897
03:34 (02:39)
35
Rome: Total War - Collection
Aug 28, 2007
$9.99
89% (94%/92%)
1,801,868 ±42,231
1,243,992 ±35,110
41:07 (06:27)
36
Brutal Legend
Feb 26, 2013
$14.99
89% (94%/80%)
2,330,669 ±48,004
1,034,497 ±32,024
05:46 (03:24)
37
Zombie Training Simulator
Apr 15, 2016
$19.99
89% (94%)
79,177 ±8,868
62,303 ±7,866
03:22 (01:36)
38
DmC: Devil May Cry
Jan 24, 2013
$29.99
89% (94%/85%)
1,236,724 ±35,007
861,345 ±29,226
09:51 (06:07)
39
Hero of the Kingdom II
Feb 20, 2015
$0.95
89% (94%)
97,349 ±9,833
65,419 ±8,061
05:00 (04:00)
40
Age of Empires II HD
Apr 9, 2013
$19.99
89% (94%/68%)
4,857,853 ±69,127
4,438,602 ±66,105
45:49 (10:04)
41
Samorost 3
Mar 24, 2016
$19.99
89% (94%/80%)
219,101 ±14,750
87,225 ±9,307
03:41 (02:35)
42
The Silent Age
May 29, 2015
$9.99
86% (93%)
285,298 ±16,830
108,252 ±10,369
02:50 (02:16)
43
Company of Heroes - Legacy Edition
Jul 17, 2007
$19.99
86% (93%/93%)
3,134,903 ±55,629
1,334,073 ±36,355
13:32 (02:08)
44
Mafia II
Mar 22, 2011
$29.99
86% (93%/77%)
2,618,303 ±50,866
2,051,601 ±45,052
28:12 (14:32)
45
Worms Armageddon
Mar 19, 2013
$14.99
86% (93%)
813,320 ±28,401
536,589 ±23,075
06:42 (01:23)
46
RIVE: Wreck, Hack, Die, Retry!
Sep 13, 2016
$14.99
86% (93%)
286,077 ±16,853
73,466 ±8,542
02:45 (01:32)
47
Iron Impact
May 27, 2016
$0.51
86% (93%)
106,954 ±10,306
80,216 ±8,926
03:33 (03:30)
48
Lara Croft and the Guardian of Light
Sep 28, 2010
$9.99
86% (93%/82%)
1,024,113 ±31,863
434,826 ±20,774
04:42 (01:39)
49
Plague Inc: Evolved
Feb 18, 2016
$14.99
86% (93%)
1,606,131 ±39,879
1,446,738 ±37,855
10:02 (05:11)
50
Company of Heroes: Tales of Valor
Apr 8, 2009
$19.99
86% (93%/70%)
2,295,363 ±47,641
738,036 ±27,057
26:29 (02:29)
51
Rise of the Tomb Raider
Feb 9, 2016
$59.99
86% (93%/86%)
2,109,232 ±45,677
1,792,523 ±42,122
22:11 (15:44)
52
Shadow Warrior
Sep 26, 2013
$39.99
86% (93%/73%)
2,984,336 ±54,285
1,457,901 ±38,000
05:48 (02:55)
53
STAR WARS Empire at War - Gold Pack
May 25, 2010
$19.99
86% (93%)
1,599,641 ±39,799
951,685 ±30,718
26:54 (04:20)
54
Stronghold HD
Oct 21, 2013
$5.99
86% (93%/81%)
1,157,546 ±33,871
673,656 ±25,851
10:39 (02:44)
55
Sid Meier's Civilization IV
Oct 25, 2006
$19.99
82% (92%/94%)
1,597,305 ±39,770
680,406 ±25,980
25:39 (03:03)
56
Sins of a Solar Empire: Rebellion
Jun 12, 2012
$12.49
82% (92%/82%)
990,885 ±31,343
857,711 ±29,165
44:12 (10:10)
57
Sid Meier's Civilization IV
Oct 25, 2006
$19.99
82% (92%/94%)
1,597,305 ±39,770
131,356 ±11,421
17:54 (03:09)
58
Renowned Explorers: International Society
Sep 2, 2015
$19.99
82% (92%)
223,514 ±14,897
154,980 ±12,406
12:58 (05:50)
59
Knights of Honor
Feb 4, 2009
$9.99
82% (92%/77%)
126,684 ±11,216
79,437 ±8,882
21:37 (04:38)
60
A Story About My Uncle
May 28, 2014
$12.99
82% (92%/73%)
571,894 ±23,821
371,484 ±19,203
03:46 (02:41)
61
Nightmares from the Deep: The Cursed Heart
Feb 5, 2014
$5.99
82% (92%)
137,068 ±11,667
87,484 ±9,321
04:37 (03:35)
62
The Longest Journey
May 1, 2007
$9.99
82% (92%/91%)
241,166 ±15,474
131,097 ±11,410
07:44 (02:39)
63
ICEY
Nov 17, 2016
$10.99
82% (92%/84%)
479,996 ±21,826
350,717 ±18,659
03:48 (02:25)
64
Rise of Nations: Extended Edition
Jun 12, 2014
$19.99
78% (91%/89%)
819,810 ±28,514
633,938 ±25,079
22:17 (05:29)
65
Alan Wake
Feb 16, 2012
N/A
78% (91%/83%)
2,244,482 ±47,113
1,563,817 ±39,352
06:52 (02:53)
66
Devil May Cry 4
Dec 22, 2009
$19.99
78% (91%/78%)
298,797 ±17,223
203,784 ±14,225
08:45 (02:54)
67
Transformers: Fall of Cybertron
Aug 20, 2012
$49.99
78% (91%)
211,313 ±14,485
165,364 ±12,814
23:41 (08:35)
68
Broken Sword: Director's Cut
Sep 2, 2010
$5.99
78% (91%)
352,534 ±18,707
148,490 ±12,143
06:13 (03:26)
69
Ittle Dew
Jul 23, 2013
$9.99
78% (91%/67%)
159,133 ±12,571
86,706 ±9,280
03:50 (02:44)
70
Chaos on Deponia
Nov 6, 2012
$6.74
78% (91%/78%)
451,441 ±21,167
200,409 ±14,107
07:48 (05:31)
71
Momodora III
Jul 1, 2014
$1.99
78% (91%)
64,899 ±8,028
45,949 ±6,755
02:27 (01:45)
72
Devil May Cry 4 Special Edition
Jun 23, 2015
$24.99
78% (91%)
323,718 ±17,927
222,735 ±14,871
11:22 (05:16)
73
Middle-earth: Shadow of Mordor
Sep 30, 2014
$19.99
78% (91%)
4,399,144 ±65,813
3,683,173 ±60,264
21:01 (14:15)
74
Lost Castle
Aug 31, 2016
$9.99
78% (91%)
598,373 ±24,366
574,490 ±23,875
19:46 (10:52)
75
Napoleon: Total War
Feb 23, 2010
$19.99
78% (91%/81%)
2,416,596 ±48,877
1,946,983 ±43,893
70:32 (12:51)
76
Memoria
Aug 29, 2013
$4.99
78% (91%/79%)
393,031 ±19,751
141,221 ±11,842
08:29 (03:02)
77
Splatter - Zombie Apocalypse
Jun 4, 2014
$4.99
74% (90%)
223,514 ±14,897
142,000 ±11,875
03:03 (02:34)
78
Zombo Buster Rising
Oct 2, 2016
$1.99
74% (90%)
15,576 ±3,933
9,346 ±3,046
03:58 (03:07)
79
Total War: SHOGUN 2
Mar 15, 2011
$29.99
74% (90%)
3,084,021 ±55,178
2,740,314 ±52,031
81:47 (23:38)
80
Darksiders
Sep 23, 2010
N/A
74% (90%/83%)
2,749,659 ±52,119
1,498,658 ±38,526
09:43 (03:01)
81
The Night of the Rabbit
May 28, 2013
$12.99
74% (90%/75%)
369,667 ±19,156
137,587 ±11,689
05:45 (02:39)
82
Back to the Future: The Game
Dec 23, 2010
$19.99
74% (90%/74%)
577,605 ±23,940
242,724 ±15,524
02:33 (02:11)
83
Grim Fandango Remastered
Jan 26, 2015
$14.99
74% (90%/84%)
791,514 ±28,018
427,817 ±20,606
05:04 (02:30)
84
Dominions 4: Thrones of Ascension
Dec 5, 2013
$34.99
74% (90%)
69,313 ±8,297
59,188 ±7,667
74:26 (08:16)
85
Deponia
Aug 6, 2012
$9.99
74% (90%/74%)
955,579 ±30,781
587,729 ±24,149
05:28 (03:48)
86
Call of Duty 2
Oct 13, 2006
$19.99
74% (90%/86%)
383,685 ±19,515
293,086 ±17,058
15:30 (05:35)
87
Blitzkrieg Anthology
Sep 16, 2014
$4.99
74% (90%)
85,927 ±9,238
50,881 ±7,109
13:27 (02:24)
88
Children of a Dead Earth
Sep 23, 2016
$24.99
74% (90%)
8,048 ±2,827
7,269 ±2,687
27:57 (08:09)
89
The Book of Unwritten Tales
Jul 31, 2012
$19.99
70% (89%/82%)
215,726 ±14,636
99,686 ±9,950
09:01 (04:36)
90
Crimsonland
Jun 11, 2014
$13.99
70% (89%/68%)
128,760 ±11,308
86,186 ±9,252
11:23 (06:27)
91
Transformers: War for Cybertron
Jun 22, 2010
$19.99
70% (89%/75%)
255,963 ±15,942
212,870 ±14,538
11:02 (04:26)
92
Town of Salem
Dec 15, 2014
$4.99
70% (89%)
755,949 ±27,383
625,631 ±24,914
32:11 (10:20)
93
Sid Meier's Civilization III Complete
Oct 25, 2006
$4.99
70% (89%/90%)
2,396,347 ±48,673
697,020 ±26,295
34:06 (00:51)
94
Oddworld: New 'n' Tasty
Feb 25, 2015
$19.99
70% (89%/87%)
336,179 ±18,268
164,845 ±12,794
05:10 (02:23)
95
True Fear: Forsaken Souls
Oct 19, 2016
$8.99
70% (89%)
5,711 ±2,381
3,634 ±1,900
09:14 (10:15)
96
Depth
Nov 3, 2014
$19.99
70% (89%/65%)
1,065,130 ±32,493
948,311 ±30,663
09:06 (03:28)
97
Syrian Warfare
Feb 21, 2017
$19.99
70% (89%)
34,007 ±5,812
29,854 ±5,445
19:40 (05:32)
98
Train Valley
Sep 16, 2015
$9.99
70% (89%/69%)
249,473 ±15,738
124,347 ±11,113
06:39 (02:13)
99
Brothers in Arms: Hell's Highway
Oct 8, 2008
$9.99
70% (89%/79%)
125,645 ±11,170
79,697 ±8,897
07:20 (04:05)
100
Call of Duty: Modern Warfare 2
Nov 11, 2009
$19.99
70% (89%/86%)
5,296,054 ±72,146
4,691,970 ±67,948
22:54 (09:30)
101
Kelvin and the Infamous Machine
Jul 21, 2016
$14.99
70% (89%/79%)
22,066 ±4,681
11,422 ±3,368
03:40 (03:44)
102
Call of Duty: Modern Warfare 2
Nov 11, 2009
$19.99
70% (89%/86%)
5,296,054 ±72,146
4,638,233 ±67,562
141:50 (35:48)
103
Cossacks: Back to War
Sep 2, 2010
$4.99
70% (89%/60%)
180,680 ±13,395
123,309 ±11,066
30:50 (04:08)
104
The Curious Expedition
Sep 2, 2016
$14.99
70% (89%/74%)
108,512 ±10,381
91,638 ±9,540
09:37 (03:25)
105
Empire: Total War
Mar 3, 2009
$19.99
70% (89%/90%)
3,688,365 ±60,306
3,222,647 ±56,397
102:13 (21:31)
106
RUNNING WITH RIFLES
Apr 2, 2015
$14.99
70% (89%/78%)
315,930 ±17,710
298,018 ±17,201
11:30 (04:06)
107
Goodbye Deponia
Oct 17, 2013
$12.99
70% (89%/80%)
423,144 ±20,494
134,472 ±11,556
08:14 (06:03)
108
Intralism
Nov 4, 2016
$2.99
70% (89%)
78,658 ±8,839
68,793 ±8,266
03:35 (04:03)
109
Command & Conquer 3: Tiberium Wars
Nov 13, 2009
$14.99
70% (89%/85%)
574,749 ±23,881
421,327 ±20,450
18:46 (06:00)
110
Mad Max
Sep 1, 2015
$19.99
70% (89%/73%)
1,658,051 ±40,517
1,418,961 ±37,491
27:38 (14:50)
111
Deponia: The Complete Journey
Jul 8, 2014
$39.99
70% (89%)
193,660 ±13,867
133,693 ±11,522
13:01 (05:21)
112
Men of War: Assault Squad
Feb 24, 2011
$9.99
67% (88%/77%)
575,009 ±23,886
308,921 ±17,512
46:31 (11:03)
113
Steel Invaders
Nov 23, 2016
$0.99
N/A (N/A)
286,077 ±16,853
223,254 ±14,889
03:37 (03:30)
114
Broken Sword 5 - the Serpent's Curse
Dec 4, 2013
$24.99
67% (88%)
241,686 ±15,491
131,356 ±11,421
10:44 (09:01)
115
Brothers in Arms: Road to Hill 30
May 13, 2008
$9.99
67% (88%/87%)
114,483 ±10,663
82,552 ±9,055
04:43 (02:12)
116
Europa Universalis III Complete
Feb 4, 2009
$14.99
67% (88%/83%)
469,872 ±21,594
308,662 ±17,505
52:38 (02:49)
117
Duskers
May 18, 2016
$19.99
67% (88%/83%)
60,227 ±7,734
53,996 ±7,323
11:32 (04:28)
118
Wargame: Airland Battle
May 29, 2013
$19.99
67% (88%/80%)
593,181 ±24,260
428,077 ±20,613
23:44 (04:54)
119
Sleeping Dogs: Definitive Edition
Oct 8, 2014
$29.99
67% (88%)
1,024,113 ±31,863
681,444 ±26,000
13:32 (05:14)
120
Kingdom: New Lands
Aug 9, 2016
$14.99
67% (88%)
637,312 ±25,145
370,706 ±19,183
09:48 (04:06)
121
Atom Zombie Smasher
Mar 14, 2011
$9.99
67% (88%/75%)
430,413 ±20,669
276,212 ±16,560
04:01 (01:35)
122
Age of Empires III: Complete Collection
Jan 5, 2012
$39.99
67% (88%/81%)
2,332,745 ±48,026
1,937,378 ±43,785
28:27 (05:46)
123
Shadow Warrior 2
Oct 13, 2016
$39.99
67% (88%/78%)
363,437 ±18,994
334,362 ±18,219
12:40 (07:53)
124
King's Quest
Jul 28, 2015
Free
67% (88%)
305,287 ±17,409
132,654 ±11,478
09:17 (03:58)
125
Warhammer 40,000: Dawn of War II Chaos Rising
Mar 10, 2010
$19.99
67% (88%/85%)
1,882,343 ±43,161
1,107,963 ±33,139
20:39 (07:11)
126
OZMAFIA!!
Apr 29, 2016
$34.99
67% (88%)
8,048 ±2,827
7,528 ±2,734
15:38 (11:58)
127
Serious Sam 2
Jan 31, 2012
$9.99
67% (88%/74%)
1,009,576 ±31,637
518,417 ±22,681
04:49 (01:34)
128
Wolfenstein: The Old Blood
May 4, 2015
$19.99
67% (88%/76%)
746,603 ±27,213
513,484 ±22,573
11:39 (07:09)
129
Heroes of Might & Magic V
May 13, 2008
$9.99
64% (87%/77%)
389,137 ±19,653
274,135 ±16,497
19:38 (05:13)
130
Pharaoh + Cleopatra
Dec 15, 2016
$9.99
64% (87%)
59,188 ±7,667
43,093 ±6,542
15:39 (03:40)
131
STAR WARS Galactic Battlegrounds Saga
Mar 1, 2016
$5.99
64% (87%)
398,742 ±19,894
174,190 ±13,152
08:07 (01:44)
132
Cobalt
Feb 2, 2016
$14.99
64% (87%/69%)
28,296 ±5,301
21,287 ±4,598
08:38 (02:43)
133
Space Pilgrim Episode II: Epsilon Indi
Jan 8, 2016
$1.99
64% (87%)
155,759 ±12,437
88,263 ±9,363
04:36 (03:26)
134
The Journey Down: Chapter One
Jan 9, 2013
$8.99
64% (87%/72%)
272,318 ±16,443
113,185 ±10,602
03:13 (02:25)
135
A Boy and His Blob
Jan 19, 2016
$9.99
64% (87%)
106,175 ±10,269
49,324 ±6,999
03:45 (03:06)
136
Super Mega Neo Pug
May 11, 2016
$0.49
64% (87%)
402,636 ±19,991
302,431 ±17,328
03:43 (03:30)
137
The Dark Eye: Chains of Satinav
Jun 22, 2012
$12.99
64% (87%/75%)
322,940 ±17,905
139,664 ±11,777
06:27 (03:48)
138
Wargame: Red Dragon
Apr 17, 2014
$29.99
64% (87%/78%)
726,614 ±26,847
504,398 ±22,373
60:58 (07:18)
139
Aliens vs. Predator
Feb 16, 2010
$14.99
64% (87%/68%)
1,188,439 ±34,319
1,020,998 ±31,815
12:33 (04:42)
140
Assassins Creed Brotherhood
Mar 22, 2011
$19.99
64% (87%/88%)
968,819 ±30,993
666,907 ±25,722
23:32 (14:44)
141
Blitzkrieg 2 Anthology
Sep 16, 2014
$4.99
61% (86%/75%)
106,695 ±10,294
60,746 ±7,767
10:32 (01:42)
142
Men of War
May 6, 2009
$4.99
61% (86%/80%)
396,925 ±19,849
234,417 ±15,256
15:53 (02:40)
143
Assassin's Creed Revelations
Nov 29, 2011
$19.99
61% (86%/80%)
884,450 ±29,615
577,865 ±23,945
21:21 (13:43)
144
The Cave
Jan 23, 2013
$14.99
61% (86%/68%)
289,711 ±16,959
209,495 ±14,423
05:02 (02:44)
145
Warhammer 40,000: Dawn of War II
Feb 18, 2009
$19.99
61% (86%/85%)
2,688,654 ±51,541
2,140,643 ±46,015
28:32 (10:29)
146
Rebuild 3: Gangs of Deadsville
May 29, 2015
$14.99
61% (86%/75%)
137,587 ±11,689
90,340 ±9,472
23:34 (07:23)
147
Warlock - Master of the Arcane
May 8, 2012
$24.99
61% (86%/71%)
790,994 ±28,009
419,510 ±20,405
15:00 (02:53)
148
Full Mojo Rampage
May 8, 2014
$12.99
61% (86%)
296,720 ±17,163
181,718 ±13,433
03:55 (01:46)
149
Stronghold 2: Steam Edition
$14.99
61% (86%)
405,751 ±20,068
242,724 ±15,524
14:36 (03:50)
150
Deponia Doomsday
Mar 1, 2016
$11.99
61% (86%/76%)
198,592 ±14,043
94,753 ±9,701
09:27 (07:52)
151
Quantum Break
Sep 29, 2016
$39.99
61% (86%/66%)
574,490 ±23,875
313,075 ±17,630
06:56 (04:11)
152
Ultimate General: Gettysburg
Oct 16, 2014
$14.99
59% (85%/84%)
307,104 ±17,461
184,314 ±13,529
13:17 (02:34)
153
Shadow Complex Remastered
May 3, 2016
$14.99
59% (85%)
163,287 ±12,734
61,784 ±7,833
04:05 (03:19)
154
Seasons after Fall
Sep 2, 2016
$14.99
59% (85%/75%)
214,168 ±14,583
63,861 ±7,964
04:07 (02:13)
155
ENSLAVED: Odyssey to the West Premium Edition
Oct 24, 2013
$19.99
59% (85%/70%)
444,172 ±20,996
203,525 ±14,216
05:13 (02:13)
156
Call of Duty: Black Ops
Nov 9, 2010
$39.99
59% (85%/81%)
3,628,657 ±59,820
3,458,102 ±58,407
24:31 (09:12)
157
This Is the Police
Aug 2, 2016
$14.99
59% (85%)
420,289 ±20,424
302,691 ±17,335
09:40 (05:01)
158
Darksiders Warmastered Edition
Nov 29, 2016
$19.99
59% (85%)
2,794,310 ±52,538
501,024 ±22,298
06:58 (03:10)
159
Call of Duty: Black Ops
Nov 9, 2010
$39.99
59% (85%/81%)
3,628,657 ±59,820
3,050,014 ±54,875
74:15 (17:44)
160
Sonic Adventure 2
Nov 19, 2012
$9.99
59% (85%)
571,375 ±23,811
344,227 ±18,485
11:13 (02:27)
161
Natural Selection 2
Oct 30, 2012
$9.99
59% (85%/80%)
1,634,427 ±40,228
1,149,499 ±33,753
17:21 (02:47)
162
Resident Evil 5/ Biohazard 5
Sep 15, 2009
$19.99
59% (85%/86%)
1,142,230 ±33,646
787,100 ±27,940
16:07 (08:22)
163
Tom Clancy's Rainbow Six Vegas 2
Apr 16, 2008
$9.99
59% (85%/78%)
557,876 ±23,528
433,788 ±20,749
11:13 (03:28)
164
Men of War: Assault Squad 2
May 15, 2014
$29.99
56% (84%/68%)
664,570 ±25,677
614,468 ±24,691
53:49 (13:30)
165
Over 9000 Zombies!
Feb 25, 2015
$1.99
56% (84%)
100,724 ±10,002
68,274 ±8,235
02:47 (01:37)
166
Resident Evil Revelations / Biohazard Revelations
May 20, 2013
$29.99
56% (84%/77%)
690,790 ±26,178
438,980 ±20,873
13:44 (06:13)
167
SMITE
Sep 8, 2015
Free
56% (84%/83%)
7,361,414 ±84,879
5,363,549 ±72,599
39:26 (02:21)
168
Batman: Arkham Origins
Oct 24, 2013
$19.99
56% (84%/74%)
2,323,919 ±47,935
1,616,775 ±40,011
19:31 (11:05)
169
Age of Mythology: Extended Edition
May 8, 2014
$29.99
56% (84%/66%)
1,215,956 ±34,713
1,045,919 ±32,200
28:20 (07:06)
170
Supreme Commander 2
Mar 1, 2010
$12.99
56% (84%/77%)
1,214,398 ±34,690
880,815 ±29,554
42:49 (11:41)
171
Syberia II
May 19, 2011
$12.99
56% (84%/80%)
543,857 ±23,231
167,181 ±12,885
05:10 (03:35)
172
Worms Revolution
Oct 10, 2012
$14.99
56% (84%/73%)
1,102,771 ±33,061
887,046 ±29,658
08:25 (03:23)
173
RWBY: Grimm Eclipse
Jul 5, 2016
$19.99
56% (84%)
319,046 ±17,797
294,643 ±17,103
08:26 (03:19)
174
Red Orchestra: Ostfront 41-45
Mar 14, 2006
$9.99
56% (84%/81%)
931,437 ±30,390
508,033 ±22,453
18:15 (01:11)
175
GIGA WRECKER
Feb 6, 2017
$19.99
56% (84%)
24,662 ±4,949
18,691 ±4,309
04:06 (02:22)
176
Firewatch
Feb 9, 2016
$19.99
56% (84%/81%)
854,336 ±29,107
738,556 ±27,066
04:46 (04:03)
177
Warhammer: End Times - Vermintide
Oct 23, 2015
$29.99
53% (83%/79%)
1,382,098 ±37,002
1,141,711 ±33,639
19:29 (06:11)
178
Shank 2
Feb 7, 2012
$9.99
53% (83%/72%)
618,881 ±24,779
323,459 ±17,919
03:58 (01:55)
179
Call of Duty: Black Ops II
Nov 12, 2012
$59.99
53% (83%/74%)
3,250,683 ±56,640
2,653,349 ±51,203
09:27 (03:23)
180
PlanetSide 2
Nov 20, 2012
Free
53% (83%/84%)
8,924,971 ±93,310
5,538,778 ±73,762
24:04 (02:17)
181
Dreamfall Chapters
Jul 21, 2017
$24.99
53% (83%/71%)
259,338 ±16,046
140,442 ±11,810
13:15 (05:03)
182
Command & Conquer: Red Alert 3
Jan 8, 2009
$19.99
53% (83%/82%)
896,910 ±29,822
715,711 ±26,645
15:49 (04:27)
183
Call of Duty: Black Ops II
Nov 12, 2012
$59.99
53% (83%/74%)
3,250,683 ±56,640
2,843,893 ±53,000
85:38 (19:28)
184
D4: Dark Dreams Dont Die -Season One-
Jun 5, 2015
$14.99
53% (83%)
95,013 ±9,714
61,265 ±7,800
04:28 (03:27)
185
Hearts of Iron IV
Jun 6, 2016
$39.99
53% (83%/83%)
948,570 ±30,668
915,342 ±30,127
126:59 (50:48)
186
12 is Better Than 6
Nov 20, 2015
$9.99
53% (83%/74%)
175,488 ±13,201
108,771 ±10,393
03:26 (02:41)
187
Assassin's Creed 2 Deluxe Edition
Mar 9, 2010
$19.99
53% (83%/86%)
1,444,921 ±37,831
1,082,003 ±32,749
22:42 (13:43)
188
Assassin's Creed: Director's Cut Edition
Apr 9, 2008
$19.99
53% (83%/79%)
888,084 ±29,676
681,444 ±26,000
10:29 (04:33)
189
Goetia
Apr 14, 2016
$14.99
51% (82%/79%)
63,082 ±7,915
19,729 ±4,427
04:01 (02:19)
190
Song of the Deep
Jul 11, 2016
$14.99
51% (82%/71%)
142,779 ±11,907
46,987 ±6,831
05:16 (02:18)
191
911 Operator
Feb 24, 2017
$14.99
51% (82%/68%)
157,835 ±12,519
153,941 ±12,364
07:30 (04:17)
192
Endless Legend
Sep 18, 2014
$29.99
51% (82%/82%)
1,225,042 ±34,842
1,009,316 ±31,632
26:06 (08:41)
193
Crysis 2 - Maximum Edition
Mar 22, 2011
$29.99
51% (82%)
2,263,952 ±47,316
1,189,996 ±34,341
07:25 (02:43)
194
Castlevania: Lords of Shadow 2
Feb 25, 2014
$39.99
51% (82%/58%)
223,514 ±14,897
143,817 ±11,951
14:18 (09:24)
195
Scribblenauts Unmasked: A DC Comics Adventure
Sep 24, 2013
$19.99
51% (82%/68%)
216,764 ±14,671
176,007 ±13,220
10:43 (03:31)
196
Max Payne 3
May 31, 2012
$19.99
51% (82%/87%)
1,834,058 ±42,605
1,475,813 ±38,232
13:45 (09:16)
197
The Legend of Korra
Oct 21, 2014
$14.99
51% (82%)
230,263 ±15,120
175,488 ±13,201
07:04 (04:05)
198
Call of Duty: Modern Warfare 3
Nov 8, 2011
$39.99
49% (81%)
3,497,820 ±58,739
3,139,056 ±55,665
25:19 (08:58)
199
Enemy Mind
Jun 6, 2014
$9.99
49% (81%)
247,137 ±15,664
144,596 ±11,983
03:05 (02:17)
200
8-Bit Invaders!
Dec 16, 2016
$14.99
49% (81%)
28,296 ±5,301
21,806 ±4,654
07:14 (03:14)
201
Call of Duty®: Modern Warfare® 3
Nov 8, 2011
$39.99
49% (81%)
3,497,820 ±58,739
3,020,160 ±54,608
113:17 (25:13)
202
Unity of Command: Stalingrad Campaign
Oct 17, 2012
$19.99
49% (81%/84%)
96,311 ±9,780
61,784 ±7,833
20:30 (03:39)
203
8-Bit Armies
Apr 22, 2016
$14.99
49% (81%)
94,494 ±9,687
82,812 ±9,069
06:06 (02:37)
204
Prototype
Jun 10, 2009
$19.99
49% (81%/79%)
578,903 ±23,967
436,124 ±20,805
11:14 (05:05)
205
Duke Nukem 3D: 20th Anniversary World Tour
Oct 11, 2016
$19.99
49% (81%/72%)
40,757 ±6,362
33,229 ±5,745
06:06 (03:09)
206
Battlevoid: Harbinger
Feb 24, 2016
$9.99
46% (80%)
41,016 ±6,383
31,671 ±5,608
11:38 (03:58)
207
Endless Space - Collection
Jul 4, 2012
$19.99
46% (80%/77%)
1,338,226 ±36,412
1,023,854 ±31,859
24:43 (06:25)
208
Jelly Killer
Mar 24, 2016
$2.99
46% (80%)
18,431 ±4,278
11,682 ±3,406
02:53 (03:08)
209
XCOM 2
Feb 4, 2016
$59.99
46% (80%/88%)
1,769,678 ±41,854
1,585,364 ±39,622
72:11 (37:25)
210
Nuclear Dawn
Sep 26, 2011
$9.99
46% (80%/71%)
426,000 ±20,563
275,693 ±16,544
06:40 (01:54)
211
Blood Bowl Legendary Edition
Oct 28, 2010
$9.99
46% (80%/73%)
505,956 ±22,408
241,166 ±15,474
15:23 (01:42)
212
Industry Giant 2
Aug 14, 2015
$9.99
46% (80%)
73,207 ±8,527
47,766 ±6,888
23:01 (03:13)
213
Fallen Enchantress: Legendary Heroes
May 22, 2013
$12.49
44% (79%/80%)
398,742 ±19,894
222,994 ±14,880
29:11 (06:00)
214
Star Realms
Mar 8, 2016
Free
44% (79%)
111,887 ±10,541
64,380 ±7,996
30:27 (03:00)
215
Obduction
Aug 24, 2016
$29.99
44% (79%/76%)
102,541 ±10,091
85,408 ±9,210
10:39 (05:29)
216
Vietnam 65
Mar 5, 2015
$9.99
44% (79%/81%)
21,027 ±4,570
15,835 ±3,966
31:55 (08:29)
217
Planetary Annihilation: TITANS
Aug 18, 2015
$39.99
44% (79%)
571,375 ±23,811
407,568 ±20,113
15:39 (04:48)
218
War for the Overworld
Apr 2, 2015
$29.99
44% (79%/65%)
406,790 ±20,094
277,250 ±16,591
12:34 (05:41)
219
Blockstorm
May 21, 2015
$4.99
44% (79%)
539,185 ±23,131
370,446 ±19,176
06:59 (02:59)
220
Halcyon 6: Starbase Commander
Sep 8, 2016
$14.99
44% (79%/71%)
111,108 ±10,504
92,676 ±9,594
09:58 (04:44)
221
Worms W.M.D
Aug 23, 2016
$29.99
44% (79%/79%)
334,362 ±18,219
212,870 ±14,538
06:26 (02:38)
222
Neon Space
May 12, 2016
$0.99
44% (79%)
123,309 ±11,066
80,475 ±8,940
03:23 (03:27)
223
Way of the Samurai 4
Jul 23, 2015
$24.99
44% (79%/72%)
79,956 ±8,911
70,870 ±8,390
15:10 (05:06)
224
SAMURAI WARRIORS 4-II
Sep 29, 2015
$49.99
44% (79%)
38,161 ±6,156
36,603 ±6,029
21:49 (09:51)
225
Resident Evil 6 / Biohazard 6
Mar 22, 2013
$29.99
44% (79%/69%)
1,381,320 ±36,992
1,066,168 ±32,509
19:18 (08:21)
226
Medal of Honor: Airborne
Oct 6, 2009
$9.99
42% (78%/78%)
219,879 ±14,776
181,459 ±13,423
08:28 (02:31)
227
SuperPower 2 Steam Edition
Apr 18, 2014
$9.99
42% (78%)
87,484 ±9,321
60,746 ±7,767
22:02 (05:08)
228
Legends of Eisenwald
Jul 2, 2015
$19.99
42% (78%/71%)
186,910 ±13,623
98,388 ±9,885
14:16 (04:25)
229
Dead Rising 2: Off the Record
Oct 11, 2011
$19.99
42% (78%/66%)
443,653 ±20,984
222,216 ±14,854
08:20 (03:19)
230
Ashes of the Singularity: Escalation
Nov 10, 2016
$39.99
42% (78%/81%)
366,033 ±19,061
123,049 ±11,054
09:24 (02:20)
231
Event[0]
Sep 14, 2016
$19.99
42% (78%/75%)
193,660 ±13,867
76,062 ±8,691
03:24 (02:26)
232
Homeworld: Deserts of Kharak
Jan 20, 2016
$49.99
42% (78%/79%)
212,870 ±14,538
176,007 ±13,220
13:03 (05:35)
233
Sins of a Solar Empire: Trinity
Nov 16, 2011
$19.99
42% (78%/87%)
283,221 ±16,769
185,093 ±13,557
21:28 (05:49)
234
Tropico 5
May 23, 2014
$19.99
40% (77%/75%)
1,199,342 ±34,475
1,042,285 ±32,144
22:10 (09:52)
235
The Walking Dead: Michonne - A Telltale Miniseries
Feb 23, 2016
$14.99
40% (77%)
322,940 ±17,905
148,230 ±12,133
04:39 (04:05)
236
Warhammer 40,000: Armageddon
Nov 26, 2014
$39.99
40% (77%/68%)
47,766 ±6,888
42,055 ±6,463
30:19 (09:22)
237
Sixtieth Kilometer
Aug 25, 2016
$0.49
40% (77%)
354,611 ±18,762
258,559 ±16,022
04:54 (04:31)
238
Painkiller Hell & Damnation
Oct 31, 2012
$19.99
40% (77%/64%)
542,559 ±23,203
332,026 ±18,155
04:16 (02:12)
239
Total War: ROME II - Emperor Edition
Sep 2, 2013
$59.95
40% (77%/76%)
2,630,244 ±50,981
2,475,784 ±49,469
140:29 (45:05)
240
Sky Gamblers: Storm Raiders
Jan 7, 2015
$9.99
40% (77%)
14,018 ±3,731
12,201 ±3,481
05:56 (02:30)
241
Ben and Ed
Dec 8, 2015
$9.99
38% (76%)
97,349 ±9,833
85,148 ±9,196
03:34 (01:53)
242
Galactic Civilizations II: Ultimate Edition
Dec 2, 2011
$19.99
38% (76%/92%)
666,647 ±25,717
313,334 ±17,637
20:08 (02:25)
243
Randal's Monday
Nov 12, 2014
$6.74
38% (76%/57%)
80,995 ±8,969
38,680 ±6,198
07:07 (04:11)
244
Star Trek Online
Jan 31, 2012
Free
38% (76%/76%)
1,844,442 ±42,725
1,145,086 ±33,688
64:05 (05:13)
245
Corgi Warlock
Dec 3, 2015
$1.99
38% (76%)
29,594 ±5,421
21,806 ±4,654
02:44 (02:27)
246
RIFT
Mar 1, 2011
Free
38% (76%/84%)
2,940,723 ±53,889
1,552,914 ±39,215
42:05 (03:21)
247
Galactic Civilizations III
May 14, 2015
$14.99
38% (76%/81%)
595,258 ±24,303
401,857 ±19,972
45:27 (08:30)
248
Livelock
Aug 30, 2016
$9.99
38% (76%/73%)
35,305 ±5,922
25,700 ±5,052
04:28 (02:19)
249
Worms Clan Wars
Aug 15, 2013
$24.99
38% (76%/73%)
561,250 ±23,599
381,090 ±19,449
05:41 (02:28)
250
Total War: WARHAMMER
May 24, 2016
$59.99
37% (75%/86%)
1,895,064 ±43,306
1,749,689 ±41,618
88:25 (34:25)
251
River City Ransom: Underground
Feb 27, 2017
$19.99
37% (75%)
62,823 ±7,899
57,371 ±7,549
10:09 (03:03)
252
Assassins Creed III
Nov 20, 2012
$19.99
37% (75%/80%)
1,109,261 ±33,158
885,488 ±29,632
33:51 (19:52)
253
Unforgiving Trials: The Space Crusade
Oct 7, 2016
$0.99
N/A (N/A)
372,782 ±19,236
295,422 ±17,126
04:02 (04:00)
254
Princess.Loot.Pixel.Again
Apr 15, 2016
$4.99
37% (75%)
454,296 ±21,234
330,987 ±18,127
05:56 (06:32)
255
Hegemony III: Clash of the Ancients
Aug 25, 2015
$29.99
37% (75%)
24,921 ±4,975
20,768 ±4,542
17:58 (05:25)
256
Company of Heroes 2
Jun 25, 2013
$19.99
37% (75%/80%)
3,826,990 ±61,420
2,375,060 ±48,457
69:17 (08:54)
257
Supreme Ruler Ultimate
Oct 17, 2014
$19.99
37% (75%)
26,219 ±5,103
23,623 ±4,844
80:26 (10:16)
258
Making History: The Great War
Jan 29, 2015
$29.99
37% (75%)
26,998 ±5,178
20,249 ±4,484
126:19 (06:10)
259
Mercenary Kings
Mar 25, 2014
$19.99
37% (75%/76%)
352,274 ±18,700
252,069 ±15,820
07:41 (03:10)
260
Monster Monpiece
Mar 14, 2017
$19.99
37% (75%)
19,210 ±4,368
11,163 ±3,330
05:05 (03:04)
261
Darksiders II Deathinitive Edition
Nov 5, 2015
$29.99
37% (75%)
1,107,184 ±33,127
470,910 ±21,618
10:26 (04:46)
262
Distant Worlds: Universe
May 23, 2014
$59.99
37% (75%/81%)
55,814 ±7,445
50,622 ±7,091
54:43 (11:18)
263
Toy Soldiers: Complete
Feb 17, 2016
$14.99
37% (75%)
72,168 ±8,466
62,823 ±7,899
06:45 (04:46)
264
Wargame: European Escalation
Feb 22, 2012
$9.99
37% (75%/81%)
835,386 ±28,783
520,494 ±22,727
16:15 (03:14)
265
Dungeons 2
Apr 24, 2015
$19.99
37% (75%/70%)
1,057,861 ±32,383
506,735 ±22,425
08:33 (03:41)
266
Dungeon Defenders II
Jun 20, 2017
Free
35% (74%)
3,423,316 ±58,114
2,555,480 ±50,255
12:33 (01:53)
267
Total War: ATTILA
Feb 17, 2015
$44.99
35% (74%/80%)
1,122,501 ±33,355
1,024,373 ±31,867
103:24 (30:55)
268
Neon Space 2
Jul 26, 2016
$0.99
35% (74%)
117,338 ±10,795
74,505 ±8,602
03:56 (04:00)
269
Offworld Trading Company
Apr 28, 2016
$19.99
35% (74%/78%)
485,967 ±21,961
323,199 ±17,912
09:26 (04:00)
270
Masked Shooters 2
Jan 14, 2016
$0.99
35% (74%)
212,611 ±14,530
151,605 ±12,270
03:54 (03:06)
271
Gems of War - Puzzle RPG
Nov 20, 2014
Free
35% (74%)
416,135 ±20,323
248,175 ±15,697
79:17 (04:25)
272
Lux Delux
May 1, 2015
$9.99
33% (73%)
45,170 ±6,698
28,556 ±5,326
05:51 (02:39)
273
Farnham Fables
Jun 20, 2016
$0.99
33% (73%)
206,121 ±14,306
191,324 ±13,783
03:47 (03:31)
274
Space Hulk Ascension
Nov 12, 2014
$29.99
33% (73%/72%)
139,923 ±11,788
82,033 ±9,026
07:07 (02:03)
275
The Whispered World Special Edition
May 6, 2014
$12.99
33% (73%)
400,040 ±19,927
127,462 ±11,251
03:51 (01:57)
276
Saints Row: Gat out of Hell
Jan 20, 2015
$14.99
33% (73%/66%)
714,153 ±26,616
458,450 ±21,331
07:32 (05:04)
277
Cossacks 3
Sep 20, 2016
$19.99
33% (73%)
305,287 ±17,409
291,788 ±17,020
34:37 (09:35)
278
Jagged Alliance 2 - Wildfire
Nov 16, 2012
$1.39
31% (72%)
189,766 ±13,727
117,857 ±10,819
08:22 (06:18)
279
Zombillie
Apr 29, 2016
$4.99
31% (72%)
61,784 ±7,833
39,199 ±6,240
03:37 (03:02)
280
Commando Jack
Aug 22, 2014
$1.99
N/A (N/A)
306,845 ±17,453
151,086 ±12,249
02:53 (03:06)
281
Robocraft
Aug 24, 2017
Free
31% (72%)
14,120,560 ±116,740
10,319,011 ±100,189
19:43 (02:13)
282
Office Battle
Dec 2, 2015
$0.99
31% (72%)
114,223 ±10,651
90,600 ±9,486
03:44 (03:38)
283
MASSIVE CHALICE
Jun 1, 2015
$19.99
30% (71%/73%)
246,099 ±15,632
131,876 ±11,444
07:26 (02:18)
284
Sol 0: Mars Colonization
Jan 15, 2016
$3.99
30% (71%)
26,998 ±5,178
25,960 ±5,078
11:12 (05:10)
285
Red Faction: Armageddon
Jun 6, 2011
$19.99
30% (71%/75%)
1,787,331 ±42,061
684,040 ±26,050
06:07 (01:56)
286
Railroad Tycoon 3
May 4, 2007
$9.99
30% (71%/80%)
264,011 ±16,190
136,808 ±11,656
18:42 (01:33)
287
Alan Wake's American Nightmare
May 22, 2012
$9.99
28% (70%/73%)
1,619,890 ±40,049
455,334 ±21,258
02:59 (01:29)
288
Space Run Galaxy
Jun 17, 2016
$19.99
28% (70%/75%)
223,254 ±14,889
74,245 ±8,587
09:24 (02:59)
289
Blood Bowl 2
Sep 22, 2015
$19.99
28% (70%/76%)
246,877 ±15,656
229,484 ±15,095
44:25 (12:12)
290
Tharsis
Jan 11, 2016
$14.99
28% (70%/61%)
296,720 ±17,163
118,636 ±10,854
03:56 (02:24)
291
Sid Meiers Civilization VI
Oct 20, 2016
$59.99
28% (70%/88%)
2,609,736 ±50,783
2,494,994 ±49,660
91:35 (31:41)
292
Grey Goo
Jan 23, 2015
$29.99
28% (70%/77%)
468,314 ±21,559
275,433 ±16,536
09:06 (03:55)
293
Men of Valor
Feb 9, 2016
$9.99
27% (69%/71%)
14,278 ±3,766
11,163 ±3,330
04:52 (01:07)
294
Master of Orion
Aug 25, 2016
$29.99
27% (69%/74%)
201,707 ±14,152
185,872 ±13,586
48:58 (19:17)
295
Battlefleet Gothic: Armada
Apr 21, 2016
$39.99
27% (69%/77%)
281,144 ±16,707
262,194 ±16,134
20:03 (07:45)
296
Order of Battle: World War II
Apr 30, 2015
Free
25% (68%/81%)
232,600 ±15,197
146,673 ±12,069
20:15 (01:08)
297
Talisman: The Horus Heresy
Feb 22, 2016
$14.99
25% (68%)
29,594 ±5,421
20,768 ±4,542
04:46 (01:26)
298
Action Alien
Jun 26, 2015
$3.99
N/A (N/A)
73,466 ±8,542
59,188 ±7,667
03:17 (03:35)
299
Trine 3: The Artifacts of Power
Aug 20, 2015
$21.99
25% (68%)
631,601 ±25,033
318,007 ±17,768
06:16 (03:11)
300
DRAGON QUEST HEROES Slime Edition
Dec 3, 2015
$39.99
24% (67%)
53,737 ±7,306
48,545 ±6,944
14:34 (06:05)
301
Putrefaction
Aug 7, 2015
$0.99
24% (67%)
113,444 ±10,614
101,503 ±10,040
03:35 (03:30)
302
Jagged Alliance - Back in Action
Feb 8, 2012
$19.99
24% (67%/62%)
262,194 ±16,134
185,872 ±13,586
45:53 (05:48)
303
The Bureau: XCOM Declassified
Aug 19, 2013
$19.99
23% (66%/66%)
2,501,224 ±49,721
914,303 ±30,110
06:06 (02:21)
304
Heroes of Might & Magic III - HD Edition
Jan 28, 2015
$14.99
23% (66%/65%)
633,678 ±25,074
495,313 ±22,171
34:33 (08:47)
305
Particula
Feb 2, 2015
$0.49
23% (66%)
662,753 ±25,642
450,662 ±21,149
05:00 (05:29)
306
Tom Clancy's Ghost Recon: Future Soldier
Jun 26, 2012
$19.99
23% (66%/71%)
319,824 ±17,819
277,250 ±16,591
14:39 (06:05)
307
Blues and Bullets
Jul 22, 2015
$4.99
23% (66%/73%)
41,795 ±6,443
28,296 ±5,301
04:06 (02:51)
308
Dead Island: Riptide Definitive Edition
May 31, 2016
$19.99
23% (66%)
173,671 ±13,132
83,071 ±9,083
06:51 (02:53)
309
Evolve Stage 2
Feb 10, 2015
Free
23% (66%/77%)
6,033,571 ±76,948
4,203,667 ±64,347
08:39 (01:42)
310
Ace of Spades: Battle Builder
Dec 12, 2012
$14.99
22% (65%)
1,083,561 ±32,773
1,007,499 ±31,604
14:14 (04:16)
311
Medieval: Total War - Collection
Jun 25, 2015
$9.99
22% (65%)
144,336 ±11,972
53,218 ±7,270
28:31 (02:38)
312
DYNASTY WARRIORS 8 Empires
Feb 26, 2015
$49.99
21% (64%)
40,757 ±6,362
39,978 ±6,301
31:53 (14:22)
313
Spider-Man™: Shattered Dimensions
Oct 23, 2015
$29.99
21% (64%/68%)
28,556 ±5,326
18,691 ±4,309
06:04 (03:24)
314
STAR WARS - The Force Unleashed Ultimate Sith Edition
Dec 15, 2009
$19.99
21% (64%/65%)
1,278,000 ±35,585
721,422 ±26,751
06:57 (02:49)
315
Prototype 2
Jul 24, 2012
$39.99
21% (64%/76%)
666,387 ±25,712
453,517 ±21,216
14:55 (08:48)
316
Kingdom Wars 2: Battles
Mar 4, 2016
$13.99
19% (63%)
67,236 ±8,172
57,371 ±7,549
07:09 (02:46)
317
Close Combat - Gateway to Caen
Jun 6, 2014
$39.99
19% (63%)
26,219 ±5,103
21,287 ±4,598
39:27 (07:09)
318
Kane & Lynch 2: Dog Days
Aug 17, 2010
$9.99
19% (63%/66%)
759,064 ±27,439
374,340 ±19,276
04:20 (01:43)
319
Inexistence
Apr 18, 2016
$5.99
19% (63%)
27,777 ±5,252
21,027 ±4,570
02:55 (02:50)
320
BloodRayne Betrayal
Apr 30, 2014
$9.99
19% (63%)
97,868 ±9,859
64,640 ±8,012
03:43 (02:38)
321
Cyber City 2157: The Visual Novel
May 4, 2016
$5.99
N/A (N/A)
225,331 ±14,958
194,439 ±13,895
05:07 (05:01)
322
Homefront
Mar 14, 2011
$19.99
18% (62%/70%)
2,840,778 ±52,971
1,014,508 ±31,714
08:06 (02:50)
323
Anno 2070
Nov 17, 2011
$19.99
17% (61%/83%)
900,804 ±29,887
832,530 ±28,734
33:39 (11:30)
324
Ace Combat Assault Horizon - Enhanced Edition
Jan 24, 2013
$19.99
17% (61%/77%)
425,221 ±20,544
254,146 ±15,885
05:51 (01:50)
325
Sun Blast: Star Fighter
Apr 2, 2015
$0.49
17% (61%)
185,093 ±13,557
134,472 ±11,556
03:17 (03:01)
326
Stronghold Crusader 2
Sep 22, 2014
$39.99
17% (61%/65%)
818,771 ±28,496
582,018 ±24,031
18:43 (04:31)
327
Act of Aggression - Reboot Edition
Sep 2, 2015
$29.99
17% (61%/71%)
134,731 ±11,567
125,386 ±11,159
19:48 (06:10)
328
Valhalla Hills
Dec 2, 2015
$6.99
16% (60%/69%)
164,325 ±12,774
86,706 ±9,280
04:26 (01:38)
329
Merchants of Kaidan
Nov 10, 2014
$14.99
16% (60%)
167,441 ±12,895
104,877 ±10,206
06:30 (06:07)
330
Anno 2205
Nov 2, 2015
$39.99
16% (60%/72%)
146,413 ±12,058
132,395 ±11,466
30:50 (17:55)
331
Violett Remastered
Dec 13, 2013
$9.99
15% (59%/61%)
149,788 ±12,196
90,859 ±9,499
03:23 (03:09)
332
7 Grand Steps: What Ancients Begat
Jun 7, 2013
$19.99
15% (59%)
168,739 ±12,944
57,890 ±7,583
04:46 (02:43)
333
Invention 2
Sep 23, 2016
$0.99
15% (59%)
62,823 ±7,899
52,698 ±7,235
05:37 (06:32)
334
Mighty No. 9
Jun 21, 2016
$19.99
14% (58%/52%)
155,759 ±12,437
76,322 ±8,706
04:15 (01:50)
335
Enemy Front
Jun 10, 2014
$29.99
14% (58%/52%)
210,274 ±14,450
164,066 ±12,764
07:51 (02:36)
336
Homefront: The Revolution
May 17, 2016
$29.99
14% (58%/54%)
438,201 ±20,855
330,987 ±18,127
12:43 (06:11)
337
Prospekt
Feb 18, 2016
$9.99
14% (58%/43%)
21,027 ±4,570
17,133 ±4,125
03:58 (03:07)
338
LARA CROFT AND THE TEMPLE OF OSIRIS
Dec 8, 2014
$19.99
14% (58%/73%)
290,230 ±16,975
129,020 ±11,319
04:46 (02:17)
339
Planetary Annihilation
Sep 5, 2014
$29.99
14% (58%/62%)
1,205,832 ±34,568
959,214 ±30,839
11:30 (04:46)
340
Realpolitiks
Feb 16, 2017
$24.99
14% (58%)
28,296 ±5,301
27,258 ±5,203
12:17 (07:14)
341
NOBUNAGA'S AMBITION: Sphere of Influence - Ascension /
Mar 23, 2016
$59.99
13% (57%)
71,649 ±8,436
70,870 ±8,390
246:44 (78:56)
342
Snowman
Jan 27, 2017
$0.99
13% (57%)
310,219 ±17,549
197,035 ±13,987
03:33 (04:00)
343
StarDrive 2
Apr 9, 2015
$29.99
13% (57%/70%)
71,649 ±8,436
62,563 ±7,883
28:54 (11:24)
344
ZombieCarz
Dec 7, 2016
$3.99
N/A (N/A)
299,057 ±17,231
223,773 ±14,906
04:08 (04:30)
345
BioShock Remastered
Sep 15, 2016
$19.99
13% (56%)
3,872,679 ±61,783
985,173 ±31,253
05:21 (02:02)
346
Subject 13
May 28, 2015
$9.99
12% (55%/59%)
61,784 ±7,833
34,267 ±5,834
04:27 (03:45)
347
Sniper: Ghost Warrior
Jun 24, 2010
$7.99
12% (55%/55%)
1,110,040 ±33,170
840,837 ±28,877
14:10 (04:00)
348
Marvel: Ultimate Alliance 2
Jul 26, 2016
$39.99
11% (54%)
14,018 ±3,731
8,048 ±2,827
10:10 (07:05)
349
Sid Meier's Civilization: Beyond Earth
Oct 23, 2014
$39.99
11% (53%/81%)
1,539,155 ±39,042
1,416,106 ±37,453
42:49 (16:30)
350
Might and Magic: Heroes VII Trial by Fire
Aug 4, 2016
$29.99
9% (50%)
52,439 ±7,217
35,305 ±5,922
31:16 (12:09)
351
Dead Rising 4
Mar 14, 2017
$59.99
9% (50%/74%)
71,649 ±8,436
66,717 ±8,140
13:30 (07:23)
352
Mars Industries
Oct 24, 2016
$0.49
N/A (N/A)
137,587 ±11,689
125,645 ±11,170
03:27 (03:30)
353
ROMANCE OF THE THREE KINGDOMS XIII / 13
Jan 27, 2016
$59.99
8% (48%)
217,803 ±14,706
215,466 ±14,627
118:30 (51:21)
354
Might & Magic: Heroes VI
Oct 13, 2011
$19.99
7% (47%/77%)
666,128 ±25,707
589,027 ±24,175
53:55 (17:43)
355
BioShock 2 Remastered
Sep 15, 2016
$19.99
7% (47%)
3,448,497 ±58,326
473,247 ±21,672
05:16 (02:03)
356
Grind Zones
Jul 19, 2016
$4.99
7% (47%)
332,285 ±18,162
247,656 ±15,681
04:21 (04:00)
357
Might & Magic Heroes VII
Sep 29, 2015
$49.99
6% (44%)
137,846 ±11,700
125,645 ±11,170
54:30 (17:49)
358
Grand Ages: Medieval
Sep 25, 2015
$19.99
5% (43%/63%)
84,629 ±9,168
77,360 ±8,765
23:27 (07:37)
359
Risk
Jun 10, 2013
$9.99
4% (40%)
31,671 ±5,608
29,075 ±5,374
08:59 (02:27)
360
CLASH
Nov 15, 2016
Free
4% (39%)
165,364 ±12,814
92,157 ±9,567
03:08 (03:30)
361
Call of Duty: Infinite Warfare
Nov 3, 2016
$59.99
4% (39%/73%)
533,473 ±23,008
472,987 ±21,666
35:58 (10:20)
362
Yellow: The Yellow Artifact
Jun 7, 2016
$0.99
N/A (N/A)
388,099 ±19,627
302,951 ±17,342
03:24 (03:30)
363
Under Zero
Mar 2, 2017
$0.51
N/A (N/A)
317,228 ±17,746
224,552 ±14,932
03:14 (03:30)
364
The God's Chain
Aug 14, 2016
$7.99
N/A (N/A)
120,973 ±10,961
90,080 ±9,458
04:09 (04:16)
365
Merger 3D
Sep 29, 2016
$2.99
N/A (N/A)
203,265 ±14,207
187,430 ±13,642
03:40 (03:31)
366
Stronghold 3 Gold
May 25, 2012
$29.99
1% (26%)
759,323 ±27,444
661,974 ±25,627
09:36 (03:40)
367
The Land of Dasthir
Jan 9, 2017
$0.49
N/A (N/A)
262,194 ±16,134
223,773 ±14,906
03:41 (03:30)
368
Slingshot people
Oct 21, 2016
$0.99
1% (24%)
640,947 ±25,217
388,099 ±19,627
02:58 (03:28)
369
VERGE:Lost chapter
Oct 1, 2015
$1.99
0% (17%)
170,556 ±13,014
161,210 ±12,653
04:12 (04:01)
370
HotLead
Nov 6, 2015
$0.99
N/A (N/A)
105,137 ±10,218
78,658 ±8,839
03:35 (03:33)
371
Project Pulsation
Dec 15, 2015
$4.99
N/A (N/A)
205,601 ±14,288
181,199 ±13,414
06:30 (06:32)