App

! That Bastard Is Trying To Steal Our Gold !
! That Bastard Is Trying To Steal Our Gold !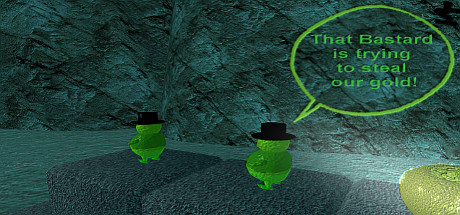 Store | Hub | SteamDB | Site
Developer: WTFOMGames Publisher: WTFOMGames
Genre: Action, Adventure, Casual, Indie
Languages: English
Tags: Action (23), Adventure (22), Casual (22), Indie (22), Memes (7), Psychological Horror (5)
Category: Single-player, Steam Trading Cards, Partial Controller Support
Release date: Mar 3, 2016
Price: $1.99 50%
Owners: 27,132 ± 4,565
Players in the last 2 weeks: 9,245 ± 2,664 (34.07%)
Players total: 22,510 ± 4,158 (82.96%)
Followers: 102
Peak concurrent players yesterday: 289
Playtime in the last 2 weeks: 05:16 (average) 06:20 (median)
Playtime total: 05:44 (average) 06:16 (median)

Steam Spy is still in beta, so expect major bugs.
Peak daily concurrent players:
CCU data courtesy of SteamDB. Used with permission.
Hourly concurrent players:
YouTube:
The views data is based on top 50 videos uploaded last week. Actual number of views might be more than the number shown.

The displayed number of videos uploaded yesterday is limited to 50, so if there were more videos uploaded, the number will still show 50.

If the game has commonly used word as its name (like "FEAR" or "Volume") its number of Youtube views might be wrong.
Games similar to this one:
#
Game
Release date

Price

Score rank
(Userscore / Metascore)

Owners

Players

Playtime (Median)

1
Mini Ghost
Apr 28, 2017
$1.59
99% (98%)
11,054 ±2,914
5,024 ±1,964
01:53 (01:21)
2
Major Mayhem
Feb 24, 2014
$4.99
N/A (N/A)
41,603 ±5,653
27,132 ±4,565
02:48 (01:08)
3
Wonder Boy: The Dragon's Trap
Jun 8, 2017
$19.99
95% (96%)
4,823 ±1,924
4,020 ±1,757
03:23 (02:53)
4
The Dishwasher: Vampire Smile
May 12, 2017
$9.99
95% (96%)
6,632 ±2,257
5,627 ±2,079
04:04 (03:02)
5
Death's Hangover
Jan 20, 2017
$0.49
95% (96%)
12,863 ±3,143
9,647 ±2,722
02:17 (02:18)
6
Lost Socks: Naughty Brothers
Oct 17, 2016
$0.99
N/A (N/A)
1,206 ±962
804 ±785
01:35 (01:14)
7
IS Defense
Apr 19, 2016
$2.99
92% (95%/50%)
18,691 ±3,789
14,269 ±3,310
04:32 (03:37)
8
Noitu Love 2: Devolution
Apr 23, 2012
$1.99
92% (95%/80%)
67,529 ±7,202
45,019 ±5,880
01:42 (00:43)
9
Streets of Fury EX
Jun 25, 2015
$1.99
92% (95%)
10,049 ±2,778
7,436 ±2,390
04:04 (02:31)
10
Turok
Dec 17, 2015
$4.99
92% (95%)
52,053 ±6,323
41,804 ±5,666
04:10 (02:09)
11
Tokyo Babel
Mar 31, 2016
$15.74
N/A (N/A)
3,216 ±1,571
1,809 ±1,178
14:29 (09:37)
12
Max: The Curse of Brotherhood
May 21, 2014
$2.99
92% (95%)
45,421 ±5,906
22,912 ±4,195
05:11 (02:35)
13
PixelJunk Shooter
Nov 11, 2013
$0.89
92% (95%/73%)
144,102 ±10,519
69,137 ±7,287
03:42 (01:55)
14
Explosionade
Sep 23, 2015
$3.99
N/A (N/A)
13,265 ±3,192
7,838 ±2,453
02:44 (03:06)
15
Extravaganza Rising
Jul 21, 2016
$0.59
N/A (N/A)
19,495 ±3,869
15,877 ±3,492
03:40 (03:56)
16
Counter Spell
Oct 5, 2015
$4.68
89% (94%)
4,020 ±1,757
3,417 ±1,620
02:20 (01:57)
17
The Original Strife: Veteran Edition
Dec 12, 2014
$2.49
89% (94%)
62,906 ±6,951
36,980 ±5,329
03:07 (01:52)
18
Stick it to The Man!
Dec 13, 2013
$5.99
89% (94%/83%)
44,416 ±5,841
23,715 ±4,268
02:58 (02:02)
19
Miracle Fly
Oct 26, 2015
$1.59
N/A (N/A)
21,505 ±4,064
15,073 ±3,402
03:28 (03:47)
20
MURI
Dec 6, 2013
$3.99
86% (93%)
41,000 ±5,611
24,318 ±4,322
01:40 (01:02)
21
ESCHATOS
Sep 18, 2015
$7.49
86% (93%)
3,819 ±1,712
2,613 ±1,416
02:53 (03:43)
22
Star Trek : 25th Anniversary
May 7, 2015
$9.99
N/A (N/A)
7,637 ±2,422
5,225 ±2,003
02:25 (00:51)
23
NyxQuest: Kindred Spirits
Sep 27, 2010
$2.69
86% (93%)
31,554 ±4,923
14,872 ±3,380
02:03 (00:49)
24
Mad Bullets
Jun 10, 2016
$0.67
86% (93%)
11,054 ±2,914
6,029 ±2,152
03:00 (02:29)
25
Adventure in the Tower of Flight
Dec 23, 2015
$1.59
N/A (N/A)
12,863 ±3,143
9,044 ±2,635
04:47 (04:02)
26
Child Of Ault
Jan 24, 2017
$4.99
N/A (N/A)
7,436 ±2,390
5,225 ±2,003
02:39 (03:12)
27
Chicken Invaders 3
Jun 8, 2015
$2.49
86% (93%)
9,044 ±2,635
7,034 ±2,324
12:02 (03:53)
28
Earth Overclocked
Dec 4, 2015
$0.49
N/A (N/A)
24,519 ±4,339
13,868 ±3,263
02:42 (01:45)
29
The Juicer
Sep 11, 2015
$0.49
86% (93%)
19,294 ±3,849
12,461 ±3,093
03:10 (03:40)
30
Sam & Max 105: Reality 2.0
Jun 15, 2007
Free
N/A (N/A)
160,582 ±11,104
29,745 ±4,780
03:03 (02:24)
31
Below Kryll
Sep 7, 2015
$0.99
82% (92%)
5,225 ±2,003
3,216 ±1,571
01:36 (01:09)
32
Anarcute
Jul 12, 2016
$8.99
82% (92%/79%)
10,250 ±2,806
8,843 ±2,606
03:13 (01:55)
33
Tom Clancy's Ghost Recon Island Thunder
Jul 15, 2008
$1.69
N/A (N/A/82%)
101,092 ±8,811
14,872 ±3,380
00:53 (00:12)
34
Gurumin: A Monstrous Adventure
Mar 30, 2015
$3.49
82% (92%)
78,181 ±7,749
37,382 ±5,358
06:10 (04:55)
35
Weird Hero
Nov 18, 2016
$2.79
82% (92%)
6,833 ±2,291
4,221 ±1,800
03:06 (02:40)
36
Ittle Dew
Jul 23, 2013
$9.99
82% (92%/67%)
148,523 ±10,679
74,362 ±7,557
03:29 (02:08)
37
Super Kaiju
Dec 6, 2016
$19.99
N/A (N/A)
2,412 ±1,361
2,211 ±1,303
05:09 (02:10)
38
Tom Clancy's Ghost Recon Desert Siege
Jul 15, 2008
$1.69
N/A (N/A/82%)
100,891 ±8,802
15,274 ±3,425
01:29 (00:20)
39
Little Big Adventure - Enhanced Edition
Oct 20, 2015
$2.99
78% (91%)
8,642 ±2,576
4,623 ±1,884
03:43 (02:30)
40
SPINGUN
Nov 11, 2016
$0.97
N/A (N/A)
6,833 ±2,291
4,623 ±1,884
01:51 (01:57)
41
Apocalypse: Party's Over
May 30, 2016
$2.49
78% (91%)
12,260 ±3,068
8,441 ±2,546
04:32 (04:13)
42
Knightmare Tower
Jun 16, 2014
$0.99
78% (91%)
12,662 ±3,118
10,250 ±2,806
03:53 (03:40)
43
Planet of the Eyes
Aug 24, 2015
$4.99
78% (91%/66%)
68,534 ±7,255
17,083 ±3,622
02:24 (02:02)
44
Earth Defense Force: Insect Armageddon
Dec 14, 2011
$9.99
78% (91%/69%)
70,543 ±7,361
58,887 ±6,725
08:31 (03:21)
45
Marlow Briggs and the Mask of Death
Sep 20, 2013
$4.99
78% (91%)
115,362 ±9,412
59,289 ±6,748
02:16 (00:51)
46
Dandy: Or a Brief Glimpse Into the Life of the Candy Alchemist
Aug 4, 2015
$2.49
N/A (N/A)
12,863 ±3,143
6,632 ±2,257
02:31 (02:02)
47
Unbox
Sep 5, 2016
$9.99
78% (91%/68%)
44,818 ±5,867
22,309 ±4,139
02:29 (01:10)
48
Sam & Max 103: The Mole, the Mob and the Meatball
Jun 15, 2007
Free
N/A (N/A)
163,396 ±11,201
36,779 ±5,315
02:03 (01:39)
49
Death Ray Manta SE
Sep 17, 2015
$0.59
N/A (N/A)
55,470 ±6,527
25,122 ±4,393
02:27 (01:56)
50
Sayonara Umihara Kawase
Oct 5, 2015
$4.49
74% (90%)
13,064 ±3,167
6,230 ±2,187
01:55 (01:27)
51
Marc Eck's Getting Up: Contents Under Pressure
Dec 13, 2013
$2.99
74% (90%/69%)
49,843 ±6,187
28,338 ±4,665
03:56 (01:15)
52
Nandeyanen!? - The 1st Stra
Jul 22, 2015
$1.99
N/A (N/A)
12,863 ±3,143
2,010 ±1,242
00:22 (00:26)
53
Mayhem Triple
Sep 4, 2015
$2.49
N/A (N/A)
6,431 ±2,222
5,024 ±1,964
05:01 (03:35)
54
Ace of Seafood
Apr 8, 2016
$5.99
74% (90%)
10,652 ±2,860
9,044 ±2,635
05:31 (03:58)
55
Clash of Puppets
Dec 16, 2014
$4.99
N/A (N/A)
14,872 ±3,380
10,853 ±2,887
02:18 (01:58)
56
Spaceman Sparkles 3
Mar 21, 2016
$1.24
N/A (N/A)
5,627 ±2,079
3,618 ±1,667
03:15 (03:37)
57
Super Furball
Apr 21, 2015
$1.35
N/A (N/A)
13,064 ±3,167
7,637 ±2,422
02:56 (02:54)
58
Near Death
Aug 2, 2016
$4.94
74% (90%/70%)
9,044 ±2,635
4,422 ±1,843
02:21 (02:06)
59
Demons with Shotguns
Apr 25, 2016
$9.99
N/A (N/A)
12,059 ±3,043
8,039 ±2,485
02:29 (02:50)
60
The Deadly Tower of Monsters
Jan 19, 2016
$5.09
74% (90%/73%)
108,528 ±9,129
45,019 ±5,880
02:38 (01:57)
61
POSTAL Redux
May 20, 2016
$1.43
70% (89%/54%)
39,392 ±5,500
25,725 ±4,445
02:24 (01:27)
62
Zombo Buster Rising
Oct 2, 2016
$0.99
70% (89%)
10,853 ±2,887
6,833 ±2,291
04:07 (03:56)
63
Full Mojo Rampage
May 8, 2014
$6.49
70% (89%)
293,429 ±15,008
163,797 ±11,215
03:47 (01:45)
64
Darksiders
Sep 23, 2010
Free
70% (89%/83%)
52,455 ±6,347
44,818 ±5,867
19:39 (12:32)
65
Conflict Desert Storm
May 28, 2012
$1.39
70% (89%/56%)
27,534 ±4,599
20,299 ±3,948
04:04 (00:56)
66
Tiny Barbarian DX
Dec 3, 2013
$20.09
70% (89%)
29,343 ±4,747
18,691 ±3,789
01:53 (01:08)
67
Knight Squad
Nov 16, 2015
$2.99
70% (89%)
103,705 ±8,924
38,789 ±5,458
03:51 (02:10)
68
Xmas Shooting - Scramble!!
Dec 16, 2016
$3.99
N/A (N/A)
4,020 ±1,757
2,412 ±1,361
01:16 (00:54)
69
Putrefaction 2: Void Walker
May 29, 2017
$2.71
N/A (N/A)
7,235 ±2,357
4,020 ±1,757
03:11 (03:02)
70
Star Trek: Judgment Rites
May 8, 2015
$9.99
N/A (N/A)
5,627 ±2,079
3,417 ±1,620
04:08 (04:34)
71
Choplifter HD
Jan 11, 2012
$1.99
67% (88%/65%)
82,803 ±7,974
25,323 ±4,410
04:46 (00:53)
72
ORCS
May 20, 2016
$0.49
67% (88%)
16,681 ±3,579
11,054 ±2,914
02:37 (02:27)
73
Cobalt
Feb 2, 2016
$19.99
67% (88%/69%)
24,519 ±4,339
19,696 ±3,889
07:12 (02:28)
74
I Am The Hero
Jan 16, 2017
$2.99
67% (88%)
10,451 ±2,833
7,838 ±2,453
01:59 (01:11)
75
Shoot Many Robots
Apr 6, 2012
$4.99
67% (88%)
115,965 ±9,437
91,847 ±8,399
11:04 (05:27)
76
JUDGEMENT SILVERSWORD - Resurrection -
Sep 18, 2015
$2.99
N/A (N/A)
5,426 ±2,041
3,618 ±1,667
00:37 (00:28)
77
Avoid - Sensory Overload
Apr 8, 2014
$1.24
67% (88%)
17,887 ±3,706
12,863 ±3,143
02:36 (01:40)
78
Tcheco in the Castle of Lucio
Jun 22, 2015
$0.66
67% (88%)
27,936 ±4,632
20,299 ±3,948
03:14 (03:01)
79
Adventures of Pip
Jun 4, 2015
$7.49
67% (88%/72%)
23,314 ±4,231
12,059 ±3,043
02:45 (01:01)
80
FIVE: Champions of Canaan
Sep 27, 2016
$1.24
N/A (N/A)
6,029 ±2,152
2,412 ±1,361
02:19 (03:05)
81
Ittle Dew 2
Nov 15, 2016
$13.39
64% (87%)
3,618 ±1,667
2,412 ±1,361
09:46 (11:11)
82
Prison Run and Gun
Mar 16, 2016
$0.61
64% (87%)
13,667 ±3,240
8,441 ±2,546
02:59 (02:11)
83
Isbarah
Feb 25, 2015
$13.99
N/A (N/A)
2,814 ±1,470
1,407 ±1,039
02:33 (03:45)
84
Vertigo
Dec 22, 2016
$11.24
64% (87%)
5,024 ±1,964
3,819 ±1,712
01:51 (01:38)
85
VelocityUltra
Dec 12, 2013
$2.79
64% (87%)
71,146 ±7,392
32,157 ±4,970
02:41 (02:01)
86
Skyhook
May 17, 2016
$0.99
N/A (N/A)
3,015 ±1,521
1,608 ±1,111
03:12 (07:22)
87
Seraph
Sep 20, 2016
$2.59
64% (87%/80%)
13,667 ±3,240
9,647 ±2,722
06:33 (02:49)
88
Anodyne
Mar 22, 2013
$2.99
64% (87%/75%)
211,831 ±12,753
113,352 ±9,330
03:02 (01:52)
89
The Way
May 20, 2016
$6.74
64% (87%/67%)
27,735 ±4,615
10,853 ±2,887
03:51 (01:58)
90
The Haunted: Hells Reach
Oct 24, 2011
$2.24
64% (87%/51%)
61,097 ±6,850
50,848 ±6,249
05:38 (02:14)
91
Meltdown
Jun 5, 2014
$3.49
62% (86%)
60,495 ±6,816
38,387 ±5,430
04:26 (02:21)
92
Super Chibi Knight
Jun 24, 2015
$2.49
62% (86%)
11,255 ±2,940
9,446 ±2,693
11:01 (03:24)
93
Mystik Belle
May 22, 2015
$7.49
62% (86%)
4,221 ±1,800
3,216 ±1,571
02:56 (03:04)
94
Slash or Die
Jun 3, 2016
$0.89
62% (86%)
36,779 ±5,315
28,539 ±4,682
03:08 (03:28)
95
Gnomes Vs. Fairies: Greckel's Quest
Jul 1, 2016
$4.49
N/A (N/A)
4,020 ±1,757
2,211 ±1,303
02:30 (03:28)
96
Viking Squad
Oct 4, 2016
$8.99
62% (86%)
8,039 ±2,485
7,637 ±2,422
04:25 (03:32)
97
SiN Episodes: Emergence
May 10, 2006
$9.99
62% (86%/75%)
224,694 ±13,134
66,122 ±7,126
03:42 (01:52)
98
Gurgamoth
Feb 16, 2016
$0.49
N/A (N/A)
11,255 ±2,940
8,039 ±2,485
02:38 (02:21)
99
TY the Tasmanian Tiger 4
Sep 17, 2015
$1.49
62% (86%)
15,274 ±3,425
9,245 ±2,664
02:41 (02:00)
100
Earn to Die 2
May 5, 2016
$3.49
62% (86%)
12,461 ±3,093
11,858 ±3,018
08:28 (05:31)
101
Moccasin
Feb 21, 2017
$0.99
N/A (N/A)
96,872 ±8,625
80,994 ±7,887
05:01 (03:30)
102
htoL#NiQ: The Firefly Diary
May 18, 2016
$7.49
59% (85%)
10,652 ±2,860
6,833 ±2,291
04:24 (02:30)
103
Shadow Blade: Reload
Aug 10, 2015
$4.49
59% (85%/70%)
24,921 ±4,375
13,265 ±3,192
02:47 (03:19)
104
Amaranthine
Apr 6, 2016
$0.89
N/A (N/A)
4,221 ±1,800
3,216 ±1,571
03:02 (04:04)
105
Square Brawl
Oct 22, 2015
$4.99
59% (85%)
13,667 ±3,240
7,235 ±2,357
02:15 (01:12)
106
Western 1849 Reloaded
Feb 10, 2017
$1.49
N/A (N/A)
7,637 ±2,422
2,613 ±1,416
03:57 (04:26)
107
Tron 2.0
Oct 10, 2014
$2.49
59% (85%/84%)
33,965 ±5,107
18,289 ±3,748
02:54 (01:04)
108
Droid Assault
Jan 9, 2013
$4.29
59% (85%)
85,818 ±8,118
56,676 ±6,598
02:30 (01:23)
109
STANDBY
Jan 6, 2017
$3.19
N/A (N/A)
18,088 ±3,727
6,431 ±2,222
02:41 (03:01)
110
BANZAI PECAN: The Last Hope For the Young Century
Jan 26, 2015
$5.99
N/A (N/A)
20,098 ±3,929
3,417 ±1,620
00:45 (00:33)
111
Yomawari: Night Alone
Oct 25, 2016
$9.99
56% (84%)
19,093 ±3,829
14,269 ±3,310
03:13 (01:44)
112
Last Knight: Rogue Rider Edition
Oct 3, 2014
$1.59
56% (84%)
34,166 ±5,123
21,907 ±4,102
03:37 (02:40)
113
Vintage Year
Jan 2, 2015
$2.99
N/A (N/A)
24,117 ±4,304
17,686 ±3,685
02:08 (01:31)
114
Hive Jump
Jan 18, 2017
$9.99
56% (84%)
6,833 ±2,291
5,828 ±2,116
04:03 (02:01)
115
Jim Power -The Lost Dimension
Sep 30, 2015
$1.99
N/A (N/A)
15,475 ±3,447
10,250 ±2,806
05:02 (05:56)
116
Rack N Ruin
Sep 1, 2015
$0.99
N/A (N/A)
21,907 ±4,102
14,872 ±3,380
03:39 (02:32)
117
Bear Simulator
Feb 26, 2016
$14.99
54% (83%)
11,456 ±2,966
11,255 ±2,940
05:12 (02:13)
118
Deathstate: Abyssal Edition
Oct 19, 2015
$1.99
54% (83%)
14,068 ±3,287
9,647 ±2,722
08:26 (04:05)
119
Super Star Path
Jun 22, 2015
$2.49
54% (83%)
16,279 ±3,536
11,456 ±2,966
04:01 (04:36)
120
Fighties
Jul 13, 2015
$4.99
54% (83%)
15,877 ±3,492
14,872 ±3,380
08:54 (03:49)
121
Karateka
Dec 3, 2012
$4.99
54% (83%/48%)
32,759 ±5,016
11,456 ±2,966
01:38 (00:37)
122
Rocketbirds 2 Evolution
Jan 26, 2017
$4.99
54% (83%)
12,059 ±3,043
8,240 ±2,515
03:43 (02:19)
123
Blade Arcus from Shining: Battle Arena
Jul 28, 2016
$14.99
54% (83%)
5,828 ±2,116
4,020 ±1,757
08:54 (23:39)
124
Roll'd
Apr 14, 2016
$0.49
54% (83%)
64,916 ±7,061
39,593 ±5,514
02:51 (02:33)
125
Weapon of Choice
Sep 23, 2015
$4.99
N/A (N/A)
8,039 ±2,485
4,221 ±1,800
02:46 (03:44)
126
Jet Gunner
Aug 4, 2014
$0.49
51% (82%)
148,724 ±10,687
97,073 ±8,634
02:02 (01:09)
127
Protoshift
Jan 15, 2016
$0.49
N/A (N/A)
16,279 ±3,536
10,250 ±2,806
03:40 (03:32)
128
Bulletstorm: Full Clip Edition
Apr 7, 2017
$34.99
51% (82%/76%)
14,470 ±3,334
11,858 ±3,018
06:21 (06:10)
129
Trigger Runners
Mar 3, 2016
$0.99
N/A (N/A)
11,657 ±2,992
7,235 ±2,357
03:16 (03:30)
130
In Verbis Virtus
Apr 3, 2015
$4.99
49% (81%)
70,142 ±7,340
54,465 ±6,468
03:59 (02:25)
131
Gemini: Heroes Reborn
Jan 18, 2016
$2.99
49% (81%/54%)
48,838 ±6,124
6,632 ±2,257
02:42 (01:48)
132
Legend (1994)
Nov 10, 2015
$1.74
N/A (N/A)
13,466 ±3,216
9,245 ±2,664
05:21 (06:09)
133
Enemy Mind
Jun 6, 2014
$1.99
49% (81%)
259,865 ±14,124
147,518 ±10,643
02:50 (02:16)
134
Airport Madness: World Edition
May 28, 2015
$4.99
49% (81%)
22,912 ±4,195
17,083 ±3,622
04:59 (02:43)
135
Velocity 2X
Aug 19, 2015
$4.99
N/A (N/A)
52,857 ±6,371
10,250 ±2,806
02:47 (01:48)
136
Gatling Gears
Aug 30, 2011
$9.99
49% (81%)
37,784 ±5,387
20,701 ±3,987
03:10 (02:24)
137
The Tiny Tale 2
Jan 30, 2015
$1.39
N/A (N/A)
6,029 ±2,152
4,623 ±1,884
03:37 (03:09)
138
Darkstar One
Feb 13, 2008
$1.99
46% (80%/71%)
103,303 ±8,907
59,289 ±6,748
06:59 (01:42)
139
The Legend of Dark Witch
Dec 1, 2015
$2.49
46% (80%)
28,740 ±4,698
14,671 ±3,357
03:17 (02:38)
140
Ace of Protectors
Jun 27, 2016
$1.39
N/A (N/A)
12,461 ±3,093
9,848 ±2,750
04:58 (05:15)
141
Leisure Suit Larry in the Land of the Lounge Lizards: Reloaded
Jun 27, 2013
$4.99
46% (80%)
78,382 ±7,759
46,426 ±5,971
04:34 (02:22)
142
The Warlock of Firetop Mountain
Aug 30, 2016
$9.99
46% (80%/70%)
10,853 ±2,887
8,843 ±2,606
02:59 (01:41)
143
Dragon's Lair 2: Time Warp
Oct 24, 2013
$4.99
N/A (N/A)
5,828 ±2,116
3,015 ±1,521
00:34 (00:27)
144
Envoy
Mar 17, 2016
$0.49
N/A (N/A)
40,196 ±5,556
26,931 ±4,548
04:10 (04:01)
145
Vector Strain
Dec 9, 2015
$1.49
N/A (N/A)
22,711 ±4,176
13,466 ±3,216
03:06 (03:20)
146
Curse of the Crescent Isle DX
Aug 21, 2015
$0.49
46% (80%)
8,642 ±2,576
6,029 ±2,152
02:42 (02:30)
147
Run Rabbit Run
Mar 31, 2016
$2.99
N/A (N/A)
15,877 ±3,492
10,853 ±2,887
01:54 (01:45)
148
GIBZ
Apr 7, 2017
$5.99
44% (79%)
7,637 ±2,422
7,235 ±2,357
04:05 (03:45)
149
Strike Suit Zero: Director's Cut
Apr 8, 2014
$19.99
44% (79%)
43,210 ±5,761
29,142 ±4,731
03:07 (01:20)
150
Sky Gamblers: Storm Raiders
Jan 7, 2015
$4.99
44% (79%)
9,245 ±2,664
8,240 ±2,515
04:19 (02:22)
151
Tank Destroyer
Mar 9, 2017
$0.5
44% (79%)
6,632 ±2,257
3,819 ±1,712
02:16 (02:31)
152
TRON RUN/r
Feb 16, 2016
$4.99
44% (79%)
11,255 ±2,940
8,240 ±2,515
02:50 (02:19)
153
Rhythm Rush!
Apr 24, 2017
$0.99
N/A (N/A)
4,422 ±1,843
3,417 ±1,620
03:21 (03:35)
154
Boulder Dash - 30th Anniversary
Sep 13, 2016
$14.99
N/A (N/A)
2,010 ±1,242
2,010 ±1,242
10:37 (09:30)
155
Section 8: Prejudice
May 4, 2011
$2.49
44% (79%/77%)
209,420 ±12,680
172,038 ±11,493
07:07 (03:14)
156
Zeno Clash 2
Apr 30, 2013
$2.99
44% (79%)
253,635 ±13,954
117,371 ±9,494
03:47 (01:50)
157
Hail to the King: Deathbat
Oct 30, 2014
$5.99
44% (79%)
7,034 ±2,324
5,627 ±2,079
02:18 (01:38)
158
The Signal From Tlva
Apr 10, 2017
$13.99
44% (79%)
4,823 ±1,924
4,422 ±1,843
04:15 (02:27)
159
LocoCycle
Feb 14, 2014
$1.99
42% (78%)
16,480 ±3,558
7,034 ±2,324
01:58 (01:04)
160
Flinthook
Apr 18, 2017
$11.99
42% (78%/80%)
19,093 ±3,829
17,887 ±3,706
08:10 (04:41)
161
Rocket Knight
May 11, 2010
$2.99
42% (78%/63%)
9,647 ±2,722
6,431 ±2,222
03:09 (01:53)
162
A.R.E.S. Extinction Agenda EX
Oct 3, 2014
$2.99
42% (78%)
9,848 ±2,750
7,436 ±2,390
03:24 (03:24)
163
Adventure Time: Magic Man's Head Games
Apr 5, 2016
$4.99
42% (78%)
4,221 ±1,800
4,020 ±1,757
01:12 (01:18)
164
Cashtronauts
Aug 31, 2016
$1.59
N/A (N/A)
9,647 ±2,722
7,034 ±2,324
03:28 (03:16)
165
Pixel-Warfare: Pro
Sep 20, 2016
$0.99
N/A (N/A)
19,897 ±3,909
2,010 ±1,242
01:11 (00:03)
166
Dark Sector
Mar 24, 2009
$9.99
42% (78%/66%)
68,132 ±7,234
29,946 ±4,796
05:03 (01:53)
167
Cross of the Dutchman
Sep 10, 2015
$4.49
42% (78%/59%)
25,122 ±4,393
14,671 ±3,357
03:44 (03:29)
168
Disney Infinity 3.0: Gold Edition
Dec 9, 2016
$14.99
42% (78%)
8,441 ±2,546
4,623 ±1,884
12:34 (06:57)
169
PixelJunk Shooter Ultimate
Oct 21, 2015
$0.99
N/A (N/A)
11,657 ±2,992
7,637 ±2,422
03:58 (02:35)
170
Zombeer
Jan 30, 2015
$4.99
40% (77%/32%)
3,618 ±1,667
2,814 ±1,470
02:37 (02:03)
171
Vampire of the Sands
Jul 17, 2015
$0.49
N/A (N/A)
28,740 ±4,698
15,073 ±3,402
04:57 (05:32)
172
Jelly Killer
Mar 24, 2016
$1.07
40% (77%)
11,657 ±2,992
7,838 ±2,453
03:20 (02:55)
173
Anima Gate of Memories
Jun 2, 2016
$9.99
40% (77%)
17,686 ±3,685
11,255 ±2,940
04:51 (01:27)
174
Arkshot
May 19, 2016
$1.69
N/A (N/A)
11,456 ±2,966
7,637 ±2,422
01:54 (01:32)
175
Fist Puncher
Jun 21, 2013
$0.99
40% (77%/73%)
40,598 ±5,584
25,323 ±4,410
03:12 (01:52)
176
Smell Of Death
Jul 4, 2016
$7.99
N/A (N/A)
8,642 ±2,576
804 ±785
01:39 (01:56)
177
BloodRayne
Sep 14, 2006
$0.99
40% (77%/65%)
63,710 ±6,995
41,402 ±5,639
03:48 (03:35)
178
Master Reboot
Oct 29, 2013
$5.09
38% (76%/59%)
78,985 ±7,788
39,794 ±5,528
03:19 (02:22)
179
Fatal Fight
Jun 10, 2016
$2.99
N/A (N/A)
2,010 ±1,242
1,407 ±1,039
03:22 (04:21)
180
BiT Evolution
Jun 9, 2015
$4.99
N/A (N/A)
62,504 ±6,928
22,510 ±4,158
03:08 (01:58)
181
Hot Tin Roof: The Cat That Wore A Fedora
Feb 20, 2015
$7.49
N/A (N/A/66%)
120,788 ±9,631
26,730 ±4,531
02:13 (01:44)
182
Riddled Corpses
Jun 2, 2015
$1.99
38% (76%)
26,127 ±4,480
17,887 ±3,706
03:28 (03:04)
183
Corgi Warlock
Dec 3, 2015
$0.5
38% (76%)
27,534 ±4,599
21,706 ±4,083
02:53 (02:51)
184
Olympia Rising
Jul 23, 2015
$2.49
N/A (N/A)
18,088 ±3,727
12,059 ±3,043
02:56 (02:54)
185
Platformines
Mar 28, 2014
$2.49
38% (76%/67%)
116,367 ±9,453
49,441 ±6,162
02:55 (02:21)
186
Cast of the Seven Godsends - Redux
Jul 20, 2015
$0.69
N/A (N/A)
43,411 ±5,774
19,696 ±3,889
03:59 (04:00)
187
Retrovirus
Jan 31, 2013
$4.99
36% (75%/70%)
26,730 ±4,531
18,490 ±3,768
03:18 (01:55)
188
Tango Fiesta
Sep 24, 2015
$9.99
N/A (N/A)
27,735 ±4,615
8,240 ±2,515
01:38 (00:48)
189
Zombie Killtime
Aug 4, 2015
$1.99
N/A (N/A)
7,235 ±2,357
3,618 ±1,667
04:54 (04:35)
190
ABRACA - Imagic Games
Mar 31, 2016
$7.49
N/A (N/A)
9,647 ±2,722
1,809 ±1,178
02:04 (01:43)
191
Watch This!
Sep 23, 2016
$0.99
36% (75%)
20,500 ±3,968
12,662 ±3,118
01:20 (00:50)
192
Zombie Vikings
Dec 7, 2015
$2.99
36% (75%/74%)
17,284 ±3,643
8,441 ±2,546
03:20 (03:07)
193
Rex Rocket
Aug 5, 2014
$0.99
35% (74%)
25,524 ±4,428
14,671 ±3,357
03:43 (02:30)
194
BIOS
Dec 13, 2016
$5.09
35% (74%)
5,426 ±2,041
4,422 ±1,843
01:14 (01:30)
195
Incoming Forces
Mar 6, 2014
$0.99
N/A (N/A/67%)
163,998 ±11,222
83,808 ±8,023
03:35 (03:31)
196
Age of Barbarian Extended Cut
Jun 3, 2016
$9.09
35% (74%)
6,230 ±2,187
5,828 ±2,116
05:57 (04:28)
197
Adventure Time: Finn and Jake's Epic Quest
Apr 11, 2014
$9.99
35% (74%)
22,309 ±4,139
20,098 ±3,929
03:29 (01:20)
198
Warp
Mar 21, 2012
$2.49
35% (74%)
39,593 ±5,514
27,333 ±4,582
05:05 (01:39)
199
ManaCollect
Apr 17, 2015
$1.74
N/A (N/A)
10,853 ±2,887
6,833 ±2,291
04:00 (04:15)
200
Mighty Gunvolt
Sep 29, 2015
$1.24
33% (73%)
30,951 ±4,876
8,441 ±2,546
00:44 (00:23)
201
Wooden Sen'SeY
Dec 5, 2013
$9.99
N/A (N/A)
34,568 ±5,153
16,279 ±3,536
02:11 (01:44)
202
The Aquatic Adventure of the Last Human
Jan 19, 2016
$2.49
33% (73%/76%)
13,868 ±3,263
10,451 ±2,833
02:50 (01:55)
203
Viktor
Jun 13, 2014
$1.49
33% (73%)
22,711 ±4,176
15,877 ±3,492
03:30 (02:45)
204
Chronicles of Teddy
Apr 2, 2015
$5.99
31% (72%)
11,255 ±2,940
7,637 ±2,422
04:55 (02:10)
205
A.R.E.S.: Extinction Agenda
Jan 19, 2011
$1.49
31% (72%/68%)
133,651 ±10,131
96,872 ±8,625
02:35 (01:38)
206
Bubsy Two-Fur
Dec 17, 2015
$1.99
31% (72%)
13,868 ±3,263
10,250 ±2,806
03:09 (03:47)
207
King Lucas
Dec 1, 2016
$3.89
N/A (N/A)
9,446 ±2,693
5,225 ±2,003
02:49 (02:59)
208
Elliot Quest
Nov 10, 2014
$7.49
30% (71%)
27,534 ±4,599
7,637 ±2,422
04:01 (01:01)
209
Hunted: The Demons Forge
May 30, 2011
$1.24
30% (71%/61%)
120,185 ±9,607
60,093 ±6,794
05:10 (01:59)
210
FIVE: Guardians of David
Nov 24, 2015
$3.74
30% (71%/66%)
15,877 ±3,492
11,255 ±2,940
07:44 (09:00)
211
Castle Torgeath: Descent into Darkness
Dec 15, 2016
$3.99
N/A (N/A)
2,010 ±1,242
402 ±555
00:56 (00:37)
212
Bedlam
Oct 13, 2015
$1.94
28% (70%/54%)
81,798 ±7,926
35,573 ±5,227
02:54 (03:04)
213
Men of Valor
Feb 9, 2016
$2.49
28% (70%/71%)
9,245 ±2,664
6,632 ±2,257
03:46 (02:47)
214
Collapse
Apr 11, 2014
$1.99
28% (70%)
40,799 ±5,598
23,514 ±4,250
03:29 (02:26)
215
The Chaos Engine
Aug 29, 2013
$9.99
28% (70%/40%)
95,264 ±8,553
47,230 ±6,023
01:56 (01:12)
216
Locked Fears
Nov 4, 2016
$2.99
N/A (N/A)
2,412 ±1,361
1,407 ±1,039
01:21 (02:01)
217
Abyss Odyssey
Jul 15, 2014
$2.99
28% (70%/69%)
298,252 ±15,131
154,151 ±10,880
04:05 (02:16)
218
On My Own
Feb 26, 2016
$4.99
28% (70%)
18,691 ±3,789
5,024 ±1,964
02:29 (00:40)
219
The Next World
Mar 7, 2016
$4.41
28% (70%)
1,809 ±1,178
1,608 ±1,111
03:17 (03:27)
220
Wyv and Keep: The Temple of the Lost Idol
Aug 8, 2014
$1.49
N/A (N/A)
24,921 ±4,375
15,475 ±3,447
04:12 (04:34)
221
Banzai Escape
Feb 29, 2016
$1.49
N/A (N/A)
13,265 ±3,192
10,451 ±2,833
04:29 (05:02)
222
Deadlight: Director's Cut
Jun 21, 2016
$2.39
27% (69%)
21,907 ±4,102
9,245 ±2,664
03:34 (01:47)
223
Incandescent
Jun 30, 2015
$0.49
N/A (N/A)
23,715 ±4,268
14,872 ±3,380
03:42 (02:39)
224
Zombie Camp
Jul 31, 2016
$1.99
N/A (N/A)
11,054 ±2,914
7,838 ±2,453
02:14 (02:30)
225
Putrefaction
Aug 7, 2015
$0.49
27% (69%)
83,406 ±8,003
69,539 ±7,308
03:55 (03:30)
226
Duck Dynasty
Oct 14, 2014
$9.99
N/A (N/A)
4,623 ±1,884
2,010 ±1,242
03:24 (05:09)
227
Kill The Plumber
Dec 31, 2015
$2.99
N/A (N/A)
8,843 ±2,606
8,039 ±2,485
03:07 (02:47)
228
YAIBA: NINJA GAIDEN Z
Mar 21, 2014
$5.99
25% (68%/49%)
21,907 ±4,102
15,073 ±3,402
03:48 (01:21)
229
Uncanny Valley
Apr 23, 2015
$0.99
25% (68%/67%)
154,351 ±10,887
51,450 ±6,286
02:23 (01:59)
230
Scourge: Outbreak
Apr 2, 2014
$7.99
25% (68%)
129,832 ±9,985
55,269 ±6,515
05:05 (04:19)
231
Toy Odyssey: The Lost and Found
Sep 20, 2016
$3.74
25% (68%/66%)
54,063 ±6,444
11,858 ±3,018
04:55 (02:13)
232
METAGAL
May 22, 2016
$2.79
25% (68%)
2,814 ±1,470
2,211 ±1,303
04:52 (09:26)
233
BitMaster
Oct 12, 2016
$1.19
25% (68%)
119,984 ±9,599
107,323 ±9,078
03:13 (03:27)
234
8-Bit Commando
Jun 2, 2014
$2.24
N/A (N/A)
50,446 ±6,224
30,549 ±4,844
03:41 (03:35)
235
VR Journey
Dec 15, 2016
$0.5
N/A (N/A)
18,289 ±3,748
9,446 ±2,693
03:31 (03:30)
236
MIND: Path to Thalamus Enhanced Edition
Aug 5, 2014
$1.79
24% (67%/75%)
115,965 ±9,437
69,338 ±7,297
03:19 (02:13)
237
DRAGON QUEST HEROES Slime Edition
Dec 3, 2015
$19.99
23% (66%)
44,818 ±5,867
40,196 ±5,556
12:03 (04:46)
238
Hounds : The Last Hope
Jan 27, 2016
Free
23% (66%)
13,466 ±3,216
9,848 ±2,750
52:35 (03:09)
239
Majestic Nights
Oct 30, 2014
$0.99
N/A (N/A/32%)
20,098 ±3,929
13,265 ±3,192
02:11 (01:21)
240
Watchmen: The End is Nigh Part 2
Jul 29, 2009
$4.99
23% (66%/44%)
31,353 ±4,907
9,848 ±2,750
01:37 (00:43)
241
MacGuffin
Feb 18, 2016
$0.74
N/A (N/A)
7,235 ±2,357
402 ±555
01:09 (00:43)
242
Adventure World
Aug 2, 2016
$3.49
N/A (N/A)
14,872 ±3,380
11,657 ±2,992
03:46 (04:32)
243
Double Dragon IV
Jan 30, 2017
$4.33
23% (66%/50%)
7,838 ±2,453
6,833 ±2,291
01:59 (01:27)
244
Revenge of Roger Rouge
Apr 22, 2016
$0.74
N/A (N/A)
3,015 ±1,521
1,809 ±1,178
03:48 (03:46)
245
Cruel Arena
Aug 18, 2015
$0.49
N/A (N/A)
9,044 ±2,635
2,412 ±1,361
00:20 (00:14)
246
Resilience: Wave Survival
Dec 23, 2015
$5.99
23% (66%)
5,426 ±2,041
4,221 ±1,800
01:31 (00:46)
247
Urban Pirate
Jun 17, 2016
$3.49
N/A (N/A)
8,240 ±2,515
4,823 ±1,924
03:00 (03:53)
248
Malebolgia
May 6, 2015
$2.59
23% (66%)
17,485 ±3,664
11,456 ±2,966
03:17 (03:18)
249
Stick 'Em Up 2: Paper Adventures
Jul 27, 2015
$0.98
22% (65%)
12,863 ±3,143
5,828 ±2,116
00:41 (00:34)
250
4089: Ghost Within
Jan 9, 2015
$1.49
22% (65%)
19,294 ±3,849
10,853 ±2,887
02:05 (01:27)
251
Stonerid
Aug 15, 2014
$0.49
22% (65%)
51,049 ±6,261
32,759 ±5,016
03:41 (02:17)
252
Mytheon
Dec 8, 2015
$3.99
22% (65%)
5,426 ±2,041
4,422 ±1,843
02:30 (00:46)
253
Nightmare on Azathoth
Oct 30, 2015
$0.84
N/A (N/A)
6,431 ±2,222
4,221 ±1,800
02:55 (03:19)
254
Devil's Dare
Oct 21, 2014
$12.99
22% (65%)
22,912 ±4,195
15,877 ±3,492
03:25 (02:30)
255
Fair Strike
Apr 23, 2015
$0.51
N/A (N/A/56%)
3,819 ±1,712
2,814 ±1,470
02:13 (02:46)
256
Marble Mountain
Apr 4, 2016
$4.99
N/A (N/A)
5,024 ±1,964
3,417 ±1,620
05:34 (05:42)
257
Zoo Rampage
Jul 9, 2014
$3.99
21% (64%)
6,230 ±2,187
5,225 ±2,003
03:02 (03:33)
258
Smithy
Jun 3, 2016
$0.51
N/A (N/A)
10,250 ±2,806
7,436 ±2,390
02:42 (03:20)
259
Q*bert: Rebooted
Jul 7, 2014
$4.99
21% (64%)
11,858 ±3,018
9,446 ±2,693
02:15 (00:33)
260
Blood Knights
Nov 13, 2013
$2.49
21% (64%)
71,950 ±7,434
42,005 ±5,680
03:04 (02:07)
261
State of Anarchy: Master of Mayhem
Mar 31, 2017
$1.59
N/A (N/A)
32,960 ±5,031
15,073 ±3,402
04:29 (04:22)
262
Infinity Runner
Jul 14, 2014
$2.37
21% (64%/56%)
12,461 ±3,093
8,642 ±2,576
02:57 (02:27)
263
Xenus 2. White gold.
Nov 30, 2016
$5.99
N/A (N/A)
6,230 ±2,187
603 ±680
00:28 (00:26)
264
Hybrid Wars
Sep 29, 2016
$17.99
19% (63%/54%)
10,652 ±2,860
7,838 ±2,453
06:34 (03:33)
265
Overruled!
Sep 15, 2015
$3.24
N/A (N/A)
38,387 ±5,430
10,250 ±2,806
02:27 (01:45)
266
Sky To Fly: Faster Than Wind
Mar 25, 2016
$2.99
N/A (N/A)
15,877 ±3,492
10,853 ±2,887
02:32 (02:53)
267
Mad Combat Marines
Jul 13, 2016
$0.89
19% (63%)
18,691 ±3,789
12,662 ±3,118
02:02 (01:53)
268
Disney Alice in Wonderland
Oct 6, 2014
$4.99
N/A (N/A/63%)
10,853 ±2,887
5,024 ±1,964
04:51 (03:38)
269
Flashback
Oct 1, 2013
$4.99
19% (63%)
26,529 ±4,514
19,495 ±3,869
06:47 (02:33)
270
Sir! I'd Like To Report A Bug!
Oct 19, 2015
$0.99
N/A (N/A)
4,422 ±1,843
3,015 ±1,521
02:53 (03:11)
271
Pirates of the Caribbean: At World's End
Oct 6, 2014
$4.99
N/A (N/A)
9,647 ±2,722
4,823 ±1,924
02:53 (03:27)
272
E.T. Armies
Mar 3, 2016
$2.24
19% (63%/54%)
10,853 ±2,887
6,029 ±2,152
03:33 (03:48)
273
Tommy Tronic
Oct 28, 2010
$9.99
N/A (N/A)
4,221 ±1,800
2,814 ±1,470
04:12 (03:18)
274
Dinocide
Jan 21, 2016
$2.99
N/A (N/A/51%)
63,107 ±6,962
19,696 ±3,889
02:53 (02:24)
275
Homefront
Mar 14, 2011
$4.99
18% (62%/70%)
825,821 ±25,162
648,960 ±22,310
10:36 (04:39)
276
Disney Epic Mickey 2: The Power of Two
Oct 6, 2014
$4.99
18% (62%)
13,064 ±3,167
8,240 ±2,515
10:23 (05:39)
277
Sun Blast: Star Fighter
Apr 2, 2015
$0.49
18% (62%)
184,498 ±11,902
131,641 ±10,054
03:17 (02:55)
278
Ninjahtic Mind Tricks
Jul 16, 2015
$0.69
N/A (N/A)
9,848 ±2,750
6,029 ±2,152
03:36 (03:35)
279
Hyperspace Pinball
Sep 30, 2015
$2.99
N/A (N/A)
11,255 ±2,940
7,235 ±2,357
02:48 (03:03)
280
Vector Thrust
Jul 2, 2015
$4.99
17% (61%/57%)
34,367 ±5,138
19,495 ±3,869
05:56 (01:36)
281
Heavy Fire: Afghanistan
Aug 15, 2014
$0.98
17% (61%)
35,171 ±5,197
24,720 ±4,357
02:07 (01:45)
282
Evil Tag
Apr 7, 2017
$3.99
17% (61%)
1,407 ±1,039
1,206 ±962
02:42 (04:11)
283
Pixel Boy and the Ever Expanding Dungeon
May 30, 2014
$0.49
17% (61%)
38,990 ±5,472
29,142 ±4,731
02:39 (01:19)
284
Bombshell
Jan 29, 2016
$3.49
17% (61%)
9,044 ±2,635
6,431 ±2,222
02:29 (00:52)
285
Wanderlust Adventures
Aug 10, 2015
$1.99
17% (61%)
18,289 ±3,748
16,882 ±3,601
06:28 (03:56)
286
Woolfe - The Red Hood Diaries
Mar 17, 2015
$3.39
17% (61%/55%)
64,112 ±7,017
45,421 ±5,906
02:53 (01:39)
287
Woodle Tree 2: Worlds
Sep 16, 2016
$1.91
16% (60%)
29,343 ±4,747
21,505 ±4,064
03:39 (04:15)
288
Escape From Nazi Labs
Nov 8, 2016
$1.49
N/A (N/A)
4,422 ±1,843
3,216 ±1,571
02:42 (03:02)
289
Masked Forces
Nov 23, 2016
$0.89
16% (60%)
12,059 ±3,043
9,647 ±2,722
02:27 (01:44)
290
Will Fight for Food: Super Actual Sellout: Game of the Hour
Apr 22, 2015
$0.89
N/A (N/A)
17,083 ±3,622
10,853 ±2,887
03:15 (03:10)
291
Survival Zombies The Inverted Evolution
May 8, 2017
$0.49
15% (59%)
42,607 ±5,720
28,338 ±4,665
02:44 (02:07)
292
Russian VR Coasters
Jul 27, 2016
$4.31
N/A (N/A)
1,809 ±1,178
1,809 ±1,178
03:35 (04:30)
293
Virtual Rogue
Apr 8, 2016
$0.5
N/A (N/A)
11,456 ±2,966
5,426 ±2,041
02:28 (02:58)
294
Invention 2
Sep 23, 2016
$0.49
14% (57%)
30,549 ±4,844
25,725 ±4,445
05:05 (06:22)
295
HitBox
Jan 30, 2017
$1.99
N/A (N/A)
5,024 ±1,964
2,814 ±1,470
04:06 (05:25)
296
Inversion
Jul 26, 2012
$2.49
14% (57%)
42,607 ±5,720
28,137 ±4,649
04:28 (02:37)
297
Prospekt
Feb 18, 2016
$4.99
14% (57%/43%)
19,495 ±3,869
15,073 ±3,402
03:10 (02:45)
298
The Waste Land
Sep 16, 2014
$0.99
14% (57%)
8,642 ±2,576
6,833 ±2,291
03:33 (02:58)
299
Unearthed: Trail of Ibn Battuta - Episode 1 - Gold Edition
Jan 3, 2014
$3.49
14% (57%)
29,745 ±4,780
18,289 ±3,748
02:04 (01:25)
300
Super Helmets on Fire DX Ultra Edition Plus Alpha
Feb 15, 2016
$0.49
N/A (N/A)
12,461 ±3,093
7,436 ±2,390
02:44 (03:20)
301
Aegis
Oct 6, 2016
$0.68
N/A (N/A)
9,245 ±2,664
6,632 ±2,257
02:30 (02:23)
302
Tic-Toc-Tower
Sep 28, 2015
$0.49
N/A (N/A)
14,872 ±3,380
8,441 ±2,546
03:49 (03:52)
303
Wickland
Feb 6, 2015
$0.49
13% (56%)
109,734 ±9,180
63,911 ±7,006
02:17 (01:47)
304
LARA CROFT AND THE TEMPLE OF OSIRIS
Dec 8, 2014
$3.99
13% (56%/73%)
257,453 ±14,059
108,327 ±9,121
05:38 (02:05)
305
Biodrone Battle
Jul 16, 2015
$0.49
13% (56%)
109,734 ±9,180
86,622 ±8,156
03:39 (03:31)
306
Scooby Doo! & Looney Tunes Cartoon Universe: Adventure
Jul 16, 2014
$4.99
N/A (N/A)
3,417 ±1,620
1,407 ±1,039
01:41 (03:25)
307
Yar's Revenge
Apr 28, 2011
$2.49
N/A (N/A/56%)
5,225 ±2,003
2,412 ±1,361
00:55 (01:17)
308
Rocko's Quest
Apr 24, 2014
$1.24
N/A (N/A/41%)
5,627 ±2,079
201 ±392
00:09 (00:03)
309
The Stalin Subway
Sep 19, 2014
$0.51
11% (53%)
15,073 ±3,402
10,652 ±2,860
02:32 (01:23)
310
Guncraft
Aug 9, 2013
$2.24
10% (52%/73%)
128,224 ±9,923
98,881 ±8,714
05:28 (01:29)
311
Mobile Light Force (aka Gunbird)
Jul 17, 2015
$4.99
N/A (N/A)
1,005 ±878
603 ±680
01:07 (01:06)
312
Dusty Revenge:Co-Op Edition
Feb 17, 2014
$4.94
10% (51%)
92,249 ±8,417
23,715 ±4,268
02:52 (02:34)
313
Rubber and Lead
Sep 4, 2015
$4.99
N/A (N/A)
42,406 ±5,707
32,358 ±4,985
04:23 (04:31)
314
Plancon: Space Conflict
Aug 8, 2016
$1.39
N/A (N/A)
4,823 ±1,924
3,015 ±1,521
02:44 (03:22)
315
The East New World
Apr 26, 2016
$1.99
N/A (N/A)
1,206 ±962
804 ±785
06:01 (04:05)
316
Disposable Heroes
Mar 22, 2016
$1.24
N/A (N/A)
12,260 ±3,068
6,632 ±2,257
03:20 (02:58)
317
Runeyana
Mar 21, 2017
$8.99
N/A (N/A)
8,240 ±2,515
4,623 ±1,884
04:44 (05:45)
318
Samudai
Feb 9, 2015
$1.01
N/A (N/A)
25,926 ±4,462
15,475 ±3,447
02:32 (01:24)
319
Damage Inc. Pacific Squadron WWII
Aug 28, 2012
$39.99
N/A (N/A)
2,814 ±1,470
2,211 ±1,303
07:54 (11:47)
320
Radical Spectrum: Volume 1
Jul 8, 2016
$0.49
N/A (N/A)
66,725 ±7,159
39,995 ±5,542
04:04 (04:18)
321
Fabula Mortis
Oct 27, 2014
$1.19
N/A (N/A)
19,294 ±3,849
12,662 ±3,118
03:26 (02:54)
322
Heavy Fire: Shattered Spear
Oct 23, 2015
$0.95
N/A (N/A)
6,029 ±2,152
3,417 ±1,620
03:12 (04:12)
323
Albedo: Eyes from Outer Space
Apr 10, 2015
$1.49
8% (48%/66%)
52,455 ±6,347
25,926 ±4,462
02:57 (01:43)
324
DisneyPixar Cars 2: The Video Game
Oct 6, 2014
$4.99
N/A (N/A)
11,054 ±2,914
5,627 ±2,079
12:14 (06:19)
325
Inner Chains
May 18, 2017
$12.99
8% (48%/44%)
2,211 ±1,303
1,407 ±1,039
02:12 (01:06)
326
Dark Void
Jan 19, 2010
$1.99
7% (47%/57%)
43,813 ±5,801
24,117 ±4,304
02:02 (00:36)
327
MinosMaze - The Minotaur's Labyrinth
May 1, 2017
$0.49
N/A (N/A)
10,451 ±2,833
5,627 ±2,079
02:37 (03:07)
328
Call of Juarez: The Cartel
Sep 13, 2011
$4.99
7% (47%/51%)
197,361 ±12,310
166,209 ±11,297
08:21 (03:23)
329
The Stalin Subway: Red Veil
Oct 24, 2014
$0.5
7% (47%)
18,490 ±3,768
11,054 ±2,914
02:04 (01:22)
330
Babel Rising
Aug 7, 2012
Free
7% (46%)
20,299 ±3,948
17,887 ±3,706
01:08 (00:46)
331
Fly in the House
Mar 6, 2015
$1.49
7% (46%)
13,064 ±3,167
9,446 ±2,693
06:39 (01:56)
332
Infinium Strike
Jul 14, 2016
$4.99
N/A (N/A)
6,230 ±2,187
4,623 ±1,884
02:24 (02:12)
333
The Bluecoats: North vs South
Feb 2, 2015
$0.99
7% (46%)
28,338 ±4,665
16,882 ±3,601
02:29 (02:40)
334
World War II GI
Nov 13, 2015
$1.74
N/A (N/A)
8,642 ±2,576
2,010 ±1,242
00:20 (00:34)
335
Quick Slick Deadly
Sep 21, 2015
$0.49
N/A (N/A)
37,985 ±5,401
24,318 ±4,322
03:13 (03:33)
336
Dusk 12
Aug 22, 2014
$0.51
6% (44%)
9,848 ±2,750
7,637 ±2,422
03:58 (02:15)
337
Burstfire
Sep 24, 2015
Free
6% (43%)
69,941 ±7,329
51,049 ±6,261
04:05 (05:10)
338
Onikira - Demon Killer
Aug 27, 2015
$2.79
6% (43%)
47,632 ±6,048
27,534 ±4,599
02:16 (01:27)
339
#KILLALLZOMBIES
Aug 10, 2016
$1.19
N/A (N/A)
1,809 ±1,178
1,407 ±1,039
04:05 (06:22)
340
Nux
Aug 15, 2014
$0.69
N/A (N/A)
150,734 ±10,759
95,264 ±8,553
03:21 (03:01)
341
R.I.P.D.: The Game
Jul 16, 2013
$9.99
5% (42%)
30,951 ±4,876
20,701 ±3,987
02:40 (02:17)
342
Beyond Space Remastered Edition
Jun 18, 2014
$1.69
4% (40%)
35,573 ±5,227
23,715 ±4,268
01:38 (01:17)
343
Obludia
Jul 18, 2014
$1.79
N/A (N/A)
16,882 ±3,601
11,054 ±2,914
01:49 (01:15)
344
Bladestar
Jan 15, 2016
$1.49
N/A (N/A)
5,426 ±2,041
4,020 ±1,757
03:38 (03:44)
345
Air Conflicts: Pacific Carriers
Sep 21, 2012
$1.94
4% (40%)
113,955 ±9,355
48,637 ±6,112
04:53 (00:46)
346
Dark Matter
Oct 17, 2013
$1.99
4% (40%)
21,304 ±4,045
13,064 ±3,167
01:54 (01:15)
347
Cabela's Dangerous Hunts 2013
Oct 22, 2012
$7.49
4% (40%)
12,461 ±3,093
9,044 ±2,635
02:36 (01:34)
348
Dead But Alive! Southern England
Oct 2, 2015
$5.99
N/A (N/A)
14,470 ±3,334
8,642 ±2,576
03:19 (03:05)
349
Vendetta - Curse of Raven's Cry
Nov 20, 2015
$49.99
4% (39%)
3,216 ±1,571
2,814 ±1,470
03:28 (01:57)
350
Zombie Apocalypse: Escape The Undead City
Jun 17, 2016
$0.5
N/A (N/A)
6,230 ±2,187
3,819 ±1,712
02:00 (02:35)
351
Ashbourne
Jan 19, 2017
$0.99
N/A (N/A)
5,426 ±2,041
3,618 ±1,667
03:45 (03:49)
352
Blue Sheep
Mar 31, 2016
$0.99
N/A (N/A)
5,627 ±2,079
5,225 ±2,003
03:00 (02:44)
353
Tiamat X
May 29, 2015
$0.79
N/A (N/A)
52,656 ±6,359
28,941 ±4,715
03:46 (03:48)
354
Kick-Ass 2
Aug 15, 2014
$3.99
N/A (N/A)
16,681 ±3,579
11,255 ±2,940
02:43 (02:30)
355
Umbrella Corps/Biohazard Umbrella Corps
Jun 21, 2016
$5.99
3% (34%)
11,858 ±3,018
10,049 ±2,778
10:43 (02:56)
356
CDF Ghostship
Jun 26, 2015
$5.09
2% (33%)
3,417 ±1,620
2,412 ±1,361
01:42 (01:47)
357
Robotex
Nov 19, 2014
$4.99
2% (31%)
177,062 ±11,660
117,974 ±9,518
02:27 (02:21)
358
Bloodbath
Jun 16, 2014
$2.99
N/A (N/A)
7,436 ±2,390
5,225 ±2,003
01:59 (01:44)
359
Hush
Jul 29, 2015
$9.99
N/A (N/A)
11,858 ±3,018
7,436 ±2,390
05:31 (05:52)
360
Solar Shifter EX
Sep 11, 2015
$1.49
N/A (N/A)
21,304 ±4,045
7,838 ±2,453
03:23 (03:45)
361
Killbot
Jul 10, 2016
$0.99
2% (29%)
48,235 ±6,086
46,426 ±5,971
03:29 (03:30)
362
Knight Adventure
Oct 15, 2015
$0.49
N/A (N/A)
11,858 ±3,018
10,853 ±2,887
02:41 (03:01)
363
Masterspace
Jun 15, 2015
$2.79
1% (27%)
14,068 ±3,287
8,039 ±2,485
06:04 (01:34)
364
Psichodelya
Aug 8, 2014
$0.69
N/A (N/A)
55,872 ±6,551
24,720 ±4,357
02:38 (02:16)
365
Zombies on a Plane
Mar 25, 2016
$1.24
N/A (N/A)
5,627 ±2,079
5,024 ±1,964
03:58 (03:20)
366
Super Dungeon Bros
Nov 1, 2016
$6.79
N/A (N/A)
2,211 ±1,303
1,608 ±1,111
03:56 (03:05)
367
Hard Truck Apocalypse: Arcade / Ex Machina: Arcade
Mar 14, 2014
$0.49
1% (24%)
20,299 ±3,948
14,269 ±3,310
02:28 (02:45)
368
The Asskickers-Steam Edition
Feb 6, 2015
$0.99
N/A (N/A)
12,461 ±3,093
7,637 ±2,422
03:37 (02:40)
369
VERGE:Lost chapter
Oct 1, 2015
$0.49
0% (19%)
73,759 ±7,526
66,524 ±7,148
04:04 (04:00)
370
Once Bitten, Twice Dead!
Jul 7, 2015
$4.99
N/A (N/A)
24,921 ±4,375
13,868 ±3,263
05:38 (04:01)
371
Lost Base Escape
Jan 23, 2017
$0.49
N/A (N/A)
91,847 ±8,399
78,985 ±7,788
04:13 (04:30)
372
Iron Soul
Feb 26, 2014
$4.99
N/A (N/A)
11,858 ±3,018
4,823 ±1,924
02:04 (01:59)