App

! That Bastard Is Trying To Steal Our Gold !
! That Bastard Is Trying To Steal Our Gold !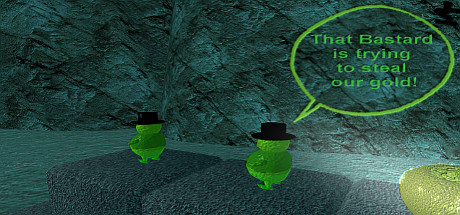 Store | Hub | SteamDB | Site
Developer: WTFOMGames Publisher: WTFOMGames
Genre: Action, Adventure, Casual, Indie
Languages: English
Tags: Action (23), Casual (22), Indie (22), Adventure (22), Memes (7), Psychological Horror (5)
Category: Single-player, Steam Trading Cards, Partial Controller Support
Release date: Mar 3, 2016
Price: $3.99
Owners: 6,376 ± 2,356
Players in the last 2 weeks: 629 ± 1,231 (9.86%)
Players total: 3,643 ± 1,781 (57.14%)
Followers: 95
Peak concurrent players yesterday: 9
Playtime in the last 2 weeks: 05:10 (average) 05:10 (median)
Playtime total: 05:28 (average) 06:33 (median)

Steam Spy is still in beta, so expect major bugs.
Peak daily concurrent players:
CCU data courtesy of SteamDB. Used with permission.
Hourly concurrent players:
YouTube:
The views data is based on top 50 videos uploaded last week. Actual number of views might be more than the number shown.

The displayed number of videos uploaded yesterday is limited to 50, so if there were more videos uploaded, the number will still show 50.

If the game has commonly used word as its name (like "FEAR" or "Volume") its number of Youtube views might be wrong.
Games similar to this one:
#
Game
Release date

Price

Score rank
(Userscore / Metascore)

Owners

Players

Playtime (Median)

1
Extravaganza Rising
Jul 21, 2016
$5.99
N/A (N/A)
6,831 ±2,439
5,010 ±2,088
04:45 (04:17)
2
SPINGUN
Nov 11, 2016
$1.99
N/A (N/A)
8,653 ±2,745
4,782 ±2,040
03:10 (02:37)
3
Wuppo
Sep 29, 2016
$14.99
100% (100%/80%)
6,831 ±2,439
5,693 ±2,226
07:23 (04:58)
4
Umihara Kawase
Nov 2, 2015
$9.99
N/A (N/A)
5,693 ±2,226
2,960 ±1,605
03:05 (03:35)
5
Little Big Adventure 2
Oct 20, 2015
$3.99
100% (99%)
14,801 ±3,590
5,465 ±2,181
06:08 (03:53)
6
Chicken Invaders 2
Mar 4, 2016
$3.99
N/A (N/A)
3,643 ±1,781
3,188 ±1,666
03:32 (03:18)
7
JUJU
Dec 10, 2014
$19.99
N/A (N/A/65%)
4,782 ±2,040
3,416 ±1,724
12:23 (04:04)
8
Mr. Shifty
Apr 13, 2017
$14.99
92% (95%)
6,831 ±2,439
5,693 ±2,226
02:00 (01:10)
9
Streets of Fury EX
Jun 25, 2015
$9.99
92% (95%)
8,425 ±2,708
7,287 ±2,519
12:53 (02:15)
10
UBERMOSH:BLACK
Feb 17, 2016
$0.49
92% (95%)
23,682 ±4,541
7,515 ±2,558
00:33 (00:20)
11
Delta Force: Black Hawk Down
Jun 18, 2009
$14.99
92% (95%/77%)
30,286 ±5,135
14,346 ±3,534
06:22 (01:51)
12
IS Defense
Apr 19, 2016
$5.99
92% (95%/50%)
15,029 ±3,617
14,118 ±3,506
03:51 (03:05)
13
Counter Spell
Oct 5, 2015
$6.99
89% (94%)
4,327 ±1,941
4,327 ±1,941
02:34 (01:49)
14
Lethe - Episode One
Aug 1, 2016
$14.99
89% (94%)
3,188 ±1,666
2,733 ±1,542
02:29 (01:56)
15
Weird Hero
Nov 18, 2016
$3.99
86% (93%)
6,831 ±2,439
3,643 ±1,781
03:10 (03:37)
16
Explosionade
Sep 23, 2015
$3.99
N/A (N/A)
11,841 ±3,211
6,831 ±2,439
02:34 (03:05)
17
Mad Bullets
Jun 10, 2016
$1.99
86% (93%)
9,792 ±2,920
5,465 ±2,181
04:58 (03:59)
18
Twisted Arrow
Mar 28, 2017
$19.99
N/A (N/A)
1,594 ±1,178
1,139 ±995
00:15 (00:18)
19
ESCHATOS
Sep 18, 2015
$14.99
86% (93%)
4,327 ±1,941
3,416 ±1,724
02:22 (02:15)
20
Painkiller: Black Edition
Jan 24, 2007
$9.99
83% (92%)
341,799 ±17,246
174,429 ±12,322
04:18 (01:11)
21
Dandy: Or a Brief Glimpse Into the Life of the Candy Alchemist
Aug 4, 2015
$9.99
N/A (N/A)
7,287 ±2,519
3,643 ±1,781
03:05 (03:12)
22
Bullet Sorrow VR
Apr 17, 2017
$24.99
83% (92%)
9,109 ±2,816
8,198 ±2,672
03:37 (01:56)
23
Color Guardians
May 12, 2015
$14.99
N/A (N/A)
1,822 ±1,259
1,366 ±1,090
25:30 (24:53)
24
Planet of the Eyes
Aug 24, 2015
$9.99
79% (91%/66%)
69,681 ±7,789
13,207 ±3,391
02:46 (01:50)
25
Z.A.R.
May 1, 2015
$5.99
N/A (N/A)
17,079 ±3,856
1,139 ±995
01:32 (02:18)
26
Joint Operations: Combined Arms Gold
Sep 29, 2009
$19.99
79% (91%)
12,752 ±3,332
4,099 ±1,889
03:47 (01:48)
27
Wish Project
Mar 22, 2016
$1.99
N/A (N/A)
1,822 ±1,259
1,139 ±995
11:27 (02:21)
28
Ace of Seafood
Apr 8, 2016
$11.99
75% (90%)
6,604 ±2,398
5,010 ±2,088
05:14 (03:54)
29
Clash of Puppets
Dec 16, 2014
$4.99
N/A (N/A)
14,346 ±3,534
8,198 ±2,672
03:30 (03:11)
30
Ember Kaboom
Jun 3, 2016
$4.99
N/A (N/A)
23,910 ±4,563
2,505 ±1,477
01:05 (01:02)
31
Super Furball
Apr 21, 2015
$3.99
N/A (N/A)
8,653 ±2,745
3,871 ±1,836
03:39 (02:36)
32
Bird Assassin
Aug 27, 2014
$0.99
75% (90%)
17,534 ±3,907
7,059 ±2,479
00:55 (01:01)
33
Tank Destroyer
Mar 9, 2017
$2.99
N/A (N/A)
3,871 ±1,836
2,049 ±1,336
02:23 (02:43)
34
The Disney Afternoon Collection
Apr 18, 2017
$19.99
N/A (N/A)
1,822 ±1,259
1,139 ±995
01:58 (01:04)
35
Star Trek: Judgment Rites
May 8, 2015
$5.99
N/A (N/A)
6,376 ±2,356
2,733 ±1,542
02:15 (03:20)
36
Earn to Die 2
May 5, 2016
$4.99
72% (89%)
10,703 ±3,053
10,475 ±3,020
08:18 (05:52)
37
Rad Rodgers: World One
Dec 1, 2016
$8.99
N/A (N/A/72%)
7,287 ±2,519
5,010 ±2,088
01:02 (01:20)
38
Tiny Barbarian DX
Dec 3, 2013
$9.99
72% (89%)
28,009 ±4,938
16,623 ±3,804
02:08 (01:19)
39
NeonXSZ
Feb 22, 2016
$14.99
69% (88%)
3,871 ±1,836
2,733 ±1,542
17:47 (31:53)
40
LASTFIGHT
May 19, 2016
$14.99
N/A (N/A)
2,733 ±1,542
1,822 ±1,259
01:53 (03:00)
41
JUDGEMENT SILVERSWORD - Resurrection -
Sep 18, 2015
$4.99
N/A (N/A)
3,871 ±1,836
1,139 ±995
00:30 (00:45)
42
ALLTYNEX Second
Dec 11, 2014
$7.99
N/A (N/A)
39,167 ±5,840
10,930 ±3,085
00:54 (00:16)
43
Shmups Skill Test
Jun 9, 2016
$4.99
N/A (N/A)
2,733 ±1,542
1,594 ±1,178
01:42 (01:10)
44
ORCS
May 20, 2016
$0.99
69% (88%)
14,346 ±3,534
10,247 ±2,987
01:37 (01:16)
45
The Way
May 20, 2016
$6.74
66% (87%/67%)
22,316 ±4,408
9,109 ±2,816
04:04 (03:03)
46
Comanche 4
Jun 18, 2009
$9.99
N/A (N/A/74%)
26,643 ±4,816
12,297 ±3,272
04:22 (00:55)
47
Xmas Shooting - Scramble!!
Dec 16, 2016
$4.99
N/A (N/A)
2,733 ±1,542
1,594 ±1,178
00:20 (00:26)
48
MDK 2
Sep 17, 2009
$9.99
66% (87%/83%)
20,039 ±4,177
7,742 ±2,596
02:22 (01:10)
49
Inbound
Jul 5, 2016
$12.99
N/A (N/A)
2,505 ±1,477
2,505 ±1,477
00:25 (00:18)
50
Prison Run and Gun
Mar 16, 2016
$1.99
63% (86%)
10,019 ±2,954
6,376 ±2,356
03:24 (02:12)
51
The Tiny Tale 2
Jan 30, 2015
$6.99
N/A (N/A)
4,782 ±2,040
2,960 ±1,605
04:58 (03:13)
52
Shrouded in Sanity
May 27, 2016
$5.99
63% (86%)
4,327 ±1,941
3,188 ±1,666
02:15 (00:56)
53
A Lenda do Heri - O Heri desta Cano
Mar 24, 2016
$15.99
63% (86%)
12,069 ±3,242
11,613 ±3,180
09:12 (05:58)
54
htoL#NiQ: The Firefly Diary
May 18, 2016
$14.99
60% (85%)
8,198 ±2,672
5,693 ±2,226
04:48 (02:50)
55
Renegade Ops
Oct 26, 2011
$15
60% (85%/76%)
734,150 ±25,262
204,260 ±13,334
03:09 (01:08)
56
Gurgamoth
Feb 16, 2016
$4.99
N/A (N/A)
10,475 ±3,020
7,059 ±2,479
02:08 (02:54)
57
Mystik Belle
May 22, 2015
$9.99
60% (85%)
3,188 ±1,666
2,277 ±1,408
05:41 (08:43)
58
SHOCK TROOPERS
May 18, 2016
$7.99
N/A (N/A)
24,821 ±4,649
3,416 ±1,724
00:58 (01:24)
59
BANZAI PECAN: The Last Hope For the Young Century
Jan 26, 2015
$5.99
N/A (N/A)
19,356 ±4,105
2,049 ±1,336
00:46 (01:06)
60
Junk Jack
Nov 30, 2016
$14.99
58% (84%)
9,792 ±2,920
9,336 ±2,851
06:34 (02:41)
61
Rack N Ruin
Sep 1, 2015
$9.99
N/A (N/A)
15,712 ±3,699
8,653 ±2,745
06:03 (03:58)
62
Blue Effect VR
Feb 8, 2017
$14.99
58% (84%)
5,010 ±2,088
4,782 ±2,040
01:25 (01:38)
63
Blade Arcus from Shining: Battle Arena
Jul 28, 2016
$29.99
55% (83%)
2,505 ±1,477
2,277 ±1,408
05:48 (08:15)
64
Dragon's Lair 2: Time Warp
Oct 24, 2013
$9.99
N/A (N/A)
7,059 ±2,479
3,188 ±1,666
02:20 (01:38)
65
Quick Draw
Jan 10, 2017
$9.99
N/A (N/A)
5,693 ±2,226
2,277 ±1,408
00:25 (00:37)
66
Explodemon
Mar 25, 2014
$8.99
N/A (N/A)
32,791 ±5,343
8,653 ±2,745
01:35 (00:18)
67
Karateka
Dec 3, 2012
$9.99
52% (82%/48%)
30,286 ±5,135
12,524 ±3,302
01:43 (01:05)
68
Overkill VR: Action Shooter FPS
Mar 10, 2017
$19.99
52% (82%)
9,109 ±2,816
8,653 ±2,745
02:56 (01:54)
69
TWINKLE STAR SPRITES
May 26, 2016
$7.99
N/A (N/A)
24,593 ±4,627
3,416 ±1,724
08:38 (03:54)
70
Umihara Kawase Shun: Steam Edition
Nov 24, 2015
$11.99
N/A (N/A)
5,465 ±2,181
2,049 ±1,336
01:33 (01:53)
71
DESYNC
Feb 28, 2017
$14.99
50% (81%/69%)
2,960 ±1,605
2,733 ±1,542
03:37 (03:19)
72
ARCADE GAME SERIES: Ms. PAC-MAN
Apr 19, 2016
$3.99
N/A (N/A)
2,733 ±1,542
1,594 ±1,178
02:59 (04:33)
73
GIBZ
Apr 7, 2017
$7.99
50% (81%)
4,099 ±1,889
3,871 ±1,836
02:33 (03:39)
74
Disney Infinity 3.0: Gold Edition
Dec 9, 2016
$29.99
48% (80%)
8,653 ±2,745
4,327 ±1,941
24:24 (09:46)
75
rooMaze
Mar 3, 2017
$1.99
48% (80%)
2,733 ±1,542
2,733 ±1,542
02:21 (03:05)
76
AquaNox
Apr 20, 2010
$4.99
46% (79%/67%)
140,727 ±11,068
21,177 ±4,294
02:16 (00:30)
77
Zombeer
Jan 30, 2015
$4.99
46% (79%/32%)
5,237 ±2,135
4,327 ±1,941
01:14 (01:01)
78
Hail to the King: Deathbat
Oct 30, 2014
$5.99
46% (79%)
6,831 ±2,439
4,327 ±1,941
07:14 (01:45)
79
Curse of the Crescent Isle DX
Aug 21, 2015
$4.99
N/A (N/A)
7,742 ±2,596
5,010 ±2,088
03:43 (02:10)
80
Shadow Ops: Red Mercury
Jul 2, 2014
$6.99
46% (79%/61%)
19,356 ±4,105
4,327 ±1,941
02:09 (00:44)
81
PixelJunk Shooter Ultimate
Oct 21, 2015
$9.99
N/A (N/A)
6,376 ±2,356
4,554 ±1,991
05:23 (06:53)
82
Monster High: New Ghoul in School
Dec 21, 2015
$9.99
N/A (N/A)
3,871 ±1,836
3,188 ±1,666
18:13 (11:59)
83
Wicce
May 2, 2016
$4.99
N/A (N/A)
1,822 ±1,259
683 ±771
04:22 (04:21)
84
Raptor: Call of The Shadows - 2015 Edition
Feb 13, 2015
$4.99
44% (78%)
21,633 ±4,340
10,703 ±3,053
02:04 (01:13)
85
Smell Of Death
Jul 4, 2016
$15.99
N/A (N/A)
7,515 ±2,558
683 ±771
01:08 (01:00)
86
Tank Brawl
Apr 20, 2016
$3.99
N/A (N/A)
4,327 ±1,941
455 ±629
01:41 (01:07)
87
Adventure Time: Magic Man's Head Games
Apr 5, 2016
$4.99
39% (76%)
4,099 ±1,889
3,188 ±1,666
00:31 (00:44)
88
Project Freedom
Oct 14, 2009
$2.99
39% (76%)
22,999 ±4,475
8,653 ±2,745
01:26 (00:29)
89
Special Tactics
Apr 26, 2016
$9.99
N/A (N/A)
2,049 ±1,336
1,594 ±1,178
04:11 (06:00)
90
Zombie Vikings
Dec 7, 2015
$5.39
39% (76%/74%)
16,168 ±3,752
7,742 ±2,596
03:40 (03:55)
91
Casey Powell Lacrosse 16
Mar 8, 2016
$49.99
N/A (N/A)
3,188 ±1,666
3,188 ±1,666
03:32 (03:20)
92
Syndrome
Oct 6, 2016
$19.99
35% (74%/56%)
3,416 ±1,724
2,277 ±1,408
02:12 (02:10)
93
Adventure Time: Finn and Jake's Epic Quest
Apr 11, 2014
$9.99
35% (74%)
25,959 ±4,754
25,049 ±4,670
02:18 (01:11)
94
ManaCollect
Apr 17, 2015
$6.99
N/A (N/A)
8,198 ±2,672
4,099 ±1,889
02:55 (01:45)
95
Harold
Feb 12, 2015
$9.99
N/A (N/A/70%)
2,049 ±1,336
1,594 ±1,178
01:25 (02:50)
96
V ARRR
Jun 10, 2016
$1.99
N/A (N/A)
2,277 ±1,408
2,049 ±1,336
01:15 (01:46)
97
Battle Fantasia -Revised Edition-
Jul 7, 2015
$14.99
32% (72%)
8,653 ±2,745
3,871 ±1,836
02:16 (03:14)
98
Deathtrap Dungeon
Oct 3, 2013
$6.99
N/A (N/A)
7,059 ±2,479
2,049 ±1,336
00:33 (00:43)
99
Crow
Oct 6, 2014
$4.99
N/A (N/A)
23,455 ±4,519
3,871 ±1,836
00:36 (00:38)
100
Wyv and Keep: The Temple of the Lost Idol
Aug 8, 2014
$14.99
N/A (N/A)
21,177 ±4,294
10,930 ±3,085
03:32 (04:03)
101
Locked Fears
Nov 4, 2016
$2.99
N/A (N/A)
3,188 ±1,666
1,822 ±1,259
02:39 (02:06)
102
Toren
May 11, 2015
$9.99
29% (70%/57%)
51,008 ±6,664
26,643 ±4,816
02:12 (01:32)
103
Back in 1995
Apr 28, 2016
$11.99
29% (70%/52%)
1,366 ±1,090
683 ±771
01:31 (01:31)
104
Cruel Arena
Aug 18, 2015
$0.99
N/A (N/A)
8,198 ±2,672
2,049 ±1,336
00:37 (00:47)
105
Majestic Nights
Oct 30, 2014
$4.99
N/A (N/A/32%)
15,940 ±3,725
8,198 ±2,672
02:18 (01:18)
106
Duck Dynasty
Oct 14, 2014
$39.99
N/A (N/A)
4,554 ±1,991
2,049 ±1,336
01:52 (02:23)
107
STAR WARS - X-Wing Special Edition
Apr 28, 2015
$9.99
25% (67%)
153,707 ±11,567
38,484 ±5,789
01:48 (00:18)
108
DRAGON QUEST HEROES Slime Edition
Dec 3, 2015
$39.99
25% (67%)
45,771 ±6,313
41,444 ±6,007
11:58 (05:58)
109
Malebolgia
May 6, 2015
$12.99
25% (67%)
16,623 ±3,804
8,198 ±2,672
04:30 (01:47)
110
King Lucas
Dec 1, 2016
$12.99
N/A (N/A)
9,336 ±2,851
4,554 ±1,991
03:13 (03:32)
111
Watchmen: The End is Nigh Part 2
Jul 29, 2009
$4.99
23% (66%/44%)
31,880 ±5,269
8,198 ±2,672
02:18 (01:41)
112
JUMP
Jul 30, 2015
$9.99
N/A (N/A)
1,366 ±1,090
1,366 ±1,090
00:23 (00:40)
113
SHOCK TROOPERS 2nd Squad
Sep 28, 2016
$7.99
N/A (N/A)
8,198 ±2,672
911 ±890
01:22 (01:48)
114
Mytheon
Dec 8, 2015
$3.39
22% (65%)
4,327 ±1,941
2,960 ±1,605
01:56 (00:54)
115
Double Dragon IV
Jan 30, 2017
$6.99
22% (65%/50%)
6,831 ±2,439
6,831 ±2,439
02:11 (01:28)
116
Goliath
May 12, 2016
$11.99
20% (63%/57%)
18,217 ±3,983
12,297 ±3,272
04:59 (03:37)
117
Tommy Tronic
Oct 28, 2010
$9.99
N/A (N/A)
3,188 ±1,666
2,049 ±1,336
06:17 (15:45)
118
Tic-Toc-Tower
Sep 28, 2015
$4.99
N/A (N/A)
12,980 ±3,362
7,970 ±2,634
06:01 (04:02)
119
Predator Simulator
May 15, 2015
$2.99
N/A (N/A)
20,267 ±4,201
1,594 ±1,178
00:24 (00:36)
120
Escape From Nazi Labs
Nov 8, 2016
$4.99
N/A (N/A)
4,782 ±2,040
2,505 ±1,477
02:10 (02:58)
121
The Secret of Pineview Forest
Oct 31, 2016
Free
16% (60%)
21,177 ±4,294
10,019 ±2,954
00:40 (00:14)
122
Evil Tag
Apr 7, 2017
$7.99
16% (59%)
1,822 ±1,259
1,366 ±1,090
01:10 (01:27)
123
Chasing Dead
Mar 3, 2016
$9.99
16% (59%)
2,733 ±1,542
2,733 ±1,542
01:51 (01:41)
124
Russian VR Coasters
Jul 27, 2016
$5.75
N/A (N/A)
1,594 ±1,178
1,594 ±1,178
02:26 (02:28)
125
Solarix
Apr 30, 2015
$19.99
13% (56%)
19,128 ±4,081
8,198 ±2,672
03:16 (02:32)
126
Disposable Heroes
Mar 22, 2016
$4.99
N/A (N/A)
7,970 ±2,634
5,010 ±2,088
03:29 (04:58)
127
GAROU: MARK OF THE WOLVES
Dec 6, 2016
$9.99
10% (52%)
3,416 ±1,724
3,188 ±1,666
01:14 (01:05)
128
iStorm
Apr 16, 2017
Free
N/A (N/A)
2,505 ±1,477
1,366 ±1,090
00:28 (00:40)
129
The East New World
Apr 26, 2016
$4.99
N/A (N/A)
3,188 ±1,666
2,505 ±1,477
07:58 (19:38)
130
Damage Inc. Pacific Squadron WWII
Aug 28, 2012
$39.99
N/A (N/A)
3,416 ±1,724
3,188 ±1,666
06:21 (05:41)
131
Runeyana
Mar 21, 2017
$8.99
N/A (N/A)
5,921 ±2,270
2,733 ±1,542
05:22 (06:15)
132
Infinium Strike
Jul 14, 2016
$9.99
N/A (N/A)
3,871 ±1,836
3,643 ±1,781
30:28 (01:58)
133
ALONE IN SPACE
Feb 22, 2016
$9.99
8% (48%)
5,693 ±2,226
4,327 ±1,941
03:06 (02:21)
134
Deformers
Apr 20, 2017
$29.99
N/A (N/A)
6,831 ±2,439
2,277 ±1,408
01:30 (01:14)
135
Grimm: Dark Legacy
Nov 2, 2016
$14.99
N/A (N/A)
1,594 ±1,178
1,594 ±1,178
01:45 (02:04)
136
Coniclysm
Mar 26, 2010
$4.99
N/A (N/A)
8,198 ±2,672
1,594 ±1,178
00:51 (00:28)
137
Undead Shadows
Feb 2, 2015
$3.99
N/A (N/A)
10,247 ±2,987
1,366 ±1,090
00:27 (00:49)
138
Wave of Darkness
Nov 5, 2015
$29.99
N/A (N/A)
12,752 ±3,332
6,604 ±2,398
05:34 (04:13)
139
Dusk 12
Aug 22, 2014
$0.79
5% (41%)
6,831 ±2,439
3,643 ±1,781
04:26 (03:32)
140
Cabela's Dangerous Hunts 2013
Oct 22, 2012
$29.99
4% (40%)
10,930 ±3,085
7,742 ±2,596
02:30 (01:21)
141
Umbrella Corps/Biohazard Umbrella Corps
Jun 21, 2016
$29.99
3% (36%)
10,019 ±2,954
9,109 ±2,816
04:27 (02:13)
142
Bloodbath
Jun 16, 2014
$14.99
N/A (N/A)
7,059 ±2,479
3,871 ±1,836
02:42 (01:51)
143
Sam Glyph: Private Eye!
Oct 9, 2014
$1.99
N/A (N/A)
5,237 ±2,135
228 ±445
00:16 (00:05)
144
Raiden Legacy - Steam Edition
Dec 10, 2015
$9.99
N/A (N/A)
2,049 ±1,336
1,366 ±1,090
00:55 (01:07)
145
Super Dungeon Bros
Nov 1, 2016
$19.99
N/A (N/A)
1,594 ±1,178
1,139 ±995
02:11 (02:20)
146
Sayaka
Jan 4, 2017
$2.99
N/A (N/A)
1,366 ±1,090
911 ±890
01:53 (02:29)
147
Iron Soul
Feb 26, 2014
$4.99
N/A (N/A)
12,069 ±3,242
3,643 ±1,781
01:27 (01:29)
148
Star Project
Aug 4, 2016
$1.99
N/A (N/A)
42,355 ±6,073
29,147 ±5,038
02:54 (03:18)