App

Don't Die Dateless, Dummy!
Don't Die Dateless, Dummy!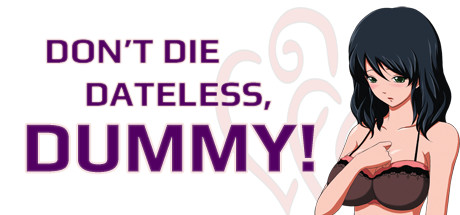 Store | Hub | SteamDB
Developer: cupholder Publisher: cupholder
Genre: Adventure, Indie, Simulation
Languages: English
Tags: Simulation (26), Indie (23), Adventure (23), Nudity (18), Dating Sim (14), Anime (12), Visual Novel (10)
Category: Single-player, Steam Achievements, Stats
Release date: Mar 21, 2016
Price: $2.99
Old userscore: 57% Owners: 2,710 ± 1,767
Players total: 2,710 ± 1,767 (100%)
Followers: 1,036
Peak concurrent players yesterday: 1
Playtime total: 00:52 (average) 01:00 (median)

Steam Spy is still in beta, so expect major bugs.
Peak daily concurrent players:
CCU data courtesy of SteamDB. Used with permission.
Hourly concurrent players:
YouTube:
The views data is based on top 50 videos uploaded last week. Actual number of views might be more than the number shown.

The displayed number of videos uploaded yesterday is limited to 50, so if there were more videos uploaded, the number will still show 50.

If the game has commonly used word as its name (like "FEAR" or "Volume") its number of Youtube views might be wrong.
Games similar to this one:
#
Game
Release date

Price

Score rank
(Userscore / Metascore)

Owners

Players

Playtime (Median)

1
Putt-Putt and Pep's Dog on a Stick
May 1, 2014
$4.99
N/A (N/A)
21,379 ±4,964
3,914 ±2,124
00:15 (00:07)
2
Zasa - An AI Story
Apr 11, 2016
$0.99
N/A (N/A)
19,572 ±4,750
4,216 ±2,204
00:21 (00:14)
3
Pierhead Arcade
Sep 21, 2016
$9.99
92% (95%)
13,851 ±3,996
12,044 ±3,726
02:19 (01:05)
4
Sally's Law
Aug 24, 2016
$3.99
92% (95%)
5,721 ±2,568
3,011 ±1,863
02:50 (04:03)
5
Trainz Trouble
Aug 26, 2014
$4.99
N/A (N/A)
13,851 ±3,996
3,011 ±1,863
01:38 (00:30)
6
The Collider
Sep 15, 2014
$2.99
70% (89%)
34,327 ±6,290
26,498 ±5,527
02:21 (01:20)
7
Bejeweled Twist
Nov 18, 2008
$4.99
70% (89%/78%)
34,327 ±6,290
18,368 ±4,601
73:28 (04:13)
8
Avalon Legends Solitaire 2
Oct 4, 2016
$9.99
N/A (N/A)
871 ±1,205
435 ±852
00:01 (00:00)
9
Evochron Legacy
Jan 18, 2016
$24.99
48% (81%)
13,249 ±3,908
11,743 ±3,679
11:47 (05:24)
10
Drunk On Nectar
Nov 16, 2016
$14.99
N/A (N/A)
2,108 ±1,558
2,108 ±1,558
01:03 (01:25)
11
Legend of Merchant
Dec 16, 2016
$1.99
46% (80%)
23,788 ±5,236
22,282 ±5,068
03:45 (02:06)
12
BUSTED!
Oct 11, 2016
$4.99
33% (73%)
2,710 ±1,767
2,710 ±1,767
01:06 (01:01)
13
The Sandbox Evolution - Craft a 2D Pixel Universe!
Nov 15, 2016
$4.99
31% (72%)
13,249 ±3,908
11,442 ±3,632
04:40 (01:08)
14
Home Improvisation: Furniture Sandbox
Jul 28, 2016
$9.99
28% (70%)
14,754 ±4,124
13,249 ±3,908
01:33 (01:09)
15
Parkan 2
Apr 16, 2014
$3.99
25% (68%)
74,977 ±9,296
40,349 ±6,820
02:58 (01:49)
16
Solitaire Royale
Sep 15, 2016
Free
N/A (N/A)
15,658 ±4,248
1,506 ±1,317
03:30 (03:14)
17
ViveSpray
Nov 25, 2016
$6.99
24% (67%)
5,721 ±2,568
5,420 ±2,499
00:37 (00:31)
18
Rat Simulator
Jul 27, 2017
$7.99
N/A (N/A)
2,710 ±1,767
2,409 ±1,666
02:10 (03:29)
19
Astronaut Simulator
Apr 2, 2015
$1.99
16% (60%)
1,807 ±1,443
1,506 ±1,317
00:39 (01:00)
20
Space Legends: At the Edge of the Universe
Nov 24, 2014
$9.99
N/A (N/A)
17,464 ±4,487
4,216 ±2,204
02:57 (03:28)
21
Pump-Action Captain
Aug 20, 2015
$9.99
N/A (N/A)
3,011 ±1,863
903 ±1,020
00:09 (00:06)
22
MadOut
Jun 5, 2015
$9.99
N/A (N/A)
2,409 ±1,666
1,807 ±1,443
00:24 (00:44)
23
Apothecarium: The Renaissance of Evil - Premium Edition
May 28, 2015
$6.99
N/A (N/A)
18,067 ±4,563
5,119 ±2,429
06:35 (02:53)
24
MadOut Ice Storm
Sep 7, 2015
$6.99
N/A (N/A)
3,914 ±2,124
1,807 ±1,443
00:13 (00:17)
25
FPV Air Tracks
May 23, 2016
Free
4% (38%)
17,464 ±4,487
10,238 ±3,435
01:19 (00:18)
26
WarBirds - World War II Combat Aviation
May 5, 2015
$14.99
N/A (N/A)
6,323 ±2,700
2,108 ±1,558
02:22 (01:45)
27
Store Manager: Cellular Edition
Mar 31, 2017
$6.99
N/A (N/A)
8,431 ±3,117
1,204 ±1,178
04:40 (03:41)
28
Monomino
Oct 3, 2014
N/A
N/A (N/A)
5,420 ±2,499
602 ±833
00:23 (00:07)
29
J.U.R : Japan Underground Racing
Aug 17, 2016
$4.99
N/A (N/A)
9,937 ±3,384
2,108 ±1,558
00:26 (00:48)
30
Patterns
N/A
0% (13%)
6,926 ±2,825
6,022 ±2,634
02:48 (02:17)