App

Don't Die Dateless, Dummy!
Don't Die Dateless, Dummy!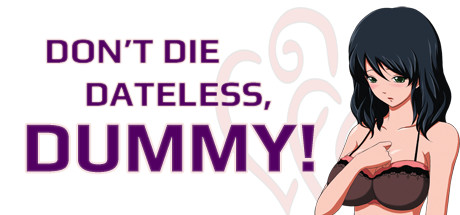 Store | Hub | SteamDB
Developer: cupholder Publisher: cupholder
Genre: Adventure, Indie, Simulation
Languages: English
Tags: Simulation (26), Adventure (23), Indie (23), Nudity (18), Dating Sim (14), Anime (12), Visual Novel (10)
Category: Single-player, Steam Achievements, Stats
Release date: Mar 21, 2016
Price: $2.99
Score rank: 12% Userscore: 55% Old userscore: 55%
Owners: 4,701 ± 2,109
Players total: 3,464 ± 1,811 (73.68%)
Followers: 1,049
Peak concurrent players yesterday: 1
YouTube stats: 310 views and 8 comments for videos uploaded last week, 0 new videos uploaded yesterday.
Playtime total: 00:27 (average) 00:36 (median)

Steam Spy is still in beta, so expect major bugs.
Peak daily concurrent players:
CCU data courtesy of SteamDB. Used with permission.
Hourly concurrent players:
YouTube:
The views data is based on top 50 videos uploaded last week. Actual number of views might be more than the number shown.

The displayed number of videos uploaded yesterday is limited to 50, so if there were more videos uploaded, the number will still show 50.

If the game has commonly used word as its name (like "FEAR" or "Volume") its number of Youtube views might be wrong.
Games similar to this one:
#
Game
Release date

Price

Score rank
(Userscore / Metascore)

Owners

Players

Playtime (Median)

1
Putt-Putt and Pep's Dog on a Stick
May 1, 2014
$4.99
N/A (N/A)
26,724 ±5,029
2,969 ±1,676
00:32 (00:48)
2
Zasa - An AI Story
Apr 11, 2016
$0.99
N/A (N/A)
22,518 ±4,617
5,196 ±2,218
00:31 (00:13)
3
Pierhead Arcade
Sep 21, 2016
$9.99
92% (95%)
12,867 ±3,490
10,640 ±3,173
02:01 (01:27)
4
Sally's Law
Aug 24, 2016
$3.99
89% (94%)
6,681 ±2,514
4,207 ±1,995
01:40 (01:21)
5
Trainz Trouble
Aug 26, 2014
$4.99
N/A (N/A)
10,145 ±3,099
2,227 ±1,452
01:00 (00:30)
6
Avalon Legends Solitaire 2
Oct 4, 2016
$9.99
N/A (N/A)
1,980 ±1,368
1,485 ±1,185
04:59 (08:49)
7
The Shadows of Pygmalion
Feb 24, 2017
$34.99
N/A (N/A)
742 ±838
495 ±684
03:42 (02:27)
8
The Collider
Sep 15, 2014
$2.99
71% (89%)
34,148 ±5,685
25,982 ±4,959
02:02 (01:20)
9
Bejeweled Twist
Nov 18, 2008
$4.99
68% (88%/78%)
45,035 ±6,529
20,538 ±4,409
17:36 (00:50)
10
Drunk On Nectar
Nov 16, 2016
$14.99
N/A (N/A)
1,980 ±1,368
1,980 ±1,368
03:22 (03:21)
11
Evochron Legacy
Jan 18, 2016
$24.99
49% (81%)
17,074 ±4,020
15,094 ±3,780
08:28 (02:05)
12
Legend of Merchant
Dec 16, 2016
$1.99
47% (80%)
19,796 ±4,329
18,806 ±4,219
05:16 (02:48)
13
BUSTED!
Oct 11, 2016
$4.99
33% (73%)
3,712 ±1,874
2,969 ±1,676
00:39 (01:04)
14
Parkan 2
Apr 16, 2014
$3.99
28% (70%)
73,739 ±8,354
37,364 ±5,947
03:16 (02:41)
15
Home Improvisation: Furniture Sandbox
Jul 28, 2016
$9.99
28% (70%)
14,104 ±3,654
11,877 ±3,353
01:37 (00:50)
16
ViveSpray
Nov 25, 2016
$6.99
26% (68%)
2,969 ±1,676
2,722 ±1,605
00:36 (00:15)
17
The Sandbox Evolution - Craft a 2D Pixel Universe!
Nov 15, 2016
Free
26% (68%)
39,344 ±6,102
31,673 ±5,475
03:12 (01:05)
18
Solitaire Royale
Sep 15, 2016
Free
N/A (N/A)
19,301 ±4,274
1,485 ±1,185
05:47 (11:27)
19
Rat Simulator
Jul 27, 2017
$7.99
N/A (N/A)
3,217 ±1,745
1,485 ±1,185
02:31 (02:52)
20
Astronaut Simulator
Apr 2, 2015
$1.99
16% (60%)
2,969 ±1,676
1,980 ±1,368
02:00 (04:55)
21
Space Legends: At the Edge of the Universe
Nov 24, 2014
$9.99
N/A (N/A)
15,342 ±3,811
3,464 ±1,811
05:25 (05:57)
22
Pump-Action Captain
Aug 20, 2015
$9.99
N/A (N/A)
2,722 ±1,605
1,237 ±1,082
00:08 (00:09)
23
MadOut
Jun 5, 2015
$9.99
N/A (N/A)
4,207 ±1,995
2,474 ±1,530
01:50 (05:16)
24
MadOut Ice Storm
Sep 7, 2015
$6.99
N/A (N/A)
5,444 ±2,270
3,959 ±1,936
00:22 (00:20)
25
Apothecarium: The Renaissance of Evil - Premium Edition
May 28, 2015
$6.99
N/A (N/A)
15,094 ±3,780
2,227 ±1,452
16:53 (24:00)
26
WarBirds - World War II Combat Aviation
May 5, 2015
$14.99
N/A (N/A)
6,681 ±2,514
1,732 ±1,280
02:24 (03:05)
27
FPV Air Tracks
May 23, 2016
Free
3% (36%)
16,084 ±3,902
9,898 ±3,061
00:52 (00:16)
28
Store Manager: Cellular Edition
Mar 31, 2017
$6.99
N/A (N/A)
10,145 ±3,099
1,980 ±1,368
14:53 (00:20)
29
Monomino
Oct 3, 2014
N/A
N/A (N/A)
6,434 ±2,467
742 ±838
00:53 (00:46)
30
J.U.R : Japan Underground Racing
Aug 17, 2016
$4.99
N/A (N/A)
11,877 ±3,353
1,980 ±1,368
01:08 (02:41)
31
Patterns
N/A
0% (14%)
9,403 ±2,983
8,908 ±2,904
02:15 (00:48)