R.C. Bot Inc.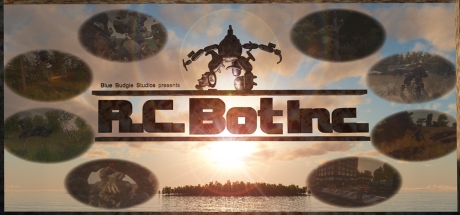 Store | Hub | SteamDB | Site
Developer: Blue Budgie Studios Publisher: Blue Budgie Studios
Genre: Action, Casual, Indie, Simulation, Strategy
Languages: English
Tags: Simulation (31), Strategy (21), Indie (21), Action (21), Casual (21), Physics (12), Robots (12)
Category: Single-player, Steam Achievements, Partial Controller Support
Release date: Jul 29, 2016
Price: $4.99
Owners: 2,052 ± 1,796
Players total: 2,478 ± 2,801 (120.75%)
Followers: 386
Playtime total: 00:06 (average) 00:09 (median)

Steam Spy is still in beta, so expect major bugs.
Peak daily concurrent players:
CCU data courtesy of SteamDB. Used with permission.
Hourly concurrent players:
YouTube:
The views data is based on top 50 videos uploaded last week. Actual number of views might be more than the number shown.

The displayed number of videos uploaded yesterday is limited to 50, so if there were more videos uploaded, the number will still show 50.

If the game has commonly used word as its name (like "FEAR" or "Volume") its number of Youtube views might be wrong.
Games similar to this one:
#
Game
Release date

Price

Score rank
(Userscore / Metascore)

Owners

Players

Playtime (Median)

1
DROD: The Second Sky
Nov 18, 2016
$14.99
N/A (N/A)
821 ±1,136
410 ±803
67:39 (33:49)
2
Second Death
Aug 17, 2016
$2.99
N/A (N/A)
1,231 ±1,391
0 ±0
00:00 (00:00)
3
Spells 'n' Stuff
Apr 4, 2016
N/A
N/A (N/A)
5,138 ±2,305
1,893 ±1,399
00:03 (00:05)
4
Dungeoncraft
Jun 5, 2015
$9.99
N/A (N/A)
2,434 ±1,587
0 ±0
00:00 (00:00)
5
Fractal
Jan 12, 2017
$6.99
N/A (N/A)
3,515 ±1,907
1,352 ±1,182
03:28 (01:14)
6
Pivot Pilot
Jan 6, 2017
$6.99
N/A (N/A)
11,357 ±3,428
6,219 ±2,537
03:20 (03:38)
7
Bit Shifter
Nov 2, 2015
$14.99
N/A (N/A)
4,597 ±2,181
270 ±529
02:13 (00:44)
8
To Ash
Mar 29, 2016
$1.99
N/A (N/A)
16,495 ±4,131
8,383 ±2,945
03:16 (03:46)
9
Edgar
Mar 29, 2016
$1.49
N/A (N/A)
3,515 ±1,907
0 ±0
00:00 (00:00)
10
ObserVR Beta
Oct 26, 2016
Free
N/A (N/A)
9,464 ±3,129
811 ±916
00:08 (00:04)
11
StandPoint
Mar 5, 2015
$9.99
N/A (N/A)
4,056 ±2,048
2,434 ±1,587
03:51 (03:51)
12
RPG Fighter League
Nov 11, 2016
$2.99
N/A (N/A)
2,434 ±1,587
270 ±529
01:23 (00:27)
13
Waddle Home
Jul 7, 2016
$9.99
N/A (N/A)
47,052 ±6,978
5,408 ±2,365
00:08 (00:04)
14
One Man Is Not No Man
Mar 18, 2016
$3.99
N/A (N/A)
4,867 ±2,244
270 ±529
00:21 (00:07)
15
Triennale Game Collection
Dec 7, 2016
Free
N/A (N/A)
10,005 ±3,217
3,786 ±1,979
00:17 (00:10)
16
LOST ORBIT
May 12, 2015
$11.99
N/A (N/A/72%)
2,163 ±1,496
1,622 ±1,295
02:31 (03:53)
17
Caretaker Sacrifice
Aug 17, 2016
$19.99
N/A (N/A)
2,462 ±1,967
410 ±803
01:14 (00:37)
18
Thirst VR
Aug 10, 2016
$2.99
74% (90%)
10,276 ±3,261
6,490 ±2,591
00:38 (00:13)
19
Snowball!
Dec 16, 2016
$2.99
N/A (N/A)
11,898 ±3,509
1,893 ±1,399
05:45 (12:40)
20
Angel Express [Tokkyu Tenshi]
Jul 15, 2016
$9.99
N/A (N/A)
4,597 ±2,181
2,704 ±1,672
03:22 (03:18)
21
The Seeker
Sep 2, 2016
$2.99
N/A (N/A)
2,052 ±1,796
0 ±0
00:00 (00:00)
22
CuVRball
Jan 31, 2017
Free
N/A (N/A)
4,056 ±2,048
1,352 ±1,182
00:15 (00:03)
23
Squareface
Sep 11, 2016
$4.49
N/A (N/A)
9,194 ±3,084
5,138 ±2,305
04:08 (04:47)
24
Realms of Arkania: Star Trail
Aug 10, 2017
$29.99
41% (77%)
4,056 ±2,048
2,704 ±1,672
34:54 (04:06)
25
Warriors & Castles
Jun 30, 2015
$2.99
N/A (N/A)
10,816 ±3,345
1,893 ±1,399
01:25 (00:58)
26
Potioneer: The VR Gardening Simulator
Oct 20, 2016
$9.99
N/A (N/A)
3,786 ±1,979
541 ±748
00:07 (00:03)
27
SurvHive
Aug 1, 2016
$14.99
33% (73%)
11,898 ±3,509
1,893 ±1,399
01:32 (02:16)
28
Grass Max
Jun 22, 2016
$4.99
N/A (N/A)
2,052 ±1,796
1,231 ±1,391
01:43 (02:29)
29
One Night Two Crazies
Aug 10, 2016
$0.99
N/A (N/A)
1,893 ±1,399
541 ±748
00:05 (00:02)
30
Synchrom
Aug 24, 2015
$4.99
N/A (N/A)
1,352 ±1,182
811 ±916
00:29 (00:26)
31
Furfly
Dec 18, 2015
$0.99
N/A (N/A)
4,327 ±2,116
0 ±0
00:00 (00:00)
32
ZombVR
Nov 17, 2017
$13.99
N/A (N/A)
1,631 ±2,259
1,631 ±2,259
00:45 (01:12)
33
GoatPunks
Jan 20, 2017
$9.99
N/A (N/A)
3,245 ±1,832
811 ±916
00:23 (00:15)
34
The Forgotten Forest
Nov 11, 2015
$0.99
N/A (N/A)
3,786 ±1,979
541 ±748
01:56 (01:17)
35
Shuttle Siege
Dec 30, 2016
$4.99
N/A (N/A)
11,898 ±3,509
270 ±529
01:05 (00:21)
36
Tribocalypse VR
Feb 3, 2017
$6.99
N/A (N/A)
3,515 ±1,907
270 ±529
00:18 (00:06)
37
The Challenge
Oct 7, 2016
$10.99
N/A (N/A)
11,087 ±3,387
8,383 ±2,945
03:01 (03:17)
38
Black Forest
Sep 9, 2016
Free
N/A (N/A)
14,873 ±3,923
1,352 ±1,182
00:21 (00:34)
39
Deep Eclipse: New Space Odyssey
Oct 28, 2014
$5.99
N/A (N/A)
34,613 ±5,985
3,515 ±1,907
00:10 (00:10)
40
Drunken Fight Simulator
Jan 17, 2017
$0.99
N/A (N/A)
4,867 ±2,244
541 ±748
00:26 (00:17)
41
BATTLECREW Space Pirates
Jul 10, 2017
Free
11% (53%)
108,976 ±10,618
53,542 ±7,443
00:27 (00:10)
42
Mind Unleashed
May 5, 2016
$2.99
N/A (N/A)
5,138 ±2,305
2,975 ±1,754
01:57 (02:41)
43
No Way Out
Jan 27, 2017
$0.99
N/A (N/A)
13,791 ±3,777
11,357 ±3,428
04:25 (04:00)
44
AsteroidsHD
Mar 4, 2016
$0.99
N/A (N/A)
12,709 ±3,626
541 ±748
01:03 (00:42)
45
Alphabeats: Master Edition
Mar 7, 2016
$7.99
N/A (N/A)
2,163 ±1,496
270 ±529
00:08 (00:02)
46
Sanctuary VR (Also contains non-VR version)
Dec 18, 2016
Free
N/A (N/A)
7,842 ±2,848
3,786 ±1,979
00:09 (00:09)
47
Gravity Core - Braintwisting Space Odyssey
Jul 1, 2015
$9.99
N/A (N/A)
2,434 ±1,587
1,352 ±1,182
04:22 (03:07)
48
aMAZEing adventures
Dec 21, 2017
$8.99
N/A (N/A)
3,786 ±1,979
2,163 ±1,496
02:13 (02:14)
49
Usagi Yojimbo: Way of the Ronin
Jan 30, 2015
$4.99
N/A (N/A)
2,975 ±1,754
270 ±529
00:02 (00:00)
50
Gamer Simulator
Sep 22, 2015
$0.99
N/A (N/A)
3,515 ±1,907
1,082 ±1,058
03:44 (04:53)
51
AWAKE
Dec 16, 2015
$4.99
N/A (N/A)
2,434 ±1,587
0 ±0
00:00 (00:00)
52
Miniature - The Story Puzzle
Oct 28, 2016
$3.99
N/A (N/A)
5,949 ±2,481
1,893 ±1,399
00:08 (00:06)
53
Day of the Trumplings
Sep 3, 2016
$0.99
N/A (N/A)
2,975 ±1,754
270 ±529
00:09 (00:03)
54
Dark Night
Jan 11, 2016
$3.99
N/A (N/A)
27,041 ±5,290
270 ±529
00:13 (00:04)
55
Johnny GravesThe Unchosen One
Apr 6, 2017
$4.99
N/A (N/A)
16,495 ±4,131
1,352 ±1,182
00:04 (00:04)
56
Omnipresent
Sep 28, 2015
$3.99
N/A (N/A)
2,163 ±1,496
811 ±916
04:59 (04:59)
57
Stern Pinball Arcade
Dec 23, 2016
Free
2% (33%)
14,061 ±3,814
10,005 ±3,217
00:47 (00:14)
58
Miner Wars Arena
Aug 28, 2012
$4.99
N/A (N/A)
27,582 ±5,342
2,975 ±1,754
00:25 (00:33)
59
Medieval Playground
Jan 29, 2016
$4.99
N/A (N/A)
3,515 ±1,907
541 ±748
00:12 (00:08)
60
The Janitor
Jul 19, 2016
$0.99
N/A (N/A)
65,710 ±8,246
4,867 ±2,244
03:48 (00:04)
61
The Light Empire
Dec 2, 2015
$5.99
N/A (N/A)
1,622 ±1,295
270 ±529
00:10 (00:03)
62
Insane
Mar 31, 2016
$7.99
N/A (N/A)
8,924 ±3,038
1,893 ±1,399
02:58 (06:34)
63
Strike Force: Desert Thunder
Apr 25, 2016
N/A
N/A (N/A)
8,112 ±2,897
1,352 ±1,182
00:34 (00:22)
64
CONTASION 2
Apr 22, 2016
$6.99
N/A (N/A)
4,056 ±2,048
541 ±748
00:08 (00:05)
65
Trip to Vinelands
Oct 21, 2016
$0.49
N/A (N/A)
11,628 ±3,469
2,434 ±1,587
00:08 (00:06)