App

Moonstone Tavern - A Fantasy Tavern Sim!
Moonstone Tavern - A Fantasy Tavern Sim!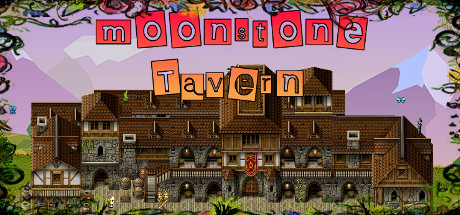 Store | Hub | SteamDB
Developer: Michael Flynn, Elizabeth Flynn Publisher: FlynnFour Games
Genre: Indie, RPG, Simulation
Languages: English
Tags: Indie (34), RPG (33), Simulation (33), RPGMaker (18), Crafting (16), Open World (14), Sandbox (14), Fantasy (13), Survival Horror (12), Real-Time (12), Atmospheric (11), Action RPG (10)
Category: Single-player, Steam Trading Cards
Release date: May 13, 2016
Price: $7.99
Score rank: 2% Userscore: 31% Old userscore: 54%
Owners: 11,449 ± 3,046
Players total: 9,541 ± 2,780 (83.33%)
Followers: 1,980
Peak concurrent players yesterday: 2
Playtime total: 03:36 (average) 03:29 (median)

Steam Spy is still in beta, so expect major bugs.
Peak daily concurrent players:
CCU data courtesy of SteamDB. Used with permission.
Hourly concurrent players:
YouTube:
The views data is based on top 50 videos uploaded last week. Actual number of views might be more than the number shown.

The displayed number of videos uploaded yesterday is limited to 50, so if there were more videos uploaded, the number will still show 50.

If the game has commonly used word as its name (like "FEAR" or "Volume") its number of Youtube views might be wrong.
Games similar to this one:
#
Game
Release date

Price

Score rank
(Userscore / Metascore)

Owners

Players

Playtime (Median)

1
Racket: Nx
Jan 31, 2017
$19.99
100% (99%)
4,664 ±1,944
4,452 ±1,899
06:48 (02:31)
2
Escape Goat
Oct 9, 2013
$4.99
97% (97%)
41,979 ±5,833
31,802 ±5,077
02:46 (01:51)
3
Bullet Heaven 2
Dec 7, 2015
$11.99
97% (97%)
7,845 ±2,521
6,148 ±2,232
06:52 (06:10)
4
The Dweller
May 19, 2016
$4.99
97% (97%)
37,739 ±5,530
24,170 ±4,426
02:39 (02:33)
5
Open Sorcery
Feb 22, 2017
$3.99
N/A (N/A)
3,816 ±1,758
2,544 ±1,436
04:02 (05:29)
6
I and Me
May 4, 2016
$9.99
97% (97%)
4,664 ±1,944
3,604 ±1,709
03:21 (03:02)
7
IronWolf VR
Mar 13, 2017
$19.99
97% (97%)
4,452 ±1,899
4,028 ±1,807
02:21 (02:32)
8
Armed with Wings: Rearmed
May 28, 2015
$7.99
95% (96%)
21,414 ±4,166
6,360 ±2,270
02:42 (01:41)
9
Hatoful Boyfriend: Holiday Star
Dec 15, 2015
$9.99
95% (96%/54%)
43,675 ±5,949
13,569 ±3,316
02:33 (01:39)
10
Rusty Lake: Roots
Oct 20, 2016
$2.99
95% (96%/75%)
26,714 ±4,653
20,565 ±4,082
06:42 (05:08)
11
Intake
Nov 6, 2013
$9.99
95% (96%)
50,884 ±6,422
24,806 ±4,484
04:02 (02:18)
12
A Study in Steampunk: Choice by Gaslight
Nov 20, 2015
$3.99
95% (96%)
4,452 ±1,899
3,604 ±1,709
04:06 (02:32)
13
Tin Star
Jun 5, 2015
$4.99
95% (96%)
10,813 ±2,960
7,845 ±2,521
08:08 (06:40)
14
Chicken Invaders 4
Jun 6, 2014
$4.99
95% (96%)
7,633 ±2,487
6,148 ±2,232
05:03 (04:05)
15
Escape Goat 2
Mar 24, 2014
$9.99
95% (96%/76%)
51,096 ±6,435
21,414 ±4,166
05:36 (03:59)
16
Critter Crunch
Sep 11, 2012
$6.99
92% (95%)
47,491 ±6,204
24,382 ±4,445
02:41 (01:09)
17
Thieves' Gambit: The Curse of the Black Cat
Oct 17, 2014
$2.99
N/A (N/A)
3,180 ±1,605
2,120 ±1,310
07:00 (02:48)
18
Kindergarten
Apr 7, 2017
$4.99
92% (95%)
8,905 ±2,686
8,693 ±2,654
03:06 (02:01)
19
Angry Arrows
Aug 12, 2015
$4.99
92% (95%)
12,721 ±3,211
5,088 ±2,030
02:18 (01:43)
20
Gravity Ghost
Jan 26, 2015
$14.99
92% (95%/75%)
22,262 ±4,247
11,449 ±3,046
03:52 (02:28)
21
Planet Diver
Nov 30, 2015
$3.99
N/A (N/A)
9,753 ±2,811
5,724 ±2,154
02:23 (01:55)
22
Constant C
Mar 11, 2014
$9.99
N/A (N/A/60%)
11,449 ±3,046
6,997 ±2,381
01:56 (01:31)
23
Super Puzzle Platformer Deluxe
May 24, 2013
$7.99
92% (95%)
56,396 ±6,760
27,774 ±4,744
03:34 (01:01)
24
Papo & Yo
Apr 18, 2013
$14.99
92% (95%/70%)
381,416 ±17,575
106,644 ±9,296
02:44 (01:23)
25
Tales From Space: Mutant Blobs Attack
Aug 15, 2012
$7.99
92% (95%/83%)
164,948 ±11,560
69,753 ±7,518
03:11 (02:10)
26
Cook, Serve, Delicious!
Oct 8, 2013
$9.99
92% (95%)
432,299 ±18,709
286,221 ±15,226
08:39 (03:05)
27
Lowglow
Dec 3, 2015
$7.99
N/A (N/A)
107,916 ±9,351
79,294 ±8,016
03:31 (03:33)
28
Bullets And More VR - BAM VR
Sep 7, 2016
$14.99
92% (95%)
5,088 ±2,030
4,664 ±1,944
04:41 (07:43)
29
Slash It 2
Jan 24, 2017
$0.99
92% (95%)
26,502 ±4,634
15,689 ±3,566
03:18 (03:12)
30
Clone Drone in the Danger Zone
Mar 16, 2017
$14.99
92% (95%)
18,445 ±3,866
18,233 ±3,844
09:57 (06:00)
31
Straimium Immortaly
Oct 10, 2016
$8.99
89% (94%)
6,360 ±2,270
4,452 ±1,899
03:27 (02:35)
32
Gryphon Knight Epic
Aug 20, 2015
$9.99
N/A (N/A/55%)
18,445 ±3,866
11,873 ±3,102
03:05 (03:02)
33
Sora
Jan 5, 2016
$8.99
89% (94%/74%)
8,693 ±2,654
6,360 ±2,270
05:23 (02:27)
34
Space Beast Terror Fright
Apr 6, 2015
$14.99
89% (94%)
11,025 ±2,989
10,389 ±2,901
06:24 (02:32)
35
Snake Pass
Mar 28, 2017
$19.99
89% (94%/72%)
6,784 ±2,345
6,360 ±2,270
01:27 (01:25)
36
Conquest of Elysium 4
Nov 16, 2015
$24.99
89% (94%)
11,025 ±2,989
9,541 ±2,780
45:02 (21:20)
37
Season of 12 Colors
Mar 14, 2016
$2.99
89% (94%)
20,778 ±4,103
15,265 ±3,517
02:22 (02:00)
38
8Bit Fiesta
Sep 30, 2016
$7.99
89% (94%)
7,209 ±2,417
6,148 ±2,232
05:16 (04:28)
39
Mimpi Dreams
Mar 22, 2016
$7.99
89% (94%)
2,544 ±1,436
1,696 ±1,172
03:13 (03:15)
40
The Adventures of Fei Duanmu
Mar 9, 2017
$3.99
89% (94%)
9,965 ±2,842
8,481 ±2,621
02:17 (01:56)
41
Fortix
Apr 14, 2010
$0.99
89% (94%)
122,333 ±9,956
72,721 ±7,677
02:45 (01:31)
42
Aviary Attorney
Dec 21, 2015
$14.99
86% (93%/77%)
20,141 ±4,040
15,689 ±3,566
04:45 (03:34)
43
GRIP
Feb 2, 2016
$15.99
86% (93%)
18,233 ±3,844
17,597 ±3,776
02:42 (01:28)
44
Dreaming Sarah
Mar 12, 2015
$5.99
86% (93%)
80,142 ±8,059
49,188 ±6,314
02:44 (02:18)
45
Bombernauts
Jul 31, 2015
$9.99
86% (93%)
5,512 ±2,113
4,452 ±1,899
02:26 (02:26)
46
Unmechanical
Aug 8, 2012
$9.99
86% (93%/74%)
82,686 ±8,186
32,438 ±5,127
02:55 (02:06)
47
Universe Sandbox
Aug 24, 2015
$24.99
86% (93%)
241,698 ±13,993
234,065 ±13,770
12:36 (03:04)
48
Void Invaders
Aug 14, 2015
$2.99
86% (93%)
32,650 ±5,144
18,869 ±3,910
02:58 (02:57)
49
Dino Run DX
Sep 29, 2015
$5.99
86% (93%)
34,346 ±5,276
23,534 ±4,367
03:37 (01:16)
50
Heroes Rise: HeroFall
Jul 11, 2014
$3.99
86% (93%)
19,717 ±3,997
12,509 ±3,184
06:35 (04:03)
51
Pizza Express
Jun 25, 2015
$6.99
83% (92%)
20,141 ±4,040
11,449 ±3,046
03:27 (04:03)
52
Glorkian Warrior: The Trials Of Glork
Mar 24, 2015
$3.99
83% (92%)
38,799 ±5,607
26,926 ±4,671
02:47 (02:49)
53
Titan Attacks!
Feb 3, 2012
$4.39
83% (92%)
132,086 ±10,345
79,082 ±8,005
02:48 (01:34)
54
T.E.C. 3001
Apr 11, 2014
$3.99
83% (92%)
37,951 ±5,546
26,502 ±4,634
03:16 (01:28)
55
6180 the moon
Sep 19, 2014
$3.99
83% (92%)
19,081 ±3,932
15,689 ±3,566
02:19 (01:58)
56
Sky Rogue
Jul 30, 2015
$9.99
83% (92%)
18,233 ±3,844
15,901 ±3,590
04:40 (02:15)
57
IMSCARED
Feb 3, 2016
$3.99
83% (92%)
15,265 ±3,517
13,145 ±3,264
01:36 (01:09)
58
Straima
Sep 25, 2015
$6.99
N/A (N/A)
4,240 ±1,853
2,332 ±1,374
03:55 (03:51)
59
Reflection of Mine
Feb 24, 2017
$7.99
N/A (N/A)
6,784 ±2,345
5,300 ±2,072
04:54 (05:05)
60
The Cat! Porfirio's Adventure
Aug 4, 2016
$1.99
N/A (N/A)
4,664 ±1,944
2,332 ±1,374
03:02 (03:59)
61
LUFTRAUSERS
Mar 18, 2014
$9.99
83% (92%/80%)
373,571 ±17,393
250,178 ±14,236
03:58 (02:05)
62
Inside My Radio
May 11, 2015
$14.99
79% (91%/68%)
19,505 ±3,976
8,693 ±2,654
04:28 (04:03)
63
GunGirl 2
Sep 1, 2016
Free
N/A (N/A)
20,141 ±4,040
3,392 ±1,658
02:50 (01:04)
64
Football Tactics
Jun 1, 2015
$14.99
79% (91%)
13,357 ±3,290
12,721 ±3,211
19:03 (09:00)
65
Pix the Cat
Jan 29, 2015
$9.99
79% (91%/77%)
78,234 ±7,962
37,103 ±5,483
03:16 (02:26)
66
Hearthlands
Dec 12, 2014
$19.99
79% (91%)
15,477 ±3,542
11,449 ±3,046
12:33 (03:42)
67
Cosmochoria
Apr 27, 2015
$9.99
79% (91%)
32,650 ±5,144
27,138 ±4,690
05:39 (03:39)
68
WayOut
Nov 4, 2016
$0.99
79% (91%)
33,710 ±5,227
23,534 ±4,367
01:55 (01:24)
69
NEON STRUCT
May 20, 2015
$17.99
79% (91%/62%)
49,400 ±6,327
14,841 ±3,468
02:35 (02:31)
70
Pivvot
Jul 14, 2014
$4.99
79% (91%)
21,414 ±4,166
13,781 ±3,342
02:15 (01:37)
71
Hue
Aug 30, 2016
$14.99
79% (91%/79%)
73,993 ±7,744
11,449 ±3,046
03:22 (01:11)
72
Ultratron
Mar 18, 2013
$9.99
79% (91%)
79,506 ±8,027
49,612 ±6,341
02:36 (01:22)
73
The Cursed Forest
Sep 11, 2015
$10.99
79% (91%)
6,360 ±2,270
4,876 ±1,988
02:12 (02:08)
74
Ephemerid: A Musical Adventure
Feb 3, 2015
$1.99
75% (90%)
9,329 ±2,749
5,724 ±2,154
01:08 (00:56)
75
Leos Fortune - HD Edition
Sep 8, 2015
$6.99
75% (90%)
12,721 ±3,211
9,117 ±2,718
02:33 (02:05)
76
Replica
Jul 11, 2016
$2.99
75% (90%)
75,690 ±7,832
67,209 ±7,380
02:46 (01:35)
77
An Octave Higher
Mar 27, 2015
$11.99
75% (90%)
12,297 ±3,157
5,936 ±2,193
04:18 (04:00)
78
MetaHuman Inc.
Dec 18, 2015
$5.99
75% (90%)
6,572 ±2,308
5,300 ±2,072
03:56 (02:40)
79
Super Splatters
Jun 26, 2013
$9.99
N/A (N/A/73%)
135,266 ±10,469
52,792 ±6,541
02:02 (01:00)
80
Impossiball
Sep 28, 2016
$0.99
N/A (N/A)
9,117 ±2,718
6,997 ±2,381
03:01 (02:36)
81
XenoRaptor
Jun 16, 2014
$14.99
75% (90%)
6,360 ±2,270
5,724 ±2,154
03:08 (01:18)
82
Bye-Bye, Wacky Planet
Nov 4, 2016
$4.99
75% (90%)
77,174 ±7,908
44,311 ±5,993
03:27 (03:54)
83
Reign of Bullets
Aug 19, 2015
$9.99
N/A (N/A)
12,085 ±3,129
5,512 ±2,113
02:44 (02:07)
84
Dragon's Wake
Dec 10, 2015
$3.99
75% (90%)
18,657 ±3,888
13,145 ±3,264
03:45 (03:39)
85
WARTILE
Mar 17, 2017
$19.99
75% (90%)
4,240 ±1,853
3,180 ±1,605
01:02 (01:17)
86
stratO
Jun 1, 2015
$9.99
N/A (N/A)
10,177 ±2,872
6,784 ±2,345
04:30 (04:38)
87
Luna Sky
Oct 2, 2015
$12.99
N/A (N/A)
22,050 ±4,227
8,269 ±2,588
04:58 (04:01)
88
Trash TV
Feb 23, 2015
$6.99
N/A (N/A)
23,746 ±4,387
2,968 ±1,551
00:41 (00:40)
89
That Dragon, Cancer
Jan 11, 2016
$9.99
75% (90%/78%)
37,103 ±5,483
25,442 ±4,541
01:39 (01:39)
90
The Astonishing Game
Feb 6, 2017
$2.99
N/A (N/A)
4,664 ±1,944
424 ±586
00:44 (00:24)
91
Nihilumbra
Oct 25, 2013
$7.99
75% (90%/75%)
193,358 ±12,516
110,884 ±9,479
03:09 (02:16)
92
Stories Untold
Feb 27, 2017
$9.99
75% (90%/82%)
10,813 ±2,960
8,905 ±2,686
09:38 (03:36)
93
Intensive Exposure
Sep 6, 2016
$4.99
75% (90%)
10,389 ±2,901
7,633 ±2,487
02:08 (02:24)
94
DashBored
Jun 13, 2016
$4.99
N/A (N/A)
8,905 ±2,686
7,209 ±2,417
04:48 (05:26)
95
Ultimate General: Civil War
Nov 16, 2016
$29.99
75% (90%)
37,951 ±5,546
36,043 ±5,405
52:38 (11:47)
96
Transcendence
Jul 24, 2015
$8.99
N/A (N/A)
3,604 ±1,709
2,968 ±1,551
03:53 (01:06)
97
Project Nimbus
Nov 5, 2014
$14.99
75% (90%)
23,746 ±4,387
20,990 ±4,124
02:44 (01:14)
98
We Know the Devil
Feb 15, 2016
$7.99
72% (89%)
6,997 ±2,381
5,088 ±2,030
02:19 (01:57)
99
BIT.TRIP RUNNER
Feb 28, 2011
$9.99
72% (89%)
793,998 ±25,344
562,265 ±21,333
02:34 (01:14)
100
Fly O'Clock
Jul 8, 2016
$0.99
72% (89%)
40,919 ±5,759
25,654 ±4,560
02:33 (02:21)
101
Bermuda
Mar 17, 2015
$2.99
N/A (N/A)
71,661 ±7,621
21,414 ±4,166
03:00 (02:25)
102
Uncraft World
Sep 25, 2015
$9.99
72% (89%)
8,481 ±2,621
7,633 ±2,487
03:11 (02:43)
103
Iron Fisticle
Sep 16, 2014
$8.99
72% (89%)
16,537 ±3,661
11,237 ±3,018
04:03 (02:58)
104
Great Permutator
Sep 15, 2014
$6.99
N/A (N/A)
34,771 ±5,308
18,021 ±3,822
02:48 (02:32)
105
Osmos
Aug 18, 2009
$9.99
72% (89%/80%)
573,714 ±21,549
338,377 ±16,554
02:27 (00:49)
106
A House of Many Doors
Feb 3, 2017
$12.99
72% (89%)
2,756 ±1,494
2,332 ±1,374
06:37 (09:23)
107
Procyon
Feb 26, 2014
$3.99
72% (89%)
19,293 ±3,954
11,873 ±3,102
02:47 (03:08)
108
Gigachess
Dec 15, 2015
$3.99
N/A (N/A)
5,724 ±2,154
4,452 ±1,899
03:10 (02:15)
109
HardCube
Jun 30, 2016
$1.99
N/A (N/A)
44,099 ±5,978
34,983 ±5,324
03:17 (03:25)
110
Champion of the Gods
Jul 17, 2015
$5.99
69% (88%)
8,693 ±2,654
7,845 ±2,521
08:01 (04:16)
111
Empire of the Gods
Jan 27, 2016
$1.99
N/A (N/A)
11,449 ±3,046
8,481 ±2,621
03:27 (03:23)
112
Binaries
Apr 4, 2016
$9.99
N/A (N/A)
5,088 ±2,030
2,544 ±1,436
01:40 (01:56)
113
Retro/Grade
Mar 20, 2013
$9.99
69% (88%)
84,806 ±8,290
45,583 ±6,078
02:36 (01:46)
114
Blade Ballet
Aug 9, 2016
$14.99
N/A (N/A)
7,633 ±2,487
5,936 ±2,193
02:33 (01:22)
115
Porcunipine
May 21, 2015
$9.99
N/A (N/A)
18,657 ±3,888
8,693 ±2,654
04:23 (04:02)
116
Tomb of Tyrants
Jun 25, 2015
$7.99
69% (88%)
21,414 ±4,166
16,537 ±3,661
04:12 (03:14)
117
Abomination Tower
Feb 13, 2015
$4.99
N/A (N/A)
4,452 ±1,899
3,392 ±1,658
02:47 (02:10)
118
Club Life
Apr 13, 2016
$12.99
N/A (N/A)
10,177 ±2,872
6,784 ±2,345
04:11 (04:34)
119
Ninja Pizza Girl
Sep 30, 2015
$6.99
66% (87%/82%)
105,584 ±9,250
16,537 ±3,661
02:39 (01:38)
120
Horizon Shift
May 29, 2015
$4.99
N/A (N/A)
125,513 ±10,085
77,174 ±7,908
03:07 (03:07)
121
Cosmophony
Jul 9, 2015
$4.99
66% (87%)
10,177 ±2,872
6,360 ±2,270
04:15 (03:37)
122
Ballpoint Universe - Infinite
Dec 17, 2013
$3.99
66% (87%)
128,905 ±10,220
75,265 ±7,810
03:19 (02:09)
123
Shoot 1UP
Sep 23, 2015
$3.99
N/A (N/A)
8,057 ±2,555
5,300 ±2,072
02:35 (03:06)
124
Captain Forever Remix
Jun 3, 2016
$14.99
66% (87%)
19,717 ±3,997
18,233 ±3,844
06:01 (02:57)
125
Forget Me Not: My Organic Garden
Aug 21, 2015
$9.99
66% (87%)
14,841 ±3,468
11,025 ±2,989
07:32 (04:08)
126
Gal-X-E
May 14, 2016
$1.99
N/A (N/A)
13,145 ±3,264
9,329 ±2,749
02:48 (03:11)
127
Cube Destroyer
Feb 15, 2016
$2.99
66% (87%)
179,789 ±12,069
139,506 ±10,632
03:36 (03:24)
128
Kromaia
Oct 23, 2014
$19.99
N/A (N/A/68%)
21,626 ±4,186
10,389 ±2,901
02:12 (01:20)
129
Spellsworn
Nov 2, 2015
$9.99
63% (86%)
11,661 ±3,074
5,088 ±2,030
03:48 (03:57)
130
Frederic: Resurrection of Music
May 16, 2014
$2.99
63% (86%)
114,912 ±9,650
68,905 ±7,473
03:40 (03:23)
131
OPUS: The Day We Found Earth
Apr 22, 2016
$8.99
63% (86%)
9,117 ±2,718
8,269 ±2,588
02:36 (02:23)
132
Just a Cleric
May 19, 2016
$4.99
N/A (N/A)
5,300 ±2,072
4,028 ±1,807
04:21 (04:17)
133
Chariot
Nov 12, 2014
$14.99
63% (86%/76%)
48,764 ±6,286
27,986 ±4,762
03:22 (02:15)
134
CHKN
Apr 1, 2016
$14.99
63% (86%)
19,505 ±3,976
18,869 ±3,910
13:47 (03:26)
135
Zolg
Dec 2, 2016
$0.99
60% (85%)
17,597 ±3,776
12,297 ±3,157
03:06 (03:25)
136
Sparkle 2
Jun 1, 2015
$7.99
N/A (N/A)
13,569 ±3,316
7,633 ±2,487
05:04 (05:26)
137
Element4l
May 24, 2013
$8.99
60% (85%/77%)
95,195 ±8,783
57,032 ±6,798
02:19 (01:19)
138
Super Duper Party Pooper
Jun 6, 2016
$0.99
60% (85%/40%)
44,311 ±5,993
32,650 ±5,144
03:09 (03:32)
139
ANIMALITY
Feb 2, 2017
$1.99
N/A (N/A)
16,961 ±3,707
14,417 ±3,418
03:08 (02:56)
140
Pineapple Smash Crew
Feb 2, 2012
$9.99
60% (85%/62%)
24,382 ±4,445
13,781 ±3,342
01:44 (01:00)
141
Pof
Nov 8, 2013
$6.99
N/A (N/A)
40,495 ±5,729
21,414 ±4,166
02:15 (01:13)
142
Space Distant
Dec 20, 2016
$2.99
N/A (N/A)
34,346 ±5,276
30,742 ±4,991
06:08 (06:33)
143
Frederic: Evil Strikes Back
May 23, 2014
$7.99
60% (85%)
111,096 ±9,488
65,725 ±7,298
02:57 (02:46)
144
Clandestinity of Elsie
Jul 8, 2015
$4.99
N/A (N/A)
23,534 ±4,367
14,841 ±3,468
03:24 (03:26)
145
The Purring Quest
Nov 12, 2015
$9.99
60% (85%)
27,986 ±4,762
16,325 ±3,637
02:38 (02:19)
146
Another Brick in the Mall
Nov 3, 2016
$12.99
60% (85%)
31,166 ±5,026
30,318 ±4,957
08:11 (05:09)
147
Knytt Underground
Oct 25, 2013
$6.99
60% (85%)
72,085 ±7,643
32,650 ±5,144
02:57 (01:06)
148
Blaite
Jan 2, 2017
$0.99
N/A (N/A)
10,813 ±2,960
8,905 ±2,686
02:45 (03:20)
149
The World Named Fred
Feb 27, 2015
$3.99
N/A (N/A)
6,148 ±2,232
1,060 ±927
01:09 (01:35)
150
Ballad of Solar
May 22, 2014
$6.99
60% (85%)
10,177 ±2,872
7,633 ±2,487
04:51 (04:01)
151
Cargo Commander
Nov 1, 2012
$9.99
57% (84%)
138,234 ±10,583
93,711 ±8,714
03:17 (01:26)
152
Echo of the Wilds
Jun 10, 2014
$8.99
57% (84%)
28,834 ±4,834
18,869 ±3,910
03:41 (02:11)
153
Air Missions: HIND
Mar 21, 2016
$11.04
57% (84%)
5,300 ±2,072
4,664 ±1,944
03:58 (01:28)
154
99Vidas
Dec 22, 2016
$12.99
57% (84%/69%)
5,300 ±2,072
4,876 ±1,988
02:34 (02:25)
155
Squishy the Suicidal Pig
Oct 23, 2014
$1.99
57% (84%)
354,702 ±16,949
270,320 ±14,797
01:56 (00:50)
156
Full Bore
May 6, 2014
$14.99
N/A (N/A/72%)
56,184 ±6,748
24,806 ±4,484
03:18 (01:57)
157
Warbands: Bushido
Nov 29, 2016
$4.49
57% (84%)
8,481 ±2,621
7,209 ±2,417
12:41 (04:23)
158
A Walk in the Dark
Nov 7, 2013
$6.99
55% (83%/67%)
24,170 ±4,426
13,145 ±3,264
03:25 (01:30)
159
The Promised Land
Apr 25, 2014
$6.99
55% (83%)
20,353 ±4,061
16,537 ±3,661
10:06 (05:07)
160
Labyrinthine Dreams
May 26, 2015
$1.99
55% (83%)
89,046 ±8,495
26,926 ±4,671
02:44 (02:45)
161
Four Sided Fantasy
Aug 30, 2016
$9.99
N/A (N/A)
4,876 ±1,988
3,180 ±1,605
01:21 (01:29)
162
Munin
Jun 10, 2014
$9.99
55% (83%/68%)
66,149 ±7,322
27,774 ±4,744
03:15 (02:09)
163
Madballs in Babo:Invasion
Sep 17, 2009
$4.99
55% (83%/79%)
100,919 ±9,043
75,265 ±7,810
05:29 (02:07)
164
Three Fourths Home: Extended Edition
Mar 20, 2015
$4.99
N/A (N/A/77%)
25,230 ±4,522
14,629 ±3,443
02:54 (03:14)
165
Road Not Taken
Aug 5, 2014
$14.99
55% (83%/75%)
53,216 ±6,567
34,559 ±5,292
03:43 (01:30)
166
Millie
Apr 18, 2014
$3.99
55% (83%)
124,241 ±10,034
76,962 ±7,897
03:00 (02:55)
167
Grimoire: Manastorm
Feb 4, 2015
$9.99
55% (83%)
216,892 ±13,256
108,128 ±9,360
02:37 (02:47)
168
Octave
Oct 18, 2016
$2.99
N/A (N/A)
26,502 ±4,634
19,717 ±3,997
03:21 (03:22)
169
Actual Sunlight
Apr 3, 2014
$4.99
52% (82%/77%)
9,541 ±2,780
7,209 ±2,417
01:49 (01:22)
170
Bloody Streets
Mar 12, 2015
$4.99
N/A (N/A)
15,053 ±3,493
7,421 ±2,452
02:56 (02:02)
171
The Novelist
Dec 10, 2013
$14.99
52% (82%/66%)
146,715 ±10,903
58,940 ±6,911
02:20 (01:35)
172
Once in Yaissor
Nov 9, 2016
$0.99
52% (82%)
43,039 ±5,906
41,131 ±5,773
05:47 (06:30)
173
Space Moth DX
Jan 22, 2016
$4.99
N/A (N/A)
16,961 ±3,707
9,541 ±2,780
02:33 (02:55)
174
No Time To Live
Sep 30, 2015
$0.99
50% (81%)
21,202 ±4,145
20,353 ±4,061
03:36 (03:30)
175
Shipwreck
Feb 13, 2015
$2.99
50% (81%)
9,329 ±2,749
5,724 ±2,154
02:39 (01:53)
176
Nefarious
Jan 23, 2017
$14.99
50% (81%/67%)
4,452 ±1,899
4,028 ±1,807
03:30 (03:24)
177
Party Panic
Jul 28, 2016
$16.99
50% (81%)
12,085 ±3,129
11,025 ±2,989
02:55 (01:39)
178
Treeker: The Lost Glasses
May 13, 2015
$3.99
N/A (N/A)
12,933 ±3,237
7,209 ±2,417
03:15 (03:06)
179
SMASH+GRAB
Sep 27, 2016
Free
50% (81%)
11,449 ±3,046
10,813 ±2,960
08:23 (04:24)
180
Amphora
Nov 12, 2014
$13.99
50% (81%)
4,240 ±1,853
2,544 ±1,436
02:25 (02:20)
181
Kiai Resonance
Apr 23, 2015
$4.99
50% (81%)
9,753 ±2,811
5,512 ±2,113
01:56 (01:41)
182
Shmadow
Nov 3, 2015
$1.99
50% (81%)
34,771 ±5,308
23,322 ±4,347
03:47 (03:07)
183
Mega Coin Squad
Aug 15, 2014
$14.99
N/A (N/A/56%)
7,845 ±2,521
4,240 ±1,853
02:32 (00:49)
184
Kodon
Jun 3, 2016
$19.99
48% (80%)
2,120 ±1,310
1,908 ±1,243
01:29 (01:45)
185
Angels Fall First
Oct 1, 2015
$17.99
48% (80%)
32,650 ±5,144
31,166 ±5,026
04:33 (01:38)
186
Imagine Earth
May 20, 2014
$19.99
48% (80%)
14,841 ±3,468
13,993 ±3,367
05:19 (01:10)
187
Tribal Pass
Aug 26, 2016
$4.99
48% (80%)
26,078 ±4,597
15,689 ±3,566
02:05 (01:45)
188
Solar Flux
Oct 24, 2013
$9.99
48% (80%)
131,874 ±10,337
75,902 ±7,843
03:05 (02:29)
189
Beyond Sol
Oct 13, 2015
$10.99
48% (80%/83%)
8,057 ±2,555
6,360 ±2,270
23:35 (12:20)
190
Scrap Garden
May 6, 2016
$9.99
N/A (N/A/58%)
12,509 ±3,184
5,512 ±2,113
03:24 (03:13)
191
iZBOT
Sep 1, 2015
$9.99
48% (80%)
6,784 ±2,345
2,968 ±1,551
03:31 (03:24)
192
Fancy Skulls
Jun 16, 2014
$8.99
48% (80%)
48,340 ±6,259
25,230 ±4,522
05:23 (02:40)
193
Mysterious Space
May 15, 2015
$10
N/A (N/A)
13,357 ±3,290
5,088 ±2,030
04:41 (04:54)
194
NEO AQUARIUM - The King of Crustaceans -
Jun 8, 2015
$8.99
48% (80%)
30,318 ±4,957
11,449 ±3,046
03:09 (02:05)
195
Master Spy
Sep 8, 2015
$9.99
48% (80%/68%)
15,901 ±3,590
6,784 ±2,345
01:46 (01:51)
196
Cherry Tree High I! My! Girls!
Nov 20, 2014
$3.99
48% (80%)
61,909 ±7,083
22,262 ±4,247
02:45 (01:55)
197
Morphine
Oct 28, 2015
$2.99
48% (80%)
25,230 ±4,522
13,145 ±3,264
02:14 (02:04)
198
GearCity
May 30, 2014
$16.99
48% (80%)
19,293 ±3,954
17,597 ±3,776
16:57 (03:19)
199
Polygon Attack
Dec 27, 2016
$0.99
N/A (N/A)
8,693 ±2,654
5,300 ±2,072
03:20 (03:49)
200
Pocket Rumble
Feb 1, 2016
$9.99
45% (79%)
4,452 ±1,899
3,816 ±1,758
12:19 (01:33)
201
Journal
Feb 17, 2014
$9.99
45% (79%/59%)
15,053 ±3,493
9,965 ±2,842
02:02 (01:52)
202
Frederic: Resurrection of Music Director's Cut
Apr 21, 2016
$5.99
45% (79%)
37,951 ±5,546
22,262 ±4,247
03:27 (03:18)
203
Sugar Cube: Bittersweet Factory
Nov 7, 2012
$6.99
45% (79%)
51,944 ±6,488
32,862 ±5,161
02:05 (01:40)
204
Tiny Brains
Dec 11, 2013
$9.99
45% (79%)
58,940 ±6,911
34,134 ±5,260
01:57 (01:44)
205
Polyball
Jun 4, 2015
$14.99
N/A (N/A)
8,269 ±2,588
5,512 ±2,113
02:43 (03:03)
206
The Guest
Mar 10, 2016
$9.99
45% (79%/68%)
16,537 ±3,661
11,661 ±3,074
02:55 (02:26)
207
Home is Where One Starts...
May 12, 2015
$2.99
43% (78%)
24,170 ±4,426
13,993 ±3,367
02:21 (02:31)
208
ChargeShot
Sep 18, 2015
$9.99
N/A (N/A)
18,869 ±3,910
12,085 ±3,129
03:50 (03:49)
209
BATTLECREW Space Pirates
Jan 31, 2017
$9.99
N/A (N/A)
2,756 ±1,494
1,484 ±1,096
21:10 (24:33)
210
Dustbowl
May 18, 2015
$8.99
43% (78%)
2,968 ±1,551
2,332 ±1,374
02:29 (02:44)
211
MOAI: Build Your Dream
Feb 26, 2015
$6.99
43% (78%)
10,601 ±2,931
9,329 ±2,749
09:49 (06:11)
212
Back to Bed
Aug 6, 2014
$5.99
43% (78%/57%)
122,757 ±9,973
52,156 ±6,501
02:28 (01:34)
213
Depth Hunter 2: Deep Dive
Aug 20, 2014
$14.99
43% (78%)
194,418 ±12,550
79,294 ±8,016
04:19 (02:23)
214
Share
May 3, 2016
$4.99
41% (77%)
5,936 ±2,193
2,544 ±1,436
01:26 (01:31)
215
Dead In Bermuda
Aug 27, 2015
$14.99
41% (77%)
26,502 ±4,634
17,809 ±3,799
05:42 (04:13)
216
iO
Dec 5, 2014
$7.99
41% (77%)
22,898 ±4,308
13,569 ±3,316
01:57 (01:23)
217
Chronicles of a Dark Lord: Episode 1 Tides of Fate Complete
Dec 19, 2014
$1.99
N/A (N/A)
46,219 ±6,120
24,382 ±4,445
03:28 (03:17)
218
The Path
Mar 18, 2009
$9.99
41% (77%/79%)
125,301 ±10,076
78,870 ±7,995
02:43 (01:28)
219
Cavern Kings
Sep 30, 2014
$9.99
39% (76%)
9,965 ±2,842
9,329 ±2,749
12:34 (04:27)
220
StarsOne
Apr 8, 2016
$9.99
39% (76%)
7,421 ±2,452
6,784 ±2,345
11:13 (04:20)
221
Broken Bots
Jun 8, 2016
$6.99
N/A (N/A)
8,269 ±2,588
5,724 ±2,154
03:39 (03:51)
222
Child Phobia: Nightcoming Fears
Dec 20, 2016
$1.99
N/A (N/A)
5,512 ±2,113
3,604 ±1,709
02:47 (03:18)
223
Dangerous High School Girls in Trouble!
Feb 23, 2009
$19.99
39% (76%/81%)
111,520 ±9,506
23,746 ±4,387
02:17 (01:21)
224
You Deserve
Aug 19, 2016
$0.99
37% (75%)
10,601 ±2,931
5,088 ±2,030
02:22 (02:20)
225
Puddle
Nov 9, 2012
$7.99
37% (75%)
122,121 ±9,948
88,622 ±8,474
01:55 (01:01)
226
PRiO
Mar 18, 2016
$5.99
N/A (N/A)
7,209 ±2,417
1,272 ±1,015
02:46 (05:09)
227
BRAWL
Aug 13, 2015
$14.99
N/A (N/A)
16,537 ±3,661
11,873 ±3,102
04:56 (04:42)
228
Monster Loves You!
Mar 18, 2013
$9.99
37% (75%)
235,549 ±13,814
118,305 ±9,791
02:35 (01:35)
229
Royal Heroes
Mar 16, 2016
$4.99
37% (75%)
8,481 ±2,621
7,209 ±2,417
22:59 (08:34)
230
Can't Drive This
Sep 25, 2016
$9.99
37% (75%)
11,025 ±2,989
9,329 ±2,749
08:53 (00:43)
231
Macabre
Jul 6, 2015
$0.99
N/A (N/A)
11,025 ±2,989
5,512 ±2,113
06:23 (06:33)
232
Albino Lullaby: Episode 1
Sep 14, 2015
$9.99
37% (75%)
20,565 ±4,082
13,145 ±3,264
02:32 (02:08)
233
Scraps: Modular Vehicle Combat
Jul 7, 2015
$14.99
37% (75%)
5,088 ±2,030
4,028 ±1,807
762:42 (02:14)
234
BIGFOOT
Jan 31, 2017
$15.99
35% (74%)
30,318 ±4,957
29,046 ±4,852
03:46 (02:33)
235
RONIN
Jun 30, 2015
$12.99
35% (74%/70%)
123,393 ±9,999
59,576 ±6,948
04:52 (02:39)
236
Shift
Aug 16, 2016
$0.99
35% (74%)
25,018 ±4,503
16,749 ±3,684
02:27 (02:41)
237
Qora
Oct 2, 2014
$9.99
34% (73%/63%)
38,375 ±5,577
20,990 ±4,124
03:31 (02:59)
238
Concursion
Jun 6, 2014
$4.99
N/A (N/A/66%)
23,746 ±4,387
10,813 ±2,960
02:54 (01:38)
239
The Adventures of Mr. Bobley
Jul 1, 2015
$3.99
32% (72%)
57,880 ±6,849
42,827 ±5,891
03:32 (03:32)
240
Dawn of Andromeda
Dec 1, 2016
$24.99
32% (72%)
4,876 ±1,988
4,028 ±1,807
04:08 (01:43)
241
Warring States
Oct 6, 2014
$19.99
N/A (N/A)
11,237 ±3,018
5,512 ±2,113
03:17 (01:45)
242
Crossout
Aug 24, 2016
$29.99
32% (72%)
16,961 ±3,707
16,961 ±3,707
23:35 (10:32)
243
Rhythm Destruction
Jun 16, 2014
$4.99
N/A (N/A)
54,064 ±6,619
34,134 ±5,260
02:23 (01:51)
244
Last Heroes 2
Jan 22, 2016
$1.99
N/A (N/A)
6,148 ±2,232
3,604 ±1,709
02:39 (03:02)
245
Dwelvers
Sep 11, 2014
$19.99
30% (71%)
13,781 ±3,342
10,177 ±2,872
15:59 (01:49)
246
Warhammer 40,000: Space Wolf
Feb 17, 2017
$11.99
30% (71%)
3,816 ±1,758
2,756 ±1,494
08:50 (10:24)
247
Heavy Gear Assault
Feb 10, 2017
$39.99
N/A (N/A)
22,474 ±4,268
15,689 ±3,566
02:44 (03:04)
248
Drifter
Mar 4, 2014
$11.99
30% (71%)
11,025 ±2,989
8,481 ±2,621
03:19 (00:46)
249
mr.President Prologue Episode
Sep 20, 2016
$0.99
N/A (N/A)
7,633 ±2,487
4,876 ±1,988
04:00 (03:02)
250
Home
Aug 31, 2012
$2.99
30% (71%/69%)
295,549 ±15,472
151,591 ±11,083
01:18 (00:55)
251
Karmaflow: The Rock Opera Videogame - Act I & Act II
May 6, 2015
$4.99
29% (70%/47%)
25,654 ±4,560
5,512 ±2,113
03:28 (01:32)
252
Tulpa
Jan 29, 2015
$9.99
N/A (N/A)
40,919 ±5,759
17,809 ±3,799
03:06 (03:33)
253
Project AURA
Jan 5, 2015
$19.99
29% (70%)
20,141 ±4,040
18,869 ±3,910
16:09 (03:13)
254
Orion Trail
Oct 12, 2015
$7.99
29% (70%)
7,845 ±2,521
6,997 ±2,381
03:32 (01:39)
255
Survive in Space
May 20, 2016
$4.99
29% (70%)
73,569 ±7,721
40,283 ±5,714
03:08 (03:20)
256
Big Action Mega Fight!
Jan 12, 2016
$4.99
N/A (N/A)
13,357 ±3,290
8,269 ±2,588
03:42 (04:22)
257
Flame of Memory
Feb 1, 2017
$1.99
N/A (N/A)
3,392 ±1,658
1,484 ±1,096
03:01 (01:17)
258
FaeVerse Alchemy
Apr 2, 2014
Free
27% (69%)
112,156 ±9,533
62,121 ±7,095
08:26 (07:38)
259
Volt
Apr 14, 2014
$1.99
26% (68%)
61,060 ±7,034
38,587 ±5,592
02:59 (01:46)
260
Survivor Squad
Jan 21, 2015
$2.99
26% (68%)
146,503 ±10,895
102,191 ±9,100
03:16 (01:31)
261
Three Dead Zed
Jul 7, 2014
$5.99
N/A (N/A)
60,848 ±7,022
17,173 ±3,731
02:46 (02:28)
262
Anoxemia
Jan 16, 2015
$3.99
N/A (N/A)
134,630 ±10,445
86,290 ±8,362
04:48 (04:25)
263
Gentlemen!
Nov 5, 2013
$4.99
N/A (N/A)
40,071 ±5,699
23,746 ±4,387
02:10 (01:05)
264
Rencounter
Nov 4, 2016
$5.99
26% (68%)
7,209 ±2,417
4,240 ±1,853
06:06 (04:33)
265
Orbit HD
Mar 18, 2015
$0.99
26% (68%)
25,230 ±4,522
15,053 ±3,493
02:43 (02:03)
266
Sky Mercenaries
Dec 16, 2014
$9.99
N/A (N/A)
25,018 ±4,503
16,537 ±3,661
03:06 (03:05)
267
Pulstar
Jun 11, 2014
$1.99
N/A (N/A)
24,170 ±4,426
12,297 ±3,157
02:36 (01:11)
268
The Agony
Dec 14, 2016
$3.99
N/A (N/A)
14,629 ±3,443
10,813 ±2,960
03:07 (03:29)
269
Showdown Adventure
Sep 23, 2016
$2.99
N/A (N/A)
10,389 ±2,901
6,997 ±2,381
02:24 (02:57)
270
Cosmic Leap
Mar 17, 2016
$0.99
25% (67%)
16,113 ±3,614
11,449 ±3,046
04:32 (03:04)
271
A Fistful of Gun
Sep 23, 2015
$12.99
25% (67%/60%)
142,686 ±10,752
60,212 ±6,985
02:44 (00:59)
272
Omegalodon
Sep 20, 2013
$9.99
25% (67%)
27,562 ±4,726
15,477 ±3,542
03:00 (01:20)
273
Signal Ops
Nov 18, 2013
$9.99
23% (66%/61%)
8,057 ±2,555
4,876 ±1,988
01:12 (00:44)
274
Rush Bros.
May 24, 2013
$9.99
23% (66%)
175,761 ±11,933
125,089 ±10,068
02:12 (01:21)
275
The Masterplan
Jun 4, 2015
$19.99
23% (66%/68%)
101,555 ±9,072
47,067 ±6,176
03:51 (02:16)
276
Bliss
Dec 8, 2014
$4.99
N/A (N/A)
6,784 ±2,345
1,908 ±1,243
01:06 (00:33)
277
Hare In The Hat
Apr 1, 2015
$1.99
23% (66%)
44,311 ±5,993
32,438 ±5,127
04:07 (04:02)
278
Amigdala
Mar 28, 2016
$5.99
N/A (N/A)
25,018 ±4,503
19,717 ±3,997
03:38 (03:31)
279
RC Simulation 2.0
Nov 24, 2015
$14.99
22% (65%)
6,784 ±2,345
6,572 ±2,308
03:36 (01:37)
280
POP: Methodology Experiment One
Dec 10, 2014
$3.99
22% (65%)
5,088 ±2,030
3,392 ±1,658
03:04 (03:36)
281
Snooker Nation Championship
Apr 27, 2016
$4.99
22% (65%)
9,117 ±2,718
5,512 ±2,113
04:47 (05:32)
282
Curses 'N Chaos
Aug 18, 2015
$9.99
N/A (N/A)
51,944 ±6,488
11,661 ±3,074
02:17 (01:16)
283
A City Sleeps
Oct 16, 2014
$9.99
N/A (N/A)
20,990 ±4,124
6,148 ±2,232
04:23 (02:33)
284
Rabbit Hole 3D: Steam Edition
Apr 25, 2014
$2.99
21% (64%)
74,841 ±7,788
50,460 ±6,395
01:56 (01:05)
285
Oscura: Lost Light
Feb 24, 2015
$6.99
N/A (N/A/66%)
34,134 ±5,260
13,993 ±3,367
02:09 (01:09)
286
Montague's Mount
Nov 19, 2013
$9.99
21% (64%/39%)
73,569 ±7,721
33,074 ±5,177
03:23 (01:58)
287
Wrath of Anna
Sep 20, 2016
$8.99
N/A (N/A)
37,739 ±5,530
23,746 ±4,387
02:57 (03:02)
288
Custom Town
Aug 24, 2016
$2.99
N/A (N/A)
2,756 ±1,494
1,060 ±927
01:22 (00:52)
289
Ukrainian Ninja
Dec 23, 2014
$1.99
N/A (N/A)
11,873 ±3,102
10,601 ±2,931
03:45 (03:07)
290
The Tower Of Elements
Aug 5, 2015
$0.99
N/A (N/A)
195,054 ±12,571
84,170 ±8,259
03:04 (03:10)
291
Party of Sin
Dec 13, 2012
$9.99
N/A (N/A)
90,107 ±8,545
46,431 ±6,134
02:32 (01:40)
292
Sky Nations
Jul 17, 2014
$13.99
19% (62%)
4,876 ±1,988
4,028 ±1,807
18:28 (01:39)
293
Starship Corporation
Apr 29, 2016
$19.99
19% (62%)
9,117 ±2,718
7,845 ±2,521
07:17 (02:52)
294
Overhell
May 28, 2016
$1.99
N/A (N/A)
81,838 ±8,144
64,665 ±7,239
03:22 (03:30)
295
Sumo Revise
Jun 25, 2015
$4.99
N/A (N/A)
54,700 ±6,658
39,011 ±5,623
04:16 (04:06)
296
Contract
Jan 5, 2016
$2.99
N/A (N/A)
9,541 ±2,780
1,484 ±1,096
00:41 (00:43)
297
Supreme: Pizza Empire
Jan 9, 2015
$9.99
17% (61%)
4,452 ±1,899
3,392 ±1,658
04:02 (03:36)
298
NORTH
Apr 27, 2016
$1.99
17% (61%)
78,658 ±7,984
58,728 ±6,899
03:11 (03:30)
299
Sign Motion
Oct 24, 2014
$9.99
17% (61%)
1,484 ±1,096
1,272 ±1,015
02:12 (02:56)
300
The Deer God
Feb 27, 2015
$14.99
16% (60%/59%)
46,219 ±6,120
37,103 ±5,483
04:03 (04:33)
301
Mouse in Lab
Feb 1, 2017
$0.62
N/A (N/A)
77,386 ±7,919
39,647 ±5,668
02:52 (03:23)
302
Arson and Plunder: Unleashed
Sep 25, 2015
$6.99
N/A (N/A)
15,053 ±3,493
8,481 ±2,621
03:43 (03:26)
303
Fall of Civilization
Sep 19, 2016
$6.99
N/A (N/A)
60,636 ±7,010
37,951 ±5,546
03:15 (03:21)
304
Disillusions Manga Horror
Jan 16, 2015
$0.99
16% (59%)
33,074 ±5,177
21,626 ±4,186
02:32 (02:01)
305
Evertown
Jan 11, 2016
$2.99
N/A (N/A)
13,145 ±3,264
2,756 ±1,494
01:05 (01:01)
306
Deserter Simulator
Jul 30, 2015
$9.99
16% (59%)
3,816 ±1,758
2,756 ±1,494
02:40 (03:40)
307
Bunker - The Underground Game
May 21, 2015
$9.99
N/A (N/A)
19,717 ±3,997
8,905 ±2,686
04:43 (05:01)
308
Crystal Picnic
Nov 2, 2015
$1.99
N/A (N/A)
2,756 ±1,494
1,272 ±1,015
02:21 (02:47)
309
Starship Annihilator
Sep 2, 2016
$0.99
N/A (N/A)
5,300 ±2,072
3,816 ±1,758
03:09 (03:50)
310
Super Trench Attack 2
Nov 6, 2015
$6.99
15% (58%)
12,933 ±3,237
7,209 ±2,417
03:36 (03:45)
311
RuneScape: Idle Adventures
Sep 1, 2016
Free
14% (57%)
169,824 ±11,730
137,598 ±10,559
34:34 (02:20)
312
VoxreD
Sep 30, 2016
$0.49
N/A (N/A)
24,594 ±4,464
20,353 ±4,061
06:11 (06:33)
313
Hero's Song
Nov 7, 2016
Free
14% (57%)
4,028 ±1,807
3,604 ±1,709
04:15 (02:53)
314
SparkDimension
Oct 4, 2016
$9.99
N/A (N/A)
5,936 ±2,193
4,028 ±1,807
05:24 (05:12)
315
Starship Traveller
Mar 11, 2015
$4.99
N/A (N/A)
11,661 ±3,074
7,209 ±2,417
03:06 (02:13)
316
Heldric - The legend of the shoemaker
Apr 17, 2014
$8.99
N/A (N/A)
2,332 ±1,374
2,120 ±1,310
06:24 (01:23)
317
Sparkle ZERO
Mar 14, 2016
$4.99
12% (55%)
44,735 ±6,021
27,138 ±4,690
03:11 (03:11)
318
The Final Take
Jun 16, 2016
$1.99
12% (54%)
31,802 ±5,077
18,869 ±3,910
05:27 (03:04)
319
BoneBone: Rise of the Deathlord
Jun 17, 2016
$1.99
N/A (N/A)
82,262 ±8,165
66,361 ±7,333
03:16 (03:20)
320
Nightfall: Escape
Jun 28, 2016
$9.99
N/A (N/A)
16,749 ±3,684
7,633 ±2,487
03:45 (03:52)
321
Deathwave
Jun 9, 2016
$4.99
N/A (N/A)
4,452 ±1,899
2,120 ±1,310
03:01 (03:05)
322
Aircraft War X
Aug 5, 2016
$2.99
11% (53%)
106,644 ±9,296
89,258 ±8,505
06:30 (03:15)
323
Soccer Rage
Jun 2, 2015
$9.99
10% (51%)
11,025 ±2,989
3,604 ±1,709
00:23 (00:37)
324
Team Indie
Oct 8, 2014
$12.99
N/A (N/A)
75,690 ±7,832
9,541 ±2,780
02:52 (02:44)
325
Timber and Stone
Oct 20, 2015
$12.99
9% (50%)
27,562 ±4,726
23,746 ±4,387
15:47 (06:51)
326
Ninja Stealth 2
Jan 30, 2017
$0.99
N/A (N/A)
12,721 ±3,211
7,845 ±2,521
03:11 (03:41)
327
A Mass of Dead
Jul 15, 2015
$4.99
N/A (N/A)
1,696 ±1,172
1,272 ±1,015
04:57 (04:56)
328
The Falling Sun
Apr 7, 2015
$4.99
9% (50%)
83,322 ±8,217
63,181 ±7,155
03:46 (03:26)
329
Final Rush
Nov 21, 2014
$4.99
8% (48%)
10,813 ±2,960
8,693 ±2,654
02:05 (01:54)
330
Vernon's Legacy
Sep 23, 2016
$11.99
N/A (N/A)
10,177 ±2,872
4,452 ±1,899
04:39 (03:04)
331
Clergy Splode
Sep 17, 2015
$0.49
8% (48%)
190,814 ±12,434
130,601 ±10,287
03:56 (03:30)
332
PERFECT ANGLE: The puzzle game based on optical illusions
Dec 22, 2015
$9.99
N/A (N/A)
73,993 ±7,744
57,032 ±6,798
04:07 (04:04)
333
The Gleam: VR Escape the Room
Oct 14, 2016
$3.99
N/A (N/A)
5,936 ±2,193
4,028 ±1,807
03:11 (02:33)
334
Vitrum
Apr 22, 2014
$4.99
N/A (N/A)
26,290 ±4,616
14,205 ±3,393
02:49 (02:07)
335
Star Horizon
May 28, 2015
$4.99
N/A (N/A)
6,784 ±2,345
4,664 ±1,944
02:06 (02:36)
336
Maia
Dec 3, 2013
$12.49
7% (46%)
35,831 ±5,389
31,590 ±5,060
03:55 (00:50)
337
Darkness Assault
Feb 6, 2015
$1.99
7% (46%)
56,396 ±6,760
38,587 ±5,592
03:53 (03:13)
338
Blaster Shooter GunGuy!
Aug 10, 2015
$1.99
7% (46%)
113,640 ±9,596
89,046 ±8,495
03:55 (03:24)
339
Wild Island Quest
Sep 4, 2015
$1.99
N/A (N/A)
87,350 ±8,413
67,209 ±7,380
03:35 (03:29)
340
It Comes Around - A Kinetic Novel
Sep 29, 2016
$2.99
N/A (N/A)
4,452 ±1,899
2,968 ±1,551
05:40 (07:13)
341
Remain
Dec 21, 2016
$4.99
N/A (N/A)
15,689 ±3,566
13,781 ±3,342
03:33 (03:30)
342
Scribble Space
Jun 1, 2015
$1.99
6% (45%)
15,053 ±3,493
9,753 ±2,811
02:59 (03:23)
343
Cuties
May 29, 2016
$0.5
N/A (N/A)
65,089 ±7,263
44,099 ±5,978
03:10 (03:28)
344
AdvertCity
Jun 5, 2015
$19.99
N/A (N/A)
12,085 ±3,129
8,269 ±2,588
03:46 (03:52)
345
A-Men
Jan 24, 2014
$9.99
N/A (N/A)
13,781 ±3,342
9,329 ±2,749
03:10 (03:32)
346
The Undying Plague
Apr 10, 2015
$0.99
5% (41%)
16,325 ±3,637
11,449 ±3,046
04:03 (04:11)
347
Doodle Kingdom
Jun 9, 2016
$4.99
N/A (N/A)
7,845 ±2,521
5,936 ±2,193
03:14 (02:43)
348
Call Of The Mighty Warriors
Jun 2, 2016
$1.99
N/A (N/A)
15,053 ±3,493
12,509 ±3,184
05:51 (06:04)
349
Altar Guardian
Oct 24, 2016
$1.99
N/A (N/A)
25,230 ±4,522
19,929 ±4,019
03:13 (03:26)
350
Sleengster
Dec 2, 2016
$1.99
N/A (N/A)
13,569 ±3,316
8,481 ±2,621
03:52 (04:18)
351
STARUSHKO LUB
Oct 24, 2016
$0.62
N/A (N/A)
100,919 ±9,043
73,569 ±7,721
05:37 (05:29)
352
Days Under Custody
Nov 23, 2015
$4.99
N/A (N/A)
22,686 ±4,288
14,629 ±3,443
07:01 (04:12)
353
Monument
Jun 5, 2015
$3.99
3% (36%)
6,360 ±2,270
4,452 ±1,899
01:57 (02:22)
354
Voxelized
Apr 5, 2017
$3.99
3% (35%)
330,956 ±16,372
185,938 ±12,274
05:01 (02:42)
355
Wake
$4.99
2% (33%)
51,308 ±6,448
29,470 ±4,887
03:51 (02:42)
356
Imagine Me
Dec 9, 2014
$2.99
N/A (N/A)
57,668 ±6,836
33,074 ±5,177
02:08 (01:27)
357
Bad Hotel
Oct 16, 2013
$4.99
N/A (N/A)
97,739 ±8,900
42,191 ±5,847
01:50 (01:15)
358
City Z
Apr 29, 2016
$1.99
N/A (N/A)
4,240 ±1,853
2,120 ±1,310
02:25 (02:16)
359
Stranded
May 20, 2014
$4.99
2% (30%)
20,141 ±4,040
11,237 ±3,018
01:15 (00:54)
360
Godus
Free
2% (29%)
293,217 ±15,411
262,687 ±14,587
20:07 (06:42)
361
Forbidden planet
Jan 11, 2016
$0.99
N/A (N/A)
131,450 ±10,320
94,771 ±8,763
03:26 (03:29)
362
Hero Quest: Tower Conflict
Apr 13, 2016
$0.99
1% (27%)
92,015 ±8,635
65,089 ±7,263
03:32 (03:28)
363
Bell Ringer
Mar 18, 2016
$6.99
N/A (N/A)
133,994 ±10,420
82,050 ±8,154
04:04 (04:02)
364
Moonbase 332
Sep 18, 2015
$4.99
N/A (N/A)
14,417 ±3,418
9,541 ±2,780
04:05 (04:01)
365
The face of hope: Underground
Oct 28, 2016
$0.99
N/A (N/A)
54,912 ±6,671
52,156 ±6,501
03:50 (03:30)
366
A.I. Invasion
Sep 30, 2015
$9.99
N/A (N/A)
9,117 ±2,718
6,360 ±2,270
03:29 (04:05)
367
Final Slam 2
Jun 12, 2014
$3.99
N/A (N/A)
43,887 ±5,964
27,986 ±4,762
02:06 (01:18)
368
AoF Chess Club 2.0
Nov 4, 2015
$1.99
N/A (N/A)
10,813 ±2,960
9,329 ±2,749
03:46 (03:23)
369
Dream Factory
Nov 2, 2015
$9.99
N/A (N/A)
8,481 ±2,621
5,088 ±2,030
02:25 (02:58)