App

Moonstone Tavern - A Fantasy Tavern Sim!
Moonstone Tavern - A Fantasy Tavern Sim!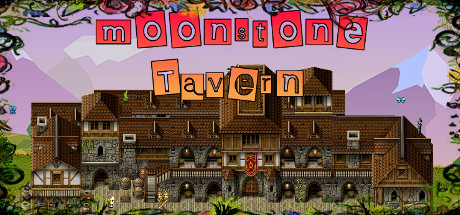 Store | Hub | SteamDB
Developer: Michael Flynn, Elizabeth Flynn Publisher: FlynnFour Games
Genre: Indie, RPG, Simulation
Languages: English
Tags: Indie (34), RPG (33), Simulation (33), RPGMaker (19), Crafting (16), Open World (14), Sandbox (14), Real-Time (13), Fantasy (13), Survival Horror (12), Atmospheric (11), Action RPG (10)
Category: Single-player, Steam Trading Cards
Release date: May 13, 2016
Price: $7.99
Score rank: 2% Userscore: 30% Old userscore: 51%
Owners: 23,467 ± 4,335
Players total: 17,810 ± 3,777 (75.89%)
Followers: 1,940
Peak concurrent players yesterday: 2
Playtime total: 03:10 (average) 03:30 (median)

Steam Spy is still in beta, so expect major bugs.
Peak daily concurrent players:
CCU data courtesy of SteamDB. Used with permission.
Hourly concurrent players:
YouTube:
The views data is based on top 50 videos uploaded last week. Actual number of views might be more than the number shown.

The displayed number of videos uploaded yesterday is limited to 50, so if there were more videos uploaded, the number will still show 50.

If the game has commonly used word as its name (like "FEAR" or "Volume") its number of Youtube views might be wrong.
Games similar to this one:
#
Game
Release date

Price

Score rank
(Userscore / Metascore)

Owners

Players

Playtime (Median)

1
Tangledeep
Jul 18, 2017
$14.99
N/A (N/A)
4,400 ±1,877
2,933 ±1,532
04:57 (05:14)
2
Chicken Invaders 4
Jun 6, 2014
$4.99
97% (97%)
10,267 ±2,867
7,543 ±2,458
11:12 (06:06)
3
Tin Star
Jun 5, 2015
$4.99
95% (96%)
13,829 ±3,328
10,896 ±2,954
10:54 (06:48)
4
Majotori
Mar 28, 2017
$5.99
95% (96%)
3,562 ±1,689
2,095 ±1,295
02:39 (03:22)
5
Escape Goat 2
Mar 24, 2014
$9.99
95% (96%/76%)
51,754 ±6,438
22,210 ±4,217
03:48 (02:35)
6
Lowglow
Dec 3, 2015
$7.99
N/A (N/A)
108,118 ±9,305
77,107 ±7,858
03:37 (03:30)
7
Koi Musubi
Jan 30, 2017
$10.99
92% (95%)
3,981 ±1,785
3,143 ±1,586
03:41 (02:29)
8
Clone Drone in the Danger Zone
Mar 16, 2017
$14.99
92% (95%)
38,135 ±5,526
37,506 ±5,481
15:28 (08:05)
9
Gryphon Knight Epic
Aug 20, 2015
$9.99
N/A (N/A/55%)
23,258 ±4,316
11,524 ±3,038
03:17 (03:24)
10
Warstone TD
Apr 6, 2017
$9.99
92% (95%)
3,562 ±1,689
3,352 ±1,638
16:49 (14:03)
11
Planet Diver
Nov 30, 2015
$3.99
N/A (N/A)
12,362 ±3,146
6,915 ±2,353
02:16 (02:39)
12
C14 Dating
Apr 22, 2016
$19.99
N/A (N/A)
1,676 ±1,158
1,467 ±1,083
07:28 (11:29)
13
The Adventures of Fei Duanmu
Mar 9, 2017
$3.99
89% (94%)
13,410 ±3,277
10,896 ±2,954
02:30 (02:26)
14
Mimpi Dreams
Mar 22, 2016
$7.99
89% (94%)
6,286 ±2,243
4,191 ±1,832
10:49 (03:17)
15
Pixel Star
May 22, 2015
$2.99
N/A (N/A)
23,048 ±4,296
13,619 ±3,303
05:24 (03:34)
16
Lost in Secular Love
Oct 28, 2016
$9.99
86% (93%)
1,886 ±1,229
1,048 ±916
03:44 (04:26)
17
Aviary Attorney
Dec 21, 2015
$14.99
86% (93%/77%)
19,486 ±3,950
13,619 ±3,303
05:18 (04:22)
18
The Dweller
May 19, 2016
$4.99
86% (93%)
64,955 ±7,212
36,458 ±5,404
02:46 (02:50)
19
Heroes Rise: HeroFall
Jul 11, 2014
$3.99
86% (93%)
17,182 ±3,709
9,219 ±2,717
04:28 (03:59)
20
Straima
Sep 25, 2015
$6.99
N/A (N/A)
6,286 ±2,243
2,724 ±1,477
02:59 (04:14)
21
Football Tactics
Jun 1, 2015
$11.99
77% (91%)
18,229 ±3,821
17,601 ±3,754
13:29 (04:33)
22
Creeper World 2: Anniversary Edition
Nov 16, 2016
$4.99
N/A (N/A)
5,448 ±2,089
3,562 ±1,689
08:26 (10:02)
23
An Octave Higher
Mar 27, 2015
$11.99
74% (90%)
15,086 ±3,476
7,334 ±2,423
05:15 (04:09)
24
Mecha Ace
Dec 5, 2014
$5.99
74% (90%)
7,334 ±2,423
5,867 ±2,167
09:02 (06:24)
25
Flobe
Feb 22, 2016
$0.99
N/A (N/A)
8,591 ±2,623
5,657 ±2,128
09:25 (04:28)
26
10 Second Ninja X
Jul 19, 2016
$9.99
N/A (N/A)
11,315 ±3,010
7,124 ±2,388
04:15 (03:41)
27
stratO
Jun 1, 2015
$9.99
N/A (N/A)
13,829 ±3,328
5,448 ±2,089
04:14 (04:39)
28
Gathering Sky
Aug 13, 2015
$4.99
N/A (N/A)
2,305 ±1,358
1,257 ±1,003
01:44 (02:49)
29
Pix the Cat
Jan 29, 2015
$9.99
74% (90%/77%)
81,298 ±8,069
36,249 ±5,388
03:18 (02:59)
30
The Cat Machine
Aug 12, 2015
$9.99
70% (89%)
9,010 ±2,686
6,076 ±2,206
04:11 (03:19)
31
WALLSLIDE
Jul 14, 2016
$1.99
N/A (N/A)
24,096 ±4,393
22,420 ±4,237
03:18 (03:30)
32
Kromaia
Oct 23, 2014
$19.99
N/A (N/A/68%)
26,401 ±4,598
10,267 ±2,867
02:13 (01:53)
33
Shoot 1UP
Sep 23, 2015
$3.99
N/A (N/A)
9,429 ±2,748
5,657 ±2,128
02:56 (02:52)
34
Age of Rivals
Mar 14, 2017
$9.99
67% (88%)
2,095 ±1,295
1,467 ±1,083
11:48 (14:24)
35
The Inner Darkness
Feb 24, 2017
$2.99
N/A (N/A)
4,819 ±1,964
2,514 ±1,419
02:30 (03:16)
36
Cosmophony
Jul 9, 2015
$4.99
67% (88%)
13,619 ±3,303
9,429 ±2,748
04:12 (02:52)
37
Amazing Frog?
Nov 21, 2014
$15.99
64% (87%)
51,964 ±6,451
51,335 ±6,412
28:50 (10:13)
38
Reign of Bullets
Aug 19, 2015
$3.39
N/A (N/A)
14,877 ±3,452
6,076 ±2,206
05:13 (02:50)
39
Chicku
May 5, 2016
$4.99
N/A (N/A)
5,029 ±2,007
3,562 ±1,689
02:31 (02:15)
40
Champion of the Gods
Jul 17, 2015
$6.99
64% (87%)
8,172 ±2,558
7,334 ±2,423
05:36 (05:08)
41
Runbow
Nov 18, 2016
$14.99
N/A (N/A)
2,933 ±1,532
2,514 ±1,419
04:39 (06:04)
42
Bunker Punks
Mar 30, 2016
$14.99
61% (86%)
8,800 ±2,655
7,124 ±2,388
03:43 (03:02)
43
Breathing Fear
Oct 7, 2016
$2.99
61% (86%)
16,972 ±3,687
9,219 ±2,717
03:46 (04:24)
44
Chariot
Nov 12, 2014
$14.99
61% (86%/76%)
56,364 ±6,719
27,029 ±4,653
04:05 (02:15)
45
Clandestinity of Elsie
Jul 8, 2015
$4.99
N/A (N/A)
21,582 ±4,157
12,362 ±3,146
03:08 (03:10)
46
Captain Forever Remix
Jun 3, 2016
$14.99
61% (86%)
24,306 ±4,412
21,582 ±4,157
07:03 (02:32)
47
RETSNOM
Jul 23, 2015
$4.99
N/A (N/A)
9,848 ±2,808
6,076 ±2,206
03:49 (03:38)
48
Ballad of Solar
May 22, 2014
$6.99
61% (86%)
12,991 ±3,225
8,381 ±2,591
05:08 (04:14)
49
Sparkle 2
Jun 1, 2015
$7.99
N/A (N/A)
16,134 ±3,595
8,172 ±2,558
06:11 (05:28)
50
Rats - Time is running out!
Aug 19, 2015
$4.99
61% (86%)
60,973 ±6,988
32,896 ±5,133
03:07 (02:59)
51
Super Duper Party Pooper
Jun 6, 2016
$0.99
59% (85%/40%)
44,840 ±5,993
31,430 ±5,017
03:50 (03:00)
52
Angel Express [Tokkyu Tenshi]
Jul 15, 2016
$9.99
N/A (N/A)
6,076 ±2,206
3,981 ±1,785
03:35 (03:22)
53
Gimbal
Nov 19, 2013
$14.99
56% (84%)
35,411 ±5,325
10,896 ±2,954
12:46 (02:28)
54
Empire of the Gods
Jan 27, 2016
$1.99
N/A (N/A)
19,696 ±3,972
12,991 ±3,225
03:02 (03:18)
55
Once in Yaissor
Nov 9, 2016
$0.99
56% (84%)
67,469 ±7,351
63,488 ±7,131
05:23 (06:29)
56
It came from space, and ate our brains
Mar 19, 2015
$3.39
56% (84%)
92,613 ±8,612
46,306 ±6,090
04:07 (03:43)
57
Link: The Unleashed Nexus
Aug 21, 2015
$9.99
N/A (N/A)
2,724 ±1,477
1,467 ±1,083
02:54 (04:54)
58
ChargeShot
Sep 18, 2015
$9.99
N/A (N/A)
20,324 ±4,034
10,686 ±2,925
03:05 (02:56)
59
Dragon Kingdom War
Feb 10, 2017
$9.99
N/A (N/A)
8,381 ±2,591
3,143 ±1,586
03:57 (04:21)
60
The Promised Land
Apr 25, 2014
$6.99
53% (83%)
28,706 ±4,795
22,629 ±4,257
09:18 (06:05)
61
12 orbits
Oct 24, 2016
$1.99
51% (82%)
15,086 ±3,476
10,057 ±2,838
02:07 (01:40)
62
Last Dream: World Unknown
Jun 1, 2017
$9.99
N/A (N/A)
3,352 ±1,638
1,676 ±1,158
16:06 (25:28)
63
Tobari and the Night of the Curious Moon
May 26, 2015
$9.99
N/A (N/A)
5,029 ±2,007
2,933 ±1,532
02:28 (03:47)
64
Treeker: The Lost Glasses
May 13, 2015
$3.99
N/A (N/A)
17,810 ±3,777
9,010 ±2,686
03:23 (03:00)
65
XLarn
May 25, 2015
$4.99
N/A (N/A)
4,191 ±1,832
1,467 ±1,083
02:31 (03:07)
66
1,000 Heads Among the Trees
Dec 11, 2015
$6.99
N/A (N/A)
8,381 ±2,591
6,495 ±2,281
03:17 (03:26)
67
Mysterious Space
May 15, 2015
$10
N/A (N/A)
13,619 ±3,303
5,448 ±2,089
05:30 (04:31)
68
Shmadow
Nov 3, 2015
$1.99
46% (80%)
34,153 ±5,230
19,067 ±3,908
05:52 (03:17)
69
Unfortunate Spacemen
May 6, 2016
$19.99
44% (79%)
3,772 ±1,738
2,305 ±1,358
03:00 (06:11)
70
Imagine Earth
May 20, 2014
$19.99
44% (79%)
17,601 ±3,754
16,343 ±3,618
06:55 (02:58)
71
Finders
Apr 9, 2015
$5.99
42% (78%)
9,219 ±2,717
6,915 ±2,353
07:30 (05:03)
72
Three Kingdoms: The Last Warlord
May 26, 2017
$9.99
40% (77%)
5,029 ±2,007
4,819 ±1,964
12:00 (08:10)
73
Chronicles of a Dark Lord: Episode 1 Tides of Fate Complete
Dec 19, 2014
$0.99
N/A (N/A)
68,936 ±7,430
42,954 ±5,865
12:02 (03:30)
74
Depth Hunter 2: Deep Dive
Aug 20, 2014
$14.99
40% (77%)
221,055 ±13,303
102,670 ±9,067
04:13 (02:41)
75
Big Action Mega Fight!
Jan 12, 2016
$1.99
40% (77%)
24,725 ±4,450
18,858 ±3,886
03:44 (04:22)
76
ROOT
Nov 16, 2015
$9.99
N/A (N/A)
5,448 ±2,089
2,933 ±1,532
04:01 (04:20)
77
The Dark Legions
Jul 9, 2016
$1.99
N/A (N/A)
7,753 ±2,492
3,143 ±1,586
03:44 (03:53)
78
Broken Bots
Jun 8, 2016
$6.99
N/A (N/A)
10,267 ±2,867
6,705 ±2,317
03:01 (03:28)
79
Fist Slash: Of Ultimate Fury
Dec 10, 2015
$3.99
N/A (N/A)
9,010 ±2,686
4,819 ±1,964
03:07 (03:33)
80
Robot Legions Reborn
Jul 19, 2016
$1.99
N/A (N/A)
6,705 ±2,317
3,981 ±1,785
03:18 (03:00)
81
The Musketeers: Victoria's Quest
Aug 20, 2015
$3.99
N/A (N/A)
3,143 ±1,586
1,886 ±1,229
07:03 (07:57)
82
Blaite
Jan 2, 2017
$0.99
37% (75%)
13,200 ±3,251
9,010 ±2,686
02:51 (02:17)
83
Flame of Memory
Feb 1, 2017
$1.99
N/A (N/A)
5,657 ±2,128
3,352 ±1,638
04:33 (05:12)
84
The Adventures of Mr. Bobley
Jul 1, 2015
$8.99
35% (74%)
52,802 ±6,503
35,620 ±5,341
03:45 (03:24)
85
Wayward Terran Frontier: Zero Falls
Feb 11, 2016
$29.99
35% (74%)
3,143 ±1,586
2,724 ±1,477
14:23 (15:14)
86
StarsOne
Apr 8, 2016
$5.49
35% (74%)
11,734 ±3,065
9,848 ±2,808
18:29 (08:46)
87
City of God I - Prison Empire
Mar 6, 2017
$11.99
33% (73%)
30,591 ±4,950
30,591 ±4,950
20:59 (12:23)
88
Royal Heroes
Mar 16, 2016
$4.99
33% (73%)
11,105 ±2,982
9,010 ±2,686
21:29 (08:06)
89
Qora
Oct 2, 2014
$9.99
33% (73%/63%)
38,344 ±5,542
15,924 ±3,571
03:29 (02:54)
90
BlastZone 2
Feb 19, 2015
$2.99
N/A (N/A)
21,582 ±4,157
12,781 ±3,199
05:58 (05:19)
91
Artillerists
Jan 2, 2017
$3.99
31% (72%)
3,562 ±1,689
2,514 ±1,419
04:13 (04:41)
92
Cavern Kings
Sep 30, 2014
$9.99
31% (72%)
7,753 ±2,492
6,705 ±2,317
07:46 (07:47)
93
Alteric
Jul 13, 2016
$3.99
31% (72%)
11,734 ±3,065
8,172 ±2,558
02:22 (02:39)
94
Scraps: Modular Vehicle Combat
Jul 7, 2015
$14.99
30% (71%)
5,657 ±2,128
3,143 ±1,586
04:54 (07:26)
95
Alchemist's Awakening
Mar 21, 2016
$15.99
30% (71%)
7,543 ±2,458
5,657 ±2,128
03:32 (02:20)
96
Macabre
Jul 6, 2015
$0.99
N/A (N/A)
34,992 ±5,294
26,191 ±4,580
05:53 (06:31)
97
Child Phobia: Nightcoming Fears
Dec 20, 2016
$1.99
N/A (N/A)
6,286 ±2,243
3,981 ±1,785
03:46 (03:54)
98
Tulpa
Jan 29, 2015
$9.99
27% (69%)
40,649 ±5,706
16,972 ±3,687
03:28 (03:36)
99
mr.President Prologue Episode
Sep 20, 2016
$0.99
N/A (N/A)
47,773 ±6,185
41,278 ±5,750
03:33 (03:30)
100
Sky Mercenaries
Dec 16, 2014
$9.99
N/A (N/A)
46,097 ±6,076
29,544 ±4,864
03:08 (03:23)
101
House of Caravan
Apr 16, 2015
$4.99
24% (67%)
124,461 ±9,983
86,746 ±8,335
03:03 (03:02)
102
FaeVerse Alchemy
Apr 2, 2014
Free
23% (66%)
104,137 ±9,132
52,383 ±6,477
06:47 (07:24)
103
Amazing Princess Sarah
Aug 18, 2014
$4.99
23% (66%)
9,219 ±2,717
6,705 ±2,317
04:14 (03:09)
104
Wrath of Anna
Sep 20, 2016
$4.99
N/A (N/A)
47,144 ±6,145
28,915 ±4,812
02:45 (02:51)
105
Hare In The Hat
Apr 1, 2015
$1.99
22% (65%)
47,563 ±6,172
34,363 ±5,246
03:50 (03:34)
106
A City Sleeps
Oct 16, 2014
$9.99
N/A (N/A)
21,372 ±4,137
9,638 ±2,778
03:22 (02:41)
107
Furfly
Dec 18, 2015
$0.99
N/A (N/A)
6,076 ±2,206
629 ±709
02:30 (02:27)
108
Mindless Running
Feb 18, 2016
$1.99
19% (63%)
76,688 ±7,837
66,631 ±7,305
03:59 (03:22)
109
Dwelvers
Sep 11, 2014
$19.99
18% (62%)
10,896 ±2,954
8,591 ±2,623
04:13 (01:57)
110
Nanobots
Mar 15, 2016
$3.99
N/A (N/A)
5,238 ±2,048
3,562 ±1,689
02:46 (03:16)
111
The Deer God
Feb 27, 2015
$14.99
16% (60%/59%)
54,268 ±6,593
38,763 ±5,572
04:32 (04:59)
112
Neon Space ULTRA
Jun 1, 2016
$2.99
N/A (N/A)
71,450 ±7,564
53,430 ±6,541
03:20 (03:30)
113
Deserter Simulator
Jul 30, 2015
$9.99
15% (59%)
3,981 ±1,785
3,143 ±1,586
02:36 (03:18)
114
Disillusions Manga Horror
Jan 16, 2015
$0.99
15% (59%)
37,087 ±5,450
23,258 ±4,316
02:45 (02:23)
115
Oscura: Lost Light
Feb 24, 2015
$6.99
N/A (N/A/66%)
37,506 ±5,481
13,410 ±3,277
03:18 (02:46)
116
Super Trench Attack 2
Nov 6, 2015
$6.99
15% (58%)
17,182 ±3,709
9,429 ±2,748
03:28 (03:32)
117
Arson and Plunder: Unleashed
Sep 25, 2015
$6.99
N/A (N/A)
22,210 ±4,217
12,153 ±3,120
03:33 (03:02)
118
Bunker - The Underground Game
May 21, 2015
$4.99
N/A (N/A)
24,934 ±4,469
9,848 ±2,808
06:16 (05:45)
119
Hunted: One Step Too Far
Sep 2, 2016
$4.99
N/A (N/A)
6,705 ±2,317
838 ±819
01:37 (01:57)
120
Hero's Song
Nov 7, 2016
Free
14% (57%)
4,400 ±1,877
3,981 ±1,785
04:36 (05:12)
121
Jumping Tank
Jan 20, 2017
$0.99
N/A (N/A)
192,768 ±12,423
172,653 ±11,758
03:58 (04:01)
122
Space Ribbon
Aug 5, 2016
$1.49
N/A (N/A)
4,400 ±1,877
2,514 ±1,419
01:24 (02:08)
123
Redemption: Eternal Quest
Aug 28, 2015
$1.99
N/A (N/A)
90,517 ±8,514
77,945 ±7,901
03:35 (03:30)
124
SparkDimension
Oct 4, 2016
$9.99
N/A (N/A)
6,705 ±2,317
2,724 ±1,477
05:02 (05:45)
125
TRISTOY
Jan 15, 2015
$6.99
N/A (N/A/49%)
29,544 ±4,864
15,086 ±3,476
04:20 (05:26)
126
Aircraft War X
Aug 5, 2016
$2.99
10% (51%)
119,852 ±9,797
97,222 ±8,824
04:27 (03:17)
127
Nightfall: Escape
Jun 28, 2016
$9.99
N/A (N/A)
18,648 ±3,865
6,915 ±2,353
03:25 (03:27)
128
Starlight Drifter
May 18, 2016
$12.99
N/A (N/A)
1,283 ±1,255
963 ±1,087
02:12 (03:18)
129
Karma Miwa
Aug 12, 2016
$2.99
N/A (N/A)
9,638 ±2,778
6,495 ±2,281
02:52 (03:13)
130
The Falling Sun
Apr 7, 2015
$4.99
8% (48%)
77,526 ±7,879
57,621 ±6,793
03:53 (03:23)
131
Final Rush
Nov 21, 2014
$4.99
8% (48%)
13,410 ±3,277
8,591 ±2,623
03:14 (02:12)
132
VoxreD
Sep 30, 2016
$0.99
N/A (N/A)
46,516 ±6,104
38,344 ±5,542
06:07 (06:31)
133
Doodle Kingdom
Jun 9, 2016
$4.99
N/A (N/A)
13,200 ±3,251
8,381 ±2,591
03:07 (03:02)
134
Fall of Civilization
Sep 19, 2016
$6.99
N/A (N/A)
91,146 ±8,544
57,830 ±6,805
03:42 (03:26)
135
Wild Island Quest
Sep 4, 2015
$1.99
N/A (N/A)
76,898 ±7,847
60,345 ±6,952
03:44 (03:29)
136
Darkness Assault
Feb 6, 2015
$0.51
6% (45%)
59,088 ±6,879
39,811 ±5,647
04:28 (03:12)
137
TownCraft
Feb 25, 2015
$9.99
6% (45%)
28,915 ±4,812
17,810 ±3,777
06:51 (02:47)
138
Starship Annihilator
Sep 2, 2016
$0.99
N/A (N/A)
8,591 ±2,623
6,076 ±2,206
04:20 (03:48)
139
Cuties
May 29, 2016
$2.99
N/A (N/A)
83,812 ±8,193
56,783 ±6,744
03:21 (03:30)
140
Cube Land Arena
Mar 29, 2016
$1.99
N/A (N/A)
17,182 ±3,709
13,200 ±3,251
06:22 (06:22)
141
It Comes Around - A Kinetic Novel
Sep 29, 2016
$2.99
N/A (N/A)
6,495 ±2,281
3,772 ±1,738
03:17 (03:48)
142
Monument
Jun 5, 2015
$3.99
4% (38%)
9,219 ±2,717
5,448 ±2,089
03:53 (02:56)
143
Call Of The Mighty Warriors
Jun 2, 2016
$0.99
N/A (N/A)
15,505 ±3,524
12,572 ±3,173
05:39 (06:29)
144
Days Under Custody
Nov 23, 2015
$4.99
N/A (N/A)
23,258 ±4,316
12,991 ±3,225
06:37 (04:03)
145
LSDriver
Jan 3, 2017
$0.99
N/A (N/A)
4,191 ±1,832
3,562 ±1,689
03:01 (02:56)
146
AdvertCity
Jun 5, 2015
$19.99
N/A (N/A)
14,039 ±3,353
8,381 ±2,591
04:10 (05:05)
147
Time Of Silence
Dec 6, 2016
$0.99
N/A (N/A)
82,136 ±8,110
71,869 ±7,587
03:26 (03:30)
148
Night Forest
Nov 8, 2016
$1.99
N/A (N/A)
128,652 ±10,150
118,594 ±9,745
03:27 (03:30)
149
Moonbase 332
Sep 18, 2015
$4.99
N/A (N/A)
21,372 ±4,137
14,248 ±3,378
04:02 (03:29)
150
March of Industry: Very Capitalist Factory Simulator Entertainments
Oct 7, 2015
$9.99
1% (21%)
3,562 ±1,689
3,143 ±1,586
14:31 (09:07)
151
Kitchen Simulator 2015
Sep 2, 2015
$1.99
1% (20%)
5,867 ±2,167
3,981 ±1,785
02:20 (02:12)
152
Dream Factory
Nov 2, 2015
$9.99
N/A (N/A)
13,619 ±3,303
7,334 ±2,423
02:39 (02:34)
153
Countless Rooms of Death
Jan 9, 2015
$0.99
N/A (N/A)
6,915 ±2,353
5,657 ±2,128
03:18 (02:50)