App

The Sandbox Evolution - Craft a 2D Pixel Universe!
The Sandbox Evolution - Craft a 2D Pixel Universe!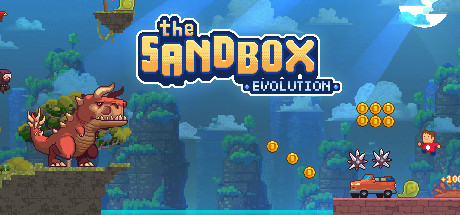 Store | Hub | SteamDB | Site
Developer: PIXOWL INC. Publisher: PIXOWL INC.
Genre: Action, Indie, Simulation
Languages: English, French, Italian, German, Spanish, Portuguese, Portuguese-Brazil
Tags: Action (22), Simulation (22), Indie (22), Pixel Graphics (19), 2D (18), Sandbox (18), God Game (15), Crafting (14), Physics (14), Platformer (14), Destruction (13), Ninja (13), Puzzle-Platformer (11), Space Sim (7)
Category: Single-player, Full controller support, Steam Workshop, Steam Cloud, Includes level editor
Release date: Nov 15, 2016 (previously in Early Access)
Price: $1.99 80%
Score rank: 35% Userscore: 74% Old userscore: 76%
Owners: 8,963 ± 2,612
Players in the last 2 weeks: 1,593 ± 1,101 (17.78%)
Players total: 6,971 ± 2,303 (77.78%)
Followers: 3,024
Peak concurrent players yesterday: 56
Playtime in the last 2 weeks: 00:56 (average) 01:23 (median)
Playtime total: 02:22 (average) 01:35 (median)

Steam Spy is still in beta, so expect major bugs.
Peak daily concurrent players:
CCU data courtesy of SteamDB. Used with permission.
Hourly concurrent players:
YouTube:
The views data is based on top 50 videos uploaded last week. Actual number of views might be more than the number shown.

The displayed number of videos uploaded yesterday is limited to 50, so if there were more videos uploaded, the number will still show 50.

If the game has commonly used word as its name (like "FEAR" or "Volume") its number of Youtube views might be wrong.
Games similar to this one:
#
Game
Release date

Price

Score rank
(Userscore / Metascore)

Owners

Players

Playtime (Median)

1
Blender
Apr 24, 2015
Free
95% (96%)
1,014,804 ±27,761
704,288 ±23,136
10:28 (00:15)
2
Eleven: Table Tennis VR
Sep 22, 2016
$4.99
92% (95%)
29,279 ±4,721
27,486 ±4,574
02:27 (01:05)
3
UniBall
Feb 24, 2017
Free
89% (94%)
9,959 ±2,753
7,370 ±2,368
12:45 (00:10)
4
Fruit Ninja VR
Dec 15, 2016
$9.74
82% (92%)
36,051 ±5,238
35,055 ±5,165
06:46 (01:30)
5
Super Mega Baseball: Extra Innings
Aug 21, 2015
$3.99
78% (91%)
91,820 ±8,359
45,611 ±5,892
10:06 (02:34)
6
The Golf Club VR
Feb 24, 2017
$22.49
74% (90%)
6,971 ±2,303
6,174 ±2,168
02:38 (01:32)
7
Ice Lakes
Apr 19, 2016
$7.49
64% (87%)
78,874 ±7,748
38,441 ±5,409
03:51 (02:05)
8
Gas Guzzlers Extreme
Oct 8, 2013
$4.99
64% (87%/73%)
211,326 ±12,680
150,378 ±10,697
04:35 (01:50)
9
RaidersSphere4th
Jun 1, 2015
$4.99
N/A (N/A)
1,992 ±1,231
1,394 ±1,030
00:54 (00:58)
10
F1 2012
Sep 17, 2012
$4.99
62% (86%/80%)
324,060 ±15,700
303,147 ±15,186
43:33 (09:54)
11
TrackMania Canyon
Feb 27, 2013
$9.99
62% (86%/81%)
172,088 ±11,443
138,826 ±10,278
11:33 (03:09)
12
Ride 2
Oct 7, 2016
$24.99
59% (85%/67%)
34,258 ±5,106
33,462 ±5,047
27:02 (14:58)
13
FaceRig
Jul 7, 2015
$7.49
54% (83%)
436,993 ±18,230
389,191 ±17,205
06:54 (01:27)
14
MXGP3 - The Official Motocross Videogame
May 29, 2017
$49.99
54% (83%)
7,768 ±2,431
6,971 ±2,303
15:06 (14:21)
15
Kopanito All-Stars Soccer
Nov 16, 2016
$3.59
54% (83%)
56,765 ±6,573
49,595 ±6,144
02:49 (01:39)
16
Command: Modern Air / Naval Operations WOTY
Sep 26, 2014
$27.99
54% (83%)
23,702 ±4,247
19,918 ±3,893
23:54 (04:34)
17
Automobilista
Aug 24, 2016
$8.99
51% (82%)
32,466 ±4,971
27,287 ±4,557
25:11 (08:14)
18
Disc Jam
Mar 7, 2017
$8.99
51% (82%)
17,328 ±3,632
16,332 ±3,526
05:49 (03:33)
19
X-Plane 11
Mar 30, 2017
$44.39
49% (81%)
24,499 ±4,318
22,706 ±4,157
27:40 (08:03)
20
Blood Bowl: Chaos Edition
Oct 11, 2012
$6.79
46% (80%)
276,059 ±14,492
216,106 ±12,823
33:07 (06:25)
21
Street Legal Racing: Redline v2.3.1
Aug 5, 2016
$5.39
46% (80%)
43,420 ±5,749
30,275 ±4,800
14:09 (04:27)
22
rFactor 2
Nov 12, 2015
$15.99
42% (78%)
46,408 ±5,943
40,433 ±5,547
85:52 (12:04)
23
Carrier Deck
Jun 15, 2017
$9.99
40% (77%)
3,386 ±1,605
2,788 ±1,457
08:01 (08:12)
24
F1 2014
Oct 16, 2014
$8.99
38% (76%/61%)
138,228 ±10,256
128,469 ±9,888
35:20 (10:26)
25
RIDE
Mar 27, 2015
$7.99
35% (74%/68%)
48,599 ±6,082
44,616 ±5,827
18:07 (08:07)
26
MotoGP15
Jun 23, 2015
$8.99
35% (74%)
32,864 ±5,001
29,279 ±4,721
19:28 (06:53)
27
Valentino Rossi The Game
Jun 16, 2016
$9.99
35% (74%/72%)
13,942 ±3,257
13,345 ±3,187
12:26 (06:21)
28
Split/Second
Oct 6, 2014
$4.99
35% (74%/79%)
36,449 ±5,267
28,681 ±4,672
07:00 (02:31)
29
Trainz: A New Era
May 14, 2015
$9.99
35% (74%)
17,528 ±3,652
15,735 ±3,461
55:06 (11:53)
30
F1 2011
Sep 19, 2011
$3.74
31% (72%/83%)
68,318 ±7,211
57,761 ±6,630
27:44 (06:24)
31
Hacker Evolution
Sep 14, 2010
$0.49
27% (69%)
457,309 ±18,648
258,133 ±14,014
03:08 (01:49)
32
All the Delicate Duplicates
Feb 17, 2017
$7.99
N/A (N/A)
590 ±816
590 ±816
00:45 (00:45)
33
Real Boxing
Jul 2, 2014
$4.99
23% (66%)
118,908 ±9,513
76,683 ±7,639
04:29 (03:25)
34
IL-2 Sturmovik: Cliffs of Dover
Jul 19, 2011
$2.49
22% (65%/60%)
226,264 ±13,121
209,135 ±12,614
25:21 (02:57)
35
Fuse
Mar 28, 2014
Free
19% (63%)
396,959 ±17,375
245,784 ±13,675
04:16 (00:41)
36
WWE 2K17
Feb 6, 2017
$14.99
18% (62%/61%)
31,669 ±4,910
28,283 ±4,640
36:04 (16:44)
37
Shift 2 Unleashed
Mar 29, 2011
$4.99
17% (61%/84%)
206,944 ±12,548
144,403 ±10,483
13:42 (03:25)
38
WRC 6 FIA World Rally Championship
Oct 7, 2016
$17.99
14% (57%/68%)
22,308 ±4,120
20,316 ±3,932
12:39 (05:27)
39
Soccer Manager Arena
May 9, 2017
Free
14% (57%)
29,080 ±4,705
22,507 ±4,139
00:37 (00:16)
40
Notruf 112 | Emergency Call 112
Nov 9, 2016
$24.49
14% (57%)
36,848 ±5,296
35,254 ±5,180
19:31 (10:35)
41
Moto Racer 4
Nov 2, 2016
$14.99
N/A (N/A)
81,264 ±7,864
34,059 ±5,091
06:21 (04:31)
42
MX vs. ATV Supercross Encore
Oct 27, 2015
$7.49
10% (51%)
19,718 ±3,874
16,532 ±3,547
13:58 (03:55)
43
Fernbus Simulator
Aug 25, 2016
$34.99
8% (48%)
56,566 ±6,561
55,969 ±6,527
12:29 (06:26)
44
F1 2015
Jul 9, 2015
$9.99
6% (45%/61%)
108,352 ±9,081
98,194 ±8,645
30:25 (05:50)
45
Colin McRae Rally
Jul 30, 2014
$1.39
6% (44%)
227,858 ±13,167
111,937 ±9,230
03:19 (01:37)
46
Motorama
Nov 21, 2014
$1.99
N/A (N/A)
45,811 ±5,905
7,170 ±2,336
03:05 (00:31)
47
Ampersand
Oct 19, 2015
$0.49
2% (31%)
265,104 ±14,202
206,546 ±12,536
03:57 (03:30)
48
Staircase of Darkness: VR
Nov 3, 2016
$4.99
N/A (N/A)
59,753 ±6,744
53,778 ±6,398
04:56 (03:30)
49
Escape The Island
Dec 30, 2016
$7.99
N/A (N/A)
142,013 ±10,396
117,116 ±9,441
03:16 (03:30)