Nebula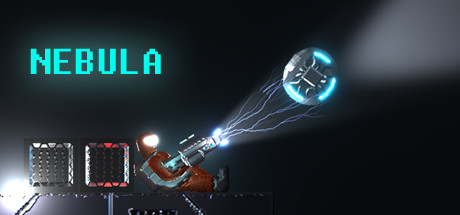 Store | Hub | SteamDB
Developer: Games by Brundle Publisher: Games by Brundle
Genre: Action, Indie, Early Access
Languages: English
Tags: Early Access (24), Indie (21), Action (21)
Category: Single-player
Release date: Jun 2, 2016
Price: $4.99
Followers: 157
YouTube stats: 36,186 views and 443 comments for videos uploaded last week, 14 new videos uploaded yesterday.

Steam Spy is still in beta, so expect major bugs.
Peak daily concurrent players:
CCU data courtesy of SteamDB. Used with permission.
Hourly concurrent players:
YouTube:
The views data is based on top 50 videos uploaded last week. Actual number of views might be more than the number shown.

The displayed number of videos uploaded yesterday is limited to 50, so if there were more videos uploaded, the number will still show 50.

If the game has commonly used word as its name (like "FEAR" or "Volume") its number of Youtube views might be wrong.
Games similar to this one:
#
Game
Release date

Price

Score rank
(Userscore / Metascore)

Owners

Players

Playtime (Median)

1
Power Solitaire VR
Jun 7, 2017
$0.49
N/A (N/A)
966 ±945
242 ±472
00:14 (00:04)
2
VRNinja
Sep 14, 2016
$9.99
N/A (N/A)
7,248 ±2,588
4,107 ±1,948
02:07 (02:49)
3
Featherpunk Prime
Sep 1, 2016
$9.99
N/A (N/A)
5,074 ±2,165
1,933 ±1,336
04:28 (04:56)
4
Dragon Fantasy: The Volumes of Westeria
Apr 9, 2015
$9.99
N/A (N/A)
5,557 ±2,266
1,691 ±1,250
03:32 (05:14)
5
Powargrid
Oct 5, 2016
$9.99
N/A (N/A)
4,107 ±1,948
1,450 ±1,157
05:56 (08:02)
6
Unbreakable Vr Runner
Jul 4, 2016
$4.19
N/A (N/A)
1,933 ±1,336
966 ±945
01:32 (01:00)
7
Rogue Stache
Jan 6, 2017
$4.99
N/A (N/A)
1,072 ±1,211
357 ±699
03:35 (01:47)
8
Rogue Contracts: Syndicate
Aug 26, 2016
$0.49
N/A (N/A)
6,765 ±2,500
3,866 ±1,890
04:26 (05:22)
9
Jade's Journey
Dec 9, 2016
$0.79
N/A (N/A)
4,590 ±2,059
1,208 ±1,056
01:21 (00:54)
10
A Room Beyond
Jun 13, 2017
$7.99
N/A (N/A)
2,144 ±1,713
715 ±989
01:03 (01:01)
11
Farm Frenzy Collection
Aug 21, 2015
$7.99
N/A (N/A)
4,349 ±2,004
2,899 ±1,637
57:06 (66:54)
12
Ozapell Basic
Oct 23, 2017
$14.99
N/A (N/A)
715 ±989
357 ±699
00:05 (00:02)
13
Champions of Breakfast
Jun 23, 2016
$1.49
N/A (N/A)
1,450 ±1,157
1,450 ±1,157
04:52 (08:20)
14
Unruly Ghouls
Oct 19, 2016
$4.99
N/A (N/A)
3,141 ±1,703
483 ±668
06:06 (04:03)
15
Rumpus
Jul 4, 2016
$14.99
N/A (N/A)
966 ±945
242 ±472
00:16 (00:05)
16
Fourtex Jugo
Apr 13, 2017
$1.99
N/A (N/A)
715 ±989
357 ±699
02:13 (01:06)
17
Atomic Butcher: Homo Metabolicus
Oct 21, 2016
$9.99
N/A (N/A)
690 ±1,350
690 ±1,350
00:19 (00:19)
18
Final Days
Oct 3, 2016
$3.74
N/A (N/A)
725 ±818
725 ±818
01:04 (01:03)
19
Minions, Monsters, and Madness
Jan 10, 2017
$3.99
N/A (N/A)
1,429 ±1,398
715 ±989
01:35 (01:35)
20
Moribund
Mar 16, 2017
$9.99
N/A (N/A)
8,698 ±2,835
3,624 ±1,830
03:30 (03:52)
21
Bitslap
Sep 23, 2016
$6.99
N/A (N/A)
1,429 ±1,398
715 ±989
00:39 (00:38)
22
A Long Way Home
May 27, 2016
$1.99
N/A (N/A)
8,456 ±2,795
4,832 ±2,113
02:55 (03:19)
23
Duo
Dec 19, 2016
$1.99
N/A (N/A)
8,215 ±2,755
4,590 ±2,059
02:29 (03:17)
24
Tails
Aug 8, 2016
$7.99
N/A (N/A)
715 ±989
357 ±699
00:01 (00:00)
25
In Extremis
Nov 16, 2016
$2.49
N/A (N/A)
715 ±989
357 ±699
02:56 (01:28)
26
Sumer
Feb 15, 2017
$14.99
N/A (N/A)
725 ±818
483 ±668
03:31 (02:20)
27
Diamond Joyce and the Secret of Crystal Cave
Sep 16, 2016
$2.39
N/A (N/A)
1,787 ±1,563
715 ±989
00:03 (00:02)
28
Civil War: 1861
Feb 1, 2017
$9.99
N/A (N/A)
1,072 ±1,211
715 ±989
10:30 (10:29)
29
She Remembered Caterpillars
Jan 17, 2017
$8.99
N/A (N/A/82%)
32,375 ±5,470
4,832 ±2,113
04:06 (02:42)
30
Recursed
Sep 30, 2016
$3.99
99% (98%)
3,382 ±1,768
2,899 ±1,637
04:40 (04:08)
31
Dark Angels: Masquerade of Shadows
Feb 2, 2017
$1.79
N/A (N/A)
10,631 ±3,134
7,007 ±2,544
05:38 (03:45)
32
Rivalry
Jan 22, 2016
$2.99
95% (96%)
3,866 ±1,890
3,624 ±1,830
03:57 (04:11)
33
Way of the Red
Nov 16, 2016
$3.99
N/A (N/A)
690 ±1,350
690 ±1,350
01:43 (01:43)
34
Frequent Flyer
Jan 20, 2017
$0.74
N/A (N/A)
2,899 ±1,637
1,691 ±1,250
01:42 (03:03)
35
Castle Battles
Dec 16, 2016
$9.99
N/A (N/A)
690 ±1,350
690 ±1,350
00:21 (00:21)
36
ecotone
May 6, 2016
$8.99
N/A (N/A)
1,208 ±1,056
725 ±818
00:40 (00:24)
37
DWVR
Sep 26, 2017
$14.99
N/A (N/A)
1,072 ±1,211
715 ±989
01:42 (01:18)
38
Cubixx HD
Jan 28, 2016
$1.79
N/A (N/A)
2,759 ±2,701
1,379 ±1,910
00:21 (00:31)
39
Creeper World 2: Anniversary Edition
Nov 16, 2016
$3.99
N/A (N/A)
13,047 ±3,472
6,765 ±2,500
21:30 (12:34)
40
Farabel
Oct 14, 2016
$4.99
N/A (N/A)
7,007 ±2,544
4,349 ±2,004
03:14 (03:18)
41
Dwarflings
Mar 16, 2017
$1.99
N/A (N/A)
35,999 ±5,768
33,100 ±5,531
04:54 (04:35)
42
BOOR
Feb 14, 2017
$1.24
65% (87%/71%)
7,490 ±2,631
3,866 ±1,890
02:26 (03:31)
43
forma.8
Feb 23, 2017
$2.99
N/A (N/A)
2,416 ±1,494
1,933 ±1,336
08:23 (12:44)
44
Fragmental
Dec 20, 2017
$11.99
N/A (N/A)
715 ±989
715 ±989
01:09 (01:08)
45
Overdriven Reloaded
Oct 7, 2016
$7.99
N/A (N/A)
1,787 ±1,563
715 ±989
01:30 (01:30)
46
Pipejob
Oct 15, 2016
$5.99
N/A (N/A)
1,429 ±1,398
1,072 ±1,211
00:48 (01:04)
47
Spoids
Feb 20, 2017
$1.99
N/A (N/A)
5,074 ±2,165
2,174 ±1,417
02:17 (02:42)
48
Hardnoid
Feb 17, 2017
$0.49
39% (76%)
56,052 ±7,197
51,220 ±6,880
06:47 (07:07)
49
Glaive
Jul 26, 2016
$0.99
N/A (N/A)
715 ±989
715 ±989
00:43 (00:43)
50
Acaratus
May 25, 2017
$14.99
N/A (N/A)
1,691 ±1,250
1,691 ±1,250
04:37 (05:32)
51
One Of The Last
Dec 20, 2017
$9.09
N/A (N/A)
1,429 ±1,398
1,072 ±1,211
01:09 (00:50)
52
Impossible Geometry
May 12, 2016
$1.99
N/A (N/A)
1,208 ±1,056
1,208 ±1,056
01:21 (01:46)
53
Crimson Sword Saga: The Peloran Wars
Jan 6, 2017
$0.49
N/A (N/A)
38,898 ±5,995
36,482 ±5,806
03:49 (03:30)
54
Shoot Paint
Feb 27, 2017
$0.49
N/A (N/A)
182,653 ±12,990
155,110 ±11,971
04:51 (05:01)
55
The New Queen
Jan 13, 2017
$0.79
N/A (N/A)
3,141 ±1,703
1,450 ±1,157
06:18 (10:16)