Death Squared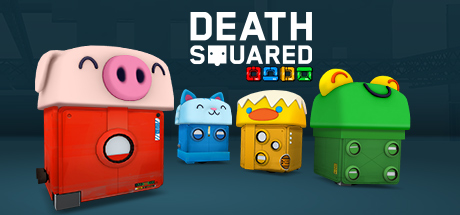 Store | Hub | SteamDB | Site
Developer: SMG Studio Publisher: SMG Studio
Genre: Casual, Indie
Languages: English
Tags: Casual (32), Indie (32), Co-op (15), Funny (14), Colorful (11), Dark Humor (10), Minimalist (10), Controller (10), Difficult (10), Puzzle (7)
Category: Single-player, Local Multi-Player, Local Co-op, Shared/Split Screen, Steam Achievements, Full controller support, Steam Trading Cards, Steam Cloud, Stats
Release date: Mar 13, 2017
Price: $19.99
Owners: 815 ± 1,595
Followers: 414
Peak concurrent players yesterday: 6
YouTube stats: 7,782 views and 168 comments for videos uploaded last week, 2 new videos uploaded yesterday.

Steam Spy is still in beta, so expect major bugs.
Peak daily concurrent players:
CCU data courtesy of SteamDB. Used with permission.
Hourly concurrent players:
YouTube:
The views data is based on top 50 videos uploaded last week. Actual number of views might be more than the number shown.

The displayed number of videos uploaded yesterday is limited to 50, so if there were more videos uploaded, the number will still show 50.

If the game has commonly used word as its name (like "FEAR" or "Volume") its number of Youtube views might be wrong.
Games similar to this one:
#
Game
Release date

Price

Score rank
(Userscore / Metascore)

Owners

Players

Playtime (Median)

1
Superstar Dance Club
Aug 4, 2015
$4.99
N/A (N/A)
944 ±1,067
630 ±871
00:06 (00:05)
2
League of Light: Dark Omens Collector's Edition
Oct 7, 2016
$9.99
N/A (N/A)
655 ±1,283
655 ±1,283
06:31 (06:31)
3
Cloudrift
Oct 30, 2015
$9.99
N/A (N/A)
681 ±769
0 ±0
00:00 (00:00)
4
Phrase Shift
Nov 30, 2016
$2.99
N/A (N/A)
630 ±871
630 ±871
02:45 (02:44)
5
Book Series - Alice in Wonderland
Nov 16, 2016
$4.99
N/A (N/A)
908 ±888
681 ±769
00:56 (00:55)
6
SPLIT BULLET
Oct 31, 2016
$1.99
N/A (N/A)
908 ±888
454 ±628
07:40 (05:06)
7
Dark Cases: The Blood Ruby Collector's Edition
Jan 11, 2017
$12.99
N/A (N/A)
655 ±1,283
655 ±1,283
14:54 (14:54)
8
CAFE 0 ~The Sleeping Beast~
Nov 11, 2016
$21.99
N/A (N/A)
944 ±1,067
630 ±871
02:04 (01:16)
9
THE VIDEOKID
Jan 31, 2017
$3.99
N/A (N/A)
2,271 ±1,404
1,135 ±992
01:32 (02:27)
10
Echoes of the Past: The Revenge of the Witch Collector's Edition
May 31, 2016
$6.99
N/A (N/A)
630 ±871
315 ±616
04:33 (02:16)
11
Maze: Subject 360 Collector's Edition
Apr 28, 2016
$9.99
N/A (N/A)
655 ±1,283
655 ±1,283
01:01 (01:01)
12
Off the Record: The Linden Shades Collector's Edition
May 24, 2016
$9.99
N/A (N/A)
655 ±1,283
655 ±1,283
03:54 (03:54)
13
Redemption Cemetery: Salvation of the Lost Collector's Edition
Jul 12, 2016
$9.99
N/A (N/A)
655 ±1,283
655 ±1,283
06:23 (06:23)
14
Off the Record: The Italian Affair Collector's Edition
Aug 4, 2016
$9.99
N/A (N/A)
655 ±1,283
655 ±1,283
06:05 (06:05)
15
Hidden Expedition: Dawn of Prosperity Collector's Edition
Sep 7, 2016
$9.99
N/A (N/A)
655 ±1,283
655 ±1,283
09:54 (09:54)
16
Mysterious Castle
Mar 25, 2016
$4.99
N/A (N/A)
1,259 ±1,232
630 ±871
00:47 (00:46)