Uncrewed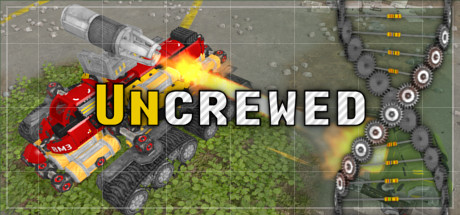 Store | Hub | SteamDB
Developer: Quite Different Mechanics Publisher: Quite Different Mechanics
Genre: Action, Strategy, Early Access
Languages: English
Tags: Early Access (35), Action (31), Strategy (31), RTS (12), Sandbox (11), Simulation (10), Multiplayer (10), Base-Building (10), Physics (10), Building (9)
Category: Single-player, Multi-player, Online Multi-Player, Steam Achievements, Steam Workshop
Release date: Jul 28, 2016
Price: $11.99
Followers: 1,491
Peak concurrent players yesterday: 5
YouTube stats: 1,938 views and 34 comments for videos uploaded last week, 1 new videos uploaded yesterday.

Steam Spy is still in beta, so expect major bugs.
Peak daily concurrent players:
CCU data courtesy of SteamDB. Used with permission.
Hourly concurrent players:
YouTube:
The views data is based on top 50 videos uploaded last week. Actual number of views might be more than the number shown.

The displayed number of videos uploaded yesterday is limited to 50, so if there were more videos uploaded, the number will still show 50.

If the game has commonly used word as its name (like "FEAR" or "Volume") its number of Youtube views might be wrong.
Games similar to this one:
#
Game
Release date

Price

Score rank
(Userscore / Metascore)

Owners

Players

Playtime (Median)

1
Cooking Witch
May 18, 2017
$1.99
N/A (N/A)
8,351 ±2,581
3,967 ±1,779
04:22 (01:47)
2
Castle of no Escape 2
Dec 21, 2016
$6.66
100% (100%)
12,735 ±3,188
8,142 ±2,549
03:12 (03:17)
3
Sky Sanctuary
Feb 15, 2017
$12.99
N/A (N/A)
1,182 ±1,156
591 ±817
00:25 (00:25)
4
Monolith
Jun 7, 2017
$7.99
97% (97%/84%)
5,011 ±1,999
4,593 ±1,914
11:27 (05:11)
5
Rivalry
Jan 22, 2016
$2.99
N/A (N/A)
2,505 ±1,414
2,505 ±1,414
03:15 (04:08)
6
Warstone TD
Apr 6, 2017
$7.49
95% (96%)
5,637 ±2,121
5,428 ±2,081
18:07 (08:14)
7
Your Smile Beyond Twilight:
Jun 23, 2017
$1.99
95% (96%)
3,549 ±1,683
2,297 ±1,353
00:56 (00:59)
8
Goblin and Coins
Nov 8, 2016
$1.99
N/A (N/A)
1,253 ±999
418 ±577
03:06 (02:03)
9
C14 Dating
Apr 22, 2016
$19.99
N/A (N/A)
1,461 ±1,080
1,461 ±1,080
13:13 (15:57)
10
8Bit Fiesta
Sep 30, 2016
$7.99
86% (93%)
9,395 ±2,738
7,725 ±2,483
05:52 (03:09)
11
Tangledeep
Jul 18, 2017
$14.99
81% (92%)
5,011 ±1,999
4,802 ±1,957
04:14 (01:43)
12
Pipejob
Oct 15, 2016
$6.99
N/A (N/A)
2,714 ±1,471
2,297 ±1,353
00:21 (00:19)
13
Talent Not Included
Aug 30, 2016
$12.99
N/A (N/A/73%)
2,088 ±1,290
1,670 ±1,154
01:39 (01:41)
14
Dong-Jin Rice-hime
Apr 28, 2017
$19.99
74% (90%)
2,505 ±1,414
2,088 ±1,290
11:08 (17:22)
15
UTOPIA 9 - A Volatile Vacation
May 5, 2016
$11.99
67% (88%)
2,923 ±1,527
1,670 ±1,154
03:22 (03:30)
16
Abomination Tower
Feb 13, 2015
$4.99
N/A (N/A)
3,340 ±1,632
2,088 ±1,290
01:55 (02:03)
17
Blade Ballet
Aug 9, 2016
$14.99
N/A (N/A)
4,802 ±1,957
3,549 ±1,683
02:02 (02:35)
18
SoulHunt
Dec 23, 2016
$8.99
N/A (N/A)
2,505 ±1,414
2,505 ±1,414
02:05 (03:17)
19
The Inner Darkness
Feb 24, 2017
$4.99
N/A (N/A)
4,802 ±1,957
3,758 ±1,731
02:24 (02:50)
20
Coffee Shop Tycoon
Dec 5, 2016
$5.99
56% (84%)
5,846 ±2,160
5,637 ±2,121
03:33 (03:18)
21
Chicku
May 5, 2016
$4.99
N/A (N/A)
5,011 ±1,999
3,758 ±1,731
02:16 (02:36)
22
A House of Many Doors
Feb 3, 2017
$10.99
54% (83%)
5,846 ±2,160
4,176 ±1,825
05:29 (04:10)
23
Super Sky Arena
Oct 5, 2015
$14.99
N/A (N/A)
1,253 ±999
626 ±707
00:46 (00:45)
24
Mayhem Intergalactic
Jan 22, 2009
$9.99
N/A (N/A)
8,351 ±2,581
2,505 ±1,414
01:40 (02:25)
25
Medieval Kingdom Wars
Jun 9, 2017
$15.19
35% (74%)
16,076 ±3,582
14,823 ±3,439
02:58 (01:32)
26
Gladiator School
Dec 8, 2016
$9.99
35% (74%)
3,549 ±1,683
3,132 ±1,581
06:11 (04:16)
27
Child Phobia: Nightcoming Fears
Dec 20, 2016
$1.99
N/A (N/A)
5,637 ±2,121
5,637 ±2,121
03:35 (03:52)
28
Emerge: Cities of the Apocalypse
Apr 27, 2016
$7.99
28% (70%)
3,132 ±1,581
2,714 ±1,471
13:09 (11:02)
29
Academagia: The Making of Mages
Apr 20, 2017
$15.99
27% (69%)
7,307 ±2,415
6,472 ±2,272
11:49 (05:12)
30
The Archotek Project
Apr 28, 2017
$19.99
24% (67%)
2,297 ±1,353
2,088 ±1,290
06:53 (11:06)
31
Showdown Adventure
Sep 23, 2016
$2.99
N/A (N/A)
12,527 ±3,162
10,856 ±2,943
02:30 (02:38)
32
Edengrad
Apr 4, 2017
$12.99
16% (60%)
5,219 ±2,041
4,802 ±1,957
06:18 (04:48)
33
Deserter Simulator
Jul 30, 2015
$9.99
15% (59%)
3,132 ±1,581
2,714 ±1,471
04:41 (04:38)
34
The Other 99
Aug 25, 2016
$14.99
N/A (N/A)
1,477 ±1,292
1,477 ±1,292
02:48 (03:56)
35
Hero's Song
Nov 7, 2016
Free
14% (57%)
4,593 ±1,914
3,967 ±1,779
04:21 (02:53)
36
Super Trench Attack 2
Nov 6, 2015
$6.99
12% (55%)
13,153 ±3,240
8,142 ±2,549
03:00 (02:37)
37
Endciv
Apr 21, 2016
$7.99
8% (48%)
1,044 ±912
1,044 ±912
02:01 (02:58)
38
Riding Out
May 25, 2016
$19.99
7% (47%)
1,879 ±1,224
1,879 ±1,224
16:56 (13:09)
39
In Space We Brawl
Jul 17, 2015
$1.79
N/A (N/A)
3,132 ±1,581
1,461 ±1,080
04:21 (06:59)
40
//N.P.P.D. RUSH//- The milk of Ultraviolet
Feb 13, 2014
$3.99
5% (40%)
125,267 ±9,997
81,841 ±8,081
02:25 (02:03)
41
LSDriver
Jan 3, 2017
$0.49
N/A (N/A)
3,340 ±1,632
2,297 ±1,353
03:49 (03:18)
42
Moonstone Tavern - A Fantasy Tavern Sim!
May 13, 2016
$7.99
1% (28%)
26,306 ±4,582
21,922 ±4,182
03:16 (03:29)