Beekyr Reloaded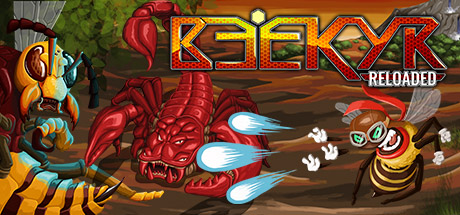 Store | Hub | SteamDB | Site
Developer: KaleidoGames Publisher: KaleidoGames, Indie Tribe
Genre: Action, Indie
Languages: English, Spanish, Polish, French, Japanese, German, Italian, Portuguese, Simplified Chinese
Tags: Early Access (24), Action (21), Indie (21), Shoot 'Em Up (13), 2D (11)
Category: Single-player, Local Multi-Player, Local Co-op, Shared/Split Screen, Steam Achievements, Full controller support, Steam Trading Cards, Steam Leaderboards
Release date: Nov 14, 2017 (previously in Early Access)
Price: $7.19 20%
Followers: 137
Peak concurrent players yesterday: 3
YouTube stats: 536 views and 13 comments for videos uploaded last week, 2 new videos uploaded yesterday.

Steam Spy is still in beta, so expect major bugs.
Peak daily concurrent players:
CCU data courtesy of SteamDB. Used with permission.
Hourly concurrent players:
YouTube:
The views data is based on top 50 videos uploaded last week. Actual number of views might be more than the number shown.

The displayed number of videos uploaded yesterday is limited to 50, so if there were more videos uploaded, the number will still show 50.

If the game has commonly used word as its name (like "FEAR" or "Volume") its number of Youtube views might be wrong.
Games similar to this one:
#
Game
Release date

Price

Score rank
(Userscore / Metascore)

Owners

Players

Playtime (Median)

1
RefRain - prism memories -
May 12, 2016
$7.49
N/A (N/A)
4,506 ±2,021
3,794 ±1,855
04:06 (04:34)
2
Sky Sanctuary
Feb 15, 2017
$12.99
N/A (N/A)
1,419 ±1,388
1,064 ±1,202
04:57 (07:17)
3
Sumer
Feb 15, 2017
$14.99
N/A (N/A)
949 ±927
474 ±655
02:13 (01:28)
4
One Small Fire At A Time
Jun 10, 2016
$9.99
N/A (N/A)
5,692 ±2,272
3,320 ±1,735
05:24 (10:34)
5
Akuto: Mad World
Dec 1, 2016
$10.99
N/A (N/A)
711 ±803
474 ±655
13:15 (08:49)
6
Miko Gakkou Monogatari: Kaede Episode
Nov 26, 2015
$8.99
N/A (N/A)
1,423 ±1,136
0 ±0
00:00 (00:00)
7
Dr. Spacezoo
May 9, 2016
$14.99
N/A (N/A)
709 ±981
709 ±981
02:20 (02:19)
8
Recursed
Sep 30, 2016
$7.99
100% (100%)
2,134 ±1,391
2,134 ±1,391
03:54 (06:22)
9
Header Goal VR: Being Axel Rix
Aug 16, 2017
$14.99
N/A (N/A)
1,425 ±1,973
1,425 ±1,973
00:40 (00:53)
10
Fourtex Jugo
Apr 13, 2017
$9.99
N/A (N/A)
713 ±1,395
713 ±1,395
03:45 (03:45)
11
Moribund
Mar 16, 2017
$9.99
N/A (N/A)
8,537 ±2,782
4,269 ±1,967
02:46 (03:10)
12
ZANGEKI WARP
Feb 15, 2017
$5.99
N/A (N/A)
1,064 ±1,202
355 ±694
03:09 (01:34)
13
Farm Frenzy Collection
Aug 21, 2015
$19.99
N/A (N/A)
5,929 ±2,319
5,217 ±2,175
117:48 (05:41)
14
Gunnihilation
Sep 14, 2016
$9.99
N/A (N/A)
711 ±803
711 ±803
00:16 (00:15)
15
Dimension Drive
Feb 16, 2017
$12.99
N/A (N/A)
1,773 ±1,552
709 ±981
02:09 (02:09)
16
One Giant Leap
Aug 22, 2016
$3.99
N/A (N/A)
1,419 ±1,388
1,419 ±1,388
00:25 (00:33)
17
Shadow Heroes: Vengeance In Flames
Nov 22, 2016
$2.99
N/A (N/A)
1,773 ±1,552
1,419 ±1,388
03:07 (02:41)
18
DWVR
Sep 26, 2017
$14.99
N/A (N/A)
709 ±981
355 ±694
06:46 (03:23)
19
Ghostlords
Nov 18, 2016
$9.99
N/A (N/A)
1,186 ±1,037
711 ±803
02:45 (02:21)
20
Way of the Red
Nov 16, 2016
$3.99
N/A (N/A)
1,773 ±1,552
1,773 ±1,552
01:25 (01:14)
21
Hot Guns
Apr 28, 2017
$4.99
N/A (N/A)
1,897 ±1,311
1,186 ±1,037
02:54 (03:21)
22
AIRHEART - Tales of broken Wings
Oct 13, 2016
$14.99
N/A (N/A)
709 ±981
709 ±981
05:08 (05:07)
23
Cubotrox
Nov 11, 2016
$5.99
N/A (N/A)
9,012 ±2,859
1,186 ±1,037
03:10 (04:16)
24
Nature's Zombie Apocalypse
Jul 23, 2015
$12.99
N/A (N/A)
1,660 ±1,227
1,423 ±1,136
05:02 (05:44)
25
Miner Meltdown
Aug 2, 2017
$6.99
N/A (N/A)
6,640 ±2,454
4,506 ±2,021
02:20 (02:55)
26
The New Queen
Jan 13, 2017
$7.99
N/A (N/A)
1,419 ±1,388
709 ±981
02:51 (02:51)