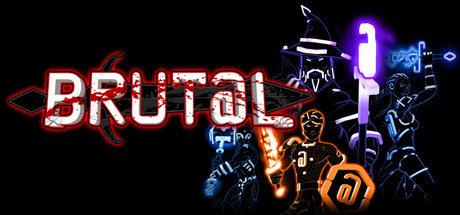 Store | Hub | SteamDB | Site
Developer: Stormcloud Games Publisher: Rising Star Games
Genre: Violent, Gore, Action, Adventure
Languages: English, French, Italian, German, Spanish, Japanese, Polish, Portuguese, Portuguese-Brazil, Russian
Tags: Adventure (25), Action (25), Gore (23), Violent (23), Rogue-like (17), Dungeon Crawler (15), Indie (15), Co-op (13)
Category: Single-player, Multi-player, Local Co-op, Shared/Split Screen, Steam Achievements, Full controller support, Steam Trading Cards, Steam Workshop, Steam Cloud, Steam Leaderboards, Includes level editor
Release date: Feb 9, 2017
Price: $14.99
Owners: 1,030 ± 1,425
Players in the last 2 weeks: 1,432 ± 2,806 (139.07%)
Players total: 1,432 ± 2,806 (139.07%)
Followers: 1,629
Peak concurrent players yesterday: 2
YouTube stats: 733 views and 17 comments for videos uploaded last week, 0 new videos uploaded yesterday.
Playtime in the last 2 weeks: 00:15 (average) 00:15 (median)
Playtime total: 02:08 (average) 02:08 (median)

Steam Spy is still in beta, so expect major bugs.
Peak daily concurrent players:
CCU data courtesy of SteamDB. Used with permission.
Hourly concurrent players:
YouTube:
The views data is based on top 50 videos uploaded last week. Actual number of views might be more than the number shown.

The displayed number of videos uploaded yesterday is limited to 50, so if there were more videos uploaded, the number will still show 50.

If the game has commonly used word as its name (like "FEAR" or "Volume") its number of Youtube views might be wrong.
Games similar to this one:
#
Game
Release date

Price

Score rank
(Userscore / Metascore)

Owners

Players

Playtime (Median)

1
The Tale of Doris and the Dragon - Episode 1
Sep 8, 2016
$3.99
N/A (N/A)
3,732 ±2,583
1,866 ±1,826
04:03 (03:57)
2
Magical Eyes - Red is for Anguish
Mar 30, 2016
$14.99
N/A (N/A/77%)
4,151 ±3,319
1,384 ±1,916
12:07 (12:06)
3
Gunmetal Arcadia Zero
Nov 15, 2016
$5.99
N/A (N/A)
57,379 ±10,128
3,265 ±2,416
01:24 (01:04)
4
Toonstruck
Nov 15, 2016
$9.99
N/A (N/A)
1,866 ±1,826
1,399 ±1,581
04:28 (04:27)
5
Legacy of Dorn: Herald of Oblivion
Dec 2, 2015
$4.99
N/A (N/A)
3,459 ±3,029
2,075 ±2,346
04:06 (04:23)
6
Lost Lands: The Golden Curse
Mar 24, 2016
$3.84
91% (95%)
3,459 ±3,029
2,767 ±2,710
11:01 (13:40)
7
Campus Notes - forget me not.
Apr 6, 2016
$11.99
N/A (N/A)
2,767 ±2,710
1,384 ±1,916
05:37 (05:37)
8
Creepy Castle
Oct 31, 2016
$14.99
N/A (N/A/82%)
1,399 ±1,581
1,399 ±1,581
06:21 (06:21)
9
How to shoot a criminal
Jan 20, 2017
$6.99
N/A (N/A)
1,384 ±1,916
1,384 ±1,916
03:45 (03:45)
10
Killing Time at Lightspeed: Enhanced Edition
Jul 5, 2016
$9.99
N/A (N/A)
2,075 ±2,346
1,384 ±1,916
00:38 (00:37)
11
Abandoned: Chestnut Lodge Asylum
Sep 24, 2015
$6.99
N/A (N/A)
2,075 ±2,346
1,384 ±1,916
03:02 (03:02)
12
Drawn: The Painted Tower
Jan 19, 2011
$9.99
63% (87%)
6,997 ±3,537
5,598 ±3,163
05:36 (05:06)
13
Warden: Melody of the Undergrowth
Apr 8, 2016
$19.99
N/A (N/A)
2,767 ±2,710
2,075 ±2,346
02:36 (03:40)
14
The Eyes of Ara
Jul 19, 2016
$14.99
60% (86%)
8,302 ±4,693
6,226 ±4,065
25:15 (12:47)
15
Midvinter
May 5, 2016
$4.99
N/A (N/A)
7,610 ±4,494
4,843 ±3,585
03:47 (06:14)
16
Gochi-Show!
Sep 1, 2016
$4.99
N/A (N/A)
1,866 ±1,826
1,866 ±1,826
22:21 (29:41)
17
Break Chance Memento
Feb 12, 2016
$14.99
N/A (N/A)
2,075 ±2,346
1,384 ±1,916
07:17 (07:17)
18
Candice DeBébé's Incredibly Trick Lifestyle
Mar 22, 2016
$2.49
55% (84%)
2,332 ±2,042
1,399 ±1,581
01:15 (01:15)
19
Adventure Time: Finn and Jake Investigations
Dec 1, 2015
$14.99
N/A (N/A)
3,265 ±2,416
2,799 ±2,237
10:32 (10:51)
20
SVRVIVE
Nov 17, 2016
$18.99
N/A (N/A)
4,843 ±3,585
3,459 ±3,029
01:25 (01:46)
21
Nancy Drew Alibi in Ashes
Nov 2, 2011
$6.99
N/A (N/A)
10,263 ±4,283
8,863 ±3,981
40:51 (05:47)
22
Eventide 2: The Sorcerers Mirror
Oct 13, 2016
$9.99
N/A (N/A)
4,843 ±3,585
3,459 ±3,029
02:29 (02:10)
23
Ian's Eyes
Sep 1, 2016
$9.99
N/A (N/A/36%)
1,384 ±1,916
692 ±1,355
12:01 (06:00)
24
The Amazing Shinsengumi: Heroes in Love
Jul 26, 2016
$15.99
N/A (N/A)
2,075 ±2,346
2,075 ±2,346
12:09 (17:38)
25
Asemblance
Jun 21, 2016
$9.99
30% (72%)
4,665 ±2,888
4,665 ±2,888
04:35 (01:29)
26
Super Robot Jump Jump
Mar 31, 2016
$4.99
N/A (N/A)
5,598 ±3,163
5,598 ±3,163
04:44 (04:22)
27
Talewind
Sep 22, 2016
$8.99
N/A (N/A)
1,384 ±1,916
1,384 ±1,916
03:49 (03:49)
28
NightCry
Mar 28, 2016
$12.49
20% (64%)
6,531 ±3,417
5,598 ±3,163
06:43 (10:25)
29
It's Killing Time
Apr 22, 2016
$4.99
N/A (N/A)
2,767 ±2,710
2,075 ±2,346
03:08 (04:31)
30
Masha Rescues Grandma
Dec 23, 2016
$3.99
N/A (N/A)
3,265 ±2,416
2,799 ±2,237
02:44 (01:34)
31
P·O·L·L·E·N
Apr 19, 2016
$14.99
18% (63%)
2,799 ±2,237
2,799 ±2,237
07:08 (12:39)
32
Wind Child
Mar 18, 2016
$3.99
N/A (N/A)
6,064 ±3,293
3,265 ±2,416
01:39 (00:45)
33
Fall of the Titanic
Dec 3, 2015
Free
17% (61%)
10,263 ±4,283
10,263 ±4,283
05:15 (00:28)
34
Edge of Twilight – Return To Glory
Sep 28, 2016
$14.99
N/A (N/A)
5,598 ±3,163
3,265 ±2,416
06:46 (09:23)
35
De-Void
Sep 2, 2016
$7.99
N/A (N/A)
4,665 ±2,888
2,332 ±2,042
05:36 (05:28)
36
Office lovers
Aug 7, 2016
$15.99
N/A (N/A)
2,075 ±2,346
2,075 ±2,346
06:40 (09:53)
37
The Growth Journey
Jan 7, 2016
$3.99
N/A (N/A)
6,531 ±3,417
4,665 ±2,888
02:08 (02:49)
38
Viktaram
Dec 1, 2016
$0.99
N/A (N/A)
2,767 ±2,710
1,384 ±1,916
00:22 (00:21)
39
The Youthdrainers
Sep 18, 2016
$2.99
N/A (N/A)
2,332 ±2,042
933 ±1,291
03:20 (02:13)