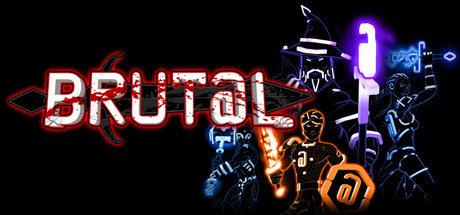 Store | Hub | SteamDB | Site
Developer: Stormcloud Games Publisher: Rising Star Games
Genre: Violent, Gore, Action, Adventure
Languages: English, French, Italian, German, Spanish, Japanese, Polish, Portuguese, Portuguese-Brazil, Russian
Tags: Action (25), Adventure (25), Violent (23), Gore (23), Rogue-like (18), Dungeon Crawler (15), Indie (15), Co-op (14)
Category: Single-player, Multi-player, Local Co-op, Shared/Split Screen, Steam Achievements, Full controller support, Steam Trading Cards, Steam Workshop, Steam Cloud, Steam Leaderboards, Includes level editor
Release date: Feb 9, 2017
Price: $14.99
Old userscore: 80% Metascore: 66%
Owners: 2,140 ± 1,394
Players total: 1,902 ± 1,315 (88.89%)
Followers: 1,729
Peak concurrent players yesterday: 3
YouTube stats: 2 views and 0 comments for videos uploaded last week, 0 new videos uploaded yesterday.
Playtime total: 01:10 (average) 01:50 (median)

Steam Spy is still in beta, so expect major bugs.
Peak daily concurrent players:
CCU data courtesy of SteamDB. Used with permission.
Hourly concurrent players:
YouTube:
The views data is based on top 50 videos uploaded last week. Actual number of views might be more than the number shown.

The displayed number of videos uploaded yesterday is limited to 50, so if there were more videos uploaded, the number will still show 50.

If the game has commonly used word as its name (like "FEAR" or "Volume") its number of Youtube views might be wrong.
Games similar to this one:
#
Game
Release date

Price

Score rank
(Userscore / Metascore)

Owners

Players

Playtime (Median)

1
Street Champ VR
Dec 8, 2016
$0.99
N/A (N/A)
1,664 ±1,230
1,426 ±1,139
00:07 (00:08)
2
Barrow Hill: Curse of the Ancient Circle
Sep 22, 2016
$7.99
N/A (N/A)
23,061 ±4,579
1,189 ±1,039
01:10 (00:58)
3
Fibrillation HD
Apr 11, 2017
$3.99
N/A (N/A)
2,140 ±1,394
1,664 ±1,230
03:02 (04:34)
4
Tex Murphy: The Pandora Directive
Jun 12, 2014
$9.99
N/A (N/A)
45,409 ±6,426
4,279 ±1,972
04:04 (02:04)
5
Bik - A Space Adventure
Oct 14, 2014
$4.99
N/A (N/A)
3,328 ±1,739
3,091 ±1,676
02:45 (02:30)
6
Creepy Castle
Oct 31, 2016
$14.99
N/A (N/A/82%)
3,804 ±1,859
3,091 ±1,676
15:11 (09:17)
7
Sword of the Samurai
Oct 17, 2014
$6.99
92% (95%)
21,635 ±4,435
5,706 ±2,278
03:10 (00:32)
8
Dreadhalls
Mar 9, 2017
$9.99
N/A (N/A)
1,902 ±1,315
1,902 ±1,315
00:51 (01:15)
9
Idol Magical Girl Chiru Chiru Michiru Part 2
Jul 29, 2015
$19.99
N/A (N/A)
4,279 ±1,972
1,426 ±1,139
03:57 (06:49)
10
House of Hell
Jan 19, 2016
$4.99
N/A (N/A)
6,419 ±2,416
2,377 ±1,470
04:02 (05:01)
11
Campus Notes - forget me not.
Apr 6, 2016
$11.99
N/A (N/A)
2,140 ±1,394
1,426 ±1,139
07:03 (09:27)
12
The Frostrune
Feb 2, 2017
$9.99
89% (94%)
4,993 ±2,130
1,664 ±1,230
02:59 (03:57)
13
Freddi Fish 4: The Case of the Hogfish Rustlers of Briny Gulch
May 29, 2014
$6.99
N/A (N/A)
20,446 ±4,312
5,468 ±2,230
01:40 (01:12)
14
True Fear: Forsaken Souls
Oct 19, 2016
$14.99
89% (94%)
3,328 ±1,739
2,853 ±1,610
05:55 (06:48)
15
Wheely
Nov 9, 2016
$1.99
N/A (N/A)
2,853 ±1,610
2,140 ±1,394
06:21 (10:36)
16
Quern - Undying Thoughts
Nov 28, 2016
$24.99
85% (93%/81%)
8,083 ±2,711
6,895 ±2,504
07:29 (05:51)
17
Gahkthun of the Golden Lightning Steam Edition
Apr 15, 2016
$39.99
N/A (N/A)
2,140 ±1,394
1,426 ±1,139
11:34 (16:41)
18
Dark Echo
May 11, 2015
$2.99
85% (93%)
37,801 ±5,863
30,431 ±5,260
01:51 (00:56)
19
Kyoto Colorful Days
Jun 14, 2016
$9.99
N/A (N/A)
7,846 ±2,671
4,755 ±2,079
04:20 (03:22)
20
Sorcery! Part 3
Apr 5, 2016
$9.99
N/A (N/A)
9,748 ±2,977
2,615 ±1,542
01:39 (02:58)
21
Chronicle of Innsmouth
May 5, 2017
$7.99
N/A (N/A)
3,091 ±1,676
2,140 ±1,394
02:53 (03:24)
22
HellGunner
May 11, 2017
$0.99
N/A (N/A)
10,461 ±3,084
10,461 ±3,084
03:42 (04:26)
23
Knee Deep
Jul 6, 2015
$19.99
75% (90%)
17,593 ±3,999
7,370 ±2,588
05:24 (04:21)
24
Affairs of the Court: Choice of Romance
Jun 23, 2016
$5.99
N/A (N/A)
3,566 ±1,800
2,853 ±1,610
06:35 (07:05)
25
Nancy Drew: Ghost of Thornton Hall
May 14, 2013
$19.99
N/A (N/A)
10,461 ±3,084
8,321 ±2,750
10:59 (09:50)
26
Lost Chronicles of Zerzura
Jul 10, 2014
$9.99
N/A (N/A)
18,306 ±4,080
3,328 ±1,739
04:15 (04:34)
27
Midnight Mysteries 3: Devil on the Mississippi
Mar 28, 2012
$9.99
N/A (N/A)
25,914 ±4,854
7,132 ±2,546
09:40 (06:02)
28
Message Quest
Oct 22, 2015
$2.99
65% (87%)
15,216 ±3,719
9,985 ±3,013
02:05 (01:31)
29
Ankh - Anniversary Edition
May 21, 2015
$7.99
N/A (N/A)
9,985 ±3,013
4,517 ±2,026
05:05 (03:46)
30
Mooch
Sep 7, 2015
$4.99
N/A (N/A)
2,140 ±1,394
1,189 ±1,039
06:58 (08:36)
31
Nancy Drew: The Captive Curse
Jul 25, 2011
$6.99
N/A (N/A)
10,936 ±3,153
9,034 ±2,866
09:35 (09:16)
32
Namariel Legends: Iron Lord Premium Edition
Jul 9, 2014
$6.99
N/A (N/A)
28,529 ±5,093
2,377 ±1,470
01:45 (01:54)
33
Trials of Azra
Sep 15, 2016
$9.99
N/A (N/A)
1,426 ±1,139
951 ±929
03:01 (03:52)
34
The Eyes of Ara
Jul 19, 2016
$14.99
59% (85%)
5,230 ±2,181
4,993 ±2,130
14:37 (09:01)
35
Warden: Melody of the Undergrowth
Apr 8, 2016
$19.99
N/A (N/A)
1,902 ±1,315
1,664 ±1,230
02:33 (01:08)
36
The Guilt and the Shadow
Feb 2, 2015
$8.99
N/A (N/A)
1,426 ±1,139
475 ±657
02:24 (01:36)
37
OddPlanet
May 11, 2016
$6.99
N/A (N/A)
19,971 ±4,261
713 ±805
01:12 (00:34)
38
GRAVEN The Purple Moon Prophecy
Sep 29, 2016
$9.99
N/A (N/A)
1,426 ±1,139
475 ±657
04:40 (03:06)
39
Sorcery! Part 4
Sep 22, 2016
$9.99
N/A (N/A)
8,083 ±2,711
238 ±464
07:25 (02:28)
40
Call of Cthulhu: Shadow of the Comet
Nov 4, 2015
$5.99
N/A (N/A)
4,755 ±2,079
1,902 ±1,315
02:18 (03:07)
41
Gochi-Show! -How To Learn Japanese Cooking Game-
Sep 1, 2016
$4.99
N/A (N/A)
7,608 ±2,630
4,755 ±2,079
02:41 (03:19)
42
Abandoned: Chestnut Lodge Asylum
Sep 24, 2015
$6.99
N/A (N/A)
1,664 ±1,230
951 ±929
05:53 (03:37)
43
Disney Infinity 1.0: Gold Edition
Dec 9, 2016
$29.99
N/A (N/A)
1,189 ±1,039
951 ±929
07:11 (09:22)
44
SVRVIVE: The Deus Helix
Nov 17, 2016
$18.99
52% (82%)
6,657 ±2,460
951 ±929
01:11 (01:28)
45
Heaven's Hope - Special Edition
Feb 25, 2016
$19.99
N/A (N/A/74%)
7,846 ±2,671
5,706 ±2,278
08:15 (10:17)
46
Tobari and the Night of the Curious Moon
May 26, 2015
$9.99
N/A (N/A)
4,042 ±1,917
3,804 ±1,859
02:33 (02:33)
47
Pavilion
Sep 23, 2016
$9.99
N/A (N/A)
2,615 ±1,542
951 ±929
00:27 (00:31)
48
Detective Hayseed - Hollywood
Oct 7, 2016
$14.99
N/A (N/A)
3,328 ±1,739
2,615 ±1,542
03:02 (03:59)
49
Starship Titanic
Oct 27, 2016
$5.99
N/A (N/A)
1,189 ±1,039
475 ±657
05:47 (03:51)
50
Ladra
Nov 13, 2015
$1.99
N/A (N/A)
17,831 ±4,026
1,664 ±1,230
03:51 (00:22)
51
Pilot Brothers
Dec 18, 2014
$4.99
N/A (N/A)
13,551 ±3,510
2,377 ±1,470
00:54 (01:21)
52
Barrow Hill: The Dark Path
Sep 22, 2016
$14.99
N/A (N/A)
2,140 ±1,394
1,426 ±1,139
06:47 (10:45)
53
Slap Village: Reality Slap
Jul 21, 2016
$9.99
N/A (N/A)
1,664 ±1,230
951 ±929
04:54 (06:30)
54
Midnight Mysteries
Sep 28, 2009
$9.99
N/A (N/A)
31,620 ±5,362
11,887 ±3,287
05:42 (03:20)
55
The Bunker
Sep 20, 2016
$19.99
41% (77%/57%)
5,230 ±2,181
2,853 ±1,610
01:46 (02:00)
56
White Night
Mar 3, 2015
$14.99
41% (77%/68%)
21,159 ±4,386
11,412 ±3,221
02:08 (01:11)
57
Prominence
Nov 6, 2015
$19.99
N/A (N/A)
1,902 ±1,315
1,664 ±1,230
11:34 (11:37)
58
The Amazing Shinsengumi: Heroes in Love
Jul 26, 2016
$15.99
N/A (N/A)
3,566 ±1,800
1,426 ±1,139
02:57 (03:13)
59
Legend of Miro
Aug 22, 2016
$9.99
N/A (N/A)
13,551 ±3,510
5,230 ±2,181
02:06 (02:48)
60
Overclocked: A History of Violence
Apr 3, 2015
$14.99
N/A (N/A/70%)
16,642 ±3,890
2,377 ±1,470
03:26 (02:04)
61
FATED: The Silent Oath
Apr 28, 2016
$9.99
32% (72%/67%)
2,140 ±1,394
1,664 ±1,230
01:55 (03:53)
62
Wild Romance
Oct 19, 2016
$8.99
N/A (N/A)
2,377 ±1,470
951 ±929
01:18 (01:34)
63
Adam's Venture: Origins
Apr 1, 2016
$39.99
N/A (N/A)
4,993 ±2,130
3,566 ±1,800
03:20 (01:55)
64
City Quest
Aug 20, 2015
$9.99
N/A (N/A)
6,181 ±2,371
3,804 ±1,859
03:43 (04:31)
65
Haven Moon
Jul 8, 2016
$14.99
29% (70%)
4,042 ±1,917
4,042 ±1,917
03:09 (03:09)
66
Sinking Island
Dec 5, 2014
$7.99
27% (69%/68%)
23,537 ±4,626
3,091 ±1,676
78:55 (162:18)
67
Wind Child
Mar 18, 2016
$3.99
N/A (N/A)
4,993 ±2,130
3,328 ±1,739
02:26 (02:44)
68
The Hero Project: Redemption Season
Apr 8, 2016
$5.99
23% (66%)
3,328 ±1,739
3,091 ±1,676
11:07 (10:43)
69
Torn Tales
Jan 17, 2017
$12.99
N/A (N/A)
3,091 ±1,676
2,615 ±1,542
00:58 (01:55)
70
It's Killing Time
Apr 22, 2016
$5.99
N/A (N/A)
1,664 ±1,230
1,189 ±1,039
03:08 (02:19)
71
Robinson: The Journey
Feb 9, 2017
$39.99
N/A (N/A)
1,664 ±1,230
1,189 ±1,039
02:03 (03:14)
72
Chronicles of Mystery: The Scorpio Ritual
Jun 18, 2009
$4.99
N/A (N/A/62%)
23,061 ±4,579
5,468 ±2,230
05:01 (04:08)
73
My Secret Pets!
May 10, 2016
$15.99
17% (61%)
2,853 ±1,610
2,140 ±1,394
02:53 (03:18)
74
Pulse
Oct 20, 2015
$14.99
N/A (N/A/57%)
3,566 ±1,800
1,902 ±1,315
00:46 (00:52)
75
The Big Secret of a Small Town
Oct 22, 2015
$6.99
N/A (N/A)
1,189 ±1,039
951 ±929
05:22 (04:53)
76
Playing History: Vikings
Jul 1, 2015
$2.99
N/A (N/A)
12,600 ±3,385
951 ±929
02:34 (01:42)
77
Oracle
Feb 28, 2017
$1.99
16% (60%)
4,042 ±1,917
2,377 ±1,470
01:20 (00:58)
78
Dance of Death
Dec 21, 2015
$3.99
15% (59%)
23,061 ±4,579
16,167 ±3,834
04:22 (03:39)
79
Adventure Chronicles: The Search For Lost Treasure
Apr 29, 2014
$4.99
N/A (N/A)
7,846 ±2,671
1,664 ±1,230
02:26 (02:33)
80
Millionaire Manor
May 15, 2014
$4.99
N/A (N/A)
21,873 ±4,459
4,517 ±2,026
03:10 (03:08)
81
Daughter of Shadows: An SCP Breach Event
Apr 4, 2016
$0.99
N/A (N/A)
2,377 ±1,470
2,140 ±1,394
03:13 (04:33)
82
Drizzlepath: Genie
Feb 22, 2016
$2.63
11% (53%)
4,279 ±1,972
3,091 ±1,676
03:51 (03:28)
83
Lost Civilization
Apr 15, 2014
$4.99
N/A (N/A)
37,801 ±5,863
2,615 ±1,542
04:09 (03:02)
84
Space Rangers: Quest
Sep 5, 2016
$9.99
N/A (N/A)
2,853 ±1,610
1,902 ±1,315
05:34 (08:31)
85
Viktaram
Dec 1, 2016
$0.99
N/A (N/A)
2,377 ±1,470
951 ±929
03:12 (04:14)
86
Edge of Twilight Return To Glory
Sep 28, 2016
$14.99
N/A (N/A)
5,944 ±2,324
3,091 ±1,676
06:39 (08:24)
87
Dream Chamber
Jul 31, 2015
$9.99
N/A (N/A)
12,125 ±3,320
1,426 ±1,139
06:03 (09:09)
88
Pilot Brothers 3: Back Side of the Earth
Jan 22, 2015
$4.99
N/A (N/A)
7,370 ±2,588
713 ±805
03:10 (03:00)
89
Horror in the Asylum
Feb 1, 2016
$4.99
N/A (N/A)
3,566 ±1,800
2,615 ±1,542
02:07 (02:30)
90
Hidden Object - 12 in 1 bundle
Sep 1, 2016
$5.99
N/A (N/A)
3,804 ±1,859
3,091 ±1,676
08:34 (11:24)
91
The Mystery of the Druids
Apr 7, 2015
$4.99
N/A (N/A)
17,355 ±3,972
2,377 ±1,470
00:45 (00:42)
92
Atlantis 2: Beyond Atlantis
Apr 17, 2015
$3.99
N/A (N/A)
8,559 ±2,789
238 ±464
14:07 (04:42)
93
Disney Fairies: Tinker Bell's Adventure
Oct 6, 2014
$19.99
N/A (N/A)
5,230 ±2,181
3,328 ±1,739
02:08 (01:41)
94
Escape The Museum
Apr 29, 2014
$1.24
N/A (N/A)
4,279 ±1,972
1,189 ±1,039
05:43 (05:47)
95
Borstal
Mar 22, 2016
$2.99
N/A (N/A)
2,615 ±1,542
951 ±929
03:38 (02:44)
96
SLG Remix
Jun 1, 2016
$2.99
N/A (N/A)
6,419 ±2,416
4,993 ±2,130
02:42 (03:09)
97
Broadside
Sep 18, 2015
$4.99
N/A (N/A)
6,181 ±2,371
4,517 ±2,026
04:01 (04:03)
98
Corto Maltese - Secrets of Venice
Dec 4, 2014
$9.99
N/A (N/A)
5,230 ±2,181
2,615 ±1,542
04:36 (04:22)
99
The Youthdrainers
Sep 18, 2016
$2.99
N/A (N/A)
3,091 ±1,676
2,377 ±1,470
03:00 (03:51)