the 9th day: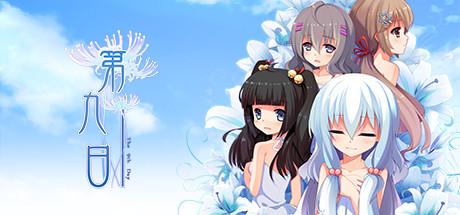 Store | Hub | SteamDB | Site
Developer: lingtanstudio Publisher: lingtanstudio
Genre: Adventure, Indie
Languages: Simplified Chinese
Tags: Indie (22), Adventure (21), Anime (12), Visual Novel (11)
Category: Single-player, Steam Achievements, Steam Trading Cards, Steam Cloud
Release date: Feb 16, 2017
Price: $8.99
Score rank: 89% Userscore: 94% Old userscore: 94%
Owners: 5,994 ± 2,444
Players total: 4,170 ± 2,039 (69.57%)
Followers: 3,466
Peak concurrent players yesterday: 1
Playtime total: 06:25 (average) 06:08 (median)

Steam Spy is still in beta, so expect major bugs.
Peak daily concurrent players:
CCU data courtesy of SteamDB. Used with permission.
Hourly concurrent players:
YouTube:
The views data is based on top 50 videos uploaded last week. Actual number of views might be more than the number shown.

The displayed number of videos uploaded yesterday is limited to 50, so if there were more videos uploaded, the number will still show 50.

If the game has commonly used word as its name (like "FEAR" or "Volume") its number of Youtube views might be wrong.
Games similar to this one:
#
Game
Release date

Price

Score rank
(Userscore / Metascore)

Owners

Players

Playtime (Median)

1
Buried: An Interactive Story
Jan 22, 2016
$2.99
97% (97%)
6,775 ±2,599
4,951 ±2,222
02:53 (02:35)
2
Milkmaid of the Milky Way
Jan 4, 2017
$5.99
95% (96%/74%)
5,994 ±2,444
3,127 ±1,765
02:40 (03:18)
3
The Tale of Doris and the Dragon - Episode 1
Sep 8, 2016
$3.99
N/A (N/A)
7,818 ±2,792
3,388 ±1,838
03:32 (03:44)
4
The Mooseman
Feb 17, 2017
$6.99
86% (93%)
9,381 ±3,058
4,951 ±2,222
01:18 (01:11)
5
Campus Notes - forget me not.
Apr 6, 2016
$11.99
N/A (N/A)
2,085 ±1,441
1,042 ±1,019
04:17 (03:43)
6
Hue
Aug 30, 2016
$14.99
86% (93%/79%)
89,645 ±9,454
21,108 ±4,587
02:42 (01:26)
7
199X
Mar 10, 2015
$1.99
71% (89%)
17,199 ±4,141
3,648 ±1,907
01:23 (01:20)
8
Mute Crimson+
Aug 13, 2015
$4.99
71% (89%)
3,648 ±1,907
2,345 ±1,529
04:50 (05:49)
9
Mr. Pumpkin Adventure
Jul 8, 2016
$3.99
65% (87%)
4,430 ±2,101
3,388 ±1,838
04:14 (03:53)
10
Shu
Oct 4, 2016
$9.99
N/A (N/A/85%)
51,598 ±7,172
10,424 ±3,224
02:53 (02:27)
11
A Pixel Story
Mar 30, 2015
$11.99
N/A (N/A/74%)
7,557 ±2,745
4,430 ±2,101
05:00 (04:31)
12
Steamroll
Feb 19, 2016
$12.99
N/A (N/A)
12,248 ±3,494
5,994 ±2,444
02:48 (02:33)
13
The Narrator Is a DICK
Jun 14, 2016
$4.99
49% (81%)
5,733 ±2,391
4,430 ±2,101
02:35 (03:03)
14
Chowderchu
Jan 4, 2016
$4.99
N/A (N/A)
7,557 ±2,745
5,212 ±2,279
03:56 (03:33)
15
The Infectious Madness of Doctor Dekker
May 19, 2017
$8.99
47% (80%/78%)
10,424 ±3,224
8,339 ±2,883
06:06 (05:19)
16
Cornerstone: The Song of Tyrim
Apr 26, 2016
$19.99
N/A (N/A/58%)
13,551 ±3,676
6,775 ±2,599
04:13 (03:21)
17
Shutter
Apr 2, 2015
$1.99
43% (78%)
20,066 ±4,473
9,381 ±3,058
03:29 (03:03)
18
1 Moment Of Time: Silentville
Jul 22, 2016
$0.49
41% (77%)
51,858 ±7,191
44,301 ±6,646
04:24 (04:24)
19
A Wolf in Autumn
Oct 27, 2015
$1.99
39% (76%)
13,290 ±3,640
4,691 ±2,162
00:31 (00:43)
20
samurai_jazz
Jan 27, 2015
$0.99
37% (75%)
20,326 ±4,502
4,170 ±2,039
00:38 (00:54)
21
Belladonna
Feb 27, 2015
$6.99
32% (72%)
45,083 ±6,704
24,756 ±4,968
04:47 (05:19)
22
The Adventures of Fatman
Oct 1, 2015
$1.99
N/A (N/A)
12,248 ±3,494
6,775 ±2,599
02:40 (03:05)
23
Hamilton's Great Adventure
May 31, 2011
$9.99
29% (70%/77%)
97,202 ±9,844
52,380 ±7,227
01:59 (00:59)
24
Algotica Iterations
Mar 23, 2017
$9.99
27% (69%)
10,424 ±3,224
5,994 ±2,444
03:17 (02:54)
25
Enola
Sep 18, 2014
$14.99
26% (68%)
21,629 ±4,644
11,466 ±3,381
04:12 (04:24)
26
Pneuma: Breath of Life
Feb 27, 2015
$19.99
26% (68%/63%)
17,981 ±4,234
9,121 ±3,015
03:36 (03:50)
27
In Case of Emergency, Release Raptor
Aug 29, 2016
Free
24% (67%)
19,023 ±4,355
3,909 ±1,974
00:28 (00:14)
28
Parvaneh: Legacy of the Light's Guardians
Aug 26, 2016
$9.99
N/A (N/A)
36,483 ±6,031
17,981 ±4,234
03:24 (03:57)
29
Astray
Feb 3, 2015
$2.79
22% (65%)
18,242 ±4,265
8,078 ±2,838
02:44 (01:59)
30
The Butterfly Sign: Human Error
Mar 16, 2017
$4.99
N/A (N/A)
171,992 ±13,094
160,787 ±12,660
04:10 (04:01)
31
The Last Error
Nov 1, 2016
$1.99
N/A (N/A)
78,960 ±8,873
67,494 ±8,203
03:37 (03:31)
32
Catmouth Island
Dec 31, 2014
$0.99
N/A (N/A)
20,326 ±4,502
15,375 ±3,915
02:22 (02:32)
33
The Mahjong Huntress
May 25, 2016
$4.99
16% (60%)
55,767 ±7,457
34,659 ±5,878
03:49 (03:08)
34
Sideway New York
Nov 15, 2011
$9.99
N/A (N/A/71%)
67,755 ±8,219
20,587 ±4,530
00:59 (00:22)
35
Space Incident
Sep 23, 2016
$0.51
N/A (N/A)
169,908 ±13,014
147,236 ±12,115
04:20 (04:31)
36
ENKI
Jul 31, 2015
$4.99
13% (56%/43%)
16,417 ±4,046
8,339 ±2,883
02:09 (02:20)
37
Not without my donuts
Apr 28, 2015
$3.99
N/A (N/A)
35,180 ±5,922
27,102 ±5,198
04:12 (04:19)
38
Breached
Jun 22, 2016
$6.99
11% (53%/54%)
4,951 ±2,222
2,345 ±1,529
01:09 (01:28)
39
Little Jack's Adventures
Dec 28, 2016
$0.99
N/A (N/A)
56,549 ±7,509
52,901 ±7,262
03:44 (03:36)
40
Last Inua
Dec 11, 2014
$7.99
N/A (N/A)
32,574 ±5,699
14,593 ±3,814
03:02 (02:10)
41
Detective Noir
Mar 17, 2017
$0.49
N/A (N/A)
80,003 ±8,931
76,354 ±8,725
03:40 (03:30)
42
The Growth Journey
Jan 7, 2016
$3.99
N/A (N/A)
127,952 ±11,294
119,352 ±10,908
03:38 (03:30)
43
Shattered Haven
Mar 18, 2013
$1.99
N/A (N/A/59%)
112,316 ±10,582
18,763 ±4,325
00:25 (00:14)
44
Envoy 2
Jun 16, 2016
$0.49
2% (33%)
51,337 ±7,154
42,216 ±6,488
04:24 (04:32)
45
Epsilon corp.
Apr 1, 2016
$2.99
N/A (N/A)
110,492 ±10,495
104,238 ±10,194
03:39 (03:30)
46
Tesla Breaks the World!
Nov 26, 2014
$9.99
N/A (N/A)
22,672 ±4,754
12,509 ±3,531
02:46 (02:54)
47
The Atomy
Oct 19, 2016
$0.51
N/A (N/A)
142,806 ±11,932
123,782 ±11,109
03:40 (03:30)