Safety First!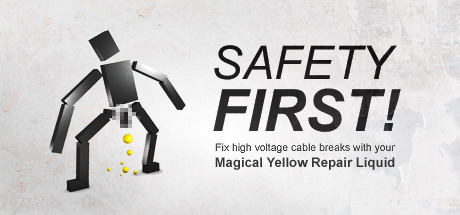 Store | Hub | SteamDB | Site
Developer: JCO Publisher: Headup Games
Genre: Casual, Indie, Simulation, Sports
Languages: English
Tags: Casual (21), Indie (21), Simulation (20), Sports (19)
Category: Single-player, Steam Achievements, Full controller support, Steam Trading Cards, Steam Leaderboards
Release date: Sep 8, 2016
Price: $2.99
Score rank: 64% Userscore: 87% Old userscore: 91%
Owners: 8,658 ± 2,612
Players in the last 2 weeks: 1,031 ± 901 (11.9%)
Players total: 3,711 ± 1,710 (42.86%)
Followers: 417
Peak concurrent players yesterday: 5
YouTube stats: 76 views and 14 comments for videos uploaded last week, 2 new videos uploaded yesterday.
Playtime in the last 2 weeks: 00:44 (average) 01:13 (median)
Playtime total: 04:15 (average) 02:32 (median)

Steam Spy is still in beta, so expect major bugs.
Peak daily concurrent players:
CCU data courtesy of SteamDB. Used with permission.
Hourly concurrent players:
YouTube:
The views data is based on top 50 videos uploaded last week. Actual number of views might be more than the number shown.

The displayed number of videos uploaded yesterday is limited to 50, so if there were more videos uploaded, the number will still show 50.

If the game has commonly used word as its name (like "FEAR" or "Volume") its number of Youtube views might be wrong.
Games similar to this one:
#
Game
Release date

Price

Score rank
(Userscore / Metascore)

Owners

Players

Playtime (Median)

1
Glass Masquerade
Nov 18, 2016
$4.99
100% (99%)
5,978 ±2,170
4,329 ±1,847
03:02 (03:32)
2
Allumette
Oct 13, 2016
Free
95% (96%)
51,331 ±6,359
22,264 ±4,188
00:38 (00:18)
3
Scarab Tales
Jul 1, 2015
$4.99
N/A (N/A)
7,834 ±2,484
618 ±698
00:08 (00:07)
4
The Night Cafe: A VR Tribute to Vincent Van Gogh
Jun 3, 2016
Free
92% (95%)
72,771 ±7,572
33,190 ±5,114
00:10 (00:05)
5
Kings of Israel
Dec 21, 2015
$7.99
N/A (N/A)
5,566 ±2,094
3,505 ±1,661
03:20 (04:24)
6
Flat Path
Aug 24, 2016
$0.99
N/A (N/A)
9,895 ±2,792
6,184 ±2,207
03:43 (03:54)
7
Save the Dodos
Apr 22, 2016
$2.99
N/A (N/A)
21,027 ±4,070
14,843 ±3,420
03:47 (03:59)
8
Another Star
Jul 28, 2015
$9.99
N/A (N/A)
929 ±1,049
0 ±0
00:00 (00:00)
9
Electric Circuit
Jun 22, 2015
$1.99
N/A (N/A)
44,528 ±5,923
40,612 ±5,657
03:52 (03:30)
10
Fibbage XL
Mar 24, 2016
$9.99
N/A (N/A)
18,347 ±3,802
17,110 ±3,672
06:32 (02:22)
11
Super Destronaut
Aug 26, 2016
$1.99
N/A (N/A)
5,360 ±2,055
825 ±806
00:45 (00:50)
12
Deadly Stasis
Mar 28, 2017
$2.99
N/A (N/A)
5,360 ±2,055
2,680 ±1,453
04:51 (06:12)
13
Ninja Reflex: Steamworks Edition
Mar 21, 2008
$4.99
N/A (N/A/57%)
14,224 ±3,348
6,803 ±2,315
01:53 (01:04)
14
Zen Bound 2
Nov 16, 2010
$4.99
82% (92%)
204,088 ±12,679
82,254 ±8,050
00:52 (00:18)
15
Pirate Pop Plus
Nov 4, 2016
$4.99
N/A (N/A/65%)
77,306 ±7,804
15,874 ±3,536
02:52 (01:50)
16
Adventures On The Polluted Islands
Feb 17, 2017
$2.99
N/A (N/A)
15,874 ±3,536
9,895 ±2,792
02:45 (03:06)
17
Starsphere
Oct 26, 2015
$0.99
N/A (N/A)
14,224 ±3,348
8,452 ±2,580
03:22 (03:48)
18
#monstercakes
May 5, 2017
$0.99
74% (90%)
7,628 ±2,451
5,154 ±2,015
02:48 (02:23)
19
Fairies vs. Darklings: Arcane Edition
Feb 29, 2016
$2.99
N/A (N/A)
7,009 ±2,350
4,535 ±1,890
03:11 (03:07)
20
CropDuster Supreme
Feb 23, 2017
$0.99
70% (89%)
2,061 ±1,274
1,237 ±987
05:59 (10:00)
21
Lightbender
Dec 17, 2015
$2.99
N/A (N/A)
1,855 ±1,209
1,649 ±1,140
00:27 (00:28)
22
Mass Exodus
May 4, 2017
$6.99
67% (88%)
3,092 ±1,561
2,474 ±1,396
03:02 (03:01)
23
The Rose and I
Apr 5, 2016
Free
67% (88%)
85,964 ±8,230
24,738 ±4,415
00:13 (00:06)
24
Pinball Inside: A VR Arcade Game
Mar 8, 2017
Free
N/A (N/A)
6,184 ±2,207
3,711 ±1,710
00:09 (00:09)
25
Ultimate Space Commando
May 12, 2015
$9.99
N/A (N/A)
2,061 ±1,274
618 ±698
01:30 (00:43)
26
Light Repair Team #4
Apr 5, 2016
$7.99
N/A (N/A)
3,505 ±1,661
2,474 ±1,396
00:26 (00:19)
27
Hypt
Apr 23, 2015
$4.99
N/A (N/A)
24,944 ±4,433
3,092 ±1,561
00:10 (00:09)
28
Auditorium
Feb 28, 2012
$6.99
56% (84%)
60,814 ±6,922
36,076 ±5,331
01:39 (00:29)
29
Fragments of Him
May 3, 2016
$9.99
N/A (N/A/69%)
3,298 ±1,612
1,649 ±1,140
01:05 (01:33)
30
Radium
Mar 13, 2015
$2.99
53% (83%)
24,326 ±4,378
17,523 ±3,716
02:46 (02:10)
31
Storm in a Teacup
Jan 19, 2012
$4.99
N/A (N/A)
44,322 ±5,909
14,637 ±3,396
00:41 (00:13)
32
Aurora Nights
May 26, 2016
$0.99
51% (82%)
7,421 ±2,418
4,948 ±1,974
01:25 (01:10)
33
Psychocat: The Answer
Jan 11, 2016
$0.62
51% (82%)
12,575 ±3,148
8,040 ±2,517
02:42 (01:00)
34
Curvatron
Jan 29, 2016
$0.99
N/A (N/A)
19,584 ±3,928
11,338 ±2,989
03:45 (03:56)
35
Flix and Chill
Feb 27, 2017
$0.99
N/A (N/A)
5,772 ±2,132
4,123 ±1,802
02:47 (01:29)
36
Paper Train Traffic
Mar 4, 2016
$1.99
N/A (N/A)
12,369 ±3,122
7,009 ±2,350
04:12 (03:18)
37
Sleep Attack
May 28, 2015
$6.99
N/A (N/A)
16,698 ±3,627
9,895 ±2,792
04:32 (03:23)
38
Think To Die 2
Oct 14, 2016
$4.99
N/A (N/A)
5,772 ±2,132
3,298 ±1,612
03:38 (02:52)
39
Stranded In Time
Jul 17, 2015
$1.99
N/A (N/A)
36,282 ±5,347
15,667 ±3,513
02:57 (02:49)
40
The Visitor
Mar 30, 2016
$0.99
40% (77%)
19,790 ±3,949
16,698 ±3,627
00:36 (00:17)
41
Liquid Pinball
Nov 24, 2016
$0.99
N/A (N/A)
5,566 ±2,094
3,917 ±1,756
02:52 (03:13)
42
Blossoms Bloom Brightest
Apr 28, 2017
Free
N/A (N/A)
4,741 ±1,933
2,474 ±1,396
00:38 (00:55)
43
QUBIC
Nov 18, 2016
$1.99
N/A (N/A)
50,094 ±6,282
43,085 ±5,826
04:35 (04:31)
44
Siege Wars
Jul 30, 2015
$1.99
31% (72%)
15,874 ±3,536
10,720 ±2,906
05:02 (04:07)
45
Magnetis
Nov 5, 2009
$1.99
N/A (N/A)
11,544 ±3,016
6,803 ±2,315
01:09 (00:18)
46
aMAZE 2
Apr 21, 2017
$0.99
N/A (N/A)
6,391 ±2,244
4,329 ±1,847
04:34 (04:01)
47
Moustache Mountain
Mar 31, 2016
$1.99
30% (71%)
12,781 ±3,173
8,246 ±2,549
02:42 (03:15)
48
Build 'n Bump
Jul 22, 2015
$2.99
N/A (N/A)
8,658 ±2,612
5,772 ±2,132
02:46 (02:39)
49
Sudoku Quest
Jun 3, 2016
$5.99
N/A (N/A)
12,987 ±3,199
7,834 ±2,484
05:44 (04:39)
50
Hover 2030
Jun 14, 2016
$1.99
N/A (N/A)
9,895 ±2,792
5,772 ±2,132
03:16 (03:15)
51
TeraBlaster
Jul 10, 2015
Free
27% (69%)
84,109 ±8,140
38,344 ±5,496
02:48 (02:52)
52
Shoppy Mart: Steam Edition
Sep 25, 2015
$4.99
N/A (N/A)
8,658 ±2,612
7,009 ±2,350
04:06 (03:52)
53
Power of Love
Jul 21, 2015
$4.99
N/A (N/A)
22,470 ±4,208
14,637 ±3,396
03:53 (03:12)
54
Super Blue Fighter
May 5, 2016
$0.99
N/A (N/A)
44,322 ±5,909
36,695 ±5,377
03:27 (03:22)
55
Midnight
Jan 28, 2016
$2.99
N/A (N/A)
4,948 ±1,974
3,298 ±1,612
02:54 (03:34)
56
Broken Dreams
Feb 19, 2016
$1.99
22% (65%)
146,779 ±10,753
101,838 ±8,957
07:25 (03:28)
57
Lamia's Game Room
Feb 16, 2016
$0.99
21% (64%)
19,790 ±3,949
13,606 ±3,274
03:54 (03:30)
58
Death Stair
Aug 16, 2016
$4.99
21% (64%)
15,667 ±3,513
8,658 ±2,612
01:53 (01:29)
59
Day D: Tower Rush
Jul 7, 2016
$6.99
N/A (N/A)
12,781 ±3,173
9,483 ±2,733
05:28 (04:30)
60
Shape Shifter
Jul 7, 2016
$0.99
N/A (N/A)
142,037 ±10,578
104,518 ±9,074
03:30 (03:30)
61
Shut Eye
Sep 30, 2016
$4.99
N/A (N/A)
31,541 ±4,985
17,729 ±3,737
03:11 (03:15)
62
Roller Coaster Rampage
Jun 19, 2012
$9.99
16% (60%)
28,655 ±4,751
9,689 ±2,763
04:27 (00:31)
63
Neon Arena
Feb 20, 2017
$4.99
N/A (N/A)
4,741 ±1,933
2,680 ±1,453
02:49 (03:22)
64
AVSEQ
Aug 23, 2012
$1.99
N/A (N/A)
28,243 ±4,717
9,483 ±2,733
00:54 (00:11)
65
Simple Ball: Extended Edition
Jul 25, 2016
$0.99
N/A (N/A)
4,329 ±1,847
2,886 ±1,508
02:44 (03:10)
66
Squeezone
Sep 16, 2016
$3.99
N/A (N/A)
81,635 ±8,020
68,854 ±7,365
04:40 (04:30)
67
Deadlands Noir - That Old Time Religion
Jul 3, 2015
$3.99
N/A (N/A)
10,720 ±2,906
5,978 ±2,170
03:25 (03:09)
68
Three Digits
Aug 14, 2015
$1.99
N/A (N/A)
57,722 ±6,744
43,498 ±5,854
04:58 (04:31)
69
Discovr Egypt: King Tut's Tomb
Apr 11, 2016
Free
N/A (N/A)
40,612 ±5,657
7,628 ±2,451
00:21 (00:07)
70
Songs2See
Nov 26, 2013
$14.99
11% (53%)
3,917 ±1,756
3,092 ±1,561
01:58 (01:21)
71
Massive Cleavage vs Zombies: Awesome Edition
Jul 8, 2016
$4.99
N/A (N/A)
17,317 ±3,694
11,957 ±3,069
05:18 (05:40)
72
Pinga Ponga
Aug 2, 2016
$0.99
N/A (N/A)
14,224 ±3,348
11,957 ±3,069
04:24 (04:30)
73
Run Run And Die
Sep 11, 2015
$2.99
N/A (N/A)
25,769 ±4,506
1,855 ±1,209
00:13 (00:04)
74
The Lost Battalion: All Out Warfare
Apr 23, 2015
$0.99
8% (48%)
14,224 ±3,348
8,452 ±2,580
03:29 (03:22)
75
Darconika: The Cube of Soul
Aug 5, 2016
$3.99
N/A (N/A)
87,201 ±8,289
69,679 ±7,409
03:35 (03:30)
76
Puzzle Ball
Oct 1, 2015
$2.99
N/A (N/A)
8,658 ±2,612
5,566 ±2,094
04:00 (03:37)
77
Remnants of a Beautiful Day
May 18, 2016
$7.99
N/A (N/A)
13,606 ±3,274
2,680 ±1,453
02:14 (02:10)
78
Bang Bang Fruit
Feb 14, 2017
$4.99
N/A (N/A)
4,329 ±1,847
2,886 ±1,508
05:11 (03:38)
79
Steam Heroes
Jan 30, 2015
$5.99
N/A (N/A)
30,510 ±4,903
15,874 ±3,536
04:20 (04:35)
80
Ninja Guy
Jan 5, 2015
$1.99
N/A (N/A)
23,913 ±4,341
4,948 ±1,974
03:43 (00:22)
81
SizeBlock
Sep 2, 2016
$1.99
N/A (N/A)
29,479 ±4,819
24,532 ±4,396
06:06 (06:32)