Safety First!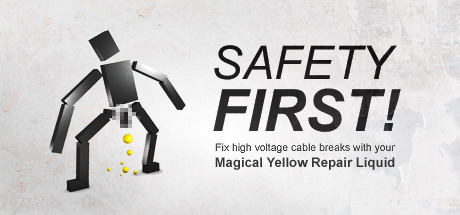 Store | Hub | SteamDB | Site
Developer: JCO Publisher: Headup Games
Genre: Casual, Indie, Simulation, Sports
Languages: English
Tags: Casual (21), Indie (21), Simulation (20), Sports (19)
Category: Single-player, Steam Achievements, Full controller support, Steam Trading Cards, Steam Leaderboards
Release date: Sep 8, 2016
Price: $2.99
Score rank: 61% Userscore: 86% Old userscore: 90%
Owners: 12,161 ± 2,882
Players in the last 2 weeks: 525 ± 726 (4.32%)
Players total: 7,153 ± 2,210 (58.82%)
Followers: 443
Peak concurrent players yesterday: 3
Playtime in the last 2 weeks: 00:40 (average) 00:40 (median)
Playtime total: 02:31 (average) 02:15 (median)

Steam Spy is still in beta, so expect major bugs.
Peak daily concurrent players:
CCU data courtesy of SteamDB. Used with permission.
Hourly concurrent players:
YouTube:
The views data is based on top 50 videos uploaded last week. Actual number of views might be more than the number shown.

The displayed number of videos uploaded yesterday is limited to 50, so if there were more videos uploaded, the number will still show 50.

If the game has commonly used word as its name (like "FEAR" or "Volume") its number of Youtube views might be wrong.
Games similar to this one:
#
Game
Release date

Price

Score rank
(Userscore / Metascore)

Owners

Players

Playtime (Median)

1
Draw_Love
Jul 7, 2017
$1.99
N/A (N/A)
1,788 ±1,105
537 ±605
01:16 (00:36)
2
WORLD END ECONOMiCA episode.03
Dec 21, 2016
$12.99
97% (97%)
78,687 ±7,331
2,683 ±1,353
11:01 (10:29)
3
Allumette
Oct 13, 2016
Free
95% (96%)
50,074 ±5,848
24,322 ±4,076
00:32 (00:19)
4
Save the Dodos
Apr 22, 2016
$2.99
N/A (N/A)
20,745 ±3,764
14,307 ±3,126
03:13 (03:03)
5
Flat Path
Aug 24, 2016
$0.99
N/A (N/A)
10,551 ±2,684
7,511 ±2,265
02:34 (02:45)
6
Micron
Jul 23, 2014
$4.99
92% (95%)
15,559 ±3,260
6,259 ±2,067
01:44 (01:19)
7
The Night Cafe: A VR Tribute to Vincent Van Gogh
Jun 3, 2016
Free
92% (95%)
70,282 ±6,928
28,792 ±4,434
00:14 (00:05)
8
VOI
Nov 7, 2016
$0.99
92% (95%)
16,095 ±3,315
11,267 ±2,774
02:07 (02:10)
9
Another Star
Jul 28, 2015
$9.99
N/A (N/A)
817 ±922
272 ±532
01:37 (00:48)
10
Death Squared
Mar 13, 2017
$14.99
N/A (N/A)
1,610 ±1,048
1,073 ±856
03:48 (03:45)
11
Electric Circuit
Jun 22, 2015
$1.99
N/A (N/A)
53,472 ±6,043
50,253 ±5,858
03:35 (03:30)
12
Fibbage XL
Mar 24, 2016
$9.99
N/A (N/A)
26,110 ±4,223
25,037 ±4,135
05:00 (02:30)
13
Ninja Reflex: Steamworks Edition
Mar 21, 2008
$4.99
N/A (N/A/57%)
13,949 ±3,086
6,796 ±2,154
01:36 (00:54)
14
Monster Maze VR
Oct 19, 2016
$3.99
N/A (N/A)
4,471 ±1,747
537 ±605
00:28 (00:23)
15
Kings of Israel
Dec 21, 2015
$7.99
N/A (N/A)
5,007 ±1,849
3,040 ±1,441
02:51 (03:07)
16
Cubicolor
Mar 18, 2016
$1.99
77% (91%)
3,756 ±1,601
3,040 ±1,441
01:25 (01:40)
17
Marble Void
Apr 12, 2016
$4.99
N/A (N/A)
2,861 ±1,398
715 ±699
00:07 (00:03)
18
Pirate Pop Plus
Nov 4, 2016
$4.99
N/A (N/A/65%)
78,866 ±7,339
19,672 ±3,665
01:47 (01:33)
19
RAYGUN COMMANDO VR
Jan 23, 2017
Free
N/A (N/A)
11,267 ±2,774
8,226 ±2,370
00:26 (00:14)
20
Fairies vs. Darklings: Arcane Edition
Feb 29, 2016
$2.99
N/A (N/A)
7,869 ±2,318
5,186 ±1,882
03:17 (03:26)
21
Candy Kingdom VR
Sep 20, 2016
$9.99
N/A (N/A)
4,829 ±1,816
1,252 ±924
03:42 (07:51)
22
Starsphere
Oct 26, 2015
$0.99
N/A (N/A)
13,591 ±3,047
9,121 ±2,496
03:21 (03:40)
23
Mind Spheres
Jul 8, 2016
$1.99
N/A (N/A)
102,294 ±8,358
72,071 ±7,016
03:00 (03:07)
24
Brushwood Buddies
Feb 17, 2016
$2.99
N/A (N/A)
7,332 ±2,238
5,186 ±1,882
03:50 (03:05)
25
The Rose and I
Apr 5, 2016
Free
67% (88%)
93,173 ±7,977
30,402 ±4,557
00:24 (00:06)
26
The Beggar's Ride
May 5, 2016
$5.99
N/A (N/A)
5,007 ±1,849
2,861 ±1,398
02:47 (03:38)
27
Cut the Rope
Mar 22, 2013
$4.99
N/A (N/A)
5,365 ±1,914
4,113 ±1,676
03:41 (01:30)
28
Alpacapaca Dash
Jan 23, 2017
$0.99
N/A (N/A)
47,928 ±5,721
46,139 ±5,614
05:01 (04:58)
29
The Last Warlock
Aug 24, 2015
$5.99
N/A (N/A)
3,219 ±1,482
537 ±605
01:12 (01:06)
30
Kubz VR
Sep 5, 2016
$3.99
N/A (N/A)
3,934 ±1,639
715 ±699
00:09 (00:11)
31
Fragments of Him
May 3, 2016
$9.99
N/A (N/A/69%)
1,610 ±1,048
715 ±699
00:37 (00:47)
32
Radium
Mar 13, 2015
$2.99
53% (83%)
24,143 ±4,061
14,843 ±3,184
02:11 (01:29)
33
Aurora Nights
May 26, 2016
$0.99
53% (83%)
9,299 ±2,520
7,153 ±2,210
01:01 (00:33)
34
Curvatron
Jan 29, 2016
$0.99
N/A (N/A)
18,778 ±3,581
10,194 ±2,638
03:02 (03:08)
35
Paper Train Traffic
Mar 4, 2016
$1.99
46% (80%)
11,445 ±2,796
7,690 ±2,292
02:40 (02:42)
36
aMAZE 2
Apr 21, 2017
$0.49
N/A (N/A)
13,591 ±3,047
10,015 ±2,615
04:16 (04:16)
37
Terra Lander
Feb 6, 2015
$5.99
N/A (N/A)
118,568 ±8,998
6,796 ±2,154
00:09 (00:06)
38
The Visitor
Mar 30, 2016
$0.99
42% (78%)
20,924 ±3,780
18,599 ±3,564
00:23 (00:15)
39
Think To Die 2
Oct 14, 2016
$4.99
N/A (N/A)
8,763 ±2,446
5,902 ±2,007
01:52 (01:40)
40
Sleep Attack
May 28, 2015
$6.99
N/A (N/A)
16,632 ±3,370
8,763 ±2,446
03:11 (02:32)
41
Stranded In Time
Jul 17, 2015
$1.99
N/A (N/A)
31,654 ±4,650
11,267 ±2,774
03:44 (02:31)
42
Dragon Rage
Jul 22, 2016
$6.99
38% (76%)
4,471 ±1,747
3,934 ±1,639
00:43 (00:28)
43
Sudoku Quest
Jun 3, 2016
$5.99
N/A (N/A)
10,372 ±2,661
5,902 ±2,007
06:43 (04:19)
44
Tentacult!
Sep 23, 2016
$3.99
N/A (N/A)
1,967 ±1,159
1,073 ±856
00:25 (00:30)
45
Siege Wars
Jul 30, 2015
$1.99
31% (72%)
13,591 ±3,047
10,015 ±2,615
05:32 (03:54)
46
Midnight
Jan 28, 2016
$2.99
N/A (N/A)
4,113 ±1,676
2,683 ±1,353
01:30 (01:40)
47
YOU DON'T KNOW JACK SPORTS
Nov 5, 2013
$2.99
N/A (N/A)
71,176 ±6,972
3,934 ±1,639
01:11 (00:21)
48
Santa's Big Adventures
Dec 19, 2016
$0.99
N/A (N/A)
24,679 ±4,105
21,818 ±3,860
03:22 (03:30)
49
Build 'n Bump
Jul 22, 2015
$2.99
N/A (N/A)
7,511 ±2,265
5,007 ±1,849
02:26 (02:42)
50
True Bliss
May 22, 2015
$5.99
N/A (N/A)
27,719 ±4,351
1,431 ±988
00:05 (00:06)
51
Car Mechanic Manager
Sep 23, 2015
$4.99
N/A (N/A)
8,942 ±2,471
2,504 ±1,307
02:05 (02:55)
52
TeraBlaster
Jul 10, 2015
Free
27% (69%)
88,702 ±7,783
41,847 ±5,346
03:05 (02:50)
53
Moustache Mountain
Mar 31, 2016
$0.99
27% (69%)
11,803 ±2,839
7,690 ±2,292
02:48 (02:35)
54
Hover 2030
Jun 14, 2016
$1.99
N/A (N/A)
10,730 ±2,707
6,975 ±2,182
02:44 (02:20)
55
Cave Coaster
Jun 4, 2015
$1.24
N/A (N/A)
10,551 ±2,684
6,796 ±2,154
05:50 (05:54)
56
Shoppy Mart: Steam Edition
Sep 25, 2015
$4.99
N/A (N/A)
6,438 ±2,097
4,650 ±1,782
03:41 (03:36)
57
Super Blue Fighter
May 5, 2016
$0.99
N/A (N/A)
42,384 ±5,380
33,263 ±4,766
03:18 (03:24)
58
Ace Of Words
May 13, 2016
$4.99
N/A (N/A)
133,232 ±9,538
103,546 ±8,409
05:40 (05:36)
59
Rest In Peace
Dec 15, 2016
$0.99
N/A (N/A)
106,228 ±8,517
94,067 ±8,015
03:31 (03:30)
60
Lamia's Game Room
Feb 16, 2016
$0.99
22% (65%)
14,486 ±3,145
9,299 ±2,520
04:59 (04:06)
61
Shut Eye
Sep 30, 2016
$4.99
N/A (N/A)
31,117 ±4,610
17,705 ±3,477
03:14 (03:23)
62
SQR
Jan 17, 2017
$0.99
N/A (N/A)
10,372 ±2,661
7,511 ±2,265
10:51 (12:26)
63
AVSEQ
Aug 23, 2012
$1.99
N/A (N/A)
29,329 ±4,476
9,299 ±2,520
00:36 (00:11)
64
Roller Coaster Rampage
Jun 19, 2012
$9.99
16% (60%)
25,752 ±4,194
11,624 ±2,818
00:53 (00:17)
65
Massive Cleavage vs Zombies: Awesome Edition
Jul 8, 2016
$0.49
15% (59%)
23,964 ±4,046
14,307 ±3,126
05:12 (05:21)
66
Day D: Tower Rush
Jul 7, 2016
$6.99
N/A (N/A)
10,909 ±2,729
8,226 ±2,370
10:26 (03:36)
67
Devade
Mar 29, 2017
$0.99
N/A (N/A)
4,829 ±1,816
3,398 ±1,523
02:25 (02:25)
68
Russian SuperHero Dead Ivan
Oct 19, 2016
$0.64
N/A (N/A)
160,236 ±10,460
137,703 ±9,697
03:29 (03:30)
69
Discovr Egypt: King Tut's Tomb
Apr 11, 2016
Free
N/A (N/A)
37,913 ±5,089
7,511 ±2,265
00:23 (00:07)
70
Songs2See
Nov 26, 2013
$14.99
11% (53%)
4,650 ±1,782
3,040 ±1,441
01:22 (00:40)
71
Songs2See
Nov 26, 2013
$14.99
11% (53%)
2,995 ±1,766
2,178 ±1,506
12:02 (01:12)
72
Pinga Ponga
Aug 2, 2016
$0.99
N/A (N/A)
13,413 ±3,027
10,372 ±2,661
03:58 (04:30)
73
Run Run And Die
Sep 11, 2015
$2.99
N/A (N/A)
27,719 ±4,351
1,073 ±856
01:32 (01:34)
74
Make America Great Again
Sep 15, 2016
$2.99
N/A (N/A)
5,723 ±1,977
1,073 ±856
00:57 (01:47)
75
The Lost Battalion: All Out Warfare
Apr 23, 2015
$0.99
8% (48%)
15,201 ±3,222
9,657 ±2,568
03:08 (02:53)
76
Fruit Arranger
Jan 23, 2017
$0.99
N/A (N/A)
57,585 ±6,271
50,074 ±5,848
03:11 (03:24)
77
Cannons-Defenders: Steam Edition
Apr 7, 2017
$0.99
N/A (N/A)
10,730 ±2,707
7,332 ±2,238
03:49 (03:29)
78
Puzzle Ball
Oct 1, 2015
$2.99
N/A (N/A)
7,332 ±2,238
5,544 ±1,946
03:48 (04:30)
79
Steam Heroes
Jan 30, 2015
$5.99
N/A (N/A)
33,800 ±4,805
18,062 ±3,512
04:09 (04:18)
80
Bang Bang Fruit
Feb 14, 2017
$4.99
N/A (N/A)
5,723 ±1,977
4,113 ±1,676
03:18 (03:36)
81
Other Tanks
Dec 5, 2016
$1.99
N/A (N/A)
79,760 ±7,381
70,282 ±6,928
03:37 (03:30)
82
Ninja Guy
Jan 5, 2015
$1.99
N/A (N/A)
21,818 ±3,860
5,544 ±1,946
00:30 (00:07)
83
SizeBlock
Sep 2, 2016
$1.99
N/A (N/A)
28,256 ±4,393
24,500 ±4,091
05:55 (06:29)
84
Campfire: One of Us Is the Killer
Dec 7, 2016
$2.99
N/A (N/A)
2,146 ±1,210
1,788 ±1,105
01:11 (00:59)
85
Platro
Oct 5, 2016
$0.99
N/A (N/A)
79,582 ±7,372
70,103 ±6,919
03:31 (03:30)