Safety First!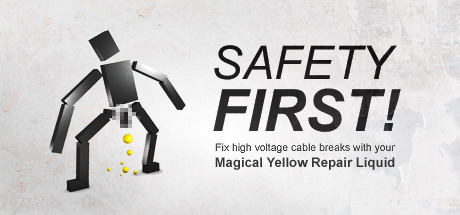 Store | Hub | SteamDB | Site
Developer: JCO Publisher: Headup Games
Genre: Casual, Indie, Simulation, Sports
Languages: English
Tags: Casual (21), Indie (21), Simulation (20), Sports (19), Nudity (5)
Category: Single-player, Steam Achievements, Full controller support, Steam Trading Cards, Steam Leaderboards
Release date: Sep 8, 2016
Price: $2.99
Score rank: 70% Userscore: 89% Old userscore: 91%
Owners: 13,239 ± 3,626
Players total: 7,788 ± 2,781 (58.82%)
Followers: 475
Peak concurrent players yesterday: 1
Playtime total: 01:26 (average) 01:15 (median)

Steam Spy is still in beta, so expect major bugs.
Peak daily concurrent players:
CCU data courtesy of SteamDB. Used with permission.
Hourly concurrent players:
YouTube:
The views data is based on top 50 videos uploaded last week. Actual number of views might be more than the number shown.

The displayed number of videos uploaded yesterday is limited to 50, so if there were more videos uploaded, the number will still show 50.

If the game has commonly used word as its name (like "FEAR" or "Volume") its number of Youtube views might be wrong.
Games similar to this one:
#
Game
Release date

Price

Score rank
(Userscore / Metascore)

Owners

Players

Playtime (Median)

1
Allumette
Oct 13, 2016
Free
95% (96%)
62,563 ±7,883
30,113 ±5,469
00:25 (00:17)
2
WORLD END ECONOMiCA episode.02
Jul 21, 2015
$12.99
95% (96%)
97,868 ±9,859
20,768 ±4,542
05:05 (03:09)
3
Flat Path
Aug 24, 2016
$0.99
N/A (N/A)
29,854 ±5,445
25,960 ±5,078
04:39 (05:10)
4
Roche Fusion
Jan 23, 2015
$12
92% (95%/85%)
4,413 ±2,093
2,596 ±1,605
02:44 (00:19)
5
The Night Cafe: A VR Tribute to Vincent Van Gogh
Jun 3, 2016
Free
92% (95%)
78,139 ±8,809
32,709 ±5,700
00:21 (00:05)
6
Fibbage XL
Mar 24, 2016
$9.99
89% (94%)
36,344 ±6,008
34,786 ±5,878
05:37 (02:27)
7
Electric Circuit
Jun 22, 2015
$1.99
N/A (N/A)
65,159 ±8,045
61,784 ±7,833
03:33 (03:31)
8
VOI
Nov 7, 2016
$0.99
89% (94%)
25,700 ±5,052
17,653 ±4,187
02:07 (01:49)
9
Save the Dodos
Apr 22, 2016
$2.99
86% (93%)
24,662 ±4,949
16,874 ±4,094
03:54 (04:04)
10
Floppy Heroes
Sep 13, 2016
$2.99
86% (93%)
16,355 ±4,030
15,835 ±3,966
05:08 (04:01)
11
L U N E
Jun 20, 2016
$2.99
N/A (N/A)
1,817 ±1,343
1,817 ±1,343
00:29 (00:30)
12
Marble Void
Apr 12, 2016
$4.99
N/A (N/A)
1,817 ±1,343
260 ±507
00:22 (00:07)
13
Starsphere
Oct 26, 2015
$3.99
N/A (N/A)
11,941 ±3,444
8,307 ±2,872
04:31 (03:37)
14
Pirate Pop Plus
Nov 4, 2016
$4.99
N/A (N/A/65%)
78,139 ±8,809
23,104 ±4,790
02:07 (00:46)
15
Kings of Israel
Dec 21, 2015
$5.99
N/A (N/A)
7,528 ±2,734
5,452 ±2,327
07:07 (03:51)
16
RAYGUN COMMANDO VR
Jan 23, 2017
Free
N/A (N/A)
20,508 ±4,513
14,797 ±3,833
00:43 (00:08)
17
Adventures On The Polluted Islands
Feb 17, 2017
$2.99
N/A (N/A)
70,351 ±8,359
59,448 ±7,684
03:55 (04:01)
18
#monstercakes
May 5, 2017
$0.99
74% (90%)
17,912 ±4,218
12,201 ±3,481
05:10 (02:50)
19
Cube Runner
Dec 13, 2016
$1.99
70% (89%)
96,311 ±9,780
65,678 ±8,077
03:07 (03:28)
20
The Rose and I
Apr 5, 2016
Free
67% (88%)
88,263 ±9,363
24,921 ±4,975
00:10 (00:06)
21
Kubz VR
Sep 5, 2016
$3.99
N/A (N/A)
4,932 ±2,213
1,038 ±1,015
01:31 (01:06)
22
Cut the Rope
Mar 22, 2013
$4.99
N/A (N/A)
4,413 ±2,093
3,115 ±1,759
34:45 (18:07)
23
CPU Invaders
Feb 17, 2017
$4.99
61% (86%)
143,558 ±11,940
131,356 ±11,421
03:30 (03:30)
24
Spikit
Aug 9, 2016
$0.49
59% (85%)
293,086 ±17,058
233,638 ±15,231
03:30 (03:30)
25
Curvatron
Jan 29, 2016
$0.99
56% (84%)
28,815 ±5,350
18,691 ±4,309
04:22 (04:24)
26
Radium
Mar 13, 2015
$1.01
56% (84%)
48,804 ±6,962
40,757 ±6,362
03:19 (03:27)
27
Fuego!
Nov 16, 2015
$4.99
N/A (N/A)
2,336 ±1,523
2,336 ±1,523
02:14 (02:20)
28
Karma. Incarnation 1
Oct 19, 2016
$2.99
56% (84%)
64,380 ±7,996
20,508 ±4,513
03:07 (03:00)
29
Storm in a Teacup
Jan 19, 2012
$4.99
51% (82%)
56,333 ±7,480
20,249 ±4,484
01:42 (00:15)
30
Fairies vs. Darklings: Arcane Edition
Feb 29, 2016
$2.99
N/A (N/A)
7,528 ±2,734
5,192 ±2,271
03:02 (03:17)
31
Aurora Nights
May 26, 2016
$0.99
49% (81%)
13,239 ±3,626
9,605 ±3,088
01:17 (00:34)
32
Fragments of Him
May 3, 2016
$9.99
N/A (N/A/69%)
3,634 ±1,900
1,038 ±1,015
02:36 (03:24)
33
The Visitor
Mar 30, 2016
$0.99
44% (79%)
24,402 ±4,923
20,249 ±4,484
00:23 (00:17)
34
Queen of Seas
Feb 2, 2017
$0.99
N/A (N/A)
7,788 ±2,781
5,192 ±2,271
02:47 (02:47)
35
Stranded In Time
Jul 17, 2015
$1.99
N/A (N/A)
37,382 ±6,093
15,835 ±3,966
02:34 (02:56)
36
Terra Lander
Feb 6, 2015
$5.99
N/A (N/A)
197,813 ±14,015
12,980 ±3,590
00:07 (00:05)
37
Soko Match
Sep 16, 2016
$0.99
N/A (N/A)
2,596 ±1,605
1,558 ±1,243
01:10 (01:44)
38
Think To Die 2
Oct 14, 2016
Free
40% (77%)
12,201 ±3,481
6,230 ±2,487
03:00 (02:22)
39
Paper Train Traffic
Mar 4, 2016
$1.99
40% (77%)
12,461 ±3,518
8,826 ±2,961
02:53 (03:15)
40
TREBUCHET
Jul 30, 2015
$5.99
N/A (N/A)
12,201 ±3,481
1,817 ±1,343
00:34 (01:15)
41
Brushwood Buddies
Feb 17, 2016
$2.99
N/A (N/A)
16,095 ±3,998
11,163 ±3,330
04:43 (03:01)
42
Siege Wars
Jul 30, 2015
$0.59
33% (73%)
16,095 ±3,998
11,422 ±3,368
04:24 (04:59)
43
Sleep Attack
May 28, 2015
$6.99
N/A (N/A)
18,172 ±4,248
12,720 ±3,554
03:13 (03:10)
44
Build 'n Bump
Jul 22, 2015
$2.99
N/A (N/A)
10,124 ±3,171
7,269 ±2,687
04:11 (03:37)
45
Maximum Override
Mar 9, 2017
$6.99
28% (70%)
20,249 ±4,484
15,835 ±3,966
02:56 (00:56)
46
YOU DON'T KNOW JACK SPORTS
Nov 5, 2013
$2.99
N/A (N/A)
70,091 ±8,343
3,894 ±1,966
00:24 (00:15)
47
Super Blue Fighter
May 5, 2016
$0.99
N/A (N/A)
42,834 ±6,522
36,084 ±5,987
03:30 (03:24)
48
TeraBlaster
Jul 10, 2015
Free
27% (69%)
94,494 ±9,687
42,834 ±6,522
02:52 (03:01)
49
Cave Coaster
Jun 4, 2015
$4.99
N/A (N/A)
12,980 ±3,590
9,086 ±3,004
07:33 (05:35)
50
WonderCat Adventures
Sep 11, 2015
$2.99
N/A (N/A)
6,750 ±2,589
5,452 ±2,327
03:46 (02:57)
51
Liquid Pinball
Nov 24, 2016
$0.5
N/A (N/A)
5,452 ±2,327
3,634 ±1,900
02:28 (02:04)
52
Hover 2030
Jun 14, 2016
$1.99
24% (67%)
11,422 ±3,368
7,269 ±2,687
02:12 (02:23)
53
True Bliss
May 22, 2015
$5.99
N/A (N/A)
87,484 ±9,321
7,788 ±2,781
00:06 (00:06)
54
Boom-Bahh
Jul 9, 2017
$0.99
23% (66%)
45,430 ±6,717
6,230 ±2,487
02:37 (00:13)
55
Lamia's Game Room
Feb 16, 2016
$0.99
22% (65%)
16,614 ±4,062
10,644 ±3,251
04:10 (03:44)
56
Neon Arena
Feb 20, 2017
$4.99
N/A (N/A)
23,883 ±4,870
19,989 ±4,456
04:41 (05:13)
57
Moustache Mountain
Mar 31, 2016
$1.99
21% (64%)
13,239 ±3,626
6,750 ±2,589
02:44 (02:16)
58
Shoppy Mart: Steam Edition
Sep 25, 2015
$4.99
21% (64%)
6,750 ±2,589
5,971 ±2,435
03:06 (03:23)
59
Ghostdream
Oct 24, 2016
$5.99
N/A (N/A)
7,788 ±2,781
3,894 ±1,966
02:33 (02:50)
60
Shut Eye
Sep 30, 2016
$4.99
N/A (N/A)
37,382 ±6,093
24,402 ±4,923
03:31 (03:23)
61
Death Stair
Aug 16, 2016
$2.99
18% (62%)
23,104 ±4,790
17,133 ±4,125
03:47 (01:41)
62
KORABLIK
Feb 14, 2017
$0.99
N/A (N/A)
284,519 ±16,807
273,356 ±16,474
03:44 (03:31)
63
Day D: Tower Rush
Jul 7, 2016
$6.99
N/A (N/A)
30,633 ±5,516
25,960 ±5,078
04:31 (04:13)
64
AVSEQ
Aug 23, 2012
$1.99
N/A (N/A)
33,748 ±5,789
12,201 ±3,481
00:48 (00:16)
65
Simple Ball: Extended Edition
Jul 25, 2016
$0.99
N/A (N/A)
75,283 ±8,647
71,909 ±8,451
03:39 (03:30)
66
Roller Coaster Rampage
Jun 19, 2012
$9.99
13% (57%)
39,199 ±6,240
14,278 ±3,766
01:07 (00:16)
67
Fruit Arranger
Jan 23, 2017
$0.99
N/A (N/A)
79,437 ±8,882
73,466 ±8,542
03:23 (03:30)
68
Devade
Mar 29, 2017
$0.99
N/A (N/A)
5,452 ±2,327
4,154 ±2,031
02:38 (02:48)
69
Three Digits
Aug 14, 2015
$1.99
N/A (N/A)
155,239 ±12,416
140,962 ±11,831
04:33 (04:31)
70
Massive Cleavage vs Zombies: Awesome Edition
Jul 8, 2016
$1.99
12% (55%)
27,258 ±5,203
19,729 ±4,427
10:02 (05:26)
71
Choice of the Petal Throne
Apr 10, 2015
$4.99
N/A (N/A)
2,596 ±1,605
1,817 ±1,343
02:19 (03:20)
72
Discovr Egypt: King Tut's Tomb
Apr 11, 2016
Free
N/A (N/A)
44,651 ±6,659
8,307 ±2,872
00:18 (00:09)
73
Pinga Ponga
Aug 2, 2016
$0.99
N/A (N/A)
14,278 ±3,766
11,422 ±3,368
03:45 (04:28)
74
SQR
Jan 17, 2017
$0.99
N/A (N/A)
43,353 ±6,562
39,459 ±6,260
12:00 (13:01)
75
The Lost Battalion: All Out Warfare
Apr 23, 2015
$0.99
7% (46%)
16,355 ±4,030
10,644 ±3,251
04:00 (03:06)
76
Darconika: The Cube of Soul
Aug 5, 2016
$0.51
N/A (N/A)
174,450 ±13,162
143,298 ±11,929
03:20 (03:30)
77
Blood Ties
Oct 21, 2016
$1.99
N/A (N/A)
6,230 ±2,487
5,192 ±2,271
02:11 (02:18)
78
Other Tanks
Dec 5, 2016
$0.49
N/A (N/A)
131,616 ±11,433
122,011 ±11,008
03:26 (03:30)
79
Steam Heroes
Jan 30, 2015
$5.99
N/A (N/A)
107,733 ±10,344
68,793 ±8,266
04:55 (05:00)
80
SizeBlock
Sep 2, 2016
$1.99
N/A (N/A)
27,517 ±5,228
22,325 ±4,709
05:55 (06:23)
81
Bang Bang Fruit
Feb 14, 2017
$0.99
N/A (N/A)
56,592 ±7,497
55,294 ±7,411
05:03 (05:11)
82
The Pit And The Pendulum
Apr 29, 2016
$0.51
N/A (N/A)
197,035 ±13,987
143,558 ±11,940
03:30 (03:30)