Safety First!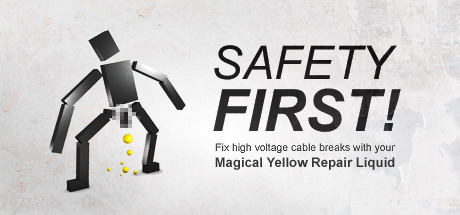 Store | Hub | SteamDB | Site
Developer: JCO Publisher: Headup Games
Genre: Casual, Indie, Simulation, Sports
Languages: English
Tags: Indie (21), Casual (21), Simulation (20), Sports (20)
Category: Single-player, Steam Achievements, Full controller support, Steam Trading Cards, Steam Leaderboards
Release date: Sep 8, 2016
Price: $2.99
Old userscore: 92% Owners: 4,558 ± 1,899
Players in the last 2 weeks: 618 ± 1,209 (13.55%)
Players total: 2,486 ± 1,403 (54.55%)
Followers: 308
Peak concurrent players yesterday: 1
Playtime in the last 2 weeks: 01:40 (average) 01:40 (median)
Playtime total: 01:46 (average) 01:30 (median)

Steam Spy is still in beta, so expect major bugs.
Peak daily concurrent players:
CCU data courtesy of SteamDB. Used with permission.
Hourly concurrent players:
YouTube:
The views data is based on top 50 videos uploaded last week. Actual number of views might be more than the number shown.

The displayed number of videos uploaded yesterday is limited to 50, so if there were more videos uploaded, the number will still show 50.

If the game has commonly used word as its name (like "FEAR" or "Volume") its number of Youtube views might be wrong.
Games similar to this one:
#
Game
Release date

Price

Score rank
(Userscore / Metascore)

Owners

Players

Playtime (Median)

1
Pale Echoes
Dec 10, 2015
$4.99
N/A (N/A)
1,450 ±1,071
621 ±701
03:21 (03:20)
2
WORLD END ECONOMiCA episode.03
Dec 21, 2016
$12.99
99% (98%)
5,386 ±2,065
1,657 ±1,145
10:12 (11:47)
3
Water Bears VR
Feb 1, 2016
$9.99
99% (98%)
61,113 ±6,956
13,880 ±3,315
00:38 (00:02)
4
Delicious - Emily's Christmas Carol
Nov 4, 2016
$12.99
N/A (N/A)
2,486 ±1,403
1,450 ±1,071
14:29 (12:24)
5
VOI
Nov 7, 2016
$0.99
95% (96%)
9,115 ±2,686
6,215 ±2,218
02:19 (01:49)
6
WORLD END ECONOMiCA episode.02
Jul 21, 2015
$12.99
95% (96%)
21,959 ±4,170
5,593 ±2,104
07:15 (04:38)
7
Allumette
Oct 13, 2016
Free
95% (96%)
47,647 ±6,142
19,888 ±3,968
00:37 (00:20)
8
Flat Path
Aug 24, 2016
$0.99
N/A (N/A)
6,836 ±2,326
5,593 ±2,104
03:14 (03:47)
9
Scarab Tales
Jul 1, 2015
$4.99
N/A (N/A)
6,422 ±2,255
621 ±701
10:33 (09:20)
10
Roche Fusion
Jan 23, 2015
$12
89% (94%/85%)
4,558 ±1,899
2,900 ±1,515
23:25 (05:09)
11
Musaic Box
Mar 19, 2009
$4.99
89% (94%)
35,010 ±5,265
10,565 ±2,892
03:08 (01:16)
12
Electric Circuit
Jun 22, 2015
$1.99
N/A (N/A)
25,274 ±4,473
23,202 ±4,286
03:22 (03:29)
13
Fibbage XL
Mar 24, 2016
$9.99
N/A (N/A)
19,059 ±3,885
18,023 ±3,778
05:13 (03:07)
14
Micron
Jul 23, 2014
$4.99
86% (93%)
17,402 ±3,712
6,422 ±2,255
01:19 (00:51)
15
Ninja Reflex: Steamworks Edition
Mar 21, 2008
$4.99
N/A (N/A/57%)
15,744 ±3,531
11,187 ±2,976
01:45 (00:45)
16
Strawberry Vinegar
Jan 5, 2016
$9.99
83% (92%)
3,522 ±1,670
2,072 ±1,280
03:04 (01:52)
17
Henry The Hamster Handler
Jan 16, 2017
$5.99
N/A (N/A)
1,240 ±1,213
620 ±857
00:06 (00:06)
18
SquareCells
Dec 7, 2015
$2.99
83% (92%)
16,573 ±3,622
13,258 ±3,240
07:26 (04:54)
19
Zen Bound 2
Nov 16, 2010
$4.99
83% (92%)
221,457 ±13,239
94,880 ±8,667
00:59 (00:20)
20
InfiniPicross
Mar 6, 2017
$1.99
N/A (N/A)
36,253 ±5,358
17,402 ±3,712
03:35 (03:53)
21
RAYGUN COMMANDO VR
Jan 23, 2017
Free
N/A (N/A)
7,872 ±2,496
5,179 ±2,025
00:37 (00:19)
22
Gun Done
Jun 13, 2016
$0.99
79% (91%)
29,003 ±4,792
22,374 ±4,209
02:33 (02:09)
23
Marble Void
Apr 12, 2016
$4.99
N/A (N/A)
1,864 ±1,215
207 ±405
00:09 (00:03)
24
Starsphere
Oct 26, 2015
$0.99
N/A (N/A)
11,601 ±3,031
7,251 ±2,396
03:44 (03:33)
25
Pirate Pop Plus
Nov 4, 2016
$4.99
N/A (N/A/65%)
79,136 ±7,915
18,023 ±3,778
02:06 (01:37)
26
Candy Kingdom VR
Sep 20, 2016
$9.99
N/A (N/A)
3,107 ±1,568
1,036 ±905
00:23 (00:34)
27
The Beggar's Ride
May 5, 2016
$5.99
N/A (N/A)
2,693 ±1,460
1,864 ±1,215
01:17 (01:52)
28
The Keep
Mar 16, 2017
$14.99
N/A (N/A)
1,450 ±1,071
1,036 ±905
01:15 (01:36)
29
The Rose and I
Apr 5, 2016
Free
69% (88%)
88,458 ±8,369
25,067 ±4,455
00:11 (00:07)
30
WayOut 2: Hex
Feb 10, 2017
$0.99
N/A (N/A)
2,693 ±1,460
1,450 ±1,071
01:20 (00:35)
31
Alpacapaca Dash
Jan 23, 2017
$0.99
N/A (N/A)
13,880 ±3,315
12,430 ±3,137
04:36 (05:00)
32
Radium
Mar 13, 2015
$2.99
57% (84%)
18,645 ±3,842
12,015 ±3,084
02:26 (02:03)
33
Auditorium
Feb 28, 2012
$6.99
57% (84%)
66,914 ±7,279
41,225 ±5,713
01:13 (00:36)
34
XLarn
May 25, 2015
$4.99
N/A (N/A)
620 ±857
310 ±606
03:32 (01:46)
35
Hungry Flame
Mar 8, 2017
$1.99
N/A (N/A)
7,872 ±2,496
4,972 ±1,984
03:51 (03:27)
36
Hypt
Apr 23, 2015
$4.99
N/A (N/A)
24,652 ±4,418
4,558 ±1,899
01:29 (00:07)
37
Liquid Pinball
Nov 24, 2016
$0.99
N/A (N/A)
2,693 ±1,460
1,243 ±992
01:57 (01:34)
38
Storm in a Teacup
Jan 19, 2012
$4.99
N/A (N/A)
49,098 ±6,235
17,609 ±3,734
00:33 (00:11)
39
Tomato Jones
Jul 11, 2016
$1.99
55% (83%)
3,729 ±1,718
1,450 ±1,071
00:46 (00:40)
40
Job the Leprechaun
Jul 31, 2015
$0.99
N/A (N/A)
39,154 ±5,568
27,138 ±4,635
03:22 (03:23)
41
Tiki Man
Jun 5, 2015
$0.99
50% (81%)
22,581 ±4,228
13,466 ±3,265
05:08 (03:38)
42
Curvatron
Jan 29, 2016
$0.99
N/A (N/A)
16,987 ±3,667
9,737 ±2,776
03:09 (03:50)
43
Stranded In Time
Jul 17, 2015
$1.99
N/A (N/A)
35,632 ±5,312
11,808 ±3,058
03:04 (02:55)
44
Paper Train Traffic
Mar 4, 2016
$1.99
N/A (N/A)
9,115 ±2,686
6,836 ±2,326
03:06 (03:44)
45
Sleep Attack
May 28, 2015
$6.99
N/A (N/A)
16,159 ±3,577
9,115 ±2,686
02:58 (03:15)
46
The Visitor
Mar 30, 2016
$0.99
43% (78%)
19,059 ±3,885
16,573 ±3,622
00:30 (00:18)
47
Ballistic Tanks
Sep 20, 2016
$4.99
N/A (N/A)
6,008 ±2,181
4,143 ±1,811
01:31 (01:53)
48
Hover 2030
Jun 14, 2016
$1.99
N/A (N/A)
7,458 ±2,430
4,143 ±1,811
02:26 (02:51)
49
WonderCat Adventures
Sep 11, 2015
$2.99
N/A (N/A)
3,936 ±1,765
2,072 ±1,280
03:21 (03:09)
50
Moustache Mountain
Mar 31, 2016
$0.89
32% (72%)
11,601 ±3,031
6,422 ±2,255
02:28 (02:27)
51
Siege Wars
Jul 30, 2015
$1.99
30% (71%)
15,952 ±3,554
10,358 ±2,864
03:54 (03:55)
52
Stage Presence
Feb 28, 2017
$9.99
N/A (N/A)
2,072 ±1,280
1,450 ±1,071
01:34 (02:40)
53
BitRay
Apr 20, 2016
$0.99
N/A (N/A)
109,796 ±9,323
79,343 ±7,926
03:09 (03:14)
54
So Long Earth
Apr 28, 2016
$3.99
N/A (N/A)
3,936 ±1,765
2,486 ±1,403
02:39 (02:56)
55
Magnetis
Nov 5, 2009
$1.99
N/A (N/A)
13,880 ±3,315
8,287 ±2,561
02:31 (00:35)
56
8infinity
Sep 23, 2016
$0.99
N/A (N/A)
22,374 ±4,209
15,537 ±3,507
02:52 (03:10)
57
Build 'n Bump
Jul 22, 2015
$2.99
N/A (N/A)
5,593 ±2,104
3,107 ±1,568
02:31 (03:10)
58
TeraBlaster
Jul 10, 2015
Free
27% (69%)
90,323 ±8,456
37,082 ±5,419
03:01 (02:57)
59
Black Hat Cooperative
Jul 29, 2016
$9.99
N/A (N/A)
2,900 ±1,515
2,486 ±1,403
00:45 (00:55)
60
Midnight
Jan 28, 2016
$2.99
N/A (N/A)
2,900 ±1,515
1,450 ±1,071
02:06 (02:59)
61
True Bliss
May 22, 2015
$5.99
N/A (N/A)
25,688 ±4,510
2,693 ±1,460
00:10 (00:13)
62
Super Blue Fighter
May 5, 2016
$0.99
N/A (N/A)
42,468 ±5,799
34,182 ±5,202
03:36 (03:25)
63
Power of Love
Jul 21, 2015
$4.99
N/A (N/A)
14,709 ±3,413
9,737 ±2,776
03:11 (03:15)
64
Think To Die 2
Oct 14, 2016
$4.99
N/A (N/A)
4,350 ±1,856
3,729 ±1,718
03:26 (04:00)
65
Cursor Challenge
Apr 5, 2016
$0.99
N/A (N/A)
4,972 ±1,984
4,350 ±1,856
02:40 (03:41)
66
Broken Dreams
Feb 19, 2016
$1.99
21% (64%)
128,234 ±10,076
86,594 ±8,280
04:00 (03:31)
67
Shape Shifter
Jul 7, 2016
$0.99
N/A (N/A)
86,801 ±8,290
53,034 ±6,480
03:15 (03:27)
68
Cave Coaster
Jun 4, 2015
$4.99
N/A (N/A)
10,151 ±2,835
5,801 ±2,143
05:48 (05:46)
69
Lamia's Game Room
Feb 16, 2016
$0.99
20% (63%)
16,366 ±3,600
10,358 ±2,864
04:21 (04:02)
70
Death Stair
Aug 16, 2016
$4.99
16% (60%)
12,223 ±3,111
8,287 ±2,561
02:29 (03:17)
71
Roller Coaster Rampage
Jun 19, 2012
$9.99
16% (59%)
32,939 ±5,107
15,123 ±3,460
00:54 (00:12)
72
Afterlife Empire
Aug 21, 2015
$4.99
15% (58%)
3,315 ±1,620
1,036 ±905
00:39 (00:55)
73
Day D: Tower Rush
Jul 7, 2016
$6.99
N/A (N/A)
7,665 ±2,463
5,386 ±2,065
04:54 (04:18)
74
Three Digits
Aug 14, 2015
$1.99
N/A (N/A)
26,310 ±4,564
15,952 ±3,554
05:15 (04:22)
75
Simple Ball: Extended Edition
Jul 25, 2016
$0.99
N/A (N/A)
1,657 ±1,145
1,450 ±1,071
01:57 (02:31)
76
AVSEQ
Aug 23, 2012
$1.99
N/A (N/A)
30,867 ±4,944
10,565 ±2,892
00:40 (00:12)
77
Massive Cleavage vs Zombies: Awesome Edition
Jul 8, 2016
$4.99
N/A (N/A)
13,466 ±3,265
10,151 ±2,835
05:25 (06:05)
78
Deadlands Noir - That Old Time Religion
Jul 3, 2015
$3.99
N/A (N/A)
8,701 ±2,625
4,558 ±1,899
02:21 (02:41)
79
Redemption: Eternal Quest
Aug 28, 2015
$1.99
N/A (N/A)
13,258 ±3,240
3,107 ±1,568
01:12 (01:01)
80
Moonlight Minions
Oct 22, 2014
$0.99
N/A (N/A)
10,980 ±2,948
1,450 ±1,071
02:01 (02:24)
81
Discovr Egypt: King Tut's Tomb
Apr 11, 2016
Free
N/A (N/A)
44,747 ±5,952
9,529 ±2,747
00:25 (00:11)
82
Stars
Aug 30, 2016
$14.99
N/A (N/A)
2,072 ±1,280
1,657 ±1,145
00:43 (01:40)
83
The Lost Battalion: All Out Warfare
Apr 23, 2015
$0.99
8% (48%)
16,780 ±3,645
11,394 ±3,003
02:52 (03:12)
84
Hyper color ball
Sep 2, 2016
$0.99
6% (45%)
107,725 ±9,235
62,356 ±7,026
03:07 (03:24)
85
Puzzle Ball
Oct 1, 2015
$2.99
N/A (N/A)
5,386 ±2,065
4,350 ±1,856
03:02 (04:12)
86
Remnants of a Beautiful Day
May 18, 2016
$7.99
N/A (N/A)
11,808 ±3,058
1,450 ±1,071
00:18 (00:28)
87
Steam Heroes
Jan 30, 2015
$5.99
N/A (N/A)
26,310 ±4,564
14,087 ±3,340
03:22 (03:14)
88
Ninja Guy
Jan 5, 2015
$1.99
N/A (N/A)
24,860 ±4,437
4,972 ±1,984
00:34 (00:17)
89
Night Forest
Nov 8, 2016
$1.99
N/A (N/A)
51,791 ±6,404
46,197 ±6,048
03:20 (03:30)
90
Experience
Apr 29, 2016
$1.99
N/A (N/A)
62,770 ±7,050
42,468 ±5,799
03:10 (03:28)
91
Campfire: One of Us Is the Killer
Dec 7, 2016
$2.99
N/A (N/A)
2,072 ±1,280
1,657 ±1,145
00:27 (00:19)
92
Lands Of Devastation
May 18, 2016
Free
N/A (N/A)
16,573 ±3,622
12,637 ±3,163
03:10 (03:29)