My Own Pet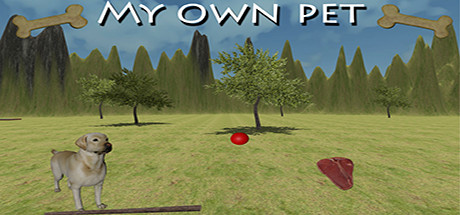 Store | Hub | SteamDB | Site
Developer: JDMSoftware Publisher: JDMSoftware
Genre: Casual, Indie, Simulation, Early Access
Languages: English, French
Tags: Early Access (25), Indie (22), Casual (22), Simulation (20), VR Only (1)
Category: Single-player, Steam Achievements, Steam Cloud
Release date: Jul 19, 2016
Price: $5.99
Followers: 54
YouTube stats: 8 views and 1 comments for videos uploaded last week, 1 new videos uploaded yesterday.

Steam Spy is still in beta, so expect major bugs.
Peak daily concurrent players:
CCU data courtesy of SteamDB. Used with permission.
Hourly concurrent players:
YouTube:
The views data is based on top 50 videos uploaded last week. Actual number of views might be more than the number shown.

The displayed number of videos uploaded yesterday is limited to 50, so if there were more videos uploaded, the number will still show 50.

If the game has commonly used word as its name (like "FEAR" or "Volume") its number of Youtube views might be wrong.
Games similar to this one:
#
Game
Release date

Price

Score rank
(Userscore / Metascore)

Owners

Players

Playtime (Median)

1
Miko Gakkou Monogatari: Kaede Episode
Nov 26, 2015
$8.99
N/A (N/A)
1,591 ±1,176
227 ±444
01:39 (00:33)
2
Roses and Gems
Mar 18, 2016
$4.99
N/A (N/A)
2,728 ±1,540
227 ±444
00:03 (00:01)
3
Zombie Office Politics
Dec 3, 2015
$3.99
N/A (N/A)
7,275 ±2,515
1,364 ±1,089
00:22 (00:37)
4
Galactic Fighters
Mar 15, 2017
$2.99
N/A (N/A)
2,046 ±1,333
682 ±770
02:56 (02:14)
5
Mecha Ritz: Steel Rondo
Jun 9, 2016
$6.99
N/A (N/A)
684 ±946
684 ±946
03:01 (03:01)
6
Led It Rain
Jun 10, 2016
$4.99
N/A (N/A)
7,957 ±2,630
682 ±770
00:09 (00:04)
7
Chimpact 1 - Chuck's Adventure
Nov 11, 2016
$5.99
N/A (N/A)
42,514 ±6,079
2,501 ±1,474
00:58 (02:18)
8
Sector Six
May 1, 2016
$4.99
N/A (N/A)
3,638 ±1,778
2,501 ±1,474
04:42 (03:19)
9
Wrong Dimension - The One Dimensional Platformer
Sep 8, 2016
$2.99
N/A (N/A)
1,819 ±1,257
0 ±0
00:00 (00:00)
10
Lectrovolt II
Aug 23, 2016
$2.99
N/A (N/A)
7,503 ±2,554
455 ±628
00:19 (00:12)
11
Gamma Bros 1.5
May 26, 2016
$4.99
N/A (N/A)
4,774 ±2,037
682 ±770
00:24 (00:17)
12
Ping Ping
May 27, 2016
$3.99
N/A (N/A)
9,321 ±2,846
227 ±444
01:26 (00:28)
13
Cubic complex
Mar 13, 2017
$0.99
N/A (N/A)
10,913 ±3,080
0 ±0
00:00 (00:00)
14
Emily: Displaced
Jul 26, 2016
$14.99
N/A (N/A)
1,364 ±1,089
0 ±0
00:00 (00:00)
15
Kung Fu Ping Pong
Feb 12, 2017
$1.99
N/A (N/A)
1,026 ±1,159
684 ±946
00:11 (00:11)
16
Vindictive Drive
May 15, 2017
$2.99
N/A (N/A)
179,151 ±12,478
162,100 ±11,870
03:31 (03:30)
17
Grid Masters
May 31, 2016
$6.99
N/A (N/A)
7,048 ±2,475
455 ±628
02:07 (01:09)
18
ShareX
Oct 2, 2015
Free
92% (95%)
248,492 ±14,695
148,004 ±11,342
07:17 (00:01)
19
EM: Shader Attack
Sep 29, 2016
$1.99
N/A (N/A)
135,955 ±10,871
110,719 ±9,810
03:18 (03:30)
20
Cyber Sentinel
Jul 29, 2016
$9.99
N/A (N/A)
2,501 ±1,474
455 ±628
00:54 (00:25)
21
Cubotrox
Nov 11, 2016
$5.99
N/A (N/A)
7,957 ±2,630
1,364 ±1,089
01:57 (00:22)
22
Blasters of the Universe
Aug 31, 2017
$14.99
65% (87%)
9,321 ±2,846
2,956 ±1,603
02:05 (01:33)
23
Project Lounge
Nov 3, 2016
$5.99
N/A (N/A)
2,501 ±1,474
682 ±770
24:11 (24:03)
24
Forgotten Ball
Mar 3, 2016
$2.99
N/A (N/A)
2,728 ±1,540
1,137 ±994
07:07 (02:10)
25
Nighttime Terror VR: Dessert Defender
Apr 4, 2016
$4.99
N/A (N/A)
5,456 ±2,178
909 ±889
00:05 (00:03)
26
Cosmic Osmo and the Worlds Beyond the Mackerel
$5.99
N/A (N/A)
66,158 ±7,584
15,914 ±3,719
00:22 (00:06)
27
Natural - Beyond Nature -
Dec 12, 2016
$9.99
N/A (N/A)
1,026 ±1,159
0 ±0
00:00 (00:00)
28
Where are my Internets?
Dec 16, 2016
$2.99
N/A (N/A)
7,048 ±2,475
2,273 ±1,406
03:04 (04:58)
29
Detached
May 18, 2017
$24.99
49% (81%)
5,684 ±2,223
4,092 ±1,886
03:19 (00:50)
30
A Week of Circus Terror
Aug 5, 2016
$4.99
N/A (N/A)
21,598 ±4,333
909 ±889
00:03 (00:03)
31
Skeet: VR Target Shooting
Apr 5, 2016
Free
47% (80%)
112,992 ±9,910
61,157 ±7,291
00:24 (00:09)
32
Formicide
Jun 12, 2017
Free
43% (78%)
122,996 ±10,340
87,302 ±8,711
00:41 (00:09)
33
Nanuleu
Nov 16, 2016
$2.99
N/A (N/A)
2,501 ±1,474
455 ±628
02:18 (01:31)
34
Sparky's Hunt
Aug 18, 2016
$0.99
N/A (N/A)
909 ±889
455 ±628
00:14 (00:09)
35
Racecraft
Mar 4, 2016
$19.99
N/A (N/A)
29,783 ±5,088
5,229 ±2,132
02:28 (02:25)
36
MultiVR.se
Jun 20, 2017
Free
N/A (N/A)
8,185 ±2,667
3,638 ±1,778
00:26 (00:32)
37
Brain Booster
Dec 26, 2016
$0.99
N/A (N/A)
3,638 ±1,778
3,410 ±1,722
01:26 (01:26)
38
Lockdown: Stand Alone
Dec 16, 2016
$10.99
N/A (N/A)
3,638 ±1,778
909 ±889
00:22 (00:16)
39
Let There Be Life
Feb 13, 2015
$5.99
N/A (N/A)
9,776 ±2,915
1,591 ±1,176
00:16 (00:15)
40
Devouring Stars
Jul 3, 2015
$9.99
N/A (N/A)
2,728 ±1,540
1,819 ±1,257
01:44 (02:15)
41
Super Switch
Aug 25, 2016
$1.99
N/A (N/A)
19,325 ±4,099
682 ±770
00:15 (00:13)
42
Indie Assault
Jul 7, 2015
$9.99
N/A (N/A)
6,138 ±2,310
455 ±628
00:22 (00:12)
43
DEFCON VR
Feb 15, 2017
Free
N/A (N/A/84%)
4,774 ±2,037
2,501 ±1,474
01:02 (00:09)
44
The Battle for Sector 219
Jun 2, 2016
$6.99
N/A (N/A)
7,048 ±2,475
3,410 ±1,722
04:53 (05:21)
45
ASDAD: All-Stars Dungeons and Diamonds
Oct 1, 2015
$4.99
N/A (N/A)
7,048 ±2,475
682 ±770
00:20 (00:13)
46
ViveSpray
Nov 25, 2016
$6.99
23% (66%)
5,002 ±2,085
4,774 ±2,037
00:42 (00:23)
47
The Night The Carsons Disappeared
Oct 24, 2016
$0.99
N/A (N/A)
684 ±946
684 ±946
00:38 (00:38)
48
Triblaster
Jul 1, 2014
$2.99
N/A (N/A)
7,957 ±2,630
909 ±889
01:05 (01:23)
49
Primitive Road
Nov 18, 2016
$2.99
N/A (N/A)
4,547 ±1,988
455 ±628
00:03 (00:02)
50
Black Forest
Sep 9, 2016
Free
N/A (N/A)
17,506 ±3,901
1,364 ±1,089
00:11 (00:18)
51
Coated
Aug 25, 2015
$4.99
N/A (N/A)
684 ±946
0 ±0
00:00 (00:00)
52
Cheesecake Cool Conrad
Oct 8, 2014
$4.99
N/A (N/A)
10,003 ±2,949
0 ±0
00:00 (00:00)
53
Project Green Beat
Jan 16, 2015
$4.99
N/A (N/A)
5,002 ±2,085
455 ±628
00:41 (00:27)
54
Kingdom Elemental
May 2, 2014
$3.99
N/A (N/A)
18,188 ±3,976
2,501 ±1,474
00:31 (00:24)
55
Fiery Disaster
Nov 7, 2016
$1.99
N/A (N/A)
2,046 ±1,333
1,364 ±1,089
03:12 (02:48)
56
The Language Game
Jul 9, 2015
$4.99
N/A (N/A)
5,002 ±2,085
682 ±770
00:19 (00:12)
57
Squirt's Adventure
Mar 5, 2014
$0.99
N/A (N/A)
1,368 ±1,338
684 ±946
00:13 (00:12)
58
C O S M
Aug 3, 2016
$9.99
N/A (N/A)
5,456 ±2,178
682 ±770
00:22 (00:19)
59
TesserAct
Oct 24, 2014
$14.99
N/A (N/A)
2,728 ±1,540
227 ±444
03:14 (01:04)
60
Thick Air
Sep 15, 2016
$2.99
N/A (N/A)
2,501 ±1,474
2,046 ±1,333
00:21 (00:30)
61
StarFringe: Adversus
Apr 5, 2016
$6.99
N/A (N/A)
22,735 ±4,446
2,728 ±1,540
00:54 (00:50)
62
Panda School Browser
May 22, 2015
$3.99
N/A (N/A)
4,547 ±1,988
1,364 ±1,089
04:39 (05:10)
63
Strange Night
Jul 26, 2016
$3.99
11% (53%)
7,048 ±2,475
2,273 ±1,406
00:50 (01:14)
64
Soda Star
May 14, 2015
$3.99
N/A (N/A)
2,273 ±1,406
227 ±444
264:32 (88:10)
65
Defense Of Greece TD
Nov 9, 2016
$5.99
N/A (N/A)
17,733 ±3,926
909 ±889
02:02 (01:22)
66
Marcus Level
Jan 20, 2016
$4.99
N/A (N/A)
5,684 ±2,223
3,865 ±1,833
05:23 (06:11)
67
Lord Mayor
Jul 21, 2016
$1.99
N/A (N/A)
6,138 ±2,310
227 ±444
00:30 (00:10)
68
TribeQuest: Red Killer
May 18, 2016
$0.99
N/A (N/A)
2,956 ±1,603
0 ±0
00:00 (00:00)
69
Rooftop Cop
Mar 2, 2015
$2.99
N/A (N/A)
7,275 ±2,515
1,137 ±994
04:39 (01:15)
70
Hunter Gatherer
Mar 24, 2015
$1.99
N/A (N/A)
1,819 ±1,257
682 ±770
00:08 (00:07)
71
Industry Transporters
Aug 31, 2015
$9.99
N/A (N/A)
5,002 ±2,085
1,591 ±1,176
01:32 (02:11)
72
Fork Truck Challenge
Jul 24, 2015
$7.99
N/A (N/A)
682 ±770
227 ±444
00:04 (00:01)
73
Wolf Simulator
Nov 16, 2016
$3.99
3% (34%)
78,890 ±8,281
45,242 ±6,271
03:06 (03:19)
74
Owys
Aug 25, 2015
$0.99
N/A (N/A)
12,732 ±3,327
2,046 ±1,333
00:18 (00:21)
75
Death and the Fly
May 23, 2011
$9.99
N/A (N/A)
2,046 ±1,333
455 ±628
00:10 (00:04)
76
Drift GEAR Racing Free
Oct 21, 2016
Free
1% (25%)
52,972 ±6,786
35,921 ±5,588
00:23 (00:04)
77
Satanist
Jun 1, 2016
$0.99
N/A (N/A)
1,137 ±994
227 ±444
00:10 (00:03)
78
Back To Life 3
Dec 16, 2014
$4.99
N/A (N/A)
2,273 ±1,406
0 ±0
00:00 (00:00)
79
Break the Cube
Jan 27, 2015
$0.99
N/A (N/A)
1,819 ±1,257
909 ±889
00:02 (00:01)
80
Fantasy Kingdom Simulator
Jun 13, 2016
$0.99
N/A (N/A)
120,040 ±10,215
113,220 ±9,920
04:04 (03:30)
81
Protocol
Aug 24, 2015
$0.99
N/A (N/A)
18,643 ±4,026
1,137 ±994
00:07 (00:09)
82
Quadle
Jul 23, 2015
$7.99
N/A (N/A)
23,417 ±4,512
2,046 ±1,333
00:34 (00:56)
83
Insane Insects: The Inception
May 2, 2016
$9.99
N/A (N/A)
2,501 ±1,474
0 ±0
00:00 (00:00)
84
Tail Drift
Oct 29, 2014
$9.99
N/A (N/A)
4,774 ±2,037
455 ±628
00:35 (00:23)