Tangled Up!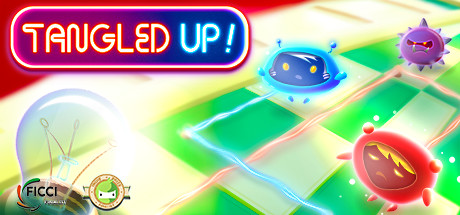 Store | Hub | SteamDB | Site
Developer: 2Pi Interactive Pvt. Ltd. Publisher: OtakuMaker.com
Genre: Action, Adventure, Casual, Indie, Strategy
Languages: English, French, German, Spanish, Japanese, Russian, Simplified Chinese, Traditional Chinese
Tags: Casual (23), Indie (21), Strategy (20), Adventure (20), Action (20), Puzzle (14), Stylized (11), Great Soundtrack (11), Puzzle-Platformer (11), 2D (11), Funny (11), Fantasy (11), Singleplayer (11), Choose Your Own Adventure (11), Arcade (11), Retro (11), Atmospheric (11), Hidden Object (10), Classic (10)
Category: Single-player, Steam Achievements, Steam Trading Cards, Steam Leaderboards
Release date: Sep 2, 2016
Price: $2.49 50%
Owners: 4,310 ± 1,838
Players total: 2,873 ± 1,501 (66.67%)
Followers: 686
Peak concurrent players yesterday: 2
YouTube stats: 51,358 views and 448 comments for videos uploaded last week, 12 new videos uploaded yesterday.
Playtime total: 02:43 (average) 03:16 (median)

Steam Spy is still in beta, so expect major bugs.
Peak daily concurrent players:
CCU data courtesy of SteamDB. Used with permission.
Hourly concurrent players:
YouTube:
The views data is based on top 50 videos uploaded last week. Actual number of views might be more than the number shown.

The displayed number of videos uploaded yesterday is limited to 50, so if there were more videos uploaded, the number will still show 50.

If the game has commonly used word as its name (like "FEAR" or "Volume") its number of Youtube views might be wrong.
Games similar to this one:
#
Game
Release date

Price

Score rank
(Userscore / Metascore)

Owners

Players

Playtime (Median)

1
The Superfluous
May 19, 2017
$2.49
N/A (N/A)
7,799 ±2,473
5,541 ±2,085
03:04 (03:22)
2
Evolvation
Feb 6, 2017
$9.99
N/A (N/A)
11,082 ±2,948
8,004 ±2,505
03:32 (03:04)
3
Mankind Defender
Dec 22, 2016
$0.99
N/A (N/A)
8,004 ±2,505
5,336 ±2,046
04:18 (04:03)
4
Porradaria 2: Pagode of the Night
Mar 8, 2016
$1.99
N/A (N/A)
53,975 ±6,507
19,907 ±3,951
03:03 (03:41)
5
Wormhole City
Jan 2, 2017
$5.99
N/A (N/A)
7,799 ±2,473
5,336 ±2,046
03:19 (04:38)
6
Milford Heaven - Luken's Chronicles
Jun 10, 2016
$0.49
N/A (N/A)
32,426 ±5,043
25,448 ±4,468
03:28 (03:27)
7
We Slay Monsters
Jun 21, 2017
$9.79
N/A (N/A)
2,668 ±1,446
2,052 ±1,268
09:13 (05:30)
8
The Haunting of Billy
Feb 26, 2016
$1.19
N/A (N/A)
10,672 ±2,893
7,388 ±2,407
03:30 (03:36)
9
Crowman & Wolfboy
Jun 2, 2017
$3.99
N/A (N/A)
17,650 ±3,721
12,314 ±3,108
03:28 (03:28)
10
Linelight
Jan 30, 2017
$6.69
99% (98%/90%)
5,746 ±2,123
4,105 ±1,794
02:23 (02:37)
11
Princess Remedy In A Heap of Trouble
Sep 8, 2016
$2.99
99% (98%)
3,078 ±1,554
2,052 ±1,268
02:19 (02:39)
12
Little Triangle
Jan 20, 2017
$6.47
99% (98%)
8,414 ±2,569
8,209 ±2,537
04:31 (04:20)
13
Tadpole Treble
Sep 2, 2016
$1.24
95% (96%/90%)
4,720 ±1,924
3,489 ±1,654
02:31 (01:58)
14
Dad Quest
Feb 23, 2017
$5.35
N/A (N/A)
1,642 ±1,134
1,026 ±897
00:24 (00:28)
15
The Metronomicon
Sep 29, 2016
$9.99
89% (94%/79%)
5,746 ±2,123
5,336 ±2,046
06:29 (04:52)
16
NO THING
Apr 7, 2016
$1.99
86% (93%)
13,340 ±3,235
8,620 ±2,600
04:16 (04:45)
17
Catacomb Kids
Feb 20, 2015
$15.99
82% (92%)
14,161 ±3,333
14,161 ±3,333
18:17 (03:57)
18
Tale of Fallen Dragons
Feb 6, 2017
$7.49
82% (92%)
4,925 ±1,965
4,105 ±1,794
11:19 (06:44)
19
Shadows of Adam
Feb 23, 2017
$9.89
82% (92%/77%)
2,258 ±1,330
1,847 ±1,203
11:36 (12:46)
20
God of Word
Sep 28, 2016
$1.24
N/A (N/A)
10,467 ±2,865
5,952 ±2,160
03:44 (03:59)
21
C. Kane
Jan 25, 2016
$0.99
N/A (N/A)
6,567 ±2,269
3,284 ±1,605
02:57 (02:55)
22
Wave Magic VR
Dec 29, 2016
$4.01
N/A (N/A)
5,131 ±2,006
3,284 ±1,605
02:09 (02:46)
23
Angel Express [Tokkyu Tenshi]
Jul 15, 2016
$2.99
N/A (N/A)
7,799 ±2,473
4,925 ±1,965
04:05 (04:54)
24
Trace Vector
Aug 19, 2014
$1.74
N/A (N/A)
12,109 ±3,082
6,978 ±2,339
04:15 (04:22)
25
Caveblazers
May 24, 2017
$7.99
74% (90%)
26,269 ±4,539
23,191 ±4,265
09:12 (04:03)
26
Red Rope: Don't Fall Behind
Jul 21, 2016
$4.79
N/A (N/A)
2,668 ±1,446
2,463 ±1,390
02:02 (01:19)
27
Spooky's Jump Scare Mansion: HD Renovation
Mar 1, 2017
$4.99
70% (89%)
7,388 ±2,407
6,157 ±2,197
02:18 (02:39)
28
Sixth Grade Detective
Dec 21, 2015
$3.99
N/A (N/A)
1,847 ±1,203
1,847 ±1,203
08:33 (11:29)
29
Looterkings
Aug 16, 2016
$10.79
70% (89%)
8,209 ±2,537
6,567 ±2,269
06:00 (03:55)
30
Moekuri: Adorable + Tactical SRPG
Dec 16, 2016
$8.39
70% (89%)
4,925 ±1,965
3,694 ±1,702
02:15 (02:05)
31
Camp Sunshine
Oct 27, 2016
$1.69
70% (89%)
7,593 ±2,440
4,925 ±1,965
05:06 (04:58)
32
Conclave
Jan 20, 2017
$9.95
N/A (N/A)
2,668 ±1,446
2,052 ±1,268
04:25 (05:49)
33
Cellar
Mar 23, 2016
$0.49
67% (88%)
7,183 ±2,373
4,720 ±1,924
01:34 (01:08)
34
City Climber
Feb 24, 2017
$4.19
N/A (N/A)
2,258 ±1,330
2,258 ±1,330
01:24 (01:21)
35
Barbie and Her Sisters Puppy Rescue
Dec 17, 2015
$9.99
64% (87%)
3,284 ±1,605
2,668 ±1,446
07:58 (04:22)
36
KeeperRL
Mar 31, 2015
$13.49
61% (86%)
18,265 ±3,785
17,239 ±3,677
10:01 (04:01)
37
Beyond Despair
Jan 16, 2017
$11.99
61% (86%)
3,694 ±1,702
3,284 ±1,605
04:22 (04:29)
38
Ropes And Dragons VR
Apr 21, 2017
$0.99
N/A (N/A)
44,740 ±5,924
40,841 ±5,660
03:29 (03:30)
39
Disoriented
Nov 21, 2016
$0.99
56% (84%)
6,157 ±2,197
4,105 ±1,794
01:15 (00:40)
40
Drifting Lands
Jun 5, 2017
$18.99
56% (84%)
6,773 ±2,305
6,157 ±2,197
07:29 (03:22)
41
Flat Kingdom Paper's Cut Edition
Apr 15, 2016
$3.19
N/A (N/A)
8,825 ±2,631
5,541 ±2,085
07:52 (06:01)
42
Aveyond 3-3: The Lost Orb
Jan 16, 2015
$1.99
N/A (N/A)
2,463 ±1,390
205 ±401
00:01 (00:00)
43
Pixel Fodder
Jul 20, 2015
Free
53% (83%)
14,982 ±3,428
6,567 ±2,269
04:52 (03:10)
44
Iggy's Egg Adventure
Aug 27, 2015
$0.49
46% (80%)
14,982 ±3,428
10,877 ±2,921
06:21 (03:34)
45
Paranormal Activity: The Lost Soul
Mar 14, 2017
$29.99
46% (80%)
7,799 ±2,473
6,773 ±2,305
06:22 (03:06)
46
Earth Under Siege
Dec 11, 2014
$0.99
N/A (N/A)
1,026 ±897
821 ±802
03:11 (04:10)
47
Lichtspeer
Sep 27, 2016
$4.99
N/A (N/A/72%)
3,078 ±1,554
2,668 ±1,446
01:51 (02:54)
48
Project Explore
Mar 20, 2015
$1.99
44% (79%)
12,929 ±3,184
10,261 ±2,837
02:43 (01:34)
49
MegaSphere
Aug 25, 2015
$14.99
N/A (N/A)
1,847 ±1,203
1,642 ±1,134
00:50 (00:49)
50
Vengeance
Apr 29, 2016
$8.99
N/A (N/A)
4,925 ±1,965
3,899 ±1,749
04:43 (05:37)
51
It's A Wipe!
Dec 11, 2014
$1.99
38% (76%)
8,209 ±2,537
7,183 ±2,373
08:24 (05:34)
52
Conan the mighty pig
Jul 7, 2016
$0.49
N/A (N/A)
33,042 ±5,091
28,116 ±4,696
03:13 (03:30)
53
Radiation Island
Nov 29, 2016
$1.01
38% (76%)
10,056 ±2,808
8,414 ±2,569
03:32 (01:44)
54
Turnover
Dec 15, 2015
$2.49
N/A (N/A)
1,026 ±897
616 ±695
04:45 (04:45)
55
HORROR OF THE DEEP
Jan 13, 2017
$3.99
N/A (N/A)
2,052 ±1,268
1,231 ±982
02:56 (02:48)
56
Three Days
May 19, 2017
$1.99
N/A (N/A)
6,773 ±2,305
4,310 ±1,838
03:27 (03:07)
57
Tales from the Void
May 20, 2016
$1.49
N/A (N/A)
34,478 ±5,200
16,829 ±3,633
02:58 (03:22)
58
Ancient Guardian
Dec 21, 2016
$1.04
N/A (N/A)
3,078 ±1,554
1,847 ±1,203
04:39 (06:07)
59
XO-Planets
Apr 21, 2016
$7.99
N/A (N/A)
1,847 ±1,203
1,231 ±982
01:32 (01:50)
60
Stairs
Sep 28, 2015
$3.24
30% (71%/65%)
8,620 ±2,600
6,157 ±2,197
02:24 (01:40)
61
Void
Aug 16, 2016
$4.99
N/A (N/A)
2,668 ±1,446
1,231 ±982
02:22 (03:01)
62
Event Horizon
Apr 30, 2016
$1.01
N/A (N/A)
2,668 ±1,446
205 ±401
00:31 (00:10)
63
Star Phoenix
Nov 24, 2016
$2.49
N/A (N/A)
6,978 ±2,339
4,105 ±1,794
03:08 (03:59)
64
Taimumari
Dec 16, 2015
$0.89
N/A (N/A)
17,444 ±3,699
9,441 ±2,721
04:12 (04:05)
65
Aiball
Jun 22, 2016
$0.99
21% (64%)
2,873 ±1,501
2,463 ±1,390
00:50 (00:49)
66
Jump Like A Pirate
Feb 7, 2017
$0.74
N/A (N/A)
22,575 ±4,208
17,444 ±3,699
03:19 (03:30)
67
Idle Civilization
Nov 23, 2015
$4.99
16% (60%)
11,082 ±2,948
10,467 ±2,865
37:49 (09:58)
68
SoulCraft
Jun 1, 2015
$0.99
N/A (N/A)
20,318 ±3,992
3,489 ±1,654
00:25 (00:23)
69
Congresswolf
Oct 28, 2016
$3.95
N/A (N/A)
1,847 ±1,203
1,437 ±1,061
03:15 (04:05)
70
Guardian Of December
Nov 30, 2016
$2.99
N/A (N/A)
3,899 ±1,749
2,463 ±1,390
06:26 (07:05)
71
Crash Force
Jan 20, 2017
$8.99
N/A (N/A)
29,758 ±4,831
22,370 ±4,189
03:13 (03:32)
72
After Reset RPG
Mar 9, 2015
$49.99
N/A (N/A)
2,668 ±1,446
1,847 ±1,203
01:22 (01:06)
73
Crispy Chicken
Apr 18, 2017
$0.49
8% (48%)
18,881 ±3,848
11,698 ±3,029
03:12 (03:27)
74
MinosMaze - The Minotaur's Labyrinth
May 1, 2017
$0.49
N/A (N/A)
9,235 ±2,691
5,131 ±2,006
02:36 (03:00)
75
REVERSE SIDE
Jul 30, 2015
$4.19
6% (45%)
1,847 ±1,203
1,231 ±982
01:37 (01:04)
76
Garbage Day
Jan 18, 2016
$14.99
5% (41%)
12,724 ±3,159
12,519 ±3,133
08:31 (01:58)
77
Spaceforce Rogue Universe HD
May 26, 2015
$3.24
N/A (N/A)
4,720 ±1,924
2,873 ±1,501
05:16 (06:56)
78
Aztecalypse
Nov 11, 2016
$0.74
N/A (N/A)
37,762 ±5,442
34,889 ±5,231
03:39 (03:30)
79
Apocalypse Hotel - The Post-Apocalyptic Hotel Simulator!
Jan 26, 2016
$2.09
N/A (N/A)
12,929 ±3,184
2,463 ±1,390
01:18 (01:11)