DYE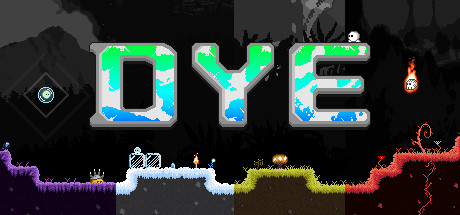 Store | Hub | SteamDB | Site
Developer: Bat Country Games, LLC Publisher: Bat Country Games, LLC
Genre: Action, Adventure, Indie
Languages: English
Tags: Action (32), Indie (32), Adventure (31), Platformer (13), Difficult (13), Pixel Graphics (12), Great Soundtrack (12), Colorful (11)
Category: Single-player, Steam Achievements, Full controller support, Steam Trading Cards, Steam Cloud
Release date: Feb 23, 2017
Price: $9.99
Owners: 549 ± 759
Followers: 249
Peak concurrent players yesterday: 2
Peak on Twitch yesterday: 2 viewers, 1 channels
YouTube stats: 1,987 views and 468 comments for videos uploaded last week, 10 new videos uploaded yesterday.

Steam Spy is still in beta, so expect major bugs.
Peak daily concurrent players:
CCU data courtesy of SteamDB. Used with permission.
Hourly concurrent players:
YouTube:
The views data is based on top 50 videos uploaded last week. Actual number of views might be more than the number shown.

The displayed number of videos uploaded yesterday is limited to 50, so if there were more videos uploaded, the number will still show 50.

If the game has commonly used word as its name (like "FEAR" or "Volume") its number of Youtube views might be wrong.
Games similar to this one:
#
Game
Release date

Price

Score rank
(Userscore / Metascore)

Owners

Players

Playtime (Median)

1
Ticket
Mar 10, 2017
$5.99
N/A (N/A)
3,920 ±1,672
2,987 ±1,459
02:53 (03:27)
2
Milkmaid of the Milky Way
Jan 4, 2017
$5.99
100% (99%/74%)
1,867 ±1,153
1,493 ±1,032
02:03 (02:59)
3
The Final Specimen: Arrival
Mar 2, 2017
$9.99
N/A (N/A)
550 ±761
275 ±538
00:44 (00:22)
4
Settled
Feb 29, 2016
$1.99
N/A (N/A)
9,520 ±2,605
1,120 ±893
01:41 (02:00)
5
Relativity
Aug 24, 2016
$1.99
N/A (N/A)
826 ±932
550 ±761
00:41 (00:41)
6
School of Talent: SUZU-ROUTE
Feb 23, 2017
$8.99
N/A (N/A)
5,787 ±2,031
2,987 ±1,459
02:57 (03:03)
7
The World Named Fred
Feb 27, 2015
$3.99
N/A (N/A)
5,974 ±2,064
747 ±729
02:05 (01:24)
8
A Pixel Story
Mar 30, 2015
$11.99
N/A (N/A/74%)
8,027 ±2,392
5,787 ±2,031
03:56 (04:09)
9
Rising Angels: Hope
Mar 18, 2016
$14.99
N/A (N/A)
1,120 ±893
373 ±516
02:35 (01:43)
10
goalunited PRO football manager for experts
Mar 6, 2017
Free
42% (78%)
47,789 ±5,838
38,082 ±5,211
01:40 (00:13)
11
Downward Spiral: Prologue
Mar 30, 2017
$9.99
N/A (N/A)
2,053 ±1,210
560 ±632
01:56 (01:47)
12
CRIMSON ROOM DECADE
Jun 9, 2016
$9.99
N/A (N/A)
1,680 ±1,094
1,307 ±965
01:40 (01:36)
13
The Rivers of Alice - Extended Version
Nov 16, 2015
$7.99
N/A (N/A)
5,974 ±2,064
3,173 ±1,504
05:04 (04:44)
14
Finding Hope
Jan 30, 2017
$0.5
N/A (N/A)
5,227 ±1,930
3,360 ±1,548
03:37 (04:04)
15
Belladonna
Feb 27, 2015
$6.99
31% (72%)
38,455 ±5,237
21,281 ±3,895
06:15 (05:31)
16
Technolust
Apr 19, 2016
$24.99
N/A (N/A)
2,240 ±1,264
1,867 ±1,153
00:29 (00:15)
17
Last Half of Darkness - Society of the Serpent Moon
Aug 3, 2015
$4.99
N/A (N/A)
1,120 ±893
933 ±815
04:02 (05:46)
18
The Ritual on Weylyn Island
Dec 4, 2015
$4.99
N/A (N/A)
1,376 ±1,203
826 ±932
01:59 (02:49)
19
VR Escape the space station
Aug 24, 2016
$6.99
N/A (N/A)
6,534 ±2,158
1,867 ±1,153
00:58 (01:12)
20
Marlene Betwixt
Oct 25, 2016
$6.99
N/A (N/A)
2,752 ±1,702
1,101 ±1,076
00:08 (00:08)
21
Hikikomori No Chuunibyou
Jul 15, 2016
$1.99
N/A (N/A)
1,867 ±1,153
1,307 ±965
01:53 (02:05)
22
Vaccine War
Mar 20, 2016
$7.99
N/A (N/A)
3,173 ±1,504
560 ±632
00:29 (00:22)
23
The Way of the Pixelated Fist
Apr 27, 2015
$1.99
N/A (N/A)
5,974 ±2,064
747 ±729
00:51 (00:33)
24
Colortone
Oct 29, 2015
$4.99
N/A (N/A)
4,107 ±1,711
2,053 ±1,210
00:44 (00:57)
25
A SECOND BEFORE US
May 10, 2017
$8.99
N/A (N/A)
1,120 ±893
187 ±364
07:43 (02:34)
26
UnderDread
Mar 1, 2016
$9.99
N/A (N/A)
1,680 ±1,094
1,307 ±965
01:24 (01:02)
27
Into Blue Valley
Dec 24, 2014
$9.99
N/A (N/A)
2,053 ±1,210
747 ±729
00:19 (00:17)
28
MEMENTO
Jul 7, 2016
$5.99
N/A (N/A)
1,307 ±965
560 ±632
01:21 (01:20)
29
Inevitability
Aug 24, 2015
$4.99
N/A (N/A)
1,493 ±1,032
1,120 ±893
01:22 (02:03)
30
CHAOS - In the Darkness
Oct 7, 2015
$7.99
N/A (N/A)
1,867 ±1,153
187 ±364
01:49 (00:36)