"Heroes of Card War"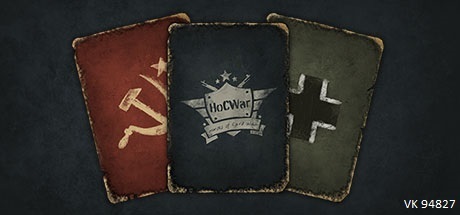 Store | Hub | SteamDB | Site
Developer: HoCWar Publisher: HoCWar
Genre: Free to Play, Strategy, Early Access
Languages: English, Russian
Tags: Early Access (38), Strategy (34), Free to Play (30), World War II (16), Trading Card Game (14), Card Game (14), Singleplayer (11), Co-op (11), Indie (11), Multiplayer (11)
Category: Multi-player, Online Multi-Player, Steam Achievements, Steam Trading Cards, Steam Cloud, Steam Leaderboards
Release date: Dec 28, 2016
Price: $13.99
Owners: 1,432 ± 2,806

Steam Spy is still in beta, so expect major bugs.
Peak daily concurrent players:
CCU data courtesy of SteamDB. Used with permission.
Hourly concurrent players:
YouTube:
The views data is based on top 50 videos uploaded last week. Actual number of views might be more than the number shown.

The displayed number of videos uploaded yesterday is limited to 50, so if there were more videos uploaded, the number will still show 50.

If the game has commonly used word as its name (like "FEAR" or "Volume") its number of Youtube views might be wrong.
Games similar to this one:
#
Game
Release date

Price

Score rank
(Userscore / Metascore)

Owners

Players

Playtime (Median)

1
DungeonRift
Jul 1, 2015
$9.99
N/A (N/A)
12,477 ±4,459
2,911 ±2,154
00:17 (00:22)
2
Princess Remedy In A Heap of Trouble
Sep 8, 2016
$2.99
100% (99%)
3,327 ±2,302
2,495 ±1,994
03:01 (03:21)
3
Tumbleweed Express
May 31, 2016
$4.99
97% (97%)
3,327 ±2,302
2,911 ±2,154
03:01 (02:40)
4
Endless Night - Alpha
Dec 5, 2016
Free
N/A (N/A)
6,238 ±3,153
2,911 ±2,154
00:15 (00:16)
5
Beyond Despair
Jan 16, 2017
$11.99
73% (90%)
3,327 ±2,302
2,911 ±2,154
02:00 (02:05)
6
DinoSystem
Jun 25, 2015
$7.99
66% (88%)
5,406 ±2,935
4,159 ±2,574
05:52 (07:02)
7
Dropzone
Feb 15, 2017
$19.99
52% (83%)
14,140 ±4,747
5,822 ±3,046
01:50 (01:15)
8
Tangled Up!
Sep 2, 2016
$4.99
N/A (N/A)
7,779 ±5,760
6,668 ±5,332
02:44 (01:04)
9
MIGHT
Jul 13, 2016
Free
N/A (N/A)
9,981 ±3,988
3,743 ±2,442
04:06 (05:57)
10
I Shall Remain
Aug 24, 2015
$9.99
28% (71%)
9,149 ±3,818
2,911 ±2,154
03:03 (03:17)
11
StoryMode - A Game About Crafting
Sep 7, 2015
$4.99
N/A (N/A)
7,070 ±3,356
1,248 ±1,410
00:06 (00:04)
12
Warbit
Apr 19, 2016
$0.99
22% (66%)
17,883 ±5,338
15,804 ±5,018
01:59 (00:54)
13
TOTM
Feb 3, 2015
$7.99
N/A (N/A)
6,668 ±5,332
3,334 ±3,770
00:12 (00:09)
14
Salvation Prophecy
Oct 7, 2013
$19.99
19% (64%)
28,696 ±6,762
20,794 ±5,756
03:48 (01:19)
15
Battle Cars
Mar 2, 2016
Free
16% (60%)
39,093 ±7,893
4,575 ±2,700
02:15 (05:24)
16
KYOTO TANOJI QUEST
Dec 23, 2016
Free
N/A (N/A)
3,334 ±3,770
1,111 ±2,177
00:04 (00:02)
17
Continue9876543210
Jan 3, 2014
$9.99
12% (56%/62%)
13,308 ±4,605
5,822 ±3,046
01:20 (01:20)
18
Forest Warrior
Jun 25, 2015
$3.99
N/A (N/A)
20,794 ±5,756
832 ±1,151
00:25 (00:16)
19
Of Love And Sorrow
Aug 8, 2016
$4.99
N/A (N/A)
4,991 ±2,820
0 ±0
00:00 (00:00)
20
Dead Sea
Mar 25, 2015
$4.99
5% (41%)
3,743 ±2,442
2,911 ±2,154
00:11 (00:08)
21
InfinitasDM
Nov 28, 2016
$9.99
N/A (N/A)
2,223 ±3,078
2,223 ±3,078
00:55 (00:55)
22
Snow Light
Oct 24, 2014
$9.99
N/A (N/A)
5,406 ±2,935
832 ±1,151
00:08 (00:02)
23
10 Years After
Jan 30, 2015
$5.99
N/A (N/A)
10,813 ±4,151
832 ±1,151
00:03 (00:01)