Eldritch Hunter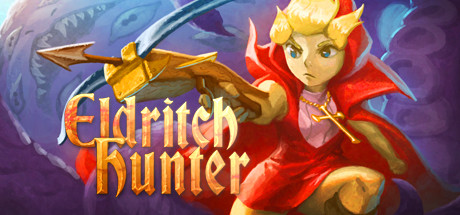 Store | Hub | SteamDB | Site
Developer: Joshua Missile Publisher: Joshua Missile
Genre: Action, Indie
Languages: English
Tags: Action (25), Indie (22), Female Protagonist (16), 2D (16), Platformer (16), Lovecraftian (14), Singleplayer (13), Hand-drawn (13), Shooter (12), Shoot 'Em Up (11), Fantasy (11), Anime (10)
Category: Single-player, Steam Achievements, Steam Trading Cards
Release date: Jan 27, 2017
Price: $4.99
Followers: 552
Peak concurrent players yesterday: 1
YouTube stats: 43 views and 34 comments for videos uploaded last week, 0 new videos uploaded yesterday.

Steam Spy is still in beta, so expect major bugs.
Peak daily concurrent players:
CCU data courtesy of SteamDB. Used with permission.
Hourly concurrent players:
YouTube:
The views data is based on top 50 videos uploaded last week. Actual number of views might be more than the number shown.

The displayed number of videos uploaded yesterday is limited to 50, so if there were more videos uploaded, the number will still show 50.

If the game has commonly used word as its name (like "FEAR" or "Volume") its number of Youtube views might be wrong.
Games similar to this one:
#
Game
Release date

Price

Score rank
(Userscore / Metascore)

Owners

Players

Playtime (Median)

1
Imperium Galactica
Jan 19, 2017
$4.99
N/A (N/A)
2,486 ±1,403
2,072 ±1,280
09:41 (12:50)
2
Controller Companion
May 4, 2015
$2.99
89% (94%)
96,538 ±8,742
87,837 ±8,339
16:44 (00:01)
3
Way of the Red
Nov 16, 2016
$7.99
N/A (N/A)
829 ±810
621 ±701
05:54 (05:53)
4
A Rose in the Twilight
Apr 11, 2017
$19.99
N/A (N/A)
621 ±701
414 ±572
01:07 (00:44)
5
LUMBERMANCER
Jun 28, 2016
$3.99
N/A (N/A)
1,450 ±1,071
1,036 ±905
00:26 (00:35)
6
Super Flippin' Phones
Feb 18, 2016
$2.99
N/A (N/A)
4,143 ±1,811
414 ±572
00:02 (00:01)
7
Gloom
Apr 13, 2017
$9.99
N/A (N/A)
621 ±701
414 ±572
00:35 (00:23)
8
Z.A.R.
May 1, 2015
$5.99
N/A (N/A)
15,330 ±3,484
1,036 ±905
00:10 (00:05)
9
Spooky Night
Dec 31, 2016
Free
N/A (N/A)
8,287 ±2,561
4,143 ±1,811
00:16 (00:07)
10
Bleeding Blocks
Sep 15, 2015
$1.99
N/A (N/A)
2,693 ±1,460
621 ±701
17:33 (17:19)
11
The Cubicle.
Apr 5, 2016
Free
69% (88%)
141,078 ±10,568
79,550 ±7,936
00:29 (00:05)
12
Little Briar Rose
Dec 2, 2016
$7.99
N/A (N/A)
1,550 ±1,356
620 ±857
02:19 (01:53)
13
Blood Alloy: Reborn
Mar 2, 2016
$12.99
N/A (N/A/48%)
1,243 ±992
1,036 ±905
00:45 (01:10)
14
Ittle Dew 2
Nov 15, 2016
$19.99
66% (87%)
2,072 ±1,280
1,450 ±1,071
11:46 (19:09)
15
Wasteland 1 - The Original Classic
Nov 13, 2013
$5.99
63% (86%)
616,516 ±22,079
134,863 ±10,333
00:58 (00:05)
16
The Sum of All Fears
Oct 10, 2008
$9.99
N/A (N/A/72%)
2,072 ±1,280
829 ±810
02:46 (01:51)
17
Feral Fury
Apr 2, 2017
$6.99
N/A (N/A)
1,550 ±1,356
930 ±1,050
01:40 (02:26)
18
DELTAZEAL
Oct 16, 2015
$11.99
N/A (N/A)
2,693 ±1,460
1,864 ±1,215
01:38 (01:17)
19
Graveyard Shift
Oct 20, 2016
$2.99
N/A (N/A)
7,665 ±2,463
621 ±701
01:11 (00:35)
20
VR Gallery
Aug 11, 2016
Free
N/A (N/A)
26,724 ±4,600
1,450 ±1,071
00:05 (00:08)
21
Loot or Die
Sep 13, 2016
$1.99
N/A (N/A)
1,243 ±992
1,036 ±905
03:29 (04:48)
22
Surgeon Simulator VR: Meet The Medic
Apr 5, 2016
Free
41% (77%)
267,654 ±14,554
157,651 ±11,171
01:39 (00:02)
23
Tank Brawl
Apr 20, 2016
$3.99
N/A (N/A)
4,350 ±1,856
1,243 ±992
01:23 (00:08)
24
Dogolrax
Feb 24, 2017
$4.99
N/A (N/A)
621 ±701
207 ±405
01:35 (00:31)
25
Harold
Feb 12, 2015
$9.99
N/A (N/A/70%)
1,243 ±992
1,036 ±905
00:33 (00:19)
26
Happy Empire
Aug 19, 2016
$4.99
N/A (N/A)
4,143 ±1,811
829 ±810
00:32 (00:22)
27
The Last Cargo
Mar 4, 2017
$9.99
N/A (N/A)
1,868 ±2,112
623 ±1,219
00:30 (00:30)
28
Daydreamer: Awakened Edition
Aug 20, 2015
$10.99
N/A (N/A)
621 ±701
0 ±0
00:00 (00:00)
29
Vanguards
Oct 28, 2016
Free
29% (70%)
21,545 ±4,130
9,115 ±2,686
00:33 (00:05)
30
SHOCK TROOPERS 2nd Squad
Sep 28, 2016
$7.99
N/A (N/A)
10,151 ±2,835
207 ±405
00:17 (00:05)
31
Aegis
Oct 6, 2016
$2.99
N/A (N/A)
8,494 ±2,593
1,243 ±992
00:45 (00:53)
32
Blackfaun
Oct 26, 2016
$14.99
N/A (N/A)
1,243 ±992
829 ±810
00:58 (01:09)
33
Battle Of Europe
Sep 18, 2014
$9.99
N/A (N/A/54%)
930 ±1,050
0 ±0
00:00 (00:00)
34
Crystal Picnic
Nov 2, 2015
$1.99
N/A (N/A)
2,900 ±1,515
1,450 ±1,071
02:26 (03:13)
35
ESEA
Jul 8, 2016
Free
14% (57%)
283,813 ±14,987
208,820 ±12,856
04:11 (00:01)
36
Silver Bullet: Prometheus
Apr 8, 2016
$4.99
N/A (N/A)
1,243 ±992
414 ±572
00:59 (00:22)
37
Back to Dinosaur Island
Nov 18, 2015
Free
12% (55%)
467,773 ±19,236
246,316 ±13,962
00:18 (00:04)
38
B.A.D Battle Armor Division
Aug 18, 2015
$5.99
N/A (N/A)
2,486 ±1,403
1,036 ±905
02:58 (04:52)
39
Karos
Dec 24, 2014
Free
10% (52%)
361,499 ±16,912
132,377 ±10,237
03:39 (00:01)
40
Deformers
Apr 20, 2017
$29.99
N/A (N/A)
6,422 ±2,255
1,450 ±1,071
00:43 (00:42)
41
Esenthel Engine
Apr 2015
Free
N/A (N/A)
114,147 ±9,506
36,668 ±5,388
00:10 (00:01)
42
World War II GI
Nov 13, 2015
$6.99
N/A (N/A)
6,008 ±2,181
1,864 ±1,215
00:43 (00:52)
43
Lost Sea
Jul 5, 2016
$14.99
N/A (N/A)
829 ±810
829 ±810
01:26 (01:48)
44
Maui
Apr 26, 2016
Free
7% (47%)
125,333 ±9,961
71,057 ±7,501
00:12 (00:05)
45
ePic Character Generator
Nov 5, 2015
Free
7% (46%)
75,200 ±7,716
19,888 ±3,968
00:45 (00:10)
46
Sunken
May 26, 2016
$9.99
N/A (N/A)
1,243 ±992
1,036 ±905
03:40 (04:33)
47
All Is Dust
Jun 26, 2015
Free
6% (43%)
346,583 ±16,560
160,551 ±11,274
00:43 (00:08)
48
Daylight's End VR Edition
Aug 26, 2016
Free
N/A (N/A)
31,074 ±4,960
7,665 ±2,463
01:05 (00:02)
49
Darkwind: War on Wheels
Aug 22, 2014
Free
5% (42%)
242,173 ±13,844
121,604 ±9,812
02:35 (00:05)
50
Helium
Mar 10, 2017
$4.99
N/A (N/A)
1,864 ±1,215
0 ±0
00:00 (00:00)
51
Bladestar
Jan 15, 2016
$9.99
N/A (N/A)
1,864 ±1,215
1,036 ±905
03:38 (03:02)
52
Heroes of SoulCraft - Arcade MOBA
Jul 20, 2015
Free
4% (38%)
217,935 ±13,134
109,796 ±9,323
00:48 (00:07)
53
Redneck Rampage
Jan 4, 2017
$9.99
N/A (N/A)
1,036 ±905
829 ±810
00:55 (00:59)
54
Bloodwood Reload
Nov 2, 2015
Free
3% (34%)
137,349 ±10,427
65,049 ±7,177
00:44 (00:09)
55
Tunnel Rats
May 15, 2009
$19.99
N/A (N/A/30%)
3,107 ±1,568
2,072 ±1,280
01:47 (01:35)
56
Help
Oct 13, 2016
$2.99
N/A (N/A)
623 ±1,219
623 ±1,219
00:59 (00:59)
57
Cannons Lasers Rockets
Aug 25, 2014
Free
1% (23%)
238,237 ±13,731
90,737 ±8,476
00:22 (00:07)
58
Sayaka
Jan 4, 2017
$2.99
N/A (N/A)
1,657 ±1,145
1,243 ±992
01:20 (00:50)
59
Battle For The Sun
Jul 22, 2015
$4.99
N/A (N/A)
8,079 ±2,529
1,243 ±992
00:13 (00:13)