Your Star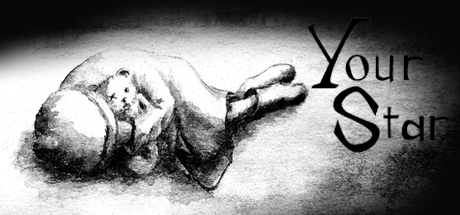 Store | Hub | SteamDB | Site
Developer: natahem Publisher: natahem
Genre: Adventure, Indie, RPG
Languages: English, French
Tags: RPG (22), Adventure (21), Indie (21), Survival Horror (11), Atmospheric (10)
Category: Single-player, Steam Achievements, Full controller support, Steam Trading Cards
Release date: Jan 2, 2017
Price: $3.99
Followers: 167
YouTube stats: 237 views and 3 comments for videos uploaded last week, 0 new videos uploaded yesterday.

Steam Spy is still in beta, so expect major bugs.
Peak daily concurrent players:
CCU data courtesy of SteamDB. Used with permission.
Hourly concurrent players:
YouTube:
The views data is based on top 50 videos uploaded last week. Actual number of views might be more than the number shown.

The displayed number of videos uploaded yesterday is limited to 50, so if there were more videos uploaded, the number will still show 50.

If the game has commonly used word as its name (like "FEAR" or "Volume") its number of Youtube views might be wrong.
Games similar to this one:
#
Game
Release date

Price

Score rank
(Userscore / Metascore)

Owners

Players

Playtime (Median)

1
3dSunshine
Nov 1, 2016
Free
N/A (N/A)
23,085 ±4,813
7,083 ±2,666
00:14 (00:09)
2
Worlds of Chaos: Invasion
Feb 10, 2016
$14.99
N/A (N/A)
5,247 ±2,295
787 ±888
00:41 (00:40)
3
Bit Shifter
Nov 2, 2015
$14.99
N/A (N/A)
3,673 ±1,920
262 ±513
00:08 (00:02)
4
Derrick the Deathfin
Jun 16, 2014
$7.99
N/A (N/A)
3,673 ±1,920
1,049 ±1,026
00:23 (00:08)
5
VirZOOM Arcade
Jun 30, 2016
Free
N/A (N/A)
59,024 ±7,697
18,625 ±4,324
14:13 (00:02)
6
Sarab: Duji Tower
Nov 17, 2016
$1.99
N/A (N/A)
8,919 ±2,992
262 ±513
11:15 (03:45)
7
Zxill: A Legend of Time
Sep 4, 2015
$6.99
N/A (N/A)
2,886 ±1,702
262 ±513
00:10 (00:03)
8
Luxor Evolved
Mar 1, 2012
$9.99
97% (97%)
56,400 ±7,524
10,755 ±3,285
03:02 (01:58)
9
Surge
May 24, 2016
Free
95% (96%)
97,324 ±9,883
38,824 ±6,242
00:23 (00:07)
10
Vangers
Apr 24, 2014
$6.99
89% (94%)
44,071 ±6,651
8,919 ±2,992
02:31 (00:33)
11
Destinations
Jun 9, 2016
Free
89% (94%)
160,020 ±12,672
83,158 ±9,136
00:49 (00:16)
12
Conga Master
Sep 14, 2016
$9.99
N/A (N/A)
2,361 ±1,539
1,312 ±1,147
03:21 (03:56)
13
Triennale Game Collection
Dec 7, 2016
Free
N/A (N/A)
7,345 ±2,715
2,886 ±1,702
04:37 (00:23)
14
Crayon Physics Deluxe
May 6, 2009
$19.99
86% (93%/79%)
604,140 ±24,612
312,694 ±17,712
01:12 (00:27)
15
Strata
May 29, 2014
$3.99
86% (93%)
53,515 ±7,329
16,002 ±4,008
02:35 (00:44)
16
The Depths of Tolagal
Jan 5, 2015
$4.99
N/A (N/A)
4,197 ±2,052
2,099 ±1,451
02:51 (04:34)
17
SoundStage
Mar 10, 2017
$9.99
86% (93%)
17,051 ±4,137
16,264 ±4,040
01:53 (00:40)
18
Everyday Shooter
May 8, 2008
$9.99
82% (92%/77%)
50,105 ±7,091
30,955 ±5,574
01:09 (00:19)
19
Vilmonic
Jun 15, 2016
$9.99
N/A (N/A)
3,673 ±1,920
1,049 ±1,026
02:57 (03:55)
20
Soundboxing
Sep 29, 2016
$7.99
78% (91%)
16,527 ±4,073
13,116 ±3,628
04:44 (02:01)
21
Raptor Valley
Sep 9, 2016
$8.99
N/A (N/A)
5,771 ±2,407
2,623 ±1,622
00:41 (01:03)
22
DiscStorm
Aug 20, 2015
$11.99
N/A (N/A/58%)
21,511 ±4,646
3,935 ±1,987
04:01 (04:07)
23
Dark Matter
Feb 27, 2015
$4.99
N/A (N/A)
126,704 ±11,276
17,051 ±4,137
00:16 (00:06)
24
PANORAMICAL
Sep 17, 2015
$9.99
70% (89%)
10,231 ±3,204
8,132 ±2,857
00:42 (00:27)
25
Ananias Roguelike
Feb 9, 2017
$4.99
N/A (N/A)
5,247 ±2,295
1,049 ±1,026
00:18 (00:18)
26
room13
Jan 13, 2017
$7.99
N/A (N/A)
28,594 ±5,357
9,968 ±3,163
04:54 (03:11)
27
Rooms: The Unsolvable Puzzle
May 1, 2015
$14.99
67% (88%/66%)
8,657 ±2,947
7,345 ±2,715
10:16 (01:11)
28
PolyDome
Aug 9, 2016
Free
N/A (N/A)
40,398 ±6,368
9,706 ±3,121
00:09 (00:06)
29
GAUGE
May 23, 2014
$3.99
64% (87%)
48,006 ±6,941
9,181 ±3,035
00:29 (00:11)
30
EM: Shader Attack
Sep 29, 2016
$0.49
N/A (N/A)
144,018 ±12,022
120,146 ±10,981
03:49 (03:30)
31
ARMA: Cold War Assault
Aug 8, 2011
$4.99
61% (86%)
1,522,025 ±39,029
512,850 ±22,678
03:57 (00:17)
32
Woof Blaster
Sep 22, 2015
Free
61% (86%)
69,779 ±8,369
9,706 ±3,121
00:23 (00:10)
33
ALLTYNEX Second
Dec 11, 2014
$7.99
N/A (N/A)
43,022 ±6,571
13,641 ±3,700
01:49 (00:08)
34
Scoregasm
Feb 8, 2012
$4.99
59% (85%)
47,219 ±6,884
26,495 ±5,157
01:06 (00:25)
35
9.03m
Nov 20, 2013
$0.99
59% (85%)
28,856 ±5,382
14,166 ±3,771
02:54 (00:16)
36
Exoplanet: First Contact
Dec 9, 2016
$19.99
56% (84%)
8,657 ±2,947
5,247 ±2,295
00:46 (00:26)
37
Feel-A-Maze
Nov 25, 2014
$4.99
56% (84%)
13,641 ±3,700
3,673 ±1,920
00:33 (00:30)
38
CuVRball
Jan 31, 2017
Free
N/A (N/A)
3,148 ±1,777
1,574 ±1,257
00:18 (00:30)
39
Way to Go!
Jun 8, 2015
$4.99
N/A (N/A)
20,462 ±4,532
2,099 ±1,451
01:12 (00:23)
40
Cosmic Rocket Defender
Jul 17, 2015
$4.99
N/A (N/A)
24,921 ±5,001
1,574 ±1,257
00:32 (00:55)
41
CreaVures
Feb 23, 2011
$4.99
53% (83%/55%)
37,513 ±6,136
11,018 ±3,325
01:41 (00:42)
42
Dream Tale
Dec 16, 2014
$4.99
N/A (N/A)
12,592 ±3,555
787 ±888
00:57 (00:57)
43
Guided Meditation VR
Oct 3, 2016
$14.99
N/A (N/A)
5,771 ±2,407
4,984 ±2,236
03:05 (01:25)
44
The Troma Project
Oct 28, 2015
$6.99
N/A (N/A)
236,619 ±15,408
16,789 ±4,105
06:46 (00:03)
45
Flower Design
Mar 17, 2017
$1.99
N/A (N/A)
7,083 ±2,666
3,673 ±1,920
01:34 (02:04)
46
Engage
Mar 15, 2016
Free
N/A (N/A)
52,203 ±7,238
7,083 ±2,666
00:18 (00:10)
47
TV Trouble
Oct 24, 2016
Free
N/A (N/A)
15,215 ±3,908
2,361 ±1,539
00:14 (00:16)
48
Damage: Sadistic Butchering of Humanity
Dec 11, 2016
$4.2
N/A (N/A)
1,574 ±1,257
0 ±0
00:00 (00:00)
49
DatavizVR Demo
Dec 5, 2016
Free
N/A (N/A)
6,558 ±2,565
2,361 ±1,539
00:09 (00:11)
50
Bitdude
May 16, 2017
Free
N/A (N/A)
29,905 ±5,479
11,280 ±3,365
00:03 (00:01)
51
Manastorm: Champions of G'nar
Jan 3, 2017
$4.99
44% (79%)
1,836 ±1,357
1,312 ±1,147
00:41 (00:47)
52
CMYW
Oct 16, 2015
$3.99
N/A (N/A)
14,428 ±3,805
2,361 ±1,539
00:05 (00:06)
53
Poly Runner VR
Apr 18, 2016
Free
42% (78%)
62,959 ±7,949
22,036 ±4,703
00:24 (00:04)
54
Super Hipster Lumberjack
Jul 20, 2015
$0.5
42% (78%)
33,578 ±5,805
11,018 ±3,325
01:00 (00:14)
55
Pretentious Game
May 20, 2014
$1.99
40% (77%)
21,773 ±4,675
7,345 ±2,715
00:46 (00:44)
56
Metal Drift
Oct 22, 2009
$9.99
40% (77%)
42,235 ±6,511
27,282 ±5,233
03:08 (00:42)
57
Zaccaria Pinball
Jun 16, 2016
Free
40% (77%)
94,176 ±9,722
38,038 ±6,179
00:53 (00:07)
58
RoboBlitz
Nov 7, 2006
$9.99
N/A (N/A/80%)
32,004 ±5,668
8,657 ±2,947
02:48 (00:46)
59
Event Horizon
Apr 30, 2016
$5.99
N/A (N/A)
6,296 ±2,514
1,836 ±1,357
23:48 (07:28)
60
Whack-a-Vote: Hammering the Polls
Nov 2, 2016
Free
N/A (N/A)
12,592 ±3,555
1,049 ±1,026
00:04 (00:03)
61
iRacing
Jan 12, 2015
$9.99
39% (76%/79%)
26,495 ±5,157
24,659 ±4,975
71:07 (00:39)
62
Racecraft
Mar 4, 2016
$19.99
N/A (N/A)
25,708 ±5,080
3,935 ±1,987
00:57 (01:01)
63
B.U.T.T.O.N. (Brutally Unfair Tactics Totally OK Now)
Feb 28, 2011
$2.99
N/A (N/A)
9,968 ±3,163
6,296 ±2,514
00:19 (00:12)
64
boxlife
Jan 14, 2016
$2.99
37% (75%)
9,444 ±3,079
1,049 ±1,026
00:41 (00:38)
65
Gare Sapphire Mechs
Apr 1, 2015
$7.99
N/A (N/A)
19,937 ±4,473
4,460 ±2,115
00:34 (00:45)
66
Hacker Evolution Source Code
May 11, 2015
$24.99
N/A (N/A)
11,280 ±3,365
2,361 ±1,539
01:37 (00:09)
67
Growing Pains
May 28, 2014
$4.99
N/A (N/A)
9,968 ±3,163
1,836 ±1,357
00:22 (00:27)
68
Cult of the Wind
Jun 30, 2014
$9.99
N/A (N/A)
177,071 ±13,330
30,168 ±5,503
00:23 (00:07)
69
Xeodrifter
Dec 11, 2014
$9.99
35% (74%)
49,580 ±7,054
23,085 ±4,813
02:38 (01:08)
70
Chains
Jul 1, 2009
$4.99
35% (74%)
197,795 ±14,088
50,892 ±7,147
02:37 (00:20)
71
Cloud Pirates
Apr 19, 2017
N/A
33% (73%)
333,681 ±18,296
254,195 ±15,970
05:06 (00:50)
72
Gumboy Tournament
May 19, 2008
$2.99
33% (73%)
92,077 ±9,613
36,201 ±6,028
07:23 (00:09)
73
Trino
Jan 27, 2011
$4.99
N/A (N/A)
4,984 ±2,236
3,673 ±1,920
00:49 (00:50)
74
Spaera
Sep 13, 2016
$9.99
N/A (N/A)
57,187 ±7,576
11,018 ±3,325
00:35 (00:11)
75
Gish
Jul 20, 2007
$9.99
28% (70%/80%)
314,793 ±17,771
135,099 ±11,644
00:48 (00:13)
76
Sentris
Aug 22, 2014
$14.99
N/A (N/A)
4,984 ±2,236
3,410 ±1,850
00:26 (00:24)
77
HALP!
Aug 1, 2016
Free
24% (67%)
47,744 ±6,922
15,477 ±3,941
00:16 (00:13)
78
Deathlike: Awakening
Apr 28, 2017
$9.99
N/A (N/A)
3,148 ±1,777
1,312 ±1,147
01:33 (02:17)
79
Eron
Mar 17, 2015
$1.99
23% (66%)
35,677 ±5,984
6,558 ±2,565
00:21 (00:14)
80
DEFCON VR
Feb 15, 2017
Free
N/A (N/A/84%)
9,444 ±3,079
4,460 ±2,115
00:12 (00:07)
81
Don't Let Go!
Sep 13, 2016
$2.99
N/A (N/A)
8,132 ±2,857
4,460 ±2,115
01:37 (00:46)
82
Crystal Catacombs
Jan 15, 2015
$7.99
N/A (N/A)
22,823 ±4,786
3,148 ±1,777
00:14 (00:06)
83
Cloud Knights
Apr 27, 2015
$4.99
N/A (N/A)
104,406 ±10,236
13,116 ±3,628
00:53 (00:17)
84
YamaYama
Jul 12, 2017
$9.99
N/A (N/A)
1,183 ±1,336
394 ±771
00:31 (00:15)
85
MIGHT
Jul 13, 2016
N/A
N/A (N/A)
5,509 ±2,351
0 ±0
00:00 (00:00)
86
Drunken Fight Simulator
Jan 17, 2017
$0.99
N/A (N/A)
3,935 ±1,987
0 ±0
00:00 (00:00)
87
Rag Doll Kung Fu
Oct 12, 2005
$9.99
N/A (N/A/69%)
37,775 ±6,157
12,854 ±3,592
00:46 (00:16)
88
Motorbike
Jan 19, 2015
$9.99
N/A (N/A)
4,984 ±2,236
3,673 ±1,920
01:34 (01:28)
89
Jump/Boxer
Apr 24, 2015
$0.99
N/A (N/A)
9,968 ±3,163
3,935 ±1,987
00:37 (00:22)
90
Ruzh Delta Z
May 11, 2015
Free
18% (62%)
112,014 ±10,603
10,231 ±3,204
00:27 (00:06)
91
True or False
Sep 16, 2016
$0.99
17% (61%)
196,483 ±14,041
151,888 ±12,346
00:34 (00:07)
92
Freshman Year
Apr 20, 2015
Free
17% (61%)
71,353 ±8,462
6,034 ±2,461
00:09 (00:07)
93
Kingdom Elemental
May 2, 2014
$3.99
N/A (N/A)
18,888 ±4,354
1,574 ±1,257
00:24 (00:24)
94
Deep Eclipse: New Space Odyssey
Oct 28, 2014
$5.99
N/A (N/A)
39,349 ±6,284
4,460 ±2,115
00:13 (00:09)
95
Plight of the Zombie
Feb 22, 2016
$4.99
N/A (N/A)
22,823 ±4,786
1,312 ±1,147
00:21 (00:33)
96
Climbtime
May 3, 2017
Free
N/A (N/A)
28,069 ±5,308
9,181 ±3,035
00:09 (00:06)
97
Dinner Date
Mar 1, 2011
$3.99
13% (57%)
35,677 ±5,984
19,937 ±4,473
01:17 (00:22)
98
SLIVER.tv
Aug 9, 2017
Free
N/A (N/A)
27,807 ±5,283
7,870 ±2,810
00:12 (00:05)
99
Colony Assault
Dec 15, 2015
$2.99
N/A (N/A)
787 ±888
0 ±0
00:00 (00:00)
100
Castle Chaos
Dec 8, 2015
$7.99
N/A (N/A)
8,394 ±2,902
2,361 ±1,539
01:06 (00:50)
101
Smash Up: Conquer the bases with your factions
Oct 12, 2016
$14.99
N/A (N/A)
3,935 ±1,987
3,148 ±1,777
05:42 (04:54)
102
Garshasp: The Monster Slayer
May 9, 2011
$4.99
9% (51%/49%)
67,156 ±8,210
23,085 ±4,813
00:58 (00:28)
103
Bientt l't
Feb 6, 2013
$9.99
9% (51%/62%)
25,708 ±5,080
8,919 ±2,992
00:44 (00:33)
104
Damnation City of Death
Mar 3, 2015
$9.99
N/A (N/A)
11,542 ±3,404
1,574 ±1,257
00:09 (00:11)
105
Bullet Life 2010
May 18, 2016
$0.69
N/A (N/A)
46,957 ±6,865
1,574 ±1,257
04:40 (04:36)
106
C:\raft
Oct 2, 2017
$9.99
N/A (N/A)
7,608 ±2,763
1,836 ±1,357
00:37 (00:54)
107
Cyborg Rage
Feb 19, 2016
$2.99
N/A (N/A)
8,657 ±2,947
262 ±513
00:13 (00:04)
108
The Legend: A University Story
Jul 27, 2016
N/A
N/A (N/A)
6,034 ±2,461
525 ±725
00:04 (00:02)
109
The Sacred Stone: A Story Adventure
Jan 29, 2016
$2.99
N/A (N/A)
27,544 ±5,258
24,921 ±5,001
04:11 (04:20)
110
Tompi Jones
May 22, 2015
$3.99
N/A (N/A)
72,140 ±8,509
5,509 ±2,351
01:05 (00:08)
111
Bullet Candy
Feb 14, 2007
$3.99
8% (48%)
43,022 ±6,571
24,396 ±4,948
00:50 (00:05)
112
Nanofights
Dec 11, 2014
$2.99
N/A (N/A)
10,231 ±3,204
2,361 ±1,539
00:42 (00:32)
113
Evil Hazard
Sep 16, 2015
$2.99
N/A (N/A)
1,183 ±1,336
394 ±771
02:02 (01:01)
114
Scorch
May 16, 2017
$2.99
N/A (N/A)
2,099 ±1,451
262 ±513
00:01 (00:00)
115
Artizens
Mar 5, 2015
N/A
N/A (N/A)
1,183 ±1,336
1,183 ±1,336
04:41 (07:00)
116
Advanced Gaming Platform::Epica
Dec 22, 2016
$9.99
N/A (N/A)
3,935 ±1,987
2,099 ±1,451
01:55 (02:42)
117
Arcadia
Dec 2, 2010
$4.99
6% (44%)
10,493 ±3,245
6,558 ±2,565
01:22 (01:35)
118
Pahelika: Secret Legends
Jan 23, 2015
$1.99
N/A (N/A)
36,988 ±6,093
4,460 ±2,115
00:52 (00:42)
119
GiAnt
Aug 2, 2016
$4.99
N/A (N/A)
2,623 ±1,622
262 ±513
00:19 (00:06)
120
Zero-G VR
Jun 16, 2016
$4.99
5% (42%)
4,197 ±2,052
3,410 ±1,850
00:17 (00:20)
121
Minigolf VR
Mar 30, 2016
$0.99
N/A (N/A)
19,937 ±4,473
2,886 ±1,702
12:30 (44:15)
122
Streets of Chaos
Jan 28, 2015
$0.99
N/A (N/A)
175,759 ±13,281
140,345 ±11,868
03:26 (03:30)
123
Bloop
Jan 16, 2015
$4.99
N/A (N/A)
222,454 ±14,940
36,201 ±6,028
00:21 (00:06)
124
Doc Clock: The Toasted Sandwich of Time
Oct 15, 2010
$4.99
3% (35%/62%)
105,456 ±10,288
53,777 ±7,347
01:13 (00:20)
125
Hippocampal: The White Sofa
May 27, 2014
$4.99
3% (35%)
7,870 ±2,810
2,886 ±1,702
00:15 (00:16)
126
The Lost Island
Nov 20, 2015
$9.99
N/A (N/A)
12,592 ±3,555
1,312 ±1,147
00:09 (00:14)
127
DIVO
Feb 1, 2013
$4.99
N/A (N/A)
8,132 ±2,857
525 ±725
00:10 (00:06)
128
Hacker Evolution Duality
Aug 15, 2011
$4.99
2% (33%)
290,397 ±17,069
102,832 ±10,159
01:27 (00:18)
129
XLR
Apr 5, 2016
$4.99
N/A (N/A)
4,722 ±2,177
2,099 ±1,451
00:28 (00:35)
130
Koya Rift
Oct 27, 2014
$2.99
N/A (N/A)
19,412 ±4,414
2,623 ±1,622
00:21 (00:14)
131
Naninights
Jul 24, 2015
N/A
N/A (N/A)
36,201 ±6,028
1,312 ±1,147
00:45 (00:23)
132
Death and the Fly
May 23, 2011
$9.99
N/A (N/A)
2,099 ±1,451
1,049 ±1,026
00:34 (00:43)
133
Soccer Legends
Aug 5, 2015
N/A
N/A (N/A)
791 ±1,550
791 ±1,550
01:52 (01:52)
134
AI: Rampage
Jan 27, 2016
$0.49
1% (21%)
202,779 ±14,264
111,227 ±10,565
04:05 (04:05)
135
TAKEN
Jul 7, 2015
$1.99
N/A (N/A)
1,971 ±1,725
394 ±771
00:02 (00:01)
136
CONTASION 2
Apr 22, 2016
$6.99
N/A (N/A)
3,148 ±1,777
0 ±0
00:00 (00:00)
137
Breakout Invaders
Apr 24, 2015
$3.99
N/A (N/A)
32,004 ±5,668
1,574 ±1,257
01:00 (01:44)