DWVR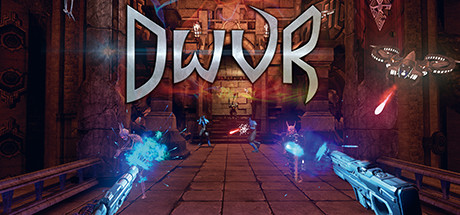 Store | Hub | SteamDB | Site
Developer: Mad Triangles Publisher: Mad Triangles
Genre: Action, Indie
Languages: English
Tags: Indie (21), Action (21), VR (5)
Category: Single-player
Release date: Sep 26, 2017 (previously in Early Access)
Price: $14.99
Owners: 785 ± 1,538
Followers: 333
Peak concurrent players yesterday: 2
YouTube stats: 1 views and 0 comments for videos uploaded last week, 0 new videos uploaded yesterday.

Steam Spy is still in beta, so expect major bugs.
Peak daily concurrent players:
CCU data courtesy of SteamDB. Used with permission.
Hourly concurrent players:
YouTube:
The views data is based on top 50 videos uploaded last week. Actual number of views might be more than the number shown.

The displayed number of videos uploaded yesterday is limited to 50, so if there were more videos uploaded, the number will still show 50.

If the game has commonly used word as its name (like "FEAR" or "Volume") its number of Youtube views might be wrong.
Games similar to this one:
#
Game
Release date

Price

Score rank
(Userscore / Metascore)

Owners

Players

Playtime (Median)

1
Soma Spirits: Rebalance
Apr 13, 2017
$2.99
N/A (N/A)
1,049 ±1,026
1,049 ±1,026
04:10 (05:22)
2
Mystery Case Files: Ravenhearst
Apr 21, 2010
$9.99
N/A (N/A)
5,771 ±2,407
4,722 ±2,177
13:59 (07:03)
3
TRIZEAL Remix
Jul 7, 2016
$11.99
N/A (N/A)
2,623 ±1,622
1,836 ±1,357
00:44 (00:39)
4
Rescuties! VR
Oct 19, 2016
$4.99
N/A (N/A)
2,099 ±1,451
1,574 ±1,257
00:51 (01:04)
5
Trigonarium
Aug 31, 2015
$2.99
N/A (N/A)
791 ±1,550
791 ±1,550
00:17 (00:17)
6
Corinne Cross's Dead & Breakfast
Aug 18, 2016
$4.99
100% (100%)
4,336 ±2,559
3,548 ±2,314
04:20 (06:00)
7
Cubrick
Apr 12, 2017
$1.99
N/A (N/A)
791 ±1,550
791 ±1,550
01:34 (01:34)
8
Nubs' Adventure
Oct 12, 2015
$6.99
N/A (N/A)
788 ±1,091
394 ±771
06:57 (03:28)
9
Unbreakable Vr Runner
Jul 4, 2016
$5.99
N/A (N/A)
2,099 ±1,451
1,574 ±1,257
02:39 (04:53)
10
Dead Hungry
Dec 5, 2016
$19.99
N/A (N/A)
2,099 ±1,451
1,574 ±1,257
01:51 (02:07)
11
Nemesis of the Roman Empire
Jan 28, 2016
$9.99
N/A (N/A/74%)
1,312 ±1,147
1,312 ±1,147
04:48 (07:20)
12
Duo
Dec 19, 2016
$1.99
N/A (N/A)
3,673 ±1,920
1,836 ±1,357
02:41 (03:13)
13
RefRain - prism memories -
May 12, 2016
$14.99
N/A (N/A)
2,623 ±1,622
1,836 ±1,357
02:27 (04:17)
14
Darwin's Demons
Feb 13, 2017
$4.99
N/A (N/A)
788 ±1,091
394 ±771
03:24 (01:42)
15
Puzzle Puppers
Jan 20, 2017
$4.99
N/A (N/A)
1,049 ±1,026
1,049 ±1,026
01:36 (02:02)
16
Champions of Breakfast
Jun 23, 2016
$2.99
N/A (N/A)
2,361 ±1,539
1,836 ±1,357
03:02 (03:50)
17
Rusted Warfare - RTS
Jul 14, 2017
$4.99
97% (97%)
1,836 ±1,357
1,312 ±1,147
04:18 (03:26)
18
Slowdrive
Apr 27, 2017
$5.99
N/A (N/A)
2,099 ±1,451
1,574 ±1,257
03:12 (04:08)
19
Astro Duel
Feb 22, 2016
$9.99
N/A (N/A)
2,623 ±1,622
1,836 ±1,357
02:09 (02:51)
20
SHENZHEN SOLITAIRE
Dec 15, 2016
$2.99
N/A (N/A)
2,886 ±1,702
1,049 ±1,026
02:29 (02:59)
21
Princess Edge - Dragonstone
May 19, 2016
$7.99
N/A (N/A)
787 ±888
787 ±888
00:51 (00:50)
22
Runic Rampage - Action RPG
May 17, 2017
$6.99
N/A (N/A)
1,049 ±1,026
525 ±725
02:12 (01:28)
23
Take Command - 2nd Manassas
Oct 28, 2016
$9.99
N/A (N/A)
1,577 ±1,543
1,577 ±1,543
09:19 (17:48)
24
Katana X
Jun 9, 2017
$12.99
N/A (N/A)
2,361 ±1,539
1,574 ±1,257
00:51 (01:15)
25
The Crow's Eye
Mar 20, 2017
$9.99
N/A (N/A/65%)
2,361 ±1,539
1,574 ±1,257
01:41 (01:23)
26
FireAlpaca SE
May 22, 2016
$39.99
N/A (N/A)
1,583 ±2,192
1,583 ±2,192
01:36 (02:53)
27
All You Can Eat
Jul 13, 2017
$1.99
N/A (N/A)
2,099 ±1,451
262 ±513
00:39 (00:13)