Bomb U!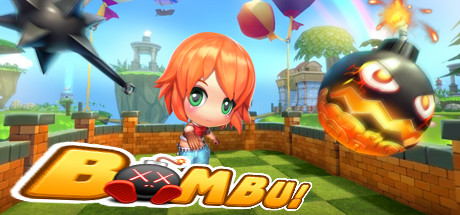 Store | Hub | SteamDB
Developer: MNGOVR Publisher: PITAYA NETWORK LIMITED
Genre: Action, Casual, Indie, Sports
Languages: English
Tags: Action (23), Sports (23), Indie (22), Casual (21), VR (9), VR Only (1)
Category: Single-player, Online Multi-Player
Release date: Sep 17, 2016
Price: $5.99
Owners: 9,601 ± 2,709
Players total: 2,200 ± 1,296 (22.92%)
Followers: 135
Peak concurrent players yesterday: 7
Playtime total: 00:56 (average) 01:06 (median)

Steam Spy is still in beta, so expect major bugs.
Peak daily concurrent players:
CCU data courtesy of SteamDB. Used with permission.
Hourly concurrent players:
YouTube:
The views data is based on top 50 videos uploaded last week. Actual number of views might be more than the number shown.

The displayed number of videos uploaded yesterday is limited to 50, so if there were more videos uploaded, the number will still show 50.

If the game has commonly used word as its name (like "FEAR" or "Volume") its number of Youtube views might be wrong.
Games similar to this one:
#
Game
Release date

Price

Score rank
(Userscore / Metascore)

Owners

Players

Playtime (Median)

1
Power Link VR
Sep 9, 2016
Free
N/A (N/A)
4,000 ±1,748
1,800 ±1,173
00:21 (00:22)
2
planetarian HD
May 8, 2017
$6.99
100% (99%)
7,001 ±2,313
3,400 ±1,612
01:33 (01:33)
3
The Body VR: Journey Inside a Cell
Oct 3, 2016
Free
92% (95%)
66,407 ±7,124
34,204 ±5,113
00:20 (00:13)
4
Crazy Machines 3
Oct 18, 2016
$9.99
89% (94%/71%)
16,002 ±3,497
12,201 ±3,054
04:36 (01:57)
5
Wacky Wheels
May 5, 2014
$1.24
N/A (N/A)
69,607 ±7,294
8,001 ±2,473
00:11 (00:09)
6
Rescue Team 2
Sep 23, 2015
$0.49
N/A (N/A)
2,600 ±1,409
2,000 ±1,236
05:07 (03:43)
7
Fruit Ninja VR
Dec 15, 2016
$9.74
82% (92%)
36,204 ±5,260
34,404 ±5,128
07:41 (01:21)
8
FIM Speedway Grand Prix 15
Nov 30, 2015
$9.99
78% (91%/68%)
9,401 ±2,680
8,801 ±2,593
11:44 (05:16)
9
Beast Boxing Turbo
Nov 19, 2013
$4.99
78% (91%)
35,804 ±5,231
12,001 ±3,029
01:55 (00:56)
10
The Golf Club VR
Feb 24, 2017
$22.49
74% (90%)
6,801 ±2,280
6,201 ±2,177
02:48 (01:26)
11
Driver Parallel Lines
Feb 13, 2009
$4.99
70% (89%/61%)
26,603 ±4,509
19,602 ±3,871
05:00 (01:41)
12
F-19 Stealth Fighter
Apr 1, 2015
$1.74
N/A (N/A)
12,401 ±3,079
1,400 ±1,034
01:38 (02:09)
13
Post Apocalyptic Mayhem
Mar 17, 2011
$3.99
70% (89%/44%)
238,825 ±13,508
175,419 ±11,578
03:13 (01:27)
14
Making History: The Calm and the Storm Gold Edition
May 19, 2015
$2.49
67% (88%)
7,801 ±2,442
6,201 ±2,177
48:07 (16:53)
15
Worms Crazy Golf
Oct 19, 2011
$1.99
64% (87%)
461,849 ±18,780
110,212 ±9,178
01:17 (00:27)
16
Cyberpong
Apr 28, 2016
$7.19
64% (87%)
8,001 ±2,473
7,401 ±2,378
01:43 (00:35)
17
inMomentum
Oct 31, 2011
$9.99
61% (86%/59%)
90,010 ±8,294
34,804 ±5,158
01:15 (00:20)
18
Mad Riders
May 30, 2012
$4.99
61% (86%)
25,203 ±4,389
16,002 ±3,497
01:56 (00:42)
19
Once Upon an All Hallow's Eve
Jan 18, 2017
Free
N/A (N/A)
4,600 ±1,875
2,400 ±1,354
01:24 (00:53)
20
My Lil' Donut
Aug 31, 2016
Free
N/A (N/A)
21,802 ±4,082
2,200 ±1,296
00:20 (00:15)
21
Ford Racing 3
Sep 9, 2014
$0.74
59% (85%)
47,805 ±6,045
30,203 ±4,805
01:45 (00:21)
22
Kingspray Graffiti VR
Dec 6, 2016
$7.49
59% (85%)
5,201 ±1,994
4,400 ±1,834
03:55 (00:43)
23
F-117A Nighthawk Stealth Fighter 2.0
Oct 30, 2014
$1.74
N/A (N/A)
20,802 ±3,987
5,201 ±1,994
01:57 (00:41)
24
Fleet Defender: The F-14 Tomcat Simulation
Oct 30, 2014
$1.74
N/A (N/A)
9,401 ±2,680
1,600 ±1,106
03:09 (01:27)
25
Titanic VR Demo
Jan 31, 2017
Free
N/A (N/A)
16,802 ±3,584
11,801 ±3,003
00:12 (00:07)
26
Stock Car Extreme
Feb 11, 2015
$4.49
56% (84%)
26,003 ±4,458
20,802 ±3,987
19:25 (05:54)
27
Farming Simulator 2011
Oct 29, 2010
$4.99
56% (84%)
80,208 ±7,830
77,208 ±7,682
57:43 (18:23)
28
B-17 Flying Fortress: The Mighty 8th
Oct 30, 2014
$1.74
N/A (N/A/82%)
19,202 ±3,831
9,401 ±2,680
00:19 (00:02)
29
Command: Modern Air / Naval Operations WOTY
Sep 26, 2014
$27.99
53% (83%)
21,402 ±4,045
18,402 ±3,750
44:54 (03:48)
30
nail'd
Nov 30, 2010
$2.49
51% (82%/69%)
106,011 ±9,001
62,607 ±6,918
02:15 (00:33)
31
Princess Maker Refine
Feb 17, 2017
$7.99
51% (82%)
6,601 ±2,246
4,000 ±1,748
02:37 (02:46)
32
X-Plane 11
Mar 30, 2017
$44.39
49% (81%)
26,203 ±4,475
25,003 ±4,372
30:31 (07:41)
33
SEGA Bass Fishing
Mar 4, 2011
$1.59
49% (81%)
261,228 ±14,127
51,005 ±6,244
02:34 (00:14)
34
Carnival Games VR
Oct 27, 2016
$4.99
46% (80%)
5,401 ±2,031
4,200 ±1,792
02:12 (03:20)
35
Carrier Deck
Jun 15, 2017
$9.99
46% (80%)
3,800 ±1,704
3,400 ±1,612
07:25 (09:36)
36
Street Legal Racing: Redline v2.3.1
Aug 5, 2016
$5.39
46% (80%)
38,004 ±5,390
25,203 ±4,389
12:20 (05:25)
37
Winter Sports Trilogy Super Pack
Sep 10, 2015
$3.49
N/A (N/A)
9,001 ±2,623
5,401 ±2,031
06:06 (01:40)
38
Sword Master VR
Sep 23, 2016
$4.99
40% (77%)
7,601 ±2,410
7,401 ±2,378
01:42 (00:47)
39
Sledgehammer / Gear Grinder
Mar 12, 2014
$0.79
N/A (N/A)
14,402 ±3,318
9,001 ±2,623
02:31 (02:26)
40
Sonic & SEGA All-Stars Racing
Mar 3, 2010
$2.49
40% (77%/65%)
244,226 ±13,660
72,408 ±7,439
04:00 (00:47)
41
World of Zoo
Oct 30, 2009
$3.74
40% (77%)
65,807 ±7,092
25,003 ±4,372
07:00 (00:23)
42
Fate Tectonics
Sep 9, 2015
$0.99
40% (77%)
9,201 ±2,652
5,001 ±1,955
04:30 (03:43)
43
Stage Presence
Feb 28, 2017
$3.39
N/A (N/A)
2,600 ±1,409
1,600 ±1,106
01:19 (01:21)
44
Virtual Villagers: A New Home
May 12, 2008
$9.99
N/A (N/A)
9,801 ±2,737
8,201 ±2,503
25:13 (05:29)
45
Fish Tycoon
May 12, 2008
$9.99
N/A (N/A)
12,601 ±3,103
10,401 ±2,819
20:10 (04:21)
46
F1 2014
Oct 16, 2014
$8.99
38% (76%/61%)
135,214 ±10,165
125,813 ±9,806
36:06 (10:34)
47
Energy Hook
Jul 5, 2016
$8.99
N/A (N/A)
2,129 ±1,574
912 ±1,030
02:11 (03:08)
48
Maximum Override
Mar 9, 2017
$4.19
36% (75%)
11,001 ±2,900
10,201 ±2,792
04:06 (01:56)
49
HTR+ Slot Car Simulation
May 29, 2014
$3.49
N/A (N/A)
14,202 ±3,295
2,400 ±1,354
00:35 (01:13)
50
Krautscape
Feb 24, 2016
$1.99
35% (74%)
32,603 ±4,992
15,602 ±3,453
00:49 (00:21)
51
Super Toy Cars
Jun 6, 2014
$2.49
35% (74%)
50,205 ±6,195
27,803 ±4,610
02:09 (01:35)
52
The Thing With Mistletoes
Feb 10, 2017
Free
N/A (N/A)
2,400 ±1,354
1,000 ±874
00:25 (00:32)
53
Split/Second
Oct 6, 2014
$4.99
35% (74%/79%)
36,204 ±5,260
28,003 ±4,626
06:14 (02:53)
54
Frozen Cortex
Feb 19, 2015
$6.24
35% (74%/79%)
91,410 ±8,358
26,603 ±4,509
04:13 (01:13)
55
Star Tactics
Sep 7, 2016
$7.99
N/A (N/A)
8,401 ±2,534
5,801 ±2,105
03:30 (04:05)
56
RC Cars
Apr 23, 2014
$1.01
33% (73%/65%)
15,202 ±3,409
5,401 ±2,031
01:25 (01:00)
57
Table Top Racing: World Tour
May 25, 2016
$2.99
31% (72%)
43,005 ±5,733
21,602 ±4,063
02:39 (00:43)
58
F1 2011
Sep 19, 2011
$3.74
31% (72%/83%)
69,607 ±7,294
56,206 ±6,554
27:54 (05:09)
59
Fireworks Desert Blast
Dec 22, 2016
Free
N/A (N/A)
5,401 ±2,031
2,400 ±1,354
00:26 (00:15)
60
Dub Dash
Feb 16, 2016
$2.24
31% (72%)
23,202 ±4,211
5,201 ±1,994
01:49 (00:55)
61
Airline Tycoon Deluxe
Nov 14, 2014
$4.99
31% (72%)
23,803 ±4,265
19,602 ±3,871
10:14 (03:42)
62
Jet Car Stunts
May 1, 2014
$0.5
31% (72%/57%)
25,603 ±4,424
9,801 ±2,737
01:48 (00:38)
63
Death Rally
Aug 3, 2012
$1.99
30% (71%)
94,010 ±8,477
67,207 ±7,167
05:15 (01:53)
64
MotoGP13
Jun 20, 2013
$1.99
28% (70%)
40,404 ±5,557
32,003 ±4,946
13:16 (02:58)
65
18 Wheels of Steel: American Long Haul
Jan 29, 2008
$2.49
28% (70%)
64,207 ±7,005
42,805 ±5,720
12:48 (02:24)
66
Wings of Prey
Jan 8, 2010
$9.99
28% (70%/78%)
153,216 ±10,821
126,813 ±9,845
26:15 (06:16)
67
Bridge Constructor Stunts
Feb 23, 2016
$1.99
N/A (N/A)
36,404 ±5,275
8,801 ±2,593
01:06 (00:23)
68
MXGP2 - The Official Motocross Videogame
Apr 7, 2016
$9.99
28% (70%)
20,802 ±3,987
20,002 ±3,910
29:12 (10:10)
69
Falcon 4.0
Jan 8, 2016
$3.49
N/A (N/A/85%)
10,201 ±2,792
6,401 ±2,212
00:48 (00:06)
70
Desert Ride Coaster
Dec 7, 2016
Free
N/A (N/A)
18,802 ±3,791
11,801 ±3,003
01:00 (00:11)
71
Speedball 2 HD
Dec 5, 2013
$9.99
27% (69%/53%)
140,815 ±10,374
79,808 ±7,810
02:59 (01:47)
72
Thrills & Chills - Roller Coasters
Sep 20, 2016
$2.99
N/A (N/A)
10,401 ±2,819
4,801 ±1,915
01:11 (00:36)
73
Smoots World Cup Tennis
Jun 1, 2016
$10.49
N/A (N/A)
1,400 ±1,034
600 ±677
01:04 (01:01)
74
Red Baron Pack
Jan 7, 2016
$4.99
N/A (N/A)
6,201 ±2,177
2,200 ±1,296
05:51 (00:21)
75
Caravan
Sep 30, 2016
$3.39
27% (69%)
8,001 ±2,473
4,600 ±1,875
05:08 (07:18)
76
F1 2010
Sep 21, 2010
$2.49
25% (68%/84%)
83,209 ±7,975
72,408 ±7,439
26:07 (07:54)
77
Eight Mini Racers
Jan 12, 2016
$0.49
N/A (N/A)
60,606 ±6,806
56,006 ±6,543
03:22 (03:30)
78
Formula Truck 2013
Feb 2, 2015
$2.49
24% (67%)
13,201 ±3,176
11,401 ±2,952
03:47 (00:50)
79
New Star Soccer 5
Sep 27, 2012
$14.99
24% (67%)
35,004 ±5,173
21,602 ±4,063
16:07 (06:14)
80
MX vs. ATV Unleashed
Apr 16, 2015
$2.49
24% (67%/71%)
24,603 ±4,336
11,201 ±2,926
01:58 (00:52)
81
MXGP - The Official Motocross Videogame Compact
Dec 3, 2014
$1.99
24% (67%)
3,000 ±1,514
2,000 ±1,236
02:54 (02:18)
82
Real Boxing
Jul 2, 2014
$4.99
23% (66%)
114,212 ±9,343
71,808 ±7,408
04:58 (03:31)
83
Train Mechanic Simulator 2017
Mar 23, 2017
$10.49
22% (65%)
12,601 ±3,103
11,601 ±2,978
07:12 (02:30)
84
The Great Art Race
$1.24
22% (65%)
62,207 ±6,895
20,202 ±3,930
01:55 (00:25)
85
DisneyPixar Cars
Feb 24, 2015
$4.99
21% (64%/73%)
5,401 ±2,031
2,800 ±1,463
10:22 (04:45)
86
FlatOut 4: Total Insanity
Apr 4, 2017
$19.99
21% (64%/52%)
5,201 ±1,994
4,400 ±1,834
08:24 (06:31)
87
WRC 4 FIA World Rally Championship
Oct 25, 2013
$5.99
19% (63%)
71,008 ±7,367
50,005 ±6,182
14:17 (04:16)
88
Lunch Truck Tycoon
May 28, 2015
$0.69
19% (63%)
18,002 ±3,709
14,602 ±3,341
08:54 (01:03)
89
Task Force 1942: Surface Naval Action in the South Pacific
Nov 6, 2014
$1.74
N/A (N/A)
8,001 ±2,473
2,600 ±1,409
00:19 (00:21)
90
Romance of the Three Kingdoms Maker /
Dec 9, 2015
$4.99
19% (63%)
211,422 ±12,710
13,801 ±3,248
15:25 (00:04)
91
I Get This Call Every Day
Jun 9, 2016
$0.62
N/A (N/A)
4,400 ±1,834
2,800 ±1,463
03:05 (02:53)
92
Trainz Simulator 12
Jun 8, 2011
$6.24
18% (62%)
171,418 ±11,445
75,608 ±7,602
25:46 (01:33)
93
Wings Over Europe
May 30, 2014
$0.99
17% (61%/62%)
7,001 ±2,313
4,000 ±1,748
02:29 (00:24)
94
DUCATI - 90th Anniversary
Jun 9, 2016
$2.49
17% (61%)
4,600 ±1,875
3,000 ±1,514
07:27 (11:50)
95
DIG IT! - A Digger Simulator
Oct 14, 2014
$5.39
16% (60%)
28,003 ±4,626
23,202 ±4,211
05:34 (03:08)
96
18 Wheels of Steel: Extreme Trucker 2
May 8, 2015
$2.49
N/A (N/A)
8,201 ±2,503
3,800 ±1,704
04:38 (00:31)
97
Thirty Years' War
Jun 9, 2016
$19.79
N/A (N/A)
5,601 ±2,069
2,600 ±1,409
03:46 (04:21)
98
MiniBikers
Nov 5, 2015
$1.49
N/A (N/A)
23,002 ±4,193
18,202 ±3,730
04:08 (04:31)
99
Expert Rifleman - Reloaded
Aug 14, 2015
$14.99
N/A (N/A)
11,801 ±3,003
7,001 ±2,313
03:29 (03:15)
100
GTR - FIA GT Racing Game
Sep 25, 2012
$1.74
N/A (N/A)
70,007 ±7,315
27,203 ±4,560
01:22 (00:16)
101
Ridge Racer Unbounded
Mar 29, 2012
$2.49
15% (59%/72%)
188,820 ±12,012
119,213 ±9,545
05:34 (01:09)
102
Take On Helicopters
Oct 27, 2011
$3.99
14% (58%/70%)
333,835 ±15,969
104,611 ±8,942
04:31 (00:40)
103
MotoGP15 Compact
Dec 10, 2015
$2.49
14% (58%)
8,601 ±2,564
6,601 ±2,246
02:27 (01:18)
104
Soccertron
Mar 12, 2015
$2.49
N/A (N/A)
13,201 ±3,176
7,001 ±2,313
03:07 (03:00)
105
Star Trek: Starfleet Command Gold Edition
Nov 22, 2016
$9.99
N/A (N/A)
4,200 ±1,792
3,400 ±1,612
04:52 (01:36)
106
Petz Horsez 2
Jun 13, 2008
$4.99
N/A (N/A)
11,601 ±2,978
8,001 ±2,473
09:25 (00:57)
107
Ride 'em Low
Nov 4, 2013
$2.49
13% (56%)
20,402 ±3,949
6,401 ±2,212
02:13 (00:36)
108
Birthdays the Beginning
May 9, 2017
$29.99
13% (56%)
9,001 ±2,623
8,801 ±2,593
06:22 (04:54)
109
Foosball - Street Edition
Apr 16, 2014
$4.99
12% (55%)
11,201 ±2,926
5,401 ±2,031
01:09 (00:37)
110
Crash And Burn Racing
Dec 9, 2014
$0.79
N/A (N/A)
9,001 ±2,623
2,000 ±1,236
00:40 (00:52)
111
Rig n Roll
Jul 9, 2010
$1.24
10% (52%/61%)
67,807 ±7,199
29,403 ±4,741
05:28 (00:54)
112
Power & Revolution
May 26, 2016
$37.49
10% (52%)
11,801 ±3,003
11,401 ±2,952
41:58 (31:44)
113
Monster Truck Destruction
Jul 10, 2015
$0.74
10% (52%)
66,407 ±7,124
15,202 ±3,409
01:33 (00:09)
114
Rugby Union Team Manager 2015
Dec 3, 2014
$19.99
10% (51%)
9,001 ±2,623
8,801 ±2,593
26:14 (06:44)
115
MotoGP17
Jun 15, 2017
$49.99
9% (50%)
3,400 ±1,612
2,800 ±1,463
10:32 (09:53)
116
Silent Service 2
Nov 6, 2014
$1.74
N/A (N/A)
15,402 ±3,431
3,600 ±1,659
00:20 (00:36)
117
MotoGP14
Jun 20, 2014
$3.99
9% (50%/76%)
23,202 ±4,211
18,202 ±3,730
13:39 (04:21)
118
Bridge Project
Mar 28, 2013
$4.99
9% (50%)
158,217 ±10,996
97,410 ±8,628
02:51 (01:02)
119
Fireworks Simulator
Nov 26, 2014
$2.99
8% (49%)
11,601 ±2,978
10,001 ±2,765
05:26 (01:01)
120
Bowl Bound College Football
Sep 3, 2015
$9.99
N/A (N/A/80%)
5,401 ±2,031
3,200 ±1,564
62:45 (17:50)
121
ALONE?
Oct 10, 2016
$1.49
7% (47%)
10,401 ±2,819
7,801 ±2,442
03:38 (03:27)
122
3D MiniGolf
May 29, 2015
$4.99
N/A (N/A)
6,601 ±2,246
2,600 ±1,409
05:37 (00:26)
123
Agricultural Simulator 2011: Extended Edition
Feb 23, 2011
$1.99
7% (46%)
49,405 ±6,145
29,603 ±4,757
05:07 (00:24)
124
Hospital Tycoon
Feb 13, 2009
$1.24
7% (46%/51%)
213,623 ±12,776
88,809 ±8,239
03:53 (00:53)
125
WRC 5 FIA World Rally Championship
Oct 8, 2015
$15.99
7% (46%/65%)
32,603 ±4,992
28,603 ±4,676
10:28 (02:51)
126
Comic Book Hero: The Greatest Cape
Dec 9, 2015
$4.99
N/A (N/A)
5,201 ±1,994
2,000 ±1,236
15:33 (12:54)
127
Club Manager 2015
Dec 4, 2014
$1.49
6% (44%)
20,002 ±3,910
10,401 ±2,819
24:23 (03:34)
128
R.B.I. Baseball 15
Apr 30, 2015
$19.99
6% (43%)
7,001 ±2,313
6,401 ±2,212
16:05 (02:11)
129
Draft Day Sports Pro Basketball 4
Nov 24, 2014
$9.99
N/A (N/A)
3,800 ±1,704
1,200 ±957
59:51 (59:25)
130
New York Bus Simulator
Aug 6, 2014
$9.99
N/A (N/A)
2,000 ±1,236
1,800 ±1,173
12:03 (03:32)
131
Farm Machines Championships 2014
Mar 14, 2014
Free
4% (40%)
39,204 ±5,474
8,201 ±2,503
01:28 (00:40)
132
Glacier 3: The Meltdown
Jan 23, 2014
$0.99
N/A (N/A)
204,422 ±12,498
28,403 ±4,659
00:10 (00:04)
133
Off-Road Super Racing
Dec 22, 2016
Free
N/A (N/A)
30,203 ±4,805
24,203 ±4,301
00:15 (00:04)
134
Roadside Assistance Simulator
Sep 25, 2014
$1.99
N/A (N/A)
8,001 ±2,473
4,801 ±1,915
03:19 (02:31)
135
Railroad Lines
Jul 10, 2015
$0.89
N/A (N/A)
1,400 ±1,034
1,200 ±957
00:21 (00:25)
136
Logistics Company
Nov 5, 2014
$2.99
N/A (N/A)
13,801 ±3,248
9,401 ±2,680
03:23 (01:07)
137
Motorama
Nov 21, 2014
$1.99
N/A (N/A)
44,605 ±5,839
7,801 ±2,442
02:35 (00:33)
138
Monster Jam Battlegrounds
Jun 10, 2015
$2.49
N/A (N/A)
15,402 ±3,431
12,201 ±3,054
04:07 (03:24)
139
Beach Resort Simulator
Nov 28, 2014
$2.49
N/A (N/A)
14,202 ±3,295
9,401 ±2,680
04:11 (01:50)
140
Starpoint Gemini
Feb 16, 2012
$2.79
2% (30%/46%)
60,406 ±6,795
27,003 ±4,543
05:30 (01:27)
141
Jane's Advanced Strike Fighters
Mar 8, 2012
$2.49
2% (30%)
32,803 ±5,007
18,402 ±3,750
02:57 (00:38)
142
Airport Simulator 2015
Apr 22, 2015
$4.49
2% (30%)
13,601 ±3,224
12,001 ±3,029
02:48 (01:24)
143
Helicopter Simulator 2014: Search and Rescue
Feb 28, 2014
$0.69
2% (30%)
64,807 ±7,038
23,803 ±4,265
01:27 (00:14)
144
World Basketball Manager 2010
Apr 21, 2010
$1.24
1% (25%)
29,203 ±4,725
10,601 ±2,846
00:40 (00:18)
145
Ski-World Simulator
Nov 18, 2014
$1.99
N/A (N/A)
17,402 ±3,647
4,600 ±1,875
00:17 (00:08)
146
Woodcutter Simulator 2013
Dec 19, 2013
$2.49
1% (22%)
69,807 ±7,304
29,203 ±4,725
02:17 (00:13)
147
Cabela's Hunting Expeditions
Oct 22, 2012
$7.49
N/A (N/A)
7,801 ±2,442
6,001 ±2,141
04:54 (02:19)
148
Mining Industry Simulator
Nov 28, 2014
$2.49
N/A (N/A)
16,002 ±3,497
12,001 ±3,029
05:34 (01:27)
149
Mining & Tunneling Simulator
Mar 5, 2014
$2.49
N/A (N/A)
38,804 ±5,446
7,801 ±2,442
04:40 (00:17)
150
Professional Farmer 2017
Mar 23, 2016
$7.49
0% (16%)
30,003 ±4,789
27,803 ±4,610
03:11 (00:59)
151
Total Pro Golf 3
Jul 25, 2014
$9.99
N/A (N/A)
11,401 ±2,952
3,000 ±1,514
18:08 (03:51)
152
Agricultural Simulator: Historical Farming
Nov 6, 2013
$2.49
0% (14%)
112,812 ±9,285
34,404 ±5,128
00:55 (00:09)
153
Escape The Island
Dec 30, 2016
$7.99
N/A (N/A)
136,414 ±10,210
111,012 ±9,211
03:16 (03:30)
154
Towtruck Simulator 2015
Mar 11, 2014
$2.49
0% (11%)
56,006 ±6,543
16,402 ±3,541
02:06 (00:15)
155
Professional Lumberjack 2015
Mar 5, 2015
$4.99
N/A (N/A)
26,403 ±4,492
24,803 ±4,354
03:38 (00:46)
156
World Basketball Tycoon
Nov 18, 2013
$2.49
0% (10%)
12,201 ±3,054
3,600 ±1,659
04:28 (00:45)
157
Aviator - Bush Pilot
Nov 4, 2014
$2.49
N/A (N/A)
15,402 ±3,431
9,001 ±2,623
03:45 (01:42)
158
Airport Simulator 2014
Dec 19, 2013
$2.49
0% (9%)
76,008 ±7,622
32,803 ±5,007
03:21 (00:28)
159
Construction Machines 2014
Mar 28, 2014
$0.69
0% (8%)
46,605 ±5,968
15,202 ±3,409
00:38 (00:17)
160
Forestry 2017 - The Simulation
Mar 25, 2016
$7.99
N/A (N/A)
9,601 ±2,709
7,801 ±2,442
04:45 (02:01)
161
Skyscraper Simulator
Oct 21, 2013
$1.99
0% (7%)
61,807 ±6,873
20,602 ±3,968
03:50 (00:25)