Bomb U!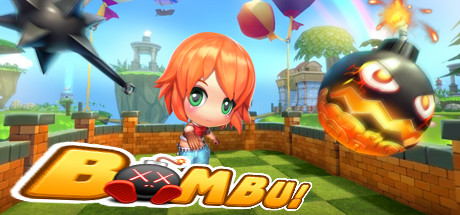 Store | Hub | SteamDB
Developer: MNGOVR Publisher: PITAYA NETWORK LIMITED
Genre: Action, Casual, Indie, Sports
Languages: English
Tags: Sports (23), Action (23), Indie (22), Casual (21), VR (9), VR Only (1)
Category: Single-player, Online Multi-Player, Steam Achievements, Steam Trading Cards, Steam Leaderboards
Release date: Sep 17, 2016
Price: $5.99
Owners: 9,945 ± 2,696
Players in the last 2 weeks: 550 ± 1,076 (5.53%)
Players total: 2,678 ± 1,398 (26.92%)
Followers: 137
Peak concurrent players yesterday: 3
Playtime in the last 2 weeks: 00:22 (average) 00:22 (median)
Playtime total: 00:46 (average) 00:39 (median)

Steam Spy is still in beta, so expect major bugs.
Peak daily concurrent players:
CCU data courtesy of SteamDB. Used with permission.
Hourly concurrent players:
YouTube:
The views data is based on top 50 videos uploaded last week. Actual number of views might be more than the number shown.

The displayed number of videos uploaded yesterday is limited to 50, so if there were more videos uploaded, the number will still show 50.

If the game has commonly used word as its name (like "FEAR" or "Volume") its number of Youtube views might be wrong.
Games similar to this one:
#
Game
Release date

Price

Score rank
(Userscore / Metascore)

Owners

Players

Playtime (Median)

1
Cubrick
Apr 12, 2017
$1.99
N/A (N/A)
565 ±781
565 ±781
06:30 (06:30)
2
Goscurry
Jan 16, 2015
$7.99
N/A (N/A)
1,913 ±1,182
956 ±836
00:36 (00:43)
3
Warpaint
Mar 17, 2017
$9.99
N/A (N/A)
1,339 ±989
191 ±373
01:24 (00:28)
4
HackyZack
Mar 28, 2017
$9.99
N/A (N/A)
10,901 ±2,822
1,913 ±1,182
01:52 (02:30)
5
CyberLink PowerDirector 15 Ultra
Nov 28, 2016
$69.99
N/A (N/A)
1,411 ±1,234
847 ±956
20:14 (28:20)
6
SpiritSphere
Jan 23, 2017
$7.99
N/A (N/A/64%)
4,208 ±1,753
2,678 ±1,398
03:08 (02:41)
7
Happy Drummer VR
Jan 24, 2017
$9.99
N/A (N/A)
1,721 ±1,121
1,721 ±1,121
01:04 (01:36)
8
TAP TOUCH RUN
Jun 29, 2017
$0.99
N/A (N/A)
17,978 ±3,624
2,104 ±1,239
00:12 (00:12)
9
World's Fastest Pizza
Mar 15, 2016
$2.99
N/A (N/A)
3,251 ±1,541
0 ±0
00:00 (00:00)
10
Retro Parking
Dec 20, 2016
$2.99
N/A (N/A)
956 ±836
574 ±647
01:11 (01:11)
11
BASEBALL STARS 2
Apr 27, 2016
$7.99
N/A (N/A)
33,852 ±4,973
5,929 ±2,081
00:53 (00:23)
12
Hoops VR
Jun 20, 2016
$6.99
N/A (N/A)
10,328 ±2,747
5,546 ±2,013
26:54 (00:22)
13
Dimensional Intersection
Oct 5, 2016
$4.99
N/A (N/A)
1,148 ±915
574 ±647
00:07 (00:07)
14
Fleet Defender: The F-14 Tomcat Simulation
Oct 30, 2014
$6.99
N/A (N/A)
8,224 ±2,451
1,913 ±1,182
00:47 (01:14)
15
VRemin (A Virtual Theremin)
Feb 6, 2017
$0.99
N/A (N/A)
1,339 ±989
1,148 ±915
00:50 (01:16)
16
Fancy Skiing VR
Aug 9, 2016
$6.99
49% (81%)
13,196 ±3,105
10,136 ±2,721
14:12 (02:26)
17
The Strike
Jan 7, 2016
$9.99
N/A (N/A)
1,129 ±1,104
1,129 ±1,104
09:51 (09:59)
18
MineSweeper VR
Aug 25, 2016
$3.99
N/A (N/A)
1,530 ±1,057
1,339 ±989
00:31 (00:36)
19
Infinite Mini Golf
Jul 25, 2017
$14.99
N/A (N/A)
2,295 ±1,295
1,721 ±1,121
04:51 (07:29)
20
Stage Presence
Feb 28, 2017
$9.99
N/A (N/A)
4,208 ±1,753
2,678 ±1,398
02:28 (02:32)
21
ClusterPuck 99
Jan 23, 2015
$9.99
45% (79%)
11,093 ±2,847
3,251 ±1,541
02:25 (00:57)
22
World of Mixed Martial Arts 3
Mar 19, 2015
$19.99
N/A (N/A)
10,710 ±2,797
4,973 ±1,906
21:13 (05:28)
23
Fireworks Desert Blast
Dec 22, 2016
Free
N/A (N/A)
6,311 ±2,147
3,443 ±1,586
00:15 (00:11)
24
Gas Guzzlers: Combat Carnage
Mar 9, 2017
$3.49
N/A (N/A/58%)
1,721 ±1,121
1,530 ±1,057
01:56 (01:57)
25
Cycle ()
Jul 24, 2017
$0.99
N/A (N/A)
550 ±1,076
550 ±1,076
00:03 (00:03)
26
HTR+ Slot Car Simulation
May 29, 2014
$6.99
N/A (N/A)
13,005 ±3,083
2,869 ±1,448
00:13 (00:12)
27
Virtual Pool 4
May 11, 2015
$24.99
37% (75%)
7,459 ±2,334
7,076 ±2,274
30:59 (04:28)
28
The Thing With Mistletoes
Feb 10, 2017
Free
N/A (N/A)
2,869 ±1,448
2,486 ±1,348
00:28 (00:35)
29
Dangerous Golf
Jun 2, 2016
$19.99
33% (73%/54%)
149,177 ±10,439
40,737 ±5,456
01:01 (00:17)
30
Disco Time 80s VR
Jun 7, 2017
$1.99
N/A (N/A)
3,952 ±2,066
1,411 ±1,234
00:28 (00:12)
31
MiniGolf Mania
Mar 25, 2016
$2.99
N/A (N/A)
3,825 ±1,672
3,060 ±1,495
00:53 (01:08)
32
Axis Football 2016
Jul 29, 2016
$19.99
27% (69%)
5,738 ±2,047
3,825 ±1,672
05:42 (02:59)
33
Red Baron Pack
Jan 7, 2016
$9.99
N/A (N/A)
6,311 ±2,147
1,721 ±1,121
03:50 (05:08)
34
Toro
Jan 26, 2016
$2.99
N/A (N/A)
8,415 ±2,479
1,148 ±915
00:21 (00:20)
35
Hand Simulator
Jul 18, 2017
$1.99
25% (68%)
4,590 ±1,831
4,208 ±1,753
00:35 (00:28)
36
MXGP2 - The Official Motocross Videogame Compact
Sep 8, 2016
$9.99
N/A (N/A)
1,129 ±1,104
565 ±781
01:27 (01:27)
37
TrumPiata
Jul 22, 2016
$0.99
N/A (N/A)
956 ±836
574 ±647
00:08 (00:06)
38
The Cold War Era
Sep 9, 2016
$4.99
N/A (N/A)
765 ±747
765 ±747
01:16 (01:20)
39
Cricket Captain 2016
Jul 4, 2016
$12.99
N/A (N/A)
7,268 ±2,304
6,694 ±2,211
131:38 (41:57)
40
Trackmania Lagoon
May 23, 2017
$19.99
18% (62%)
4,781 ±1,869
3,251 ±1,541
14:29 (06:45)
41
The Collider 2
Apr 19, 2016
$9.99
N/A (N/A/70%)
1,530 ±1,057
765 ±747
00:13 (00:08)
42
Don Bradman Cricket 17
Jan 16, 2017
$49.99
16% (60%)
3,825 ±1,672
3,825 ±1,672
44:33 (45:32)
43
Football Mogul 15
Sep 6, 2016
$14.99
N/A (N/A)
16,830 ±3,507
1,530 ±1,057
01:16 (01:16)
44
FlatOut 4: Total Insanity
Apr 4, 2017
$9.99
15% (59%/52%)
6,311 ±2,147
5,738 ±2,047
03:54 (02:04)
45
Unfair Jousting Fair
Sep 3, 2015
$4.99
N/A (N/A)
1,530 ±1,057
1,339 ±989
00:10 (00:06)
46
Cricket Captain 2015
Jul 8, 2015
$9.99
N/A (N/A)
6,694 ±2,211
6,694 ±2,211
266:28 (99:38)
47
Cricket Captain 2014
Aug 8, 2014
$9.99
N/A (N/A)
11,475 ±2,895
11,093 ±2,847
88:12 (40:06)
48
Bowling at the Lake
Dec 8, 2016
Free
N/A (N/A)
10,710 ±2,797
5,929 ±2,081
05:14 (00:09)
49
Tower!3D Pro
Mar 8, 2017
$49.99
N/A (N/A)
1,530 ±1,057
1,530 ±1,057
04:34 (04:24)
50
Wacky Wheels HD
Oct 26, 2016
$9.99
N/A (N/A)
1,721 ±1,121
1,721 ±1,121
00:40 (00:52)
51
Bowl VR
Jun 24, 2016
$6.99
N/A (N/A)
1,148 ±915
956 ±836
00:13 (00:13)
52
Star Chart
Sep 5, 2016
$9.99
N/A (N/A)
1,530 ±1,057
1,339 ±989
01:14 (01:25)
53
New Frontier Days ~Founding Pioneers~
Jun 7, 2017
$9.99
N/A (N/A)
765 ±747
191 ±373
02:04 (00:41)
54
Draft Day Sports Pro Basketball 4
Nov 24, 2014
$19.99
N/A (N/A)
4,781 ±1,869
1,148 ±915
15:29 (20:41)
55
Martial Arts: Capoeira
Jun 12, 2014
$4.99
N/A (N/A)
7,268 ±2,304
1,148 ±915
00:50 (01:22)
56
Railroad Lines
Jul 10, 2015
$2.99
N/A (N/A)
2,295 ±1,295
1,148 ±915
00:34 (00:11)
57
Mars Colony: Frontier
Sep 25, 2015
$9.99
N/A (N/A)
1,339 ±989
956 ±836
10:45 (04:31)
58
American Powerhaul Train Simulator
Mar 11, 2016
$24.99
N/A (N/A)
2,104 ±1,239
1,721 ±1,121
02:43 (04:15)
59
VR Theme Park Rides
Jun 8, 2017
$4.99
N/A (N/A)
1,913 ±1,182
765 ±747
00:10 (00:11)
60
Hot Pinball Thrills
Jun 26, 2015
$3.99
N/A (N/A)
11,284 ±2,871
765 ±747
00:35 (00:43)
61
Trainz Driver 2016
Feb 17, 2016
$19.99
N/A (N/A)
2,104 ±1,239
1,913 ±1,182
34:45 (50:31)
62
Rugby World Cup 2015
Sep 4, 2015
$29.99
N/A (N/A)
4,399 ±1,793
4,016 ±1,713
05:33 (02:41)
63
Micro Machines World Series
Jun 29, 2017
$29.99
1% (26%)
4,973 ±1,906
4,399 ±1,793
05:48 (02:50)
64
Bridge!
Oct 28, 2015
$3.49
N/A (N/A)
1,148 ±915
956 ±836
01:41 (02:42)
65
Dungeonbowl - Knockout Edition
Jul 2, 2012
$12.99
N/A (N/A)
34,999 ±5,057
16,639 ±3,487
05:44 (02:06)
66
Rugby 15
Nov 20, 2014
$19.99
1% (23%)
8,224 ±2,451
7,650 ±2,364
19:15 (03:10)
67
Burning Cars
Jan 31, 2014
$5.99
N/A (N/A)
6,503 ±2,180
4,208 ±1,753
01:37 (01:37)
68
Basketball Pro Management 2015
Nov 19, 2014
$9.99
N/A (N/A/69%)
4,399 ±1,793
3,634 ±1,629
37:20 (04:19)
69
European Fishing
Nov 20, 2014
$4.99
N/A (N/A)
1,721 ±1,121
0 ±0
00:00 (00:00)
70
Motorhead
Sep 16, 2015
$4.99
N/A (N/A)
1,148 ±915
574 ±647
07:49 (07:47)
71
World Truck Racing
Sep 16, 2014
$4.99
N/A (N/A)
13,196 ±3,105
3,634 ±1,629
00:12 (00:06)
72
MotorSport Revolution
Jan 15, 2015
$14.99
N/A (N/A)
4,973 ±1,906
1,530 ±1,057
00:25 (00:32)
73
Recovery Search & Rescue Simulation
Jan 9, 2014
$0.99
N/A (N/A)
16,830 ±3,507
1,913 ±1,182
00:12 (00:16)