MY FIGHT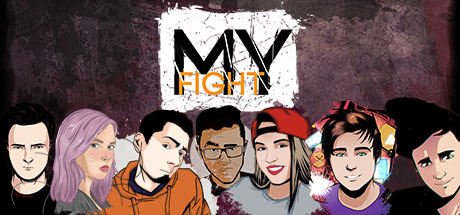 Store | Hub | SteamDB
Developer: TrisPix Studio Publisher: TrisPix Studio
Genre: Action, Indie, Early Access
Languages: Russian, English
Tags: Early Access (24), Action (21), Indie (21)
Category: Single-player, Online Multi-Player, Local Multi-Player, Shared/Split Screen, Steam Achievements, Steam Trading Cards, Steam Cloud
Release date: Oct 4, 2016
Price: $8.99
Followers: 214
YouTube stats: 274 views and 29 comments for videos uploaded last week, 2 new videos uploaded yesterday.

Steam Spy is still in beta, so expect major bugs.
Peak daily concurrent players:
CCU data courtesy of SteamDB. Used with permission.
Hourly concurrent players:
YouTube:
The views data is based on top 50 videos uploaded last week. Actual number of views might be more than the number shown.

The displayed number of videos uploaded yesterday is limited to 50, so if there were more videos uploaded, the number will still show 50.

If the game has commonly used word as its name (like "FEAR" or "Volume") its number of Youtube views might be wrong.
Games similar to this one:
#
Game
Release date

Price

Score rank
(Userscore / Metascore)

Owners

Players

Playtime (Median)

1
Defense of Castle Chilly
Dec 15, 2016
$9.99
N/A (N/A)
843 ±823
0 ±0
00:00 (00:00)
2
Punch Bomb
Dec 13, 2016
$6.99
N/A (N/A)
617 ±854
0 ±0
00:00 (00:00)
3
Diamond Joyce and the Secret of Crystal Cave
Sep 16, 2016
$5.99
N/A (N/A)
843 ±823
632 ±713
04:46 (04:45)
4
Lifestream - A Haunting Text Adventure
Sep 19, 2016
$2.99
N/A (N/A)
1,053 ±920
1,053 ±920
03:13 (04:07)
5
Expander
Dec 1, 2015
$2.99
N/A (N/A)
4,845 ±1,975
3,370 ±1,647
05:07 (03:46)
6
Serial Cleaner
Sep 28, 2016
$9.99
N/A (N/A)
926 ±1,046
617 ±854
01:15 (01:15)
7
Dimension Drive
Feb 16, 2017
$12.99
N/A (N/A)
2,738 ±1,485
1,685 ±1,164
00:37 (00:58)
8
Dead End Junction
Sep 23, 2016
$8.99
N/A (N/A)
619 ±1,212
619 ±1,212
01:04 (01:04)
9
Fragmental
Feb 29, 2016
$14.99
N/A (N/A)
1,264 ±1,008
1,053 ±920
01:18 (01:17)
10
Rogue Singularity
Oct 19, 2016
$14.99
N/A (N/A)
926 ±1,046
617 ±854
00:24 (00:15)
11
Drift Into Eternity
Dec 13, 2016
$19.99
N/A (N/A)
843 ±823
632 ±713
01:47 (01:47)
12
Equin: The Lantern
Oct 27, 2016
$2.99
N/A (N/A)
617 ±854
309 ±604
01:09 (00:34)
13
Impossible Geometry
May 12, 2016
$1.99
N/A (N/A)
1,264 ±1,008
1,264 ±1,008
01:37 (01:58)
14
Goblin and Coins
Nov 8, 2016
$1.99
N/A (N/A)
926 ±1,046
309 ±604
00:35 (00:17)
15
Shadow Heroes: Vengeance In Flames
Nov 22, 2016
$2.99
N/A (N/A)
632 ±713
421 ±582
03:43 (02:28)
16
PlayFortress
Dec 7, 2016
$19.99
N/A (N/A)
619 ±1,212
619 ±1,212
00:55 (00:55)
17
Blockships
Sep 2, 2016
$6.99
N/A (N/A)
617 ±854
0 ±0
00:00 (00:00)
18
Construct: Escape the System
Dec 2, 2016
$3.99
N/A (N/A)
3,704 ±2,092
2,161 ±1,598
03:59 (06:18)
19
King Oddball
Sep 9, 2016
$4.99
N/A (N/A)
617 ±854
309 ±604
08:34 (04:17)
20
Stratus: Battle For The Sky
Dec 2, 2016
$15.99
N/A (N/A)
617 ±854
617 ±854
00:06 (00:06)