Wells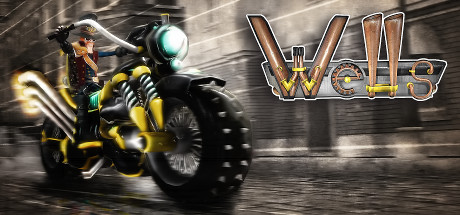 Store | Hub | SteamDB | Site
Developer: Tower Up Studios Publisher: Tower Up Studios
Genre: Action, Indie
Languages: English, French, German, Spanish, Portuguese-Brazil
Tags: Action (21), Indie (21), Steampunk (5)
Category: Single-player, Steam Achievements, Full controller support, Steam Trading Cards, Steam Cloud, Stats
Release date: Jan 29, 2017
Price: $3.99
YouTube stats: 927 views and 21 comments for videos uploaded last week, 2 new videos uploaded yesterday.

Steam Spy is still in beta, so expect major bugs.
Peak daily concurrent players:
CCU data courtesy of SteamDB. Used with permission.
Hourly concurrent players:
YouTube:
The views data is based on top 50 videos uploaded last week. Actual number of views might be more than the number shown.

The displayed number of videos uploaded yesterday is limited to 50, so if there were more videos uploaded, the number will still show 50.

If the game has commonly used word as its name (like "FEAR" or "Volume") its number of Youtube views might be wrong.
Games similar to this one:
#
Game
Release date

Price

Score rank
(Userscore / Metascore)

Owners

Players

Playtime (Median)

1
The Crystal Nebula
Jul 27, 2016
$1.99
N/A (N/A)
4,945 ±2,110
706 ±797
00:15 (00:09)
2
Operation KREEP
Jun 10, 2016
$2.99
N/A (N/A)
5,651 ±2,256
4,003 ±1,898
03:11 (03:25)
3
Starfighter Arduxim
Oct 19, 2016
$3.99
N/A (N/A)
1,086 ±1,227
362 ±708
00:01 (00:00)
4
Genesis of Drones
May 24, 2016
$0.99
N/A (N/A)
19,780 ±4,220
942 ±921
00:07 (00:05)
5
Darwin's Demons
Feb 13, 2017
$4.99
N/A (N/A)
724 ±1,002
362 ±708
01:12 (00:36)
6
Helena The 3rd
May 1, 2015
$0.99
N/A (N/A)
7,300 ±2,564
706 ±797
00:07 (00:06)
7
The Rise of Chubtan
Jan 21, 2016
$7.99
N/A (N/A)
2,355 ±1,456
1,413 ±1,128
05:48 (05:34)
8
WOLFLAME
Apr 21, 2016
$5.99
N/A (N/A)
2,590 ±1,527
1,884 ±1,302
05:30 (08:53)
9
Blood Harvest
Feb 7, 2017
$2.99
82% (92%)
4,003 ±1,898
2,355 ±1,456
03:22 (04:14)
10
Blue Rider
Mar 3, 2016
$12.99
N/A (N/A)
724 ±1,002
0 ±0
00:00 (00:00)
11
Astervoid 2000
Dec 1, 2016
$9.99
N/A (N/A)
3,061 ±1,660
2,119 ±1,381
01:47 (02:33)
12
Aliens Go Home Run
Jan 27, 2017
$3.99
N/A (N/A/81%)
4,239 ±1,953
3,061 ±1,660
03:56 (04:29)
13
Barbara-ian
Jan 16, 2017
$5.99
N/A (N/A)
1,448 ±1,417
1,448 ±1,417
00:35 (01:01)
14
Genius Greedy Mouse
Aug 12, 2016
$4.99
N/A (N/A)
6,829 ±2,480
5,416 ±2,208
02:42 (03:07)
15
Legacy of the Elder Star
Jun 7, 2016
$4.99
N/A (N/A)
1,086 ±1,227
1,086 ±1,227
05:15 (07:35)
16
Zombie Parking
Apr 14, 2016
$0.99
N/A (N/A)
1,884 ±1,302
1,177 ±1,029
01:28 (01:41)
17
Antihorror
Jul 27, 2016
$1.99
25% (67%)
2,534 ±1,874
1,810 ±1,584
01:51 (01:43)
18
Legends of the Universe: StarCore
Jul 25, 2016
$3.99
N/A (N/A)
2,355 ±1,456
1,884 ±1,302
02:45 (03:24)
19
QUACK ATTACK 1985: TURBO DX EDITION
Dec 19, 2016
$0.99
N/A (N/A)
2,172 ±1,735
1,086 ±1,227
00:06 (00:04)
20
Bullet Life 2010
May 18, 2016
$1.99
N/A (N/A)
42,385 ±6,178
4,003 ±1,898
00:13 (00:04)
21
Sombrero: Spaghetti Western Mayhem
Oct 27, 2016
$3.99
N/A (N/A)
5,651 ±2,256
3,532 ±1,783
03:27 (04:09)
22
Electric Zombies!
Jun 9, 2016
Free
N/A (N/A)
2,826 ±1,595
2,590 ±1,527
03:31 (03:32)
23
VIOLET: Space Mission
Jan 20, 2016
$4.99
N/A (N/A)
10,596 ±3,089
706 ±797
00:07 (00:05)
24
Breakout Invaders
Apr 24, 2015
$3.99
N/A (N/A)
28,492 ±5,065
1,177 ±1,029
00:28 (00:44)