Kyurinaga's Revenge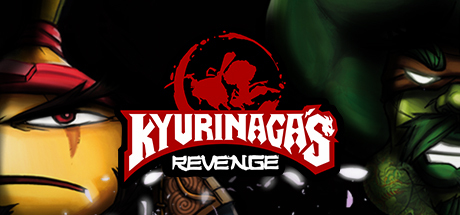 Store | Hub | SteamDB | Site
Developer: Recotechnology S.L. Publisher: Recotechnology S.L.
Genre: Adventure
Languages: English, Spanish, Japanese
Tags: Adventure (22), Platformer (12), 3D Platformer (8)
Category: Single-player, Local Co-op, Shared/Split Screen, Steam Achievements, Full controller support, Steam Trading Cards, Steam Cloud, Steam Leaderboards
Release date: Oct 25, 2016
Price: $7.99
Owners: 817 ± 1,600
Followers: 112
Peak on Twitch yesterday: 1 viewers, 1 channels
YouTube stats: 11 views and 0 comments for videos uploaded last week, 1 new videos uploaded yesterday.

Steam Spy is still in beta, so expect major bugs.
Peak daily concurrent players:
CCU data courtesy of SteamDB. Used with permission.
Hourly concurrent players:
YouTube:
The views data is based on top 50 videos uploaded last week. Actual number of views might be more than the number shown.

The displayed number of videos uploaded yesterday is limited to 50, so if there were more videos uploaded, the number will still show 50.

If the game has commonly used word as its name (like "FEAR" or "Volume") its number of Youtube views might be wrong.
Games similar to this one:
#
Game
Release date

Price

Score rank
(Userscore / Metascore)

Owners

Players

Playtime (Median)

1
Trap House
Jun 14, 2016
$9.99
N/A (N/A)
1,633 ±1,597
816 ±1,129
06:41 (05:04)
2
MadSpace: To Hell and Beyond
May 1, 2015
$5.99
N/A (N/A)
4,917 ±2,267
273 ±534
03:25 (01:08)
3
Herald: An Interactive Period Drama - Book I & II
Feb 22, 2017
$9.99
N/A (N/A/77%)
3,278 ±1,851
1,366 ±1,194
00:57 (01:06)
4
ENIGMA:
Nov 15, 2016
$14.99
N/A (N/A/56%)
3,824 ±1,999
1,366 ±1,194
06:33 (10:05)
5
Milkmaid of the Milky Way
Jan 4, 2017
$5.99
95% (96%/74%)
4,097 ±2,069
2,731 ±1,689
02:44 (03:43)
6
Godot Engine
Feb 23, 2016
Free
95% (96%)
182,737 ±13,819
119,366 ±11,169
04:06 (00:01)
7
Strania - The Stella Machina -
Nov 24, 2015
$14.99
N/A (N/A)
3,278 ±1,851
1,912 ±1,413
01:40 (01:57)
8
The VR Museum of Fine Art
Aug 20, 2016
Free
92% (95%)
83,037 ±9,316
40,153 ±6,478
00:26 (00:06)
9
Atomic 79
Jan 13, 2017
$3.99
N/A (N/A)
6,282 ±2,562
3,824 ±1,999
05:39 (03:30)
10
RED
Jan 14, 2017
Free
92% (95%)
19,667 ±4,534
11,472 ±3,463
01:23 (00:12)
11
Cosmic Sugar VR
Nov 27, 2016
Free
89% (94%)
61,459 ±8,015
33,597 ±5,926
01:32 (00:05)
12
Disney Infinity 2.0: Gold Edition
Dec 9, 2016
$29.99
N/A (N/A)
15,023 ±3,963
4,097 ±2,069
04:53 (05:09)
13
Getsuei Gakuen -kou-
Nov 3, 2015
$24.99
N/A (N/A)
2,185 ±1,511
819 ±925
15:14 (15:14)
14
Frequent Flyer
Jan 20, 2017
$0.99
N/A (N/A)
4,081 ±2,526
2,857 ±2,113
03:24 (03:34)
15
Dragon Age: Origins Awakening
Mar 16, 2010
$9.99
82% (92%/82%)
155,422 ±12,745
60,639 ±7,961
00:23 (00:01)
16
Party Jousting
Mar 1, 2016
Free
78% (91%)
192,297 ±14,176
118,274 ±11,118
01:24 (00:07)
17
Thread Studio
Sep 29, 2016
Free
N/A (N/A)
13,657 ±3,778
1,093 ±1,068
00:26 (00:23)
18
SWARMRIDERS
Jun 15, 2016
Free
78% (91%)
62,824 ±8,103
22,945 ±4,897
00:16 (00:03)
19
Empty Soul - S&S Edition
Jun 30, 2016
$6.99
N/A (N/A)
1,366 ±1,194
0 ±0
00:00 (00:00)
20
You Have 10 Seconds
Aug 2, 2016
Free
74% (90%)
259,219 ±16,458
208,686 ±14,767
01:03 (00:09)
21
Black Ink
Feb 8, 2016
$59.99
71% (89%)
25,130 ±5,125
22,398 ±4,839
23:21 (03:43)
22
Belko VR: An Escape Room Experiment
Mar 2, 2017
Free
68% (88%)
71,292 ±8,632
47,801 ±7,069
00:56 (00:20)
23
HEBEREKE!: March! Red Army Girls' Brigade
Sep 30, 2016
Free
68% (88%)
37,421 ±6,254
15,570 ±4,034
01:01 (00:05)
24
Subspace Continuum
Jul 3, 2015
Free
65% (87%)
128,380 ±11,583
54,084 ±7,519
03:30 (00:06)
25
Half-Life: A Place in the West
Sep 29, 2016
Free
65% (87%)
80,852 ±9,193
37,421 ±6,254
00:27 (00:05)
26
openCanvas 6
Sep 2014
$49.99
62% (86%)
15,843 ±4,069
15,023 ±3,963
62:08 (11:37)
27
The Bellows
Sep 13, 2016
Free
59% (85%)
78,394 ±9,052
39,060 ±6,390
00:57 (00:09)
28
Call of Cthulhu: Shadow of the Comet
Nov 4, 2015
$5.99
N/A (N/A)
7,102 ±2,724
2,458 ±1,603
03:09 (05:05)
29
XBlaze Code: Embryo
Mar 1, 2016
$19.99
N/A (N/A)
2,458 ±1,603
546 ±755
04:51 (03:14)
30
Gorky 17
Sep 27, 2013
$0.69
49% (81%)
753,892 ±28,053
294,455 ±17,540
03:59 (05:00)
31
The Storm Guard: Darkness is Coming
Aug 25, 2016
$19.99
47% (80%)
5,463 ±2,389
4,370 ±2,137
30:43 (39:43)
32
The Orphan Dreams
Apr 27, 2016
$3.99
N/A (N/A)
12,838 ±3,663
819 ±925
00:15 (00:07)
33
Prominence
Nov 6, 2015
$19.99
N/A (N/A)
2,458 ±1,603
1,912 ±1,413
06:07 (07:57)
34
Medusa's Labyrinth
Feb 15, 2016
Free
45% (79%)
291,177 ±17,442
146,681 ±12,381
00:25 (00:12)
35
Disney Infinity 1.0: Gold Edition
Dec 9, 2016
$29.99
N/A (N/A)
10,380 ±3,294
4,644 ±2,203
07:14 (05:08)
36
Awareness Rooms
Jun 16, 2016
$4.99
41% (77%)
4,917 ±2,267
3,824 ±1,999
01:55 (02:14)
37
Wailing Heights
Apr 27, 2016
$9.99
N/A (N/A/70%)
4,917 ±2,267
2,458 ±1,603
03:57 (05:15)
38
Tony Tough and the Night of Roasted Moths
May 7, 2015
$9.99
N/A (N/A/68%)
4,917 ±2,267
1,366 ±1,194
01:33 (02:31)
39
Comicado
Jan 21, 2014
$9.99
N/A (N/A)
2,458 ±1,603
2,458 ±1,603
09:20 (13:15)
40
Red Spider: Vengeance
Nov 25, 2016
Free
N/A (N/A)
9,560 ±3,161
1,093 ±1,068
04:11 (05:32)
41
Faron's Fate
Oct 15, 2015
$3.99
N/A (N/A)
7,648 ±2,827
1,366 ±1,194
01:16 (01:31)
42
Teria
Jan 17, 2017
$0.99
N/A (N/A)
6,829 ±2,671
546 ±755
00:16 (00:10)
43
Among Ripples
Jan 22, 2015
Free
29% (70%)
472,549 ±22,216
276,154 ±16,987
00:19 (00:05)
44
Wild Warfare
Jul 15, 2014
Free
29% (70%)
334,335 ±18,689
181,371 ±13,767
00:42 (00:09)
45
Littlstar VR Cinema
Oct 22, 2016
Free
N/A (N/A)
20,486 ±4,627
4,644 ±2,203
01:17 (03:07)
46
A Tale of Caos: Overture
Dec 21, 2016
$8.99
N/A (N/A)
7,375 ±2,776
3,551 ±1,926
04:52 (05:26)
47
PD Howler 9.6 Digital Painter and Visual FX box
Mar 11, 2015
$29.99
N/A (N/A)
2,857 ±2,113
2,041 ±1,786
21:52 (28:41)
48
Pawn
Dec 9, 2016
$6.99
N/A (N/A)
816 ±1,129
408 ±798
05:06 (02:33)
49
KnightShift
Sep 27, 2013
$6.99
20% (63%)
954,930 ±31,567
302,923 ±17,790
03:10 (03:36)
50
9Dragons
Feb 14, 2017
Free
18% (62%)
42,611 ±6,674
30,593 ±5,655
10:06 (00:16)
51
Walkover
Mar 23, 2015
Free
17% (61%)
99,426 ±10,194
28,408 ±5,449
00:37 (00:07)
52
The Grandfather
May 3, 2016
$0.49
N/A (N/A)
25,130 ±5,125
1,639 ±1,308
00:13 (00:15)
53
LogoMaker 4
Dec 4, 2013
$29.99
17% (61%)
5,190 ±2,329
4,917 ±2,267
13:53 (08:52)
54
To Burn in Memory
Jan 19, 2016
Free
16% (60%)
106,528 ±10,552
46,709 ±6,987
00:26 (00:03)
55
The Abbey
Jul 15, 2014
$19.99
N/A (N/A)
3,005 ±1,772
273 ±534
00:02 (00:00)
56
Beneath The Cherry Trees /
Oct 14, 2016
Free
15% (59%)
17,755 ±4,308
3,005 ±1,772
00:11 (00:15)
57
Unfinished - An Artist's Lament
Aug 4, 2015
$4.99
N/A (N/A)
3,824 ±1,999
2,185 ±1,511
02:53 (03:32)
58
Racecar.io
Oct 18, 2016
Free
12% (55%)
72,385 ±8,698
51,625 ±7,346
00:22 (00:07)
59
D.W.A.R.F.S.
Mar 20, 2014
$5.99
N/A (N/A)
6,009 ±2,506
1,639 ±1,308
00:10 (00:08)
60
Interfectorem
Nov 4, 2016
$4.99
N/A (N/A)
2,458 ±1,603
273 ±534
01:26 (00:28)
61
One Way To Die: Steam Edition
Sep 1, 2015
Free
11% (53%)
184,103 ±13,871
57,635 ±7,762
01:34 (00:02)
62
Fairy Tale About Father Frost, Ivan and Nastya
Apr 30, 2014
$2.99
N/A (N/A)
14,204 ±3,853
2,458 ±1,603
00:31 (00:08)
63
Office lovers
Aug 7, 2016
$15.99
N/A (N/A)
4,644 ±2,203
2,731 ±1,689
23:39 (42:11)
64
Uebergame
Oct 26, 2015
Free
9% (51%)
164,163 ±13,098
83,857 ±9,362
00:15 (00:04)
65
Black Rainbow
Apr 30, 2014
$6.99
N/A (N/A)
10,380 ±3,294
1,639 ±1,308
02:33 (04:26)
66
eXperience 112
Oct 24, 2014
$9.99
N/A (N/A)
33,051 ±5,878
6,009 ±2,506
00:39 (00:22)
67
After Life - Story of a Father
Nov 25, 2016
$5.99
N/A (N/A)
6,282 ±2,562
546 ±755
00:15 (00:10)
68
Pulse
Oct 20, 2015
$14.99
N/A (N/A/57%)
4,917 ±2,267
1,912 ±1,413
00:28 (00:16)
69
Astral Domine
May 1, 2016
$2.99
N/A (N/A)
4,097 ±2,069
273 ±534
02:48 (00:56)
70
Pirate Hell
Nov 7, 2014
$5.99
N/A (N/A)
3,278 ±1,851
273 ±534
01:02 (00:20)
71
The Journey Home
Aug 22, 2016
Free
N/A (N/A)
24,857 ±5,097
3,824 ±1,999
00:07 (00:06)
72
Dream Chamber
Jul 31, 2015
$9.99
N/A (N/A)
17,482 ±4,275
1,639 ±1,308
01:05 (01:43)
73
Dangerous Relationship
Aug 23, 2016
$15.99
N/A (N/A)
4,644 ±2,203
3,005 ±1,772
08:23 (07:07)
74
The Stargazers
Nov 4, 2016
$12.99
N/A (N/A)
1,639 ±1,308
273 ±534
01:09 (00:23)
75
Atlantis 2: Beyond Atlantis
Apr 17, 2015
$3.99
N/A (N/A)
10,380 ±3,294
2,185 ±1,511
00:37 (00:33)
76
Berserk: The Cataclysm
Sep 22, 2016
Free
N/A (N/A)
22,671 ±4,868
6,829 ±2,671
01:11 (00:11)
77
Dangerous
Dec 16, 2014
$19.99
N/A (N/A)
8,194 ±2,926
0 ±0
00:00 (00:00)
78
BattleSpace
Jan 7, 2015
Free
2% (32%)
133,570 ±11,815
34,417 ±5,998
00:20 (00:01)
79
Plastic Playground
Apr 18, 2016
Free
2% (31%)
89,047 ±9,647
36,056 ±6,139
01:58 (00:03)
80
Sprite Lamp
Sep 25, 2014
$34.99
N/A (N/A)
68,561 ±8,465
18,301 ±4,374
00:33 (00:03)
81
Occurrence at JCR Outpost
Jul 18, 2016
$4.99
N/A (N/A)
5,190 ±2,329
273 ±534
00:04 (00:01)
82
NakedMan VS The Clothes
Feb 17, 2017
$1.99
N/A (N/A)
10,653 ±3,337
819 ±925
00:23 (00:23)
83
Spoko and Poko
May 11, 2015
$3.99
N/A (N/A)
2,458 ±1,603
0 ±0
00:00 (00:00)
84
Absence
Feb 11, 2016
$5.99
N/A (N/A)
2,731 ±1,689
0 ±0
00:00 (00:00)
85
Invisible Apartment Zero
May 2015
$5.99
N/A (N/A)
3,551 ±1,926
0 ±0
00:00 (00:00)
86
Journey to the Center of the Earth
Jul 22, 2016
$4.99
N/A (N/A/65%)
1,639 ±1,308
819 ±925
03:04 (03:04)
87
Devil Sealing Stone
Apr 11, 2016
$7.99
N/A (N/A)
3,673 ±2,396
0 ±0
00:00 (00:00)
88
Astro Lords: Oort Cloud
Jan 15, 2016
Free
N/A (N/A)
81,672 ±9,239
28,954 ±5,501
00:16 (00:01)
89
Nicolas Eymerich The Inquisitor Book II : The Village
Jan 22, 2015
$9.99
N/A (N/A)
28,134 ±5,423
1,912 ±1,413
00:46 (01:39)
90
Fatal Theory
Sep 14, 2016
$4.99
N/A (N/A)
3,824 ±1,999
0 ±0
00:00 (00:00)
91
Mimic Arena
May 17, 2016
$7.99
N/A (N/A)
63,371 ±8,139
3,551 ±1,926
00:02 (00:01)
92
Laser Disco Defenders
Oct 6, 2016
$9.99
N/A (N/A)
9,014 ±3,069
4,097 ±2,069
02:32 (03:00)
93
Rayon Riddles - Rise of the Goblin King
Nov 11, 2016
$11.99
N/A (N/A)
1,093 ±1,068
273 ±534
00:35 (00:11)
94
Witches, Heroes and Magic
Jun 29, 2015
$14.99
N/A (N/A)
12,565 ±3,624
273 ±534
00:01 (00:00)
95
The Bizarre Creations of Keith the Magnificent
Sep 29, 2015
$4.99
N/A (N/A)
7,375 ±2,776
1,366 ±1,194
00:02 (00:02)
96
Manor of the Damned!
Nov 23, 2016
$3.99
N/A (N/A)
6,009 ±2,506
0 ±0
00:00 (00:00)
97
Get Rich or Die Gaming
Sep 2, 2015
$2.99
N/A (N/A)
6,556 ±2,617
273 ±534
00:23 (00:07)
98
Judgement
Sep 15, 2015
$4.99
N/A (N/A)
11,472 ±3,463
546 ±755
00:02 (00:01)
99
Killer Klownz
Dec 5, 2016
$1.99
N/A (N/A)
5,736 ±2,448
546 ±755
00:02 (00:00)
100
Man in a Maze: Deathmatch
Oct 16, 2014
$9.99
N/A (N/A)
4,644 ±2,203
819 ±925
00:25 (00:21)
101
The Lost City Of Malathedra
Mar 31, 2015
$7.99
N/A (N/A)
3,824 ±1,999
0 ±0
00:00 (00:00)
102
Elansar
Jan 11, 2016
$1.99
N/A (N/A)
3,278 ±1,851
546 ±755
01:44 (01:08)
103
Monuments of Mars
May 5, 2014
N/A
N/A (N/A)
55,722 ±7,632
2,185 ±1,511
00:07 (00:03)
104
The Amazing Adventures of Ash - Afterparty
Jan 21, 2016
$1.99
N/A (N/A)
1,093 ±1,068
546 ±755
01:43 (01:08)
105
Final Bravely
Jan 5, 2017
$3.99
N/A (N/A)
2,041 ±1,786
1,224 ±1,383
04:47 (06:53)