Bedfellows FRENZY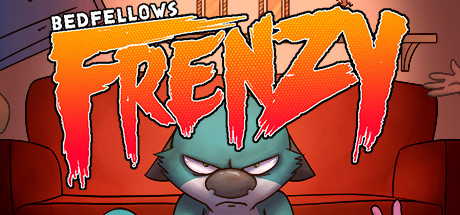 Store | Hub | SteamDB
Developer: Krispy Animation Publisher: Krispy Animation
Genre: Sexual Content, Violent, Action, Casual, Indie
Languages: English
Tags: Action (23), Casual (23), Indie (22), Sexual Content (21), Violent (20)
Category: Single-player, Local Co-op, Shared/Split Screen, Steam Achievements, Full controller support, Steam Cloud, Stats, Steam Leaderboards
Release date: Feb 22, 2017
Price: $14.99
Followers: 647
Peak concurrent players yesterday: 1
YouTube stats: 20 views and 0 comments for videos uploaded last week, 0 new videos uploaded yesterday.

Steam Spy is still in beta, so expect major bugs.
Peak daily concurrent players:
CCU data courtesy of SteamDB. Used with permission.
Hourly concurrent players:
YouTube:
The views data is based on top 50 videos uploaded last week. Actual number of views might be more than the number shown.

The displayed number of videos uploaded yesterday is limited to 50, so if there were more videos uploaded, the number will still show 50.

If the game has commonly used word as its name (like "FEAR" or "Volume") its number of Youtube views might be wrong.
Games similar to this one:
#
Game
Release date

Price

Score rank
(Userscore / Metascore)

Owners

Players

Playtime (Median)

1
Overdriven Reloaded
Oct 7, 2016
$5.99
N/A (N/A)
1,042 ±1,177
1,042 ±1,177
01:02 (01:23)
2
Strania - The Stella Machina -
Nov 24, 2015
$14.99
N/A (N/A)
1,737 ±1,520
1,390 ±1,360
02:19 (02:24)
3
Extravaganza Rising
Jul 21, 2016
$5.99
N/A (N/A)
5,200 ±2,544
3,575 ±2,109
04:02 (03:33)
4
NIGHTSTAR
Mar 7, 2017
$9.99
N/A (N/A)
606 ±1,186
606 ±1,186
01:30 (01:30)
5
Chicken Invaders 2
Mar 4, 2016
$3.99
N/A (N/A)
2,925 ±1,908
2,275 ±1,682
01:08 (01:25)
6
Archibald's Adventures
Jun 10, 2016
$4.99
N/A (N/A)
6,500 ±2,844
3,575 ±2,109
01:03 (01:01)
7
Zenodyne R
May 29, 2016
$9.99
N/A (N/A)
22,751 ±5,321
3,250 ±2,011
01:26 (00:08)
8
Deadhunt
Jan 12, 2016
$4.99
N/A (N/A)
1,042 ±1,177
1,042 ±1,177
00:35 (00:50)
9
2 Ninjas 1 Cup
Feb 3, 2017
$0.99
N/A (N/A)
2,085 ±1,665
1,390 ±1,360
02:28 (01:57)
10
NEON Ultra
Sep 30, 2016
$3.99
N/A (N/A)
606 ±1,186
606 ±1,186
00:13 (00:13)
11
Super Kaiju
Dec 6, 2016
$9.99
N/A (N/A)
2,600 ±1,799
2,600 ±1,799
25:34 (00:35)
12
Vertigo
Dec 22, 2016
$14.99
73% (90%)
3,822 ±2,255
3,127 ±2,040
02:41 (01:28)
13
Ittle Dew 2
Nov 15, 2016
$19.99
66% (88%)
2,275 ±1,682
2,275 ±1,682
07:22 (13:11)
14
Blood Alloy: Reborn
Mar 2, 2016
$12.99
N/A (N/A/48%)
1,390 ±1,360
1,042 ±1,177
00:12 (00:18)
15
Caladrius Blaze
Jan 11, 2017
$24.99
N/A (N/A)
1,737 ±1,520
1,390 ±1,360
02:05 (01:01)
16
Dual Core
May 26, 2016
$9.99
N/A (N/A)
606 ±1,186
0 ±0
00:00 (00:00)
17
Office Freakout
Sep 27, 2016
$0.99
N/A (N/A)
1,042 ±1,177
695 ±961
02:33 (02:33)
18
Warmada
Nov 7, 2016
$4.99
N/A (N/A)
1,042 ±1,177
695 ±961
01:17 (01:17)
19
Wonder Boy Returns
Oct 12, 2016
$14.99
N/A (N/A)
1,212 ±1,678
1,212 ±1,678
00:16 (00:24)
20
Behold!
Oct 26, 2016
$1.99
N/A (N/A)
1,042 ±1,177
1,042 ±1,177
00:09 (00:10)
21
SEAL Team 12
Mar 18, 2015
$2.99
N/A (N/A)
2,275 ±1,682
1,625 ±1,422
01:27 (00:51)
22
JUMP
Jul 30, 2015
$9.99
N/A (N/A)
695 ±961
695 ±961
10:38 (10:37)
23
Locked Fears
Nov 4, 2016
$2.99
N/A (N/A)
695 ±961
347 ±680
03:38 (01:49)
24
Infinium Strike
Jul 14, 2016
$4.99
N/A (N/A)
2,925 ±1,908
2,275 ±1,682
04:35 (02:27)
25
Scooby Doo! & Looney Tunes Cartoon Universe: Adventure
Jul 16, 2014
$19.99
N/A (N/A)
4,225 ±2,293
1,625 ±1,422
02:40 (02:11)
26
Mobile Light Force (aka Gunbird)
Jul 17, 2015
$4.99
N/A (N/A)
1,818 ±2,055
0 ±0
00:00 (00:00)
27
BuriedTown
Jan 22, 2016
$6.99
N/A (N/A)
1,042 ±1,177
1,042 ±1,177
10:03 (11:29)
28
#KILLALLZOMBIES
Aug 10, 2016
$11.99
N/A (N/A)
1,042 ±1,177
695 ±961
02:20 (02:20)
29
Elite vs. Freedom
May 31, 2016
$4.99
N/A (N/A)
4,550 ±2,379
2,600 ±1,799
03:12 (02:53)