Snowball!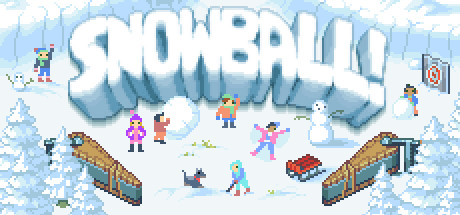 Store | Hub | SteamDB | Site
Developer: Pixeljam Publisher: Pixeljam
Genre: Action, Indie
Languages: English, French, Italian, German, Spanish, Japanese, Portuguese-Brazil, Russian, Simplified Chinese
Tags: Indie (23), Action (22), Pinball (10), Pixel Graphics (7)
Category: Single-player, Steam Achievements, Partial Controller Support, Steam Leaderboards
Release date: Dec 16, 2016
Price: $2.99
Owners: 9,705 ± 2,928
Players in the last 2 weeks: 692 ± 1,355 (7.13%)
Players total: 2,311 ± 1,429 (23.81%)
Followers: 255
Peak concurrent players yesterday: 2
Playtime in the last 2 weeks: 00:04 (average) 00:04 (median)
Playtime total: 01:36 (average) 02:17 (median)

Steam Spy is still in beta, so expect major bugs.
Peak daily concurrent players:
CCU data courtesy of SteamDB. Used with permission.
Hourly concurrent players:
YouTube:
The views data is based on top 50 videos uploaded last week. Actual number of views might be more than the number shown.

The displayed number of videos uploaded yesterday is limited to 50, so if there were more videos uploaded, the number will still show 50.

If the game has commonly used word as its name (like "FEAR" or "Volume") its number of Youtube views might be wrong.
Games similar to this one:
#
Game
Release date

Price

Score rank
(Userscore / Metascore)

Owners

Players

Playtime (Median)

1
VirZOOM Arcade
Jun 30, 2016
Free
N/A (N/A)
60,538 ±7,314
12,477 ±3,320
00:40 (00:03)
2
3dSunshine
Nov 1, 2016
Free
N/A (N/A)
18,716 ±4,067
3,928 ±1,863
36:07 (01:06)
3
Missile Cards
Apr 7, 2017
$4.99
N/A (N/A)
3,928 ±1,863
462 ±639
00:56 (00:37)
4
Star Vikings Forever
Oct 6, 2016
$9.99
N/A (N/A)
1,848 ±1,278
1,155 ±1,010
06:00 (09:47)
5
Trash TV
Feb 23, 2015
$6.99
N/A (N/A)
33,042 ±5,403
3,697 ±1,807
01:21 (01:03)
6
Lumini
Sep 3, 2015
$12.99
N/A (N/A/69%)
13,633 ±3,471
6,932 ±2,475
02:20 (01:56)
7
Old Man's Journey
May 17, 2017
$7.99
68% (88%/77%)
9,474 ±2,893
6,701 ±2,433
02:41 (01:49)
8
Proto Raider
Aug 28, 2015
$2.99
68% (88%)
27,958 ±4,970
3,697 ±1,807
00:38 (00:29)
9
Cubotrox
Nov 11, 2016
$5.99
N/A (N/A)
9,011 ±2,822
1,617 ±1,195
00:39 (00:17)
10
Age of Rivals
Mar 14, 2017
$9.99
65% (87%)
3,004 ±1,629
2,773 ±1,565
07:22 (06:20)
11
Fable Fortune
Jul 24, 2017
$14.99
65% (87%)
15,250 ±3,671
9,705 ±2,928
08:08 (02:32)
12
Forget Me Not: My Organic Garden
Aug 21, 2015
$9.99
65% (87%)
13,402 ±3,441
11,553 ±3,195
06:50 (03:19)
13
Protonwar
Jul 5, 2016
$14.99
N/A (N/A)
3,235 ±1,690
2,311 ±1,429
04:02 (06:36)
14
Trapper's Delight
Jul 19, 2016
$9.99
N/A (N/A)
3,928 ±1,863
3,928 ±1,863
03:52 (04:48)
15
Thirst VR
Aug 10, 2016
$2.99
62% (86%)
7,163 ±2,516
4,390 ±1,969
02:42 (00:27)
16
SoulHunt
Dec 23, 2016
$8.99
N/A (N/A)
2,542 ±1,498
2,542 ±1,498
03:11 (05:01)
17
Coffee Shop Tycoon
Dec 5, 2016
$5.99
56% (84%)
7,856 ±2,634
7,625 ±2,595
03:14 (03:06)
18
Shotgun Farmers
Jun 1, 2017
$9.99
56% (84%)
8,318 ±2,711
7,163 ±2,516
02:19 (02:24)
19
HassleHeart
Feb 19, 2015
$2.99
N/A (N/A)
15,481 ±3,698
2,080 ±1,355
00:15 (00:37)
20
Thieves' Gambit: The Curse of the Black Cat
Oct 17, 2014
$2.99
N/A (N/A)
3,004 ±1,629
2,542 ±1,498
04:58 (01:54)
21
The Sun and Moon
Nov 14, 2014
$6.99
51% (82%)
39,511 ±5,909
10,860 ±3,098
01:09 (00:29)
22
Boogeyman 2
Feb 7, 2017
$7.99
51% (82%)
5,083 ±2,119
3,004 ±1,629
01:23 (01:19)
23
Diabolical
Nov 6, 2015
$5.99
49% (81%)
9,936 ±2,963
8,549 ±2,748
03:15 (02:56)
24
Vektor Wars
Jun 4, 2015
$6.99
N/A (N/A)
17,099 ±3,887
2,542 ±1,498
04:35 (02:07)
25
Combat Core
Aug 18, 2016
$15.99
N/A (N/A)
7,163 ±2,516
2,773 ±1,565
02:30 (02:43)
26
SurvHive
Aug 1, 2016
$14.99
N/A (N/A)
9,011 ±2,822
1,155 ±1,010
05:45 (07:36)
27
Alchemist's Awakening
Mar 21, 2016
$15.99
37% (75%)
5,083 ±2,119
4,621 ±2,020
03:42 (02:49)
28
Cube & Star: An Arbitrary Love
Feb 14, 2014
$4.99
N/A (N/A)
30,500 ±5,191
9,474 ±2,893
01:19 (00:29)
29
Devilry
Jun 30, 2015
$4.99
N/A (N/A)
3,235 ±1,690
2,080 ±1,355
01:52 (01:08)
30
Dark Days
Jun 3, 2016
$2.99
N/A (N/A)
5,545 ±2,213
1,155 ±1,010
01:51 (01:44)
31
EMPORIUM
May 17, 2017
$1.99
30% (71%)
6,236 ±2,876
5,197 ±2,626
01:09 (01:36)
32
Karmaflow: The Rock Opera Videogame - Act I & Act II
May 6, 2015
$4.99
30% (71%/47%)
26,572 ±4,845
6,932 ±2,475
01:54 (01:02)
33
Spy Bugs
Jun 26, 2015
$9.99
N/A (N/A)
6,932 ±2,475
1,386 ±1,106
00:16 (00:29)
34
Dr.Green
Jan 2, 2015
$2.99
N/A (N/A)
5,083 ±2,119
2,080 ±1,355
01:14 (01:41)
35
Scraps: Modular Vehicle Combat
Jul 7, 2015
$14.99
27% (69%)
5,314 ±2,167
3,697 ±1,807
02:46 (02:06)
36
Pixel Puzzles 2: RADical ROACH
Aug 12, 2016
$9.99
N/A (N/A)
14,095 ±3,529
8,087 ±2,673
05:05 (03:59)
37
Blossoms Bloom Brightest
Apr 28, 2017
Free
N/A (N/A)
7,856 ±2,634
4,621 ±2,020
00:33 (00:12)
38
Space Warp
Nov 4, 2014
$4.99
N/A (N/A)
17,792 ±3,965
3,235 ±1,690
00:32 (00:23)
39
Star Command Galaxies
Sep 17, 2015
$14.99
23% (66%)
10,398 ±3,031
8,549 ±2,748
03:12 (01:18)
40
RIP - Trilogy
Jun 1, 2007
$4.99
22% (65%)
149,959 ±11,510
33,273 ±5,422
00:31 (00:12)
41
Humans Must Answer
Jan 16, 2014
$5.99
N/A (N/A/55%)
12,015 ±3,258
3,697 ±1,807
01:05 (01:02)
42
CDF Starfighter VR
May 26, 2017
$19.99
20% (63%)
2,080 ±1,355
1,848 ±1,278
00:22 (00:25)
43
Indie Game Battle
Oct 29, 2015
$4.99
N/A (N/A)
84,568 ±8,644
9,474 ±2,893
00:51 (00:09)
44
Jumpdrive
May 12, 2014
$14.99
12% (54%)
6,239 ±2,348
6,008 ±2,304
02:16 (01:17)
45
Space Ribbon
Aug 5, 2016
$9.99
N/A (N/A)
6,701 ±2,433
4,159 ±1,917
01:21 (01:04)
46
Exodus
Jul 11, 2014
$0.99
N/A (N/A)
2,080 ±1,355
1,155 ±1,010
01:33 (02:14)
47
Derelict
Jul 22, 2016
$4.99
N/A (N/A)
3,235 ±1,690
0 ±0
00:00 (00:00)
48
Heldric - The legend of the shoemaker
Apr 17, 2014
$8.99
N/A (N/A)
2,773 ±1,565
2,542 ±1,498
03:57 (02:18)
49
ERISLE
Mar 10, 2017
Free
N/A (N/A)
3,466 ±1,750
1,617 ±1,195
00:22 (00:34)
50
Murder
Oct 21, 2015
$0.99
5% (41%)
7,856 ±2,634
2,080 ±1,355
00:24 (00:19)
51
Dropship Down
Jul 21, 2016
N/A
N/A (N/A)
1,155 ±1,010
462 ±639
00:22 (00:14)
52
Inescapable
May 21, 2014
$4.99
N/A (N/A)
15,250 ±3,671
5,314 ±2,167
00:59 (00:24)
53
Final Strike
Jun 23, 2016
$9.99
N/A (N/A)
2,311 ±1,429
1,617 ±1,195
00:22 (00:27)
54
The Interview
Feb 4, 2015
$1.99
1% (27%)
6,239 ±2,348
2,311 ±1,429
00:18 (00:21)
55
Ice Cream Surfer
Jun 22, 2015
$2.99
N/A (N/A)
6,932 ±2,475
1,386 ±1,106
01:19 (01:19)
56
The Janitor
Jul 19, 2016
$0.99
N/A (N/A)
64,004 ±7,520
6,239 ±2,348
27:21 (00:03)
57
BlackShadows
Sep 11, 2015
$2.99
N/A (N/A)
57,303 ±7,116
3,466 ±1,750
00:09 (00:05)