Snowball!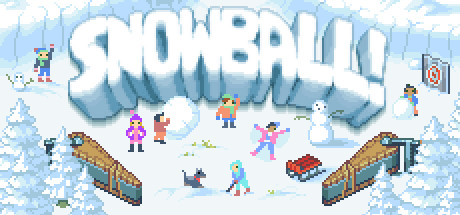 Store | Hub | SteamDB | Site
Developer: Pixeljam Publisher: Pixeljam
Genre: Action, Indie
Languages: English, French, Italian, German, Spanish, Japanese, Portuguese-Brazil, Russian, Simplified Chinese
Tags: Indie (23), Action (22), Pinball (8), Pixel Graphics (6)
Category: Single-player, Steam Achievements, Partial Controller Support, Steam Leaderboards
Release date: Dec 16, 2016
Price: $2.99
Owners: 5,613 ± 2,240
Players in the last 2 weeks: 685 ± 1,341 (12.21%)
Players total: 1,169 ± 1,022 (20.83%)
Followers: 217
Peak concurrent players yesterday: 1
YouTube stats: 59,705 views and 526 comments for videos uploaded last week, 9 new videos uploaded yesterday.
Playtime in the last 2 weeks: 00:03 (average) 00:03 (median)
Playtime total: 00:04 (average) 00:05 (median)

Steam Spy is still in beta, so expect major bugs.
Peak daily concurrent players:
CCU data courtesy of SteamDB. Used with permission.
Hourly concurrent players:
YouTube:
The views data is based on top 50 videos uploaded last week. Actual number of views might be more than the number shown.

The displayed number of videos uploaded yesterday is limited to 50, so if there were more videos uploaded, the number will still show 50.

If the game has commonly used word as its name (like "FEAR" or "Volume") its number of Youtube views might be wrong.
Games similar to this one:
#
Game
Release date

Price

Score rank
(Userscore / Metascore)

Owners

Players

Playtime (Median)

1
3dSunshine
Nov 1, 2016
Free
N/A (N/A)
20,816 ±4,315
5,613 ±2,240
00:56 (00:18)
2
Perfect Universe - Play with Gravity
Feb 26, 2016
$3.39
N/A (N/A)
14,735 ±3,630
2,339 ±1,446
00:26 (01:10)
3
Nevrosa: Prelude
Feb 23, 2017
Free
100% (100%)
16,138 ±3,799
8,186 ±2,706
01:34 (00:13)
4
One Man Is Not No Man
Mar 18, 2016
$3.99
N/A (N/A)
5,613 ±2,240
936 ±914
01:10 (01:00)
5
Trip to Vinelands
Oct 21, 2016
$0.99
N/A (N/A)
5,613 ±2,240
1,169 ±1,022
00:05 (00:04)
6
Waves
Nov 16, 2011
$4.99
89% (94%/82%)
100,806 ±9,495
60,577 ±7,361
02:33 (00:34)
7
Bombernauts
Jul 31, 2015
$9.99
85% (93%)
5,613 ±2,240
4,678 ±2,045
01:44 (01:36)
8
God Of Arrows VR
Nov 2, 2016
$7.99
N/A (N/A)
4,210 ±1,940
1,637 ±1,210
01:32 (00:26)
9
Formicide
Sep 26, 2016
Free
N/A (N/A)
3,041 ±1,649
936 ±914
00:44 (00:24)
10
Deep Under the Sky
Aug 22, 2014
$9.99
N/A (N/A)
32,277 ±5,373
3,976 ±1,886
00:25 (00:18)
11
ESSENCE
Apr 18, 2017
$20
N/A (N/A)
2,339 ±1,446
1,403 ±1,120
01:20 (02:16)
12
Lucid Trips
Jan 12, 2017
$7.99
N/A (N/A)
2,339 ±1,446
1,169 ±1,022
00:28 (00:33)
13
Decent Icons
Apr 7, 2016
$1.99
N/A (N/A)
1,871 ±1,293
1,871 ±1,293
02:58 (03:45)
14
Probability 0
Jun 12, 2014
$6.99
N/A (N/A)
15,203 ±3,687
4,678 ±2,045
02:01 (00:10)
15
Thirst VR
Aug 10, 2016
$2.99
N/A (N/A)
6,549 ±2,420
2,807 ±1,584
00:12 (00:15)
16
Four Sided Fantasy
Aug 30, 2016
$9.99
N/A (N/A)
4,678 ±2,045
2,339 ±1,446
00:57 (00:52)
17
ASTROKILL
May 27, 2016
$9.99
N/A (N/A)
10,291 ±3,034
702 ±792
00:20 (00:19)
18
Super Arcade Football
Apr 4, 2016
$9.99
54% (83%)
2,573 ±1,517
1,637 ±1,210
01:24 (01:46)
19
Don't Shoot Yourself!
Apr 10, 2015
$4.99
N/A (N/A)
2,573 ±1,517
2,339 ±1,446
01:26 (00:33)
20
Potioneer: The VR Gardening Simulator
Oct 20, 2016
$9.99
N/A (N/A)
5,613 ±2,240
468 ±646
00:29 (00:19)
21
Hangeki
Aug 11, 2014
$9.99
N/A (N/A)
2,105 ±1,372
1,169 ±1,022
00:40 (00:33)
22
Sophie's Guardian
Oct 21, 2016
$8.99
N/A (N/A)
1,169 ±1,022
702 ±792
00:08 (00:08)
23
Warriors & Castles
Jun 30, 2015
$2.99
N/A (N/A)
10,057 ±2,999
2,339 ±1,446
00:14 (00:14)
24
Nephise Begins
Apr 24, 2017
$1.99
N/A (N/A)
2,131 ±1,702
1,065 ±1,203
00:18 (00:20)
25
SurvHive
Aug 1, 2016
$14.99
N/A (N/A)
5,613 ±2,240
702 ±792
00:34 (00:16)
26
Proxy Blade Zero
Jul 28, 2014
$1.69
41% (77%)
23,857 ±4,619
7,251 ±2,546
01:49 (00:22)
27
The Uncertain: VR Experience
Apr 25, 2017
Free
N/A (N/A)
5,379 ±2,193
1,169 ±1,022
00:08 (00:11)
28
Redswood VR
Aug 18, 2016
$3.99
N/A (N/A)
1,871 ±1,293
1,169 ±1,022
00:27 (00:38)
29
XenoShyft
Mar 29, 2016
$9.99
N/A (N/A)
1,403 ±1,120
936 ±914
01:18 (01:24)
30
Space Warp
Nov 4, 2014
$4.99
N/A (N/A)
16,372 ±3,827
2,573 ±1,517
00:21 (00:12)
31
Ancient Go
Sep 15, 2016
$4.99
N/A (N/A)
1,637 ±1,210
936 ±914
01:09 (01:26)
32
Rencounter
Nov 4, 2016
$5.99
26% (68%)
11,227 ±3,169
6,315 ±2,376
03:33 (02:27)
33
the research facility NO.507
Nov 30, 2016
$3.99
N/A (N/A)
1,169 ±1,022
936 ±914
00:38 (00:36)
34
Entropy Rising
Nov 20, 2015
$4.99
N/A (N/A)
1,637 ±1,210
936 ±914
02:58 (03:38)
35
Pro Wrestling X
Nov 18, 2014
$9.99
22% (65%)
2,807 ±1,584
2,573 ±1,517
01:12 (00:17)
36
Bliss
Dec 8, 2014
$4.99
N/A (N/A)
10,759 ±3,102
1,871 ±1,293
00:22 (00:21)
37
Knightfall: Rivals
May 3, 2017
Free
N/A (N/A)
3,508 ±1,771
2,105 ±1,372
00:32 (01:06)
38
Yon Paradox
May 6, 2016
$0.89
N/A (N/A)
4,912 ±2,096
1,637 ±1,210
01:29 (00:20)
39
Paparazzi
Feb 17, 2015
$1.99
N/A (N/A)
2,105 ±1,372
1,403 ±1,120
00:13 (00:18)
40
AWAKE
Dec 16, 2015
$4.99
N/A (N/A)
3,274 ±1,711
702 ±792
00:17 (00:16)
41
Mind Unleashed
May 5, 2016
$2.99
N/A (N/A)
2,339 ±1,446
1,403 ±1,120
00:17 (00:21)
42
A Mass of Dead
Jul 15, 2015
$4.99
N/A (N/A)
2,573 ±1,517
1,871 ±1,293
02:17 (01:42)
43
Endciv
Apr 21, 2016
$7.99
8% (48%)
1,871 ±1,293
1,637 ±1,210
01:10 (01:38)
44
Gamer Simulator
Sep 22, 2015
$0.99
N/A (N/A)
2,339 ±1,446
936 ±914
00:15 (00:19)
45
Space Ribbon
Aug 5, 2016
$9.99
N/A (N/A)
1,637 ±1,210
1,169 ±1,022
00:18 (00:28)
46
A.V.
Feb 13, 2015
$6.99
N/A (N/A)
936 ±914
468 ±646
00:14 (00:09)
47
Final Strike
Jun 23, 2016
$9.99
N/A (N/A)
1,637 ±1,210
1,403 ±1,120
00:10 (00:15)
48
So Many Cubes
Oct 6, 2016
$0.49
N/A (N/A)
64,554 ±7,599
1,637 ±1,210
00:10 (00:03)
49
Ice Cream Surfer
Jun 22, 2015
$2.99
N/A (N/A)
8,420 ±2,744
702 ±792
00:06 (00:04)
50
Airline Director 2 - Tycoon Game
Apr 28, 2016
$4.99
N/A (N/A)
2,841 ±1,965
2,486 ±1,838
02:27 (02:57)