Snowball!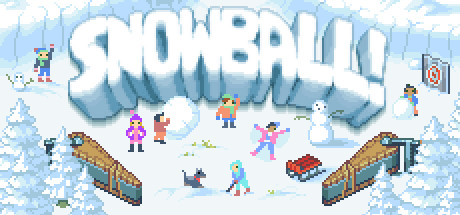 Store | Hub | SteamDB | Site
Developer: Pixeljam Publisher: Pixeljam
Genre: Action, Indie
Languages: English, French, Italian, German, Spanish, Japanese, Portuguese-Brazil, Russian, Simplified Chinese
Tags: Indie (22), Action (21), Pinball (7), Pixel Graphics (6)
Category: Single-player, Steam Achievements, Partial Controller Support, Steam Leaderboards
Release date: Dec 16, 2016
Price: $2.99
Owners: 2,260 ± 1,671
Players total: 1,614 ± 1,412 (71.43%)
Followers: 207
Playtime total: 00:18 (average) 00:33 (median)

Steam Spy is still in beta, so expect major bugs.
Peak daily concurrent players:
CCU data courtesy of SteamDB. Used with permission.
Hourly concurrent players:
YouTube:
The views data is based on top 50 videos uploaded last week. Actual number of views might be more than the number shown.

The displayed number of videos uploaded yesterday is limited to 50, so if there were more videos uploaded, the number will still show 50.

If the game has commonly used word as its name (like "FEAR" or "Volume") its number of Youtube views might be wrong.
Games similar to this one:
#
Game
Release date

Price

Score rank
(Userscore / Metascore)

Owners

Players

Playtime (Median)

1
Pixel Gladiator
Nov 22, 2016
$2.99
N/A (N/A)
6,227 ±2,301
5,337 ±2,130
02:35 (02:32)
2
I and Me
May 4, 2016
$9.99
97% (97%)
4,003 ±1,845
3,114 ±1,627
03:46 (03:43)
3
KAMUI
Dec 11, 2014
$7.99
N/A (N/A)
44,256 ±6,134
14,678 ±3,533
00:35 (00:17)
4
The Dweller
May 19, 2016
$4.99
97% (97%)
43,367 ±6,072
25,353 ±4,643
02:35 (02:33)
5
Bit Blaster XL
Jan 22, 2016
$0.99
97% (97%)
209,718 ±13,351
135,883 ±10,748
01:41 (00:43)
6
Bullet Heaven 2
Dec 7, 2015
$11.99
97% (97%)
8,673 ±2,715
7,117 ±2,460
08:23 (06:14)
7
Escape Goat 2
Mar 24, 2014
$9.99
95% (96%/76%)
52,485 ±6,680
21,350 ±4,261
06:01 (04:50)
8
Chicken Invaders 4
Jun 6, 2014
$4.99
95% (96%)
10,008 ±2,917
7,784 ±2,572
04:57 (03:24)
9
Hatoful Boyfriend: Holiday Star
Dec 15, 2015
$9.99
95% (96%/54%)
49,149 ±6,465
15,568 ±3,638
02:37 (02:09)
10
Armed with Wings: Rearmed
May 28, 2015
$7.99
95% (96%)
21,350 ±4,261
6,227 ±2,301
02:12 (01:07)
11
Intake
Nov 6, 2013
$9.99
95% (96%)
50,928 ±6,580
24,686 ±4,581
04:08 (02:13)
12
Anyland
Oct 6, 2016
$11.99
92% (95%)
2,669 ±1,506
1,779 ±1,230
11:35 (13:39)
13
Project LUX
Mar 30, 2017
$24.99
N/A (N/A)
2,002 ±1,304
1,557 ±1,150
02:48 (04:45)
14
Raptor Valley
Sep 9, 2016
$8.99
N/A (N/A)
5,560 ±2,174
1,779 ±1,230
00:27 (00:20)
15
Gravity Ghost
Jan 26, 2015
$14.99
92% (95%/75%)
21,795 ±4,305
10,675 ±3,013
02:19 (02:25)
16
Constant C
Mar 11, 2014
$9.99
N/A (N/A/60%)
10,008 ±2,917
6,005 ±2,259
01:59 (02:02)
17
Planet Diver
Nov 30, 2015
$3.99
N/A (N/A)
9,118 ±2,784
6,449 ±2,342
02:39 (02:03)
18
Angry Arrows
Aug 12, 2015
$4.99
92% (95%)
13,566 ±3,396
4,893 ±2,039
02:04 (01:28)
19
Quarries of Scred
Apr 22, 2015
$5.99
N/A (N/A)
9,118 ±2,784
1,779 ±1,230
00:10 (00:07)
20
Critter Crunch
Sep 11, 2012
$6.99
92% (95%)
50,706 ±6,566
24,686 ±4,581
03:12 (01:10)
21
Thieves' Gambit: The Curse of the Black Cat
Oct 17, 2014
$2.99
N/A (N/A)
3,781 ±1,793
1,779 ±1,230
06:32 (02:25)
22
RunGunJumpGun
Aug 31, 2016
$7.99
89% (94%/82%)
9,563 ±2,851
7,117 ±2,460
01:48 (01:26)
23
oO
Jul 6, 2015
$0.99
89% (94%)
46,480 ±6,287
29,801 ±5,034
01:44 (00:34)
24
Season of 12 Colors
Mar 14, 2016
$2.99
89% (94%)
21,572 ±4,283
16,012 ±3,690
02:17 (01:31)
25
Fortix
Apr 14, 2010
$0.99
89% (94%)
121,650 ±10,170
74,057 ±7,935
03:24 (01:33)
26
UTOPIA 9 - A Volatile Vacation
May 5, 2016
$11.99
N/A (N/A)
3,114 ±1,627
2,891 ±1,568
04:08 (05:18)
27
Zero G Arena
Nov 3, 2016
$2.99
89% (94%)
74,947 ±7,983
46,925 ±6,317
00:55 (00:23)
28
Straimium Immortaly
Oct 10, 2016
$8.99
89% (94%)
6,005 ±2,259
4,003 ±1,845
02:48 (01:58)
29
Gryphon Knight Epic
Aug 20, 2015
$9.99
N/A (N/A/55%)
16,902 ±3,791
10,008 ±2,917
03:35 (03:36)
30
Pixel Star
May 22, 2015
$2.99
N/A (N/A)
18,236 ±3,938
13,344 ±3,368
04:07 (03:15)
31
Critical Annihilation
Feb 12, 2016
$9.99
86% (93%)
7,561 ±2,535
6,449 ±2,342
02:12 (01:49)
32
Switchcars
Mar 4, 2016
$8.99
86% (93%)
82,953 ±8,398
21,572 ±4,283
00:55 (00:21)
33
10 Second Ninja
Mar 5, 2014
$9.99
86% (93%/72%)
76,281 ±8,053
49,594 ±6,494
01:47 (00:57)
34
The Cat and the Coup
Jun 15, 2011
Free
86% (93%)
106,972 ±9,537
19,126 ±4,033
00:12 (00:12)
35
Aviary Attorney
Dec 21, 2015
$14.99
86% (93%/77%)
21,795 ±4,305
15,345 ±3,612
03:55 (03:24)
36
Dreaming Sarah
Mar 12, 2015
$5.99
86% (93%)
76,059 ±8,042
46,925 ±6,317
02:55 (02:25)
37
Heroes Rise: HeroFall
Jul 11, 2014
$3.99
86% (93%)
18,236 ±3,938
10,008 ±2,917
04:39 (04:40)
38
Teddy Terror
May 21, 2015
$4.99
N/A (N/A)
7,117 ±2,460
890 ±869
00:23 (00:07)
39
Unmechanical
Aug 8, 2012
$9.99
86% (93%/74%)
85,399 ±8,521
31,802 ±5,200
02:48 (01:47)
40
Bloo Kid 2
Oct 1, 2015
$3.99
N/A (N/A)
71,166 ±7,779
8,006 ±2,609
01:13 (00:29)
41
50 years
Aug 23, 2016
$4.99
86% (93%)
4,893 ±2,039
3,781 ±1,793
02:59 (03:53)
42
LOST ORBIT
May 12, 2015
$11.99
N/A (N/A/72%)
4,152 ±2,345
3,806 ±2,245
01:27 (01:03)
43
6180 the moon
Sep 19, 2014
$3.99
83% (92%)
18,459 ±3,962
14,900 ±3,559
02:24 (01:44)
44
Pizza Express
Jun 25, 2015
$6.99
83% (92%)
19,348 ±4,056
10,675 ±3,013
03:19 (03:58)
45
Titan Attacks!
Feb 3, 2012
$4.39
83% (92%)
139,886 ±10,905
87,623 ±8,631
02:59 (01:30)
46
Who Is Mike - A Visual Novel
Sep 29, 2015
Free
83% (92%)
76,059 ±8,042
16,902 ±3,791
01:08 (00:32)
47
SoulHunt
Dec 23, 2016
$8.99
N/A (N/A)
2,446 ±1,442
2,002 ±1,304
03:47 (02:05)
48
Orborun
Sep 5, 2014
$5.99
N/A (N/A)
167,908 ±11,947
28,244 ±4,901
00:44 (00:09)
49
Glorkian Warrior: The Trials Of Glork
Mar 24, 2015
$3.99
83% (92%)
39,364 ±5,785
28,689 ±4,939
02:53 (03:02)
50
Candle
Nov 11, 2016
$14.99
83% (92%/80%)
4,670 ±1,993
2,669 ±1,506
05:19 (08:28)
51
T.E.C. 3001
Apr 11, 2014
$3.99
83% (92%)
39,141 ±5,769
26,687 ±4,764
02:15 (01:29)
52
Reflection of Mine
Feb 24, 2017
$7.99
N/A (N/A)
8,006 ±2,609
5,560 ±2,174
04:53 (05:09)
53
Straima
Sep 25, 2015
$6.99
N/A (N/A)
4,448 ±1,944
2,224 ±1,375
02:53 (03:47)
54
Lightfish
Oct 19, 2011
$4.99
N/A (N/A)
50,261 ±6,537
22,239 ±4,348
02:09 (00:27)
55
Expand
Sep 30, 2015
$5.99
79% (91%)
55,154 ±6,848
10,897 ±3,044
00:45 (00:14)
56
Pivvot
Jul 14, 2014
$4.99
79% (91%)
18,904 ±4,009
11,564 ±3,136
02:37 (02:22)
57
The Cat Machine
Aug 12, 2015
$9.99
79% (91%)
4,893 ±2,039
4,670 ±1,993
02:52 (02:23)
58
Ultratron
Mar 18, 2013
$9.99
79% (91%)
84,955 ±8,499
56,043 ±6,903
02:53 (01:27)
59
Oh...Sir! Prototype
Dec 21, 2015
Free
79% (91%/64%)
150,783 ±11,322
92,516 ±8,869
00:12 (00:07)
60
Cats are Liquid
Jul 25, 2016
$0.99
79% (91%)
10,897 ±3,044
9,341 ±2,818
01:21 (00:55)
61
The Cursed Forest
Sep 11, 2015
$10.99
79% (91%)
4,448 ±1,944
3,781 ±1,793
01:48 (01:31)
62
Stardust Galaxy Warriors: Stellar Climax
Nov 10, 2015
$9.99
79% (91%)
4,225 ±1,895
3,114 ±1,627
02:44 (04:14)
63
NEON STRUCT
May 20, 2015
$17.99
79% (91%/62%)
47,815 ±6,376
14,456 ±3,506
02:44 (02:21)
64
Moekuri: Adorable + Tactical SRPG
Dec 16, 2016
$11.99
79% (91%)
4,448 ±1,944
4,225 ±1,895
08:31 (01:37)
65
Axes and Acres
Apr 7, 2016
$9.99
N/A (N/A)
8,229 ±2,645
6,005 ±2,259
03:58 (02:44)
66
Polynomial 2 - Universe of the Music
May 31, 2016
$11.99
79% (91%)
5,115 ±2,085
4,225 ±1,895
02:09 (00:50)
67
The Sad Story of Emmeline Burns
Jan 5, 2016
Free
79% (91%)
72,501 ±7,851
21,127 ±4,238
04:30 (00:17)
68
Cosmochoria
Apr 27, 2015
$9.99
79% (91%)
33,359 ±5,326
27,354 ±4,823
05:40 (03:30)
69
GunGirl 2
Sep 1, 2016
Free
N/A (N/A)
20,683 ±4,194
4,225 ±1,895
01:45 (00:26)
70
Another Perspective
Aug 8, 2014
$5.99
79% (91%)
58,490 ±7,052
14,678 ±3,533
00:51 (00:26)
71
Slavistan
Jul 29, 2016
$1.99
79% (91%)
14,900 ±3,559
10,897 ±3,044
00:59 (00:37)
72
Intensive Exposure
Sep 6, 2016
$4.99
75% (90%)
12,009 ±3,195
7,784 ±2,572
02:08 (02:15)
73
Dynamite Jack
May 10, 2012
$9.99
75% (90%)
163,682 ±11,796
59,157 ±7,092
00:58 (00:12)
74
Reign of Bullets
Aug 19, 2015
$9.99
N/A (N/A)
12,454 ±3,254
6,227 ±2,301
03:02 (02:19)
75
Super Splatters
Jun 26, 2013
$9.99
N/A (N/A/73%)
131,213 ±10,562
51,595 ±6,623
02:26 (00:58)
76
Irrational Exuberance: Prologue
Apr 5, 2016
Free
75% (90%)
110,530 ±9,694
56,043 ±6,903
00:19 (00:08)
77
Metro Warp
Aug 5, 2015
$9.99
N/A (N/A)
3,558 ±1,739
1,557 ±1,150
00:18 (00:17)
78
MetaHuman Inc.
Dec 18, 2015
$5.99
75% (90%)
6,894 ±2,421
5,337 ±2,130
04:27 (02:51)
79
Aveyond 4: Shadow Of The Mist
Feb 1, 2016
$14.99
N/A (N/A)
1,557 ±1,150
667 ±753
45:07 (37:40)
80
Robot Legions Reborn
Jul 19, 2016
$0.99
N/A (N/A)
5,337 ±2,130
3,558 ±1,739
02:18 (02:48)
81
Trash TV
Feb 23, 2015
$6.99
N/A (N/A)
23,351 ±4,456
3,114 ±1,627
00:37 (00:26)
82
Luna Sky
Oct 2, 2015
$12.99
N/A (N/A)
24,463 ±4,561
9,563 ±2,851
03:51 (03:41)
83
Mecha Ace
Dec 5, 2014
$5.99
75% (90%)
9,118 ±2,784
6,894 ±2,421
06:32 (05:17)
84
An Octave Higher
Mar 27, 2015
$11.99
75% (90%)
11,342 ±3,105
6,005 ±2,259
04:36 (03:44)
85
That Dragon, Cancer
Jan 11, 2016
$9.99
75% (90%/78%)
40,698 ±5,883
26,465 ±4,744
01:42 (01:37)
86
Stories Untold
Feb 27, 2017
$9.99
75% (90%/82%)
9,563 ±2,851
7,784 ±2,572
15:40 (03:31)
87
Dragon's Wake
Dec 10, 2015
$3.99
75% (90%)
16,457 ±3,741
11,787 ±3,166
04:52 (04:30)
88
XenoRaptor
Jun 16, 2014
$14.99
75% (90%)
6,672 ±2,382
5,782 ±2,217
05:09 (01:51)
89
Impossiball
Sep 28, 2016
$0.99
N/A (N/A)
8,896 ±2,750
7,117 ±2,460
02:21 (02:40)
90
stratO
Jun 1, 2015
$9.99
N/A (N/A)
10,008 ±2,917
6,449 ±2,342
04:36 (04:44)
91
Inside My Radio
May 11, 2015
$14.99
75% (90%/68%)
22,017 ±4,327
10,008 ±2,917
03:29 (03:29)
92
Boogeyman 2
Feb 7, 2017
$7.99
N/A (N/A)
3,336 ±1,684
2,669 ±1,506
00:51 (00:39)
93
Corporate Lifestyle Simulator
Mar 12, 2014
$4.99
72% (89%)
89,402 ±8,718
22,462 ±4,370
00:46 (00:17)
94
Gunman Clive
Jan 3, 2014
$1.99
72% (89%)
55,376 ±6,862
26,465 ±4,744
01:06 (00:24)
95
Ephemerid: A Musical Adventure
Feb 3, 2015
$1.99
72% (89%)
9,785 ±2,884
6,005 ±2,259
02:04 (01:37)
96
The Misadventures of P.B. Winterbottom
Apr 20, 2010
$4.99
72% (89%/79%)
165,684 ±11,868
102,524 ±9,336
01:43 (00:34)
97
We Know the Devil
Feb 15, 2016
$7.99
72% (89%)
6,672 ±2,382
4,448 ±1,944
01:34 (01:45)
98
Dead End Road
Jul 8, 2016
$2.99
72% (89%)
5,115 ±2,085
3,558 ±1,739
01:16 (00:48)
99
Great Permutator
Sep 15, 2014
$6.99
N/A (N/A)
34,916 ±5,449
18,236 ±3,938
02:31 (02:27)
100
Procyon
Feb 26, 2014
$3.99
72% (89%)
20,238 ±4,148
12,676 ±3,283
02:52 (02:51)
101
Gigachess
Dec 15, 2015
$3.99
N/A (N/A)
4,893 ±2,039
3,558 ±1,739
02:27 (02:18)
102
Proto Raider
Aug 28, 2015
$0.99
69% (88%)
23,129 ±4,435
3,114 ±1,627
01:23 (01:13)
103
Super Island God VR
Nov 14, 2016
$19.99
N/A (N/A)
3,336 ±1,684
2,446 ±1,442
00:44 (00:27)
104
Champion of the Gods
Jul 17, 2015
$5.99
69% (88%)
9,341 ±2,818
8,229 ±2,645
05:57 (04:48)
105
Eets Munchies
Mar 11, 2014
$6.99
N/A (N/A)
532,634 ±21,269
200,377 ±13,051
01:53 (00:50)
106
RETSNOM
Jul 23, 2015
$4.99
N/A (N/A)
10,675 ±3,013
6,894 ±2,421
03:37 (04:10)
107
Jones On Fire
Mar 27, 2015
$2.99
N/A (N/A)
112,087 ±9,762
20,015 ±4,125
02:47 (01:45)
108
Tomb of Tyrants
Jun 25, 2015
$7.99
69% (88%)
21,350 ±4,261
16,457 ±3,741
04:21 (03:07)
109
Motte Island
Apr 7, 2014
$4.99
N/A (N/A)
22,684 ±4,392
4,003 ±1,845
02:01 (00:47)
110
Probability 0
Jun 12, 2014
$6.99
N/A (N/A)
19,571 ±4,079
7,117 ±2,460
00:38 (00:15)
111
Abomination Tower
Feb 13, 2015
$4.99
N/A (N/A)
5,115 ±2,085
4,003 ±1,845
03:23 (02:38)
112
Porcunipine
May 21, 2015
$9.99
N/A (N/A)
18,904 ±4,009
9,341 ±2,818
04:25 (03:13)
113
Lucid Trips
Jan 12, 2017
$7.99
N/A (N/A)
3,336 ±1,684
2,891 ±1,568
01:38 (01:36)
114
Reveal The Deep
Dec 4, 2015
$0.99
69% (88%)
90,514 ±8,772
51,595 ±6,623
00:38 (00:18)
115
Jack Lumber
Apr 30, 2013
$4.99
N/A (N/A)
161,681 ±11,724
55,599 ±6,876
01:40 (00:42)
116
Super Indie Karts
May 6, 2015
$9.99
69% (88%)
4,003 ±1,845
3,336 ±1,684
00:47 (00:51)
117
Retro/Grade
Mar 20, 2013
$9.99
69% (88%)
91,626 ±8,826
49,594 ±6,494
02:30 (01:49)
118
Empire of the Gods
Jan 27, 2016
$1.99
N/A (N/A)
12,009 ±3,195
8,451 ±2,680
02:55 (03:21)
119
Phoenix Force
Nov 13, 2014
$4.99
69% (88%)
68,053 ±7,607
49,149 ±6,465
03:19 (02:39)
120
Indie Game Battle
Oct 29, 2015
$9.99
N/A (N/A)
82,508 ±8,376
7,561 ±2,535
00:40 (00:08)
121
Luxuria Superbia
Jan 28, 2014
$6.99
66% (87%)
48,482 ±6,420
11,120 ±3,075
00:47 (00:15)
122
Kromaia
Oct 23, 2014
$19.99
N/A (N/A/68%)
22,017 ±4,327
9,341 ±2,818
02:27 (02:05)
123
Forget Me Not: My Organic Garden
Aug 21, 2015
$9.99
66% (87%)
13,344 ±3,368
9,118 ±2,784
08:41 (05:00)
124
Ballpoint Universe - Infinite
Dec 17, 2013
$3.99
66% (87%)
133,437 ±10,651
77,393 ±8,112
03:12 (02:06)
125
Horizon Shift
May 29, 2015
$4.99
N/A (N/A)
119,870 ±10,095
70,499 ±7,742
03:13 (03:11)
126
Cosmophony
Jul 9, 2015
$4.99
66% (87%)
10,897 ±3,044
7,117 ±2,460
03:32 (03:21)
127
Shoot 1UP
Sep 23, 2015
$3.99
N/A (N/A)
8,451 ±2,680
5,560 ±2,174
02:51 (02:35)
128
Captain Forever Remix
Jun 3, 2016
$14.99
66% (87%)
20,683 ±4,194
18,904 ±4,009
06:31 (03:08)
129
Frederic: Resurrection of Music
May 16, 2014
$2.99
63% (86%)
120,982 ±10,142
71,611 ±7,803
03:37 (03:07)
130
Spellsworn
Nov 2, 2015
$9.99
63% (86%)
12,009 ±3,195
6,005 ±2,259
03:47 (03:44)
131
Judgment: Apocalypse Survival Simulation
Apr 11, 2016
$14.99
63% (86%)
18,904 ±4,009
17,792 ±3,889
13:16 (08:01)
132
Ms. Splosion Man
Apr 3, 2013
$9.99
63% (86%)
64,272 ±7,392
23,129 ±4,435
02:51 (01:13)
133
OPUS: The Day We Found Earth
Apr 22, 2016
$8.99
63% (86%)
7,339 ±2,498
6,672 ±2,382
02:40 (02:28)
134
CyberThreat
Aug 18, 2016
$19.99
63% (86%)
2,446 ±1,442
2,002 ±1,304
00:36 (00:37)
135
Chariot
Nov 12, 2014
$14.99
63% (86%/76%)
52,707 ±6,694
29,134 ±4,977
02:58 (02:00)
136
CHKN
Apr 1, 2016
$14.99
63% (86%)
19,348 ±4,056
18,904 ±4,009
10:44 (03:41)
137
Blaite
Jan 2, 2017
$0.99
N/A (N/A)
11,564 ±3,136
9,118 ±2,784
06:34 (03:17)
138
Slip
Apr 28, 2014
$3.99
60% (85%)
20,460 ±4,171
6,005 ±2,259
00:49 (01:03)
139
It came from space, and ate our brains
Mar 19, 2015
$9.99
60% (85%)
91,849 ±8,837
47,370 ±6,346
04:18 (03:50)
140
Knytt Underground
Oct 25, 2013
$6.99
60% (85%)
75,614 ±8,018
34,249 ±5,396
03:15 (01:05)
141
Reflections
Jun 26, 2015
$9.99
N/A (N/A)
16,235 ±3,715
2,891 ±1,568
01:27 (01:03)
142
The Purring Quest
Nov 12, 2015
$9.99
60% (85%)
29,578 ±5,015
16,457 ±3,741
04:01 (02:13)
143
Pineapple Smash Crew
Feb 2, 2012
$9.99
60% (85%/62%)
23,129 ±4,435
13,788 ±3,424
01:46 (01:28)
144
Hyperspace Invaders II: Pixel Edition
Sep 4, 2015
$4.99
60% (85%)
36,250 ±5,552
16,012 ±3,690
00:26 (00:14)
145
Ballad of Solar
May 22, 2014
$6.99
60% (85%)
10,897 ±3,044
7,784 ±2,572
05:18 (04:02)
146
Clandestinity of Elsie
Jul 8, 2015
$4.99
N/A (N/A)
20,683 ±4,194
14,011 ±3,451
04:20 (03:30)
147
Element4l
May 24, 2013
$8.99
60% (85%/77%)
98,298 ±9,142
58,490 ±7,052
02:08 (01:11)
148
Pof
Nov 8, 2013
$6.99
N/A (N/A)
40,698 ±5,883
22,462 ±4,370
02:10 (01:06)
149
Chicku
May 5, 2016
$4.99
N/A (N/A)
2,891 ±1,568
2,002 ±1,304
02:16 (03:28)
150
Cargo Commander
Nov 1, 2012
$9.99
57% (84%)
143,222 ±11,034
95,852 ±9,027
03:31 (01:25)
151
Full Bore
May 6, 2014
$14.99
N/A (N/A/72%)
62,048 ±7,263
24,019 ±4,519
02:54 (01:49)
152
Super Arcade Football
Apr 4, 2016
$9.99
57% (84%)
3,558 ±1,739
3,114 ±1,627
01:07 (00:50)
153
BIT.TRIP BEAT
Nov 2, 2010
$9.99
55% (83%)
325,363 ±16,628
231,735 ±14,034
01:58 (00:48)
154
Road Not Taken
Aug 5, 2014
$14.99
55% (83%/75%)
60,269 ±7,158
36,028 ±5,535
03:59 (01:55)
155
Madballs in Babo:Invasion
Sep 17, 2009
$4.99
55% (83%/79%)
98,076 ±9,131
72,278 ±7,839
06:14 (02:02)
156
A Walk in the Dark
Nov 7, 2013
$6.99
55% (83%/67%)
25,131 ±4,623
14,678 ±3,533
02:26 (01:05)
157
Millie
Apr 18, 2014
$3.99
55% (83%)
133,659 ±10,660
81,396 ±8,319
03:22 (02:58)
158
Grimoire: Manastorm
Feb 4, 2015
$9.99
55% (83%)
208,828 ±13,323
106,082 ±9,497
02:36 (02:50)
159
Three Fourths Home: Extended Edition
Mar 20, 2015
$4.99
N/A (N/A/77%)
24,686 ±4,581
14,456 ±3,506
02:47 (02:55)
160
Labyrinthine Dreams
May 26, 2015
$1.99
55% (83%)
88,513 ±8,675
25,131 ±4,623
02:42 (02:23)
161
The Promised Land
Apr 25, 2014
$6.99
55% (83%)
20,238 ±4,148
15,568 ±3,638
07:46 (04:58)
162
DubWars
Jul 19, 2016
$9.99
55% (83%)
14,678 ±3,533
6,894 ±2,421
01:12 (00:55)
163
Gimbal
Nov 19, 2013
$14.99
55% (83%)
30,690 ±5,108
10,008 ±2,917
06:33 (01:15)
164
Four Sided Fantasy
Aug 30, 2016
$9.99
N/A (N/A)
4,448 ±1,944
2,891 ±1,568
01:03 (01:04)
165
Swarm Arena
Aug 19, 2010
$4.99
N/A (N/A)
33,359 ±5,326
24,019 ±4,519
01:40 (00:26)
166
Instant Dungeon!
Nov 25, 2014
$1.99
55% (83%)
14,233 ±3,479
12,009 ±3,195
01:30 (01:03)
167
Munin
Jun 10, 2014
$9.99
55% (83%/68%)
68,053 ±7,607
28,466 ±4,920
03:10 (02:16)
168
Echo of the Wilds
Jun 10, 2014
$8.99
55% (83%)
29,134 ±4,977
20,238 ±4,148
04:06 (02:12)
169
AaaaaAAaaaAAAaaAAAAaAAAAA!!! for the Awesome
Nov 23, 2011
$9.99
55% (83%)
274,657 ±15,278
141,220 ±10,957
00:57 (00:16)
170
Don't Shoot Yourself!
Apr 10, 2015
$4.99
N/A (N/A)
2,224 ±1,375
2,002 ±1,304
01:37 (01:40)
171
Luckslinger
Jul 16, 2015
$9.99
52% (82%/76%)
13,344 ±3,368
5,560 ±2,174
02:26 (01:03)
172
Space Moth DX
Jan 22, 2016
$4.99
N/A (N/A)
18,459 ±3,962
10,008 ±2,917
02:18 (02:51)
173
The Sun and Moon
Nov 14, 2014
$6.99
52% (82%)
34,471 ±5,414
10,008 ±2,917
01:14 (00:37)
174
OlliOlli
Jul 22, 2014
$12.99
52% (82%/78%)
191,259 ±12,750
98,076 ±9,131
01:33 (00:28)
175
Actual Sunlight
Apr 3, 2014
$4.99
52% (82%/77%)
10,008 ±2,917
6,672 ±2,382
01:22 (01:18)
176
Bloody Streets
Mar 12, 2015
$4.99
N/A (N/A)
13,788 ±3,424
7,561 ±2,535
01:59 (01:37)
177
Jet Set Knights
Apr 7, 2016
$9.99
N/A (N/A)
3,336 ±1,684
2,669 ±1,506
01:27 (01:51)
178
12 orbits
Oct 24, 2016
$1.99
52% (82%)
11,564 ±3,136
8,006 ±2,609
01:57 (01:30)
179
NaissanceE
Feb 13, 2014
$14.99
52% (82%/66%)
72,501 ±7,851
32,247 ±5,236
02:36 (00:50)
180
Where is my Heart?
May 29, 2014
$7.99
N/A (N/A/74%)
48,704 ±6,435
11,564 ±3,136
01:05 (00:31)
181
The Maw
Mar 9, 2009
$9.99
50% (81%/75%)
59,157 ±7,092
32,692 ±5,272
02:49 (01:10)
182
Electronic Super Joy: Groove City
Jun 6, 2014
$4.99
50% (81%)
88,513 ±8,675
37,585 ±5,653
00:58 (00:34)
183
Shmadow
Nov 3, 2015
$1.99
50% (81%)
33,582 ±5,344
23,796 ±4,498
03:37 (03:23)
184
Master Spy
Sep 8, 2015
$9.99
50% (81%/68%)
15,123 ±3,586
6,449 ±2,342
01:55 (01:51)
185
Treeker: The Lost Glasses
May 13, 2015
$3.99
N/A (N/A)
14,456 ±3,506
8,673 ±2,715
03:17 (03:04)
186
Nefarious
Jan 23, 2017
$14.99
50% (81%/67%)
4,448 ±1,944
3,781 ±1,793
02:32 (02:40)
187
Amphora
Nov 12, 2014
$13.99
50% (81%)
4,225 ±1,895
2,446 ±1,442
01:55 (01:58)
188
SMASH+GRAB
Sep 27, 2016
Free
50% (81%)
12,676 ±3,283
12,232 ±3,225
07:44 (03:45)
189
Retro Game Crunch
May 19, 2014
$9.99
50% (81%)
140,553 ±10,931
23,796 ±4,498
01:10 (00:29)
190
Tavern Tycoon - Dragon's Hangover
Jan 31, 2017
$10.99
50% (81%)
9,563 ±2,851
8,896 ±2,750
04:02 (02:34)
191
Glitchspace
May 5, 2016
$12.99
50% (81%)
17,569 ±3,865
12,009 ±3,195
01:19 (00:54)
192
Life of Pixel
Oct 22, 2014
$6.99
50% (81%)
24,908 ±4,602
14,900 ±3,559
02:49 (01:39)
193
DROD RPG: Tendry's Tale
Feb 12, 2016
$5.99
N/A (N/A)
3,336 ±1,684
667 ±753
00:26 (00:26)
194
NEO AQUARIUM - The King of Crustaceans -
Jun 8, 2015
$8.99
48% (80%)
29,356 ±4,996
12,009 ±3,195
03:16 (02:49)
195
Cherry Tree High I! My! Girls!
Nov 20, 2014
$3.99
48% (80%)
62,270 ±7,276
21,795 ±4,305
02:42 (02:17)
196
Fancy Skulls
Jun 16, 2014
$8.99
48% (80%)
44,256 ±6,134
21,795 ±4,305
06:14 (03:04)
197
Mysterious Space
May 15, 2015
$10
N/A (N/A)
9,785 ±2,884
5,115 ±2,085
04:04 (04:43)
198
iZBOT
Sep 1, 2015
$9.99
48% (80%)
8,006 ±2,609
3,781 ±1,793
03:35 (03:40)
199
Morphine
Oct 28, 2015
$2.99
48% (80%)
24,686 ±4,581
12,676 ±3,283
02:16 (02:14)
200
Scrap Garden
May 6, 2016
$9.99
N/A (N/A/58%)
10,008 ±2,917
4,670 ±1,993
03:33 (03:16)
201
Solar Flux
Oct 24, 2013
$9.99
48% (80%)
127,432 ±10,408
74,057 ±7,935
03:09 (02:32)
202
Imagine Earth
May 20, 2014
$19.99
48% (80%)
12,676 ±3,283
11,564 ±3,136
08:16 (02:21)
203
Mega Coin Squad
Aug 15, 2014
$14.99
N/A (N/A/56%)
9,118 ±2,784
5,337 ±2,130
02:36 (00:52)
204
Tiny Brains
Dec 11, 2013
$9.99
45% (79%)
60,936 ±7,198
35,361 ±5,483
01:49 (01:31)
205
Block'hood
Mar 9, 2016
$9.99
45% (79%)
34,693 ±5,431
30,246 ±5,071
03:17 (00:58)
206
Frederic: Resurrection of Music Director's Cut
Apr 21, 2016
$5.99
45% (79%)
44,701 ±6,165
26,020 ±4,704
03:26 (02:59)
207
Snapshot
Aug 30, 2012
$9.99
N/A (N/A/74%)
312,909 ±16,307
105,415 ±9,467
00:58 (00:23)
208
Polyball
Jun 4, 2015
$14.99
N/A (N/A)
10,230 ±2,949
7,561 ±2,535
03:12 (03:00)
209
Steel Storm: Burning Retribution
May 11, 2011
$14.99
45% (79%/55%)
381,628 ±18,007
161,681 ±11,724
02:13 (00:36)
210
Journal
Feb 17, 2014
$9.99
45% (79%/59%)
16,902 ±3,791
11,787 ±3,166
02:09 (02:05)
211
Sugar Cube: Bittersweet Factory
Nov 7, 2012
$6.99
45% (79%)
52,040 ±6,652
32,914 ±5,290
02:17 (01:38)
212
The Polynomial - Space of the music
Oct 15, 2010
$6.99
43% (78%)
153,674 ±11,430
125,208 ±10,317
00:43 (00:15)
213
Finders
Apr 9, 2015
$5.99
43% (78%)
4,448 ±1,944
3,781 ±1,793
10:37 (13:06)
214
Leadwerks Game Launcher
Aug 24, 2015
Free
N/A (N/A)
70,721 ±7,754
14,456 ±3,506
00:24 (00:02)
215
Back to Bed
Aug 6, 2014
$5.99
43% (78%/57%)
133,659 ±10,660
58,490 ±7,052
02:33 (01:44)
216
ReignMaker
Apr 16, 2014
$14.99
N/A (N/A)
58,045 ±7,025
26,020 ±4,704
03:46 (01:47)
217
Home is Where One Starts...
May 12, 2015
$2.99
43% (78%)
22,907 ±4,413
13,344 ±3,368
02:30 (02:43)
218
Void Raiders
Jun 14, 2016
$4.99
N/A (N/A)
3,336 ±1,684
3,114 ±1,627
04:10 (02:56)
219
ChargeShot
Sep 18, 2015
$9.99
N/A (N/A)
18,236 ±3,938
11,120 ±3,075
04:21 (03:46)
220
Dyad
Apr 24, 2013
$14.99
43% (78%/80%)
34,026 ±5,379
20,905 ±4,216
00:29 (00:17)
221
MOAI: Build Your Dream
Feb 26, 2015
$6.99
43% (78%)
10,453 ±2,981
8,673 ±2,715
08:03 (05:17)
222
Miner Warfare
Jun 11, 2015
$2.99
43% (78%)
12,232 ±3,225
8,229 ±2,645
01:52 (01:53)
223
Incredipede
Mar 18, 2013
$9.99
43% (78%/74%)
167,685 ±11,939
59,157 ±7,092
01:07 (00:29)
224
Unfortunate Spacemen
May 6, 2016
$14.99
41% (77%)
3,781 ±1,793
2,891 ±1,568
06:36 (08:30)
225
Proxy Blade Zero
Jul 28, 2014
$4.99
41% (77%)
22,239 ±4,348
7,784 ±2,572
01:06 (00:29)
226
ROOT
Nov 16, 2015
$9.99
N/A (N/A)
4,225 ±1,895
2,446 ±1,442
01:21 (02:21)
227
Potato Thriller
Jun 22, 2016
$2.99
41% (77%)
5,115 ±2,085
1,557 ±1,150
01:34 (02:10)
228
The Path
Mar 18, 2009
$9.99
41% (77%/79%)
127,654 ±10,418
79,840 ±8,239
02:44 (01:20)
229
Dead In Bermuda
Aug 27, 2015
$14.99
41% (77%)
27,799 ±4,862
19,793 ±4,102
05:51 (04:09)
230
BIT.TRIP VOID
Dec 19, 2012
$9.99
41% (77%)
51,151 ±6,595
26,243 ±4,724
01:40 (00:54)
231
Chronicles of a Dark Lord: Episode 1 Tides of Fate Complete
Dec 19, 2014
$1.99
N/A (N/A)
44,034 ±6,119
23,796 ±4,498
03:32 (03:21)
232
Starseed Pilgrim
Apr 16, 2013
$5.99
39% (76%/83%)
303,790 ±16,067
92,961 ±8,890
01:06 (00:10)
233
Child Phobia: Nightcoming Fears
Dec 20, 2016
$1.99
N/A (N/A)
6,005 ±2,259
4,893 ±2,039
02:56 (03:23)
234
Rogue Wizards
Sep 27, 2016
$14.99
39% (76%/67%)
6,672 ±2,382
5,782 ±2,217
11:55 (08:06)
235
The Hurricane of the Varstray -Collateral hazard-
Dec 21, 2015
$9.99
39% (76%)
4,448 ±1,944
2,669 ±1,506
00:31 (00:29)
236
Kings under the hill
Feb 1, 2017
$0.99
N/A (N/A)
16,012 ±3,690
15,568 ±3,638
03:18 (03:30)
237
Cavern Kings
Sep 30, 2014
$9.99
39% (76%)
10,453 ±2,981
9,563 ±2,851
14:35 (05:00)
238
StarsOne
Apr 8, 2016
$9.99
39% (76%)
7,339 ±2,498
6,894 ±2,421
11:00 (04:48)
239
1000 Amps
Feb 22, 2012
$4.99
39% (76%)
41,143 ±5,915
21,795 ±4,305
01:32 (00:37)
240
XenoShyft
Mar 29, 2016
$9.99
N/A (N/A)
2,669 ±1,506
2,446 ±1,442
05:13 (03:21)
241
Steno Arcade
Mar 30, 2016
Free
39% (76%)
64,494 ±7,405
27,799 ±4,862
00:07 (00:02)
242
Broken Bots
Jun 8, 2016
$6.99
N/A (N/A)
9,118 ±2,784
6,005 ±2,259
03:03 (03:14)
243
Legend of Numbers
Jun 2, 2016
Free
37% (75%)
42,700 ±6,025
8,896 ±2,750
10:51 (00:23)
244
Cube & Star: An Arbitrary Love
Feb 14, 2014
$4.99
N/A (N/A)
33,359 ±5,326
9,341 ±2,818
01:54 (00:29)
245
Albino Lullaby: Episode 1
Sep 14, 2015
$9.99
37% (75%)
20,683 ±4,194
13,121 ±3,340
02:26 (02:14)
246
Disorder
Jan 12, 2015
$3.99
37% (75%/61%)
13,121 ±3,340
6,894 ±2,421
02:57 (02:32)
247
Can't Drive This
Sep 25, 2016
$9.99
37% (75%)
8,451 ±2,680
7,117 ±2,460
00:55 (00:34)
248
Trauma
Aug 8, 2011
$6.99
37% (75%/62%)
250,416 ±14,589
101,634 ±9,296
00:36 (00:15)
249
PRiO
Mar 18, 2016
$5.99
N/A (N/A)
6,894 ±2,421
1,334 ±1,065
03:16 (06:27)
250
BRAWL
Aug 13, 2015
$14.99
N/A (N/A)
16,680 ±3,766
12,009 ±3,195
04:47 (03:52)
251
Macabre
Jul 6, 2015
$0.99
N/A (N/A)
10,008 ±2,917
5,782 ±2,217
06:55 (06:38)
252
You Deserve
Aug 19, 2016
$0.99
37% (75%)
11,787 ±3,166
6,449 ±2,342
02:58 (02:17)
253
ULTRAWORLD EXODUS
Dec 4, 2014
Free
N/A (N/A)
12,232 ±3,225
1,334 ±1,065
00:36 (00:19)
254
Elegy for a Dead World
Dec 10, 2014
$14.99
37% (75%)
109,640 ±9,655
27,132 ±4,803
00:38 (00:17)
255
Gun Rocket
Aug 7, 2015
Free
37% (75%)
239,074 ±14,255
154,564 ±11,463
04:11 (03:30)
256
Royal Heroes
Mar 16, 2016
$4.99
37% (75%)
8,451 ±2,680
6,005 ±2,259
27:26 (09:41)
257
Scraps: Modular Vehicle Combat
Jul 7, 2015
$14.99
37% (75%)
4,225 ±1,895
3,336 ±1,684
964:05 (07:07)
258
Alice's Mom's Rescue
Sep 3, 2015
$2.99
N/A (N/A)
7,784 ±2,572
1,334 ±1,065
01:05 (02:04)
259
Pid
Oct 31, 2012
$9.99
35% (74%/63%)
644,276 ±23,389
274,657 ±15,278
01:30 (00:28)
260
Dr.Green
Jan 2, 2015
$2.99
N/A (N/A)
2,891 ±1,568
1,557 ±1,150
00:16 (00:20)
261
Noct
Oct 21, 2015
$9.99
35% (74%)
69,165 ±7,669
25,575 ±4,663
00:46 (00:23)
262
Altitude0: Lower & Faster
Sep 2014
$18.99
N/A (N/A)
3,558 ±1,739
2,669 ±1,506
06:04 (05:41)
263
Filthy Lucre
Dec 11, 2016
$7.79
N/A (N/A)
2,224 ±1,375
2,002 ±1,304
04:31 (01:28)
264
Yatagarasu Attack on Cataclysm
Jul 7, 2015
$14.99
34% (73%)
17,569 ±3,865
15,790 ±3,664
03:09 (01:15)
265
Warring States
Oct 6, 2014
$19.99
N/A (N/A)
10,453 ±2,981
4,448 ±1,944
03:17 (02:08)
266
The Adventures of Mr. Bobley
Jul 1, 2015
$3.99
32% (72%)
54,931 ±6,834
41,810 ±5,962
03:14 (03:28)
267
Bass Blocks
Sep 15, 2015
$4.99
N/A (N/A)
1,557 ±1,150
667 ±753
00:15 (00:10)
268
Dawn of Andromeda
Dec 1, 2016
$24.99
32% (72%)
5,782 ±2,217
4,670 ±1,993
02:54 (01:26)
269
Baezult
Aug 3, 2016
Free
N/A (N/A)
25,575 ±4,663
2,446 ±1,442
00:24 (00:22)
270
Rhythm Destruction
Jun 16, 2014
$4.99
N/A (N/A)
53,375 ±6,737
33,359 ±5,326
02:30 (01:55)
271
Artillerists
Jan 2, 2017
$3.99
32% (72%)
4,448 ±1,944
3,781 ±1,793
06:47 (07:51)
272
Bob Came in Pieces
Jan 22, 2010
$6.99
32% (72%/73%)
68,053 ±7,607
44,924 ±6,180
01:26 (00:32)
273
One More Line
Aug 28, 2015
$2.99
32% (72%)
10,008 ±2,917
5,782 ±2,217
02:23 (02:43)
274
Concursion
Jun 6, 2014
$4.99
N/A (N/A/66%)
24,463 ±4,561
10,897 ±3,044
02:54 (01:52)
275
Power-Up
Aug 29, 2014
$2.99
N/A (N/A)
99,410 ±9,193
57,378 ±6,985
05:12 (05:18)
276
Heavy Gear Assault
Feb 10, 2017
$39.99
N/A (N/A)
26,020 ±4,704
19,348 ±4,056
03:10 (03:08)
277
Dwelvers
Sep 11, 2014
$19.99
30% (71%)
13,121 ±3,340
9,118 ±2,784
18:29 (01:47)
278
Fortify
Apr 8, 2016
$4.99
30% (71%)
4,670 ±1,993
4,003 ±1,845
03:27 (01:16)
279
Drifter
Mar 4, 2014
$11.99
30% (71%)
13,788 ±3,424
10,675 ±3,013
03:35 (00:46)
280
Space Warp
Nov 4, 2014
$4.99
N/A (N/A)
16,902 ±3,791
3,558 ±1,739
00:46 (00:26)
281
Battle for Blood - Epic battles within 30 seconds!
Jul 8, 2015
Free
30% (71%)
167,018 ±11,915
87,401 ±8,620
02:42 (00:39)
282
All Zombies Must Die!: Scorepocalypse
Apr 19, 2012
$4.99
N/A (N/A)
33,582 ±5,344
13,566 ±3,396
01:18 (00:41)
283
Alchemist's Awakening
Mar 21, 2016
$15.99
30% (71%)
4,893 ±2,039
4,448 ±1,944
04:45 (06:26)
284
Deer Man
Apr 15, 2016
$1.99
30% (71%)
4,448 ±1,944
3,558 ±1,739
00:26 (00:32)
285
Project AURA
Jan 5, 2015
$19.99
29% (70%)
17,569 ±3,865
16,012 ±3,690
22:01 (03:58)
286
Orion Trail
Oct 12, 2015
$7.99
29% (70%)
7,784 ±2,572
6,227 ±2,301
02:51 (01:26)
287
Karmaflow: The Rock Opera Videogame - Act I & Act II
May 6, 2015
$4.99
29% (70%/47%)
24,241 ±4,540
4,448 ±1,944
02:25 (01:21)
288
Tulpa
Jan 29, 2015
$9.99
N/A (N/A)
40,476 ±5,866
18,014 ±3,914
03:03 (03:31)
289
Bad Bots
May 17, 2013
$4.99
29% (70%/49%)
29,134 ±4,977
10,453 ±2,981
01:04 (00:32)
290
House of Caravan
Apr 16, 2015
Free
29% (70%)
117,424 ±9,992
78,060 ±8,147
03:18 (03:13)
291
Big Action Mega Fight!
Jan 12, 2016
$4.99
N/A (N/A)
14,456 ±3,506
9,341 ±2,818
04:00 (04:11)
292
Tomato Way
Dec 7, 2016
$5.99
N/A (N/A)
10,897 ±3,044
8,673 ±2,715
03:08 (03:13)
293
FaeVerse Alchemy
Apr 2, 2014
Free
27% (69%)
109,196 ±9,635
59,824 ±7,132
08:09 (07:37)
294
Pay2Win: The Tricks Exposed
Dec 15, 2015
$4.99
N/A (N/A)
10,453 ±2,981
1,334 ±1,065
00:51 (01:18)
295
Rencounter
Nov 4, 2016
$5.99
26% (68%)
6,672 ±2,382
4,003 ±1,845
04:53 (03:49)
296
Survivor Squad
Jan 21, 2015
$2.99
26% (68%)
149,671 ±11,280
101,412 ±9,285
03:18 (01:42)
297
Unforgiven VR
Feb 23, 2017
$9.99
N/A (N/A)
3,336 ±1,684
1,112 ±972
00:32 (00:31)
298
Orbit HD
Mar 18, 2015
$0.99
26% (68%)
27,354 ±4,823
17,347 ±3,840
02:42 (01:28)
299
Three Dead Zed
Jul 7, 2014
$5.99
N/A (N/A)
58,712 ±7,065
17,569 ±3,865
03:07 (02:42)
300
Redactem
Aug 1, 2016
$0.99
N/A (N/A)
98,521 ±9,152
8,451 ±2,680
02:02 (00:18)
301
Anoxemia
Jan 16, 2015
$3.99
N/A (N/A)
132,992 ±10,633
86,956 ±8,598
04:44 (04:25)
302
Volt
Apr 14, 2014
$1.99
26% (68%)
60,046 ±7,145
36,028 ±5,535
03:05 (01:47)
303
Gentlemen!
Nov 5, 2013
$4.99
N/A (N/A)
41,143 ±5,915
24,241 ±4,540
02:11 (01:03)
304
Astray
Feb 3, 2015
$6.99
25% (67%)
14,233 ±3,479
5,560 ±2,174
02:53 (01:48)
305
Omegalodon
Sep 20, 2013
$9.99
25% (67%)
26,910 ±4,783
14,233 ±3,479
02:36 (01:21)
306
CrazyCars3D
Jun 14, 2016
$2.99
25% (67%)
32,025 ±5,218
28,244 ±4,901
03:22 (03:30)
307
Sky Mercenaries
Dec 16, 2014
$9.99
N/A (N/A)
27,799 ±4,862
19,126 ±4,033
03:27 (02:59)
308
Showdown Adventure
Sep 23, 2016
$2.99
N/A (N/A)
10,897 ±3,044
7,339 ±2,498
02:39 (02:59)
309
A Fistful of Gun
Sep 23, 2015
$12.99
25% (67%/60%)
135,883 ±10,748
59,824 ±7,132
02:26 (00:59)
310
Amigdala
Mar 28, 2016
$5.99
N/A (N/A)
23,351 ±4,456
19,348 ±4,056
03:33 (03:37)
311
Amazing Princess Sarah
Aug 18, 2014
$4.99
23% (66%)
8,896 ±2,750
7,117 ±2,460
02:42 (01:27)
312
Signal Ops
Nov 18, 2013
$9.99
23% (66%/61%)
8,451 ±2,680
5,115 ±2,085
00:39 (00:39)
313
Rush Bros.
May 24, 2013
$9.99
23% (66%)
177,693 ±12,290
127,209 ±10,399
02:04 (01:21)
314
Astro Tripper
Sep 15, 2011
$4.99
N/A (N/A)
32,692 ±5,272
10,230 ±2,949
00:57 (00:10)
315
Mutant Storm: Reloaded
Mar 21, 2012
$4.99
N/A (N/A)
24,019 ±4,519
5,337 ±2,130
00:49 (00:27)
316
Montague's Mount
Nov 19, 2013
$9.99
22% (65%/39%)
75,169 ±7,994
31,358 ±5,164
03:19 (02:04)
317
Snooker Nation Championship
Apr 27, 2016
$4.99
22% (65%)
8,896 ±2,750
5,115 ±2,085
06:08 (05:48)
318
RIP - Trilogy
Jun 1, 2007
$4.99
22% (65%)
150,783 ±11,322
23,574 ±4,477
01:31 (00:23)
319
Humans Must Answer
Jan 16, 2014
$5.99
N/A (N/A/55%)
12,232 ±3,225
4,893 ±2,039
01:10 (00:31)
320
Crest
Apr 23, 2015
$10.99
N/A (N/A)
4,003 ±1,845
3,781 ±1,793
01:32 (02:06)
321
Herolike
Sep 28, 2016
$7.99
N/A (N/A)
5,115 ±2,085
2,891 ±1,568
02:23 (03:03)
322
Curses 'N Chaos
Aug 18, 2015
$9.99
N/A (N/A)
53,597 ±6,751
12,009 ±3,195
02:22 (01:45)
323
A City Sleeps
Oct 16, 2014
$9.99
N/A (N/A)
20,683 ±4,194
8,451 ±2,680
02:56 (02:01)
324
Farlight Explorers
Mar 11, 2015
$14.99
21% (64%)
5,560 ±2,174
5,115 ±2,085
04:20 (03:10)
325
Zack Zero
Apr 29, 2013
$2.99
21% (64%)
82,731 ±8,387
45,368 ±6,211
02:49 (00:56)
326
Painters Guild
Sep 1, 2015
$9.99
21% (64%)
14,456 ±3,506
10,453 ±2,981
03:11 (02:39)
327
Samphi
Mar 18, 2016
$4.99
N/A (N/A)
4,003 ±1,845
2,891 ±1,568
03:18 (03:47)
328
Oscura: Lost Light
Feb 24, 2015
$6.99
N/A (N/A/66%)
34,026 ±5,379
12,899 ±3,312
02:19 (01:04)
329
Ukrainian Ninja
Dec 23, 2014
$1.99
N/A (N/A)
12,009 ±3,195
10,230 ±2,949
03:31 (02:26)
330
CURSE
Sep 2, 2016
$3.49
N/A (N/A)
8,229 ±2,645
1,112 ±972
00:48 (01:13)
331
Crypt of the Serpent King
Dec 27, 2016
$1.99
N/A (N/A)
1,334 ±1,065
1,112 ±972
07:45 (06:39)
332
Furfly
Dec 18, 2015
$0.99
N/A (N/A)
4,670 ±1,993
445 ±615
02:31 (01:25)
333
Amulet of Dreams
Jun 3, 2016
$6.99
20% (63%)
6,227 ±2,301
4,225 ±1,895
05:45 (05:34)
334
BoomTown! Deluxe
Oct 14, 2016
$4.99
N/A (N/A)
15,568 ±3,638
2,224 ±1,375
01:05 (02:50)
335
Party of Sin
Dec 13, 2012
$9.99
N/A (N/A)
90,514 ±8,772
48,260 ±6,406
02:42 (01:38)
336
Hacker's Beat
Sep 25, 2015
$9.99
N/A (N/A)
2,891 ±1,568
2,002 ±1,304
07:18 (19:36)
337
Starship Corporation
Apr 29, 2016
$19.99
19% (62%)
8,229 ±2,645
7,117 ±2,460
07:17 (03:45)
338
Sky Nations
Jul 17, 2014
$13.99
19% (62%)
4,448 ±1,944
3,336 ±1,684
22:18 (01:54)
339
Avalon Lords: Dawn Rises
Apr 28, 2016
Free
17% (61%)
45,591 ±6,226
12,232 ±3,225
01:05 (00:15)
340
Grass Simulator
Apr 1, 2015
$4.99
17% (61%)
24,019 ±4,519
18,236 ±3,938
01:29 (01:02)
341
Sumo Revise
Jun 25, 2015
$4.99
N/A (N/A)
56,043 ±6,903
43,144 ±6,057
04:23 (04:07)
342
Dream
Jul 31, 2015
$8.99
17% (61%/59%)
85,399 ±8,521
62,938 ±7,315
02:30 (01:09)
343
Arson and Plunder: Unleashed
Sep 25, 2015
$6.99
N/A (N/A)
16,902 ±3,791
8,229 ±2,645
04:05 (03:31)
344
Rising Islands
Aug 2, 2016
$9.99
N/A (N/A)
4,003 ±1,845
2,224 ±1,375
02:48 (03:13)
345
Moving Hazard
Mar 10, 2016
$9.99
16% (60%)
8,673 ±2,715
4,003 ±1,845
01:09 (00:45)
346
World of Diving
Aug 26, 2014
$19.99
16% (60%)
20,015 ±4,125
18,236 ±3,938
03:15 (01:35)
347
Nanobots
Mar 15, 2016
$3.99
N/A (N/A)
4,893 ±2,039
3,336 ±1,684
02:36 (02:57)
348
Disillusions Manga Horror
Jan 16, 2015
$0.99
16% (59%)
31,358 ±5,164
20,238 ±4,148
02:42 (02:10)
349
Evertown
Jan 11, 2016
$2.99
N/A (N/A)
12,232 ±3,225
2,446 ±1,442
00:36 (00:34)
350
Fall of Civilization
Sep 19, 2016
$6.99
N/A (N/A)
58,934 ±7,079
36,917 ±5,603
03:19 (03:26)
351
Deserter Simulator
Jul 30, 2015
$9.99
16% (59%)
3,336 ±1,684
3,114 ±1,627
02:12 (02:15)
352
Starship Annihilator
Sep 2, 2016
$0.99
N/A (N/A)
7,561 ±2,535
5,337 ±2,130
03:05 (03:11)
353
Sentinel
Apr 22, 2014
Free
15% (58%)
40,031 ±5,834
5,560 ±2,174
00:21 (00:11)
354
Bunker - The Underground Game
May 21, 2015
$9.99
N/A (N/A)
20,905 ±4,216
8,229 ±2,645
05:01 (05:11)
355
Super Trench Attack 2
Nov 6, 2015
$6.99
15% (58%)
12,899 ±3,312
8,673 ±2,715
04:08 (03:46)
356
Yon Paradox
May 6, 2016
$2.99
N/A (N/A)
4,225 ±1,895
3,114 ±1,627
00:16 (00:13)
357
Dinosaur Forest
Nov 3, 2016
$1.99
14% (57%)
18,459 ±3,962
9,785 ±2,884
01:54 (01:35)
358
BIT.TRIP CORE
Oct 2, 2012
$9.99
14% (57%)
60,269 ±7,158
30,468 ±5,090
01:36 (00:50)
359
Hero's Song
Nov 7, 2016
Free
14% (57%)
3,114 ±1,627
2,669 ±1,506
03:59 (02:05)
360
Jumpdrive
May 12, 2014
$14.99
13% (56%)
5,782 ±2,217
5,337 ±2,130
03:08 (01:21)
361
Congo
Mar 21, 2016
$9.99
13% (56%)
3,336 ±1,684
2,002 ±1,304
01:00 (00:34)
362
Edengrad
Apr 4, 2017
$12.99
13% (56%)
4,448 ±1,944
3,558 ±1,739
14:49 (12:22)
363
SOL: Exodus
Jan 25, 2012
$7.99
N/A (N/A/57%)
63,382 ±7,341
27,354 ±4,823
05:43 (00:44)
364
The Final Take
Jun 16, 2016
$1.99
12% (54%)
36,695 ±5,586
19,348 ±4,056
02:45 (03:00)
365
Fatale
Nov 4, 2009
$6.99
12% (54%)
13,566 ±3,396
6,894 ±2,421
00:33 (00:34)
366
Hold the door!
Sep 2, 2016
Free
N/A (N/A)
22,017 ±4,327
4,225 ±1,895
00:09 (00:18)
367
Deathwave
Jun 9, 2016
$4.99
N/A (N/A)
5,115 ±2,085
2,669 ±1,506
02:49 (02:48)
368
Nightfall: Escape
Jun 28, 2016
$9.99
N/A (N/A)
14,011 ±3,451
7,117 ±2,460
04:10 (04:28)
369
Aircraft War X
Aug 5, 2016
$2.99
11% (53%)
106,082 ±9,497
87,179 ±8,609
06:52 (03:20)
370
Soccer Rage
Jun 2, 2015
$9.99
10% (51%)
11,564 ±3,136
5,115 ±2,085
00:39 (00:18)
371
Timber and Stone
Oct 20, 2015
$12.99
9% (50%)
26,910 ±4,783
23,351 ±4,456
13:50 (05:30)
372
Catch a Lover
Apr 6, 2017
$6.99
9% (50%)
7,339 ±2,498
6,449 ±2,342
00:52 (00:49)
373
Truffle Saga
Jun 6, 2014
$4.99
N/A (N/A)
43,367 ±6,072
4,893 ±2,039
00:33 (00:10)
374
Team Indie
Oct 8, 2014
$12.99
N/A (N/A)
76,281 ±8,053
12,454 ±3,254
02:36 (02:05)
375
Vernon's Legacy
Sep 23, 2016
$11.99
N/A (N/A)
11,342 ±3,105
5,782 ±2,217
04:18 (02:34)
376
Final Rush
Nov 21, 2014
$4.99
8% (48%)
11,342 ±3,105
8,896 ±2,750
02:17 (02:04)
377
Whiplash - Crash Valley
Dec 7, 2016
$5.99
N/A (N/A)
4,152 ±2,345
3,460 ±2,141
02:55 (02:13)
378
Montas
Mar 24, 2014
$9.99
7% (47%)
37,585 ±5,653
6,672 ±2,382
00:58 (01:05)
379
The Gleam: VR Escape the Room
Oct 14, 2016
$3.99
N/A (N/A)
6,672 ±2,382
4,448 ±1,944
03:07 (02:31)
380
TRIP Steam Edition
Jun 19, 2015
$1.99
N/A (N/A)
33,804 ±5,361
6,672 ±2,382
00:22 (00:07)
381
Vitrum
Apr 22, 2014
$4.99
N/A (N/A)
26,243 ±4,724
13,788 ±3,424
02:33 (02:02)
382
TownCraft
Feb 25, 2015
$9.99
N/A (N/A)
18,681 ±3,985
12,232 ±3,225
02:49 (02:53)
383
Star Horizon
May 28, 2015
$4.99
N/A (N/A)
5,782 ±2,217
4,003 ±1,845
01:52 (02:25)
384
Darkness Assault
Feb 6, 2015
$1.99
7% (46%)
53,597 ±6,751
36,028 ±5,535
04:44 (03:17)
385
Blaster Shooter GunGuy!
Aug 10, 2015
$1.99
7% (46%)
109,640 ±9,655
88,513 ±8,675
03:54 (03:27)
386
Scribble Space
Jun 1, 2015
$1.99
6% (45%)
14,456 ±3,506
9,118 ±2,784
02:42 (03:05)
387
It Comes Around - A Kinetic Novel
Sep 29, 2016
$2.99
N/A (N/A)
5,115 ±2,085
3,114 ±1,627
05:11 (06:34)
388
PERFECT ANGLE: The puzzle game based on optical illusions
Dec 22, 2015
$9.99
N/A (N/A)
69,387 ±7,681
54,931 ±6,834
04:12 (04:02)
389
Remain
Dec 21, 2016
$4.99
N/A (N/A)
15,568 ±3,638
14,011 ±3,451
03:37 (03:30)
390
The Flock
Aug 21, 2015
$16.99
6% (44%/36%)
21,572 ±4,283
5,337 ±2,130
01:13 (00:45)
391
A-Men
Jan 24, 2014
$9.99
N/A (N/A)
12,454 ±3,254
9,118 ±2,784
03:50 (03:39)
392
AdvertCity
Jun 5, 2015
$19.99
N/A (N/A)
10,897 ±3,044
7,117 ±2,460
03:41 (03:48)
393
BUDDY
May 27, 2016
$9.99
N/A (N/A)
2,224 ±1,375
1,334 ±1,065
01:54 (01:47)
394
Murder
Oct 21, 2015
$2.99
5% (41%)
5,115 ±2,085
2,002 ±1,304
03:44 (00:30)
395
Doodle Kingdom
Jun 9, 2016
$4.99
N/A (N/A)
6,227 ±2,301
5,115 ±2,085
03:57 (03:32)
396
Call Of The Mighty Warriors
Jun 2, 2016
$1.99
N/A (N/A)
16,235 ±3,715
13,344 ±3,368
06:12 (06:07)
397
SpellKnights
Jul 13, 2016
Free
4% (38%)
64,050 ±7,380
17,569 ±3,865
00:12 (00:08)
398
Flight of the Icarus
May 12, 2010
$4.99
4% (38%)
77,393 ±8,112
46,480 ±6,287
01:01 (00:22)
399
Sleengster
Dec 2, 2016
$1.99
N/A (N/A)
18,014 ±3,914
11,120 ±3,075
03:49 (04:18)
400
Dead Sky
Nov 22, 2013
$1.99
3% (37%)
27,577 ±4,842
12,232 ±3,225
00:52 (00:31)
401
Monument
Jun 5, 2015
$3.99
3% (36%)
7,561 ±2,535
4,670 ±1,993
02:26 (03:00)
402
Days Under Custody
Nov 23, 2015
$4.99
N/A (N/A)
22,907 ±4,413
14,233 ±3,479
05:54 (04:08)
403
Inescapable
May 21, 2014
$4.99
N/A (N/A)
15,123 ±3,586
4,225 ±1,895
00:50 (00:44)
404
Wake
$4.99
2% (33%)
53,819 ±6,765
32,914 ±5,290
03:41 (02:46)
405
Undead Overlord
Jul 18, 2014
$14.99
2% (33%)
6,005 ±2,259
5,560 ±2,174
02:44 (01:19)
406
Imagine Me
Dec 9, 2014
$2.99
N/A (N/A)
54,709 ±6,820
30,023 ±5,053
01:58 (01:24)
407
Bad Hotel
Oct 16, 2013
$4.99
N/A (N/A)
100,077 ±9,224
45,146 ±6,196
01:55 (01:17)
408
Moonstone Tavern - A Fantasy Tavern Sim!
May 13, 2016
$7.99
2% (31%)
11,787 ±3,166
8,896 ±2,750
03:21 (03:31)
409
City Z
Apr 29, 2016
$1.99
N/A (N/A)
5,115 ±2,085
2,891 ±1,568
02:23 (02:17)
410
Stranded
May 20, 2014
$4.99
2% (30%)
18,904 ±4,009
10,453 ±2,981
01:14 (00:54)
411
bit Dungeon+
Mar 22, 2016
$3.99
2% (30%)
13,121 ±3,340
4,225 ±1,895
01:10 (00:18)
412
Godus
Free
2% (29%)
303,123 ±16,050
272,210 ±15,210
19:31 (06:38)
413
Forbidden planet
Jan 11, 2016
$0.99
N/A (N/A)
130,545 ±10,535
94,518 ±8,964
03:36 (03:30)
414
Bell Ringer
Mar 18, 2016
$6.99
N/A (N/A)
126,765 ±10,381
76,948 ±8,089
04:00 (04:01)
415
Sleight
Nov 9, 2016
$0.99
N/A (N/A)
25,575 ±4,663
20,683 ±4,194
03:42 (03:30)
416
Moonbase 332
Sep 18, 2015
$4.99
N/A (N/A)
15,345 ±3,612
10,008 ±2,917
04:18 (04:10)
417
A.I. Invasion
Sep 30, 2015
$9.99
N/A (N/A)
10,230 ±2,949
6,894 ±2,421
03:35 (04:10)
418
Final Slam 2
Jun 12, 2014
$3.99
N/A (N/A)
44,924 ±6,180
31,135 ±5,145
02:15 (01:19)
419
Joana's Life
Sep 1, 2016
$2.99
N/A (N/A)
77,393 ±8,112
3,558 ±1,739
02:32 (00:37)
420
AoF Chess Club 2.0
Nov 4, 2015
$1.99
N/A (N/A)
10,675 ±3,013
9,341 ±2,818
03:45 (03:22)
421
The Note
Jul 23, 2015
$5.99
N/A (N/A)
145,668 ±11,128
5,115 ±2,085
00:12 (00:09)
422
C-RUSH
Feb 17, 2014
$1.99
N/A (N/A)
26,465 ±4,744
4,448 ±1,944
00:09 (00:07)
423
BlackShadows
Sep 11, 2015
$2.99
N/A (N/A)
54,487 ±6,806
3,558 ±1,739
00:07 (00:06)
424
March of Industry: Very Capitalist Factory Simulator Entertainments
Oct 7, 2015
$9.99
1% (22%)
3,781 ±1,793
3,336 ±1,684
07:50 (18:29)
425
Damned Nation Reborn
Feb 12, 2015
$12.99
N/A (N/A)
5,782 ±2,217
1,779 ±1,230
00:15 (00:12)
426
Zone 22
Jul 31, 2015
$7.99
N/A (N/A)
2,669 ±1,506
890 ±869
00:14 (00:10)
427
Dream Factory
Nov 2, 2015
$9.99
N/A (N/A)
8,673 ±2,715
5,560 ±2,174
02:38 (02:56)
428
Godus Wars
Feb 3, 2016
$14.99
0% (19%)
303,123 ±16,050
28,911 ±4,958
02:59 (00:23)
429
Kitchen Simulator 2015
Sep 2, 2015
$0.99
N/A (N/A)
3,336 ±1,684
2,446 ±1,442
02:27 (03:21)
430
One Day For Ched
Sep 12, 2014
$3.99
N/A (N/A)
36,695 ±5,586
4,225 ±1,895
00:25 (00:13)
431
Jackal
Apr 21, 2016
$2.99
N/A (N/A)
36,473 ±5,569
31,135 ±5,145
03:22 (03:29)
432
Eternity's Child
Jul 31, 2008
$4.99
N/A (N/A)
13,566 ±3,396
5,337 ±2,130
01:05 (00:40)