Anguished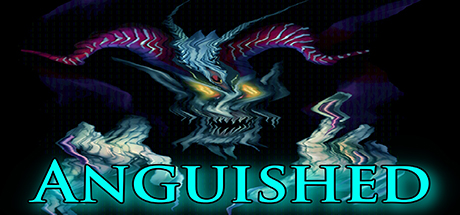 Store | Hub | SteamDB | Site
Developer: Forrest Keel Publisher: Forrest Keel
Genre: Indie, RPG
Languages: English
Tags: RPG (21), Indie (21), RPGMaker (7)
Category: Single-player
Release date: Nov 2, 2016
Price: $0.99
Owners: 815 ± 1,128
Followers: 63
YouTube stats: 17 views and 0 comments for videos uploaded last week, 0 new videos uploaded yesterday.

Steam Spy is still in beta, so expect major bugs.
Peak daily concurrent players:
CCU data courtesy of SteamDB. Used with permission.
Hourly concurrent players:
YouTube:
The views data is based on top 50 videos uploaded last week. Actual number of views might be more than the number shown.

The displayed number of videos uploaded yesterday is limited to 50, so if there were more videos uploaded, the number will still show 50.

If the game has commonly used word as its name (like "FEAR" or "Volume") its number of Youtube views might be wrong.
Games similar to this one:
#
Game
Release date

Price

Score rank
(Userscore / Metascore)

Owners

Players

Playtime (Median)

1
The Orb Chambers II
Aug 1, 2016
$6.99
N/A (N/A)
172,535 ±13,435
147,379 ±12,417
05:04 (05:01)
2
Sweet Candy Mahjong
Sep 29, 2016
$4.99
N/A (N/A)
55,233 ±7,602
35,273 ±6,075
03:18 (03:11)
3
Water Bears VR
Feb 1, 2016
$9.99
100% (100%)
58,788 ±7,843
16,132 ±4,108
01:28 (00:10)
4
WORLD END ECONOMiCA episode.02
Jul 21, 2015
$12.99
95% (96%)
90,505 ±9,731
18,593 ±4,411
06:27 (03:50)
5
Micron
Jul 23, 2014
$4.99
92% (95%)
19,414 ±4,507
7,109 ±2,727
03:59 (00:51)
6
The Night Cafe: A VR Tribute to Vincent Van Gogh
Jun 3, 2016
Free
92% (95%)
84,217 ±9,387
39,921 ±6,463
00:21 (00:05)
7
Electric Circuit
Jun 22, 2015
$1.99
N/A (N/A)
74,920 ±8,854
68,631 ±8,474
03:37 (03:30)
8
Fibbage XL
Mar 24, 2016
$9.99
92% (95%)
39,921 ±6,463
36,913 ±6,215
05:05 (02:52)
9
Musaic Box
Mar 19, 2009
$4.99
89% (94%)
38,827 ±6,374
6,289 ±2,565
02:08 (01:40)
10
VOI
Nov 7, 2016
$0.99
89% (94%)
20,507 ±4,632
15,039 ±3,967
06:56 (02:08)
11
Floppy Heroes
Sep 13, 2016
$2.99
86% (93%)
14,765 ±3,930
12,578 ±3,628
05:10 (03:10)
12
Save the Dodos
Apr 22, 2016
$0.5
82% (92%)
23,788 ±4,989
15,586 ±4,038
03:17 (03:16)
13
Marble Void
Apr 12, 2016
$4.99
N/A (N/A)
4,375 ±2,139
0 ±0
00:00 (00:00)
14
About Love, Hate and the other ones
Dec 12, 2014
$6.99
82% (92%)
74,920 ±8,854
42,382 ±6,659
02:11 (01:28)
15
Ninja Reflex: Steamworks Edition
Mar 21, 2008
$4.99
N/A (N/A/57%)
16,132 ±4,108
9,297 ±3,119
01:14 (00:37)
16
SquareCells
Dec 7, 2015
$2.99
82% (92%)
31,991 ±5,786
22,148 ±4,814
05:47 (03:18)
17
hocus
Nov 18, 2015
$0.99
82% (92%)
37,733 ±6,283
25,156 ±5,130
02:08 (01:04)
18
Starsphere
Oct 26, 2015
$3.99
N/A (N/A)
15,312 ±4,003
9,570 ±3,164
04:29 (04:00)
19
Gun Done
Jun 13, 2016
$0.99
74% (90%)
37,460 ±6,261
26,249 ±5,241
04:35 (01:39)
20
Alpacapaca Dash
Jan 23, 2017
$0.99
N/A (N/A)
108,278 ±10,644
103,904 ±10,426
05:03 (05:01)
21
True or False 2
Jan 27, 2017
$1.99
71% (89%)
8,203 ±2,929
6,562 ±2,620
01:35 (01:39)
22
The Keep
Mar 16, 2017
$14.99
N/A (N/A/61%)
10,117 ±3,253
5,469 ±2,392
02:58 (03:22)
23
The Rose and I
Apr 5, 2016
Free
68% (88%)
89,412 ±9,672
28,984 ±5,507
00:19 (00:06)
24
Kubz VR
Sep 5, 2016
$3.99
N/A (N/A)
6,289 ±2,565
1,367 ±1,196
00:12 (00:15)
25
The Last Warlock
Aug 24, 2015
$5.99
N/A (N/A)
7,656 ±2,830
2,187 ±1,513
02:20 (03:05)
26
Cut the Rope
Mar 22, 2013
$4.99
N/A (N/A)
6,289 ±2,565
5,195 ±2,331
03:45 (01:48)
27
Little Cells
Jun 4, 2015
$3.99
N/A (N/A)
1,914 ±1,415
820 ±926
02:01 (01:58)
28
Hypt
Apr 23, 2015
$4.99
N/A (N/A)
25,429 ±5,158
2,734 ±1,691
00:13 (00:16)
29
Light Repair Team #4
Apr 5, 2016
$7.99
N/A (N/A)
2,734 ±1,691
2,187 ±1,513
02:05 (03:10)
30
Ballistic Tanks
Sep 20, 2016
$4.99
56% (84%)
10,390 ±3,297
8,476 ±2,978
01:09 (00:35)
31
Radium
Mar 13, 2015
$2.99
56% (84%)
50,858 ±7,295
39,921 ±6,463
03:47 (03:30)
32
Auditorium
Feb 28, 2012
$6.99
54% (83%)
69,178 ±8,508
38,827 ±6,374
01:11 (00:31)
33
Gem Monster
Dec 17, 2016
$2.99
N/A (N/A)
14,765 ±3,930
11,758 ±3,507
03:37 (03:41)
34
I, Zombie
Dec 8, 2014
$0.49
51% (82%/65%)
194,409 ±14,261
144,645 ±12,301
01:57 (01:06)
35
Storm in a Teacup
Jan 19, 2012
$4.99
51% (82%)
46,210 ±6,953
15,586 ±4,038
02:43 (00:19)
36
Fairies vs. Darklings: Arcane Edition
Feb 29, 2016
$2.99
N/A (N/A)
9,570 ±3,164
6,289 ±2,565
03:32 (03:30)
37
Aurora Nights
May 26, 2016
$0.99
49% (81%)
10,117 ±3,253
7,109 ±2,727
01:29 (01:20)
38
Stranded In Time
Jul 17, 2015
$0.79
N/A (N/A)
34,179 ±5,980
12,304 ±3,588
02:23 (02:10)
39
Job the Leprechaun
Jul 31, 2015
$0.49
N/A (N/A)
42,929 ±6,702
31,718 ±5,761
03:05 (03:22)
40
20something
Jan 26, 2017
$2.99
N/A (N/A)
1,914 ±1,415
273 ±534
00:21 (00:07)
41
Tiki Man
Jun 5, 2015
$0.99
47% (80%)
42,655 ±6,681
31,444 ±5,736
03:27 (03:40)
42
Fairyland: Fairy Power
Nov 10, 2016
$4.99
N/A (N/A)
117,848 ±11,104
109,099 ±10,684
03:42 (03:31)
43
The Visitor
Mar 30, 2016
$0.99
45% (79%)
23,242 ±4,931
21,054 ±4,694
00:35 (00:20)
44
Terra Lander
Feb 6, 2015
$2.99
N/A (N/A)
195,776 ±14,311
7,656 ±2,830
00:14 (00:04)
45
Paper Train Traffic
Mar 4, 2016
$1.99
41% (77%)
14,492 ±3,894
8,750 ±3,026
03:32 (03:55)
46
Dragon Rage
Jul 22, 2016
$6.99
37% (75%)
6,836 ±2,674
6,289 ±2,565
03:48 (01:23)
47
Siege Wars
Jul 30, 2015
$1.99
35% (74%)
18,867 ±4,443
12,031 ±3,548
03:06 (03:27)
48
Magnetis
Nov 5, 2009
$1.99
N/A (N/A)
12,304 ±3,588
7,383 ±2,779
04:03 (00:25)
49
Sleep Attack
May 28, 2015
$6.99
N/A (N/A)
20,234 ±4,601
9,843 ±3,209
02:40 (03:00)
50
Build 'n Bump
Jul 22, 2015
$2.99
N/A (N/A)
9,843 ±3,209
7,109 ±2,727
03:23 (02:50)
51
YOU DON'T KNOW JACK SPORTS
Nov 5, 2013
$2.99
N/A (N/A)
64,803 ±8,234
3,008 ±1,774
00:24 (00:28)
52
Super Blue Fighter
May 5, 2016
$0.99
N/A (N/A)
44,022 ±6,787
35,546 ±6,099
03:20 (03:30)
53
R.O.O.T.S
Apr 1, 2015
$1.99
N/A (N/A)
46,210 ±6,953
9,297 ±3,119
01:14 (00:15)
54
TeraBlaster
Jul 10, 2015
Free
27% (69%)
95,974 ±10,021
44,022 ±6,787
02:54 (03:03)
55
Cave Coaster
Jun 4, 2015
$4.99
N/A (N/A)
13,672 ±3,782
8,750 ±3,026
05:28 (05:06)
56
WonderCat Adventures
Sep 11, 2015
$2.99
N/A (N/A)
6,289 ±2,565
3,008 ±1,774
45:52 (02:25)
57
8infinity
Sep 23, 2016
$0.99
24% (67%)
54,413 ±7,545
37,187 ±6,238
03:06 (03:19)
58
Santa's Big Adventures
Dec 19, 2016
$0.99
N/A (N/A)
56,874 ±7,714
52,225 ±7,392
03:49 (03:42)
59
Alexia Crow and the Cave of Heroes
May 4, 2015
$5.99
N/A (N/A)
8,203 ±2,929
4,375 ±2,139
02:41 (03:24)
60
Hills Of Glory 3D
May 28, 2015
$4.99
N/A (N/A)
13,945 ±3,820
820 ±926
01:02 (00:54)
61
Herding Dog
Jan 15, 2016
$2.99
N/A (N/A)
10,390 ±3,297
4,922 ±2,269
02:41 (03:09)
62
True Bliss
May 22, 2015
$5.99
N/A (N/A)
85,584 ±9,463
7,109 ±2,727
00:17 (00:08)
63
TacoFace
Dec 21, 2016
$0.99
N/A (N/A)
5,469 ±2,392
547 ±756
00:11 (00:06)
64
Score a goal (Physical football)
Dec 28, 2016
$2.99
22% (65%)
107,458 ±10,603
102,810 ±10,371
04:34 (04:31)
65
Lamia's Game Room
Feb 16, 2016
$0.99
22% (65%)
21,601 ±4,754
13,125 ±3,706
04:44 (04:03)
66
Broken Dreams
Feb 19, 2016
$1.99
22% (65%)
330,577 ±18,594
273,157 ±16,903
03:52 (03:37)
67
Black Hat Cooperative
Jul 29, 2016
$9.99
N/A (N/A)
3,281 ±1,853
3,281 ±1,853
01:34 (01:02)
68
Shoppy Mart: Steam Edition
Sep 25, 2015
$1.99
20% (63%)
6,562 ±2,620
4,375 ±2,139
05:02 (07:39)
69
Death Stair
Aug 16, 2016
$2.99
20% (63%)
24,882 ±5,102
17,226 ±4,245
02:01 (01:14)
70
The Grand Canyon VR Experience
Jan 13, 2017
$2.99
18% (62%)
3,281 ±1,853
2,734 ±1,691
05:46 (00:46)
71
So Long Earth
Apr 28, 2016
$3.99
N/A (N/A)
7,109 ±2,727
3,555 ±1,928
04:55 (04:06)
72
Day D: Tower Rush
Jul 7, 2016
$6.99
N/A (N/A)
39,101 ±6,396
31,171 ±5,711
05:34 (04:29)
73
Epic Showdown
Oct 27, 2015
$4.99
N/A (N/A)
28,437 ±5,455
3,555 ±1,928
00:04 (00:04)
74
Power of Love
Jul 21, 2015
$4.99
N/A (N/A)
42,655 ±6,681
31,991 ±5,786
04:20 (04:09)
75
Shut Eye
Sep 30, 2016
$4.99
N/A (N/A)
31,171 ±5,711
19,140 ±4,475
03:28 (03:25)
76
Ball of Wonder
Oct 28, 2016
$2.99
N/A (N/A)
101,443 ±10,302
95,701 ±10,006
03:41 (03:31)
77
Chicka Wars | Chicken Meat
Oct 20, 2016
$0.99
N/A (N/A)
194,409 ±14,261
184,839 ±13,905
04:43 (03:30)
78
Deadlands Noir - That Old Time Religion
Jul 3, 2015
$0.99
N/A (N/A)
10,117 ±3,253
6,015 ±2,509
02:49 (03:18)
79
CoLab
Dec 15, 2016
$4.99
N/A (N/A)
4,101 ±2,071
0 ±0
00:00 (00:00)
80
Escape This
May 4, 2016
$0.99
N/A (N/A)
355,733 ±19,288
320,187 ±18,299
03:35 (03:30)
81
Roller Coaster Rampage
Jun 19, 2012
$9.99
13% (57%)
31,444 ±5,736
13,672 ±3,782
00:29 (00:19)
82
Squeezone
Sep 16, 2016
$2.99
N/A (N/A)
167,886 ±13,253
142,457 ±12,208
04:29 (04:31)
83
Massive Cleavage vs Zombies: Awesome Edition
Jul 8, 2016
$1.99
12% (55%)
29,530 ±5,559
18,593 ±4,411
05:45 (05:51)
84
Bonsai
Feb 18, 2016
$0.99
12% (55%)
36,913 ±6,215
31,444 ±5,736
04:23 (04:23)
85
Three Digits
Aug 14, 2015
$1.99
N/A (N/A)
156,949 ±12,814
138,356 ±12,031
04:34 (04:31)
86
Discovr Egypt: King Tut's Tomb
Apr 11, 2016
Free
N/A (N/A)
41,835 ±6,616
7,656 ±2,830
00:18 (00:12)
87
Afterlife Empire
Aug 21, 2015
$4.99
11% (54%)
3,555 ±1,928
1,641 ±1,310
00:37 (00:58)
88
Riot of the numbers
Jan 19, 2017
$0.99
N/A (N/A)
63,983 ±8,182
60,155 ±7,934
03:52 (03:49)
89
Songs2See
Nov 26, 2013
$14.99
9% (51%)
6,562 ±2,620
5,742 ±2,451
37:01 (00:49)
90
SkyTime
Dec 2, 2016
$0.99
9% (51%)
183,472 ±13,854
165,972 ±13,177
03:38 (03:30)
91
Dumb Chicken 2: One Way Out
Sep 2, 2016
$2.99
N/A (N/A)
3,008 ±1,774
273 ±534
00:08 (00:02)
92
Run Run And Die
Sep 11, 2015
$2.99
N/A (N/A)
25,702 ±5,186
1,367 ±1,196
00:03 (00:02)
93
STATIC: Investigator Training
Apr 14, 2015
$7.99
N/A (N/A)
4,101 ±2,071
273 ±534
00:09 (00:03)
94
"Glow Ball" - The billiard puzzle game
Jul 20, 2015
$4.99
N/A (N/A)
114,294 ±10,935
88,865 ±9,642
03:32 (03:30)
95
The Lost Battalion: All Out Warfare
Apr 23, 2015
$0.99
N/A (N/A)
31,991 ±5,786
27,343 ±5,349
03:53 (04:12)
96
Darconika: The Cube of Soul
Aug 5, 2016
$3.99
N/A (N/A)
185,112 ±13,916
151,480 ±12,589
03:26 (03:30)
97
Reptilian Rebellion
Aug 7, 2016
$0.99
N/A (N/A)
36,640 ±6,192
30,898 ±5,686
03:33 (03:58)
98
Crazy Steam Bros 2
Apr 2, 2015
$0.99
N/A (N/A)
3,281 ±1,853
2,734 ±1,691
03:30 (03:55)
99
Dream Dealer
Oct 1, 2016
$3.99
N/A (N/A)
76,014 ±8,918
72,186 ±8,691
06:25 (06:09)
100
Other Tanks
Dec 5, 2016
$1.99
N/A (N/A)
127,692 ±11,558
119,216 ±11,168
03:35 (03:30)
101
Color Chemistry
Feb 25, 2016
$1.99
N/A (N/A)
9,843 ±3,209
6,836 ±2,674
03:49 (03:32)
102
Puzzle Ball
Oct 1, 2015
$2.99
N/A (N/A)
55,780 ±7,640
51,952 ±7,373
05:13 (05:26)
103
Hyper color ball
Sep 2, 2016
$0.99
4% (39%)
314,992 ±18,150
256,478 ±16,379
03:40 (03:30)
104
Steam Heroes
Jan 30, 2015
$5.99
N/A (N/A)
107,185 ±10,590
71,639 ±8,658
06:12 (04:54)
105
But to Paint a Universe
Jan 15, 2015
$4.99
N/A (N/A)
22,148 ±4,814
15,312 ±4,003
04:49 (05:10)
106
SizeBlock
Sep 2, 2016
$0.49
N/A (N/A)
30,077 ±5,610
26,523 ±5,268
05:30 (06:30)
107
Ninja Guy
Jan 5, 2015
$1.99
N/A (N/A)
23,242 ±4,931
6,562 ±2,620
00:21 (00:14)
108
Project Druid - 2D Labyrinth Explorer-
Jul 30, 2015
$0.99
N/A (N/A)
159,136 ±12,903
3,281 ±1,853
00:12 (00:16)
109
Plith
Jun 2, 2016
$2.99
N/A (N/A)
15,039 ±3,967
5,742 ±2,451
02:38 (03:07)