[ R.U.M.A ]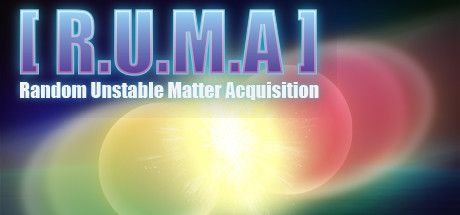 Store | Hub | SteamDB | Site
Developer: Jonathan Bartram, Thomas Bartram Publisher: Jonathan Bartram, Thomas Bartram
Genre: Action, Casual, Indie, Simulation
Languages: English
Tags: Action (21), Casual (21), Indie (21), Simulation (20), VR (5), VR Only (1)
Category: Single-player, Steam Leaderboards
Release date: Nov 5, 2016
Price: $1.99
Followers: 39
YouTube stats: 303 views and 4 comments for videos uploaded last week, 2 new videos uploaded yesterday.

Steam Spy is still in beta, so expect major bugs.
Peak daily concurrent players:
CCU data courtesy of SteamDB. Used with permission.
Hourly concurrent players:
YouTube:
The views data is based on top 50 videos uploaded last week. Actual number of views might be more than the number shown.

The displayed number of videos uploaded yesterday is limited to 50, so if there were more videos uploaded, the number will still show 50.

If the game has commonly used word as its name (like "FEAR" or "Volume") its number of Youtube views might be wrong.
Games similar to this one:
#
Game
Release date

Price

Score rank
(Userscore / Metascore)

Owners

Players

Playtime (Median)

1
Fatty Maze's Adventures
Feb 19, 2015
$5.99
N/A (N/A)
8,509 ±2,897
1,289 ±1,127
00:55 (01:25)
2
EGO PROTOCOL
Feb 16, 2016
$5.99
N/A (N/A)
2,321 ±1,513
258 ±504
04:29 (01:29)
3
Through the Mirror
Jan 7, 2017
$1.99
N/A (N/A)
4,383 ±2,079
0 ±0
00:00 (00:00)
4
Playing History - The Plague
Oct 21, 2015
$3.99
N/A (N/A)
20,885 ±4,539
2,578 ±1,594
00:33 (00:42)
5
simian.interface++
Jun 26, 2016
$1.99
N/A (N/A)
13,408 ±3,637
1,805 ±1,334
01:09 (01:20)
6
LaserCat
Dec 8, 2016
$0.99
N/A (N/A)
26,815 ±5,143
22,432 ±4,704
03:16 (03:30)
7
Sally's Law
Aug 24, 2016
$3.99
89% (94%)
6,962 ±2,620
4,899 ±2,198
02:37 (02:51)
8
Holopoint
Apr 4, 2016
$14.99
82% (92%)
52,599 ±7,203
49,247 ±6,970
02:13 (01:02)
9
Glow
Oct 14, 2016
$4.99
N/A (N/A)
10,571 ±3,229
774 ±873
00:03 (00:02)
10
Delicious - Emily's New Beginning
Nov 24, 2016
$12.99
N/A (N/A)
3,868 ±1,953
3,352 ±1,818
11:17 (16:40)
11
ChaosTower
Feb 23, 2016
$5.99
N/A (N/A)
1,805 ±1,334
1,031 ±1,008
00:31 (00:19)
12
Tiki Galore
Oct 5, 2015
$9.99
N/A (N/A)
1,544 ±1,510
772 ±1,068
01:35 (01:34)
13
Spell Casting: Meowgically Enhanced Edition
Sep 2, 2016
$3.99
N/A (N/A)
4,641 ±2,139
3,610 ±1,887
03:37 (03:26)
14
Dreamcage Escape
Nov 16, 2016
$1.99
N/A (N/A)
2,315 ±1,850
772 ±1,068
01:36 (00:57)
15
Super Intergalactic Gang
Jan 15, 2016
$9.99
N/A (N/A)
5,415 ±2,311
774 ±873
00:11 (00:11)
16
Dungeon Manager ZV 2
Feb 17, 2017
$5.99
N/A (N/A)
1,158 ±1,308
772 ±1,068
00:49 (00:48)
17
bloxyz
May 19, 2016
$1.99
N/A (N/A)
1,544 ±1,510
772 ±1,068
00:04 (00:03)
18
BlockAid
Jul 26, 2016
$14.99
N/A (N/A)
2,701 ±1,998
0 ±0
00:00 (00:00)
19
Midnight
Jan 28, 2016
$2.99
N/A (N/A)
4,899 ±2,198
2,321 ±1,513
09:26 (24:11)
20
Leave The Nest
May 27, 2016
$2.99
N/A (N/A)
2,321 ±1,513
1,289 ±1,127
00:54 (01:29)
21
Doritos VR Battle
Nov 4, 2016
$2.99
N/A (N/A)
2,701 ±1,998
772 ±1,068
00:37 (00:37)
22
Ghost Cleaner
Nov 5, 2015
$5.99
N/A (N/A)
5,157 ±2,255
258 ±504
00:49 (00:16)
23
Pro Skater 2D
Nov 2, 2016
$0.99
N/A (N/A)
55,177 ±7,378
52,857 ±7,221
03:53 (03:31)
24
Android John
Jun 28, 2016
$2.99
N/A (N/A)
26,815 ±5,143
17,791 ±4,189
04:53 (05:15)
25
Savana
Jul 26, 2016
$14.99
N/A (N/A)
2,701 ±1,998
0 ±0
00:00 (00:00)
26
Our Wonderful World
Nov 29, 2016
$0.99
N/A (N/A)
84,055 ±9,106
79,929 ±8,879
03:44 (03:30)
27
TacoFace
Dec 21, 2016
$0.99
N/A (N/A)
5,157 ±2,255
774 ±873
00:04 (00:04)
28
Chamber 19
Oct 21, 2016
$14.99
N/A (N/A)
7,993 ±2,808
1,547 ±1,235
00:25 (00:31)
29
Block Wave VR
Sep 9, 2016
$4.99
N/A (N/A)
1,544 ±1,510
772 ±1,068
00:03 (00:02)
30
Moonlight Minions
Oct 22, 2014
$0.99
N/A (N/A)
12,118 ±3,457
1,289 ±1,127
04:23 (04:42)
31
Songs2See
Nov 26, 2013
$14.99
10% (52%)
1,547 ±1,235
1,031 ±1,008
00:24 (00:26)
32
gShift
Aug 25, 2015
$0.99
N/A (N/A)
9,798 ±3,109
258 ±504
00:02 (00:00)
33
StarForce 2193: The Hotep Controversy
Aug 16, 2016
$0.99
N/A (N/A)
1,158 ±1,308
0 ±0
00:00 (00:00)
34
STATIC: Investigator Training
Apr 14, 2015
$7.99
N/A (N/A)
6,962 ±2,620
258 ±504
00:44 (00:14)
35
Awakened
Jun 29, 2016
$2.99
N/A (N/A)
10,571 ±3,229
258 ±504
00:01 (00:00)
36
Jumpix Jump
Feb 15, 2016
$3.99
N/A (N/A)
2,836 ±1,672
0 ±0
00:00 (00:00)
37
Hotel Blind
Apr 5, 2016
$1.99
N/A (N/A)
3,610 ±1,887
0 ±0
00:00 (00:00)
38
Campfire: One of Us Is the Killer
Dec 7, 2016
$2.99
N/A (N/A)
21,916 ±4,650
20,885 ±4,539
04:04 (04:25)
39
Nature Defenders
Dec 21, 2015
$1.99
N/A (N/A)
4,383 ±2,079
516 ±713
00:26 (00:15)
40
Exowar
Mar 23, 2015
$6.99
N/A (N/A)
84,570 ±9,133
4,641 ±2,139
00:10 (00:04)
41
Shmup Love Boom
Sep 18, 2015
$2.99
N/A (N/A)
7,477 ±2,716
258 ±504
00:22 (00:07)
42
Radial Impact
Aug 3, 2015
$0.99
N/A (N/A)
6,962 ±2,620
258 ±504
00:01 (00:00)