Ninja Smasher!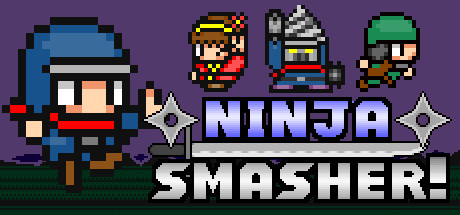 Store | Hub | SteamDB
Developer: Q-Cumber Factory Publisher: Q-Cumber Factory
Genre: Action, Adventure, Indie
Languages: English, Japanese
Tags: Action (24), Indie (22), Adventure (22), Pixel Graphics (15), Metroidvania (15)
Category: Single-player, Steam Achievements, Full controller support
Release date: Nov 24, 2016
Price: $4.99
Owners: 1,323 ± 1,157
Players total: 1,058 ± 1,035 (80%)
Followers: 152
Peak concurrent players yesterday: 1
Playtime total: 01:58 (average) 02:24 (median)

Steam Spy is still in beta, so expect major bugs.
Peak daily concurrent players:
CCU data courtesy of SteamDB. Used with permission.
Hourly concurrent players:
YouTube:
The views data is based on top 50 videos uploaded last week. Actual number of views might be more than the number shown.

The displayed number of videos uploaded yesterday is limited to 50, so if there were more videos uploaded, the number will still show 50.

If the game has commonly used word as its name (like "FEAR" or "Volume") its number of Youtube views might be wrong.
Games similar to this one:
#
Game
Release date

Price

Score rank
(Userscore / Metascore)

Owners

Players

Playtime (Median)

1
Candlelight
Mar 15, 2016
$9.99
N/A (N/A)
4,762 ±2,195
529 ±731
00:06 (00:03)
2
SkyBoats
Aug 23, 2016
$7.99
N/A (N/A)
6,350 ±2,535
4,233 ±2,070
07:12 (04:02)
3
Super Snow Fight
Nov 24, 2015
$4.99
N/A (N/A)
5,291 ±2,314
1,323 ±1,157
00:17 (00:15)
4
Reverse x Reverse
Dec 10, 2015
$9.99
N/A (N/A)
3,236 ±2,239
809 ±1,119
09:24 (07:27)
5
Stellar Stars
Nov 10, 2016
$9.99
N/A (N/A)
809 ±1,119
0 ±0
00:00 (00:00)
6
Man in a Maze: Deathmatch
Oct 16, 2014
$9.99
N/A (N/A)
4,498 ±2,133
529 ±731
00:29 (00:15)
7
Barrow Hill: Curse of the Ancient Circle
Sep 22, 2016
$7.99
N/A (N/A)
27,250 ±5,252
2,381 ±1,552
02:19 (02:43)
8
The Curse Of Yendor
Feb 17, 2017
$4.99
N/A (N/A)
1,323 ±1,157
1,323 ±1,157
01:49 (02:42)
9
Conquest: Frontier Wars
Jan 17, 2017
$5.99
N/A (N/A/80%)
3,969 ±2,004
1,852 ±1,369
00:02 (00:03)
10
EXZEAL
Jul 14, 2016
$11.99
N/A (N/A)
1,587 ±1,267
794 ±896
00:14 (00:10)
11
Snow Games VR
Feb 1, 2017
Free
N/A (N/A)
6,879 ±2,639
2,646 ±1,636
01:31 (00:48)
12
Monuments of Mars
May 5, 2014
N/A
N/A (N/A)
54,765 ±7,446
2,646 ±1,636
00:08 (00:03)
13
Epic Battle Fantasy 4
Feb 25, 2014
$11.99
99% (98%)
187,049 ±13,759
96,567 ±9,887
15:46 (05:06)
14
Beyond Reality
Jan 8, 2016
$0.49
N/A (N/A)
9,524 ±3,105
6,350 ±2,535
03:21 (03:15)
15
Mibibli's Quest
Aug 4, 2016
$5.99
N/A (N/A)
7,408 ±2,738
794 ±896
01:43 (01:43)
16
Equin: The Lantern
Oct 27, 2016
$2.99
N/A (N/A)
2,910 ±1,716
794 ±896
01:21 (01:20)
17
Strania - The Stella Machina -
Nov 24, 2015
$14.99
N/A (N/A)
3,175 ±1,792
1,852 ±1,369
01:11 (01:22)
18
Khimera: Destroy All Monster Girls
May 8, 2016
Free
92% (95%)
85,984 ±9,329
35,981 ±6,035
02:19 (00:23)
19
Requiem: Avenging Angel
Jul 7, 2016
$2.49
N/A (N/A)
3,704 ±1,936
1,058 ±1,035
00:07 (00:08)
20
Organ Quarter Pre-Alpha Demo
Oct 28, 2016
Free
92% (95%)
37,569 ±6,167
19,049 ±4,391
02:36 (00:11)
21
Brief Karate Foolish
Nov 18, 2016
Free
89% (94%)
150,010 ±12,322
115,087 ±10,793
00:15 (00:05)
22
SanctuaryRPG: Black Edition
Feb 13, 2015
$7.99
89% (94%)
166,148 ±12,968
92,863 ±9,695
05:37 (03:38)
23
123 Slaughter Me Street 2
Oct 31, 2016
$4.99
89% (94%)
8,466 ±2,927
1,587 ±1,267
00:32 (00:53)
24
Deadhunt
Jan 12, 2016
$4.99
86% (93%)
3,175 ±1,792
2,381 ±1,552
02:23 (03:02)
25
Spooky Night
Dec 31, 2016
Free
N/A (N/A)
11,112 ±3,354
6,350 ±2,535
00:06 (00:04)
26
Space Fuss
Feb 28, 2017
$0.49
N/A (N/A)
34,129 ±5,878
30,954 ±5,598
03:41 (03:33)
27
The Desolate Hope
May 5, 2014
Free
82% (92%)
342,086 ±18,604
55,559 ±7,499
01:31 (00:21)
28
Controller Companion
May 4, 2015
$2.99
82% (92%)
132,284 ±11,571
123,553 ±11,183
19:20 (00:01)
29
You Have to Win the Game
May 6, 2014
Free
82% (92%)
693,431 ±26,479
416,429 ±20,525
01:34 (00:24)
30
Mount & Blade
Nov 3, 2008
$9.99
78% (91%/72%)
1,163,567 ±34,284
651,100 ±25,659
20:09 (02:53)
31
SWARMRIDERS
Jun 15, 2016
Free
78% (91%)
60,851 ±7,848
21,165 ±4,629
00:09 (00:03)
32
Fractured Soul
Feb 5, 2015
$9.99
N/A (N/A)
2,646 ±1,636
794 ±896
00:17 (00:10)
33
Thread Studio
Sep 29, 2016
Free
N/A (N/A)
13,758 ±3,732
1,323 ±1,157
00:19 (00:17)
34
RPG Maker 2003
Apr 24, 2015
$19.99
74% (90%)
41,273 ±6,464
20,901 ±4,600
20:43 (02:31)
35
Flem
Apr 28, 2015
$5.99
N/A (N/A)
1,852 ±1,369
1,058 ±1,035
03:11 (03:04)
36
Marmoset Hexels 3
Feb 15, 2016
$49
74% (90%)
44,447 ±6,708
19,578 ±4,452
16:30 (01:51)
37
Math Rescue
May 5, 2014
$4.99
N/A (N/A)
60,321 ±7,814
3,175 ±1,792
00:09 (00:03)
38
Demon Truck
Sep 26, 2016
$4.99
N/A (N/A)
4,233 ±2,070
794 ±896
00:05 (00:04)
39
Black Ink
Feb 8, 2016
$59.99
71% (89%)
22,753 ±4,799
20,636 ±4,570
25:14 (03:51)
40
A dragon girl looks up at the endless sky
Oct 27, 2016
$9.99
N/A (N/A)
794 ±896
529 ±731
06:42 (04:27)
41
Dota 2
Jul 9, 2013
Free
65% (87%/90%)
121,623,218 ±305,971
121,623,218 ±305,971
197:10 (04:16)
42
StaudSoft's Synthetic World Beta
Feb 9, 2015
$9.99
N/A (N/A)
1,587 ±1,267
265 ±517
00:40 (00:13)
43
Disney's Chicken Little: Ace in Action
Feb 24, 2015
$19.99
N/A (N/A)
5,820 ±2,427
1,323 ±1,157
02:03 (03:12)
44
The Cubicle.
Apr 5, 2016
Free
62% (86%)
172,763 ±13,223
110,325 ±10,567
00:44 (00:05)
45
Waste Walkers
Jun 1, 2015
$9.99
62% (86%)
21,959 ±4,715
15,080 ±3,907
03:25 (03:31)
46
VR Invaders
Dec 15, 2016
$17.99
N/A (N/A)
1,618 ±1,583
809 ±1,119
01:03 (00:57)
47
Nary
Aug 2, 2016
$1.99
N/A (N/A)
7,408 ±2,738
5,027 ±2,256
03:10 (04:19)
48
FORCED SHOWDOWN
Mar 29, 2016
$19.99
59% (85%)
32,542 ±5,739
25,928 ±5,123
08:01 (05:37)
49
Bleeding Blocks
Sep 15, 2015
$1.99
N/A (N/A)
3,704 ±1,936
529 ±731
00:36 (00:24)
50
Disney's Chicken Little
Feb 24, 2015
$9.99
59% (85%)
7,408 ±2,738
2,910 ±1,716
01:19 (01:47)
51
Doorways: Old Prototype
Oct 5, 2016
Free
56% (84%)
106,092 ±10,363
73,814 ±8,644
00:38 (00:21)
52
Necromonads
Oct 27, 2015
$3.99
N/A (N/A)
46,828 ±6,885
5,027 ±2,256
00:20 (00:17)
53
.EXE
Jun 16, 2016
$5.99
N/A (N/A)
2,478 ±2,801
0 ±0
00:00 (00:00)
54
Plenty: Skyhearth
Oct 20, 2016
Free
N/A (N/A)
27,250 ±5,252
11,641 ±3,433
00:16 (00:05)
55
Driftwatch VR
Dec 1, 2016
$2.99
N/A (N/A)
5,027 ±2,256
1,058 ±1,035
09:15 (06:33)
56
Wasteland 1 - The Original Classic
Nov 13, 2013
$5.99
51% (82%)
676,763 ±26,159
128,580 ±11,408
00:53 (00:05)
57
Fork Parker's Holiday Profit Hike
Dec 18, 2014
Free
49% (81%)
310,338 ±17,720
127,521 ±11,361
00:26 (00:10)
58
TOKYO WARFARE
Jul 29, 2016
$14.99
49% (81%)
2,910 ±1,716
2,117 ±1,463
01:44 (01:10)
59
Caladrius Blaze
Jan 11, 2017
$24.99
49% (81%)
9,260 ±3,061
5,556 ±2,371
02:39 (01:25)
60
High Noon Revolver
Jan 25, 2017
$4.99
N/A (N/A)
1,618 ±1,583
809 ±1,119
06:55 (04:04)
61
Goo Saga
Sep 26, 2016
$4.99
N/A (N/A)
5,820 ±2,427
2,910 ±1,716
02:22 (03:10)
62
DC Universe Online
Nov 2, 2011
Free
47% (80%/72%)
2,569,214 ±50,874
2,569,214 ±50,874
23:58 (05:34)
63
Pavel Quest
May 13, 2015
$2.99
N/A (N/A)
2,023 ±1,770
0 ±0
00:00 (00:00)
64
DED
Mar 3, 2017
Free
47% (80%)
48,151 ±6,982
37,569 ±6,167
00:17 (00:09)
65
Boid
Jul 8, 2016
Free
47% (80%)
226,734 ±15,148
131,490 ±11,536
03:02 (00:20)
66
Medusa's Labyrinth
Feb 15, 2016
Free
45% (79%)
275,944 ±16,710
136,781 ±11,766
00:22 (00:12)
67
Let the Cat in
Aug 27, 2015
Free
43% (78%)
224,882 ±15,086
133,607 ±11,629
01:03 (00:09)
68
Daydreamer: Awakened Edition
Aug 20, 2015
$10.99
N/A (N/A)
2,832 ±2,095
0 ±0
00:00 (00:00)
69
Mausoleum of the Medusa
Oct 27, 2016
Free
37% (75%)
11,906 ±3,471
2,646 ±1,636
00:31 (00:48)
70
Izanami's Dream Battle
Oct 30, 2016
$2.99
N/A (N/A)
13,758 ±3,732
265 ±517
00:02 (00:00)
71
Anthelion
Jul 26, 2016
$14.99
N/A (N/A)
2,381 ±1,552
529 ±731
01:36 (01:04)
72
STEEL STRIDER
Nov 12, 2015
$5.99
N/A (N/A)
3,175 ±1,792
2,117 ±1,463
02:19 (03:35)
73
Surgeon Simulator VR: Meet The Medic
Apr 5, 2016
Free
37% (75%)
323,037 ±18,079
200,013 ±14,228
00:20 (00:03)
74
Smell Of Death
Jul 4, 2016
$9.99
N/A (N/A)
5,820 ±2,427
794 ±896
00:38 (00:38)
75
SBX: Invasion
Jun 1, 2015
$1.99
N/A (N/A)
2,910 ±1,716
0 ±0
00:00 (00:00)
76
Of Orcs And Men
Oct 11, 2012
$14.99
35% (74%/69%)
224,882 ±15,086
116,674 ±10,867
04:59 (01:08)
77
STANDBY
Jan 6, 2017
$7.99
N/A (N/A)
17,461 ±4,204
6,614 ±2,587
07:20 (03:31)
78
Malazard: The Master of Magic
Nov 17, 2016
$7.99
N/A (N/A)
4,233 ±2,070
265 ±517
00:29 (00:09)
79
BoxesWithGuns
Apr 14, 2015
$1.99
N/A (N/A)
29,632 ±5,477
1,852 ±1,369
02:19 (03:37)
80
Girlfriend Rescue
Jul 10, 2015
$4.99
32% (72%)
9,524 ±3,105
5,027 ±2,256
05:27 (04:17)
81
The Eigengrau Menagerie
Jun 4, 2015
$2.99
N/A (N/A)
2,478 ±2,801
1,652 ±2,287
04:39 (05:54)
82
Dungeons & Darkness
Sep 29, 2016
$9.99
N/A (N/A)
2,117 ±1,463
1,587 ±1,267
09:33 (14:11)
83
Sprinter
Feb 25, 2016
$3.99
N/A (N/A)
3,969 ±2,004
529 ±731
01:19 (00:52)
84
StarMade
Dec 4, 2014
$14.99
30% (71%)
250,016 ±15,906
198,690 ±14,180
19:54 (01:55)
85
Combat Monsters
Jan 20, 2015
Free
29% (70%)
139,162 ±11,868
43,124 ±6,607
03:07 (00:25)
86
Tiles & Tales
Jan 23, 2017
Free
29% (70%)
11,641 ±3,433
8,466 ±2,927
02:12 (00:55)
87
99 Waves to Die
Apr 9, 2015
$2.99
N/A (N/A)
2,117 ±1,463
529 ±731
00:44 (00:21)
88
Soccer Manager 2015
Jul 16, 2015
Free
27% (69%)
408,492 ±20,329
258,747 ±16,181
04:02 (00:23)
89
Astroflux
Sep 27, 2016
Free
27% (69%)
38,627 ±6,253
21,165 ±4,629
06:13 (00:20)
90
The Lost Mythologies
Jan 28, 2016
Free
26% (68%)
272,240 ±16,598
160,857 ±12,760
00:16 (00:07)
91
16 Bit Arena
Mar 24, 2015
Free
26% (68%)
120,643 ±11,050
34,129 ±5,878
00:29 (00:01)
92
Game Character Hub
May 23, 2014
$14.99
26% (68%)
181,229 ±13,543
91,011 ±9,598
07:32 (00:30)
93
Xenus 2. White gold.
Nov 30, 2016
$14.99
N/A (N/A)
8,202 ±2,881
1,058 ±1,035
02:53 (00:32)
94
Sid Meier's Pirates! Gold Plus (Classic)
Oct 9, 2014
$2.09
N/A (N/A)
37,833 ±6,189
11,112 ±3,354
01:15 (00:11)
95
Vanguards
Oct 28, 2016
Free
24% (67%)
27,780 ±5,303
15,609 ±3,975
00:23 (00:06)
96
Running Shadow
Feb 20, 2015
Free
24% (67%)
422,514 ±20,674
183,081 ±13,612
01:35 (00:18)
97
The Isle
Dec 1, 2015
$19.99
24% (67%)
171,175 ±13,162
166,677 ±12,988
67:18 (09:34)
98
Pixel-Warfare: Pro
Sep 20, 2016
$0.99
N/A (N/A)
15,609 ±3,975
1,323 ±1,157
03:40 (05:32)
99
Demon's Crystals
Apr 21, 2016
$4.99
N/A (N/A)
5,820 ±2,427
3,439 ±1,866
02:27 (02:16)
100
Blues and Bullets - Digital Comic
Jul 22, 2015
$2.99
N/A (N/A)
3,439 ±1,866
794 ±896
00:04 (00:03)
101
Ride the Bullet
May 22, 2015
$3.99
N/A (N/A)
3,175 ±1,792
0 ±0
00:00 (00:00)
102
EggK47
Sep 30, 2016
$0.99
N/A (N/A)
2,381 ±1,552
794 ±896
00:09 (00:07)
103
Battle Of Europe
Sep 18, 2014
$9.99
N/A (N/A/54%)
2,646 ±1,636
1,323 ±1,157
01:29 (02:14)
104
Spunk and Moxie
May 6, 2016
$3.99
N/A (N/A)
3,969 ±2,004
529 ±731
00:59 (00:39)
105
Space Survival
Jun 22, 2016
$0.99
N/A (N/A)
5,027 ±2,256
265 ±517
00:08 (00:02)
106
ESEA
Jul 8, 2016
Free
22% (65%)
470,401 ±21,813
384,416 ±19,721
16:26 (00:02)
107
Crush Online
Oct 10, 2016
N/A
N/A (N/A)
116,939 ±10,880
85,720 ±9,315
03:12 (00:30)
108
Clown2Beat
Oct 26, 2016
Free
N/A (N/A)
18,520 ±4,330
6,614 ±2,587
00:10 (00:08)
109
Dogs of War Online
Feb 4, 2014
Free
21% (64%)
214,829 ±14,745
69,317 ±8,377
03:15 (00:37)
110
Machine Learning: Episode I
Sep 10, 2016
Free
N/A (N/A)
22,224 ±4,743
8,466 ±2,927
00:13 (00:11)
111
Galactic Storm
Sep 16, 2016
$2.99
N/A (N/A)
6,879 ±2,639
1,058 ±1,035
01:19 (01:43)
112
Axis Game Factory's AGFPRO v3
Nov 19, 2013
$19.99
20% (63%)
143,660 ±12,058
62,438 ±7,950
02:15 (00:19)
113
MINUS ZERO
Jun 16, 2016
$1.99
N/A (N/A)
2,023 ±1,770
809 ±1,119
00:04 (00:02)
114
Battleline: Steel Warfare
Aug 25, 2016
N/A
16% (60%)
82,016 ±9,112
38,098 ±6,210
06:16 (00:20)
115
MacGuffin
Feb 18, 2016
$2.99
N/A (N/A)
5,556 ±2,371
794 ±896
01:07 (00:58)
116
TAIKER
Nov 30, 2016
$4.99
N/A (N/A)
1,323 ±1,157
529 ±731
03:01 (02:00)
117
City of Steam: Arkadia
Mar 6, 2014
Free
16% (60%)
329,916 ±18,270
128,844 ±11,420
16:49 (00:28)
118
Allods Online RU
Jan 26, 2016
Free
16% (60%)
158,211 ±12,654
92,334 ±9,668
08:32 (00:16)
119
Metal Assault
Mar 18, 2016
Free
14% (58%)
95,509 ±9,832
76,460 ±8,798
01:28 (00:17)
120
VR Journey
Dec 15, 2016
$2.99
N/A (N/A)
37,039 ±6,123
30,161 ±5,525
04:50 (04:32)
121
Krater
Jun 12, 2012
$14.99
14% (58%/52%)
211,918 ±14,645
152,655 ±12,430
03:33 (01:58)
122
Chronoclysm
Nov 12, 2015
$4.99
N/A (N/A)
6,879 ±2,639
265 ±517
00:10 (00:03)
123
AutoTileGen
Jul 9, 2014
$9.99
N/A (N/A)
7,143 ±2,689
2,646 ±1,636
07:43 (05:04)
124
Fractasia
Nov 17, 2016
Free
N/A (N/A)
8,995 ±3,017
2,117 ±1,463
00:02 (00:02)
125
Back to Dinosaur Island
Nov 18, 2015
Free
11% (53%)
541,040 ±23,392
288,643 ±17,090
00:17 (00:04)
126
And So It Was
Feb 29, 2016
$1.99
N/A (N/A)
4,762 ±2,195
794 ±896
02:58 (02:26)
127
Tap Tap Legions - Epic battles within 5 seconds!
Feb 8, 2016
Free
11% (53%)
157,682 ±12,633
105,562 ±10,337
01:00 (00:15)
128
UFO Online: Invasion
Jun 8, 2016
Free
11% (53%)
160,857 ±12,760
86,249 ±9,344
06:37 (00:19)
129
The Sun Will Rise
Oct 3, 2016
Free
10% (52%)
18,520 ±4,330
4,762 ±2,195
01:36 (00:55)
130
LuckCatchers
Nov 15, 2016
Free
10% (52%)
156,095 ±12,569
91,276 ±9,612
06:26 (00:11)
131
Derelict Redux
Jul 22, 2016
$4.99
N/A (N/A)
3,439 ±1,866
0 ±0
00:00 (00:00)
132
Khan: Absolute Power
Mar 18, 2016
Free
9% (51%)
80,164 ±9,008
29,102 ±5,428
14:15 (00:14)
133
Esenthel Engine
Apr 2015
Free
N/A (N/A)
116,939 ±10,880
43,918 ±6,668
00:08 (00:01)
134
Super Cube Smash
Aug 16, 2016
$9.99
N/A (N/A)
4,233 ±2,070
0 ±0
00:00 (00:00)
135
Breaking Bones
Nov 28, 2016
$4.99
N/A (N/A)
4,233 ±2,070
0 ±0
00:00 (00:00)
136
PROJECT XINATRA
Aug 8, 2016
$1.99
N/A (N/A)
5,027 ±2,256
529 ±731
00:02 (00:01)
137
Fleeting Ages
May 2, 2016
$1.99
N/A (N/A)
8,202 ±2,881
0 ±0
00:00 (00:00)
138
Comit the Astrodian
Nov 15, 2016
$1.99
N/A (N/A)
2,381 ±1,552
794 ±896
00:35 (00:35)
139
Cavernus
Jul 5, 2016
$1.99
N/A (N/A)
9,524 ±3,105
1,058 ±1,035
00:24 (00:29)
140
Revolt
Jan 26, 2016
$4.99
N/A (N/A)
2,646 ±1,636
0 ±0
00:00 (00:00)
141
Cell HD: emergence
Feb 19, 2015
$5.99
N/A (N/A)
8,202 ±2,881
794 ±896
00:06 (00:04)
142
Fighters Unleashed
Dec 27, 2016
$6.99
N/A (N/A)
5,027 ±2,256
265 ±517
00:12 (00:04)
143
DRAKERZ-Confrontation
May 19, 2014
Free
9% (50%)
127,786 ±11,373
41,008 ±6,443
01:11 (00:18)
144
Datswer
Feb 4, 2015
$3.99
N/A (N/A)
2,832 ±2,095
0 ±0
00:00 (00:00)
145
Cliff Hanger
Sep 2, 2016
$4.99
N/A (N/A)
1,652 ±2,287
1,652 ±2,287
03:20 (03:43)
146
9Grids VR
Sep 12, 2016
$1.99
N/A (N/A)
1,618 ±1,583
405 ±791
00:13 (00:06)
147
B.A.D Battle Armor Division
Aug 18, 2015
$5.99
N/A (N/A)
3,704 ±1,936
1,058 ±1,035
00:55 (01:12)
148
Torsion
Aug 31, 2016
$1.99
N/A (N/A)
8,202 ±2,881
265 ±517
12:44 (04:14)
149
Nordenfelt
Jan 14, 2016
$5.99
N/A (N/A)
17,461 ±4,204
1,323 ±1,157
01:31 (02:31)
150
Cyborg Rage
Feb 19, 2016
$2.99
N/A (N/A)
8,202 ±2,881
1,058 ±1,035
00:37 (00:22)
151
C.R.E.E.P.S
Mar 16, 2016
$11.99
N/A (N/A)
6,350 ±2,535
1,587 ±1,267
00:18 (00:25)
152
CrimeCraft: GangWars
Aug 22, 2011
Free
8% (48%/68%)
948,210 ±30,956
392,883 ±19,937
02:23 (00:05)
153
Imperia Online
Apr 15, 2016
Free
7% (46%)
80,958 ±9,053
37,304 ±6,145
27:42 (00:19)
154
! That Bastard Is Trying To Steal Our Gold !
Mar 3, 2016
$3.99
N/A (N/A)
90,747 ±9,584
86,778 ±9,372
06:17 (06:29)
155
BloodRealm: Battlegrounds
Feb 12, 2015
Free
6% (45%)
203,981 ±14,368
66,142 ±8,182
02:22 (00:17)
156
Navy Field 2 : Conqueror of the Ocean
Mar 5, 2015
Free
6% (45%)
601,626 ±24,666
294,464 ±17,262
03:47 (00:21)
157
ePic Character Generator
Nov 5, 2015
Free
6% (45%)
77,254 ±8,843
24,340 ±4,964
01:31 (00:08)
158
Daylight's End VR Edition
Aug 26, 2016
Free
N/A (N/A)
25,663 ±5,097
6,614 ±2,587
00:16 (00:09)
159
All Is Dust
Jun 26, 2015
Free
5% (43%)
407,169 ±20,296
191,811 ±13,933
01:05 (00:09)
160
Darkwind: War on Wheels
Aug 22, 2014
Free
5% (42%)
241,815 ±15,643
124,082 ±11,207
00:20 (00:06)
161
Dragon Blood
Jan 31, 2017
Free
5% (42%)
30,161 ±5,525
14,287 ±3,803
133:01 (00:06)
162
Wondership Q
Jul 18, 2016
$9.99
N/A (N/A)
809 ±1,119
0 ±0
00:00 (00:00)
163
Starlord
Nov 13, 2015
$1.74
N/A (N/A)
4,233 ±2,070
0 ±0
00:00 (00:00)
164
World War II GI
Nov 13, 2015
$1.74
N/A (N/A)
6,614 ±2,587
1,323 ±1,157
00:33 (00:53)
165
ReLoaded
Jul 27, 2015
$4.99
N/A (N/A)
2,023 ±1,770
405 ±791
00:07 (00:03)
166
Heroes of SoulCraft - Arcade MOBA
Jul 20, 2015
Free
4% (39%)
250,545 ±15,923
138,104 ±11,823
00:46 (00:05)
167
Brick-Force
Dec 11, 2014
Free
3% (37%)
1,568,091 ±39,784
993,715 ±31,688
02:02 (00:19)
168
Driveby Gangster
Sep 10, 2015
$3.99
N/A (N/A)
3,439 ±1,866
265 ±517
00:01 (00:00)
169
Bloodwood Reload
Nov 2, 2015
Free
3% (36%)
143,660 ±12,058
71,433 ±8,503
00:22 (00:09)
170
Monsters & Munitions
N/A
N/A (N/A)
2,646 ±1,636
2,381 ±1,552
01:08 (00:50)
171
Emission VR
Nov 30, 2016
$99.99
N/A (N/A)
1,852 ±1,369
529 ±731
00:06 (00:03)
172
Magic Barrage - Bitferno
Jan 2015
Free
2% (33%)
299,226 ±17,400
155,830 ±12,559
02:35 (00:10)
173
Sam Glyph: Private Eye!
Oct 9, 2014
$1.99
N/A (N/A)
4,762 ±2,195
0 ±0
00:00 (00:00)
174
Throne Rushers
Aug 10, 2016
$1.99
N/A (N/A)
4,955 ±3,962
0 ±0
00:00 (00:00)
175
Cannons Lasers Rockets
Aug 25, 2014
Free
1% (24%)
236,259 ±15,463
93,392 ±9,723
00:17 (00:08)
176
Monster Challenge Circus
May 15, 2014
$4.99
N/A (N/A)
4,498 ±2,133
0 ±0
00:00 (00:00)
177
Strike Force: Arctic Storm
Sep 21, 2016
N/A
N/A (N/A)
2,381 ±1,552
1,323 ±1,157
00:37 (00:32)
178
Doom Rails
Nov 4, 2009
$2.99
N/A (N/A)
3,175 ±1,792
1,852 ±1,369
00:23 (00:18)
179
A.I. Space Corps
Feb 5, 2016
$4.99
N/A (N/A)
8,731 ±2,973
1,323 ±1,157
00:07 (00:09)
180
Line Of Defense Tactics - Tactical Advantage
Mar 17, 2014
$9.99
N/A (N/A/47%)
2,910 ±1,716
1,323 ±1,157
00:17 (00:13)