App

Dustoff Heli Rescue 2
Dustoff Heli Rescue 2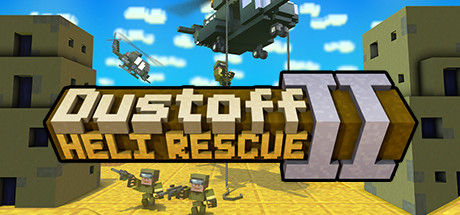 Store | Hub | SteamDB | Site
Developer: Invictus Games Ltd. Publisher: Invictus Games Ltd.
Genre: Action, Casual, Indie, Early Access
Languages: English, French, Italian, German, Simplified Chinese, Traditional Chinese, Japanese, Korean, Russian, Portuguese-Brazil
Tags: Early Access (24), Indie (21), Casual (21), Action (21)
Category: Single-player, Steam Achievements, Full controller support, Steam Trading Cards, Steam Cloud, Stats
Release date: Dec 19, 2016
Price: $7.99
Followers: 257
YouTube stats: 1,232 views and 33 comments for videos uploaded last week, 1 new videos uploaded yesterday.

Steam Spy is still in beta, so expect major bugs.
Peak daily concurrent players:
CCU data courtesy of SteamDB. Used with permission.
Hourly concurrent players:
YouTube:
The views data is based on top 50 videos uploaded last week. Actual number of views might be more than the number shown.

The displayed number of videos uploaded yesterday is limited to 50, so if there were more videos uploaded, the number will still show 50.

If the game has commonly used word as its name (like "FEAR" or "Volume") its number of Youtube views might be wrong.
Games similar to this one:
#
Game
Release date

Price

Score rank
(Userscore / Metascore)

Owners

Players

Playtime (Median)

1
Bit Shifter
Nov 2, 2015
$14.99
N/A (N/A)
2,940 ±1,659
735 ±829
00:16 (00:15)
2
Rogue Stache
Jan 6, 2017
$4.99
N/A (N/A)
1,225 ±1,071
980 ±958
04:45 (05:16)
3
Pixel: ru
Mar 6, 2015
$9.99
N/A (N/A)
980 ±958
735 ±829
06:45 (06:45)
4
Dungeoncraft
Jun 5, 2015
$9.99
N/A (N/A)
1,470 ±1,173
0 ±0
00:00 (00:00)
5
Johnny GravesThe Unchosen One
Apr 6, 2017
$6.99
N/A (N/A)
7,104 ±2,580
490 ±677
00:03 (00:02)
6
Snail Bob 2: Tiny Troubles
Sep 24, 2015
$4.99
N/A (N/A)
4,410 ±2,032
1,960 ±1,355
02:31 (03:14)
7
Kite
Nov 11, 2016
$9.99
N/A (N/A)
1,679 ±2,324
0 ±0
00:00 (00:00)
8
The Extinction
Nov 2, 2015
$2.99
N/A (N/A)
17,638 ±4,065
2,205 ±1,437
00:31 (00:15)
9
VirZOOM Arcade
Jun 30, 2016
Free
N/A (N/A)
47,281 ±6,656
9,554 ±2,992
05:34 (00:02)
10
Cat survival
Feb 14, 2017
$9.99
N/A (N/A)
772 ±1,068
772 ±1,068
03:15 (03:14)
11
RPG Fighter League
Nov 11, 2016
$2.99
N/A (N/A)
2,450 ±1,515
245 ±479
15:53 (05:17)
12
Waddle Home
Jul 7, 2016
$9.99
N/A (N/A)
47,036 ±6,639
4,165 ±1,975
02:57 (00:09)
13
StartBolita
Jul 30, 2015
$3.99
N/A (N/A)
2,940 ±1,659
735 ±829
00:27 (00:13)
14
Bernie Needs Love
Aug 21, 2015
$2.99
N/A (N/A)
8,819 ±2,875
490 ±677
00:05 (00:03)
15
Fractal
Jan 12, 2017
$6.99
N/A (N/A)
2,940 ±1,659
490 ±677
00:07 (00:02)
16
The TakeOver
Feb 2, 2016
$9.99
92% (95%)
1,715 ±1,267
980 ±958
02:18 (01:42)
17
The FOO Show featuring Will Smith
Apr 5, 2016
Free
92% (95%)
60,754 ±7,545
20,578 ±4,391
00:14 (00:07)
18
Heroes of Arca
Feb 16, 2017
$5.99
N/A (N/A)
1,470 ±1,173
980 ±958
08:15 (09:49)
19
Too Angry to Space
Aug 8, 2016
$2.99
N/A (N/A)
1,470 ±1,173
735 ±829
04:43 (04:39)
20
Boogeyman 2
Feb 7, 2017
$7.99
N/A (N/A)
1,960 ±1,355
1,960 ±1,355
00:32 (00:42)
21
ASTROKILL
May 27, 2016
$9.99
N/A (N/A)
12,494 ±3,421
2,940 ±1,659
00:14 (00:14)
22
Runbow
Nov 18, 2016
$14.99
N/A (N/A)
2,205 ±1,437
1,960 ±1,355
03:44 (05:20)
23
Holy Avenger
Dec 7, 2016
$9.99
N/A (N/A)
1,679 ±2,324
1,679 ±2,324
00:09 (00:11)
24
Heroes Never Lose: Professor Puzzler's Perplexing Ploy
Nov 23, 2015
$8.99
N/A (N/A)
3,920 ±1,916
3,430 ±1,792
03:52 (04:47)
25
Four Sided Fantasy
Aug 30, 2016
$9.99
N/A (N/A)
4,655 ±2,088
2,205 ±1,437
00:48 (01:02)
26
The Seeker
Sep 2, 2016
$1.99
N/A (N/A)
1,960 ±1,355
245 ±479
00:40 (00:13)
27
Snowball!
Dec 16, 2016
$2.99
N/A (N/A)
1,544 ±1,511
772 ±1,068
00:24 (00:23)
28
Rogue Continuum
Oct 4, 2016
$9.99
N/A (N/A)
1,960 ±1,355
1,470 ±1,173
00:30 (00:31)
29
Kodon
Jun 3, 2016
$19.99
48% (80%)
1,960 ±1,355
1,715 ±1,267
00:47 (00:24)
30
Medieval Playground
Jan 29, 2016
$4.99
N/A (N/A)
4,410 ±2,032
490 ±677
00:04 (00:02)
31
FrightShow Fighter
Nov 14, 2016
$9.99
N/A (N/A)
3,920 ±1,916
735 ±829
00:34 (00:24)
32
Swanky Paint
Jun 8, 2016
$9.99
N/A (N/A)
839 ±1,643
839 ±1,643
00:16 (00:16)
33
Slam
Jul 11, 2016
$3.99
N/A (N/A)
1,225 ±1,071
980 ±958
00:15 (00:11)
34
Line / Dash
Jul 11, 2016
$1.99
N/A (N/A)
839 ±1,643
839 ±1,643
02:05 (02:05)
35
PostCollapse
Oct 13, 2016
$7.99
N/A (N/A)
1,470 ±1,173
1,470 ±1,173
01:19 (02:14)
36
Super Sky Arena
Oct 5, 2015
$14.99
N/A (N/A)
1,470 ±1,173
1,470 ±1,173
00:34 (00:58)
37
Super VR Trainer
Mar 13, 2017
$19.99
N/A (N/A)
1,544 ±1,511
1,544 ±1,511
03:08 (04:54)
38
Redswood VR
Aug 18, 2016
$3.99
N/A (N/A)
1,544 ±1,511
772 ±1,068
00:21 (00:13)
39
ZombieFight VR
Jan 20, 2017
$19.99
N/A (N/A)
839 ±1,643
839 ±1,643
01:11 (01:11)
40
Dark Days
Jun 3, 2016
$2.99
N/A (N/A)
1,225 ±1,071
980 ±958
00:28 (00:27)
41
Black The Fall
Free
N/A (N/A)
1,930 ±1,689
772 ±1,068
03:16 (02:48)
42
Drunken Fight Simulator
Jan 17, 2017
$2.99
N/A (N/A)
8,084 ±2,752
735 ±829
00:05 (00:02)
43
Flame of Memory
Feb 1, 2017
$1.99
N/A (N/A)
4,165 ±1,975
1,470 ±1,173
03:19 (02:25)
44
GoatPunks
Jan 20, 2017
$9.99
N/A (N/A)
2,940 ±1,659
490 ±677
00:22 (00:14)
45
DEFCON VR
Feb 15, 2017
Free
N/A (N/A/84%)
2,316 ±1,850
772 ±1,068
00:22 (00:18)
46
The Forgotten Forest
Nov 11, 2015
$0.99
N/A (N/A)
1,158 ±1,308
386 ±755
02:15 (01:07)
47
Shadow Of Nebula
Feb 29, 2016
$4.99
N/A (N/A)
772 ±1,068
772 ±1,068
07:32 (07:31)
48
Magnetron
Nov 16, 2015
$5.99
N/A (N/A)
2,695 ±1,589
490 ±677
00:20 (00:13)
49
Tribocalypse VR
Feb 3, 2017
$6.99
N/A (N/A)
2,940 ±1,659
735 ±829
00:05 (00:04)
50
Shuttle Siege
Dec 30, 2016
$4.99
N/A (N/A)
1,960 ±1,355
490 ±677
00:23 (00:15)
51
Entropy Rising
Nov 20, 2015
$4.99
N/A (N/A)
2,316 ±1,850
1,158 ±1,308
01:56 (02:39)
52
The Other 99
Aug 25, 2016
$14.99
N/A (N/A)
1,930 ±1,689
772 ±1,068
03:16 (03:00)
53
Spirit Run - Fire vs. Ice
Feb 12, 2015
$2.99
N/A (N/A)
8,084 ±2,752
2,205 ±1,437
00:30 (00:07)
54
Virus Crashers
Feb 20, 2017
$0.99
N/A (N/A)
772 ±1,068
386 ±755
00:02 (00:01)
55
Hunted: One Step Too Far
Sep 2, 2016
$4.99
N/A (N/A)
7,104 ±2,580
980 ±958
03:23 (02:55)
56
AWAKE
Dec 16, 2015
$4.99
N/A (N/A)
2,450 ±1,515
0 ±0
00:00 (00:00)
57
Paparazzi
Feb 17, 2015
$1.99
N/A (N/A)
735 ±829
245 ±479
00:30 (00:10)
58
Mind Unleashed
May 5, 2016
$2.99
N/A (N/A)
1,470 ±1,173
735 ±829
00:22 (00:22)
59
Roomscale Tower
Jul 26, 2016
$14.99
N/A (N/A)
980 ±958
980 ±958
00:24 (00:29)
60
Machine Hunt
Feb 6, 2017
$2.99
10% (51%)
10,534 ±3,142
6,369 ±2,443
01:53 (01:46)
61
Grey Phobia
Aug 22, 2016
$2.99
N/A (N/A)
7,839 ±2,710
0 ±0
00:00 (00:00)
62
Purgatory: War of the Damned
Feb 11, 2015
$14.99
N/A (N/A)
5,634 ±2,298
735 ±829
00:04 (00:04)
63
Space Ribbon
Aug 5, 2016
$9.99
N/A (N/A)
1,930 ±1,689
1,930 ±1,689
02:22 (03:25)
64
Bridge to Nowhere
Oct 4, 2016
Free
N/A (N/A)
13,719 ±3,585
980 ±958
00:03 (00:03)
65
Store Manager: Cellular Edition
Mar 31, 2017
$6.99
N/A (N/A)
7,594 ±2,667
1,470 ±1,173
01:32 (02:31)
66
Karma
Jul 14, 2015
$0.99
N/A (N/A)
3,675 ±1,855
1,470 ±1,173
02:53 (04:08)
67
Ice Cream Surfer
Jun 22, 2015
$2.99
N/A (N/A)
5,634 ±2,298
735 ±829
00:17 (00:16)
68
LSDriver
Jan 3, 2017
$0.99
N/A (N/A)
2,450 ±1,515
1,225 ±1,071
02:50 (02:25)
69
The Light Empire
Dec 2, 2015
$5.99
N/A (N/A)
2,940 ±1,659
490 ±677
00:03 (00:01)
70
The Janitor
Jul 19, 2016
$0.99
N/A (N/A)
12,249 ±3,388
245 ±479
00:02 (00:00)
71
Back To Life 3
Dec 16, 2014
$4.99
N/A (N/A)
1,715 ±1,267
245 ±479
00:02 (00:00)
72
Insane
Mar 31, 2016
$7.99
N/A (N/A)
4,900 ±2,142
735 ±829
03:07 (03:06)
73
Strike Force: Desert Thunder
Apr 25, 2016
Free
N/A (N/A)
1,960 ±1,355
245 ±479
00:03 (00:01)
74
Ringies
Sep 10, 2015
$3.99
N/A (N/A)
9,064 ±2,914
735 ±829
00:29 (00:25)
75
Pirates Deck
Aug 10, 2015
$2.99
N/A (N/A)
14,944 ±3,742
490 ±677
00:02 (00:01)