0 Day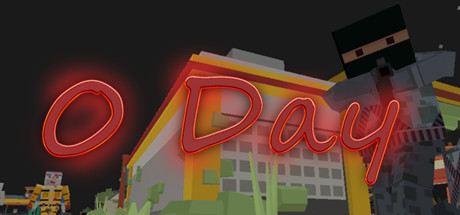 Store | Hub | SteamDB | Site
Developer: Zero Day Games Publisher: Zero Day Games
Genre: Violent, Action, Adventure, Indie, Strategy, Early Access
Languages: English
Tags: Early Access (24), Violent (21), Strategy (21), Adventure (21), Action (21), Indie (21), VR (11), Zombies (10), Fast-Paced (10), Flight (10), VR Only (1)
Category: Single-player
Release date: Nov 15, 2016
Price: $6.99
Followers: 63
YouTube stats: 238 views and 6 comments for videos uploaded last week, 0 new videos uploaded yesterday.

Steam Spy is still in beta, so expect major bugs.
Peak daily concurrent players:
CCU data courtesy of SteamDB. Used with permission.
Hourly concurrent players:
YouTube:
The views data is based on top 50 videos uploaded last week. Actual number of views might be more than the number shown.

The displayed number of videos uploaded yesterday is limited to 50, so if there were more videos uploaded, the number will still show 50.

If the game has commonly used word as its name (like "FEAR" or "Volume") its number of Youtube views might be wrong.
Games similar to this one:
#
Game
Release date

Price

Score rank
(Userscore / Metascore)

Owners

Players

Playtime (Median)

1
Lew Pulsipher's Doomstar
Sep 16, 2016
$9.99
N/A (N/A)
5,813 ±2,370
3,033 ±1,712
03:38 (03:57)
2
Concrete and Steel
May 27, 2016
$12.99
N/A (N/A)
1,516 ±1,483
758 ±1,049
00:37 (00:37)
3
Flute Master
Jun 16, 2016
$14.99
N/A (N/A)
2,022 ±1,398
1,516 ±1,210
02:28 (02:32)
4
SkyBoats
Aug 23, 2016
$7.99
N/A (N/A)
3,791 ±1,914
2,275 ±1,483
02:36 (02:43)
5
Meld
May 11, 2016
$9.99
N/A (N/A)
3,033 ±1,712
1,011 ±988
02:55 (03:11)
6
Induction
Feb 7, 2017
$9.99
N/A (N/A)
1,516 ±1,210
505 ±699
06:19 (04:12)
7
Crystal Towers 2 XL
Aug 11, 2015
$7.99
N/A (N/A)
5,560 ±2,318
2,527 ±1,563
06:40 (06:57)
8
RED Fuse: Rolling Explosive Device
Sep 16, 2015
$8.99
N/A (N/A)
4,802 ±2,154
2,527 ±1,563
03:54 (04:22)
9
Nemesis of the Roman Empire
Jan 28, 2016
$9.99
N/A (N/A/74%)
2,780 ±1,639
2,275 ±1,483
07:09 (03:57)
10
Medieval Battlefields - Black Edition
Jun 2, 2016
$9.99
N/A (N/A)
2,780 ±1,639
253 ±494
02:14 (00:44)
11
Tower of Archeos
Sep 7, 2016
$12.99
N/A (N/A)
1,516 ±1,483
1,516 ±1,483
03:19 (06:13)
12
War of the Human Tanks - Limited Operations
Jun 13, 2016
$9.99
N/A (N/A)
2,022 ±1,398
758 ±856
03:03 (03:02)
13
Seven Kingdoms: Ancient Adversaries
Mar 22, 2016
$5.99
N/A (N/A)
6,571 ±2,520
2,527 ±1,563
10:22 (24:12)
14
Decisive Campaigns: Barbarossa
Apr 29, 2016
$49.99
N/A (N/A)
3,791 ±1,914
3,033 ±1,712
42:53 (37:53)
15
Quell Memento
May 14, 2015
$3.99
N/A (N/A)
17,944 ±4,165
2,780 ±1,639
04:58 (07:06)
16
Frost
Jul 5, 2016
$6.99
95% (96%)
1,769 ±1,307
1,516 ±1,210
04:22 (03:00)
17
Imperium Galactica
Jan 19, 2017
$4.99
N/A (N/A)
5,307 ±2,265
3,286 ±1,782
13:05 (14:09)
18
Mevo and The Grooveriders
Mar 20, 2009
$9.99
N/A (N/A)
1,524 ±2,111
762 ±1,492
06:19 (06:19)
19
Pictopix
Jan 5, 2017
$6.99
89% (94%)
8,593 ±2,882
8,593 ±2,882
19:02 (06:47)
20
A Fear Of Heights, And Other Things
Oct 17, 2016
$0.99
N/A (N/A)
4,296 ±2,038
4,044 ±1,977
01:12 (00:54)
21
Slashy Hero
Oct 18, 2016
$6.99
N/A (N/A)
1,895 ±1,658
1,137 ±1,284
00:41 (00:49)
22
High Strangeness
May 6, 2015
$4.99
N/A (N/A)
4,044 ±1,977
2,275 ±1,483
02:27 (02:05)
23
Flashpoint Campaigns: Red Storm Player's Edition
Nov 21, 2014
$49.99
74% (90%)
6,066 ±2,421
5,560 ±2,318
12:20 (05:55)
24
Westward IV: All Aboard
Feb 16, 2010
$6.99
N/A (N/A)
3,538 ±1,849
3,033 ±1,712
18:35 (15:00)
25
The Tale of a Common Man
Sep 2, 2016
$9.99
N/A (N/A)
2,780 ±1,639
1,011 ±988
09:12 (07:22)
26
On Rusty Trails
Jun 13, 2016
$12.99
74% (90%/77%)
64,447 ±7,893
9,351 ±3,007
02:03 (01:39)
27
Hade
Dec 2, 2016
$2.99
71% (89%)
12,131 ±3,425
8,087 ±2,796
04:22 (03:42)
28
Cat President ~A More Purrfect Union~
Aug 23, 2016
$8.99
N/A (N/A)
2,275 ±1,483
1,264 ±1,105
04:19 (07:05)
29
Nusakana
Nov 19, 2015
$8.99
N/A (N/A)
2,275 ±1,483
1,516 ±1,210
05:01 (07:46)
30
90 Minute Fever - Football (Soccer) Manager MMO
Jul 12, 2016
$19.99
N/A (N/A)
4,296 ±2,038
3,791 ±1,914
69:46 (57:36)
31
Gunman Taco Truck
Jan 28, 2017
$4.99
65% (87%)
11,120 ±3,279
1,769 ±1,307
03:12 (04:38)
32
RYB
Nov 17, 2016
$4.99
N/A (N/A)
1,011 ±988
1,011 ±988
02:38 (03:09)
33
Babel: Tower to the Gods
Apr 5, 2016
$9.99
N/A (N/A)
1,264 ±1,105
505 ±699
00:23 (00:15)
34
Oh My Gore!
Oct 20, 2016
$4.99
59% (85%)
12,637 ±3,495
6,824 ±2,568
16:21 (04:20)
35
Burgers 2
Jan 13, 2017
$3.99
N/A (N/A)
6,824 ±2,568
4,549 ±2,097
02:52 (03:07)
36
Magma Chamber
Apr 2016
$4.99
N/A (N/A)
5,055 ±2,210
3,538 ±1,849
05:12 (04:27)
37
Advanced Tactics Gold
Aug 15, 2014
$29.99
N/A (N/A)
7,076 ±2,615
5,307 ±2,265
20:37 (14:08)
38
YANKAI'S TRIANGLE
Nov 2, 2016
$2.99
N/A (N/A)
1,516 ±1,210
1,516 ±1,210
01:44 (02:52)
39
Welcome to Boon Hill
Oct 31, 2015
$4.99
N/A (N/A)
1,264 ±1,105
758 ±856
02:21 (02:21)
40
Asteroids Minesweeper
Jul 8, 2016
$1.99
N/A (N/A)
1,264 ±1,105
758 ±856
00:58 (00:58)
41
Pirates of the Polygon Sea
Jul 12, 2016
$10.99
N/A (N/A)
1,769 ±1,307
1,516 ±1,210
01:09 (02:04)
42
Satellite Repairman
Feb 2, 2017
$3.99
N/A (N/A)
6,571 ±2,520
4,549 ±2,097
02:30 (02:49)
43
Even the Ocean
Nov 16, 2016
$14.99
47% (80%)
4,549 ±2,097
1,769 ±1,307
03:58 (03:23)
44
Cue Club 2: Pool & Snooker
Mar 7, 2016
$18.99
47% (80%)
3,286 ±1,782
3,033 ±1,712
05:53 (04:47)
45
Tank Battle: North Africa
Jul 12, 2016
$9.99
N/A (N/A)
2,022 ±1,398
1,264 ±1,105
37:30 (43:15)
46
Puzzle Strike
Dec 21, 2015
$14.99
N/A (N/A)
2,780 ±1,639
2,022 ±1,398
18:50 (03:48)
47
Super Dungeon Tactics
Dec 14, 2016
$19.99
41% (77%)
6,571 ±2,520
5,307 ±2,265
07:39 (03:02)
48
Victory and Glory: Napoleon
Mar 17, 2016
$29.99
39% (76%)
3,791 ±1,914
2,780 ±1,639
25:41 (16:49)
49
Comicado
Jan 21, 2014
$9.99
N/A (N/A)
2,275 ±1,483
2,022 ±1,398
33:57 (06:00)
50
RutonyChat
Sep 19, 2016
$14.99
37% (75%)
7,329 ±2,662
7,076 ±2,615
373:33 (256:57)
51
Sengoku Jidai: Shadow of the Shogun
May 19, 2016
$29.99
33% (73%/80%)
3,791 ±1,914
2,780 ±1,639
18:54 (14:50)
52
Momonga Pinball Adventures
Sep 16, 2016
$5.99
N/A (N/A)
3,538 ±1,849
2,275 ±1,483
01:30 (01:56)
53
Alarameth TD
Jun 23, 2015
$4.99
N/A (N/A)
758 ±856
758 ±856
07:50 (07:50)
54
Neon Warp
Jul 29, 2016
$1.99
N/A (N/A)
3,791 ±1,914
2,780 ±1,639
02:07 (02:36)
55
Firefight
Jul 11, 2016
$9.99
N/A (N/A)
2,275 ±1,483
2,275 ±1,483
00:59 (01:08)
56
Hospitalize
Sep 21, 2016
$15.99
28% (70%)
4,044 ±1,977
4,044 ±1,977
11:49 (12:52)
57
One Of The Last
Dec 20, 2017
$12.99
N/A (N/A)
2,275 ±1,483
1,264 ±1,105
02:43 (02:24)
58
Automata Empire
Apr 8, 2016
$8.99
N/A (N/A)
1,769 ±1,307
1,769 ±1,307
01:05 (01:26)
59
Armor Clash
Oct 21, 2015
$4.99
26% (68%)
2,022 ±1,398
1,769 ±1,307
00:41 (01:04)
60
Shards of Azuria
Oct 12, 2016
$4.99
26% (68%)
12,637 ±3,495
4,549 ±2,097
04:24 (02:39)
61
Element TD
Jan 20, 2017
$0.99
N/A (N/A)
1,769 ±1,307
1,011 ±988
24:36 (16:29)
62
Volvox
Dec 7, 2015
$9.99
N/A (N/A)
2,275 ±1,483
1,011 ±988
00:15 (00:14)
63
Escape: Sierra Leone
Dec 5, 2016
$9.99
N/A (N/A)
1,769 ±1,307
1,516 ±1,210
05:19 (08:16)
64
Zombie Gotchi
Mar 23, 2016
$9.99
N/A (N/A)
2,653 ±1,962
2,653 ±1,962
07:13 (07:52)
65
Civil War: 1863
Jun 21, 2016
$9.99
N/A (N/A)
2,022 ±1,398
1,264 ±1,105
15:32 (25:07)
66
Feelings Adrift
Feb 29, 2016
$6.99
17% (61%)
1,769 ±1,307
1,769 ±1,307
00:35 (00:47)
67
XenoBloom
Sep 23, 2015
$4.99
N/A (N/A)
5,560 ±2,318
1,011 ±988
01:14 (01:10)
68
NOBUNAGA'S AMBITION: Tendou with Power Up Kit / with
Jun 25, 2015
$54.99
N/A (N/A)
4,044 ±1,977
3,791 ±1,914
87:20 (132:06)
69
Divided We Fall
Oct 3, 2017
$12.99
14% (58%)
3,791 ±1,914
3,033 ±1,712
02:12 (01:45)
70
Aegis of Earth: Protonovus Assault
Jul 18, 2016
$19.99
N/A (N/A)
1,264 ±1,105
758 ±856
00:53 (00:48)
71
reconquest
Dec 16, 2016
$11.99
13% (57%)
5,560 ±2,318
5,307 ±2,265
03:17 (01:47)
72
FritzChess 15
Feb 22, 2016
$34.99
N/A (N/A)
1,264 ±1,105
1,264 ±1,105
19:28 (24:11)
73
Magic Potion Explorer
Mar 11, 2016
$9.99
11% (53%)
6,066 ±2,421
4,296 ±2,038
04:20 (02:50)
74
Rolling Shapes
Jun 8, 2015
$1.99
N/A (N/A)
4,044 ±1,977
2,527 ±1,563
02:24 (02:57)
75
The Horus Heresy: Battle of Tallarn - Iron Edition
Feb 8, 2017
$9.99
N/A (N/A)
2,527 ±1,563
1,264 ±1,105
02:03 (03:19)
76
Farm Life: Natures Adventure
Aug 23, 2016
$0.99
N/A (N/A)
38,668 ±6,114
37,657 ±6,034
05:20 (05:33)
77
Wars of Napoleon
May 6, 2016
$39.99
N/A (N/A)
1,769 ±1,307
1,011 ±988
00:14 (00:11)
78
Draconian Wars
Aug 28, 2014
$5.99
N/A (N/A)
6,824 ±2,568
4,296 ±2,038
03:26 (06:45)
79
NOBUNAGA'S AMBITION: Tenshouki WPK HD Version / with HD Version
Nov 11, 2015
$54.99
N/A (N/A)
7,582 ±2,707
7,582 ±2,707
152:21 (99:48)
80
Hell`s Little Story
Feb 9, 2017
$2.99
N/A (N/A)
121,311 ±10,829
113,224 ±10,462
03:49 (03:30)
81
Jurassic Island: The Dinosaur Zoo
Nov 23, 2015
$3.99
N/A (N/A)
4,549 ±2,097
3,791 ±1,914
02:03 (02:29)