M.E.R.C.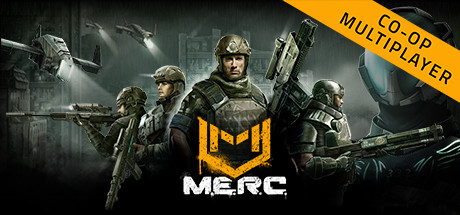 Store | Hub | SteamDB | Site
Developer: TinyMob Games Publisher: TinyMob Games
Genre: Action, Indie, Strategy, Early Access
Languages: English, French
Tags: Early Access (26), Indie (23), Action (23), Strategy (23), Real Time Tactics (16), Tactical (14), Multiplayer (13), Cyberpunk (13), Strategy RPG (10)
Category: Single-player, Multi-player, Online Multi-Player, Co-op, Online Co-op
Release date: Jan 17, 2017
Price: $19.99
Old userscore: 70% Owners: 1,995 ± 1,746
Players total: 2,423 ± 2,740 (121.47%)
Followers: 2,708
Peak concurrent players yesterday: 1
YouTube stats: 1,621 views and 131 comments for videos uploaded last week, 13 new videos uploaded yesterday.
Playtime total: 01:22 (average) 01:57 (median)

Steam Spy is still in beta, so expect major bugs.
Peak daily concurrent players:
CCU data courtesy of SteamDB. Used with permission.
Hourly concurrent players:
YouTube:
The views data is based on top 50 videos uploaded last week. Actual number of views might be more than the number shown.

The displayed number of videos uploaded yesterday is limited to 50, so if there were more videos uploaded, the number will still show 50.

If the game has commonly used word as its name (like "FEAR" or "Volume") its number of Youtube views might be wrong.
Games similar to this one:
#
Game
Release date

Price

Score rank
(Userscore / Metascore)

Owners

Players

Playtime (Median)

1
We Slay Monsters
Jun 21, 2017
$9.99
N/A (N/A)
4,043 ±2,042
2,965 ±1,748
07:33 (07:21)
2
Pivot Pilot
Jan 6, 2017
$6.99
N/A (N/A)
9,434 ±3,119
3,504 ±1,901
03:35 (03:16)
3
Space - The Return Of The Pixxelfrazzer
Nov 2, 2015
$2.99
N/A (N/A)
1,348 ±1,179
809 ±913
01:21 (01:11)
4
ENIGMA : An Illusion Named Family
Mar 19, 2015
$4.99
N/A (N/A)
1,887 ±1,395
1,348 ±1,179
06:04 (08:01)
5
Super Cane Magic ZERO
Aug 26, 2015
$19.99
89% (94%)
9,165 ±3,074
8,356 ±2,936
105:15 (03:47)
6
Dream Quest
Dec 8, 2016
$9.99
89% (94%)
2,156 ±1,491
2,156 ±1,491
07:46 (13:02)
7
Sixth Grade Detective
Dec 21, 2015
$4.99
N/A (N/A)
2,156 ±1,491
1,348 ±1,179
08:14 (08:23)
8
Bear Haven Nights
Jan 29, 2016
$4.99
N/A (N/A)
33,694 ±5,895
29,650 ±5,530
03:51 (03:33)
9
Cowbots and Aliens
Nov 7, 2016
$19.99
65% (87%)
3,774 ±1,973
2,965 ±1,748
05:10 (06:30)
10
Samurai of Hyuga
Sep 16, 2016
$3.99
N/A (N/A)
3,504 ±1,901
2,426 ±1,581
06:17 (07:34)
11
Red Rope: Don't Fall Behind
Jul 21, 2016
$7.99
N/A (N/A)
5,930 ±2,473
4,852 ±2,237
03:54 (03:20)
12
Polygod
Oct 13, 2016
$9.99
N/A (N/A)
1,078 ±1,054
1,078 ±1,054
03:42 (04:39)
13
Cat survival
Feb 14, 2017
$9.99
N/A (N/A)
41,780 ±6,564
41,510 ±6,543
04:57 (05:02)
14
The Lost Heir 2: Forging a Kingdom
Jan 29, 2016
$3.99
N/A (N/A)
3,235 ±1,826
2,156 ±1,491
09:47 (06:42)
15
Swords and Sandals 2 Redux: Maximus Edition
Jun 29, 2017
$4.99
37% (75%)
3,774 ±1,973
3,504 ±1,901
05:30 (14:28)
16
Dark Legion VR
Mar 7, 2017
$19.99
33% (73%)
2,965 ±1,748
2,156 ±1,491
02:00 (02:12)
17
Mastema: Out of Hell
Mar 3, 2017
$4.99
23% (66%)
10,243 ±3,250
5,121 ±2,298
13:14 (02:18)
18
Bloody Trapland 2: Curiosity
Apr 7, 2017
$14.99
N/A (N/A)
4,582 ±2,174
4,043 ±2,042
06:18 (07:19)
19
Stupid Raft Battle Simulator
Feb 23, 2017
$5.99
N/A (N/A)
2,965 ±1,748
2,695 ±1,667
01:07 (01:19)
20
Andarilho
May 5, 2017
$0.49
13% (56%)
15,903 ±4,050
8,626 ±2,983
03:52 (04:31)
21
Barren Roads
Jun 1, 2015
$8.99
6% (45%)
1,214 ±1,371
405 ±791
01:06 (00:33)
22
Wander
Jun 4, 2015
$8.99
2% (32%)
2,695 ±1,667
2,695 ±1,667
03:56 (04:42)