M.E.R.C.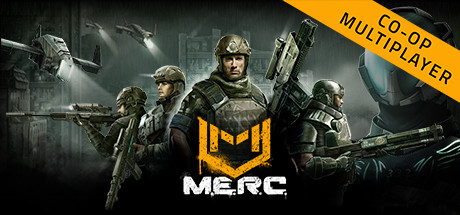 Store | Hub | SteamDB | Site
Developer: TinyMob Games Publisher: TinyMob Games
Genre: Action, Indie, Strategy, Early Access
Languages: English, French
Tags: Early Access (26), Indie (23), Action (23), Strategy (22), Real Time Tactics (15), Tactical (14), Cyberpunk (12), Multiplayer (12), Strategy RPG (9)
Category: Single-player, Multi-player, Online Multi-Player, Co-op, Online Co-op
Release date: Jan 17, 2017
Price: $19.99
Old userscore: 82% Owners: 1,364 ± 1,089
Players total: 1,137 ± 994 (83.33%)
Followers: 2,461
Peak concurrent players yesterday: 3
YouTube stats: 46,364 views and 331 comments for videos uploaded last week, 9 new videos uploaded yesterday.
Playtime total: 01:15 (average) 01:25 (median)

Steam Spy is still in beta, so expect major bugs.
Peak daily concurrent players:
CCU data courtesy of SteamDB. Used with permission.
Hourly concurrent players:
YouTube:
The views data is based on top 50 videos uploaded last week. Actual number of views might be more than the number shown.

The displayed number of videos uploaded yesterday is limited to 50, so if there were more videos uploaded, the number will still show 50.

If the game has commonly used word as its name (like "FEAR" or "Volume") its number of Youtube views might be wrong.
Games similar to this one:
#
Game
Release date

Price

Score rank
(Userscore / Metascore)

Owners

Players

Playtime (Median)

1
We Slay Monsters
Nov 17, 2014
$13.99
N/A (N/A)
3,410 ±1,722
2,728 ±1,540
06:23 (04:58)
2
Conductor
May 2, 2017
$9.99
N/A (N/A)
1,364 ±1,089
909 ±889
01:25 (01:50)
3
Phantom Brave PC
Jul 25, 2016
$19.99
92% (95%)
16,370 ±3,772
10,913 ±3,080
12:32 (05:39)
4
Siralim 2
Aug 12, 2016
$14.99
92% (95%)
7,276 ±2,515
6,821 ±2,435
36:33 (19:19)
5
Manastorm: Champions of G'nar
Jan 3, 2017
$4.99
N/A (N/A)
1,137 ±994
1,137 ±994
00:35 (00:41)
6
Polygod
Oct 13, 2016
$9.99
N/A (N/A)
3,638 ±1,778
2,728 ±1,540
04:53 (04:45)
7
On A Roll 3D
Feb 12, 2015
$3.99
92% (95%)
45,473 ±6,287
33,877 ±5,427
06:18 (03:27)
8
Vampire: The Masquerade - Redemption
Apr 18, 2017
$5.99
N/A (N/A/74%)
6,594 ±2,394
1,819 ±1,257
04:39 (04:36)
9
Cursed Castilla (Maldita Castilla EX)
Oct 20, 2016
$11.99
89% (94%)
4,093 ±1,886
3,865 ±1,833
02:17 (01:03)
10
Blast-off
Mar 1, 2017
$4.99
N/A (N/A)
2,728 ±1,540
1,592 ±1,176
03:35 (04:17)
11
Angels of Death
Dec 19, 2016
$9.99
89% (94%)
11,368 ±3,144
9,549 ±2,881
06:42 (05:42)
12
Masquerada: Songs and Shadows
Sep 30, 2016
$24.99
89% (94%/64%)
4,547 ±1,988
2,274 ±1,406
06:51 (03:46)
13
The Inner Sea
Mar 30, 2016
$11.99
N/A (N/A)
1,364 ±1,089
682 ±770
04:07 (01:58)
14
Card Quest
Jan 20, 2017
$7.99
N/A (N/A)
2,274 ±1,406
1,819 ±1,257
11:16 (08:23)
15
Catacomb Kids
Feb 20, 2015
$15.99
82% (92%)
12,278 ±3,267
12,050 ±3,237
13:15 (03:22)
16
Hollywood Visionary
May 1, 2015
$5.99
82% (92%)
4,320 ±1,938
3,410 ±1,722
06:08 (03:02)
17
Moekuri: Adorable + Tactical SRPG
Dec 16, 2016
$11.99
82% (92%)
5,002 ±2,085
4,093 ±1,886
02:05 (01:20)
18
CounterAttack
Apr 21, 2016
$7.99
N/A (N/A)
4,320 ±1,938
3,638 ±1,778
07:34 (08:20)
19
VERSUS: The Elite Trials
Dec 16, 2016
$3.99
N/A (N/A)
2,501 ±1,474
1,592 ±1,176
03:54 (03:53)
20
C. Kane
Jan 25, 2016
$1.99
N/A (N/A)
4,547 ±1,988
2,274 ±1,406
06:48 (11:12)
21
Cosmic Star Heroine
Apr 11, 2017
$14.99
75% (90%/78%)
7,276 ±2,515
6,594 ±2,394
05:52 (03:22)
22
Operation Babel: New Tokyo Legacy
May 16, 2017
$39.99
N/A (N/A)
2,046 ±1,333
1,819 ±1,257
02:59 (03:54)
23
Hero and Daughter+
Feb 18, 2016
$9.99
75% (90%)
5,911 ±2,267
4,320 ±1,938
21:35 (19:06)
24
City Climber
Feb 24, 2017
$6.99
N/A (N/A)
1,364 ±1,089
1,364 ±1,089
02:17 (03:04)
25
Braveland Pirate
Sep 14, 2015
$6.99
71% (89%)
9,777 ±2,915
5,457 ±2,178
08:09 (07:07)
26
Camp Sunshine
Oct 27, 2016
$4.99
71% (89%)
5,457 ±2,178
4,093 ±1,886
03:40 (04:48)
27
Elven Assassin
Sep 10, 2016
$9.99
71% (89%)
8,412 ±2,704
7,958 ±2,630
09:47 (01:28)
28
Runt of the Litter
Feb 23, 2017
$3.99
N/A (N/A)
3,865 ±1,833
3,410 ±1,722
02:10 (02:54)
29
Depths of Peril
Nov 23, 2010
$9.99
N/A (N/A/79%)
45,473 ±6,287
15,916 ±3,720
03:21 (01:12)
30
Drifting Lands
Jan 24, 2017
$18.99
68% (88%)
2,046 ±1,333
1,819 ±1,257
04:52 (04:56)
31
Conclave
Jan 20, 2017
$11.99
N/A (N/A)
1,819 ±1,257
1,364 ±1,089
02:34 (03:49)
32
Holy Potatoes! Were in Space?!
Feb 14, 2017
$14.99
65% (87%)
10,004 ±2,949
9,322 ±2,847
06:32 (03:14)
33
Downward
Dec 19, 2016
$9.99
65% (87%)
4,775 ±2,037
2,956 ±1,603
02:56 (02:51)
34
Freaking Meatbags
Feb 4, 2015
$9.99
62% (86%/69%)
41,153 ±5,981
13,187 ±3,386
01:58 (00:54)
35
Willy-Nilly Knight
May 18, 2017
$14.99
N/A (N/A)
1,001 ±1,130
1,001 ±1,130
01:17 (01:49)
36
Inferno 2
Jul 29, 2015
$4.99
N/A (N/A)
2,046 ±1,333
455 ±628
06:59 (02:57)
37
VERSUS: The Lost Ones
Aug 21, 2015
$3.99
59% (85%)
5,457 ±2,178
4,093 ±1,886
08:26 (08:32)
38
Heroes of a Broken Land
Aug 7, 2014
$14.99
59% (85%)
8,640 ±2,740
6,594 ±2,394
22:13 (03:06)
39
Seeking Evil: The Wendigo
Apr 26, 2017
$9.99
N/A (N/A)
1,137 ±994
909 ±889
00:36 (00:40)
40
Construct: Escape the System
Dec 2, 2016
$7.99
N/A (N/A)
3,865 ±1,833
1,592 ±1,176
04:28 (05:42)
41
Muffin Knight
May 2014
$6.99
59% (85%)
77,759 ±8,222
21,372 ±4,310
03:33 (01:06)
42
Beyond Despair
Jan 16, 2017
$11.99
59% (85%)
2,728 ±1,540
2,274 ±1,406
03:54 (02:09)
43
Pixel Fodder
Jul 20, 2015
Free
N/A (N/A)
13,187 ±3,386
5,911 ±2,267
01:26 (00:37)
44
iOMoon
Apr 27, 2016
$12.99
N/A (N/A)
1,364 ±1,089
909 ±889
01:12 (01:02)
45
A dragon girl looks up at the endless sky
Oct 27, 2016
$9.99
N/A (N/A)
909 ±889
682 ±770
17:31 (17:29)
46
Samurai of Hyuga
Sep 16, 2016
$3.99
N/A (N/A)
2,728 ±1,540
2,046 ±1,333
04:12 (04:29)
47
INFERNO CLIMBER
Sep 8, 2016
$29.99
N/A (N/A)
2,046 ±1,333
2,046 ±1,333
00:46 (01:04)
48
Sorcery Is for Saps
Oct 14, 2016
$6.99
N/A (N/A)
2,274 ±1,406
1,819 ±1,257
03:55 (05:02)
49
The Lost Heir 2: Forging a Kingdom
Jan 29, 2016
$3.99
N/A (N/A)
2,501 ±1,474
1,819 ±1,257
03:38 (03:28)
50
Ratings War
Oct 2, 2015
$4.99
N/A (N/A)
4,093 ±1,886
2,728 ±1,540
02:18 (02:53)
51
Soul Locus
Apr 30, 2015
$9.99
N/A (N/A)
1,819 ±1,257
1,592 ±1,176
15:57 (22:05)
52
The Madness of Little Emma
Dec 21, 2015
$8.99
47% (80%)
5,229 ±2,132
3,410 ±1,722
04:52 (04:14)
53
The Depths of Tolagal
Jan 5, 2015
$4.99
N/A (N/A)
3,410 ±1,722
1,819 ±1,257
03:19 (04:25)
54
Lichtspeer
Sep 27, 2016
$9.99
N/A (N/A/72%)
1,819 ±1,257
1,364 ±1,089
01:33 (01:56)
55
Betrayal Collection
Dec 15, 2016
$5.99
N/A (N/A)
16,370 ±3,772
2,046 ±1,333
02:58 (08:13)
56
March of the Living
Apr 20, 2016
$14.99
43% (78%/63%)
9,549 ±2,881
9,322 ±2,847
03:48 (02:09)
57
Vengeance
Apr 29, 2016
$8.99
N/A (N/A)
2,046 ±1,333
1,137 ±994
04:28 (06:42)
58
Eternal Winter
Nov 24, 2014
$9.99
41% (77%)
19,781 ±4,147
11,368 ±3,144
01:58 (00:57)
59
Radiation Island
Nov 29, 2016
$2.99
41% (77%)
10,004 ±2,949
9,095 ±2,812
07:06 (01:38)
60
Hard to Be a God
Aug 24, 2015
$7.99
N/A (N/A/55%)
1,137 ±994
909 ±889
10:31 (14:00)
61
Karnage Chronicles
Apr 24, 2017
$24.99
N/A (N/A)
1,001 ±1,130
1,001 ±1,130
00:31 (00:42)
62
POLYWAR
Dec 30, 2016
$2.99
37% (75%)
31,149 ±5,204
2,046 ±1,333
01:11 (01:39)
63
The Cabin: VR Escape the Room
Jan 5, 2017
$4.99
N/A (N/A)
6,594 ±2,394
3,865 ±1,833
01:24 (01:28)
64
Realms of Arkania: Star Trail
Nov 11, 2016
$18.74
N/A (N/A)
2,274 ±1,406
682 ±770
12:57 (12:43)
65
Soup: the Game
Mar 18, 2016
$1.99
N/A (N/A)
5,911 ±2,267
4,093 ±1,886
03:17 (03:18)
66
The Deep Paths: Labyrinth Of Andokost
Oct 26, 2016
$7.99
30% (71%)
5,684 ±2,223
1,819 ±1,257
01:16 (01:10)
67
Evertree Inn
Jan 20, 2017
$3.99
N/A (N/A)
1,137 ±994
682 ±770
05:16 (04:31)
68
One Last Day
Apr 28, 2015
$12.99
29% (70%)
3,638 ±1,778
2,956 ±1,603
01:27 (01:04)
69
Event Horizon
Apr 30, 2016
$5.99
N/A (N/A)
3,638 ±1,778
1,364 ±1,089
08:22 (09:09)
70
Lootfest
May 14, 2015
$0.99
N/A (N/A)
3,410 ±1,722
2,274 ±1,406
00:25 (00:29)
71
Statues
Oct 27, 2015
$4.99
23% (66%)
20,690 ±4,241
13,415 ±3,415
03:32 (03:33)
72
7 Mages
Jun 23, 2016
$4.75
21% (64%)
2,956 ±1,603
1,364 ±1,089
23:55 (34:25)
73
Pitiri 1977
Nov 7, 2014
$3.99
N/A (N/A)
50,702 ±6,639
16,370 ±3,772
02:12 (01:37)
74
Sol Trader
Jun 6, 2016
$19.99
N/A (N/A)
2,669 ±1,846
2,002 ±1,599
02:41 (04:15)
75
Defragmented
Feb 12, 2016
$14.99
N/A (N/A/68%)
5,684 ±2,223
3,638 ±1,778
03:10 (04:14)
76
VThree
Feb 28, 2017
$9.99
N/A (N/A)
2,274 ±1,406
909 ±889
00:11 (00:13)
77
Francisca
Jul 26, 2016
$0.99
17% (61%)
10,913 ±3,080
8,412 ±2,704
01:25 (01:13)
78
The Lost
Aug 17, 2016
$5.99
N/A (N/A)
1,001 ±1,130
1,001 ±1,130
02:05 (02:47)
79
Top Hat
Jul 31, 2014
$0.99
N/A (N/A)
21,600 ±4,333
4,775 ±2,037
00:29 (00:12)
80
GiAnt
Aug 2, 2016
$4.99
N/A (N/A)
3,183 ±1,663
682 ±770
01:48 (01:47)
81
Idle Civilization
Nov 23, 2015
$4.99
16% (60%)
7,503 ±2,554
7,503 ±2,554
30:08 (13:34)
82
Servo
May 28, 2015
Free
15% (58%)
3,865 ±1,833
3,638 ±1,778
03:52 (08:33)
83
D.N.Age
Jul 29, 2016
$4.99
N/A (N/A)
1,334 ±1,305
1,334 ±1,305
02:57 (04:26)
84
MechaGore
Jun 14, 2016
$4.99
N/A (N/A)
3,638 ±1,778
2,046 ±1,333
01:47 (02:13)
85
Shadowrun Chronicles: INFECTED Director's Cut
Dec 10, 2015
$29.99
N/A (N/A)
3,410 ±1,722
2,046 ±1,333
22:32 (22:15)
86
Continue?9876543210
Jan 3, 2014
$9.99
12% (55%/62%)
18,189 ±3,977
7,730 ±2,592
00:56 (00:43)
87
Tile Miner
Oct 24, 2014
Free
N/A (N/A)
1,592 ±1,176
1,137 ±994
02:28 (03:51)
88
Clumsy Moose Season
Mar 2, 2016
$3.99
N/A (N/A)
4,547 ±1,988
909 ±889
00:33 (00:26)
89
Qasir al-Wasat: International Edition
Jan 19, 2016
$14.99
N/A (N/A)
4,320 ±1,938
2,501 ±1,474
03:08 (03:08)
90
Mistfal
Jul 7, 2016
$1.99
N/A (N/A)
4,775 ±2,037
3,410 ±1,722
04:07 (03:38)
91
Kingdoms Rise
Nov 18, 2013
$14.99
10% (51%)
56,614 ±7,016
51,839 ±6,713
02:46 (01:00)
92
e-River Cabin Journal
Jul 15, 2016
$9.99
N/A (N/A)
1,592 ±1,176
1,592 ±1,176
04:28 (08:31)
93
Avenging Angel
Jun 1, 2015
$9.99
N/A (N/A)
9,095 ±2,812
5,684 ±2,223
03:17 (03:11)
94
Stained
Jul 10, 2014
$1.99
N/A (N/A)
2,728 ±1,540
1,819 ±1,257
01:16 (01:44)
95
Shot In The Dark
Jun 10, 2015
Free
7% (47%)
75,258 ±8,089
28,421 ±4,971
03:19 (04:16)
96
XLR
Apr 5, 2016
$4.99
N/A (N/A)
4,320 ±1,938
1,819 ±1,257
00:44 (00:51)
97
I Am Caligula
Mar 25, 2016
$0.99
N/A (N/A)
2,956 ±1,603
2,501 ±1,474
05:10 (06:11)
98
Miner Ultra Adventures
Jan 27, 2017
$0.99
6% (45%)
4,093 ±1,886
2,501 ±1,474
03:28 (03:57)
99
The Sea Eternal
Apr 22, 2016
$6.99
N/A (N/A)
1,592 ±1,176
909 ±889
02:08 (02:35)
100
Osteya
Nov 20, 2015
$0.99
N/A (N/A)
18,871 ±4,050
1,592 ±1,176
00:24 (00:27)
101
Spaceforce Rogue Universe HD
May 26, 2015
$12.99
N/A (N/A)
4,093 ±1,886
2,728 ±1,540
06:14 (08:17)
102
Massive
Apr 14, 2016
$0.99
N/A (N/A)
2,046 ±1,333
909 ±889
00:27 (00:17)
103
Galactineers
Mar 25, 2016
$9.99
N/A (N/A)
5,229 ±2,132
3,638 ±1,778
04:24 (05:47)
104
Ghostship Aftermath
Jul 18, 2014
$9.99
5% (40%)
8,185 ±2,667
4,547 ±1,988
05:27 (05:13)
105
Insane Decay of Mind
May 6, 2016
$2.99
N/A (N/A)
3,410 ±1,722
2,728 ±1,540
00:55 (01:34)
106
Hero Battle
Apr 28, 2016
$9.99
N/A (N/A)
9,777 ±2,915
7,503 ±2,554
03:24 (03:48)
107
Pixel Z - Gun Day
Jan 14, 2016
$0.99
3% (37%)
12,732 ±3,327
6,821 ±2,435
00:47 (00:51)
108
Captivity
Oct 19, 2016
$0.99
N/A (N/A)
2,501 ±1,474
1,819 ±1,257
02:30 (03:38)
109
10 Years After
Jan 30, 2015
$5.99
N/A (N/A)
9,777 ±2,915
1,137 ±994
01:18 (02:04)
110
The Legend of Candlewind: Nights & Candles
Feb 12, 2015
$9.99
N/A (N/A)
15,233 ±3,639
1,137 ±994
00:11 (00:07)