M.A.C.E.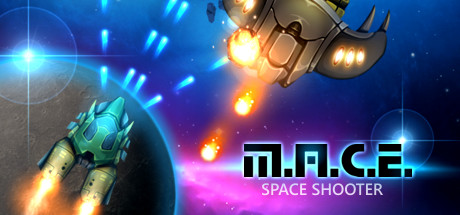 Store | Hub | SteamDB | Site
Developer: EntwicklerX Publisher: EntwicklerX
Genre: Action, Casual, Indie
Languages: English, German
Tags: Indie (23), Action (23), Casual (22), Shoot 'Em Up (17), Arcade (13), Top-Down Shooter (12), Shooter (12), Retro (11), 2D Fighter (5)
Category: Single-player, Local Co-op, Shared/Split Screen, Steam Achievements, Full controller support, Steam Trading Cards, Steam Cloud
Release date: Mar 16, 2017
Price: $4.99
Owners: 5,945 ± 2,237
Players in the last 2 weeks: 684 ± 1,339 (11.5%)
Players total: 4,844 ± 2,019 (81.48%)
Followers: 148
Peak concurrent players yesterday: 3
YouTube stats: 5,773 views and 485 comments for videos uploaded last week, 4 new videos uploaded yesterday.
Playtime in the last 2 weeks: 01:01 (average) 01:01 (median)
Playtime total: 03:24 (average) 03:34 (median)

Steam Spy is still in beta, so expect major bugs.
Peak daily concurrent players:
CCU data courtesy of SteamDB. Used with permission.
Hourly concurrent players:
YouTube:
The views data is based on top 50 videos uploaded last week. Actual number of views might be more than the number shown.

The displayed number of videos uploaded yesterday is limited to 50, so if there were more videos uploaded, the number will still show 50.

If the game has commonly used word as its name (like "FEAR" or "Volume") its number of Youtube views might be wrong.
Games similar to this one:
#
Game
Release date

Price

Score rank
(Userscore / Metascore)

Owners

Players

Playtime (Median)

1
Penarium
Sep 22, 2015
$9.99
N/A (N/A/80%)
77,289 ±8,066
23,121 ±4,412
03:15 (03:00)
2
Vortex Attack:
May 27, 2015
$6.99
N/A (N/A)
4,404 ±1,925
2,642 ±1,491
02:48 (02:59)
3
REVOLVER360 RE:ACTOR
Oct 24, 2014
$2.99
92% (95%)
72,445 ±7,809
35,232 ±5,446
01:52 (01:01)
4
Venusian Vengeance
Mar 27, 2015
$3.99
N/A (N/A)
6,386 ±2,318
4,404 ±1,925
02:31 (03:09)
5
Murasaki
May 12, 2016
$2.49
N/A (N/A)
4,844 ±2,019
2,863 ±1,552
02:56 (02:39)
6
Gunman Clive 2
Sep 3, 2015
$2.99
N/A (N/A)
8,368 ±2,654
1,321 ±1,054
00:42 (00:42)
7
Shapes of Gray
Sep 23, 2015
$6.99
N/A (N/A)
5,505 ±2,153
4,404 ±1,925
04:29 (04:27)
8
Abduction Bit
Nov 14, 2016
$0.99
N/A (N/A)
5,065 ±2,065
3,743 ±1,775
03:37 (02:35)
9
Avalanche 2: Super Avalanche
Jun 11, 2015
$9.99
N/A (N/A)
85,877 ±8,502
31,048 ±5,112
04:09 (03:52)
10
TO THE TOP
May 18, 2017
$24.99
81% (92%)
8,368 ±2,654
7,267 ±2,473
02:13 (01:05)
11
Rubber Ducky and the Rainbow Gun
Dec 15, 2015
$0.99
77% (91%)
11,230 ±3,075
7,487 ±2,510
02:24 (03:02)
12
Battlesloths 2025: The Great Pizza Wars
Jun 6, 2017
$14.99
N/A (N/A)
1,321 ±1,054
1,101 ±962
02:13 (03:33)
13
ARMED SEVEN
Mar 6, 2015
$4.99
N/A (N/A/67%)
6,166 ±2,278
2,642 ±1,491
02:13 (02:55)
14
Ember Kaboom
Jun 3, 2016
$4.99
N/A (N/A)
24,002 ±4,495
3,523 ±1,722
01:14 (01:40)
15
Straimium Immortaly
Oct 10, 2016
$8.99
74% (90%)
7,707 ±2,547
5,505 ±2,153
03:41 (01:35)
16
Aqua Kitty - Milk Mine Defender
Feb 3, 2014
$6.99
74% (90%)
46,021 ±6,224
29,286 ±4,965
01:55 (01:12)
17
Arclight Cascade
Aug 25, 2015
Free
N/A (N/A)
8,368 ±2,654
5,065 ±2,065
03:26 (03:57)
18
Shooting Stars!
Jan 19, 2016
$4.99
70% (89%/59%)
26,424 ±4,716
14,753 ±3,524
04:21 (03:53)
19
room13
Jan 13, 2017
$7.99
N/A (N/A)
19,818 ±4,084
4,184 ±1,876
03:44 (02:14)
20
Blitz Breaker
Feb 2, 2016
$2.99
N/A (N/A)
9,028 ±2,757
6,166 ±2,278
04:01 (03:12)
21
Diadra Empty
Jul 21, 2015
$5.99
N/A (N/A)
19,157 ±4,016
11,670 ±3,134
04:20 (03:48)
22
Square Heroes
Apr 9, 2015
$4.99
62% (86%)
44,700 ±6,134
34,351 ±5,378
02:44 (02:42)
23
in Space
Apr 27, 2015
$0.99
62% (86%)
16,735 ±3,753
11,891 ±3,164
01:26 (00:35)
24
Blood Harvest
Feb 7, 2017
$0.5
62% (86%)
9,909 ±2,888
8,808 ±2,723
06:56 (05:15)
25
A grande baguna espacial - The big space mess
Apr 5, 2016
$0.99
62% (86%)
296,386 ±15,792
221,519 ±13,654
05:10 (04:29)
26
ASCII Attack
Mar 16, 2016
$2.99
N/A (N/A)
5,725 ±2,195
2,863 ±1,552
03:25 (03:28)
27
Lightrise
Dec 21, 2015
$0.99
N/A (N/A)
8,147 ±2,619
881 ±861
00:35 (00:42)
28
Respawn Man
Dec 21, 2015
$4.99
N/A (N/A)
4,404 ±1,925
3,303 ±1,667
02:36 (03:05)
29
Sweezy Gunner
May 6, 2014
$3.99
51% (82%)
31,048 ±5,112
22,240 ±4,327
03:09 (01:27)
30
Korwin The Game
Oct 1, 2015
$1.99
49% (81%)
6,166 ±2,278
4,404 ±1,925
02:28 (02:04)
31
Super Star Path
Jun 22, 2015
$3.74
49% (81%)
15,854 ±3,653
10,349 ±2,952
03:48 (04:33)
32
Generic Space Shooter
Mar 11, 2016
$2.99
N/A (N/A)
2,202 ±1,361
661 ±745
00:48 (00:46)
33
Game Type
Sep 23, 2015
$1.01
N/A (N/A)
8,147 ±2,619
5,505 ±2,153
05:13 (03:02)
34
Dungeon Highway
Mar 23, 2015
$3.99
N/A (N/A)
1,624 ±1,421
974 ±1,100
00:44 (00:57)
35
Ninja Senki DX
Feb 23, 2016
$4.99
N/A (N/A/72%)
3,743 ±1,775
2,202 ±1,361
01:09 (00:59)
36
Shutshimi
Aug 25, 2015
$9.99
N/A (N/A)
79,271 ±8,169
14,753 ±3,524
02:08 (01:44)
37
Omega Agent
May 4, 2016
$2.99
N/A (N/A)
2,202 ±1,361
1,101 ±962
00:14 (00:11)
38
Xeodrifter
Dec 11, 2014
$9.99
35% (74%)
40,076 ±5,808
16,515 ±3,729
01:19 (00:30)
39
Thief Town
Dec 4, 2014
$7.99
35% (74%)
20,699 ±4,174
14,313 ±3,471
01:55 (01:45)
40
Demon Hearts
Aug 7, 2015
$3.99
N/A (N/A)
9,909 ±2,888
6,386 ±2,318
03:32 (03:36)
41
Vicky Saves the Big Dumb World
Oct 1, 2015
$0.99
N/A (N/A)
7,707 ±2,547
4,844 ±2,019
02:13 (02:22)
42
Close Order
Jan 21, 2016
$4.99
N/A (N/A)
8,588 ±2,689
4,624 ±1,973
06:12 (08:08)
43
The Art of Fight | 4vs4 Fast-Paced FPS
Feb 17, 2017
$24.99
31% (72%)
8,588 ±2,689
7,487 ±2,510
03:35 (01:48)
44
Citadel
Aug 17, 2016
Free
N/A (N/A)
4,184 ±1,876
3,523 ±1,722
02:40 (03:23)
45
Flame Over
May 28, 2015
$11.99
28% (70%)
38,314 ±5,679
12,771 ±3,279
03:55 (02:18)
46
Galactic Arms Race
Jun 5, 2014
$2.99
N/A (N/A)
58,352 ±7,009
25,763 ±4,657
02:20 (01:31)
47
Spirit of Maya
Jan 6, 2017
$1.99
N/A (N/A)
5,505 ±2,153
4,624 ±1,973
20:58 (06:19)
48
BIT.TRIP FATE
Jul 11, 2013
$9.99
20% (63%/74%)
45,361 ±6,180
26,203 ±4,697
01:28 (00:54)
49
Gem Wars: Attack of the Jiblets
Dec 14, 2015
Free
N/A (N/A)
22,680 ±4,370
13,212 ±3,335
04:39 (04:32)
50
Attack of the Labyrinth +
Mar 30, 2015
$1.99
N/A (N/A)
4,844 ±2,019
2,863 ±1,552
02:52 (02:55)
51
GunWorld
Feb 11, 2015
$1.99
N/A (N/A)
17,836 ±3,875
11,230 ±3,075
02:12 (02:16)
52
The Blue Flamingo
Nov 18, 2014
$4.99
16% (60%/55%)
158,102 ±11,536
69,362 ±7,641
02:45 (02:38)
53
BIT.TRIP FLUX
Jun 5, 2014
$9.99
15% (59%)
33,470 ±5,308
13,432 ±3,363
02:10 (00:59)
54
Invention 2
Sep 23, 2016
$0.49
14% (57%)
36,333 ±5,530
31,488 ±5,149
05:46 (06:28)
55
ENYO Arcade
Nov 9, 2015
$4.99
N/A (N/A)
1,762 ±1,217
1,321 ±1,054
01:01 (01:00)
56
Super Comboman: Don't Mash Edition
Jul 11, 2014
Free
N/A (N/A)
40,957 ±5,872
19,157 ±4,016
02:05 (01:32)
57
Tower Dwellers
Aug 23, 2016
$6.99
N/A (N/A)
2,422 ±1,428
1,982 ±1,291
01:42 (01:38)
58
Minimized
Sep 16, 2016
$3.99
N/A (N/A)
148,193 ±11,168
123,971 ±10,215
03:38 (03:30)
59
Machine Hunt
May 15, 2017
$2.99
11% (52%)
18,717 ±3,969
11,450 ±3,105
06:08 (01:37)
60
Jamsouls
Aug 21, 2014
$3.99
N/A (N/A)
11,010 ±3,044
7,046 ±2,435
03:05 (02:50)
61
Crispy Chicken
Apr 18, 2017
$4.99
7% (47%)
35,011 ±5,429
22,901 ±4,391
03:51 (03:06)
62
The Renegades of Orion 2.0
Feb 22, 2016
$0.99
N/A (N/A)
7,927 ±2,583
4,844 ±2,019
04:58 (02:49)
63
Botology
Jun 24, 2015
$1.99
2% (30%)
40,076 ±5,808
30,167 ±5,039
05:50 (03:33)
64
National Zombie Park
Dec 15, 2014
$7.99
1% (20%)
92,923 ±8,844
86,097 ±8,513
03:29 (03:30)