App

The Legend of Dark Witch 2
The Legend of Dark Witch 2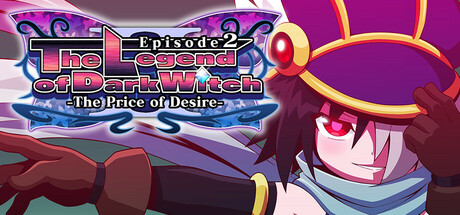 Store | Hub | SteamDB | Site
Developer: INSIDE SYSTEM Publisher: INSIDE SYSTEM
Genre: Action, Adventure, Casual, Indie
Languages: English, Traditional Chinese, Japanese
Tags: Action (28), Indie (26), Adventure (25), Casual (18), Anime (8), 2D (7), Platformer (5)
Category: Single-player, Steam Achievements, Full controller support, Steam Trading Cards, Steam Cloud, Steam Leaderboards
Release date: Jan 20, 2017
Price: $9.99
Owners: 1,823 ± 1,347
Followers: 1,148
Peak concurrent players yesterday: 3
YouTube stats: 15 views and 0 comments for videos uploaded last week, 0 new videos uploaded yesterday.

Steam Spy is still in beta, so expect major bugs.
Peak daily concurrent players:
CCU data courtesy of SteamDB. Used with permission.
Hourly concurrent players:
YouTube:
The views data is based on top 50 videos uploaded last week. Actual number of views might be more than the number shown.

The displayed number of videos uploaded yesterday is limited to 50, so if there were more videos uploaded, the number will still show 50.

If the game has commonly used word as its name (like "FEAR" or "Volume") its number of Youtube views might be wrong.
Games similar to this one:
#
Game
Release date

Price

Score rank
(Userscore / Metascore)

Owners

Players

Playtime (Median)

1
Molemen Must Die!
Mar 21, 2017
$2.99
N/A (N/A)
2,083 ±1,440
1,042 ±1,018
02:20 (00:41)
2
illumine
Sep 29, 2016
$1.97
N/A (N/A)
6,510 ±2,546
4,947 ±2,220
02:53 (03:20)
3
Archibald's Adventures
Jun 10, 2016
$4.99
N/A (N/A)
13,019 ±3,601
5,208 ±2,277
03:13 (00:30)
4
Tinertia
Sep 3, 2015
$11.99
N/A (N/A)
4,427 ±2,100
3,385 ±1,836
10:39 (22:00)
5
Soft Body
May 17, 2016
$9.99
N/A (N/A)
1,481 ±1,449
1,481 ±1,449
04:10 (07:26)
6
Frequent Flyer
Jan 20, 2017
$0.99
N/A (N/A)
1,823 ±1,347
1,562 ±1,247
01:35 (02:26)
7
Bleed 2
Feb 8, 2017
$9.99
95% (96%/83%)
7,030 ±2,646
6,249 ±2,495
02:40 (01:44)
8
Airtone
Jun 8, 2017
$29.99
92% (95%)
2,864 ±1,689
2,604 ±1,610
02:10 (03:02)
9
Super Mutant Alien Assault
Jul 11, 2016
$9.99
N/A (N/A)
3,645 ±1,905
3,125 ±1,764
02:01 (01:46)
10
Dwarflings
Mar 16, 2017
$1.99
N/A (N/A)
27,340 ±5,219
23,955 ±4,885
04:37 (04:31)
11
Rock Boshers DX: Directors Cut
Dec 10, 2014
$6.99
N/A (N/A)
2,604 ±1,610
1,562 ±1,247
02:23 (03:47)
12
Block Survival: Legend of the Lost Islands
Jul 14, 2017
$9.99
N/A (N/A)
3,645 ±1,905
260 ±509
00:13 (00:04)
13
UFO - Unfortunately Fortunate Organisms
Jun 2, 2017
$1.99
N/A (N/A)
730 ±1,429
0 ±0
00:00 (00:00)
14
Chicken Invaders 3
Jun 8, 2015
$4.99
74% (90%)
8,853 ±2,970
7,291 ±2,695
05:38 (04:33)
15
Danmaku Unlimited 3
Mar 9, 2017
$9.99
74% (90%)
2,343 ±1,528
1,823 ±1,347
01:46 (02:25)
16
Spark the Electric Jester
Apr 10, 2017
$14.99
74% (90%)
2,604 ±1,610
1,823 ±1,347
06:55 (10:51)
17
Metal Tales: Fury of the Guitar Gods
Nov 18, 2016
$6.99
N/A (N/A)
1,823 ±1,347
1,042 ±1,018
00:20 (00:12)
18
DELTAZEAL
Oct 16, 2015
$11.99
N/A (N/A)
3,385 ±1,836
2,604 ±1,610
01:30 (01:06)
19
Aesthetic Melody
Apr 18, 2017
$2.99
N/A (N/A)
1,823 ±1,347
1,562 ±1,247
03:00 (04:17)
20
Overdriven Reloaded
Oct 7, 2016
$5.99
N/A (N/A)
741 ±1,025
370 ±724
00:32 (00:16)
21
Blink the Bulb
Jan 2, 2017
Free
N/A (N/A)
6,770 ±2,597
3,385 ±1,836
00:21 (00:11)
22
Ittle Dew 2
Nov 15, 2016
$19.99
58% (85%)
2,604 ±1,610
2,604 ±1,610
04:34 (06:03)
23
Legends of Pixelia
Sep 14, 2015
$4.99
N/A (N/A)
1,562 ±1,247
781 ±882
03:43 (03:42)
24
Donuts'n'Justice
Nov 22, 2016
$1.99
N/A (N/A)
3,385 ±1,836
2,604 ±1,610
03:30 (04:17)
25
DUO
Jul 7, 2016
$4.49
N/A (N/A)
1,302 ±1,138
1,302 ±1,138
00:24 (00:24)
26
Cladun Returns: This Is Sengoku! /
Jun 6, 2017
$39.99
N/A (N/A)
1,562 ±1,247
781 ±882
01:37 (01:32)
27
DeathMetal
Nov 18, 2016
$2.99
N/A (N/A)
1,042 ±1,018
781 ±882
00:53 (00:52)
28
Boulder Dash - 30th Anniversary
Sep 13, 2016
$14.99
N/A (N/A)
2,604 ±1,610
2,604 ±1,610
04:02 (02:21)
29
Not Dying Today
Jan 13, 2017
$9.99
N/A (N/A)
9,113 ±3,013
6,770 ±2,597
02:48 (03:23)
30
INFERNO CLIMBER
Sep 8, 2016
$29.99
N/A (N/A)
2,604 ±1,610
2,343 ±1,528
03:17 (05:12)
31
(SHE SAVE)
Jul 14, 2017
$4.99
N/A (N/A)
1,042 ±1,018
781 ±882
00:27 (00:27)
32
Viking Saga: The Cursed Ring
Oct 29, 2015
$2.99
N/A (N/A)
1,460 ±2,021
1,460 ±2,021
20:50 (25:14)
33
Wonder Boy Returns
Oct 12, 2016
$14.99
N/A (N/A)
2,343 ±1,528
2,083 ±1,440
03:01 (01:54)
34
Mekazoo
Nov 14, 2016
$9.99
N/A (N/A/80%)
3,906 ±1,972
3,125 ±1,764
06:02 (03:29)
35
Feral Fury
Apr 2, 2017
$6.99
N/A (N/A)
3,385 ±1,836
2,864 ±1,689
06:04 (03:50)
36
Space Fist
Feb 21, 2017
$15.99
N/A (N/A)
1,111 ±1,255
1,111 ±1,255
00:49 (00:59)
37
The Ables: Freepoint High
Apr 7, 2016
$2.99
N/A (N/A)
1,481 ±1,449
370 ±724
01:11 (00:35)
38
Danger Zone
May 29, 2017
$14.99
34% (74%/64%)
2,083 ±1,440
1,823 ±1,347
02:54 (05:39)
39
ZombieFight VR
Jun 15, 2017
$19.99
N/A (N/A)
1,823 ±1,347
1,823 ±1,347
02:50 (05:36)
40
Knights of Galiveth
May 1, 2017
$0.79
N/A (N/A)
1,823 ±1,347
1,042 ±1,018
01:15 (00:58)
41
Operation: Matriarchy
Jan 29, 2016
$5.99
N/A (N/A)
1,302 ±1,138
1,042 ±1,018
02:45 (02:07)
42
Dystopy
Feb 28, 2017
Free
N/A (N/A)
2,343 ±1,528
521 ±720
00:06 (00:04)
43
Evil Tag
Apr 7, 2017
$3.99
22% (65%)
1,042 ±1,018
781 ±882
00:26 (00:25)
44
Dinosis Survival
Jul 7, 2017
$4.99
22% (65%)
4,073 ±2,403
3,333 ±2,174
01:40 (02:07)
45
Assault Suit Leynos
Aug 30, 2016
$19.99
22% (65%)
2,604 ±1,610
1,302 ±1,138
02:24 (03:07)
46
Demon Peak
Jul 7, 2017
$4.99
19% (63%)
4,687 ±2,161
3,385 ±1,836
01:16 (00:51)
47
Siegecraft Commander
Jan 16, 2017
$19.99
N/A (N/A/56%)
2,083 ±1,440
1,562 ±1,247
00:59 (01:16)
48
Warmada
Nov 7, 2016
$4.99
N/A (N/A)
1,562 ±1,247
1,042 ±1,018
07:03 (08:48)
49
Tokyo Twilight Ghost Hunters Daybreak: Special Gigs
Mar 17, 2017
$9.99
N/A (N/A)
1,562 ±1,247
260 ±509
01:30 (00:30)
50
Infinite Tanks
Mar 25, 2017
$4.99
14% (58%)
2,222 ±1,775
1,111 ±1,255
04:35 (04:24)
51
Russian VR Coasters
Jul 27, 2016
$4.99
N/A (N/A)
2,864 ±1,689
2,864 ±1,689
05:48 (06:52)
52
Inner Chains
May 18, 2017
$19.99
7% (47%/40%)
3,906 ±1,972
2,604 ±1,610
03:39 (03:48)
53
#KILLALLZOMBIES
Aug 10, 2016
$11.99
N/A (N/A)
26,038 ±5,093
23,955 ±4,885
06:20 (06:24)
54
RYAN BLACK
Jan 14, 2017
$2.99
N/A (N/A)
3,125 ±1,764
1,823 ±1,347
17:18 (37:13)
55
Kung Fu Panda Showdown of Legendary Legends
Jan 6, 2016
$9.99
N/A (N/A)
781 ±882
521 ±720
23:16 (15:30)