Reptilians Must Die!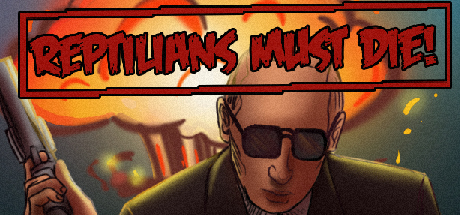 Store | Hub | SteamDB
Developer: Andrew "Versus" Larionov Publisher: AYE Technology
Genre: Action, Adventure, Indie, RPG, Strategy, Early Access
Languages: English, Russian
Tags: Early Access (25), Indie (22), Strategy (21), Adventure (21), Action (21), RPG (19), Memes (7)
Category: Single-player, Steam Trading Cards
Release date: Jan 31, 2017
Price: $1.99
Score rank: 31% Userscore: 72% Old userscore: 69%
Owners: 101,402 ± 9,806
Players in the last 2 weeks: 2,220 ± 1,773 (2.19%)
Players total: 93,964 ± 9,440 (92.67%)
Followers: 436
Peak concurrent players yesterday: 3
Playtime in the last 2 weeks: 03:07 (average) 04:03 (median)
Playtime total: 03:32 (average) 03:30 (median)

Steam Spy is still in beta, so expect major bugs.
Peak daily concurrent players:
CCU data courtesy of SteamDB. Used with permission.
Hourly concurrent players:
YouTube:
The views data is based on top 50 videos uploaded last week. Actual number of views might be more than the number shown.

The displayed number of videos uploaded yesterday is limited to 50, so if there were more videos uploaded, the number will still show 50.

If the game has commonly used word as its name (like "FEAR" or "Volume") its number of Youtube views might be wrong.
Games similar to this one:
#
Game
Release date

Price

Score rank
(Userscore / Metascore)

Owners

Players

Playtime (Median)

1
Pit People
Jan 13, 2017
$14.99
95% (96%)
202,803 ±13,867
192,390 ±13,506
10:44 (05:25)
2
The Elder Scrolls III: Morrowind Game of the Year Edition
Jun 16, 2009
$14.99
92% (95%/89%)
1,282,023 ±34,827
910,878 ±29,367
15:52 (02:28)
3
Ys Origin
May 31, 2012
$19.99
92% (95%/76%)
281,395 ±16,333
171,069 ±12,736
10:54 (03:56)
4
Vampire: The Masquerade - Bloodlines
Mar 22, 2007
$19.99
89% (94%/80%)
601,715 ±23,876
448,993 ±20,628
15:07 (03:37)
5
System Shock 2
May 10, 2013
$9.99
89% (94%/92%)
839,228 ±28,190
468,579 ±21,072
04:14 (01:22)
6
UnEpic
Jul 25, 2014
$12.99
85% (93%/68%)
482,711 ±21,387
368,913 ±18,699
14:07 (04:42)
7
Dark Messiah of Might & Magic
Oct 25, 2006
$9.99
85% (93%/72%)
1,030,131 ±31,227
454,447 ±20,752
07:13 (02:31)
8
Titan Quest Anniversary Edition
Aug 31, 2016
$19.99
85% (93%)
2,157,448 ±45,139
772,784 ±27,053
17:24 (04:55)
9
Child of Light
Apr 29, 2014
$14.99
81% (92%/77%)
713,530 ±25,997
505,520 ±21,886
08:57 (03:33)
10
Dig or Die
Mar 4, 2015
$9.99
81% (92%)
128,673 ±11,046
121,979 ±10,755
08:55 (03:23)
11
Eon Altar
Jun 22, 2016
$4.99
81% (92%)
165,366 ±12,522
62,725 ±7,713
03:17 (01:29)
12
FATE
Dec 12, 2013
$7.99
81% (92%/80%)
101,402 ±9,806
69,419 ±8,114
14:09 (03:56)
13
Lost Lands: Mahjong
Mar 14, 2016
Free
81% (92%)
100,410 ±9,758
58,262 ±7,433
21:38 (01:12)
14
Bardbarian
Apr 1, 2014
$7.99
77% (91%)
136,111 ±11,361
95,947 ±9,539
05:04 (02:54)
15
Legend of Grimrock 2
Oct 15, 2014
$23.99
77% (91%)
406,846 ±19,636
226,852 ±14,665
16:32 (04:40)
16
Warframe
Mar 25, 2013
Free
77% (91%/69%)
20,019,489 ±134,977
12,957,083 ±109,397
72:16 (04:20)
17
Evoland 2
Aug 25, 2015
$19.99
74% (90%)
420,482 ±19,963
190,903 ±13,454
08:31 (03:22)
18
Barony
Jun 23, 2015
$9.99
70% (89%)
67,436 ±7,997
60,246 ±7,559
08:25 (04:11)
19
From the Depths
Aug 7, 2014
$19.99
70% (89%)
223,381 ±14,553
180,738 ±13,091
70:26 (07:25)
20
Zombidle : REMONSTERED
May 30, 2017
Free
70% (89%)
166,854 ±12,578
143,301 ±11,657
59:14 (01:24)
21
The Banner Saga
Jan 14, 2014
$19.99
70% (89%/80%)
798,816 ±27,504
627,252 ±24,377
10:12 (05:20)
22
Crush Crush
Oct 18, 2016
Free
67% (88%)
507,999 ±21,940
410,317 ±19,720
23:34 (03:55)
23
Divine Divinity
Jul 5, 2012
$5.99
67% (88%/81%)
580,642 ±23,455
200,820 ±13,799
09:09 (00:37)
24
The Witcher 2: Assassins of Kings Enhanced Edition
Apr 16, 2012
$19.99
67% (88%/88%)
5,207,180 ±69,909
3,599,878 ±58,222
15:18 (04:52)
25
Risen
Oct 2, 2009
$9.99
67% (88%/77%)
925,754 ±29,605
443,539 ±20,502
13:18 (03:23)
26
Loadout
Jan 31, 2014
Free
61% (86%/72%)
5,963,848 ±74,758
3,643,513 ±58,571
06:48 (01:50)
27
The Witcher: Enhanced Edition Director's Cut
Sep 19, 2008
$9.99
61% (86%/86%)
3,776,401 ±59,622
2,680,571 ±50,288
15:58 (03:02)
28
Brawlhalla
Oct 17, 2017
Free
61% (86%)
8,333,520 ±88,155
7,664,617 ±84,602
13:29 (02:13)
29
Baldur's Gate: Enhanced Edition
Jan 16, 2013
$19.99
58% (85%/78%)
672,870 ±25,246
571,220 ±23,264
28:28 (05:22)
30
Paladins
Sep 15, 2016
Free
58% (85%)
15,675,586 ±119,986
13,042,369 ±109,747
22:02 (04:03)
31
Evoland
Apr 4, 2013
$9.99
55% (84%/61%)
463,125 ±20,949
366,434 ±18,636
03:16 (02:28)
32
Crusaders of the Lost Idols
Oct 13, 2015
Free
55% (84%)
445,026 ±20,536
301,725 ±16,912
138:33 (01:41)
33
Divinity II: Developer's Cut
Oct 29, 2012
$19.99
55% (84%)
754,933 ±26,739
267,264 ±15,918
11:17 (01:44)
34
Blackwood Crossing
Apr 4, 2017
$15.99
53% (83%/70%)
3,967 ±1,939
2,231 ±1,454
02:56 (03:51)
35
The Incredible Adventures of Van Helsing
May 22, 2013
$14.99
53% (83%/72%)
919,308 ±29,502
636,425 ±24,554
10:20 (04:06)
36
Duelyst
Aug 23, 2016
Free
53% (83%/82%)
670,639 ±25,205
527,833 ±22,364
11:09 (01:09)
37
Star Crusade CCG
Sep 7, 2016
Free
48% (81%)
181,234 ±13,109
101,649 ±9,818
15:36 (00:55)
38
Expeditions: Conquistador
May 30, 2013
$19.99
46% (80%/77%)
156,441 ±12,179
108,096 ±10,125
12:21 (03:23)
39
Dirty Bomb
Jun 2015
Free
46% (80%/63%)
8,262,366 ±87,785
5,616,257 ±72,572
11:07 (00:59)
40
Hero Siege
Jan 29, 2014
$5.99
46% (80%)
1,245,330 ±34,326
1,056,659 ±31,625
12:08 (04:01)
41
Minion Masters
Dec 2, 2016
$4.99
46% (80%)
943,109 ±29,881
533,288 ±22,479
07:08 (04:40)
42
LIGHTNING RETURNS: FINAL FANTASY XIII
Dec 10, 2015
$19.99
46% (80%)
344,864 ±18,080
182,969 ±13,171
14:03 (02:36)
43
Niffelheim
Apr 28, 2016
$19.99
46% (80%)
22,313 ±4,600
19,090 ±4,255
07:26 (04:24)
44
Aarklash: Legacy
Sep 12, 2013
$17.99
44% (79%/72%)
68,923 ±8,085
47,354 ±6,701
05:18 (02:26)
45
Driver Booster 4 for Steam
Nov 7, 2016
Free
42% (78%)
97,187 ±9,600
79,584 ±8,687
21:17 (01:17)
46
The Elder Scrolls: Legends
May 31, 2017
Free
42% (78%)
799,808 ±27,521
615,351 ±24,145
13:28 (02:09)
47
Tiger Knight: Empire War
Oct 24, 2016
Free
42% (78%)
1,339,542 ±35,598
982,777 ±30,502
14:27 (01:10)
48
CONSORTIUM
Jan 8, 2014
$9.99
40% (77%)
388,747 ±19,195
207,514 ±14,027
03:30 (03:20)
49
Shadowverse CCG
Oct 27, 2016
Free
40% (77%)
1,279,544 ±34,793
1,120,871 ±32,570
52:52 (05:29)
50
Fable Anniversary
Sep 12, 2014
$34.99
38% (76%)
566,758 ±23,173
455,191 ±20,769
11:48 (04:28)
51
Blacklight: Retribution
Jul 2, 2012
Free
36% (75%/75%)
3,404,265 ±56,629
2,070,178 ±44,221
11:02 (01:30)
52
Flesh Eaters
May 3, 2016
$1.99
36% (75%)
617,582 ±24,188
433,126 ±20,260
03:12 (03:30)
53
EVGA Precision XOC
Jul 16, 2014
Free
36% (75%)
1,064,592 ±31,743
674,109 ±25,270
88:00 (00:59)
54
Overture
Feb 2, 2015
$4.99
36% (75%/76%)
227,844 ±14,697
118,756 ±10,612
04:22 (03:40)
55
Sacred 2 Gold
Dec 21, 2012
$14.99
34% (74%)
816,915 ±27,814
269,743 ±15,991
12:31 (01:25)
56
Enclave
Oct 4, 2013
$4.99
34% (74%/71%)
1,603,582 ±38,938
745,512 ±26,572
02:44 (01:32)
57
Game of Thrones
Jun 7, 2012
$14.99
31% (72%/58%)
530,313 ±22,416
237,265 ±14,998
07:12 (01:14)
58
Imprisoned Light
Oct 28, 2016
$1.99
29% (71%)
15,123 ±3,787
10,413 ±3,142
01:17 (00:40)
59
Shop Heroes
Aug 15, 2016
Free
28% (70%)
397,920 ±19,420
323,791 ±17,519
48:49 (01:08)
60
Marvel Puzzle Quest
Dec 5, 2013
Free
26% (69%)
400,896 ±19,492
227,100 ±14,673
83:19 (01:49)
61
Tap Adventure: Time Travel
Mar 3, 2017
Free
25% (68%)
185,200 ±13,251
121,731 ±10,744
43:00 (01:45)
62
The Technomancer
Jun 28, 2016
$29.99
24% (67%/56%)
95,203 ±9,502
80,824 ±8,755
09:34 (03:34)
63
The Incredible Adventures of Van Helsing II
Jun 13, 2014
$14.99
24% (67%/77%)
425,192 ±20,074
219,414 ±14,423
08:32 (02:36)
64
Risen 3 - Titan Lords
Aug 12, 2014
$14.99
23% (66%/65%)
501,305 ±21,795
284,618 ±16,426
23:15 (04:48)
65
Gloria Victis
Jun 9, 2016
$19.99
21% (64%)
71,898 ±8,257
62,477 ±7,697
32:14 (03:04)
66
Bound By Flame
May 8, 2014
$19.99
21% (64%/56%)
220,902 ±14,472
144,788 ±11,717
09:20 (04:38)
67
Alum
May 15, 2015
$4.99
N/A (N/A)
45,866 ±6,595
5,950 ±2,375
01:17 (00:02)
68
The Lords of the Earth Flame
Sep 2, 2016
$2.99
16% (60%)
225,116 ±14,609
208,257 ±14,052
03:30 (03:30)
69
The Culling
Oct 5, 2017
$24.99
16% (60%)
577,171 ±23,384
546,924 ±22,764
16:55 (05:10)
70
Lords Of The Fallen
Oct 28, 2014
$29.99
14% (58%/73%)
789,643 ±27,346
617,830 ±24,193
09:30 (03:43)
71
Two Worlds II HD
Feb 3, 2011
$19.99
12% (56%/76%)
1,024,180 ±31,136
627,499 ±24,381
11:26 (03:17)
72
Shonen Idle Z
Jul 22, 2016
Free
12% (56%)
117,765 ±10,568
77,849 ±8,592
61:26 (01:07)
73
Escape Machines
Apr 14, 2015
$0.99
5% (43%)
383,293 ±19,060
305,940 ±17,030
03:24 (03:30)
74
Invasion: Brain Craving
Jun 22, 2016
$0.99
4% (40%)
323,543 ±17,513
262,553 ±15,777
03:54 (03:31)
75
- Arcane preRaise -
May 2, 2017
$2.99
N/A (N/A)
120,740 ±10,700
117,517 ±10,556
03:31 (03:30)
76
Soul of the Devil
Jun 10, 2016
$2.99
N/A (N/A)
43,635 ±6,433
37,933 ±5,998
04:34 (04:31)
Geography of active players over time, share:
Geography of active players over time, total numbers: