Reptilians Must Die!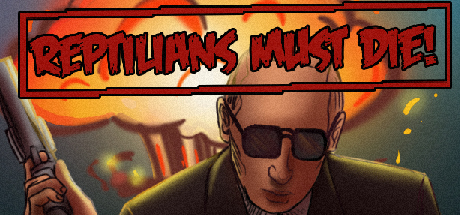 Store | Hub | SteamDB
Developer: Andrew "Versus" Larionov Publisher: AYE Technology
Genre: Action, Adventure, Indie, RPG, Strategy, Early Access
Languages: English, Russian
Tags: Early Access (25), Indie (22), Action (21), Strategy (21), Adventure (21), RPG (19), Memes (7)
Category: Single-player, Steam Trading Cards
Release date: Jan 31, 2017
Price: $0.49 75%
Score rank: 30% Userscore: 71% Old userscore: 69%
Owners: 107,943 ± 10,453
Players in the last 2 weeks: 1,618 ± 1,583 (1.5%)
Players total: 95,244 ± 9,819 (88.24%)
Followers: 453
Peak concurrent players yesterday: 30
Playtime in the last 2 weeks: 05:55 (average) 07:24 (median)
Playtime total: 03:47 (average) 03:30 (median)

Steam Spy is still in beta, so expect major bugs.
Peak daily concurrent players:
CCU data courtesy of SteamDB. Used with permission.
Hourly concurrent players:
YouTube:
The views data is based on top 50 videos uploaded last week. Actual number of views might be more than the number shown.

The displayed number of videos uploaded yesterday is limited to 50, so if there were more videos uploaded, the number will still show 50.

If the game has commonly used word as its name (like "FEAR" or "Volume") its number of Youtube views might be wrong.
Games similar to this one:
#
Game
Release date

Price

Score rank
(Userscore / Metascore)

Owners

Players

Playtime (Median)

1
Ys Origin
May 31, 2012
$19.99
92% (95%/76%)
263,774 ±16,338
164,561 ±12,906
09:53 (04:23)
2
Pit People
Mar 2, 2018
$19.99
92% (95%/80%)
248,164 ±15,847
232,290 ±15,332
11:20 (06:05)
3
Vampire: The Masquerade - Bloodlines
Mar 22, 2007
$19.99
89% (94%/80%)
603,478 ±24,704
452,146 ±21,386
13:15 (02:53)
4
System Shock 2
May 10, 2013
$9.99
89% (94%/92%)
813,545 ±28,677
464,580 ±21,678
04:16 (01:20)
5
The Elder Scrolls III: Morrowind Game of the Year Edition
Jun 16, 2009
$14.99
89% (94%/89%)
1,260,664 ±35,682
905,614 ±30,254
16:40 (02:19)
6
UnEpic
Jul 25, 2014
$12.99
86% (93%/68%)
481,777 ±22,075
369,336 ±19,331
13:42 (04:36)
7
Child of Light
Apr 29, 2014
$14.99
82% (92%/77%)
700,310 ±26,610
498,445 ±22,454
08:21 (03:06)
8
Eon Altar
Jun 22, 2016
$2.49
82% (92%)
164,296 ±12,895
58,999 ±7,728
04:06 (02:27)
9
Dark Messiah of Might & Magic
Oct 25, 2006
$9.99
82% (92%/72%)
1,038,427 ±32,392
447,119 ±21,267
07:27 (02:40)
10
Titan Quest Anniversary Edition
Aug 31, 2016
$19.99
82% (92%)
2,087,437 ±45,878
807,724 ±28,575
19:28 (04:50)
11
FATE
Dec 12, 2013
$7.99
82% (92%/80%)
94,451 ±9,778
65,877 ±8,166
12:51 (03:28)
12
Lost Lands: Mahjong
Mar 14, 2016
Free
82% (92%)
104,769 ±10,298
60,321 ±7,814
22:58 (00:54)
13
Dig or Die
Mar 4, 2015
$9.99
78% (91%)
137,046 ±11,778
130,696 ±11,502
10:27 (03:39)
14
Bardbarian
Apr 1, 2014
$7.99
78% (91%)
132,813 ±11,594
88,101 ±9,443
03:55 (02:31)
15
Warframe
Mar 25, 2013
Free
78% (91%/69%)
21,700,347 ±145,024
14,055,143 ±117,629
74:41 (04:16)
16
Legend of Grimrock 2
Oct 15, 2014
$23.99
74% (90%)
382,564 ±19,673
216,681 ±14,808
15:42 (04:32)
17
Barony
Jun 23, 2015
$9.99
71% (89%)
73,550 ±8,629
61,115 ±7,865
07:24 (02:43)
18
The Banner Saga
Jan 14, 2014
$19.99
71% (89%/80%)
746,345 ±27,469
565,381 ±23,912
09:59 (05:05)
19
Evoland 2
Aug 25, 2015
$19.99
71% (89%)
446,590 ±21,255
214,300 ±14,727
09:52 (03:14)
20
From the Depths
Aug 7, 2014
$19.99
68% (88%)
237,582 ±15,506
193,399 ±13,990
73:31 (08:14)
21
Zombidle : REMONSTERED
May 30, 2017
Free
68% (88%)
200,807 ±14,256
170,381 ±13,132
52:28 (01:17)
22
The Witcher 2: Assassins of Kings Enhanced Edition
Apr 16, 2012
$19.99
68% (88%/88%)
5,258,541 ±72,589
3,642,828 ±60,514
15:19 (04:47)
23
Risen
Oct 2, 2009
$9.99
68% (88%/77%)
918,313 ±30,465
443,415 ±21,179
13:54 (03:51)
24
Crush Crush
Oct 18, 2016
Free
65% (87%)
589,456 ±24,416
483,629 ±22,118
39:32 (03:34)
25
Divine Divinity
Jul 5, 2012
$5.99
65% (87%/81%)
628,612 ±25,212
217,474 ±14,835
08:22 (00:40)
26
Loadout
Jan 31, 2014
Free
62% (86%/72%)
5,930,014 ±77,032
3,543,087 ±59,685
06:33 (01:46)
27
The Witcher: Enhanced Edition Director's Cut
Sep 19, 2008
$9.99
62% (86%/86%)
3,846,545 ±62,170
2,739,331 ±52,522
15:53 (02:51)
28
Brawlhalla
Oct 17, 2017
Free
59% (85%)
9,191,600 ±95,593
8,482,295 ±91,896
15:11 (02:15)
29
Baldur's Gate: Enhanced Edition
Jan 16, 2013
$19.99
59% (85%/78%)
668,826 ±26,005
566,439 ±23,935
31:02 (05:19)
30
Evoland
Apr 4, 2013
$9.99
56% (84%/61%)
436,801 ±21,021
341,027 ±18,575
03:25 (02:35)
31
Crusaders of the Lost Idols
Oct 13, 2015
Free
56% (84%)
527,812 ±23,105
367,749 ±19,289
111:49 (01:39)
32
Paladins
Sep 15, 2016
Free
54% (83%)
16,988,401 ±128,937
14,125,518 ±117,915
23:25 (04:11)
33
The Incredible Adventures of Van Helsing
May 22, 2013
$14.99
54% (83%/72%)
889,740 ±29,988
624,379 ±25,128
10:03 (04:12)
34
Divinity II: Developer's Cut
Oct 29, 2012
$19.99
51% (82%)
782,855 ±28,132
286,791 ±17,035
10:52 (01:21)
35
Niffelheim
Apr 28, 2016
$19.99
51% (82%)
36,246 ±6,057
30,954 ±5,598
09:32 (03:56)
36
Duelyst
Aug 23, 2016
Free
51% (82%/82%)
671,207 ±26,052
540,776 ±23,387
11:23 (01:01)
37
Blackwood Crossing
Apr 4, 2017
$15.99
49% (81%/70%)
4,762 ±2,195
3,175 ±1,792
04:01 (01:57)
38
Star Crusade CCG
Sep 7, 2016
Free
49% (81%)
171,969 ±13,193
92,863 ±9,695
08:26 (00:59)
39
Minion Masters
Dec 2, 2016
$0.99
49% (81%)
942,918 ±30,869
547,655 ±23,535
07:35 (04:42)
40
Dirty Bomb
Jun 2015
Free
47% (80%/63%)
8,693,155 ±93,011
5,901,440 ±76,849
11:46 (01:02)
41
Hero Siege
Jan 29, 2014
$1.19
47% (80%)
1,233,413 ±35,296
1,031,813 ±32,289
12:40 (04:13)
42
LIGHTNING RETURNS: FINAL FANTASY XIII
Dec 10, 2015
$19.99
47% (80%)
359,812 ±19,080
193,134 ±13,981
15:59 (03:08)
43
Expeditions: Conquistador
May 30, 2013
$19.99
45% (79%/77%)
144,983 ±12,114
100,536 ±10,088
11:21 (02:49)
44
Aarklash: Legacy
Sep 12, 2013
$17.99
45% (79%/72%)
63,496 ±8,017
43,389 ±6,627
07:19 (03:39)
45
Tiger Knight: Empire War
Oct 24, 2016
Free
43% (78%)
1,355,379 ±36,995
985,514 ±31,558
14:40 (01:15)
46
The Elder Scrolls: Legends
May 31, 2017
Free
41% (77%)
854,288 ±29,385
662,477 ±25,882
16:02 (02:09)
47
CONSORTIUM
Jan 8, 2014
$9.99
41% (77%)
394,999 ±19,990
210,596 ±14,599
03:58 (03:17)
48
Fable Anniversary
Sep 12, 2014
$34.99
41% (77%)
584,694 ±24,317
478,338 ±21,997
12:04 (04:48)
49
Driver Booster 4 for Steam
Nov 7, 2016
Free
39% (76%)
110,589 ±10,580
91,011 ±9,598
09:32 (01:10)
50
Shadowverse CCG
Oct 27, 2016
Free
39% (76%)
1,337,388 ±36,750
1,180,235 ±34,528
60:42 (05:32)
51
Flesh Eaters
May 3, 2016
$1.99
37% (75%)
646,074 ±25,560
462,464 ±21,629
03:28 (03:30)
52
EVGA Precision XOC
Jul 16, 2014
Free
37% (75%)
1,106,685 ±33,437
684,436 ±26,307
103:18 (01:10)
53
Enclave
Oct 4, 2013
$0.99
35% (74%/71%)
1,670,743 ±41,062
821,746 ±28,821
02:46 (02:02)
54
Blacklight: Retribution
Jul 2, 2012
Free
35% (74%/75%)
3,514,778 ±59,448
2,155,695 ±46,619
10:46 (01:24)
55
Overture
Feb 2, 2015
$4.99
35% (74%/76%)
229,644 ±15,245
117,732 ±10,916
03:52 (03:42)
56
Sacred 2 Gold
Dec 21, 2012
$14.99
33% (73%)
807,724 ±28,575
282,558 ±16,909
10:52 (01:16)
57
Game of Thrones
Jun 7, 2012
$14.99
32% (72%/58%)
516,171 ±22,849
236,788 ±15,480
06:53 (01:10)
58
Marvel Puzzle Quest
Dec 5, 2013
Free
27% (69%)
403,730 ±20,210
220,649 ±14,943
113:33 (02:03)
59
Shop Heroes
Aug 15, 2016
Free
27% (69%)
462,199 ±21,623
392,089 ±19,917
61:16 (01:22)
60
Imprisoned Light
Oct 28, 2016
$1.99
26% (68%)
17,197 ±4,172
12,170 ±3,510
01:17 (00:39)
61
Alum
May 15, 2015
$4.99
N/A (N/A)
73,285 ±8,613
8,731 ±2,973
01:42 (00:16)
62
Tap Adventure: Time Travel
Mar 3, 2017
Free
24% (67%)
184,139 ±13,651
122,759 ±11,147
45:41 (01:06)
63
The Technomancer
Jun 28, 2016
$7.49
24% (67%/56%)
91,011 ±9,598
72,756 ±8,582
11:33 (03:03)
64
The Incredible Adventures of Van Helsing II
Jun 13, 2014
$14.99
24% (67%/77%)
408,227 ±20,322
217,210 ±14,826
07:24 (02:51)
65
Risen 3 - Titan Lords
Aug 12, 2014
$14.99
24% (67%/65%)
501,884 ±22,531
284,410 ±16,964
21:29 (04:01)
66
Gloria Victis
Jun 9, 2016
$9.99
22% (65%)
81,222 ±9,067
70,110 ±8,424
20:07 (04:01)
67
Bound By Flame
May 8, 2014
$19.99
21% (64%/56%)
228,586 ±15,209
149,745 ±12,311
08:23 (04:30)
68
Lords Of The Fallen
Oct 28, 2014
$29.99
14% (58%/73%)
828,096 ±28,932
634,697 ±25,334
09:24 (03:37)
69
The Lords of the Earth Flame
Sep 2, 2016
$9.99
14% (58%)
228,322 ±15,201
208,744 ±14,535
03:32 (03:30)
70
The Culling
Oct 5, 2017
$24.99
14% (58%)
572,788 ±24,068
546,067 ±23,501
15:38 (05:00)
71
Two Worlds II HD
Feb 3, 2011
$19.99
13% (57%/76%)
1,005,356 ±31,873
631,258 ±25,265
12:03 (03:16)
72
Shonen Idle Z
Jul 22, 2016
Free
13% (56%)
126,992 ±11,337
88,101 ±9,443
29:01 (01:10)
73
Escape Machines
Apr 14, 2015
$0.99
5% (43%)
381,506 ±19,646
299,490 ±17,408
03:37 (03:30)
74
Invasion: Brain Craving
Jun 22, 2016
$0.99
4% (40%)
369,601 ±19,337
302,930 ±17,508
03:56 (03:42)
75
- Arcane preRaise -
May 2, 2017
$2.99
N/A (N/A)
120,378 ±11,038
115,351 ±10,805
03:50 (03:30)
76
Soul of the Devil
Jun 10, 2016
$0.5
N/A (N/A)
49,474 ±7,077
43,389 ±6,627
04:43 (04:34)
Geography of active players over time, share:
Geography of active players over time, total numbers: