Reptilians Must Die!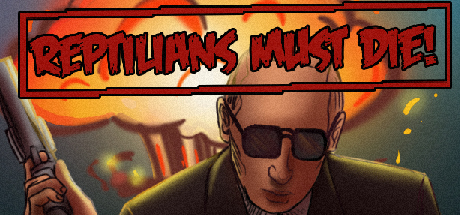 Store | Hub | SteamDB
Developer: Andrew "Versus" Larionov Publisher: AYE Technology
Genre: Action, Adventure, Indie, RPG, Strategy, Early Access
Languages: English, Russian
Tags: Early Access (25), Strategy (22), Indie (22), Adventure (21), Action (21), RPG (20), Memes (7)
Category: Single-player, Steam Trading Cards
Release date: Jan 31, 2017
Price: $0.49 75%
Score rank: 30% Userscore: 71% Old userscore: 69%
Owners: 54,867 ± 6,491
Players in the last 2 weeks: 8,441 ± 2,546 (15.38%)
Players total: 47,029 ± 6,010 (85.71%)
Followers: 389
Peak concurrent players yesterday: 24
Playtime in the last 2 weeks: 03:31 (average) 03:31 (median)
Playtime total: 03:19 (average) 03:30 (median)

Steam Spy is still in beta, so expect major bugs.
Peak daily concurrent players:
CCU data courtesy of SteamDB. Used with permission.
Hourly concurrent players:
YouTube:
The views data is based on top 50 videos uploaded last week. Actual number of views might be more than the number shown.

The displayed number of videos uploaded yesterday is limited to 50, so if there were more videos uploaded, the number will still show 50.

If the game has commonly used word as its name (like "FEAR" or "Volume") its number of Youtube views might be wrong.
Games similar to this one:
#
Game
Release date

Price

Score rank
(Userscore / Metascore)

Owners

Players

Playtime (Median)

1
South Park: The Stick of Truth
Mar 3, 2014
$7.49
97% (97%)
2,060,633 ±39,688
1,842,973 ±37,543
16:37 (12:39)
2
Pit People
Jan 13, 2017
$11.99
95% (96%)
160,180 ±11,090
151,136 ±10,773
11:32 (05:23)
3
The Elder Scrolls III: Morrowind Game of the Year Edition
Jun 16, 2009
$7.49
92% (95%/89%)
1,136,533 ±29,508
808,738 ±24,901
16:24 (02:16)
4
Torchlight II
Sep 20, 2012
$4.99
92% (95%/88%)
3,445,174 ±51,232
3,101,098 ±48,626
24:11 (11:16)
5
Mass Effect 2
Jan 26, 2010
$4.99
92% (95%/94%)
1,812,625 ±37,234
1,018,961 ±27,944
39:09 (25:30)
6
Ys Origin
May 31, 2012
$5.99
92% (95%/76%)
256,047 ±14,020
158,974 ±11,049
10:12 (03:53)
7
System Shock 2
May 10, 2013
$1.49
89% (94%/92%)
809,742 ±24,917
457,427 ±18,735
04:06 (01:18)
8
Bot Vice
Jul 11, 2016
$5.99
89% (94%)
1,608 ±1,111
1,407 ±1,039
02:55 (03:12)
9
Dragon Age: Origins
Nov 5, 2009
$4.99
86% (93%/91%)
837,276 ±25,336
551,686 ±20,573
54:12 (18:56)
10
Altitude
Dec 4, 2009
Free
86% (93%/79%)
479,937 ±19,190
284,787 ±14,786
16:40 (00:58)
11
Torchlight
Oct 27, 2009
$3.74
86% (93%/83%)
1,391,575 ±32,641
1,123,269 ±29,335
16:37 (07:26)
12
UnEpic
Jul 25, 2014
$6.49
86% (93%/68%)
466,471 ±18,919
352,114 ±16,440
11:56 (04:28)
13
Titan Quest Anniversary Edition
Aug 31, 2016
$3.99
82% (92%)
1,914,722 ±38,264
527,971 ±20,126
16:35 (04:04)
14
Dig or Die
Mar 4, 2015
$9.99
82% (92%)
117,773 ±9,510
112,548 ±9,297
08:01 (02:52)
15
Child of Light
Apr 29, 2014
$5.09
82% (92%/77%)
660,013 ±22,499
470,491 ±19,001
08:43 (03:15)
16
Zombidle : REMONSTERED
May 30, 2017
Free
78% (91%)
75,769 ±7,628
63,107 ±6,962
15:36 (01:33)
17
Unturned
Jul 7, 2014
Free
78% (91%)
29,787,628 ±145,742
23,908,806 ±131,564
20:06 (02:43)
18
Legend of Grimrock 2
Oct 15, 2014
$9.59
78% (91%)
381,457 ±17,110
210,625 ±12,717
14:53 (04:32)
19
Warframe
Mar 25, 2013
Free
78% (91%/68%)
16,557,012 ±110,508
10,397,020 ±88,245
68:20 (04:31)
20
Half Minute Hero: Super Mega Neo Climax Ultimate Boy
Sep 27, 2012
$2.49
74% (90%/75%)
455,819 ±18,702
256,650 ±14,037
02:39 (00:45)
21
Shadowrun: Dragonfall - Director's Cut
Sep 18, 2014
$2.99
74% (90%/87%)
704,229 ±23,239
375,428 ±16,975
15:38 (04:32)
22
Crashlands
Jan 21, 2016
$5.99
74% (90%/78%)
102,298 ±8,863
72,955 ±7,485
12:14 (06:10)
23
The Banner Saga
Jan 14, 2014
$4.99
70% (89%/80%)
734,576 ±23,734
575,803 ±21,017
09:25 (04:43)
24
Sven Co-op
Jan 22, 2016
Free
70% (89%)
1,749,518 ±36,583
1,311,586 ±31,692
04:20 (00:49)
25
Dragon's Dogma: Dark Arisen
Jan 15, 2016
$11.99
70% (89%/81%)
715,885 ±23,431
600,926 ±21,470
30:57 (10:14)
26
Divinity: Original Sin - Enhanced Edition
Oct 27, 2015
$15.99
70% (89%/94%)
1,297,919 ±31,527
788,037 ±24,581
27:15 (07:47)
27
Crush Crush
Oct 18, 2016
Free
70% (89%)
440,947 ±18,395
338,850 ±16,127
25:11 (03:57)
28
DARK SOULS: Prepare To Die Edition
Aug 23, 2012
$19.99
70% (89%/85%)
2,929,664 ±47,273
2,640,255 ±44,893
44:15 (10:34)
29
From the Depths
Aug 7, 2014
$5.99
70% (89%)
211,228 ±12,735
175,052 ±11,594
56:27 (06:49)
30
The Witcher 2: Assassins of Kings Enhanced Edition
Apr 16, 2012
$2.99
67% (88%/88%)
4,750,127 ±60,061
3,338,052 ±50,435
14:46 (04:45)
31
STAR WARS - Knights of the Old Republic
Sep 5, 2009
$2.49
67% (88%)
2,677,034 ±45,203
1,844,983 ±37,564
14:01 (02:46)
32
STAR WARS Knights of the Old Republic II - The Sith Lords
Aug 23, 2012
$2.49
67% (88%/85%)
2,222,822 ±41,212
1,169,494 ±29,931
21:03 (06:10)
33
Risen
Oct 2, 2009
$2.49
67% (88%/77%)
885,712 ±26,057
418,638 ±17,924
13:43 (03:29)
34
Card Hunter
Jul 13, 2015
Free
64% (87%/80%)
822,404 ±25,110
595,097 ±21,366
09:07 (01:35)
35
DARK SOULS II
Apr 25, 2014
$11.99
64% (87%/91%)
1,089,304 ±28,890
1,023,383 ±28,004
85:24 (51:12)
36
Kingdoms of Amalur: Reckoning
Feb 7, 2012
$4.99
64% (87%/81%)
863,806 ±25,733
726,135 ±23,598
26:20 (08:52)
37
Brawlhalla
Apr 30, 2014
Free
64% (87%)
6,628,673 ±70,788
6,070,154 ±67,787
13:08 (02:18)
38
DARK SOULS II: Scholar of the First Sin
Apr 1, 2015
$11.99
64% (87%/79%)
1,144,372 ±29,609
952,437 ±27,018
55:04 (27:47)
39
The Witcher: Enhanced Edition Director's Cut
Sep 19, 2008
$1.49
62% (86%/86%)
3,428,492 ±51,108
2,462,590 ±43,366
15:34 (02:59)
40
Stories: The Path of Destinies
Apr 12, 2016
$3.74
62% (86%/74%)
44,617 ±5,854
32,358 ±4,985
06:17 (05:18)
41
Paladins
Sep 15, 2016
Free
62% (86%)
11,705,591 ±93,482
9,932,961 ±86,302
18:00 (04:03)
42
Loadout
Jan 31, 2014
Free
62% (86%/72%)
5,637,246 ±65,359
3,392,718 ±50,843
06:56 (01:52)
43
FINAL FANTASY XIV Online
Feb 18, 2014
$15.99
62% (86%/83%)
641,523 ±22,182
533,598 ±20,233
242:51 (41:12)
44
Sudeki
Feb 24, 2014
$2.99
62% (86%)
63,911 ±7,006
33,965 ±5,107
05:13 (02:34)
45
SpellForce - Platinum Edition
Nov 3, 2009
$2.49
62% (86%/74%)
175,052 ±11,594
92,651 ±8,435
39:25 (03:13)
46
Divinity II: Developer's Cut
Oct 29, 2012
$1.99
59% (85%)
665,842 ±22,598
245,998 ±13,743
09:58 (01:35)
47
Tower Unite
Apr 8, 2016
$10.49
59% (85%)
104,710 ±8,967
99,685 ±8,750
17:24 (06:57)
48
Duelyst
Aug 23, 2016
Free
59% (85%/82%)
584,044 ±21,167
459,035 ±18,768
12:26 (01:10)
49
Icewind Dale: Enhanced Edition
Oct 30, 2014
$6.79
59% (85%/80%)
136,062 ±10,222
90,239 ±8,325
25:58 (08:31)
50
Lords of Xulima
Nov 14, 2014
$7.99
56% (84%/71%)
49,039 ±6,137
38,789 ±5,458
37:04 (10:17)
51
The Incredible Adventures of Van Helsing
May 22, 2013
$2.99
56% (84%/72%)
852,149 ±25,559
596,102 ±21,384
09:34 (03:57)
52
Squad
Dec 14, 2015
$19.99
56% (84%)
409,795 ±17,734
394,119 ±17,392
34:58 (09:50)
53
Baldur's Gate: Enhanced Edition
Jan 16, 2013
$6.79
56% (84%/78%)
621,627 ±21,836
525,358 ±20,077
28:55 (04:54)
54
Pillars of Eternity
Mar 26, 2015
$17.99
56% (84%/89%)
915,457 ±26,490
845,517 ±25,460
41:39 (18:21)
55
Crusaders of the Lost Idols
Oct 13, 2015
Free
54% (83%)
436,927 ±18,311
294,032 ±15,024
84:25 (01:55)
56
Sacred Gold
Jul 9, 2008
$1.99
54% (83%/74%)
201,179 ±12,428
142,896 ±10,475
09:06 (01:21)
57
Shadowverse CCG
Oct 27, 2016
Free
51% (82%)
963,089 ±27,169
836,674 ±25,327
40:44 (04:45)
58
Baldur's Gate II: Enhanced Edition
Nov 15, 2013
$6.79
51% (82%/78%)
441,751 ±18,412
289,811 ±14,916
39:57 (04:12)
59
Realm Grinder
Jun 15, 2017
Free
51% (82%)
65,921 ±7,115
55,671 ±6,539
10:25 (01:26)
60
Hero Siege
Jan 29, 2014
$0.89
49% (81%)
1,083,877 ±28,818
918,472 ±26,533
11:36 (04:05)
61
Star Crusade CCG
Sep 7, 2016
Free
49% (81%)
171,636 ±11,480
94,661 ±8,526
07:52 (00:53)
62
LIGHTNING RETURNS: FINAL FANTASY XIII
Dec 10, 2015
$9.99
49% (81%)
300,664 ±15,192
151,538 ±10,787
18:55 (03:17)
63
The Elder Scrolls Online: Tamriel Unlimited
Mar 17, 2015
$29.99
46% (80%)
1,202,856 ±30,354
1,123,269 ±29,335
80:20 (20:09)
64
Forge of Gods (RPG)
May 6, 2016
Free
44% (79%)
310,311 ±15,434
162,391 ±11,167
22:33 (00:46)
65
Tiger Knight: Empire War
Oct 24, 2016
Free
44% (79%)
1,156,028 ±29,759
852,350 ±25,562
14:21 (01:13)
66
The Elder Scrolls: Legends
May 31, 2017
Free
44% (79%)
427,079 ±18,104
310,713 ±15,444
06:33 (01:45)
67
Gothic 3
Dec 2, 2009
$2.49
44% (79%/63%)
483,353 ±19,258
242,380 ±13,641
14:27 (01:14)
68
Dirty Bomb
Jun 2015
Free
42% (78%/63%)
6,926,523 ±72,335
4,712,142 ±59,824
10:42 (01:04)
69
(Tale of Wuxia)
Apr 28, 2016
$16.99
42% (78%)
44,818 ±5,867
43,813 ±5,801
43:11 (21:58)
70
EmergeNYC
Nov 3, 2016
$17.49
42% (78%)
12,260 ±3,068
11,255 ±2,940
08:33 (03:14)
71
Risen 2: Dark Waters
Apr 26, 2012
$2.49
42% (78%/69%)
1,233,204 ±30,733
626,651 ±21,924
17:33 (04:07)
72
CONSORTIUM
Jan 8, 2014
$2.49
40% (77%)
394,521 ±17,401
209,621 ±12,686
03:09 (03:06)
73
Flesh Eaters
May 3, 2016
$0.99
38% (76%)
414,016 ±17,825
249,414 ±13,838
03:02 (03:07)
74
Overture
Feb 2, 2015
$0.49
38% (76%/76%)
215,650 ±12,867
108,327 ±9,121
04:13 (03:38)
75
The Wild Eight
Feb 8, 2017
$16.99
38% (76%)
80,994 ±7,887
77,779 ±7,729
09:16 (04:59)
76
EVGA Precision XOC
Jul 16, 2014
Free
36% (75%)
934,751 ±26,767
554,701 ±20,629
68:39 (01:05)
77
Minion Masters
Dec 2, 2016
$0.49
36% (75%)
748,243 ±23,953
395,928 ±17,432
05:13 (04:06)
78
Fable Anniversary
Sep 12, 2014
$8.74
36% (75%)
518,123 ±19,938
412,207 ±17,786
11:50 (04:54)
79
Blacklight: Retribution
Jul 2, 2012
Free
36% (75%/75%)
3,148,127 ±48,991
1,903,467 ±38,152
12:03 (01:34)
80
CPUCores :: Maximize Your FPS
Jul 6, 2015
$7.34
35% (74%)
69,740 ±7,318
65,117 ±7,072
42:30 (11:28)
81
Sacred 2 Gold
Dec 21, 2012
$3.74
35% (74%)
753,066 ±24,030
245,998 ±13,743
11:25 (01:24)
82
Enclave
Oct 4, 2013
$0.99
35% (74%/71%)
1,484,829 ±33,713
652,979 ±22,379
02:26 (01:12)
83
Torment: Tides of Numenera
Feb 27, 2017
$22.49
33% (73%/81%)
127,621 ±9,900
104,308 ±8,950
14:49 (06:42)
84
Osiris: New Dawn
Sep 28, 2016
$14.99
33% (73%)
237,758 ±13,511
226,704 ±13,193
10:55 (05:59)
85
Game of Thrones
Jun 7, 2012
$3.74
31% (72%/58%)
505,059 ±19,685
232,331 ±13,356
06:41 (01:11)
86
DRAGON QUEST HEROES II
Apr 25, 2017
$40.19
30% (71%)
15,073 ±3,402
13,868 ±3,263
27:11 (13:35)
87
Tap Adventure: Time Travel
Mar 3, 2017
Free
30% (71%)
151,538 ±10,787
102,298 ±8,863
22:22 (01:13)
88
GRAV
Jan 8, 2015
$9.99
28% (70%)
481,745 ±19,226
276,747 ±14,576
11:57 (02:19)
89
Two Worlds Epic Edition
Apr 30, 2009
$9.99
28% (70%/65%)
959,471 ±27,118
440,746 ±18,391
05:09 (02:35)
90
KROSMAGA
Apr 12, 2017
Free
28% (70%)
67,730 ±7,212
55,068 ±6,503
08:05 (01:10)
91
ARK: Survival Evolved
Jun 2, 2015
$14.69
27% (69%)
5,059,835 ±61,965
4,809,014 ±60,428
125:03 (16:10)
92
Naval Action
Jan 21, 2016
$26.79
27% (69%)
93,254 ±8,463
92,048 ±8,408
77:16 (16:05)
93
Marvel Puzzle Quest
Dec 5, 2013
Free
27% (69%)
374,423 ±16,952
192,939 ±12,171
84:18 (01:36)
94
Virtual Desktop
Mar 31, 2016
$12.74
27% (69%)
127,822 ±9,907
123,602 ±9,743
24:11 (03:33)
95
The Technomancer
Jun 28, 2016
$8.99
25% (68%/56%)
72,352 ±7,454
56,877 ±6,609
11:02 (03:44)
96
ASMR Universe
Mar 3, 2016
$1.49
N/A (N/A)
28,941 ±4,715
16,078 ±3,514
04:18 (04:08)
97
Winning Putt: Golf Online
Oct 25, 2016
Free
25% (68%)
127,420 ±9,892
76,975 ±7,689
08:50 (00:44)
98
EasyAntiCheat eSports
Sep 10, 2015
Free
24% (67%)
645,342 ±22,248
505,059 ±19,685
29:10 (02:02)
99
Risen 3 - Titan Lords
Aug 12, 2014
$3.74
23% (66%/65%)
358,948 ±16,598
230,120 ±13,292
26:06 (07:19)
100
Microcosmum: survival of cells
Jul 24, 2015
$3.99
22% (65%)
26,529 ±4,514
23,314 ±4,231
04:13 (02:12)
101
The Incredible Adventures of Van Helsing: Final Cut
Nov 6, 2015
$8.99
22% (65%/79%)
157,165 ±10,986
89,636 ±8,297
14:08 (04:21)
102
The Culling
Mar 4, 2016
$19.99
21% (64%)
573,392 ±20,973
546,863 ±20,483
17:27 (05:22)
103
The Black Death
Apr 19, 2016
$13.39
15% (59%)
31,554 ±4,923
24,318 ±4,322
09:19 (02:29)
104
Lords Of The Fallen
Oct 28, 2014
$5.99
15% (59%/73%)
655,793 ±22,427
514,907 ±19,876
10:18 (03:56)
105
Devilian
Dec 10, 2015
Free
15% (59%/63%)
400,751 ±17,537
286,997 ±14,843
17:10 (03:20)
106
KINGDOMS
Oct 23, 2015
$5.99
14% (58%)
21,505 ±4,064
19,093 ±3,829
08:16 (03:49)
107
Nicolas Eymerich - The Inquisitor - Book 1 : The Plague
Apr 30, 2014
$0.99
N/A (N/A)
23,916 ±4,286
2,010 ±1,242
04:36 (05:34)
108
Escape Machines
Apr 14, 2015
$0.49
6% (44%)
229,718 ±13,280
161,386 ±11,132
03:15 (03:25)
109
The Settlers Online
Aug 19, 2015
Free
3% (35%)
364,977 ±16,737
229,718 ±13,280
26:45 (00:14)
110
Last Days
Oct 20, 2016
$0.49
N/A (N/A)
41,804 ±5,666
39,392 ±5,500
04:24 (04:31)