Marrow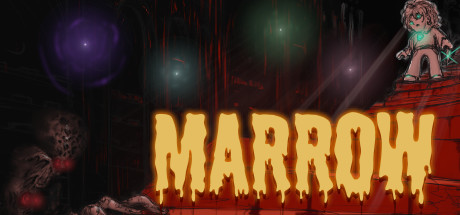 Store | Hub | SteamDB
Developer: Fever Dream Gameworks Publisher: Fever Dream Gameworks
Genre: Violent, Gore, Action, Adventure, Indie
Languages: English
Tags: Indie (22), Adventure (21), Gore (21), Action (21), Violent (21)
Category: Single-player, Steam Achievements, Full controller support
Release date: Nov 25, 2016
Price: $9.99
Owners: 629 ± 1,231
Followers: 134
YouTube stats: 75 views and 11 comments for videos uploaded last week, 2 new videos uploaded yesterday.

Steam Spy is still in beta, so expect major bugs.
Peak daily concurrent players:
CCU data courtesy of SteamDB. Used with permission.
Hourly concurrent players:
YouTube:
The views data is based on top 50 videos uploaded last week. Actual number of views might be more than the number shown.

The displayed number of videos uploaded yesterday is limited to 50, so if there were more videos uploaded, the number will still show 50.

If the game has commonly used word as its name (like "FEAR" or "Volume") its number of Youtube views might be wrong.
Games similar to this one:
#
Game
Release date

Price

Score rank
(Userscore / Metascore)

Owners

Players

Playtime (Median)

1
Zombie Office Politics
Dec 3, 2015
$3.99
N/A (N/A)
6,457 ±2,430
717 ±810
00:35 (00:34)
2
Vilmonic
Jun 15, 2016
$9.99
N/A (N/A)
2,870 ±1,620
957 ±935
00:43 (00:52)
3
3dSunshine
Nov 1, 2016
Free
N/A (N/A)
14,348 ±3,622
3,348 ±1,750
00:13 (00:07)
4
Worlds of Chaos
Feb 10, 2016
$11.99
N/A (N/A)
6,217 ±2,384
0 ±0
00:00 (00:00)
5
VirZOOM Arcade
Jun 30, 2016
Free
N/A (N/A)
52,370 ±6,921
9,326 ±2,920
00:49 (00:03)
6
Divinia Chronicles: Relics of Gan-Ti
Oct 2015
$14.99
N/A (N/A)
6,696 ±2,474
717 ±810
00:46 (00:39)
7
RuneSage
Oct 25, 2016
$9.99
N/A (N/A)
1,257 ±1,740
629 ±1,231
00:59 (00:59)
8
Windscape
Sep 1, 2016
$16.99
N/A (N/A)
1,438 ±1,406
1,078 ±1,218
00:08 (00:08)
9
Sarab: The Dark Tower
Nov 17, 2016
$1.99
N/A (N/A)
5,739 ±2,291
717 ±810
03:04 (03:03)
10
UBERMOSH Vol.3
Aug 15, 2016
$1.19
95% (96%)
22,000 ±4,486
7,413 ±2,604
00:22 (00:20)
11
Smash Party VR
Dec 18, 2016
Free
N/A (N/A)
9,087 ±2,883
5,978 ±2,338
00:15 (00:15)
12
The FOO Show featuring Will Smith
Apr 5, 2016
Free
92% (95%)
67,675 ±7,867
21,522 ±4,437
00:14 (00:05)
13
Langoth
Feb 27, 2017
$2.99
N/A (N/A)
8,848 ±2,845
5,978 ±2,338
02:50 (03:19)
14
Deep Under the Sky
Aug 22, 2014
$9.99
N/A (N/A)
32,283 ±5,434
5,739 ±2,291
03:16 (00:27)
15
CloudBound
Sep 7, 2016
$6.99
N/A (N/A)
1,913 ±1,322
1,435 ±1,145
01:42 (01:52)
16
Wave Magic VR
Dec 29, 2016
$5.99
N/A (N/A)
3,826 ±1,870
2,630 ±1,551
02:35 (02:53)
17
PlanetFate
Jun 6, 2016
$4.99
N/A (N/A)
1,913 ±1,322
1,674 ±1,237
00:06 (00:09)
18
Edolie
Feb 27, 2015
$9.99
N/A (N/A)
2,391 ±1,479
239 ±467
26:19 (08:46)
19
Woof Blaster
Sep 22, 2015
Free
58% (84%)
61,697 ±7,512
6,217 ±2,384
00:27 (00:02)
20
The Troma Project
Oct 28, 2015
$6.99
N/A (N/A)
193,220 ±13,291
14,109 ±3,592
00:08 (00:03)
21
Break Time!
Feb 8, 2017
Free
N/A (N/A)
5,022 ±2,143
3,348 ±1,750
00:08 (00:07)
22
Vex
Sep 13, 2016
$3.99
N/A (N/A)
1,438 ±1,406
719 ±994
00:15 (00:10)
23
Funfair
Aug 20, 2016
Free
N/A (N/A)
28,218 ±5,080
6,935 ±2,518
00:08 (00:06)
24
Hard to Be a God
Aug 24, 2015
$7.99
N/A (N/A/55%)
1,797 ±1,572
719 ±994
01:54 (01:46)
25
Dino Eggs: Rebirth
Jun 8, 2016
$9.99
N/A (N/A)
5,500 ±2,243
478 ±661
22:19 (14:52)
26
Turnover
Dec 15, 2015
$9.99
N/A (N/A)
2,630 ±1,551
1,435 ±1,145
03:35 (03:17)
27
Gare Sapphire Mechs
Apr 1, 2015
$7.99
N/A (N/A)
20,326 ±4,312
3,587 ±1,811
00:12 (00:03)
28
Overpower
Apr 20, 2016
$8.99
N/A (N/A)
1,913 ±1,322
717 ±810
00:32 (00:31)
29
XO-Planets
Apr 21, 2016
$7.99
N/A (N/A)
1,435 ±1,145
717 ±810
13:40 (12:57)
30
Return to Krondor
Dec 15, 2016
$5.99
N/A (N/A)
17,696 ±4,023
478 ±661
00:16 (00:10)
31
CDF Starfighter VR
Apr 5, 2016
$14.99
25% (67%)
2,152 ±1,403
1,913 ±1,322
01:05 (01:21)
32
The Contact
Apr 10, 2016
$2.99
N/A (N/A)
629 ±1,231
0 ±0
00:00 (00:00)
33
Advent
May 15, 2015
Free
N/A (N/A)
8,131 ±2,727
0 ±0
00:00 (00:00)
34
Ruzh Delta Z
May 11, 2015
Free
20% (63%)
98,284 ±9,481
7,652 ±2,645
00:08 (00:04)
35
RoBoRumble
Dec 10, 2015
$5.99
N/A (N/A)
100,436 ±9,584
7,891 ±2,686
01:54 (00:01)
36
KYOTO TANOJI QUEST
Dec 23, 2016
Free
N/A (N/A)
2,630 ±1,551
478 ±661
00:01 (00:00)
37
After All
Apr 20, 2015
$0.99
N/A (N/A)
1,674 ±1,237
478 ±661
00:01 (00:00)
38
FranknJohn
Mar 4, 2015
$14.99
N/A (N/A)
9,326 ±2,920
957 ±935
00:15 (00:03)
39
Artizens
Mar 5, 2015
Free
N/A (N/A)
1,196 ±1,045
717 ±810
00:29 (00:27)
40
The Sacred Stone: A Story Adventure
Jan 29, 2016
$4.99
N/A (N/A)
2,152 ±1,403
239 ±467
00:08 (00:02)
41
Damnation City of Death
Mar 3, 2015
$9.99
N/A (N/A)
9,326 ±2,920
957 ±935
02:12 (02:46)
42
Space Thinger
Sep 25, 2015
$2.99
N/A (N/A)
14,826 ±3,682
1,674 ±1,237
01:00 (02:00)
43
Siege Hammer
Nov 2, 2016
$14.99
N/A (N/A)
1,797 ±1,572
359 ±703
00:04 (00:02)
44
Tactical Craft Online
Feb 12, 2016
Free
9% (50%)
262,330 ±15,486
191,547 ±13,234
02:44 (00:10)
45
Project Alpha 002
Oct 28, 2016
$4.99
N/A (N/A)
1,078 ±1,218
1,078 ±1,218
00:08 (00:08)
46
Caribbean Odyssey
Nov 12, 2015
$2.99
N/A (N/A)
12,913 ±3,436
478 ±661
01:21 (00:53)
47
Evil Hazard
Sep 16, 2015
$2.99
N/A (N/A)
2,156 ±1,723
719 ±994
02:46 (01:34)
48
Of Love And Sorrow
Aug 8, 2016
$4.99
N/A (N/A)
6,457 ±2,430
239 ±467
00:03 (00:01)
49
Gun Brothers
Aug 18, 2016
$0.99
N/A (N/A)
2,630 ±1,551
957 ±935
00:15 (00:09)
50
Insane Decay of Mind
May 6, 2016
$2.99
N/A (N/A)
3,109 ±1,686
1,196 ±1,045
01:57 (01:34)
51
Streets of Chaos
Jan 28, 2015
$0.99
N/A (N/A)
44,240 ±6,361
8,131 ±2,727
00:27 (00:03)
52
Oncoming Death Steam Edition
Oct 19, 2015
$4.99
N/A (N/A)
1,257 ±1,740
629 ±1,231
00:05 (00:05)
53
DIVO
Feb 1, 2013
$4.99
N/A (N/A)
13,631 ±3,531
1,674 ±1,237
00:10 (00:20)
54
Second Warfare
Jun 22, 2015
$14.99
N/A (N/A)
2,514 ±2,461
2,514 ±2,461
04:26 (06:31)
55
Naninights
Jul 24, 2015
Free
N/A (N/A)
39,218 ±5,989
1,913 ±1,322
00:06 (00:05)
56
At the Mountains of Madness
Mar 25, 2016
$19.99
N/A (N/A)
1,674 ±1,237
1,196 ±1,045
08:21 (09:15)
57
AI: Rampage
Jan 27, 2016
$1.99
1% (21%)
105,219 ±9,809
8,848 ±2,845
15:55 (00:03)
58
Adam and Eve: The Game - Chapter 1
Feb 26, 2016
$3.99
N/A (N/A)
13,631 ±3,531
957 ±935
00:02 (00:02)