Marrow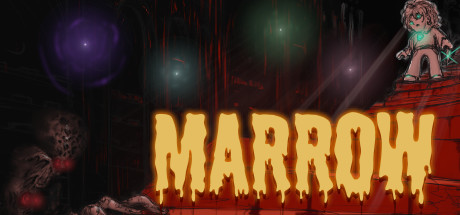 Store | Hub | SteamDB
Developer: Fever Dream Gameworks Publisher: Fever Dream Gameworks
Genre: Violent, Gore, Action, Adventure, Indie
Languages: English
Tags: Indie (22), Gore (21), Violent (21), Action (21), Adventure (20), Horror (5)
Category: Single-player, Steam Achievements, Full controller support
Release date: Nov 25, 2016
Price: $9.99
Followers: 140
Peak concurrent players yesterday: 1
YouTube stats: 212 views and 8 comments for videos uploaded last week, 3 new videos uploaded yesterday.

Steam Spy is still in beta, so expect major bugs.
Peak daily concurrent players:
CCU data courtesy of SteamDB. Used with permission.
Hourly concurrent players:
YouTube:
The views data is based on top 50 videos uploaded last week. Actual number of views might be more than the number shown.

The displayed number of videos uploaded yesterday is limited to 50, so if there were more videos uploaded, the number will still show 50.

If the game has commonly used word as its name (like "FEAR" or "Volume") its number of Youtube views might be wrong.
Games similar to this one:
#
Game
Release date

Price

Score rank
(Userscore / Metascore)

Owners

Players

Playtime (Median)

1
The Inner Sea
Mar 30, 2016
$11.99
N/A (N/A)
572 ±791
572 ±791
01:12 (01:11)
2
Caretaker Sacrifice
Aug 17, 2016
$3.99
N/A (N/A)
575 ±648
192 ±374
00:01 (00:00)
3
Abducted
Jul 28, 2015
$4.99
N/A (N/A)
19,356 ±3,765
958 ±837
00:26 (00:36)
4
Woof Blaster
Sep 22, 2015
Free
49% (81%)
54,235 ±6,302
5,174 ±1,946
00:11 (00:04)
5
Glider Island
Apr 28, 2017
$7.99
N/A (N/A)
1,150 ±917
1,150 ±917
06:37 (12:54)
6
TV Trouble
Oct 24, 2016
Free
N/A (N/A)
11,115 ±2,853
1,533 ±1,059
00:05 (00:03)
7
Hard to Be a God
Aug 24, 2015
$7.99
N/A (N/A/55%)
1,725 ±1,123
1,342 ±991
02:00 (02:31)
8
Win That War!
Apr 7, 2017
$19.99
N/A (N/A)
572 ±791
572 ±791
00:11 (00:11)
9
Poly Runner VR
Apr 18, 2016
Free
45% (79%)
58,260 ±6,531
20,889 ±3,911
03:29 (00:05)
10
CMYW
Oct 16, 2015
$3.99
N/A (N/A)
13,990 ±3,200
2,491 ±1,350
00:34 (00:43)
11
Dino Eggs: Rebirth
Jun 8, 2016
$9.99
N/A (N/A)
3,641 ±1,633
192 ±374
00:08 (00:02)
12
Antisphere
Jul 14, 2017
$11.99
N/A (N/A)
3,641 ±1,633
767 ±749
00:31 (00:20)
13
Lovely Planet Arcade
Jul 22, 2016
$5.99
35% (74%/78%)
8,241 ±2,456
2,491 ±1,350
00:45 (00:36)
14
Jeklynn Heights
May 25, 2016
Free
N/A (N/A)
575 ±648
383 ±529
01:32 (01:01)
15
MIGHT
Jul 13, 2016
Free
N/A (N/A)
7,666 ±2,369
1,150 ±917
00:14 (00:23)
16
Dogolrax
Feb 24, 2017
$4.99
26% (68%)
1,533 ±1,059
767 ±749
00:27 (00:35)
17
Unforgiven VR
Feb 23, 2017
$9.99
N/A (N/A)
5,174 ±1,946
1,533 ±1,059
00:20 (00:17)
18
Push For Emor
Oct 24, 2016
$12.99
N/A (N/A)
1,725 ±1,123
1,150 ±917
00:44 (00:42)
19
Hunt: The Unknown Quarry
Jan 30, 2017
Free
N/A (N/A)
3,833 ±1,675
2,683 ±1,401
00:19 (00:09)
20
After All
Apr 20, 2015
$0.99
N/A (N/A)
958 ±837
383 ±529
00:10 (00:06)
21
Woodlands
May 30, 2017
$9.99
N/A (N/A)
7,091 ±2,278
383 ±529
00:25 (00:16)
22
Mind Zero
Mar 8, 2016
$19.99
7% (47%)
2,683 ±1,401
1,533 ±1,059
20:57 (52:47)
23
Dragon Fantasy: The Black Tome of Ice
May 26, 2016
$9.99
N/A (N/A)
572 ±791
572 ±791
00:18 (00:17)
24
The Sea Eternal
Apr 22, 2016
$6.99
N/A (N/A)
1,150 ±917
575 ±648
01:08 (01:08)
25
Of Love And Sorrow
Aug 8, 2016
$4.99
N/A (N/A)
4,216 ±1,757
383 ±529
01:20 (00:53)
26
Solar System Conflict
Apr 6, 2015
$9.99
N/A (N/A)
1,145 ±1,119
859 ±969
00:16 (00:22)
27
Infect and Destroy
Jan 29, 2015
$6.99
N/A (N/A)
11,690 ±2,926
2,491 ±1,350
00:53 (00:21)
28
Journey of the King
Dec 15, 2014
$1.99
N/A (N/A)
3,833 ±1,675
192 ±374
00:10 (00:03)