Empyrean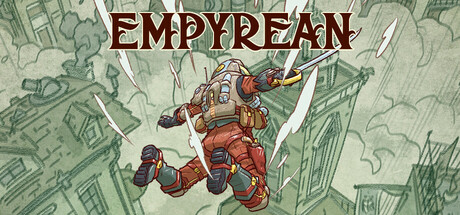 Store | Hub | SteamDB | Site
Developer: Choice of Games Publisher: Choice of Games
Genre: Adventure, Indie, RPG
Languages: English
Tags: Indie (20), Adventure (19), RPG (18), Choose Your Own Adventure (11), Text-Based (6)
Category: Single-player, Steam Achievements, Captions available, Steam Cloud
Release date: Dec 1, 2016
Price: $5.99
Owners: 962 ± 1,087
Followers: 160
Peak concurrent players yesterday: 1
YouTube stats: 208 views and 16 comments for videos uploaded last week, 1 new videos uploaded yesterday.

Steam Spy is still in beta, so expect major bugs.
Peak daily concurrent players:
CCU data courtesy of SteamDB. Used with permission.
Hourly concurrent players:
YouTube:
The views data is based on top 50 videos uploaded last week. Actual number of views might be more than the number shown.

The displayed number of videos uploaded yesterday is limited to 50, so if there were more videos uploaded, the number will still show 50.

If the game has commonly used word as its name (like "FEAR" or "Volume") its number of Youtube views might be wrong.
Games similar to this one:
#
Game
Release date

Price

Score rank
(Userscore / Metascore)

Owners

Players

Playtime (Median)

1
We Slay Monsters
Jun 21, 2017
$13.99
N/A (N/A)
3,234 ±1,632
2,587 ±1,460
04:15 (04:41)
2
Mankind Defender
Dec 22, 2016
$4.99
N/A (N/A)
7,761 ±2,529
6,467 ±2,308
03:20 (03:47)
3
Wimp: Who Stole My Pants?
Jun 5, 2015
$3.99
N/A (N/A)
9,916 ±2,858
4,527 ±1,931
03:54 (03:59)
4
Wormhole City
Jan 2, 2017
$5.99
N/A (N/A)
10,779 ±2,980
8,623 ±2,666
02:44 (03:00)
5
Crowman & Wolfboy
Jun 2, 2017
$3.99
N/A (N/A)
21,341 ±4,194
14,012 ±3,398
03:11 (03:12)
6
Soulcaster: Part I & II
May 24, 2016
$4.99
N/A (N/A)
4,958 ±2,021
3,018 ±1,577
04:53 (03:11)
7
Porradaria 2: Pagode of the Night
Mar 8, 2016
$4.99
N/A (N/A)
56,264 ±6,809
26,300 ±4,655
03:12 (03:44)
8
The Haunting of Billy
Feb 26, 2016
$2.99
N/A (N/A)
26,515 ±4,674
21,988 ±4,257
03:23 (03:27)
9
Evolvation
Feb 6, 2017
$9.99
N/A (N/A)
13,581 ±3,345
9,485 ±2,796
03:10 (02:54)
10
Milford Heaven - Luken's Chronicles
Jun 10, 2016
$0.99
N/A (N/A)
82,564 ±8,248
74,587 ±7,840
03:32 (03:30)
11
Little Triangle
Jan 20, 2017
$11.99
99% (98%)
9,270 ±2,764
7,329 ±2,457
06:11 (03:08)
12
Deadly Sin 2
May 12, 2014
$4.99
N/A (N/A)
133,869 ±10,503
24,144 ±4,461
04:10 (02:42)
13
Black Ice
Jul 9, 2014
$14.99
95% (96%)
7,976 ±2,564
6,898 ±2,384
05:36 (03:02)
14
Cursed Castilla (Maldita Castilla EX)
Oct 20, 2016
$11.99
92% (95%)
5,605 ±2,149
4,096 ±1,837
01:38 (01:20)
15
Shadows of Adam
Feb 23, 2017
$14.99
86% (93%/77%)
4,311 ±1,885
2,587 ±1,460
17:14 (09:53)
16
Doom & Destiny Advanced
Nov 15, 2016
$4.99
86% (93%)
9,270 ±2,764
5,389 ±2,107
34:14 (07:41)
17
Tumbleweed Express
May 31, 2016
$4.99
81% (92%)
3,665 ±1,738
3,234 ±1,632
02:35 (01:32)
18
Catacomb Kids
Feb 20, 2015
$15.99
77% (91%)
13,150 ±3,292
12,288 ±3,182
22:21 (03:53)
19
Alicemare
Nov 21, 2016
$2.99
77% (91%)
23,713 ±4,421
13,150 ±3,292
03:14 (02:22)
20
Hollywood Visionary
May 1, 2015
$5.99
77% (91%)
4,527 ±1,931
3,018 ±1,577
05:04 (03:55)
21
Camp Sunshine
Oct 27, 2016
$4.99
74% (90%)
12,072 ±3,154
7,976 ±2,564
04:02 (04:08)
22
CounterAttack
Apr 21, 2016
$7.99
70% (89%)
7,329 ±2,457
5,389 ±2,107
04:11 (03:33)
23
Moekuri: Adorable + Tactical SRPG
Dec 16, 2016
$11.99
70% (89%)
6,898 ±2,384
4,311 ±1,885
08:57 (02:25)
24
Looterkings
Aug 11, 2017
$17.99
67% (88%)
10,994 ±3,010
9,916 ±2,858
05:56 (03:00)
25
Cowbots and Aliens
Nov 7, 2016
$19.99
67% (88%)
3,018 ±1,577
2,371 ±1,398
00:51 (00:41)
26
Ropes And Dragons VR
Apr 21, 2017
$0.99
N/A (N/A)
82,348 ±8,238
76,959 ±7,964
03:37 (03:30)
27
Barbie and Her Sisters Puppy Rescue
Dec 17, 2015
$9.99
64% (87%)
4,311 ±1,885
4,096 ±1,837
05:57 (05:14)
28
Ultimate Space Commando
May 12, 2015
$9.99
N/A (N/A)
2,371 ±1,398
1,509 ±1,115
05:26 (06:08)
29
Jan 8, 2015
$15.99
N/A (N/A)
2,802 ±1,519
1,940 ±1,264
18:08 (20:37)
30
DROD: Gunthro and the Epic Blunder
Sep 23, 2016
$9.99
N/A (N/A)
4,743 ±1,977
3,018 ±1,577
15:23 (09:13)
31
Wayward
Apr 22, 2016
$7.99
54% (83%)
19,832 ±4,043
18,539 ±3,909
09:52 (03:33)
32
Konung 3: Ties of the Dynasty
Apr 3, 2014
$2.99
N/A (N/A)
29,102 ±4,897
3,665 ±1,738
05:34 (04:05)
33
A dragon girl looks up at the endless sky
Oct 27, 2016
$9.99
N/A (N/A)
1,293 ±1,032
647 ±730
05:14 (05:14)
34
Lichtspeer
Sep 27, 2016
$9.99
54% (83%/72%)
4,311 ±1,885
3,665 ±1,738
04:19 (03:41)
35
Aveyond 3-3: The Lost Orb
Jan 16, 2015
$9.99
N/A (N/A)
5,605 ±2,149
1,293 ±1,032
09:24 (12:26)
36
Basement
Apr 30, 2015
$8.99
54% (83%)
52,815 ±6,597
51,953 ±6,543
04:49 (02:50)
37
NeuroVoider
Aug 31, 2016
$13.99
51% (82%)
16,383 ±3,674
14,874 ±3,501
04:43 (02:20)
38
A Bastard's Tale
May 26, 2015
$4.99
51% (82%)
11,210 ±3,039
9,485 ±2,796
02:34 (02:18)
39
FreeHolder
Jul 5, 2016
$9.99
N/A (N/A)
1,725 ±1,192
862 ±843
06:10 (06:51)
40
Islet Online
Feb 1, 2016
$24.99
49% (81%)
7,976 ±2,564
7,761 ±2,529
46:58 (12:04)
41
The Lost Heir 2: Forging a Kingdom
Jan 29, 2016
$3.99
N/A (N/A)
3,665 ±1,738
2,802 ±1,519
03:20 (04:21)
42
OmniBus
May 26, 2016
$9.99
47% (80%/55%)
12,934 ±3,265
8,192 ±2,598
02:22 (01:30)
43
Conclave
Jan 20, 2017
$11.99
N/A (N/A)
2,371 ±1,398
1,940 ±1,264
03:27 (02:34)
44
Xbird
May 1, 2017
$0.99
47% (80%)
25,222 ±4,559
17,461 ±3,793
02:34 (02:35)
45
INFERNO CLIMBER
Sep 8, 2016
$29.99
N/A (N/A)
2,587 ±1,460
1,940 ±1,264
03:47 (02:09)
46
The Superfluous
May 19, 2017
$4.99
N/A (N/A)
8,838 ±2,699
6,467 ±2,308
02:30 (03:07)
47
Void
Aug 16, 2016
$0.99
N/A (N/A)
3,880 ±1,788
2,156 ±1,333
02:33 (02:53)
48
Saga of the North Wind
Nov 17, 2016
$6.99
N/A (N/A)
1,992 ±1,591
996 ±1,125
05:18 (06:59)
49
Ahros: One Warrior Chronicle
Sep 29, 2016
$19.99
N/A (N/A)
1,725 ±1,192
1,078 ±942
02:15 (02:32)
50
The Logomancer
Aug 4, 2015
$4.99
N/A (N/A)
6,252 ±2,270
3,234 ±1,632
06:54 (09:43)
51
Sol Trader
Jun 6, 2016
$19.99
N/A (N/A)
3,018 ±1,577
2,371 ±1,398
05:27 (05:36)
52
Mystery Chronicle: One Way Heroics
Sep 12, 2016
$9.99
23% (66%)
10,779 ±2,980
7,761 ±2,529
13:07 (06:01)
53
DICETINY: The Lord of the Dice
Jul 21, 2016
Free
22% (65%)
7,545 ±2,493
6,683 ±2,347
05:46 (01:52)
54
Boundel: The Second Era
Nov 14, 2016
Free
20% (63%)
15,090 ±3,526
11,425 ±3,068
03:45 (02:12)
55
Monster RPG 2
Oct 12, 2015
$1.99
N/A (N/A)
9,270 ±2,764
7,329 ±2,457
02:47 (03:14)
56
I am Weapon: Revival
Oct 23, 2015
$1.59
16% (60%)
23,497 ±4,400
15,737 ±3,601
03:56 (02:22)
57
Hide & Hold Out - H2o
Apr 9, 2016
$17.99
15% (59%)
14,659 ±3,476
12,934 ±3,265
11:58 (07:05)
58
Idle Civilization
Nov 23, 2015
$4.99
15% (59%)
10,347 ±2,920
9,701 ±2,827
34:33 (07:34)
59
Malevolence: The Sword of Ahkranox
May 9, 2014
$19.99
N/A (N/A)
2,371 ±1,398
2,371 ±1,398
07:51 (07:42)
60
Qasir al-Wasat: International Edition
Jan 19, 2016
$5.09
N/A (N/A)
5,820 ±2,190
2,587 ±1,460
03:16 (02:56)
61
Shadowrun Chronicles: INFECTED Director's Cut
Dec 10, 2015
$29.99
N/A (N/A)
3,880 ±1,788
2,371 ±1,398
09:51 (06:19)
62
Jump Like A Pirate
Feb 7, 2017
$0.74
N/A (N/A)
40,958 ±5,810
35,138 ±5,381
03:18 (03:30)
63
Ashes of Immortality
Jun 26, 2015
$9.99
N/A (N/A)
7,114 ±2,421
4,311 ±1,885
08:20 (02:43)
64
Data Hacker: Reboot
Apr 17, 2015
$4.99
12% (55%)
205,223 ±13,003
132,360 ±10,443
04:10 (03:30)
65
Clumsy Moose Season
Mar 2, 2016
$3.99
N/A (N/A)
6,252 ±2,270
1,078 ±942
00:36 (00:31)
66
Tile Miner
Oct 24, 2014
Free
N/A (N/A)
647 ±730
647 ±730
19:24 (19:24)
67
Runeyana
Mar 21, 2017
$8.99
N/A (N/A)
7,976 ±2,564
6,036 ±2,230
04:39 (05:00)
68
Crash Force
Jul 14, 2017
$9.99
N/A (N/A)
31,473 ±5,093
22,419 ±4,298
03:28 (03:16)
69
I Will Escape
Dec 22, 2014
$0.99
N/A (N/A)
664 ±919
332 ±649
01:20 (00:40)
70
Guardian Of December
Nov 30, 2016
$4.99
N/A (N/A)
4,958 ±2,021
3,449 ±1,686
05:09 (04:10)
71
I Am Caligula
Mar 25, 2016
$0.99
N/A (N/A)
3,234 ±1,632
2,371 ±1,398
02:47 (02:28)
72
Double Cubes
Jan 18, 2017
$4.99
N/A (N/A)
30,611 ±5,023
25,222 ±4,559
04:26 (04:31)
73
Star Nomad
Dec 29, 2014
$1.99
N/A (N/A)
10,132 ±2,889
4,527 ±1,931
02:27 (00:47)
74
Barter Empire
Feb 6, 2015
$4.99
N/A (N/A)
6,683 ±2,347
862 ±843
08:55 (11:51)
75
Garbage Day
Jan 18, 2016
$14.99
5% (41%)
13,581 ±3,345
13,150 ±3,292
05:03 (02:17)
76
Of Love And Sorrow
Aug 8, 2016
$4.99
N/A (N/A)
7,329 ±2,457
0 ±0
00:00 (00:00)
77
Galactineers
Mar 25, 2016
$9.99
N/A (N/A)
5,605 ±2,149
4,527 ±1,931
06:15 (06:50)
78
Forgotten Heroes
Aug 12, 2016
$0.99
N/A (N/A)
80,839 ±8,162
77,605 ±7,997
04:26 (04:31)
79
Joe's Diner
Mar 31, 2015
$7.99
N/A (N/A)
22,204 ±4,278
14,443 ±3,450
02:40 (03:10)
80
Way of Hero
Jan 16, 2017
$0.99
N/A (N/A)
150,468 ±11,135
141,630 ±10,803
04:25 (04:31)
81
Aztecalypse
Nov 11, 2016
$0.99
N/A (N/A)
87,953 ±8,513
85,797 ±8,408
03:40 (03:30)
82
Love is Blind: Mutants
Mar 15, 2016
Free
N/A (N/A)
59,929 ±7,027
42,683 ±5,931
04:27 (03:30)
83
10 Years After
Jan 30, 2015
$5.99
N/A (N/A)
10,347 ±2,920
2,156 ±1,333
01:21 (00:51)