Pawn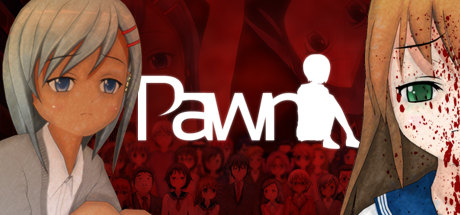 Store | Hub | SteamDB | Site
Developer: ODBear Studios Publisher: ODBear Studios
Genre: Nudity, Violent, Gore, Adventure, Casual, Simulation
Languages: English, French
Tags: Adventure (34), Violent (32), Casual (31), Nudity (23), Gore (23), Simulation (22), Anime (22), Visual Novel (18), Mystery (14)
Category: Single-player, Steam Achievements, Steam Trading Cards
Release date: Dec 9, 2016
Price: $6.99
Owners: 685 ± 1,341
YouTube stats: 16,179 views and 58 comments for videos uploaded last week, 4 new videos uploaded yesterday.

Steam Spy is still in beta, so expect major bugs.
Peak daily concurrent players:
CCU data courtesy of SteamDB. Used with permission.
Hourly concurrent players:
YouTube:
The views data is based on top 50 videos uploaded last week. Actual number of views might be more than the number shown.

The displayed number of videos uploaded yesterday is limited to 50, so if there were more videos uploaded, the number will still show 50.

If the game has commonly used word as its name (like "FEAR" or "Volume") its number of Youtube views might be wrong.
Games similar to this one:
#
Game
Release date

Price

Score rank
(Userscore / Metascore)

Owners

Players

Playtime (Median)

1
The Odyssey
Sep 4, 2016
$4.99
N/A (N/A)
6,783 ±2,463
4,210 ±1,940
03:26 (03:03)
2
Magical Eyes - Red is for Anguish
Mar 30, 2016
$14.99
N/A (N/A/77%)
2,339 ±1,446
936 ±914
06:36 (07:46)
3
Jacob Jones and the Bigfoot Mystery : Episode 1
Sep 15, 2014
$4.99
N/A (N/A)
1,403 ±1,120
234 ±457
00:22 (00:07)
4
Flyhunter Origins
Dec 10, 2014
$6.99
N/A (N/A)
2,339 ±1,446
1,169 ±1,022
05:04 (07:07)
5
D/Generation HD
Oct 23, 2015
$12.99
N/A (N/A)
19,881 ±4,217
1,169 ±1,022
00:38 (01:01)
6
RHEM IV: The Golden Fragments SE
Feb 3, 2016
$9.99
N/A (N/A)
936 ±914
702 ±792
07:42 (07:02)
7
Disney The Princess and the Frog
Oct 6, 2014
$19.99
N/A (N/A)
5,379 ±2,193
702 ±792
02:51 (02:51)
8
Hello Charlotte
Nov 21, 2016
$4.99
N/A (N/A)
1,637 ±1,210
936 ±914
06:10 (05:50)
9
The Sea Will Claim Everything
Mar 24, 2016
$9.99
100% (100%)
4,444 ±1,993
1,403 ±1,120
03:27 (01:23)
10
Mr. Triangle's Adventure
Jan 31, 2017
$0.99
N/A (N/A)
17,776 ±3,987
14,969 ±3,659
10:00 (10:36)
11
Tick's Tales
Jun 9, 2016
$7.99
N/A (N/A)
7,952 ±2,667
4,210 ±1,940
03:49 (03:08)
12
Milkmaid of the Milky Way
Jan 4, 2017
$5.99
99% (98%/74%)
1,871 ±1,293
1,169 ±1,022
01:29 (02:26)
13
Lost Lands: The Golden Curse
Mar 24, 2016
$6.99
92% (95%)
3,508 ±1,771
2,105 ±1,372
10:30 (12:51)
14
Nelly Cootalot: The Fowl Fleet
Mar 22, 2016
$19.99
N/A (N/A/81%)
1,637 ±1,210
234 ±457
09:10 (03:03)
15
Gahkthun of the Golden Lightning Steam Edition
Apr 15, 2016
$39.99
N/A (N/A)
2,339 ±1,446
1,871 ±1,293
14:08 (24:17)
16
Brighter Day
Jul 17, 2015
$2.99
N/A (N/A)
2,807 ±1,584
1,637 ±1,210
01:00 (01:02)
17
Little Briar Rose
Dec 2, 2016
$7.99
N/A (N/A)
1,637 ±1,210
1,169 ±1,022
01:19 (01:55)
18
The Journeyman Project 1: Pegasus Prime
Feb 20, 2017
$9.99
N/A (N/A)
710 ±982
0 ±0
00:00 (00:00)
19
Catyph: The Kunci Experiment
May 11, 2016
$14.99
N/A (N/A)
2,339 ±1,446
1,403 ±1,120
09:57 (12:42)
20
Shades of Black
Sep 9, 2015
$11.99
N/A (N/A)
936 ±914
468 ±646
04:47 (03:11)
21
Historium VR - Relive the history of Bruges
Dec 2, 2016
$7.99
N/A (N/A)
710 ±982
355 ±695
00:14 (00:07)
22
Hypnosis
Jan 28, 2015
$4.99
N/A (N/A)
936 ±914
468 ±646
04:06 (02:43)
23
The Journey Back
Aug 12, 2015
$1.99
N/A (N/A)
1,169 ±1,022
468 ±646
00:30 (00:10)
24
Renoir
Nov 16, 2016
$9.99
N/A (N/A)
1,169 ±1,022
234 ±457
06:40 (02:13)
25
Duke Grabowski, Mighty Swashbuckler
Oct 6, 2016
$6.99
N/A (N/A)
2,807 ±1,584
1,169 ±1,022
03:25 (03:23)
26
Legend of Miro
Aug 22, 2016
$9.99
N/A (N/A)
16,606 ±3,854
5,613 ±2,240
01:52 (01:55)
27
Unhappy Ever After
Jan 20, 2017
$5.99
N/A (N/A)
1,871 ±1,293
1,637 ±1,210
05:54 (10:21)
28
Queen Of Thieves
Jan 20, 2017
$24.99
N/A (N/A)
936 ±914
468 ±646
12:50 (08:33)
29
Witan
Jul 12, 2016
Free
N/A (N/A)
1,169 ±1,022
0 ±0
00:00 (00:00)
30
TRESPASS - Episode 1
Aug 4, 2016
$15.99
N/A (N/A)
936 ±914
702 ±792
01:22 (01:01)
31
It's Killing Time
Apr 22, 2016
$5.99
N/A (N/A)
1,871 ±1,293
1,403 ±1,120
08:48 (09:12)
32
Black Island
Oct 14, 2015
$2.99
N/A (N/A)
1,169 ±1,022
936 ±914
01:41 (01:59)
33
ALICE VR
Oct 27, 2016
$24.99
10% (52%)
4,912 ±2,096
2,807 ±1,584
02:44 (04:01)
34
FARIA: Ghosts of the Stream
Aug 4, 2016
$0.99
N/A (N/A)
936 ±914
234 ±457
01:31 (00:30)
35
Escape From Darkmoor Manor
Dec 5, 2014
$3.99
N/A (N/A)
1,776 ±1,554
710 ±982
04:10 (02:14)
36
Borstal
Mar 22, 2016
$2.99
N/A (N/A)
2,807 ±1,584
702 ±792
02:14 (02:12)
37
Best of Us
Apr 22, 2016
$3.99
N/A (N/A)
936 ±914
702 ±792
07:26 (06:47)
38
The Cube HotelNing's Wing 2
Sep 23, 2016
$2.99
N/A (N/A)
702 ±792
468 ±646
00:07 (00:04)