Scorch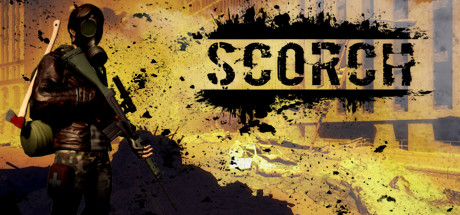 Store | Hub | SteamDB | Site
Developer: CM Softworks Inc. Publisher: CM Softworks Inc.
Genre: Action, Adventure, Casual, Indie
Languages: English
Tags: Early Access (24), Action (21), Indie (21), Casual (21), Adventure (20), Post-apocalyptic (11), Side Scroller (11)
Category: Single-player, Steam Trading Cards, Steam Cloud
Release date: May 16, 2017 (previously in Early Access)
Price: $2.99
Owners: 699 ± 967
Followers: 180
Peak concurrent players yesterday: 1
YouTube stats: 34,235 views and 1,001 comments for videos uploaded last week, 15 new videos uploaded yesterday.

Steam Spy is still in beta, so expect major bugs.
Peak daily concurrent players:
CCU data courtesy of SteamDB. Used with permission.
Hourly concurrent players:
YouTube:
The views data is based on top 50 videos uploaded last week. Actual number of views might be more than the number shown.

The displayed number of videos uploaded yesterday is limited to 50, so if there were more videos uploaded, the number will still show 50.

If the game has commonly used word as its name (like "FEAR" or "Volume") its number of Youtube views might be wrong.
Games similar to this one:
#
Game
Release date

Price

Score rank
(Userscore / Metascore)

Owners

Players

Playtime (Median)

1
VirZOOM Arcade
Jun 30, 2016
Free
N/A (N/A)
54,496 ±6,982
11,461 ±3,202
00:15 (00:02)
2
Sarab: The Dark Tower
Nov 17, 2016
$1.99
N/A (N/A)
7,718 ±2,627
0 ±0
00:00 (00:00)
3
Guardian's Oath
Sep 28, 2016
$1.99
N/A (N/A)
58,940 ±7,261
3,742 ±1,829
01:33 (00:09)
4
Worlds of Chaos: Invasion
Feb 10, 2016
$14.99
N/A (N/A)
5,847 ±2,287
0 ±0
00:00 (00:00)
5
Smash Party VR
Dec 18, 2016
Free
N/A (N/A)
8,420 ±2,744
3,742 ±1,829
00:15 (00:07)
6
PlanetFate
Jun 6, 2016
$4.99
N/A (N/A)
2,131 ±1,702
1,776 ±1,554
00:10 (00:17)
7
Jan 8, 2015
$15.99
N/A (N/A)
2,339 ±1,446
2,339 ±1,446
08:49 (04:10)
8
Damage: Sadistic Butchering of Humanity
Dec 11, 2016
$4.2
N/A (N/A)
3,274 ±1,711
0 ±0
00:00 (00:00)
9
Leadwerks Game Launcher
Aug 24, 2015
Free
N/A (N/A)
76,482 ±8,271
13,566 ±3,483
00:19 (00:04)
10
Hard to Be a God
Aug 24, 2015
$7.99
N/A (N/A/55%)
1,403 ±1,120
468 ±646
03:48 (02:32)
11
Abducted
Jul 28, 2015
$3.74
N/A (N/A)
17,542 ±3,961
936 ±914
00:13 (00:15)
12
Overpower
Apr 20, 2016
$8.99
N/A (N/A)
1,637 ±1,210
234 ±457
04:16 (01:25)
13
Three Days
May 19, 2017
$4.49
N/A (N/A)
8,420 ±2,744
4,912 ±2,096
03:03 (03:23)
14
Techwars Online
Mar 17, 2016
$9.99
32% (72%)
15,905 ±3,772
3,041 ±1,649
01:36 (00:59)
15
Return to Krondor
Dec 15, 2016
$5.99
N/A (N/A)
17,308 ±3,934
702 ±792
07:34 (07:34)
16
TOTM
Feb 3, 2015
$7.99
N/A (N/A)
2,339 ±1,446
936 ±914
00:08 (00:02)
17
Rogues Like Us
Feb 10, 2017
$9.99
N/A (N/A)
702 ±792
468 ±646
02:37 (01:44)
18
Detective Hank and the Golden Sneeze
Jul 29, 2016
$9.99
N/A (N/A)
1,065 ±1,203
710 ±982
02:53 (01:48)
19
Fright Light
Aug 26, 2016
$0.99
N/A (N/A)
2,573 ±1,517
1,403 ±1,120
03:29 (02:10)
20
Sorcerers of Kinetics
Nov 11, 2016
$9.99
N/A (N/A)
1,871 ±1,293
234 ±457
01:56 (00:38)
21
8DAYS - PEACE IS OUR BUSINESS
Jul 22, 2016
$7.99
N/A (N/A/64%)
1,065 ±1,203
710 ±982
00:11 (00:07)
22
Earth Liberation
Dec 15, 2016
$6.99
N/A (N/A)
702 ±792
468 ±646
01:37 (01:04)
23
GiAnt
Aug 2, 2016
$4.99
N/A (N/A)
4,210 ±1,940
234 ±457
03:04 (01:01)
24
Caribbean Odyssey
Nov 12, 2015
$2.99
N/A (N/A)
15,203 ±3,687
0 ±0
00:00 (00:00)
25
The Legend: A University Story
Jul 27, 2016
$3.99
N/A (N/A)
6,783 ±2,463
234 ±457
01:05 (00:21)
26
Siege Hammer
Nov 2, 2016
$14.99
N/A (N/A)
1,871 ±1,293
468 ±646
00:10 (00:06)
27
I Am Caligula
Mar 25, 2016
$0.99
N/A (N/A)
2,339 ±1,446
1,637 ±1,210
09:43 (11:00)
28
Advanced Gaming Platform::Epica
Dec 22, 2016
$9.99
N/A (N/A)
3,976 ±1,886
234 ±457
01:03 (00:21)
29
Dragon Fantasy: The Black Tome of Ice
May 26, 2016
$9.99
N/A (N/A)
936 ±914
468 ±646
00:03 (00:01)
30
InfinitasDM
Nov 28, 2016
$9.99
N/A (N/A)
1,169 ±1,022
936 ±914
01:03 (01:22)
31
Corona MotorSport
Mar 13, 2015
$9.99
N/A (N/A)
4,678 ±2,045
702 ±792
00:10 (00:08)
32
Snow Light
Oct 24, 2014
$9.99
N/A (N/A)
8,420 ±2,744
468 ±646
00:56 (00:37)
33
At the Mountains of Madness
Mar 25, 2016
$19.99
N/A (N/A)
2,339 ±1,446
1,871 ±1,293
05:39 (06:40)
34
Journey of the King
Dec 15, 2014
$1.99
N/A (N/A)
3,976 ±1,886
0 ±0
00:00 (00:00)
35
Initia: Elemental Arena
Apr 29, 2016
$11.99
N/A (N/A)
31,107 ±5,275
3,742 ±1,829
00:18 (00:16)