MageQuit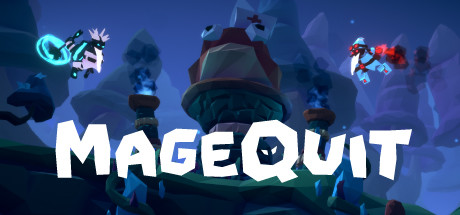 Store | Hub | SteamDB | Site
Developer: Bowlcut Studios Publisher: Bowlcut Studios
Genre: Action, Indie, Sports, Strategy, Early Access
Languages: English
Tags: Early Access (26), Action (23), Indie (21), Strategy (20), Sports (20), Local Multiplayer (12), Magic (11), Physics (10)
Category: Local Multi-Player, Shared/Split Screen, Full controller support
Release date: Jan 11, 2017
Price: $9.99
Followers: 287
Peak concurrent players yesterday: 1
YouTube stats: 19 views and 0 comments for videos uploaded last week, 0 new videos uploaded yesterday.

Steam Spy is still in beta, so expect major bugs.
Peak daily concurrent players:
CCU data courtesy of SteamDB. Used with permission.
Hourly concurrent players:
YouTube:
The views data is based on top 50 videos uploaded last week. Actual number of views might be more than the number shown.

The displayed number of videos uploaded yesterday is limited to 50, so if there were more videos uploaded, the number will still show 50.

If the game has commonly used word as its name (like "FEAR" or "Volume") its number of Youtube views might be wrong.
Games similar to this one:
#
Game
Release date

Price

Score rank
(Userscore / Metascore)

Owners

Players

Playtime (Median)

1
Dragon Fantasy: The Volumes of Westeria
Apr 9, 2015
$9.99
N/A (N/A)
2,158 ±1,406
1,439 ±1,148
03:52 (02:56)
2
Pivot Pilot
Jan 6, 2017
$6.99
N/A (N/A)
8,152 ±2,734
3,596 ±1,816
03:02 (03:26)
3
We Slay Monsters
Jun 21, 2017
$13.99
N/A (N/A)
3,117 ±1,690
2,637 ±1,555
05:00 (04:51)
4
RPG Fighter League
Nov 11, 2016
$2.99
N/A (N/A)
3,117 ±1,690
240 ±468
14:56 (04:58)
5
Cursed Castilla (Maldita Castilla EX)
Oct 20, 2016
$11.99
97% (97%)
5,275 ±2,199
5,275 ±2,199
03:21 (01:56)
6
Green Elephant 2D
Apr 20, 2017
$1.99
97% (97%)
2,398 ±1,482
1,918 ±1,326
01:20 (01:08)
7
RuneSage
Sep 28, 2017
$9.99
N/A (N/A)
1,199 ±1,048
959 ±937
00:38 (00:40)
8
Sixth Grade Detective
Dec 21, 2015
$4.99
N/A (N/A)
719 ±812
480 ±663
04:04 (02:42)
9
The Letter - Horror Visual Novel
Jul 24, 2017
$19.99
86% (93%)
6,713 ±2,481
6,234 ±2,391
12:52 (08:34)
10
VR Dungeon Knight
Apr 24, 2017
$19.99
82% (92%)
5,994 ±2,344
5,035 ±2,148
02:07 (01:30)
11
VERSUS: The Elite Trials
Dec 16, 2016
$3.99
N/A (N/A)
3,596 ±1,816
1,918 ±1,326
06:16 (09:21)
12
SQUIDS FROM SPACE
Jun 16, 2017
$9.99
N/A (N/A)
3,357 ±1,754
1,918 ±1,326
03:42 (01:27)
13
Deep Dark Dungeon
May 5, 2017
$9.99
N/A (N/A)
717 ±992
717 ±992
00:05 (00:05)
14
Just One Line
Jul 10, 2017
$9.99
N/A (N/A)
1,439 ±1,148
1,439 ±1,148
02:03 (03:16)
15
Sorcery Is for Saps
Oct 14, 2016
$6.99
N/A (N/A)
1,199 ±1,048
719 ±812
04:29 (03:41)
16
Guns N' Boxes
Sep 22, 2016
$9.99
N/A (N/A)
717 ±992
717 ±992
01:57 (01:57)
17
Empire Architect
Oct 6, 2017
$14.99
47% (80%)
4,316 ±1,989
4,076 ±1,933
06:49 (05:58)
18
Runt of the Litter
Feb 23, 2017
$3.99
N/A (N/A)
2,398 ±1,482
2,398 ±1,482
06:41 (09:55)
19
DIG A BOO
Jul 5, 2017
$9.99
N/A (N/A)
1,076 ±1,215
1,076 ±1,215
00:20 (00:26)
20
Witanlore: Dreamtime
Jan 24, 2017
$6.99
N/A (N/A)
2,158 ±1,406
1,199 ±1,048
01:11 (00:57)
21
The Torus Syndicate
Nov 22, 2016
$14.99
N/A (N/A)
1,678 ±1,240
1,199 ±1,048
00:58 (01:09)
22
VINDICTA
Jun 19, 2017
$14.99
N/A (N/A)
1,439 ±1,148
959 ±937
01:45 (01:56)
23
Dogolrax
Feb 24, 2017
$4.99
30% (71%)
4,076 ±1,933
1,439 ±1,148
00:40 (00:51)
24
Bloody Trapland 2: Curiosity
Apr 7, 2017
$14.99
N/A (N/A)
1,793 ±1,569
1,434 ±1,403
01:00 (01:19)
25
Evertree Inn
Jan 20, 2017
$3.99
N/A (N/A)
717 ±992
359 ±701
00:51 (00:25)
26
Stupid Raft Battle Simulator
Feb 23, 2017
$9.99
N/A (N/A)
1,918 ±1,326
1,918 ±1,326
01:03 (01:38)
27
Hartacon Tactics
Jun 29, 2017
$2.99
N/A (N/A)
719 ±812
480 ±663
04:11 (02:47)
28
Seeking Evil: The Wendigo
Sep 11, 2017
$9.99
N/A (N/A)
3,836 ±1,875
2,637 ±1,555
00:28 (00:27)
29
My Own Little Planet
Apr 14, 2017
$5.99
N/A (N/A)
4,555 ±2,044
2,877 ±1,624
03:10 (02:51)
30
8DAYS - PEACE IS OUR BUSINESS
Jul 22, 2016
$7.99
N/A (N/A/64%)
1,678 ±1,240
959 ±937
02:09 (01:44)
31
Demon Lord
Mar 21, 2017
$4.89
N/A (N/A)
2,151 ±1,718
2,151 ±1,718
00:34 (00:22)
32
Earth Liberation
Dec 15, 2016
$6.99
N/A (N/A)
717 ±992
717 ±992
01:21 (01:20)
33
Eternal Return
Feb 23, 2017
$9.99
N/A (N/A)
4,076 ±1,933
2,398 ±1,482
02:27 (01:57)
34
Barren Roads
Jun 1, 2015
$8.99
6% (45%)
718 ±1,405
718 ±1,405
00:38 (00:38)
35
Vroomist
Jun 10, 2016
$6.99
N/A (N/A)
717 ±992
717 ±992
00:03 (00:02)
36
Orc Assault
May 10, 2016
$19.99
N/A (N/A)
1,076 ±1,215
359 ±701
00:10 (00:05)