Candy Machine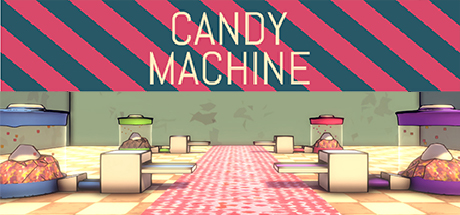 Store | Hub | SteamDB
Developer: Colossal Wreck Publisher: Colossal Wreck
Genre: Casual, Indie, Simulation, Strategy, Early Access
Languages: English
Tags: Early Access (36), Casual (32), Indie (31), Simulation (31), Strategy (30), Cute (11), Sandbox (10), Singleplayer (10), Management (10), Atmospheric (10), Colorful (10), Relaxing (10), Economy (9), Building (9), Great Soundtrack (9)
Category: Single-player, Steam Achievements, Steam Trading Cards
Release date: Jan 26, 2017
Price: $8.99
Followers: 495
Peak concurrent players yesterday: 2
YouTube stats: 21 views and 1 comments for videos uploaded last week, 0 new videos uploaded yesterday.

Steam Spy is still in beta, so expect major bugs.
Peak daily concurrent players:
CCU data courtesy of SteamDB. Used with permission.
Hourly concurrent players:
YouTube:
The views data is based on top 50 videos uploaded last week. Actual number of views might be more than the number shown.

The displayed number of videos uploaded yesterday is limited to 50, so if there were more videos uploaded, the number will still show 50.

If the game has commonly used word as its name (like "FEAR" or "Volume") its number of Youtube views might be wrong.
Games similar to this one:
#
Game
Release date

Price

Score rank
(Userscore / Metascore)

Owners

Players

Playtime (Median)

1
Aritana and the Harpy's Feather
Aug 15, 2014
$9.99
N/A (N/A)
5,619 ±2,114
2,497 ±1,409
01:36 (01:21)
2
Wait - Extended
Oct 29, 2015
$7.99
N/A (N/A)
4,579 ±1,908
2,497 ±1,409
03:47 (04:30)
3
AIRHEART - Tales of broken Wings
Oct 13, 2016
$14.99
N/A (N/A)
2,555 ±2,502
1,916 ±2,166
01:42 (02:31)
4
Archibald's Adventures
Jun 10, 2016
$4.99
N/A (N/A)
5,619 ±2,114
3,122 ±1,576
01:52 (00:57)
5
Pixel Gladiator
Nov 22, 2016
$2.99
N/A (N/A)
4,579 ±1,908
3,746 ±1,726
02:48 (04:35)
6
Big Fish Legend
Jul 20, 2015
$6.99
N/A (N/A)
7,284 ±2,407
5,619 ±2,114
04:21 (03:31)
7
Construct: Escape the System
Dec 2, 2016
$3.99
N/A (N/A)
3,746 ±1,726
2,081 ±1,286
03:19 (05:01)
8
Rivalry
Jan 22, 2016
$2.99
N/A (N/A)
3,122 ±1,576
3,122 ±1,576
04:08 (02:14)
9
Marvin's Mittens
Dec 17, 2014
$5.99
100% (100%)
4,995 ±1,993
3,746 ±1,726
02:30 (02:28)
10
Farm Frenzy Collection
Aug 21, 2015
$19.99
N/A (N/A)
2,081 ±1,286
2,081 ±1,286
31:24 (09:04)
11
I and Me
May 4, 2016
$9.99
97% (97%)
3,538 ±1,677
3,122 ±1,576
02:04 (02:33)
12
Lowglow
Dec 3, 2015
$2.39
N/A (N/A)
105,310 ±9,152
79,294 ±7,942
03:46 (03:34)
13
Thieves' Gambit: The Curse of the Black Cat
Oct 17, 2014
$2.99
N/A (N/A)
2,497 ±1,409
1,665 ±1,150
01:59 (03:01)
14
UTOPIA 9 - A Volatile Vacation
May 5, 2016
$11.99
N/A (N/A)
2,289 ±1,349
1,873 ±1,220
04:23 (07:18)
15
Super Island God VR
Nov 14, 2016
$19.99
N/A (N/A)
2,914 ±1,522
2,289 ±1,349
01:01 (01:10)
16
Bard's Gold
Aug 14, 2015
$4.99
N/A (N/A/58%)
2,497 ±1,409
1,249 ±996
04:24 (04:08)
17
Uncraft World
Sep 25, 2015
$9.99
78% (91%)
13,944 ±3,330
13,320 ±3,255
04:15 (02:39)
18
Great Permutator
Sep 15, 2014
$6.99
N/A (N/A)
32,467 ±5,082
17,066 ±3,684
03:44 (02:11)
19
Abomination Tower
Feb 13, 2015
$4.99
N/A (N/A)
4,371 ±1,864
3,122 ±1,576
04:23 (03:51)
20
Barbie and Her Sisters Puppy Rescue
Dec 17, 2015
$9.99
67% (88%)
1,457 ±1,076
1,041 ±909
01:24 (00:49)
21
Mass Exodus
Dec 19, 2016
$8.99
N/A (N/A)
3,746 ±1,726
3,538 ±1,677
03:19 (02:13)
22
Kings under the hill
Feb 1, 2017
$0.99
N/A (N/A)
7,701 ±2,475
6,868 ±2,337
03:39 (03:31)
23
Sparkle 2
Jun 1, 2015
$7.99
N/A (N/A)
16,025 ±3,570
9,157 ±2,699
06:14 (04:31)
24
Air Missions: HIND
Mar 21, 2016
$16.99
58% (85%)
5,411 ±2,074
5,203 ±2,034
02:30 (02:08)
25
Runbow
Nov 18, 2016
$7.49
N/A (N/A)
1,258 ±1,230
629 ±870
02:30 (02:29)
26
Don't Shoot Yourself!
Apr 10, 2015
$4.99
N/A (N/A)
832 ±813
832 ±813
00:42 (00:47)
27
Monsters and Monocles
Aug 16, 2016
$14.99
N/A (N/A)
3,122 ±1,576
2,706 ±1,467
03:27 (05:24)
28
100nya
Nov 12, 2016
$0.99
N/A (N/A)
1,041 ±909
832 ±813
01:58 (02:28)
29
Party Panic
Jul 28, 2016
$16.99
48% (81%)
6,868 ±2,337
6,660 ±2,301
02:41 (01:51)
30
Space Moth DX
Jan 22, 2016
$4.99
N/A (N/A)
19,980 ±3,987
9,365 ±2,729
02:48 (02:47)
31
Cavern Kings
Sep 30, 2014
$9.99
42% (78%)
8,949 ±2,668
8,325 ±2,573
13:07 (08:29)
32
Finders
Apr 9, 2015
$5.99
40% (77%)
8,117 ±2,541
6,452 ±2,265
08:52 (05:24)
33
Artillerists
Jan 2, 2017
$3.99
32% (73%)
3,954 ±1,773
3,746 ±1,726
03:14 (02:21)
34
Emerge: Cities of the Apocalypse
Apr 27, 2016
$7.99
29% (71%)
3,122 ±1,576
2,497 ±1,409
14:25 (06:03)
35
Shard Games
Jul 29, 2016
$0.99
N/A (N/A)
18,731 ±3,860
13,528 ±3,280
04:19 (04:31)
36
Rising Islands
Aug 2, 2016
$9.99
N/A (N/A)
1,873 ±1,220
1,665 ±1,150
01:39 (01:54)
37
Might & Magic ® Showdown
Jan 19, 2017
$19.99
24% (67%)
4,995 ±1,993
3,538 ±1,677
33:29 (07:30)
38
Quantum Chess
Dec 12, 2016
$9.99
N/A (N/A)
832 ±813
624 ±704
07:37 (07:37)
39
Ninja Stealth
Sep 29, 2016
$0.49
22% (66%)
23,102 ±4,287
18,523 ±3,838
04:48 (05:10)
40
Klepto
Jun 30, 2016
$12.99
21% (65%)
1,873 ±1,220
1,873 ±1,220
02:01 (02:32)
41
Sign Motion
Oct 24, 2014
$9.99
20% (64%)
3,538 ±1,677
2,706 ±1,467
02:53 (02:14)
42
ZHEROS
Feb 15, 2016
$9.99
N/A (N/A/58%)
2,081 ±1,286
2,081 ±1,286
02:34 (04:31)
43
Starship Corporation
Apr 29, 2016
$19.99
19% (63%)
7,284 ±2,407
7,076 ±2,372
06:23 (03:36)
44
Samphi
Mar 18, 2016
$4.99
N/A (N/A)
2,497 ±1,409
1,249 ±996
03:57 (04:45)
45
Jumpdrive
May 12, 2014
$14.99
14% (58%)
2,914 ±1,522
2,914 ±1,522
02:12 (02:01)
46
Sniper Tactical
Jan 8, 2016
$4.99
N/A (N/A)
1,457 ±1,076
1,457 ±1,076
00:34 (00:43)
47
Whiplash - Crash Valley
Dec 7, 2016
$5.99
N/A (N/A)
3,330 ±1,627
2,706 ±1,467
00:27 (00:24)
48
Endciv
Apr 21, 2016
$7.99
N/A (N/A)
1,886 ±1,507
1,886 ±1,507
00:45 (01:03)
49
Sleengster
Dec 2, 2016
$1.99
N/A (N/A)
8,949 ±2,668
5,619 ±2,114
03:44 (03:40)
50
Agenda
Sep 21, 2016
$9.99
N/A (N/A)
1,249 ±996
832 ±813
00:31 (00:38)
51
Ninja Stealth 2
Jan 30, 2017
$1.99
N/A (N/A)
2,497 ±1,409
1,873 ±1,220
02:24 (02:54)
52
Hero's Song™
Nov 7, 2016
Free
N/A (N/A)
4,162 ±1,819
3,954 ±1,773
03:37 (02:57)
53
Undead Overlord
Jul 18, 2014
$14.99
2% (32%)
3,746 ±1,726
3,746 ±1,726
01:13 (01:35)
54
Airline Director 2 - Tycoon Game
Apr 28, 2016
$4.99
N/A (N/A)
2,515 ±1,740
2,515 ±1,740
01:42 (01:26)
55
March of Industry: Very Capitalist Factory Simulator Entertainments
Oct 7, 2015
$9.99
N/A (N/A)
2,497 ±1,409
2,497 ±1,409
03:39 (04:42)