Purple Hills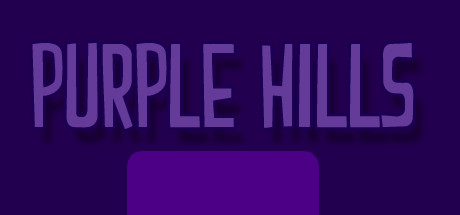 Store | Hub | SteamDB
Developer: Obidak Software Publisher: Obidak Software
Genre: Action, Adventure, Casual, Indie
Languages: English
Tags: Casual (22), Action (22), Indie (22), Adventure (20)
Category: Single-player, Full controller support, Steam Trading Cards
Release date: Jan 28, 2017
Price: $0.99
Followers: 42
Peak concurrent players yesterday: 1
YouTube stats: 2 views and 0 comments for videos uploaded last week, 0 new videos uploaded yesterday.

Steam Spy is still in beta, so expect major bugs.
Peak daily concurrent players:
CCU data courtesy of SteamDB. Used with permission.
Hourly concurrent players:
YouTube:
The views data is based on top 50 videos uploaded last week. Actual number of views might be more than the number shown.

The displayed number of videos uploaded yesterday is limited to 50, so if there were more videos uploaded, the number will still show 50.

If the game has commonly used word as its name (like "FEAR" or "Volume") its number of Youtube views might be wrong.
Games similar to this one:
#
Game
Release date

Price

Score rank
(Userscore / Metascore)

Owners

Players

Playtime (Median)

1
The Orb Chambers
Jun 3, 2016
$4.99
N/A (N/A)
269,681 ±16,130
226,038 ±14,768
03:40 (03:31)
2
Hashtag Dungeon
Jun 1, 2016
$2.99
N/A (N/A)
7,568 ±2,702
4,289 ±2,034
03:53 (03:39)
3
The Real Texas
Jul 12, 2016
$14.99
N/A (N/A/74%)
2,270 ±1,480
1,009 ±986
05:45 (05:17)
4
Hylics
Oct 2, 2015
$2.99
97% (97%)
11,605 ±3,346
7,820 ±2,747
03:00 (01:30)
5
Coin Crypt
Oct 28, 2014
$9.99
89% (94%)
134,462 ±11,391
72,403 ±8,359
03:42 (01:42)
6
Masquerada: Songs and Shadows
Sep 30, 2016
$19.99
86% (93%/64%)
6,055 ±2,417
3,280 ±1,779
03:22 (02:28)
7
Echoes of Aetheria
Jan 15, 2016
$14.99
78% (91%/77%)
9,334 ±3,001
3,280 ±1,779
10:19 (17:01)
8
The Sad Story of Emmeline Burns
Jan 5, 2016
Free
78% (91%)
74,421 ±8,475
20,939 ±4,495
01:12 (00:24)
9
Samsa and the Knights of Light
Dec 1, 2015
$4.99
N/A (N/A)
6,307 ±2,467
3,280 ±1,779
04:45 (04:48)
10
Picross Touch
Aug 24, 2016
Free
71% (89%)
68,366 ±8,123
46,418 ±6,693
11:13 (01:41)
11
Cat on a Diet
Feb 29, 2016
$4.99
62% (86%)
94,098 ±9,529
58,780 ±7,532
02:51 (02:57)
12
Idling to Rule the Gods
May 27, 2016
Free
59% (85%)
81,989 ±8,895
51,212 ±7,030
315:14 (11:51)
13
Psy High
Dec 22, 2014
$6.99
51% (82%)
13,623 ±3,626
11,352 ±3,310
08:00 (03:19)
14
ANKI
Aug 24, 2015
$0.99
N/A (N/A)
53,230 ±7,167
41,878 ±6,357
06:22 (06:55)
15
Spin Rush
Sep 16, 2016
$0.99
45% (79%)
109,739 ±10,291
68,114 ±8,108
03:13 (03:30)
16
The Adventures of Tree
Mar 1, 2016
$4.99
N/A (N/A)
88,296 ±9,231
69,123 ±8,167
05:33 (05:56)
17
Incitement 3
Aug 19, 2015
$8.99
N/A (N/A)
294,404 ±16,852
214,938 ±14,401
04:38 (04:33)
18
Zigfrak
Dec 13, 2013
$7.99
33% (73%)
23,966 ±4,809
19,930 ±4,386
03:07 (01:37)
19
Crayon Chronicles
Mar 2, 2015
$3.99
N/A (N/A)
13,623 ±3,626
9,839 ±3,081
01:52 (01:05)
20
Pixel Puzzles 2: RADical ROACH
Aug 12, 2016
$9.99
N/A (N/A)
33,805 ±5,712
26,489 ±5,056
04:50 (04:52)
21
Pristine world
Jul 9, 2016
$4.99
N/A (N/A)
42,130 ±6,376
29,012 ±5,291
02:56 (03:07)
22
Expect The Unexpected
Dec 8, 2016
$6.99
N/A (N/A)
5,298 ±2,261
4,289 ±2,034
02:46 (03:10)
23
Agapan
May 29, 2015
$7.99
N/A (N/A)
8,577 ±2,877
252 ±493
00:01 (00:00)
24
Word Killer: Zorgilonian Chronicles
Jan 2, 2017
$1.99
13% (57%)
170,790 ±12,837
154,392 ±12,206
04:35 (04:31)
25
Shining Plume
Oct 14, 2016
$1.99
N/A (N/A)
8,073 ±2,791
4,036 ±1,973
03:30 (03:46)
26
Parallels
Nov 13, 2015
$4.99
N/A (N/A)
6,055 ±2,417
3,027 ±1,709
02:37 (03:13)
27
Dungeon Crawlers HD
Jun 1, 2015
$4.99
N/A (N/A)
10,848 ±3,235
6,811 ±2,564
14:24 (07:35)
28
Redemption: Eternal Quest
Aug 28, 2015
$1.99
N/A (N/A)
165,492 ±12,637
154,896 ±12,225
03:57 (03:30)
29
500 Years Act 1
Apr 15, 2015
$7.99
N/A (N/A)
33,552 ±5,690
24,471 ±4,860
03:18 (03:24)
30
Golden Swords
Oct 26, 2016
$8.99
N/A (N/A)
157,419 ±12,325
108,478 ±10,231
03:25 (03:30)
31
KickHim
Sep 10, 2016
$2.99
6% (45%)
352,427 ±18,437
217,208 ±14,476
03:02 (03:30)
32
BuriedTown
Jan 22, 2016
$6.99
N/A (N/A)
1,901 ±1,664
1,141 ±1,289
01:24 (01:01)
33
Dark Gates
Jan 26, 2015
$3.99
N/A (N/A)
11,100 ±3,273
7,316 ±2,657
02:15 (01:23)
34
WAR7
Oct 21, 2016
Free
N/A (N/A)
12,361 ±3,454
2,523 ±1,560
00:06 (00:09)
35
Physic Monster
Oct 19, 2016
$1.99
N/A (N/A)
142,283 ±11,717
109,992 ±10,302
04:43 (04:00)
36
Legends of Dawn Reborn
Oct 20, 2015
$29.99
N/A (N/A)
28,507 ±5,245
6,559 ±2,516
03:37 (03:31)
37
Dungeon of gain
Jun 23, 2016
$4.99
N/A (N/A)
5,298 ±2,261
2,775 ±1,636
03:07 (03:39)