Pyro VR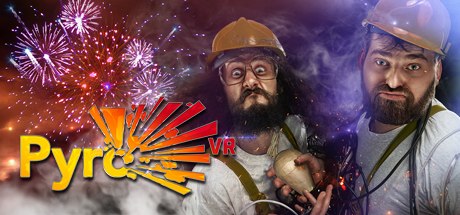 Store | Hub | SteamDB | Site
Developer: Virtual Light VR Publisher: Virtual Light VR
Genre: Action, Casual, Simulation, Early Access
Languages: English
Tags: Early Access (24), Action (21), Casual (21), Simulation (20), VR (6), VR Only (1)
Category: Single-player
Release date: Feb 8, 2017
Price: $3.59 60%
Peak concurrent players yesterday: 3
YouTube stats: 22,780 views and 132 comments for videos uploaded last week, 0 new videos uploaded yesterday.

Steam Spy is still in beta, so expect major bugs.
Peak daily concurrent players:
CCU data courtesy of SteamDB. Used with permission.
Hourly concurrent players:
YouTube:
The views data is based on top 50 videos uploaded last week. Actual number of views might be more than the number shown.

The displayed number of videos uploaded yesterday is limited to 50, so if there were more videos uploaded, the number will still show 50.

If the game has commonly used word as its name (like "FEAR" or "Volume") its number of Youtube views might be wrong.
Games similar to this one:
#
Game
Release date

Price

Score rank
(Userscore / Metascore)

Owners

Players

Playtime (Median)

1
Kimmy
Apr 18, 2017
$4.99
N/A (N/A)
15,803 ±3,521
0 ±0
00:00 (00:00)
2
Tatsu
Aug 29, 2016
$5.99
N/A (N/A)
1,026 ±897
1,026 ±897
02:36 (02:52)
3
She Remembered Caterpillars
Jan 17, 2017
$8.39
N/A (N/A/82%)
1,437 ±1,061
1,026 ±897
06:20 (06:19)
4
Quell Memento
May 14, 2015
$0.79
N/A (N/A)
16,213 ±3,566
3,284 ±1,605
01:53 (02:31)
5
Pozzo Jello Crusade
Sep 1, 2016
$2
N/A (N/A)
2,463 ±1,390
1,231 ±982
02:16 (02:35)
6
A Matter of Murder
Sep 1, 2016
$2.99
N/A (N/A)
1,838 ±1,468
1,838 ±1,468
02:12 (04:27)
7
Seance: The Unquiet (Preview)
May 2, 2017
Free
N/A (N/A)
4,515 ±1,882
1,437 ±1,061
00:05 (00:08)
8
Millia -The ending-
Jan 8, 2016
$3.24
N/A (N/A)
2,052 ±1,268
410 ±567
00:07 (00:03)
9
Bitslap
Sep 23, 2016
$3.49
N/A (N/A)
1,532 ±1,340
1,225 ±1,198
00:49 (01:26)
10
Delicious - Emily's Christmas Carol
Nov 4, 2016
$6.49
N/A (N/A)
3,064 ±1,895
3,064 ±1,895
05:53 (05:45)
11
Blortasia
Jan 5, 2017
$3.84
N/A (N/A)
613 ±847
613 ±847
93:28 (93:28)
12
CapitalShip VR
Oct 17, 2016
$14.99
N/A (N/A)
1,837 ±2,076
1,224 ±1,695
00:06 (00:11)
13
Breakneck
Feb 1, 2016
$4.99
N/A (N/A/76%)
1,847 ±1,203
1,847 ±1,203
02:35 (03:58)
14
Pictopix
Jan 5, 2017
$5.59
86% (93%)
6,362 ±2,234
6,157 ±2,197
21:29 (16:49)
15
The Tenth Line
Mar 17, 2017
$6.69
N/A (N/A)
1,437 ±1,061
1,437 ±1,061
01:23 (01:58)
16
First Person Tennis - The Real Tennis Simulator
Dec 6, 2016
$19.99
N/A (N/A)
1,231 ±982
1,231 ±982
03:59 (06:14)
17
Circles
Feb 17, 2017
$6.29
N/A (N/A/76%)
1,225 ±1,198
919 ±1,038
02:28 (03:04)
18
quadrant
May 1, 2015
$1.99
N/A (N/A)
1,026 ±897
616 ±695
00:34 (00:27)
19
Hover Skate VR
Mar 17, 2017
$8.03
N/A (N/A)
919 ±1,038
613 ±847
00:36 (00:36)
20
Think To Die 3
Mar 27, 2017
$0.99
N/A (N/A)
2,052 ±1,268
821 ±802
01:50 (01:16)
21
Diesel Guns
Sep 22, 2016
$2.49
N/A (N/A)
2,258 ±1,330
1,437 ±1,061
00:41 (01:06)
22
PowersVR
Feb 8, 2017
$7.49
N/A (N/A)
1,837 ±2,076
1,224 ±1,695
00:25 (00:39)
23
THE WALL
Jun 7, 2017
$1.99
67% (88%)
2,757 ±1,798
1,838 ±1,468
01:21 (01:46)
24
Arcane Mapper
Apr 28, 2017
$9.99
N/A (N/A)
612 ±1,198
612 ±1,198
01:20 (01:20)
25
Weed Shop 2
Mar 30, 2017
$7.49
64% (87%)
4,310 ±1,838
4,310 ±1,838
05:23 (03:44)
26
The Unwelcomed
Oct 11, 2016
$9.74
N/A (N/A)
612 ±1,198
612 ±1,198
06:58 (06:58)
27
Infinite Mini Golf
Oct 6, 2016
$14.99
N/A (N/A)
821 ±802
821 ±802
21:48 (28:59)
28
Craft Keep VR
Apr 21, 2017
$10.04
N/A (N/A)
1,847 ±1,203
1,437 ±1,061
02:16 (02:43)
29
Ascension VR
Aug 1, 2016
$4.99
N/A (N/A)
821 ±802
616 ±695
00:23 (00:20)
30
BADBLOOD
Nov 13, 2015
$7.99
N/A (N/A)
821 ±802
410 ±567
00:20 (00:13)
31
Brick Inventions
Mar 23, 2016
$2.49
N/A (N/A)
2,052 ±1,268
1,847 ±1,203
01:11 (01:26)
32
Idle Evolution
Apr 3, 2017
$1.99
N/A (N/A)
4,105 ±1,794
3,694 ±1,702
12:01 (12:49)
33
Cuit
Apr 24, 2017
$1.37
N/A (N/A)
1,437 ±1,061
1,231 ±982
00:26 (00:30)
34
Jelly in the sky
May 5, 2017
$5.99
N/A (N/A)
1,847 ±1,203
1,847 ±1,203
00:44 (01:00)
35
Chesster
Mar 16, 2016
$1.99
N/A (N/A)
821 ±802
616 ±695
02:34 (02:33)
36
Earthfall
Apr 26, 2017
$14.99
33% (73%)
2,873 ±1,501
2,463 ±1,390
92:17 (05:18)
37
ICED
May 15, 2017
$6.49
33% (73%)
1,437 ±1,061
1,026 ±897
03:26 (03:16)
38
Resette's Prescription ~Book of memory, Swaying scale~
May 30, 2016
$6.49
N/A (N/A)
613 ±847
0 ±0
00:00 (00:00)
39
On the front line
Oct 19, 2016
$3.99
N/A (N/A)
612 ±1,198
612 ±1,198
00:49 (00:49)
40
Patchwork
Dec 6, 2016
$4.99
N/A (N/A)
919 ±1,038
919 ±1,038
01:50 (01:51)
41
Crash Wheels
Dec 14, 2016
$2.74
27% (69%)
3,078 ±1,554
2,873 ±1,501
03:29 (03:49)
42
Devouring Stars
Jul 3, 2015
$9.99
N/A (N/A)
3,284 ±1,605
2,873 ±1,501
02:17 (02:31)
43
All the Delicate Duplicates
Feb 17, 2017
$7.99
N/A (N/A)
616 ±695
410 ±567
00:18 (00:11)
44
Escape: Sierra Leone
Dec 5, 2016
$7.49
N/A (N/A)
1,437 ±1,061
1,231 ±982
01:19 (02:17)
45
Fiery Disaster
Nov 7, 2016
$0.49
N/A (N/A)
1,847 ±1,203
1,847 ±1,203
02:50 (03:41)
46
Hardware Engineering
Sep 28, 2016
$3.59
14% (58%)
3,078 ±1,554
2,668 ±1,446
01:54 (01:47)
47
Rat Simulator
May 8, 2017
$4.49
N/A (N/A)
821 ±802
616 ±695
01:21 (01:20)
48
Hunter Gatherer
Mar 24, 2015
$1.99
N/A (N/A)
919 ±1,038
306 ±599
00:03 (00:01)
49
Social Interaction Trainer
Nov 2, 2016
$0.49
N/A (N/A)
2,463 ±1,390
1,847 ±1,203
01:06 (01:40)