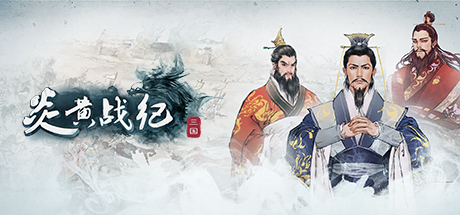 Store | Hub | SteamDB | Site
Developer: 上海炎战网络科技有限公司 Publisher: 上海炎战网络科技有限公司
Genre: Free to Play, Indie, Strategy, Early Access
Languages: Simplified Chinese, Traditional Chinese
Tags: Early Access (28), Free to Play (25), Strategy (23), Indie (23)
Category: Online Multi-Player, Steam Achievements, Steam Trading Cards, In-App Purchases, Stats
Release date: May 16, 2017
Free
Score rank: 27% Userscore: 69% Old userscore: 69%
Owners: 37,936 ± 5,723
Players in the last 2 weeks: 684 ± 946 (1.8%)
Players total: 22,581 ± 4,415 (59.52%)
Followers: 1,337
Peak concurrent players yesterday: 4
Playtime in the last 2 weeks: 00:01 (average) 00:01 (median)
Playtime total: 00:28 (average) 00:10 (median)

Steam Spy is still in beta, so expect major bugs.
Peak daily concurrent players:
CCU data courtesy of SteamDB. Used with permission.
Hourly concurrent players:
YouTube:
The views data is based on top 50 videos uploaded last week. Actual number of views might be more than the number shown.

The displayed number of videos uploaded yesterday is limited to 50, so if there were more videos uploaded, the number will still show 50.

If the game has commonly used word as its name (like "FEAR" or "Volume") its number of Youtube views might be wrong.
Games similar to this one:
#
Game
Release date

Price

Score rank
(Userscore / Metascore)

Owners

Players

Playtime (Median)

1
The Last Time
Sep 9, 2016
$3.99
100% (100%)
4,516 ±1,974
1,355 ±1,081
04:27 (05:23)
2
Jacob Jones and the Bigfoot Mystery : Episode 1
Sep 15, 2014
$4.99
N/A (N/A)
2,258 ±1,396
1,355 ±1,081
02:03 (01:31)
3
Magic Wand
Jun 25, 2017
$3.99
N/A (N/A)
1,335 ±1,306
668 ±923
00:30 (00:22)
4
Metal as Phuk
Jul 13, 2017
$3.49
N/A (N/A)
664 ±1,300
664 ±1,300
00:09 (00:09)
5
The Preposterous Awesomeness of Everything
Feb 9, 2016
$6.99
N/A (N/A/54%)
3,839 ±1,820
226 ±441
00:46 (00:15)
6
Kokurase - Episode 1
Nov 10, 2016
Free
N/A (N/A)
23,033 ±4,459
3,839 ±1,820
01:54 (01:12)
7
Goalie Challenge VR
Feb 4, 2017
Free
N/A (N/A)
4,968 ±2,071
3,161 ±1,652
00:12 (00:13)
8
BallisticNG
May 31, 2016
Free
N/A (N/A)
165,971 ±11,970
107,937 ±9,653
01:04 (00:06)
9
VRChat
Feb 1, 2017
Free
47% (80%)
84,453 ±8,539
53,065 ±6,769
01:32 (00:21)
10
Treehouse Basketball
Feb 15, 2017
Free
N/A (N/A)
8,355 ±2,686
5,645 ±2,208
01:23 (00:12)
11
CAGE
Nov 14, 2016
Free
N/A (N/A)
21,226 ±4,281
11,742 ±3,184
00:16 (00:07)
12
Detective Butler: Maiden Voyage Murder
May 26, 2017
Free
45% (79%)
25,291 ±4,673
13,323 ±3,392
01:11 (00:09)
13
HERO-E
Mar 7, 2017
Free
N/A (N/A)
4,065 ±1,873
2,484 ±1,464
00:05 (00:07)
14
Shardbound
Apr 6, 2017
Free
39% (76%)
202,326 ±13,215
133,002 ±10,715
04:22 (00:32)
15
Geekbench 3
Mar 12, 2014
$14.99
N/A (N/A)
664 ±1,300
664 ±1,300
01:18 (01:18)
16
Estranged: Act II
Mar 17, 2017
Free
32% (72%)
14,226 ±3,505
9,484 ±2,861
00:22 (00:19)
17
Brawl of Ages
Sep 12, 2017
Free
26% (68%)
240,714 ±14,414
161,229 ±11,798
01:49 (00:30)
18
CaesarIA
Jan 20, 2015
Free
21% (64%)
300,328 ±16,099
189,907 ±12,803
01:40 (00:16)
19
Kitten Squad
Jan 4, 2017
Free
N/A (N/A)
10,613 ±3,027
7,678 ±2,574
00:20 (00:09)
20
BATTLECREW Space Pirates
Jul 10, 2017
Free
12% (55%)
102,066 ±9,387
50,582 ±6,609
00:28 (00:12)
21
Legend of Ares
May 31, 2017
Free
N/A (N/A)
23,484 ±4,503
12,645 ±3,304
00:48 (00:05)
22
High Octane Drift
Oct 14, 2016
Free
8% (48%)
793,046 ±26,148
623,237 ±23,184
01:58 (00:16)
23
Indie Graphics Bundle - Royalty Free Sprites
May 6, 2014
$24.99
N/A (N/A)
668 ±923
0 ±0
00:00 (00:00)
24
Deckbound Heroes (Open Beta)
Mar 9, 2017
Free
N/A (N/A)
2,710 ±1,529
226 ±441
00:01 (00:00)
25
Space Needle VR
Apr 19, 2017
Free
N/A (N/A)
8,355 ±2,686
3,613 ±1,766
00:11 (00:08)
26
24 Hours 'til Rescue
Feb 19, 2016
$3.99
N/A (N/A)
14,678 ±3,560
2,484 ±1,464
01:17 (00:39)
27
Legends of Persia
Jun 3, 2014
$19.99
N/A (N/A)
59,840 ±7,188
4,968 ±2,071
01:33 (00:10)