Exterminator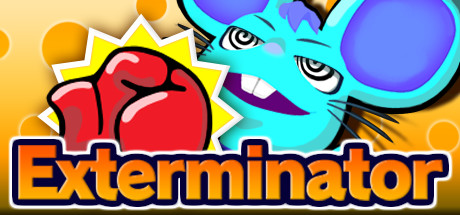 Store | Hub | SteamDB
Developer: PRIME WORKS Co.,Ltd. Publisher: PRIME WORKS Co.,Ltd.
Genre: Action, Casual, Sports
Languages: English
Tags: Early Access (24), Casual (21), Sports (21), Action (21), VR Only (1)
Category: Single-player
Release date: Apr 5, 2017 (previously in Early Access)
Price: $9.99
Followers: 37
Peak concurrent players yesterday: 1
YouTube stats: 269 views and 35 comments for videos uploaded last week, 1 new videos uploaded yesterday.

Steam Spy is still in beta, so expect major bugs.
Peak daily concurrent players:
CCU data courtesy of SteamDB. Used with permission.
Hourly concurrent players:
YouTube:
The views data is based on top 50 videos uploaded last week. Actual number of views might be more than the number shown.

The displayed number of videos uploaded yesterday is limited to 50, so if there were more videos uploaded, the number will still show 50.

If the game has commonly used word as its name (like "FEAR" or "Volume") its number of Youtube views might be wrong.
Games similar to this one:
#
Game
Release date

Price

Score rank
(Userscore / Metascore)

Owners

Players

Playtime (Median)

1
Zeus vs Monsters - Math Game for kids
Feb 18, 2016
$5.99
N/A (N/A)
6,468 ±2,390
924 ±903
03:18 (02:29)
2
She Remembered Caterpillars
Jan 17, 2017
$11.99
N/A (N/A/82%)
1,617 ±1,195
1,617 ±1,195
05:31 (06:59)
3
Crazy Belts
Jan 5, 2016
$3.99
N/A (N/A)
12,242 ±3,288
693 ±782
00:29 (00:28)
4
CitiesCorp Concept - Build Everything on Your Own
Apr 29, 2016
$19.99
N/A (N/A)
686 ±949
0 ±0
00:00 (00:00)
5
Pajama Sam's Sock Works
Jun 6, 2014
$4.99
N/A (N/A)
27,949 ±4,969
6,237 ±2,347
00:47 (00:21)
6
Ping Ping
May 27, 2016
$3.99
N/A (N/A)
8,084 ±2,672
231 ±451
03:19 (01:06)
7
Millia -The ending-
Jan 8, 2016
$4.99
N/A (N/A)
1,030 ±1,163
0 ±0
00:00 (00:00)
8
Hammer Heads Deluxe
Aug 30, 2006
$4.99
N/A (N/A)
24,946 ±4,694
8,084 ±2,672
02:42 (00:31)
9
Putt-Putt and Pep's Dog on a Stick
May 1, 2014
$4.99
N/A (N/A)
18,941 ±4,090
2,772 ±1,564
03:38 (13:10)
10
Trainz Trouble
Aug 26, 2014
$4.99
N/A (N/A)
11,087 ±3,129
2,772 ±1,564
01:01 (00:21)
11
Crash Landing
Feb 4, 2016
$9.99
N/A (N/A)
3,234 ±1,690
231 ±451
00:10 (00:03)
12
Deus Ex Machina, Game of the Year, 30th Anniversary Collectors Edition
Sep 29, 2016
$4.99
N/A (N/A)
1,617 ±1,195
231 ±451
00:01 (00:00)
13
Induction
Feb 7, 2017
$9.99
N/A (N/A)
1,155 ±1,010
924 ±903
00:50 (00:42)
14
Balloon Popping Pigs: Deluxe
Jan 30, 2017
$0.99
N/A (N/A)
2,079 ±1,355
1,386 ±1,106
02:59 (02:16)
15
Pozzo Jello Crusade
Sep 1, 2016
$2.99
N/A (N/A)
2,772 ±1,564
1,617 ±1,195
02:04 (02:13)
16
LightWalk
May 17, 2016
$4.99
N/A (N/A)
3,234 ±1,690
231 ±451
00:01 (00:00)
17
Rainbow Rage Squad
Nov 7, 2016
$0.99
N/A (N/A)
3,696 ±1,806
0 ±0
00:00 (00:00)
18
ROGUS - Kingdom of The Lost Souls
Jun 30, 2015
$4.99
N/A (N/A)
3,927 ±1,862
231 ±451
01:32 (00:30)
19
Noda
Jan 12, 2017
$4.99
N/A (N/A)
661 ±1,294
661 ±1,294
03:44 (03:44)
20
Ludoku
May 25, 2015
$4.99
N/A (N/A)
6,006 ±2,303
924 ±903
01:11 (00:43)
21
Kitten Cannon
Oct 31, 2016
Free
N/A (N/A)
18,479 ±4,040
5,544 ±2,213
00:12 (00:05)
22
Robot Soccer Challenge
Feb 23, 2017
$7.99
N/A (N/A)
924 ±903
231 ±451
00:07 (00:02)
23
Puzzle Station 15th Anniversary Retro Release
Apr 30, 2015
$3.99
N/A (N/A)
17,555 ±3,938
2,772 ±1,564
00:07 (00:09)
24
Wrong Dimension - The One Dimensional Platformer
Sep 8, 2016
$2.99
N/A (N/A)
1,617 ±1,195
0 ±0
00:00 (00:00)
25
Lectrovolt II
Aug 23, 2016
$2.99
N/A (N/A)
5,313 ±2,166
693 ±782
02:04 (02:02)
26
Able Black
Dec 21, 2016
$4.99
N/A (N/A)
661 ±1,294
0 ±0
00:00 (00:00)
27
Ricochet Kills: Noir
Mar 3, 2017
$4.99
N/A (N/A)
5,775 ±2,258
1,386 ±1,106
02:04 (02:06)
28
Darkarta: A Broken Heart's Quest Collector's Edition
Mar 8, 2017
$9.99
N/A (N/A)
15,476 ±3,697
12,242 ±3,288
04:22 (03:45)
29
Blender
Apr 24, 2015
Free
95% (96%)
993,231 ±29,586
679,093 ±24,473
13:56 (00:14)
30
Animated Puzzles
Dec 16, 2016
$9.99
N/A (N/A)
1,155 ±1,010
924 ±903
01:34 (01:42)
31
Tachyon: The Fringe
Jun 18, 2009
$9.99
92% (95%)
23,098 ±4,517
10,163 ±2,996
03:59 (00:45)
32
Wacky Wheels
May 5, 2014
$4.99
N/A (N/A)
68,371 ±7,771
10,163 ±2,996
00:19 (00:10)
33
Crazy Machines 3
Oct 18, 2016
$19.99
85% (93%/71%)
17,093 ±3,885
13,397 ±3,440
02:48 (01:53)
34
Don Bradman Cricket 14
Jun 25, 2014
$39.99
82% (92%)
18,248 ±4,015
18,017 ±3,989
144:40 (58:54)
35
PICO PARK
Apr 27, 2016
$4.99
N/A (N/A)
1,716 ±1,501
1,716 ±1,501
01:25 (01:47)
36
FIM Speedway Grand Prix 15
Nov 30, 2015
$24.99
75% (90%/68%)
11,780 ±3,226
11,087 ±3,129
17:51 (14:13)
37
Forgotten Ball
Mar 3, 2016
$2.99
N/A (N/A)
2,310 ±1,428
693 ±782
01:10 (01:10)
38
GTR 2 FIA GT Racing Game
Dec 12, 2012
$7.99
75% (90%)
88,929 ±8,862
51,047 ±6,715
01:54 (00:01)
39
Super Mega Baseball: Extra Innings
Aug 21, 2015
$19.99
75% (90%)
77,611 ±8,279
34,648 ±5,532
08:29 (02:31)
40
Glittermitten Grove
Dec 13, 2016
$11.99
71% (89%)
4,389 ±1,969
3,465 ±1,749
04:38 (05:57)
41
Post Apocalyptic Mayhem
Mar 17, 2011
$9.99
71% (89%/44%)
233,294 ±14,352
168,618 ±12,202
02:56 (01:27)
42
Driver Parallel Lines
Feb 13, 2009
$9.99
71% (89%/61%)
28,642 ±5,030
21,712 ±4,379
06:12 (01:55)
43
House of the Dying Sun
Nov 1, 2016
$19.99
71% (89%/76%)
38,112 ±5,802
31,876 ±5,306
02:11 (01:01)
44
Making History: The Calm and the Storm Gold Edition
May 19, 2015
$4.99
68% (88%)
7,853 ±2,634
6,237 ±2,347
14:51 (06:08)
45
F-19 Stealth Fighter
Apr 1, 2015
$6.99
N/A (N/A)
12,704 ±3,350
2,310 ±1,428
05:58 (07:22)
46
Worms Crazy Golf
Oct 19, 2011
$9.99
68% (88%)
458,272 ±20,110
104,636 ±9,613
01:58 (00:32)
47
Project Lounge
Nov 3, 2016
$5.99
N/A (N/A)
2,772 ±1,564
924 ±903
00:17 (00:19)
48
Empty Horizons
Jul 19, 2016
$2.99
N/A (N/A)
2,079 ±1,355
1,155 ±1,010
06:58 (09:23)
49
Cyberpong
Apr 28, 2016
$8.99
68% (88%)
8,084 ±2,672
7,391 ±2,555
01:24 (00:42)
50
Mad Riders
May 30, 2012
$9.99
65% (87%)
20,558 ±4,261
13,859 ±3,499
02:15 (00:41)
51
RaidersSphere4th
Jun 1, 2015
$19.99
N/A (N/A)
2,079 ±1,355
924 ±903
05:48 (07:02)
52
My Lil' Donut
Aug 31, 2016
Free
N/A (N/A)
24,715 ±4,672
4,620 ±2,020
00:13 (00:11)
53
Disc Jam
Mar 7, 2017
$14.99
62% (86%)
15,014 ±3,642
14,090 ±3,528
05:41 (03:41)
54
inMomentum
Oct 31, 2011
$9.99
62% (86%/59%)
85,464 ±8,688
31,876 ±5,306
01:39 (00:27)
55
Stock Car Extreme
Feb 11, 2015
$7.49
59% (85%)
24,484 ±4,650
18,710 ±4,065
17:47 (05:01)
56
Eastside Hockey Manager
Dec 1, 2015
$19.99
59% (85%)
140,669 ±11,146
50,585 ±6,684
137:54 (08:43)
57
Ford Racing 3
Sep 9, 2014
$4.99
59% (85%)
54,743 ±6,954
35,110 ±5,569
03:14 (00:24)
58
Where are my Internets?
Dec 16, 2016
$2.99
N/A (N/A)
3,927 ±1,862
1,848 ±1,277
03:26 (04:16)
59
F-117A Nighthawk Stealth Fighter 2.0
Oct 30, 2014
$6.99
N/A (N/A)
18,017 ±3,989
4,158 ±1,916
01:52 (00:31)
60
Capitalism Plus
Mar 22, 2016
$5.99
N/A (N/A)
7,853 ±2,634
3,234 ±1,690
01:26 (00:46)
61
Farming Simulator 2011
Oct 29, 2010
$9.99
57% (84%)
88,005 ±8,816
84,771 ±8,653
49:51 (15:08)
62
Titanic VR Demo
Jan 31, 2017
Free
N/A (N/A)
15,245 ±3,669
11,087 ±3,129
00:08 (00:07)
63
Slipstream 5000
Oct 9, 2015
$0.59
N/A (N/A)
121,960 ±10,378
72,298 ±7,991
03:22 (03:22)
64
Nighttime Terror VR: Dessert Defender
Apr 4, 2016
$4.99
N/A (N/A)
5,544 ±2,213
2,541 ±1,498
00:06 (00:06)
65
Save the Furries
Oct 10, 2014
$6.99
N/A (N/A)
13,166 ±3,410
693 ±782
03:08 (03:07)
66
Kopanito All-Stars Soccer
Nov 16, 2016
$11.99
54% (83%)
42,501 ±6,127
38,805 ±5,855
03:02 (01:16)
67
GET THE GEMS
Nov 11, 2016
$0.99
N/A (N/A)
4,620 ±2,020
231 ±451
00:01 (00:00)
68
nail'd
Nov 30, 2010
$4.99
52% (82%/69%)
92,625 ±9,045
55,667 ±7,012
03:02 (00:33)
69
MiG-29 Fulcrum
Jun 2009
$9.99
N/A (N/A)
16,631 ±3,833
3,465 ±1,749
00:22 (00:35)
70
Mall Empire
Feb 16, 2017
$3.99
52% (82%)
1,716 ±1,501
1,030 ±1,163
02:42 (02:37)
71
Cloudlands : VR Minigolf
Apr 5, 2016
$19.99
52% (82%)
27,256 ±4,907
23,560 ±4,562
02:18 (00:50)
72
Armored Fist 3
Jun 18, 2009
$9.99
N/A (N/A)
16,862 ±3,859
3,696 ±1,806
01:26 (01:23)
73
Winter Sports Trilogy Super Pack
Sep 10, 2015
$6.99
N/A (N/A)
8,546 ±2,747
6,237 ±2,347
12:30 (05:13)
74
Fireworks Desert Blast
Dec 22, 2016
Free
N/A (N/A)
3,927 ±1,862
1,617 ±1,195
01:31 (00:19)
75
Rubber Ball VR
Mar 9, 2017
Free
N/A (N/A)
3,465 ±1,749
1,617 ±1,195
00:09 (00:15)
76
interLOGIC
Feb 7, 2017
$1.99
N/A (N/A)
3,927 ±1,862
1,848 ±1,277
02:45 (03:26)
77
Blood Bowl: Chaos Edition
Oct 11, 2012
$19.99
47% (80%)
283,417 ±15,818
229,367 ±14,231
41:14 (07:27)
78
Hunting Unlimited 2010
Jul 7, 2009
$9.99
45% (79%)
50,585 ±6,684
29,797 ±5,130
05:25 (01:17)
79
Crazy Taxi
Mar 4, 2011
$7.99
45% (79%)
287,113 ±15,921
103,943 ±9,581
03:13 (00:15)
80
Rube Works: The Official Rube Goldberg Invention Game
Apr 22, 2014
$4.99
N/A (N/A)
4,851 ±2,070
1,848 ±1,277
01:06 (00:48)
81
Silent Hunter: Wolves of the Pacific U-Boat Missions
Jun 13, 2008
$9.99
43% (78%)
47,583 ±6,483
24,253 ±4,628
14:16 (01:59)
82
Sword Master VR
Sep 23, 2016
$9.99
41% (77%)
7,622 ±2,595
6,237 ±2,347
01:30 (01:21)
83
Mashed
Apr 24, 2014
$4.99
41% (77%)
30,490 ±5,189
13,397 ±3,440
02:23 (00:52)
84
Sonic & SEGA All-Stars Racing
Mar 3, 2010
$9.99
41% (77%/65%)
226,133 ±14,130
70,681 ±7,901
05:31 (00:52)
85
RACE - The WTCC Game
Nov 24, 2006
$39.99
39% (76%)
254,313 ±14,984
146,444 ±11,372
03:18 (00:35)
86
Football Manager Touch 2017
Nov 3, 2016
$29.99
N/A (N/A)
823,689 ±26,949
125,886 ±10,544
33:48 (00:36)
87
Sledgehammer / Gear Grinder
Mar 12, 2014
$7.99
N/A (N/A)
13,628 ±3,469
9,470 ±2,892
03:22 (02:52)
88
Super Button Soccer
Jul 20, 2016
$6.99
N/A (N/A)
4,620 ±2,020
3,696 ±1,806
06:06 (06:22)
89
Trainz: A New Era
May 14, 2015
$9.99
37% (75%)
15,014 ±3,642
14,090 ±3,528
65:54 (06:07)
90
Knights of the Sky
Apr 1, 2015
$6.99
N/A (N/A)
8,084 ±2,672
924 ±903
05:52 (07:43)
91
Super Toy Cars
Jun 6, 2014
$9.99
35% (74%)
50,816 ±6,700
25,870 ±4,780
02:09 (01:25)
92
Split/Second
Oct 6, 2014
$19.99
35% (74%/79%)
36,957 ±5,713
27,718 ±4,948
04:38 (02:19)
93
Train Town
Aug 26, 2014
$2.99
N/A (N/A)
13,628 ±3,469
3,927 ±1,862
02:44 (02:48)
94
F1 2011
Sep 19, 2011
$14.99
35% (74%/83%)
60,056 ±7,283
48,969 ±6,577
27:45 (09:22)
95
Krautscape
Feb 24, 2016
$7.99
35% (74%)
31,414 ±5,268
13,628 ±3,469
01:05 (00:29)
96
Frozen Cortex
Feb 19, 2015
$24.99
35% (74%/79%)
79,920 ±8,402
18,248 ±4,015
04:22 (01:33)
97
Valentino Rossi The Game
Jun 16, 2016
$39.99
35% (74%/72%)
15,245 ±3,669
14,552 ±3,585
18:31 (08:53)
98
Star Tactics
Sep 7, 2016
$7.99
N/A (N/A)
8,777 ±2,784
6,468 ±2,390
04:02 (04:24)
99
Jet Car Stunts
May 1, 2014
$2.99
33% (73%/57%)
20,096 ±4,213
5,544 ±2,213
00:30 (00:32)
100
Dub Dash
Feb 16, 2016
$4.99
33% (73%)
17,093 ±3,885
4,620 ±2,020
01:22 (00:56)
101
RC Cars
Apr 23, 2014
$2.99
33% (73%/65%)
11,318 ±3,162
4,158 ±1,916
02:14 (01:39)
102
Insane 2
Jan 24, 2012
$14.99
32% (72%)
57,977 ±7,156
22,867 ±4,494
05:17 (01:00)
103
F-16 Multirole Fighter
Jun 18, 2009
$9.99
N/A (N/A)
16,862 ±3,859
5,082 ±2,118
00:52 (00:24)
104
NBA 2K14
Oct 1, 2013
$29.99
30% (71%)
160,303 ±11,898
152,911 ±11,620
86:30 (22:00)
105
Airline Tycoon Deluxe
Nov 14, 2014
$9.99
30% (71%)
21,943 ±4,402
18,017 ±3,989
10:33 (06:03)
106
B. Braun Future Operating Room
Dec 9, 2016
Free
N/A (N/A)
7,853 ±2,634
3,003 ±1,628
00:15 (00:05)
107
Smash Cars
Oct 18, 2011
$9.99
N/A (N/A)
5,544 ±2,213
4,620 ±2,020
01:34 (01:20)
108
Falcon 4.0
Jan 8, 2016
$6.99
N/A (N/A/85%)
11,087 ±3,129
6,699 ±2,432
02:31 (01:03)
109
A.I.M. Racing
Jan 22, 2010
$2.99
N/A (N/A)
22,174 ±4,426
4,158 ±1,916
00:19 (00:18)
110
Death Rally
Aug 3, 2012
$9.99
29% (70%)
87,312 ±8,782
63,059 ±7,463
04:25 (01:54)
111
MotoGP13
Jun 20, 2013
$19.99
29% (70%)
40,191 ±5,958
35,110 ±5,569
12:39 (03:27)
112
Garage Drummer VR
Jun 21, 2016
$5.99
N/A (N/A)
693 ±782
693 ±782
00:06 (00:06)
113
18 Wheels of Steel: American Long Haul
Jan 29, 2008
$9.99
29% (70%)
63,752 ±7,504
44,580 ±6,275
12:08 (02:44)
114
Clutch
Jul 20, 2009
$9.99
N/A (N/A/51%)
30,028 ±5,150
10,625 ±3,063
03:07 (00:45)
115
Hacker Evolution
Sep 14, 2010
$4.99
27% (69%)
423,856 ±19,341
231,215 ±14,288
03:25 (01:39)
116
Bridge Constructor Stunts
Feb 23, 2016
$9.99
N/A (N/A)
35,110 ±5,569
8,777 ±2,784
00:51 (00:25)
117
Speedball 2 HD
Dec 5, 2013
$9.99
27% (69%/53%)
130,275 ±10,726
72,529 ±8,004
03:34 (01:43)
118
Silent Hunter: Wolves of the Pacific
Jun 13, 2008
$9.99
26% (68%/79%)
80,613 ±8,438
59,594 ±7,255
14:03 (03:18)
119
F1 2010
Sep 21, 2010
$9.99
26% (68%/84%)
86,388 ±8,735
74,377 ±8,105
33:11 (11:19)
120
Industry Manager: Future Technologies
Oct 6, 2016
$19.99
26% (68%)
11,087 ±3,129
10,625 ±3,063
12:55 (04:44)
121
Eight Mini Racers
Jan 12, 2016
$0.99
N/A (N/A)
35,803 ±5,623
31,876 ±5,306
03:10 (03:29)
122
Red Baron Pack
Jan 7, 2016
$9.99
N/A (N/A)
3,927 ±1,862
1,848 ±1,277
03:29 (01:03)
123
New Star Soccer 5
Sep 27, 2012
$14.99
25% (67%)
32,338 ±5,344
21,482 ±4,356
12:34 (08:02)
124
Formula Truck 2013
Feb 2, 2015
$9.99
25% (67%)
12,473 ±3,319
10,625 ±3,063
03:30 (01:03)
125
High On Racing
May 25, 2015
$4.99
N/A (N/A)
121,036 ±10,339
94,934 ±9,157
05:32 (05:35)
126
Aquadelic GT
Mar 25, 2015
$4.99
N/A (N/A)
1,617 ±1,195
924 ±903
02:36 (03:25)
127
18 Wheels of Steel: Extreme Trucker
Sep 23, 2009
$9.99
23% (66%)
44,811 ±6,291
20,327 ±4,237
09:45 (01:08)
128
MX vs. ATV Unleashed
Apr 16, 2015
$9.99
22% (65%/71%)
20,789 ±4,285
8,777 ±2,784
02:22 (00:57)
129
The Great Art Race
$4.99
22% (65%)
68,140 ±7,758
22,867 ±4,494
01:19 (00:14)
130
MXGP - The Official Motocross Videogame Compact
Dec 3, 2014
$1.99
22% (65%)
3,696 ±1,806
2,541 ±1,498
09:58 (08:23)
131
Lunch Truck Tycoon
May 28, 2015
$0.99
21% (64%)
20,327 ±4,237
17,555 ±3,938
02:03 (00:57)
132
Fuse
Mar 28, 2014
Free
21% (64%)
392,904 ±18,622
236,990 ±14,465
03:22 (00:38)
133
MXGP2 - The Official Motocross Videogame Compact
Sep 8, 2016
$9.99
N/A (N/A)
2,059 ±1,645
2,059 ±1,645
01:56 (04:57)
134
WRC 4 FIA World Rally Championship
Oct 25, 2013
$29.99
20% (63%)
64,675 ±7,558
49,200 ±6,592
11:26 (03:31)
135
MageWorks
Jul 22, 2016
$9.99
N/A (N/A)
924 ±903
693 ±782
00:36 (00:33)
136
Romance of the Three Kingdoms Maker /
Dec 9, 2015
$9.99
20% (63%)
149,678 ±11,497
15,014 ±3,642
08:12 (00:08)
137
Trainz: Murchison 2
Free
N/A (N/A)
32,800 ±5,382
4,158 ±1,916
07:35 (00:31)
138
MotoGP15 Compact
Dec 10, 2015
$2.49
18% (62%)
6,930 ±2,474
5,775 ±2,258
06:51 (01:59)
139
F-22 Lightning 3
Jun 18, 2009
$9.99
N/A (N/A)
21,251 ±4,332
9,701 ±2,927
04:26 (00:32)
140
Wings Over Europe
May 30, 2014
$9.99
18% (62%/62%)
6,468 ±2,390
3,927 ±1,862
01:37 (00:44)
141
Trainz Simulator 12
Jun 8, 2011
$24.99
17% (61%)
168,156 ±12,186
76,456 ±8,218
42:06 (01:50)
142
International Snooker
May 30, 2014
$12.99
17% (61%)
60,518 ±7,311
21,712 ±4,379
07:36 (01:13)
143
Let Hawaii Happen VR
Oct 22, 2016
Free
N/A (N/A)
16,862 ±3,859
2,079 ±1,355
00:11 (00:14)
144
Volstead
Jun 25, 2015
$2.99
N/A (N/A)
21,251 ±4,332
1,155 ±1,010
00:22 (00:34)
145
Thirty Years' War
Jun 9, 2016
$29.99
N/A (N/A)
5,775 ±2,258
1,617 ±1,195
06:54 (06:00)
146
Monster Trucks Nitro
Jan 29, 2009
$19.99
N/A (N/A)
20,096 ±4,213
16,169 ±3,779
08:56 (02:20)
147
Expert Rifleman - Reloaded
Aug 14, 2015
$14.99
N/A (N/A)
9,008 ±2,821
6,237 ±2,347
03:02 (03:29)
148
MiniBikers
Nov 5, 2015
$5.99
N/A (N/A)
25,408 ±4,737
20,558 ±4,261
04:17 (04:26)
149
18 Wheels of Steel: Extreme Trucker 2
May 8, 2015
$9.99
N/A (N/A)
6,699 ±2,432
3,465 ±1,749
08:05 (00:46)
150
GTR - FIA GT Racing Game
Sep 25, 2012
$6.99
N/A (N/A)
70,219 ±7,875
29,104 ±5,070
01:35 (00:23)
151
DIG IT! - A Digger Simulator
Oct 14, 2014
$17.99
15% (59%)
25,639 ±4,759
18,941 ±4,090
04:55 (02:13)
152
The Westport Independent
Jan 21, 2016
$9.99
15% (59%/63%)
7,161 ±2,515
5,313 ±2,166
01:28 (01:13)
153
Take On Helicopters
Oct 27, 2011
$19.99
15% (58%/70%)
309,518 ±16,530
103,250 ±9,549
04:35 (00:47)
154
WRC 6 FIA World Rally Championship
Oct 7, 2016
$44.99
15% (58%/68%)
24,946 ±4,694
23,560 ±4,562
10:46 (03:56)
155
Soccertron
Mar 12, 2015
$4.99
N/A (N/A)
14,090 ±3,528
7,853 ±2,634
02:49 (03:11)
156
Ride 'em Low
Nov 4, 2013
$4.99
N/A (N/A)
18,710 ±4,065
3,927 ±1,862
01:25 (00:47)
157
Petz Horsez 2
Jun 13, 2008
$9.99
N/A (N/A)
12,242 ±3,288
9,239 ±2,857
07:44 (10:36)
158
Notruf 112 | Emergency Call 112
Nov 9, 2016
$34.99
14% (57%)
36,726 ±5,696
35,803 ±5,623
12:24 (07:51)
159
Crash And Burn Racing
Dec 9, 2014
$2.39
N/A (N/A)
7,853 ±2,634
3,234 ±1,690
00:53 (00:50)
160
Twilight City: Love as a Cure
Dec 18, 2015
$6.99
N/A (N/A)
10,856 ±3,096
0 ±0
00:00 (00:00)
161
Pro Cycling Manager 2016
Jun 16, 2016
$29.99
12% (55%/64%)
40,653 ±5,992
39,960 ±5,941
88:22 (44:10)
162
Foosball - Street Edition
Apr 16, 2014
$4.99
12% (54%)
10,394 ±3,030
4,620 ±2,020
00:57 (00:46)
163
Hello Kitty and Sanrio Friends Racing
Jul 9, 2015
$19.99
N/A (N/A)
3,003 ±1,628
693 ±782
00:14 (00:09)
164
Silent Service 2
Nov 6, 2014
$6.99
N/A (N/A)
15,476 ±3,697
4,389 ±1,969
01:25 (00:43)
165
Final Approach: Pilot Edition
Jun 22, 2016
$14.99
N/A (N/A)
21,251 ±4,332
7,853 ±2,634
00:54 (00:05)
166
Rig n Roll
Jul 9, 2010
$4.99
11% (53%/61%)
68,371 ±7,771
32,338 ±5,344
05:22 (00:53)
167
Wacky Wheels HD
Oct 26, 2016
$9.99
N/A (N/A)
1,373 ±1,343
1,373 ±1,343
01:01 (01:50)
168
Monster Truck Destruction
Jul 10, 2015
$4.99
10% (52%)
60,980 ±7,339
14,090 ±3,528
01:34 (00:21)
169
Cricket Revolution
Oct 28, 2009
$2.99
10% (51%)
23,791 ±4,584
18,017 ±3,989
24:40 (02:33)
170
MX vs. ATV Supercross Encore
Oct 27, 2015
$29.99
10% (51%)
19,172 ±4,115
18,710 ±4,065
18:47 (07:36)
171
TILE
Dec 9, 2016
$1.99
N/A (N/A)
10,625 ±3,063
231 ±451
03:06 (01:02)
172
RACE: Caterham Expansion
Jun 22, 2007
$4.99
N/A (N/A)
140,669 ±11,146
15,707 ±3,725
00:32 (00:01)
173
Naughty Or Nice
Dec 28, 2016
Free
N/A (N/A)
3,465 ±1,749
1,155 ±1,010
00:05 (00:04)
174
MotoGP14
Jun 20, 2014
$29.99
9% (50%/76%)
21,712 ±4,379
17,786 ±3,963
05:56 (01:59)
175
Adventures of Robinson Crusoe
Jan 9, 2015
$9.99
N/A (N/A)
4,851 ±2,070
693 ±782
02:59 (02:58)
176
Fireworks Simulator
Nov 26, 2014
$9.99
9% (50%)
12,242 ±3,288
11,087 ±3,129
06:13 (02:30)
177
Beat The Dictators
Aug 29, 2016
$4.99
N/A (N/A)
1,848 ±1,277
0 ±0
00:00 (00:00)
178
Trainz Settle and Carlisle
Oct 1, 2010
$19.99
N/A (N/A)
33,493 ±5,439
4,389 ±1,969
01:00 (00:21)
179
Alpine Ski VR
Dec 16, 2016
$4.99
N/A (N/A)
1,617 ±1,195
1,155 ±1,010
00:58 (00:53)
180
Gravity Compass
May 10, 2016
$2.99
N/A (N/A)
1,386 ±1,106
924 ±903
00:08 (00:08)
181
Fernbus Simulator
Aug 25, 2016
$34.99
8% (49%)
52,664 ±6,820
51,740 ±6,760
12:11 (05:27)
182
PRO EVOLUTION SOCCER 2017 TRIAL EDITION
Nov 23, 2016
Free
8% (49%)
376,504 ±18,230
264,708 ±15,287
15:27 (01:38)
183
Death Track: Resurrection
May 6, 2009
$2.99
N/A (N/A/53%)
45,273 ±6,324
11,549 ±3,194
01:23 (00:23)
184
ALONE?
Oct 10, 2016
$2.99
7% (47%)
8,315 ±2,710
6,237 ±2,347
02:23 (02:15)
185
Bowl Bound College Football
Sep 3, 2015
$19.99
N/A (N/A/80%)
5,544 ±2,213
3,465 ±1,749
49:53 (60:48)
186
Agricultural Simulator 2011: Extended Edition
Feb 23, 2011
$3.99
7% (46%)
45,273 ±6,324
25,408 ±4,737
03:53 (00:23)
187
R.B.I. Baseball 15
Apr 30, 2015
$19.99
6% (44%)
5,775 ±2,258
5,313 ±2,166
06:33 (02:31)
188
Club Manager 2015
Dec 4, 2014
$1.99
6% (43%)
21,712 ±4,379
11,318 ±3,162
15:11 (04:54)
189
Hospital Manager
Mar 25, 2015
$4.99
5% (41%)
23,560 ±4,562
7,622 ±2,595
03:15 (01:58)
190
Smackitball
Feb 27, 2017
Free
N/A (N/A)
1,848 ±1,277
924 ±903
00:09 (00:07)
191
Farm Machines Championships 2014
Mar 14, 2014
Free
5% (40%)
40,884 ±6,009
10,394 ±3,030
00:54 (00:31)
192
Ride! Carnival Tycoon
Jul 29, 2008
$9.99
N/A (N/A)
30,952 ±5,229
11,549 ±3,194
01:38 (00:28)
193
Starlite: Astronaut Rescue - Developed in Collaboration with NASA
Jan 27, 2014
$2.99
4% (38%)
10,394 ±3,030
7,622 ±2,595
00:31 (00:25)
194
Glacier 3: The Meltdown
Jan 23, 2014
$9.99
N/A (N/A)
189,407 ±12,933
21,020 ±4,309
00:13 (00:03)
195
Ducati World Championship
Sep 21, 2007
$4.99
4% (38%/35%)
37,881 ±5,784
12,935 ±3,380
01:02 (00:09)
196
PT Boats: Knights of the Sea
Oct 28, 2011
$6.99
N/A (N/A)
11,549 ±3,194
8,546 ±2,747
01:42 (01:01)
197
Hotel Giant 2
Jan 27, 2010
$7.99
3% (36%/58%)
51,971 ±6,775
27,487 ±4,927
04:27 (00:37)
198
Logistics Company
Nov 5, 2014
$14.99
N/A (N/A)
18,941 ±4,090
11,780 ±3,226
02:32 (00:58)
199
Roadside Assistance Simulator
Sep 25, 2014
$9.99
N/A (N/A)
11,780 ±3,226
5,544 ±2,213
02:09 (01:21)
200
Bus-Simulator 2012
Nov 22, 2013
$9.99
2% (33%)
42,039 ±6,094
34,417 ±5,514
05:02 (02:04)
201
Guardian war VR
Aug 24, 2016
$9.99
N/A (N/A)
3,927 ±1,862
0 ±0
00:00 (00:00)
202
War Operations
Sep 18, 2014
$3.99
2% (32%)
10,856 ±3,096
1,848 ±1,277
00:04 (00:02)
203
Beach Resort Simulator
Nov 28, 2014
$2.49
N/A (N/A)
12,242 ±3,288
7,622 ±2,595
04:39 (00:50)
204
Monster Jam Battlegrounds
Jun 10, 2015
$9.99
N/A (N/A)
12,935 ±3,380
9,932 ±2,962
03:52 (03:38)
205
Helicopter Simulator 2014: Search and Rescue
Feb 28, 2014
$6.99
2% (30%)
60,980 ±7,339
24,022 ±4,606
01:18 (00:23)
206
Jane's Advanced Strike Fighters
Mar 8, 2012
$9.99
2% (30%)
32,800 ±5,382
18,941 ±4,090
02:28 (00:50)
207
Starpoint Gemini
Feb 16, 2012
$13.99
2% (30%/46%)
50,124 ±6,654
22,405 ±4,449
06:02 (01:23)
208
Staircase of Darkness: VR
Nov 3, 2016
$4.99
N/A (N/A)
22,405 ±4,449
20,789 ±4,285
03:20 (03:30)
209
PT Boats: South Gambit
Oct 28, 2011
$6.99
N/A (N/A)
11,318 ±3,162
5,544 ±2,213
01:29 (00:49)
210
The Esoterica: Hollow Earth
Feb 2, 2017
$3.99
N/A (N/A)
7,391 ±2,555
2,541 ±1,498
02:17 (02:24)
211
World Basketball Manager 2010
Apr 21, 2010
$4.99
1% (25%)
23,791 ±4,584
6,006 ±2,303
01:15 (00:23)
212
Road Madness
Mar 29, 2016
$0.99
1% (24%)
61,673 ±7,381
48,738 ±6,561
03:40 (03:49)
213
Ultimate Rock Crawler
Jan 25, 2016
$4.99
N/A (N/A)
1,386 ±1,106
1,155 ±1,010
01:17 (01:14)
214
Woodcutter Simulator 2013
Dec 19, 2013
$9.99
1% (22%)
71,374 ±7,940
25,408 ±4,737
02:06 (00:18)
215
Mining Industry Simulator
Nov 28, 2014
$2.49
N/A (N/A)
13,397 ±3,440
9,470 ±2,892
04:32 (01:30)
216
Cabela's Hunting Expeditions
Oct 22, 2012
$29.99
N/A (N/A)
8,315 ±2,710
5,775 ±2,258
29:28 (04:50)
217
Pro Rugby Manager 2015
Sep 18, 2014
$9.99
1% (20%)
11,087 ±3,129
8,777 ±2,784
34:47 (06:54)
218
Prison Tycoon 4: SuperMax
$24.99
N/A (N/A)
22,636 ±4,471
16,169 ±3,779
04:00 (01:14)
219
Professional Farmer 2017
Mar 23, 2016
$14.99
N/A (N/A)
28,180 ±4,989
26,332 ±4,823
06:41 (00:53)
220
Trainz: Classic Cabon City
Sep 1, 2010
$19.99
N/A (N/A)
33,031 ±5,401
9,470 ±2,892
00:50 (00:11)
221
Farming Giant
Nov 6, 2013
$9.99
0% (16%)
36,495 ±5,678
22,405 ±4,449
03:31 (00:13)
222
Agricultural Simulator: Historical Farming
Nov 6, 2013
$9.99
0% (14%)
113,413 ±10,008
31,645 ±5,287
01:57 (00:13)
223
Towtruck Simulator 2015
Mar 11, 2014
$9.99
0% (11%)
54,050 ±6,909
15,707 ±3,725
00:48 (00:11)
224
Professional Lumberjack 2015
Mar 5, 2015
$19.99
N/A (N/A)
22,867 ±4,494
22,867 ±4,494
03:15 (00:48)
225
World Basketball Tycoon
Nov 18, 2013
$9.99
0% (10%)
17,093 ±3,885
6,237 ±2,347
00:46 (00:25)
226
Aviator - Bush Pilot
Nov 4, 2014
$9.99
N/A (N/A)
14,090 ±3,528
8,084 ±2,672
03:56 (02:44)
227
Airport Simulator 2014
Dec 19, 2013
$9.99
0% (9%)
76,225 ±8,205
32,800 ±5,382
03:35 (00:31)
228
Construction Machines 2014
Mar 28, 2014
$6.99
0% (8%)
42,501 ±6,127
14,552 ±3,585
00:38 (00:15)
229
Forestry 2017 - The Simulation
Mar 25, 2016
$19.99
N/A (N/A)
11,549 ±3,194
8,546 ±2,747
03:19 (03:29)
230
Skyscraper Simulator
Oct 21, 2013
$3.99
0% (7%)
68,833 ±7,797
22,405 ±4,449
01:25 (00:25)
231
Prison Tycoon Alcatraz
May 11, 2015
$9.99
N/A (N/A)
4,620 ±2,020
1,617 ±1,195
01:10 (01:32)
232
Match 3 Revolution
Sep 11, 2015
$3.99
N/A (N/A)
25,177 ±4,716
1,848 ±1,277
01:14 (01:41)
233
10 Minute Tower
Jul 26, 2016
$14.99
N/A (N/A)
2,746 ±1,899
686 ±949
00:03 (00:03)
234
Call of the Ninja!
Feb 16, 2015
$6.99
N/A (N/A)
4,158 ±1,916
231 ±451
00:20 (00:06)
235
Bomb The Monsters!
Nov 6, 2015
$3.99
N/A (N/A)
4,620 ±2,020
1,155 ±1,010
00:15 (00:12)